Get ready for the most decadent cookie you will ever meet. These no-bake chocolate peanut butter horse chestnut cookies are amazing (and easy)!
It was about time the humble no-bake cookie rose to new heights of glory.
This horse chestnut version (basically just two extra layers of peanut butter and chocolate) is so rich and so delicious!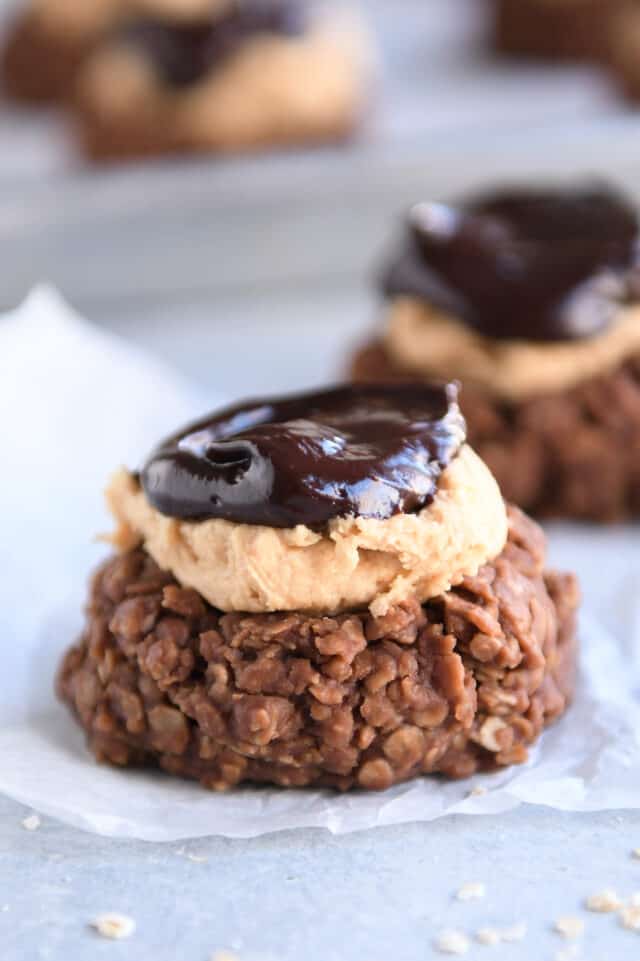 No Bake Cookies
Classic no-bake cookies are a staple of my childhood. And they form the base of these layered horse chestnut biscuits.
To make my version of no-bake cookies, bring the following ingredients to a boil:
butter
granulated sugar + brown sugar
milk
cocoa powder
Salt
After the mixture has simmered for a minute or two, stir in:
peanut butter
vanilla
Rolled oats (don't use old-fashioned or steel-cut oats)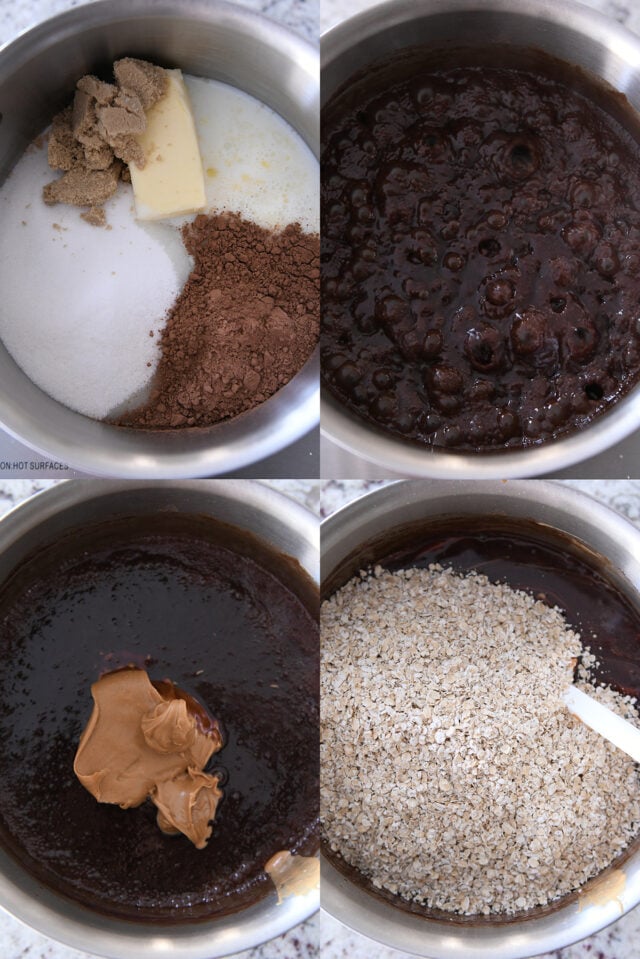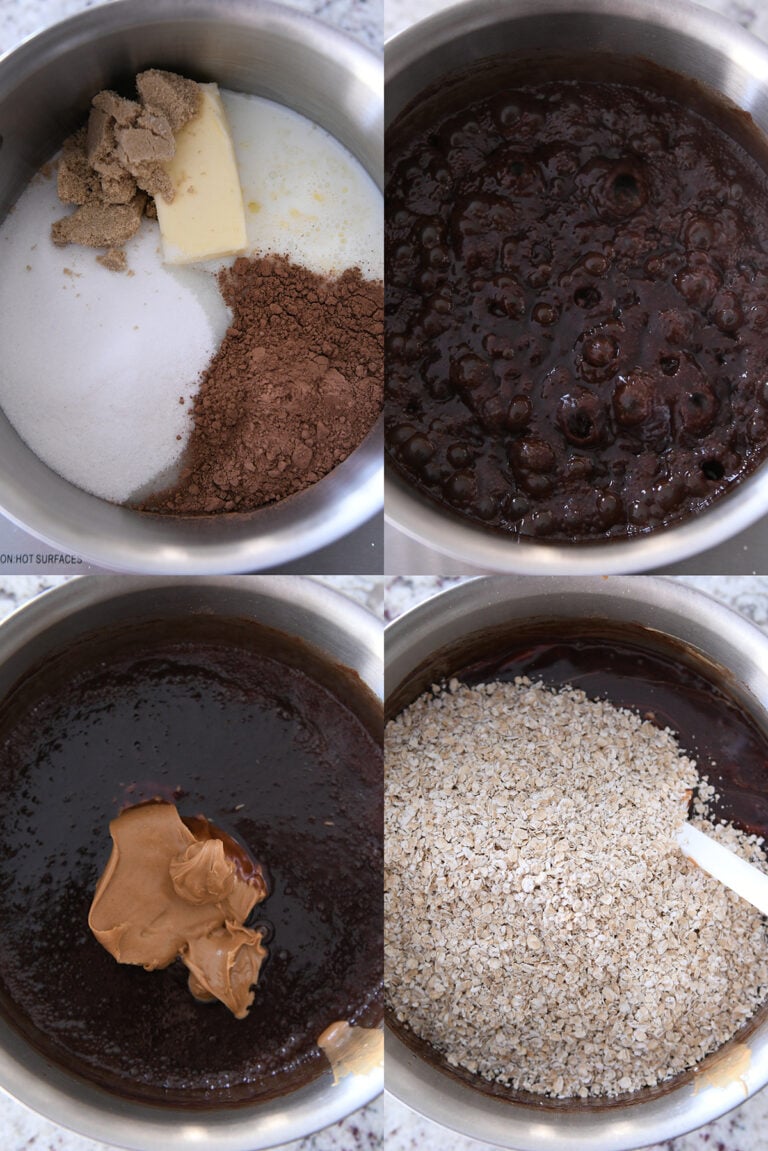 I guess this delicious no-bake cookie dough will give some of you great nostalgia.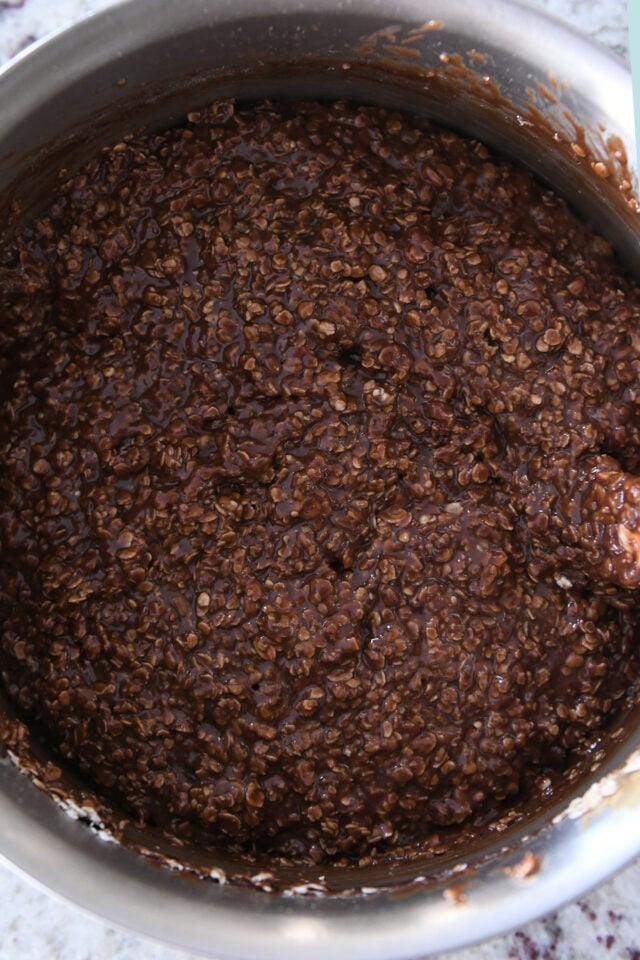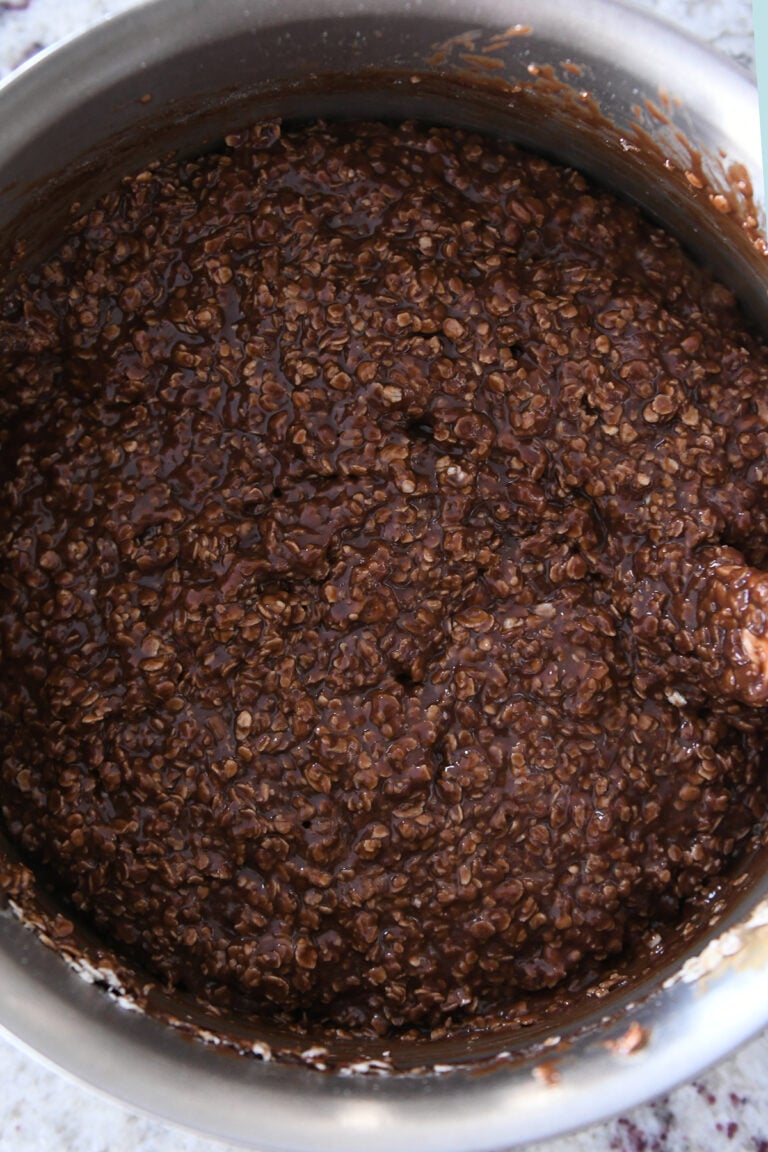 shape cookies
Scoop about three tablespoons of no-bake cookie dough for each cookie onto parchment-lined baking sheets and press the cookies into a round shape.
Then, using the back of a spoon or other implement of your choice, make a small indentation in the center of each mound so the cookies resemble cute little chocolate nests.
Peanut Butter Frosting
While the cookies are rising and cooling, prepare the peanut butter frosting/filling.
It's ULTRA easy. butter, peanut butter, powdered sugar, salt and vanilla.
And it's ethereally creamy and fluffy. If you're me, channel this advice: try not to give away even the tiniest flavor or you won't be able to stop and the overall crowd could be compromised.
cookie layers
Whip the ganache by pouring cooked cream over chocolate chips, letting stand until melted, then stirring until glossy and smooth. Allow this mixture to cool to room temperature.
Place a spoonful of peanut butter frosting in the center of each cookie.
Top with a dollop of ganache.
Spread it out nice and swirly or leave it rustic and stippled. Your decision. 🙂
Chill the cookies until the ganache is set. I mean, don't judge from that corner if you dig into one right away, but be aware that they're also very tasty chilled.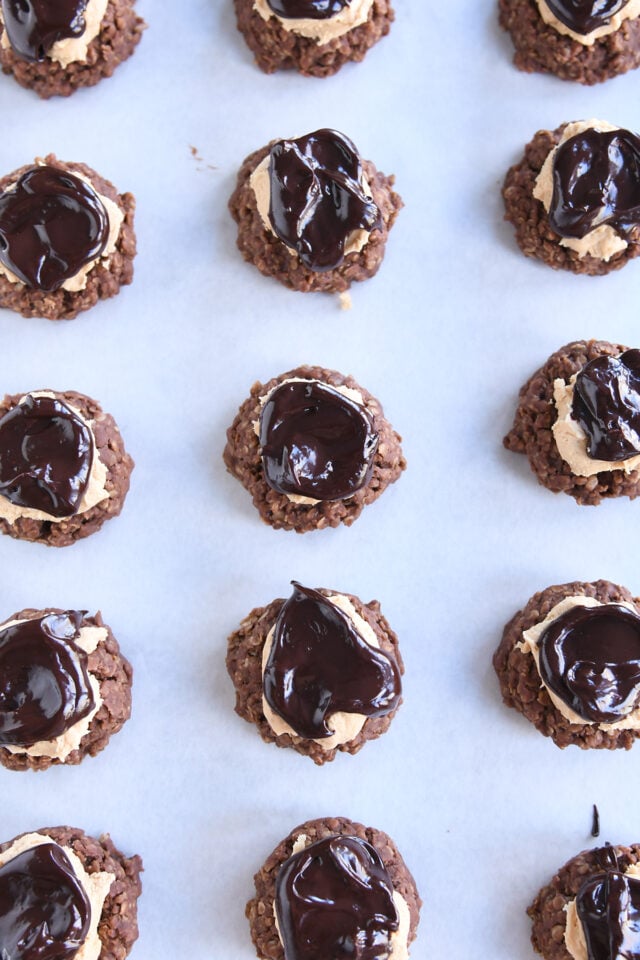 A strong cookie
The pinnacle of these no-bake chocolate peanut butter horse chestnut cookies are not for the faint of heart.
They are sturdy and decadent. But the intense chocolate peanut butter flavors are incredibly delicious.
My kids LOVE these cookies, and with all that peanut butter, we're basically at the point of justifying them as a protein shake and getting on with our lives. 😂
A fun new take on no-bake cookies, these cookies are a chocolate and peanut butter lover's dream!
A year ago: Overnight Bacon Croissant Breakfast Casserole
Two years ago: Cranberry coffee cake with warm vanilla sauce
Three years ago: Make-Ahead Overnight Tater Tot Breakfast Casserole
Four years ago: Easy Peanut Butter Chocolate Graham Cracker Toffee
Five years ago: Chocolate Peppermint Crinkle Blossom Cookies
six years ago: Crème Brûlée French Toast Bake Overnight
Seven years ago: Soft eggnog sugar cookies with whipped eggnog frosting
Eight years ago: Amazing Scottish Shortbread
nine years ago: Orange Zested Cranberry White Chocolate Bliss Bars
Ten years ago: Chocolate Shortbread Fingers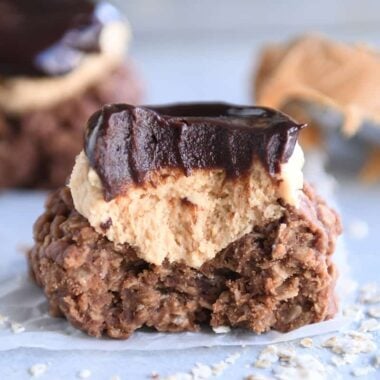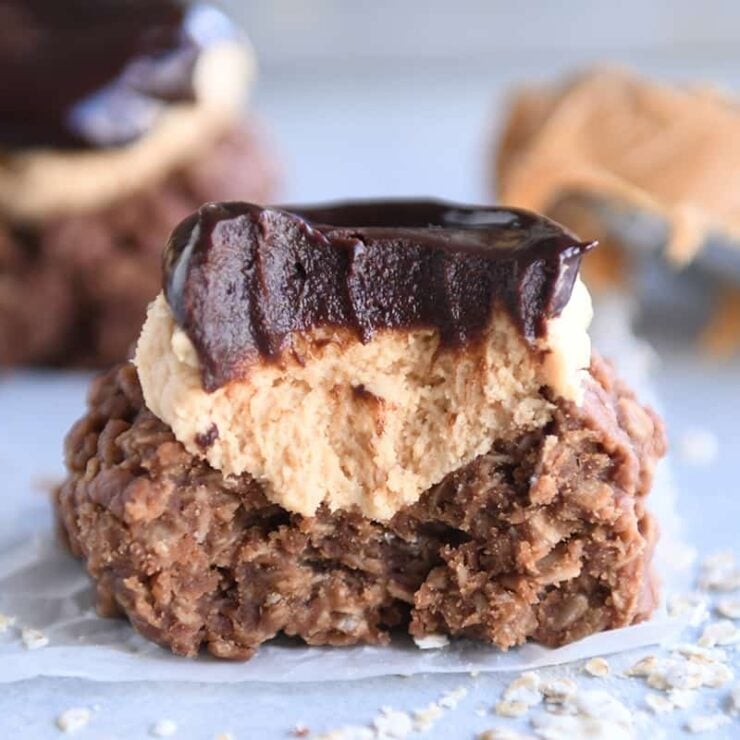 No-Bake Chocolate Peanut Butter Buckeye Cookies
No-Bake Cookies:
½

Cup

(

113

G

)

(8 tablespoons) butter (I use salted)

1½

Cup

(

318

G

)

granulated sugar

½

Cup

milk

⅓

Cup

(

28

G

)

natural, unsweetened cocoa powder

¼

Cup

(

53

G

)

packaged light brown sugar

¼

teaspoon

Salt

1

teaspoon

vanilla extract

¾

Cup

(

191

G

)

creamy peanut butter

3

cups

(

300

G

)

Oatmeal (see note)
Peanut Butter Frosting:
¼

Cup

(

57

G

)

(4 tablespoons) butter, softened

½

Cup

(

128

G

)

creamy peanut butter

½

teaspoon

vanilla extract

1 ¼

cups

(

143

G

)

powdered sugar

pinch of salt
Chocolate Ganache:
¾

cups

(

128

G

)

Chocolate chips, semisweet or bittersweet

⅓

Cup

heavy cream
Line two baking sheets with parchment paper. Put aside.

For the cookies In a medium saucepan, add butter, granulated sugar, milk, cocoa powder, brown sugar, and salt.

Place the pan over medium-low heat and bring the mixture to a boil, stirring gently (not vigorously) to make sure it's not sticking. After boiling, stop stirring and cook for 60-90 seconds.

Remove from heat and add vanilla and peanut butter, stirring slowly until smooth. Add the oatmeal and stir until combined.

Scoop about 3 tablespoons of batter into mounds onto the baking sheets. Allow to cool for a few minutes and pound into round balls/circles. Make an indentation in the center of each mound to make it look like a cute little chocolate nest.

For the peanut butter frosting In a medium bowl, using a hand mixer (or in a stand mixer fitted with the whisk attachment), cream together the butter, peanut butter and vanilla until creamy and smooth.

Add powdered sugar and salt and mix until combined and creamy, 1-2 minutes, scraping sides of bowl as needed. Add milk, one tablespoon at a time, continuing to mix if the glaze is too thick.

For the chocolate ganache Place the chocolate chips in a small bowl. Heat the cream and pour over the chocolate chips. Leave to rest for 2-3 minutes. Stir with a rubber spatula until shiny and smooth. Leave to cool to room temperature.

Dollop peanut butter frosting (about 1 tablespoon) in the center of each no-bake cookie. (The icing can be smoothed out with slightly damp fingertips.)

Spread a spoonful of the cooled chocolate ganache on top of the peanut butter frosting.

Refrigerate cookies until ready to serve (up to 24 hours in advance). Serve the cookies chilled or at room temperature.
Oats: Quick oats work best in this recipe. Old-fashioned rolled oats or steel-cut oats won't work in this recipe (the texture becomes too chunky and lumpy).
No-Bake Cookies: Sometimes no-bake cookies can become grainy and/or gritty. To prevent this, don't stir once the mixture is boiling. Stir gently (not vigorously) as you add the peanut butter and oatmeal, and don't scrape the sides of the pan.
Portion: 1 cookie, Calories: 196kcal, Carbohydrates: 24G, Protein: 3G, Fat: 11G, Saturated Fatty Acids: 5G, Cholesterol: 13mg, Sodium: 88mg, Fiber: 1G, Sugar: 17G
Follow @MelsKitchenCafe on Instagram and show me the recipes you make from my blog using the hashtag #melskitchencafe. I love seeing all the goodness you whip up in your kitchens!
Disclaimer: I am a participant in the Amazon Services LLC Affiliate Program, an affiliate advertising program that offers me the opportunity to earn commissions by linking to Amazon.com and affiliated websites. As an Amazon Associate, I earn from qualifying purchases.