This post may contain affiliate links. As an Amazon Associate, I earn from qualifying purchases. Please read my disclosure.

Finding the best protein bar for you can be challenging, especially with so many options on the market nowadays! With the help of this No Cow protein bars review you can determine if these vegan protein bars are the right choice for you. In this detailed and honest review, we deep dive into all aspects from ingredients, flavors, customer reviews, and pros and cons!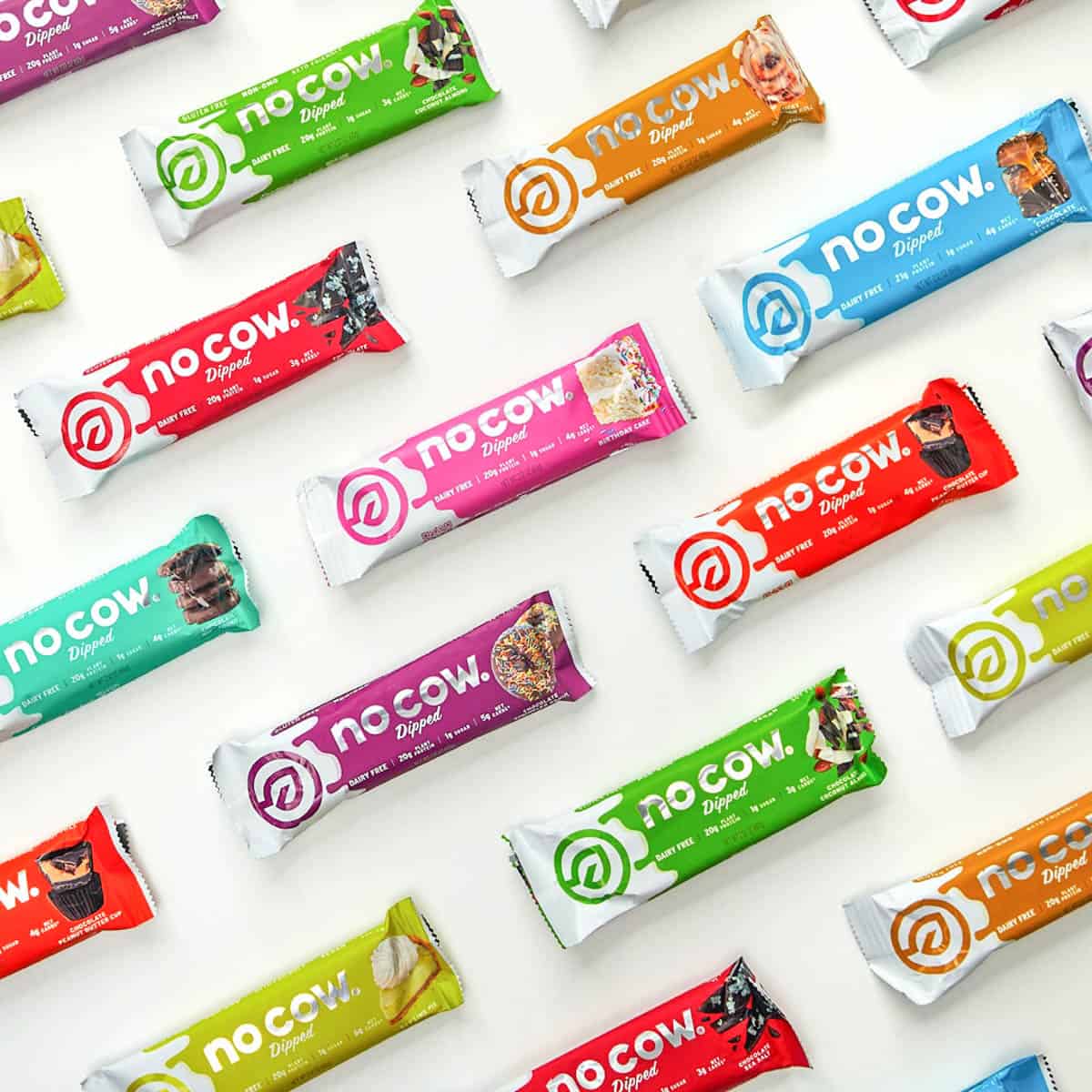 What Are No Cow Protein Bars?
No Cow protein bars are dairy-free, high in protein, and low in sugar. These vegan protein bars were inspired by founder Daniel Katz, also known as D Katz, and his personal need for a plant-based alternative due to a whey protein intolerance. (Whey and dairy can cause many people to experience various gastric issues, including bloating, gas, and more – but most protein bars on the market today contains whey in some form).
But No Cow is different! Each bar is made with clean ingredients that are certified gluten-free, kosher, and non-GMO Project verified. They made for a great snack and are a healthy way to satisfy your sweet tooth. Some of the most popular flavors in their wide selection are the Chocolate Peanut Butter Cup, Cookie Dough, Birthday Cake, and PB Chocolate Chip Bars. There are so many tasty ways to enjoy these bars!
What Makes No Cow Protein Bars Different From Other Protein Bars?
Low In Sugar: Many protein bars on the market might as well be candy bars. While marketed as healthy and clean, they are loaded with sugar. No Cow protein bars are low in sugar with only 1g of sugar from a blend of monk fruit, stevia, and erythritol. 
High In Protein: They use a blend of pea protein and brown rice protein as the protein source. There is a total of 20 grams of plant-based protein (or more) in each bar! There are other popular protein bars that only have around 10g of protein per bar. Additionally, many protein powders only have around 10-11g of protein per scoop. You'll get an abundant amount of protein in an easy and convenient bar with these!
Vegan: Unlike other protein bars that use whey or egg as the source of protein, these bars are non dairy and perfect for a vegan lifestyle! They are free of any animal products. Bonus, they cater to a soy-free diet which tends to be common in vegan foods.
Certified Gluten-Free: The No Cow protein bars are gluten-free, making them safe to eat for those who have gluten intolerances or allergies. 
Non-GMO Ingredients: Rest assured that there are no genetically modified ingredients within these protein bars! Many whey-based protein bars do include GMO ingredients, so be cautious and always check the nutrition facts.
Relatively Short Ingredient List: The ingredient list for protein bars can get surprisingly long. They can be loaded with filler ingredients, artificial ingredients, and even preservatives. These No Cow bars have a reasonable ingredient list compared to many others on the market.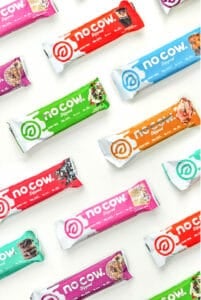 No Cow Protein Bars Ingredients
In this No Cow protein bar review I wanted to break down a few of the main ingredients. While the ingredients in No Cow Bars vary from flavor to flavor, there are some key ingredients that you will most likely find in each bar. Here is a brief overview of the No Cow bar ingredients:
Protein Blend: Each bar is made with a protein blend that consists of brown rice protein and pea protein.
Soluble Corn Fiber: No Cow created a new formula in 2020, changing the fiber source to a non-GMO soluble corn fiber. This has allowed for a better texture and improved flavor. In addition this soluble corn acts as prebiotic fibers to nourish gut health.
Glycerine: Glycerine is a sugar alcohol used to add smoothness and sweetness to the bars, while also preventing sugar crystallization. This ingredient helps to keep the bars soft and reduce loss of moisture.
Almonds: Most of the bars contain ground almonds which add healthy fat, fiber, and protein to the bars. Some bars also have peanuts. Read labels if you have any nut allergies.
Palm Oil: The No Cow protein bars contain palm oil that is certified sustainable by the RSPO. The company was very selective when choosing their supplier and prioritized a sustainable option.
Sweetener Blend: Each protein bar uses a natural sweetener blend that includes erythritol, stevia, and monk fruit. There is only 1 gram of sugar in each bar. 
Natural Flavors: The No Cow protein bars contain natural flavor from purified extracts from sources such as spice, fruit or vegetable. All of the natural flavors come from real food ingredients such as fruit and chocolate. The flavors are produced using processes such as heating, extraction, and fermentation.
Cocoa Butter: Most of the protein bars contain cocoa butter, whether in the chocolate chips, chocolate coating, or in the bar itself.
No Cow Bars Nutrition
The nutritional values for each flavor of No Cow protein bars will be a bit different, but you can expect the following:
Calories: No Cow protein bar calories range from 190-210, with the entire bar being a full serving. This is a great calorie range for an easy snack or side/topping to a meal such as a smoothie, yogurt bowl, fruit salad, waffle, or pancake. For some, these could be used as meal replacement bars, but please consult with your doctor or nutritionist before doing so.
Fat: There is about 6-7 grams of fat within each bar with about half of that coming from saturated fats. The fat is mainly sourced from the almonds and the sustainable palm oil.
Carbs & Fiber: You can expect around 27g of carbohydrates in every bar, with about 15g of that coming from fiber! They only have about 4g of net carbs.
Sugar: Each bar contains only 1g of sugar, but does also have around 5-8g of alcohol sugars.
Protein: These bars are high in protein with at least 20 grams of plant protein in each bar. 
Other Nutrients: Each bar contains some calcium, iron, and potassium as well. We will break down the nutrition facts for each flavor down below in the following section for both the dipped protein bars and the regular protein bars.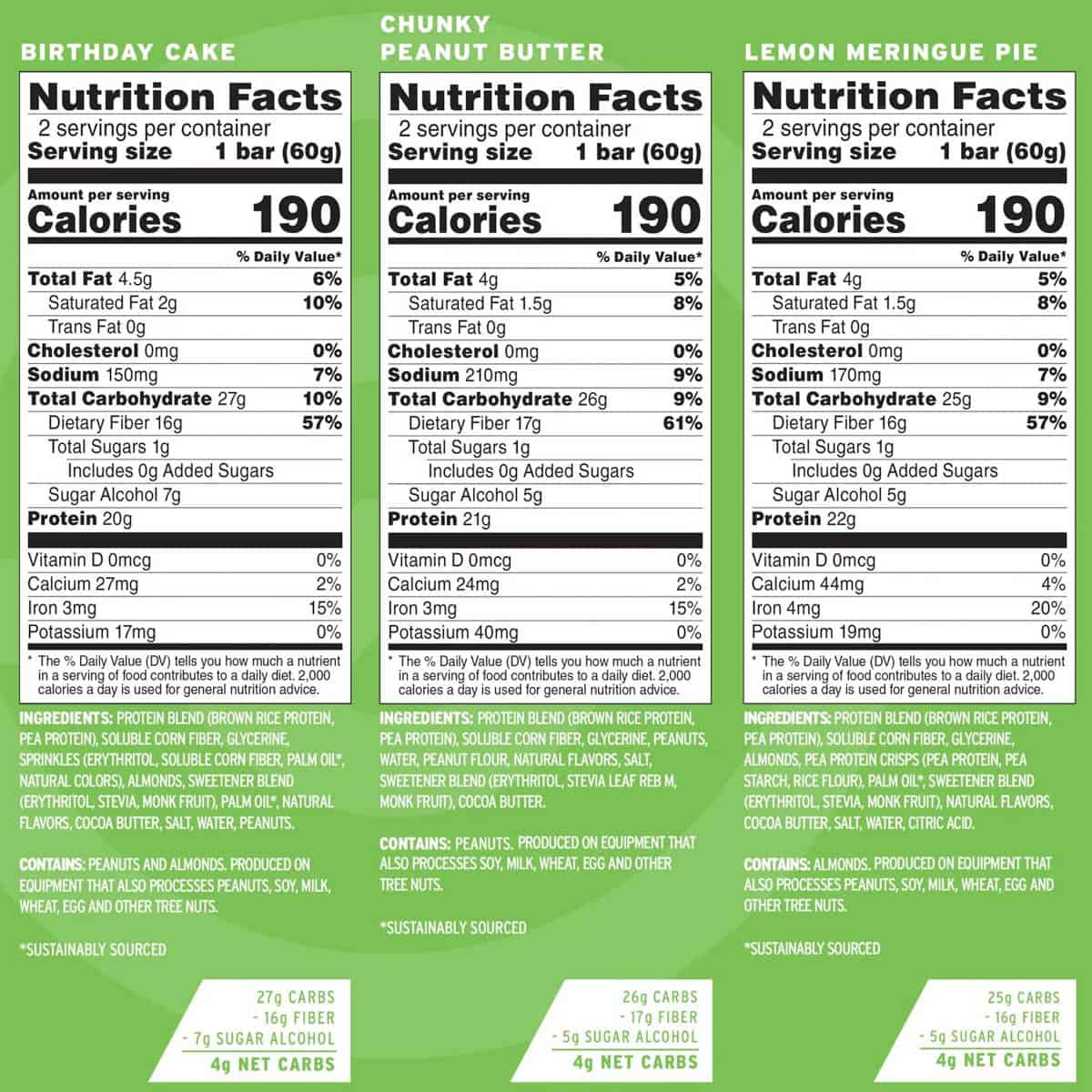 What Are The Different Types Of No Cow Bars?
In this section of the No Cow review, we will break down the no cow bar flavors and high level nutritional facts for each no soy protein bar. Note that prices can vary based on each store and current sales. For full product information head to the No Cow website, where you can also subscribe and save 10% with shipments. 
No Cow Regular Protein Bars
Blueberry Cobbler: Calories: 190, Carbs: 25g, Sugar: 1g, Protein: 22g, Fiber: 16g, Price: $32.99 for box of 12, $2.99 each
Chocolate Chip Cookie Dough: Calories: 190, Carbs: 26g, Sugar: 1g, Protein: 20g, Fiber: 15g, Price: $32.99 for box of 12, $2.99 each
Chocolate Fudge Brownie: Calories: 210, Carbs: 24g, Sugar: 1g, Protein: 21g, Fiber: 14g, Price: $32.99 for box of 12, $2.99 each
Chunky Peanut Butter: Calories: 190, Carbs: 26g, Sugar: 1g, Protein: 21g, Fiber: 17g, Price: $32.99 for box of 12, $2.99 each
Lemon Meringue Pie: Calories: 190, Carbs: 25g, Sugar: 1g, Protein: 22g, Fiber: 16g, Price: $32.99 for box of 12, $2.99 each
Peanut Butter Chocolate Chip: Calories: 190, Carbs: 26g, Sugar: 1g, Protein: 20g, Fiber: 16g, Price: $32.99 for box of 12, $2.99 each
Cookies 'N Cream: Calories: 200, Carbs: 25g, Sugar: 1g, Protein: 22g, Fiber: 15g, Price: $32.99 for box of 12, $2.99 each
S'mores: Calories: 190, Carbs: 26g, Sugar: 1g, Protein: 20g, Fiber: 16g, Price: $32.99 for box of 12, $2.99 each
Pumpkin Pie (Seasonal): Calories: 200, Carbs: 25g, Sugar: 1g, Protein: 22g, Fiber: 15g, Price: $32.99 for box of 12, $2.99 each
Maple (Seasonal): Calories: 200, Carbs: 25g, Sugar: 1g, Protein: 22g, Fiber: 14g, Price: $32.99 for box of 12, $2.99 each
No Cow Dipped Protein Bars
Dipped Chocolate Peanut Butter Cup: Calories: 200, Carbs: 26g, Sugar: 1g, Protein: 20g, Fiber: 15g, Price: $32.99 for box of 12, $2.99 each
Dipped Birthday Cake: Calories: 200, Carbs: 27g, Sugar: 1g, Protein: 20g, Fiber: 15g, Price: $32.99 for box of 12, $2.99 each
Dipped Sticky Cinnamon Roll: Calories: 200, Carbs: 26g, Sugar: 1g, Protein: 20g, Fiber: 15g, Price: $32.99 for box of 12, $2.99 each
Dipped Key Lime Pie: Calories: 200, Carbs: 27g, Sugar: 1g, Protein: 20g, Fiber: 14g, Price: $32.99 for box of 12, $2.99 each
Dipped Chocolate Sea Salt: Calories: 200, Carbs: 24g, Sugar: 1g, Protein: 20g, Fiber: 15g, Price: $32.99 for box of 12, $2.99 each
Dipped Chocolate Mint Cookie: Calories: 200, Carbs: 25g, Sugar: 1g, Protein: 20g, Fiber: 15g, Price: $32.99 for box of 12, $2.99 each
Dipped Chocolate Sprinkles Donut: Calories: 200, Carbs: 25g, Sugar: 1g, Protein: 20g, Fiber: 14g, Price: $32.99 for box of 12, $2.99 each
Dipped Chocolate Coconut Almond: Calories: 210, Carbs: 24g, Sugar: 1g, Protein: 20g, Fiber: 15g, Price: $32.99 for box of 12, $2.99 each
Dipped Chocolate Salted Caramel: Calories: 200, Carbs: 25g, Sugar: 1g, Protein: 21g, Fiber: 15g, Price: $32.99 for box of 12, $2.99 each
Dipped Frosted Gingerbread Cookie (Seasonal): Calories: 200, Carbs: 27g, Sugar: 1g, Protein: 20g, Fiber: 14g, Price: $32.99 for box of 12, $2.99 each
No Cow Protein Bar Customer Reviews: Taste & Texture
From my perspective, all of the flavors of the bars had a pleasant taste, with the birthday cake dipped bar and the mint chocolate chip dipped bar being my favorites. Out of the non-dipped options, the best no cow bar flavor, in my opinion, is the peanut butter chocolate chip. The non dipped bars have a more grainy texture and taste, while the dipped bars have a smoother texture and taste.
It really is a matter of personal preference on what texture you like! These bars have a great nutritional value to them with 200 calories, 20 grams of protein, very minimal sugar, and vegan ingredients, making them a preferred option versus some "tastier/sweeter" yet less nutritional bars on the market! Here is what other customers had to say in their no cow bars reviews:
Exceeded Expectations For A Protein Bar
"I chose to get this sampler pack so that I could try all the flavors. I'd had the birthday cake flavor before and was impressed. Overall, these are exactly what you would expect from protein bars. They're a little dry, crumbly, and a little chalky. I've never met a protein bar that couldn't be described exactly like that. However, given the clean ingredients and lack of dairy, these get extra points. I feel like the quality is much better than most I've tried and the flavors are pleasant. I would buy them again." – Annie from Amazon.com
 A Great Find For One Who Is Both Gluten Free And Dairy Free
"I was delighted to find a bar that had no dangerous ingredients for my gluten and dairy free diet and also had a variety of flavors. It's a little pricey but I was willing to pay it. I keep a bar in my purse all the time so if I'm going to miss a meal or am very late because of traffic it holds me over without adding too many calories." – JF from Amazon.com
Great Vegan Option
"Used after the gym, enjoyed the flavors in general. Can be a little chalky but completely bearable and better than most." – Terri from Amazon.com
Taste Fine And Are Filling
"Good tasting for protein bars. I have gotten several boxes of different flavors. They fill me up in the middle of the day and I'm on weight watchers and they are only 4 weight watchers points!" – Dana from Amazon.com
Best Plant Based Bars
"I've tried most all the flavors but my favorite is the peanut butter cup. I was looking for a good clean none dairy plant based protein bar and I've found what I think is the best one out there. Now I have a new favorite tied with the peanut butter cup and that's the key lime pie. Awesome! I recommend giving no cow a try. find you favorites." -Zane W. from No Cow website
Good Flavor
"Good flavor. The peanut butter one has the least aftertaste out of the set. Ultimately I think a bit of an artificial taste is a worthy sacrifice for the best ratio of macros that I've found in any vegan protein bar." – Veronica W. from No Cow website
All in all, are these the best tasting vegan protein bars? That truly is up to your personal preference and taste buds! Some customers find these no cow high protein bars to be absolutely delicious, while others feel they all taste the same or are a tad chalky.
Pros: Benefits Of No Cow Bars
Certified Gluten Free
Non-GMO
Soy free
Vegan, no whey or dairy
Keto-friendly, low net carbs
High protein bar
High in fiber
Low in sugar
Kosher
Cons: Other Things To Consider
Contains palm oil, but sustainably sourced
Contains erythritol and stevia extract, which isn't a fit for everyone
Not organic
Some customers comment on a grainy / chalky texture
No Cow Customer Satisfaction Guarantee
No Cow offers a 60-Day Satisfaction Guarantee because they believe in their product and stand behind the quality controls. If you are not satisfied with your No Cow products that you purchased from www.nocow.com or one of their online authorized resellers in the US, you can request a refund or replacement product.
No Cow will refund your first box of bars purchased on their website, as part of their guarantee! Note that this does not apply to in-store purchases. To submit a Guarantee request, email info@nocow.com or call one of their team members at 1 (833) 696-6269. You will be asked to provide information on when and where the product was purchased. To expedite the process, have your order number handy.
Where Can I Buy No Cow Bars?
If you are wondering where to buy No Cow bars, it is very easy and convenient! You can find them online via their website, Amazon, or Target. You can get free shipping with purchases over $50 or with prime membership.
You can also shop in retail stores nationwide including Kroger, Whole Foods, Walmart, CVS, Sprouts, Walgreens and more. Use their store locator to find the nearest location for you.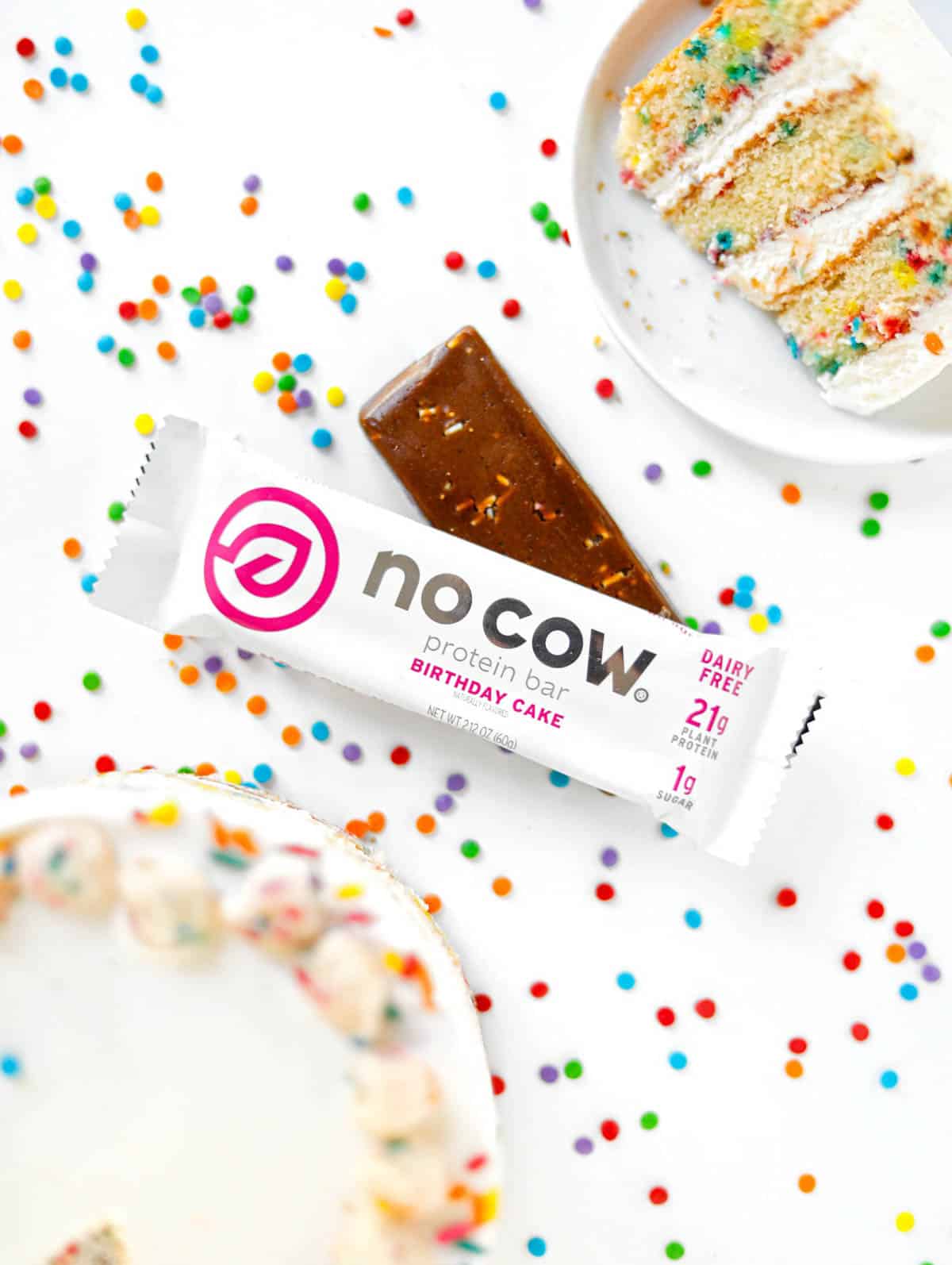 Note About Erythritol In No Cow Bars 
What is Erythritol?
Erythritol is a sugar alcohol that is commonly used as an alternative sweetener in food and beverages. It is 60–70% as sweet as table sugar, with virtually no calories. One benefit of erythritol is that it will not impact your blood sugar levels or cause any spikes. Low amounts of erythritol naturally occur in fruits and veggies such as watermelon, grapes, mushrooms, and fermented foods.
Is Erythritol Safe?
According to National Institutes of Health, Dr. Stanley Hazen led an NIH-funded research team at the Cleveland Clinic to study the relationship between erythritol and cardiac risk. The initial study included 1,000 people. The team looked for compounds in blood whose levels were linked to future heart health risks. They tracked major adverse cardiovascular events over a three year time span. They went on to track two more groups in both the U.S. and Europe, totaling to almost 3,000 people. 
The results from these studies suggest that consuming erythritol or artificial sweeteners can increase the formation of blood clots. In turn, this can cause an increase in the risk of heart attack or stroke.
Ultimately, it has been concluded that further studies need to be done regarding long term effects of sweeteners like erythritol and the link to cardiovascular health risks.
According to the No Cow brand, they state:
"We are aware of the study, and it's the first we've seen that associates Erythritol with certain health risks. Beyond the benefits of it being a great-tasting, natural, zero calorie, and low glycemic alternative to sugar, one of the main reasons we use Erythritol is because its safety is backed by a significant amount of research, following FDA guidelines.
This is a new study, and there are a number reasons that limit the conclusiveness of it and warrant additional research, including a small sample size and a population of participants with pre-existing conditions.
On average, No Cow bars contain <1g of Erythritol, which is far below the levels in the study; based on Erythritol consumption 30 times that rate.
Our R&D team is always evaluating new information and testing ingredients for quality and safety, and we will continue to do so.
Our goal is always to use the safest and best tasting ingredients that ultimately help us reduce the consumption of dairy and sugar."
It seems that No Cow is actively and consistently following research and keeping an eye out for studies. With their goal of using safe ingredients, it can be assumed that if further studies come out to prove a health risk from erythritol this ingredient would be changed. 
Are No Cow Bars Right For Me?
If you are looking to add extra protein into your diet, you might be on the search for the best bar out there. There are many factors that can play into the decision on if No Cow protein bars are right for you. For people who follow dairy free or vegan diets, then these bars may be perfect. They are also a good fit for anyone who is soy-free, gluten-free, or low carb/keto. 
Another thing to consider is your personal preference for taste and texture. I recommend buying a single bar from a local grocery store before committing to a larger pack, or opting for the no cow variety pack. That way you can explore different flavors, and decide if the texture works for you. Some people have commented that they prefer the dipped bars while others prefer the original bars. If you are looking for something that tastes like a candy bar, this may not be the right fit for you. However, keep in mind that those bars will be less nutrition oriented.
Ultimately, if you are looking for vegan bars that have high protein and high fiber, with low sugar, these are a really great option. They will help you feel full, satiated, and fueled without any reactions from allergies or intolerances. Hopefully this No Cow bar review has been insightful and helpful in your decision!
What Other Products Does No Cow Make? 
Did you know that No Cow makes other protein products, too? They have mighty treats and protein powders, all of which are plant-based and gluten-free. 
No Cow Mighty Treats: No Cow offers two "mighty treats" in their treat line: peanut butter cups and marshmallow crunchies. These treats are new products that launched this May of 2023. Both retail at $33.99 for a pack of 24 peanut butter cups or 18 crunchies. The peanut butter cups are the perfect combination of smooth chocolate and peanut butter. They have 200 calories per serving (2 cups) with zero sugar, 10g of protein, and 3g net carbs. The marshmallow crunchies are sticky and sweet with a decadent drizzle. They have 90 calories each with zero sugar, 7g of protein, and 5g net carbs. Try the variety pack for $37.99 if both of these treats sound tasty to you!
No Cow Protein Powders: In addition to protein bars and mighty treats, No Cow offers two protein powders in vanilla or chocolate flavors. Both are $39.99 for a container with 18 servings. Both are certified gluten-free and kosher, non-GMO, soy free, vegan. The vanilla flavor contains 21g of protein, 6g of fiber, and only 1g of sugar. The chocolate flavor contains 20g of protein, 7g of fiber, and only 1g of sugar. These powders are a great option for anyone who prefers a shake or smoothie versus a bar!
No Cow Protein Bars FAQs
ARE NO COW BARS HEALTHY?
Are no cow bars good for you? Considering that these bars pack a good punch of protein, along with healthy fat and fiber they can be considered a good source of nutrients. Compared to bars packed with sugar and additives, these are a good alternative!
ARE NO COW PROTEIN BARS GOOD FOR WEIGHT LOSS?
Eating these No Cow protein bars can be a great way to aid your weight loss journey. Each bar contains only 200 calories, and is high in protein and fiber to keep you full and satiated.
ARE NO COW BARS GOOD FOR GUT HEALTH?
These are high fiber protein bars with 15g of fiber per bar. This can be great for gut health and digestive health. If you currently do not consume much fiber, you may want to start with a little bit of the bar to get your stomach used to the increase in fiber intake. Since this source of fiber serves as a prebiotic you will be nourishing your gut and providing healthy fuel for the good bacteria. It is always best to also get daily fiber within each meal from a diverse selection of fresh fruits and veggies. One other point on gut health – some people experience side effects from sugar alcohols (increased bloating or gas). I didn't experience anything like this with the No Cow bars and found them to be very easy to digest, but everyone's experience with sugar alcohols is different, so keep this in mind as well.
WHAT ARE THE MACROS IN NO COW BARS?
Each No Cow bar contains roughly 20g of protein, 27g of carbs, 15g of dietary fiber, and 6g of fat. Check the nutrition facts on the back of each bar, as these amounts might vary for the different No Cow protein bar flavors. It is hard to find similar macros to this in other protein bars with low sugar!
ARE NO COW BARS NON-GMO? ARE THEY THIRD PARTY TESTED?
Yes, No Cow Bars are Non-GMO Project Verified and are third-party tested, along with being kosher and soy-free.
WHO MAKES NO COW BARS?
The No Cow brand was founded by Daniel Katz after discovering he had issues with dairy at the age of 18. As a fitness lover, he wanted to find a bar that was dairy-free and low in sugar. These bars started as a simple bar made by Daniel himself in his mom's kitchen. Now he has expanded his business. What he originally started for himself, is now being carried on to help consumers with dairy sensitivities like him!
ARE NO COW BARS ORGANIC?
No, these no cow vegan protein bars are not organic. The No Cow brand does not offer any organic products at this time.
ARE NO COW BARS PALEO?
No, these bars are not considered paleo since they are processed and include sweeteners. However, they do meet some criteria such as having zero trans fats.
ARE NO COW BARS GLUTEN FREE?
Yes, every No Cow bar is a certified gluten free protein bar, and are sent to a third party tester after production to make sure there is no gluten or dairy. They can be enjoyed by those with a gluten intolerance or sensitivity.
DO NO COW BARS HAVE ANY SIDE EFFECTS?
No Cow Bars should not have any side effects. Unless you have a nut allergy or sensitivity to any of the ingredients (mainly sugar alcohols), these bars are a healthier option compared to many other protein bar brands. If you eat very little fiber, you might want to start with half a bar at first to not overwhelm your digestive system.
More Healthy Food Guides!
Final Thoughts
I hope that you found this No Cow protein bars review to be helpful! After going through the pros and cons, various flavors, and nutrition details you can make an informed decision on if these protein bars are right for you. To summarize, here is a final breakdown of my personal ratings for these bars:
Overall Nutrition / Formulation: 5/5
Taste: 3.5 to 4 / 5 (depending on the flavor)
Texture: 3.5/5 
Price Per Bar: 4/5
Customer Service: 5/5
Quality Of Ingredients: 4.5/5
Customer Reviews: 4/5
Overall, these bars are a healthier option to many on the market. For a protein bar, they have a pretty good taste and texture with more protein and less sugar than similar brands. The price of these bars is relatively reasonable for the nutritional value. Customers seem to love the bars, find them perfect for an on-the-go snack or post-workout protein boost, and like the variety of flavors offered. 
Resources
Erythritol study: https://www.nih.gov/news-events/nih-research-matters/erythritol-cardiovascular-events#:~:text=These%20results%20suggest%20that%20consuming,risks%20of%20erythritol%20are%20warranted.