This Creamy Broccoli Cheese Soup is packed with broccoli flavor and extra cheesy. It's made without flour and gets its thick, creamy base from a potato! This soup is lower in calories and has all the flavor you expect! Skip to the Broccoli Cheddar Soup recipe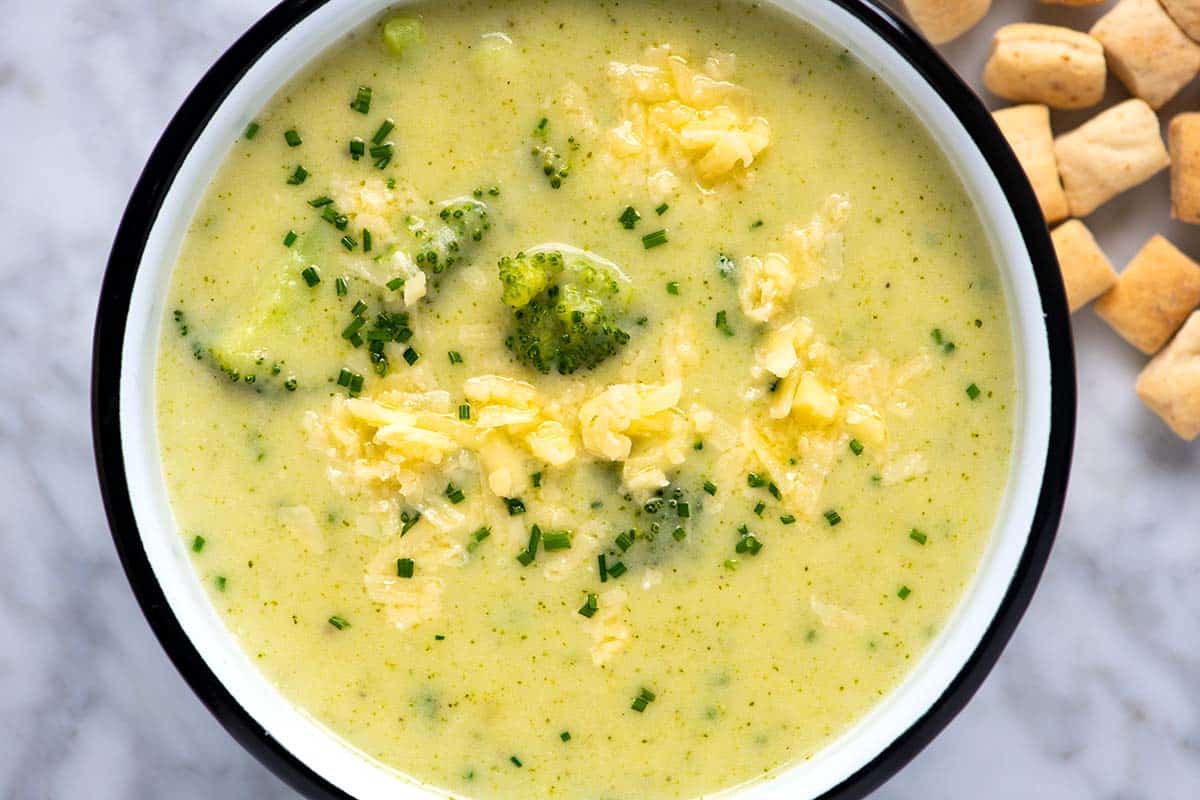 It is common to see broccoli cheddar soup made on the basis of flour, butter and milk. The method isn't much different than making the cheese sauce for macaroni and cheese. First melt butter, stir in flour, add milk and heat until milk thickens. Broccoli soup prepared in this way is delicious, but a little too heavy for us.
Our healthier version skips the butter and flour paste and requires a potato to thicken. This halves the amount of butter needed, says goodbye to flour and no longer requires several cups of milk.
Amazingly, even without all of those ingredients, our soup is creamy, rich, and delicious! So much so that you won't miss them one bit. For another easy, creamy soup, try our Roasted Cauliflower Soup.
How to Make Broccoli Cheddar Soup
If you've made our Creamy Vegetable Soup before, this recipe might look familiar. Here are the basic steps; Remember the entire recipe is below.
Sauté onions and whole garlic cloves (no chopping required!) in a little butter until soft and sweet.
Stir in chopped potatoes, broccoli stalks (the florets will come later), salt, pepper, red pepper flakes (for heating), and 1 teaspoon Dijon mustard. Cover everything with water or broth and simmer until soft. I find that water works well in this soup. I know it seems like we should add more flavor to the broth, but using water makes the broccoli shine. We follow the same process when preparing this tomato soup.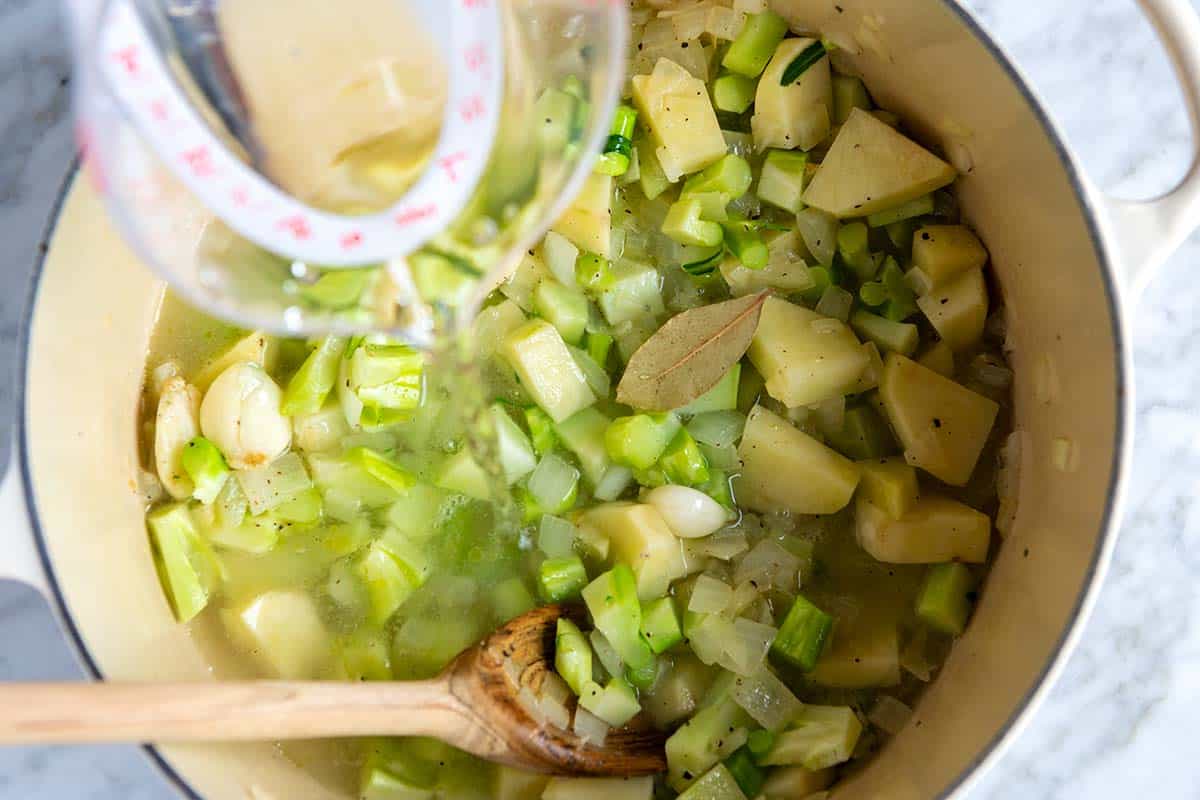 Add half the broccoli florets, cook until green and soft, then puree the soup. I use my hand blender to make things easy. Since we held back those broccoli florets, they're still bright green and make our soup pretty.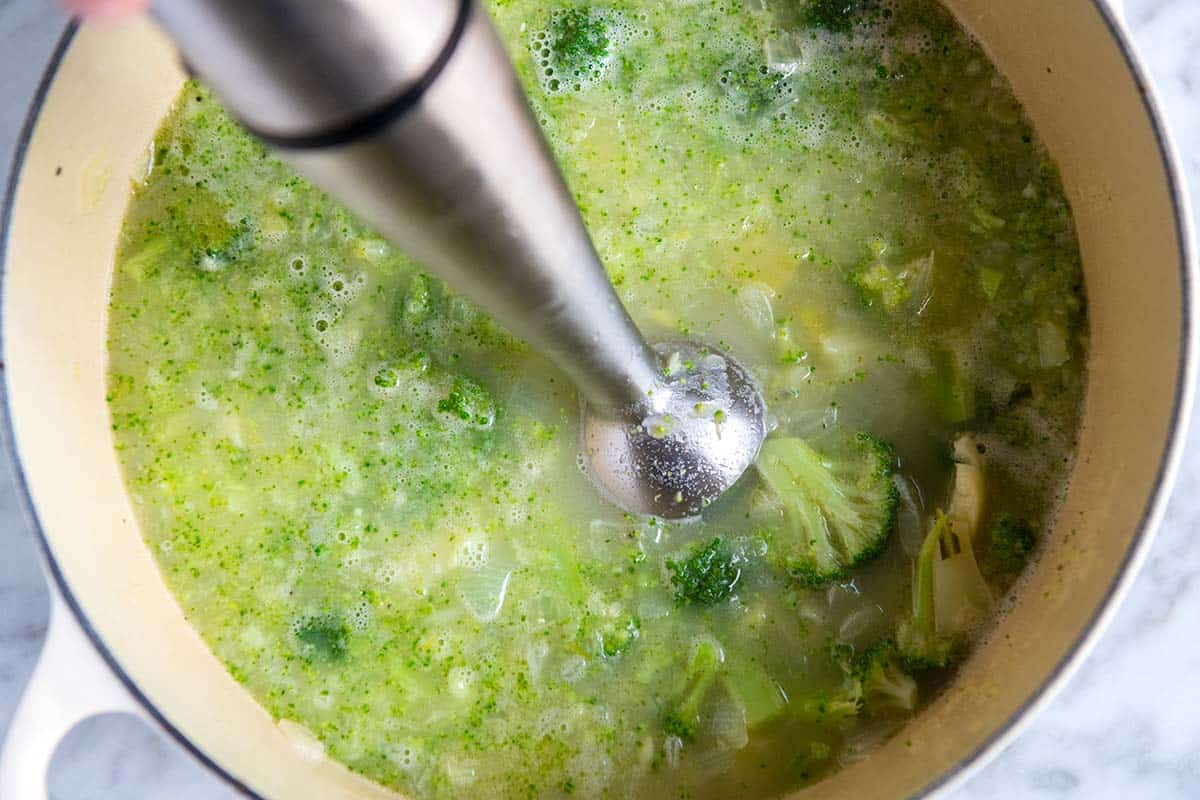 Now that the soup is ultra-creamy, we can add the remaining broccoli florets and cook until light green and tender. This way, the base of the soup will be green and creamy, and you'll still get a few small bites of broccoli.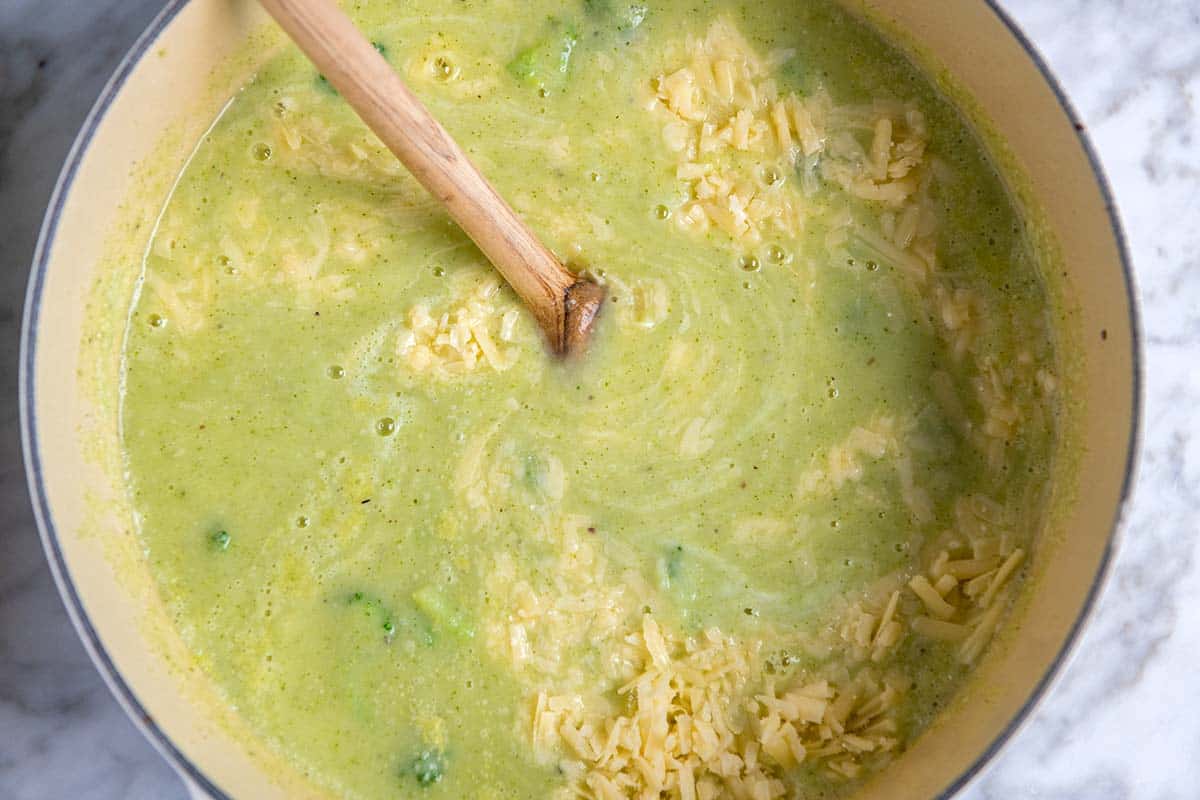 Stir in lots of shredded hot cheddar cheese — I like extra hot white cheddar — then stir in 1/2 cup half and half if you want your soup to be extra creamy. Sold in the US, half-and-half is a mix of whole milk and cream — also milk or cream work.
And that's it. Green Extra Creamy Broccoli Cheddar Soup. We love it!
Tip: Buy broccoli with stems
For this recipe, buy long-stalked broccoli if you can find it. The stalks taste amazing and are great when cooked with the potato as the base of this soup. In the recipe below, we'll walk you through how to prepare the stalks.
If you can't find broccoli with the stems still attached, you can make this soup. First, buy two pounds of broccoli florets and cook about half of them with the potato in place of the stalks (as suggested in the recipe). Save the remaining florets for later and follow the recipe directions to add them.
More vegetable soup recipes
Our favorite broccoli cheddar soup
This Broccoli Cheese Soup is packed with broccoli flavor and extra cheesy. It's made without flour or butter and gets its thick, creamy base from a potato! When shopping for this soup, look out for broccoli, which is sold with long stems. We chop the stalks and cook them with the potato. After a quick blending, the stalks and potato turn into a delicious, creamy soup. If you can only find broccoli heads or florets, you can still make the soup. See our tips in the article.
Served 6
Watch us make the recipe
you will need
1 large onion, finely chopped
4 medium garlic cloves, peeled and crushed
2 tablespoons unsalted butter or olive oil
2 pounds broccoli with stems
3/4 teaspoon fine sea salt, plus more to taste
1/2 teaspoon freshly ground black pepper
1/8 to 1/4 teaspoon crushed red pepper flakes, omit if sensitive to spices
1 teaspoon Dijon mustard
1 medium potato, peeled and chopped
1 bay leaf
4 cups water or broth
1/2 cup half and half, optional
8 ounces shredded sharp cheddar cheese, about 2 cups
Thinly sliced ​​chives for serving, optional
Fish sauce, optional, see notes
directions
Prepare broccoli

Cut the florets from the stems. Set the broccoli stalks aside and cut the florets into small bite-sized pieces (watch our video for reference). Toss the florets in a bowl and set aside for later.

Take the broccoli stalks and snip about an inch from the bottom of each stalk and discard. Use a vegetable peeler to peel off the tough outer layer of the stalks, then cut the stalks into 1/2-inch pieces.

make the soup

Melt the butter in a large saucepan, like a Dutch oven, over medium-high heat. When it's melted, toss in the onion and garlic cloves. Cook, stirring occasionally, until onions are soft and smell sweet; about 5 minutes.

Add the chopped broccoli stalks, potatoes, 3/4 teaspoon fine sea salt, 1/2 teaspoon freshly ground black pepper, Dijon mustard, and red pepper flakes (if using). Cook for two minutes and then add the bay leaf and four cups of water. Bring the soup to a boil, then reduce to a gentle simmer. cook, by a faint simmeruntil broccoli and potatoes are tender, about 15 minutes.

Stir in about half the broccoli florets into the soup, cover with a lid and cook until light green and tender, 3 to 5 minutes. Adding the florets in this step ensures our soup stays green.

Turn off the heat, remove the bay leaf, then use an immersion blender to puree the soup until smooth. You can also use a blender, but be sure to puree the soup in batches, filling no more than half full and holding the lid while you puree. Hot liquids can cause steam to form in the blender and the lid to pop off.

Place the pot back on the stove and heat over medium-high heat. Stir in the remaining broccoli florets, cover again, and cook until light green and tender, 3 to 5 minutes.

Stir in half and half and cheese. When the cheese melts in the soup, taste and then season with additional salt and pepper. Add a few dashes of fish sauce for a touch of flavor. Serve sprinkled with chives.
Advice from Adam and Joanne
Make the soup greener: For an even brighter green color, just before you're about to puree the soup, add a few handfuls of baby spinach leaves and let them wilt slightly in the soup (30 to 45 seconds).
Fish sauce is optional, but adds a nice flavor to sauces and soups like this Broccoli Cheese Soup. Two to three dashes flavor the soup nicely. Think of fish sauce as salt on steroids. It doesn't make the soup taste fishy, ​​but makes the flavor pop.
Recipe inspired by our creamy vegetable soup!
Nutritional Information: The nutritional information below is an estimate. We used the USDA database to calculate approximate values.
If you make this recipe, take a picture and tag it #inspiredtaste – we love to see your creations on Instagram and Facebook! Find us: @inspiredtaste
Nutrition per serving: serving size 1/6 of the recipe / calories 295 / total fat 19.2g / Saturated Fatty Acids 11g / cholesterol 54.7mg / sodium 627.3mg / carbohydrate 19.3g / fiber 5.1g / total sugar 5g / protein 14.4g
AUTHOR: Adam and Joanne Gallagher