Although it may taste like dessert, this vegan Chocolate Peanut Butter Overnight Oats The recipe is still loaded with nutrients like fiber, protein, healthy fats and antioxidants. (Chocolate is full of antioxidants!) You'll love this no-bake recipe that can easily be scaled up and meal prep for the week.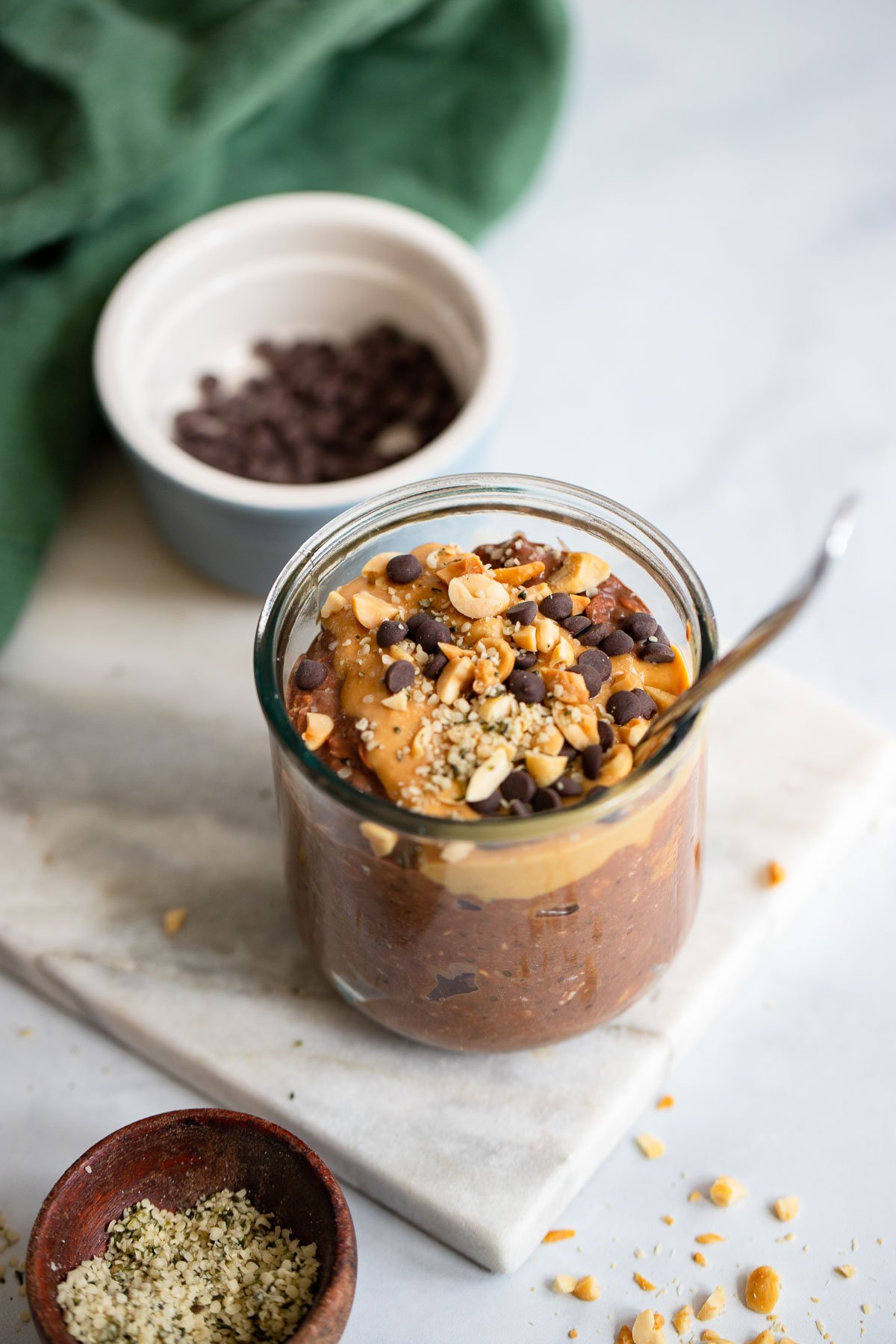 Although it may taste like dessert, this Chocolate Peanut Butter Overnight Oats recipe is still loaded with healthy nutrients! Chocolate is one good source of flavonols which act as antioxidants in our body to protect against cell damage and can also help promote vascular health. Plus, it tastes delicious in this vegan overnight oats recipe.
Why you'll love this recipe
Uncooked: unlike your traditional bowl of oatmeal, overnight oats don't need to be cooked! As the oats sit in the milk, they soak and soften so you can eat them without ever heating them. Great for a healthy dorm breakfast or even a mid-afternoon snack.
Scalable: This recipe for plant-based blueberry overnight oats is written for one serving, but can easily be scaled up to make several servings of overnight oats at the same time. Perfect for a grab-and-go breakfast for busy parents and teens.
Diet and Allergen Friendly: this recipe is vegan, dairy-free, egg-free, and gluten-free (when certified gluten-free oats are used).
Ingredients you will need
Old-fashioned oats: Choose plain old rolled oats for your overnight oatmeal. Since the oats will be sitting in liquid for several hours, you want to achieve the perfect balance between soft dough and chewy dough. The quick cooking oats are too chewy for my taste and the steel cut oats are too chewy.
Milk: To make these vegan, I use plant milk for my overnight oats. I usually use soy milk because it has more protein than other non-dairy milks, but you can use any plant milk you like like almond, hemp, oat, rice or cashew.
yogurt: To make overnight oats creamier, add some yogurt. Any type of yogurt will do, but I like to use a plant-based yogurt, especially one that has at least 7 grams of protein per serving.
Cocoa powder: It adds all the chocolate flavor we're looking for in these oats. Use an unsweetened cocoa powder for this recipe.
Chia seeds: Using chia seeds takes vegan overnight oats to another level by making them more pudding-like. They're technically optional, but I think this basic overnight oats recipe is so much better with them.
Maple Syrup: Add a touch of sweetness to your overnight oats with a little maple syrup. You can easily skip the maple syrup if you want the recipe to be sugar free. If you don't like maple syrup, you can also use brown sugar, coconut sugar, or agave.
Salt: It may seem counter-intuitive to add a little salt to your plant-based overnight oats, but I promise you, a little salt will get your overnight oats out of the way. meh a YUM!
Pssst… All ingredient measurements and detailed instructions are on the printable recipe card at the bottom of this post!
Step by step
Step 1: Add all the overnight oats ingredients to a bowl or wide-mouth jar and stir well to combine. If you like, you can stir the peanut butter into the oats or put it in the bottom of the jar and stir when ready to serve.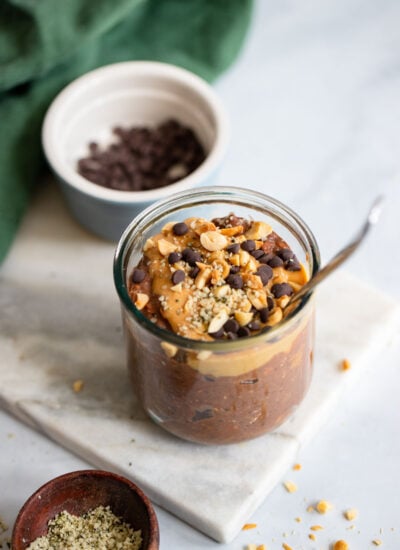 Second step: Place the chocolate peanut butter overnight in the refrigerator for at least 4 hours overnight to thicken. To serve, stir in the peanut butter, chopped peanuts and chocolate chips.
Recipe notes:
Batch preparation: Instead of making one batch of these overnight oats at a time, you can batch at least 5 servings at a time at the beginning of the week. They keep well in the fridge for up to a week, so just adjust the portions in the recipe below to make as many servings as you need.
Use old-fashioned rolled oats: Quick-cooking oats will work for this recipe, but they turn white when they cool. However, if you like a softer, pudding-like texture, it might work for you! You just want to avoid steel cut oats as they won't soften enough overnight to be edible in the morning.
Oats too thick?: If you cook the oats, they may be thicker after 2-3 days, so just add a splash of milk to thin them out again.
Topping suggestions
Here are a few different topping ideas to serve with these vegan overnight oats:
Fresh or frozen fruit: add some sliced ​​banana or fresh berries like raspberries or strawberries.
Dried fruit: Unsweetened coconut flakes or unsweetened shredded coconut are great additions to this plant-based chocolate peanut butter oatmeal recipe.
Then: hemp hearts or ground flaxseeds will provide additional fiber and healthy fats. Pumpkin seeds are also a great option!
Dried fruit: add some crunch, as well as healthy fat, by topping these oats with chopped peanuts.
Granola: add crunch to these oats by sprinkling some granola on top. this Homemade vegan granola recipe it's my favorite!
Frequently asked questions about recipes
Are overnight oats better with milk or yogurt?
I've tried dozens of variations of overnight oats and I think the best one has both milk and yogurt. If you want the best creamy, rich overnight oats recipe, you'll want to use both.
Are Chocolate Overnight Oats Healthy?
Yes! This Chocolate Peanut Butter Overnight Oats recipe provides tons of fiber, protein, and healthy fats, as well as gut-friendly probiotics and antioxidants. It's a great way to start the day on a healthy note!
What can I use instead of peanut butter?
If you've run out of peanut butter, substitute another nut butter like almond butter. You can also skip the peanut butter and serve these chocolate overnight oats with fresh berries or even add some jam.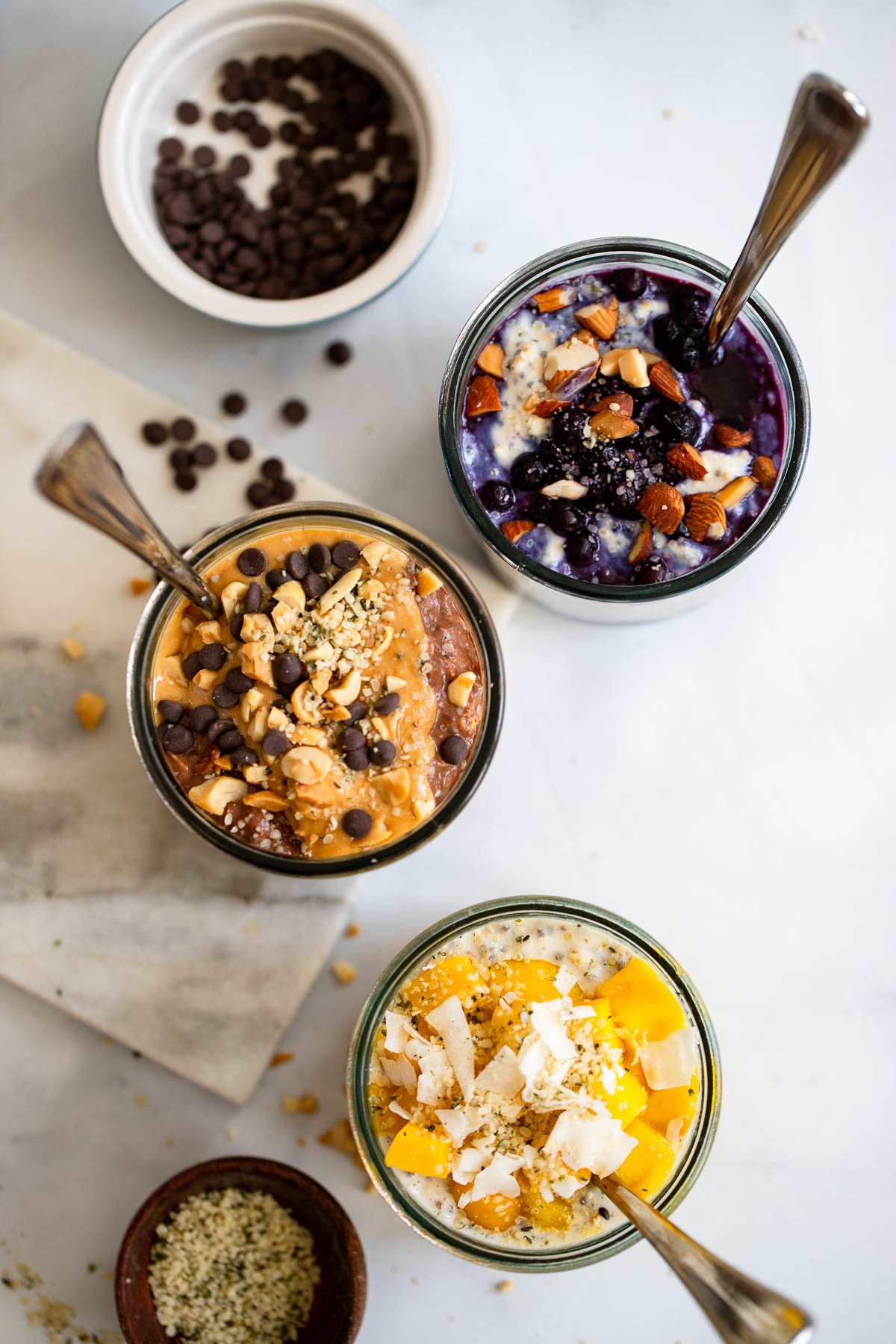 storage
Refrigerator: store overnight oats in an airtight container or jar in the refrigerator for up to 4-5 days.
Freezer: you can freeze this oatmeal recipe overnight in an airtight container for up to 3 months. Let it thaw in the fridge overnight before serving.
More recipes you'll love
Did you like this recipe? Be sure to leave a ⭐️ rating and tag #dietitiandebbie on Instagram!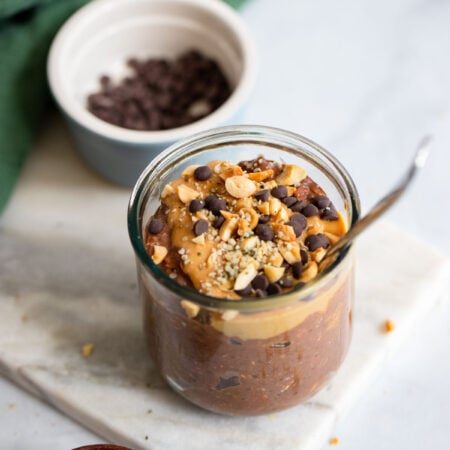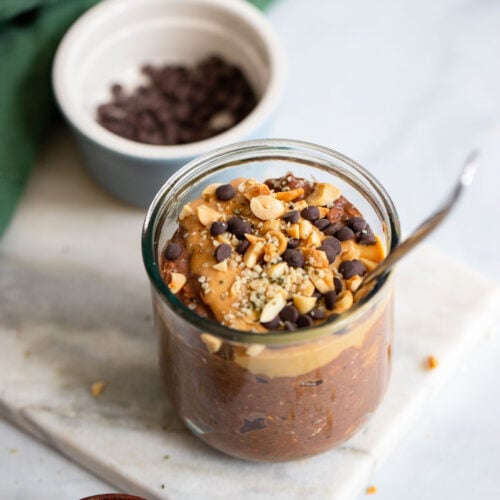 Overnight Oats with Chocolate Peanut Butter
Although it may taste like dessert, this Chocolate Peanut Butter Overnight Oats recipe is still loaded with nutrients like fiber, protein, healthy fats, and antioxidants. (Chocolate is full of antioxidants!) You'll love this no-bake recipe that can easily be scaled up and meal prep for the week.
Avoid screen dimming
Instructions
In a large bowl, add the oats, milk, yogurt, cocoa, maple syrup, chia seeds and salt. Stir well with a spoon. Cover and chill overnight in the refrigerator.

Top the oats with peanut butter, peanuts and chocolate to serve.
notes
Chia seeds: if you don't have chia seeds, you can use 1 tablespoon of ground flax seeds. If you don't have either, just reduce the milk from 3/4 cup to 1/2 cup.
Heating: If you want to serve these warm overnight oats, just add them to a bowl in the microwave for 30 seconds to 1 minute until heated through.
Storage: store in an airtight container or jar for up to 5 days in the refrigerator. You can also freeze it for up to 3 months. Thaw in the refrigerator overnight before serving.
nutrition
Service: 1to serve | Calories: 569kcal | Carbohydrates: 75g | Protein: 20g | Fat: 24g | Saturated fat: 7g | Polyunsaturated fats: 8g | Monounsaturated fats: 6g | Trans fats: 0.02g | Sodium: 193mg | Potassium: 744mg | Fiber: 14g | Sugar: 28g | Vitamin A: 384UI | Vitamin C: 10mg | Calcium: 476mg | Iron: 5mg
Reader interactions