As an Amazon Associate, I earn from qualifying purchases.
These Cold Sesame Noodles are a quick, easy pasta salad made with chewy noodles and fresh, crunchy veggies in a light, tangy sesame soy dressing. A no-fuss, healthy, delicious meal for at home, on the go and fun, and ready in just 15 minutes!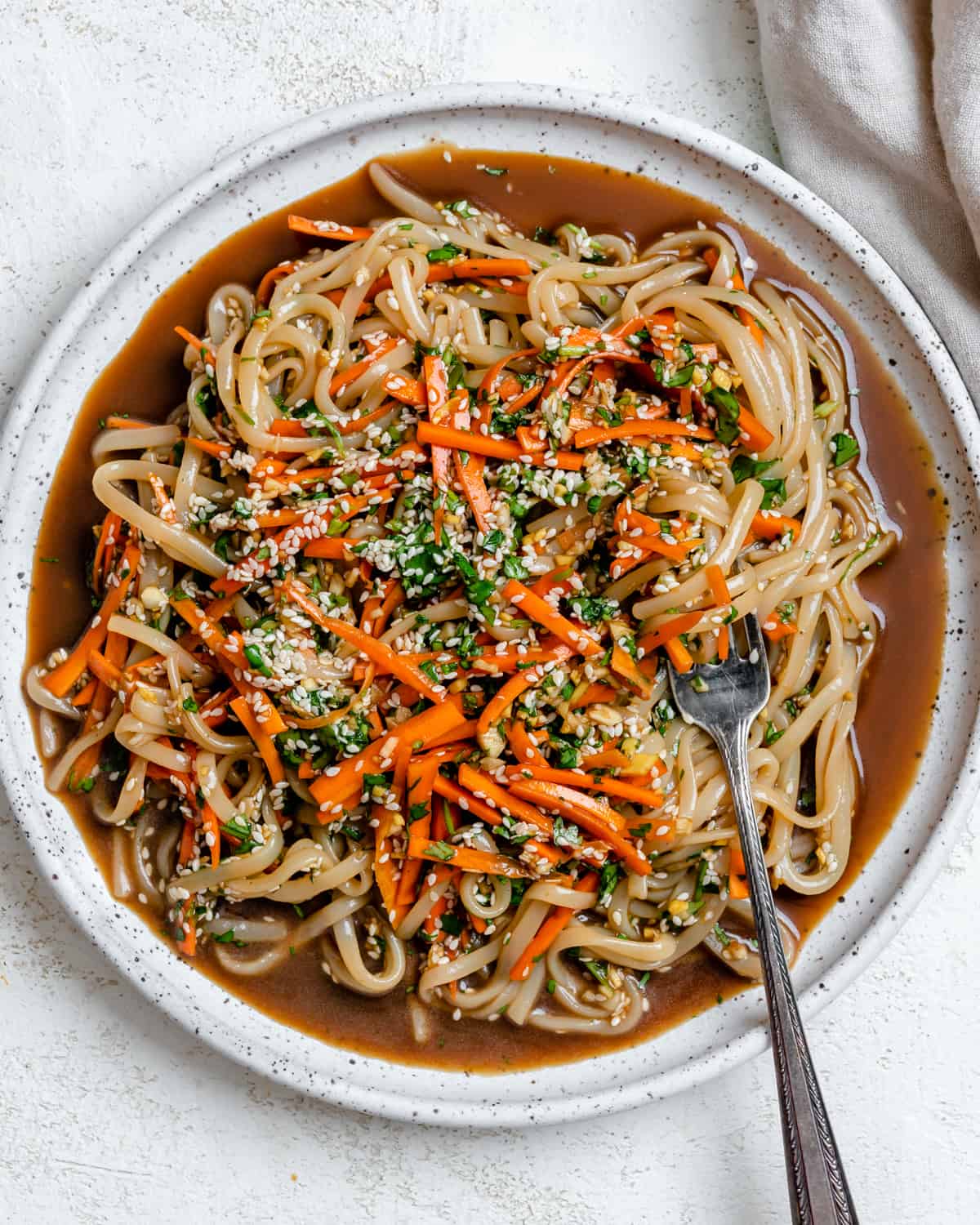 Chilled Sesame Noodle Salad in under 15 minutes
Pasta recipes are among the best for quick, easy, inexpensive, and delicious meals; there is something for every mood. Whether that's cooked veggie chow mein, a warm cucumber soba salad, chilled garlic sesame soba noodles, or this cold noodle salad.
These cold sesame noodles are light, refreshing, healthy, require minimal cooking, and are ready in just 15 minutes (but they get even better when marinated for 30 minutes!). This makes them perfect for the warmer summer months when you don't feel like cooking, although they are a delight all year round.
You also only need a handful of pantry staples to put together a meal of hearty, nutty, delicious flavors and chewy, crunchy textures. Unlike most cold sesame noodle recipes, this version can be made without the sesame paste/peanut butter for a lighter, brighter dish. Plus, you can customize it with other veggies and proteins you have on hand.
Depending on the pasta used, this recipe is also gluten-free and 100% vegan. Best of all, this Sesame Soy Pasta Salad is easy to make ahead, travels well, and is great for feeding a crowd. So prepare a load for your next BBQ, potluck, picnic and more.
The ingredients
9 inexpensive, pantry-friendly ingredients make up this sesame pasta recipe.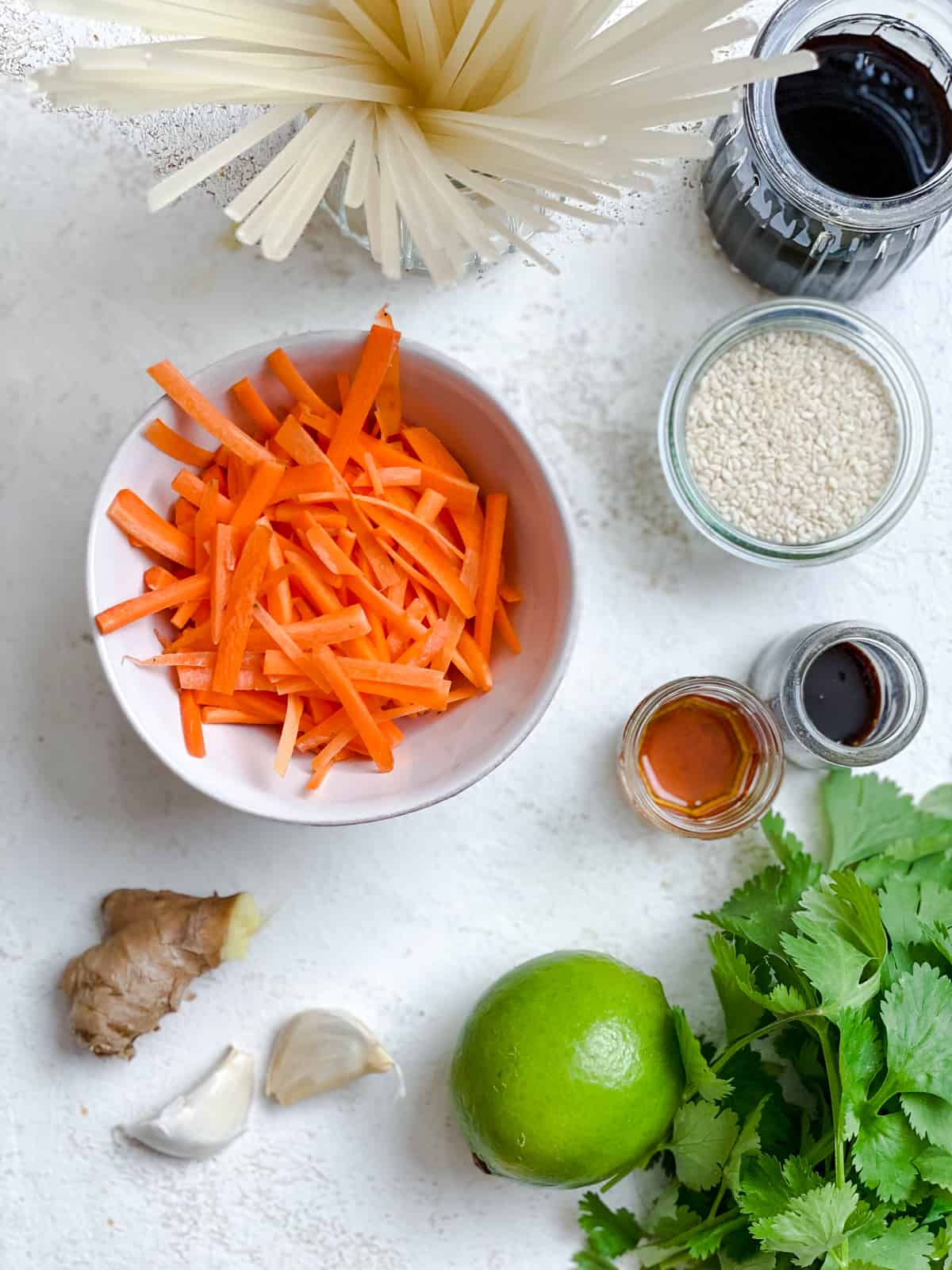 pasta: There are several types of noodles that you can use for this Asian noodle salad, including soba noodles (buckwheat noodles), rice noodles (our favorite option), ramen, etc. Other types will work too (even spaghetti). Check that they do not contain eggs.
grated carrots: This adds crispness and color to the cold Asian noodle salad.
coriander: If you're not a cilantro fan, sliced ​​scallions (scallions) and/or parsley, Thai basil, or mint might work.
Sesame seeds: To garnish the sesame noodle salad. For extra flavor, toast them in a dry pan until fragrant and browned. Add extra crunch with chopped peanuts or cashews.
Sesame Soy Dressing
aromatics: Using fresh garlic and ginger gives the best flavor, but it's possible to use powdered versions of either/both in a pinch.
Sesame oil: To spice up the sesame-flavored pasta salad dressing, use toasted sesame oil.
soy sauce: You can use regular or reduced-sodium soy sauce. If you're gluten-free, use coconut aminos or tamari instead.
lime juice: To add brightness and depth, use fresh lime juice. You can also use lemon juice or rice vinegar.
Vegan Worcestershire Sauce: (optional) This ingredient adds extra flavorful depth, but isn't 100% necessary. It's also worth noting that many brands aren't gluten-free.
What else could I add to the pasta salad?
Protein: For a heartier meal, add crispy tofu, tempeh, or another meat alternative.
Spice up: Add heat with some sliced ​​red chillies, red pepper flakes, or chilli paste (like sambal oelek). You can also garnish with chili oil.
sesame paste: For a creamier sesame noodle salad, add 2-3 tablespoons Chinese sesame paste, tahini, and/or peanut butter to the dressing (mix separately before tossing with the noodles). Add hot water (tsp at a time) for a thinner consistency.
Green: Finely chopped spinach or kale (rub the latter with sesame oil beforehand to soften it).
sweetener: If you want to balance out the salty, tart taste of the cold noodles, a dash of maple syrup, agave, coconut sugar, brown sugar, etc. works.
Vegetables: There are tons of veggies you could use to boost the color, nutrition, and texture in this cold sesame noodle recipe.

Blanched broccoli or broccolini Sugar snap peas/Mangetout Sugar snap peasMatch/Julienne cucumberJulienne peppers (red, orange, or yellow—not green)Steamed edamame, Shredded cabbage, Julienne radishes
You can also reduce preparation time by relying on a pre-made coleslaw mix.
How do you make cold sesame noodles?
1) First, cook the noodles according to package directions (usually just soak/cook in hot water for a few minutes). Then drain and let cool.
Rinse pasta with cold water can help cool them down quickly. However, slightly warm pasta absorbs the dressing better.
2) Meanwhile, finely chop the garlic, chop the coriander, grate the carrots and squeeze the lime.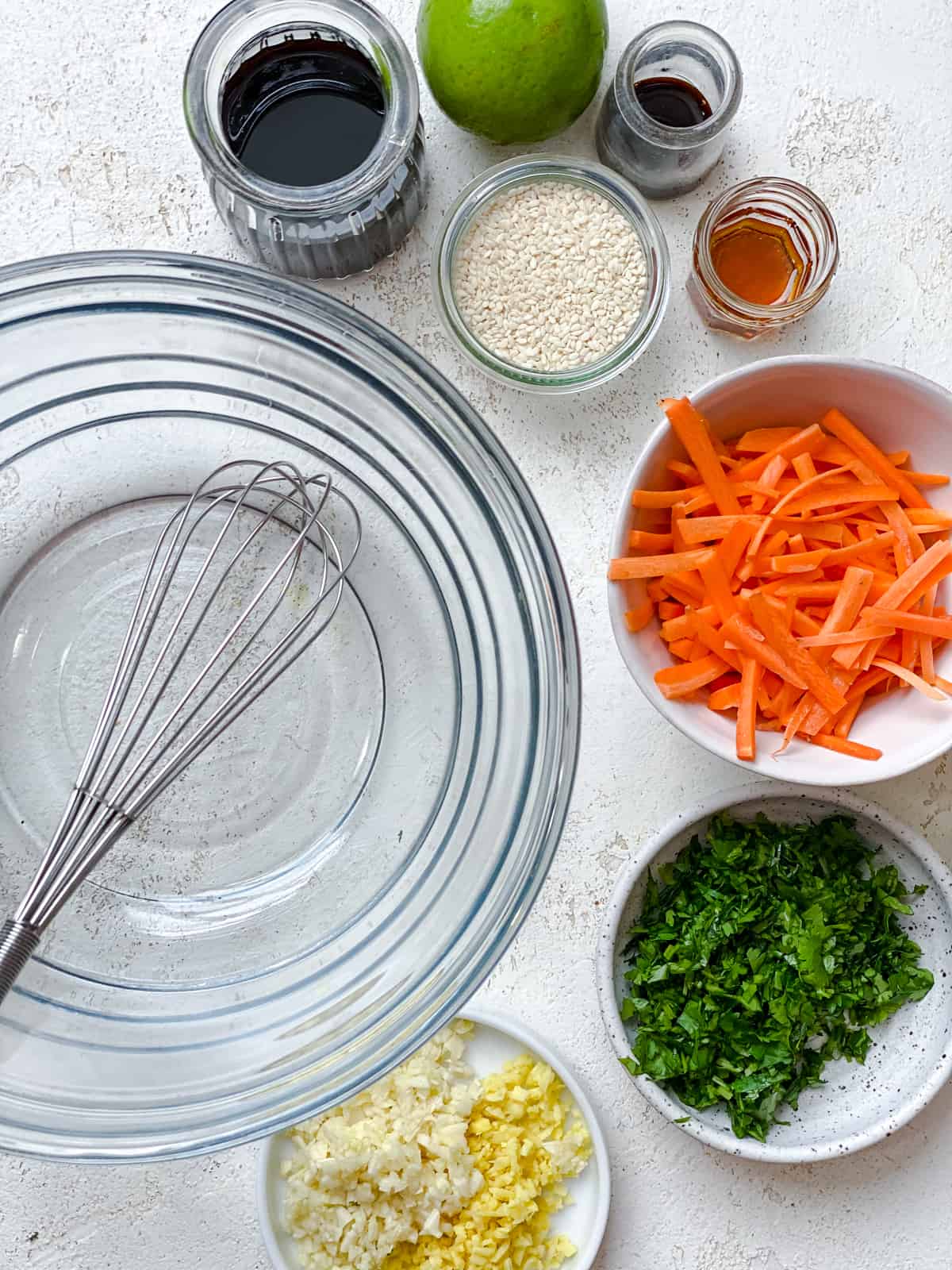 3) Place all ingredients in a bowl and mix well to thoroughly coat. Then place the sesame pasta salad in the fridge for at least 30 minutes (1-2 hours is even better) to chill and allow the flavors to meld. Enjoy!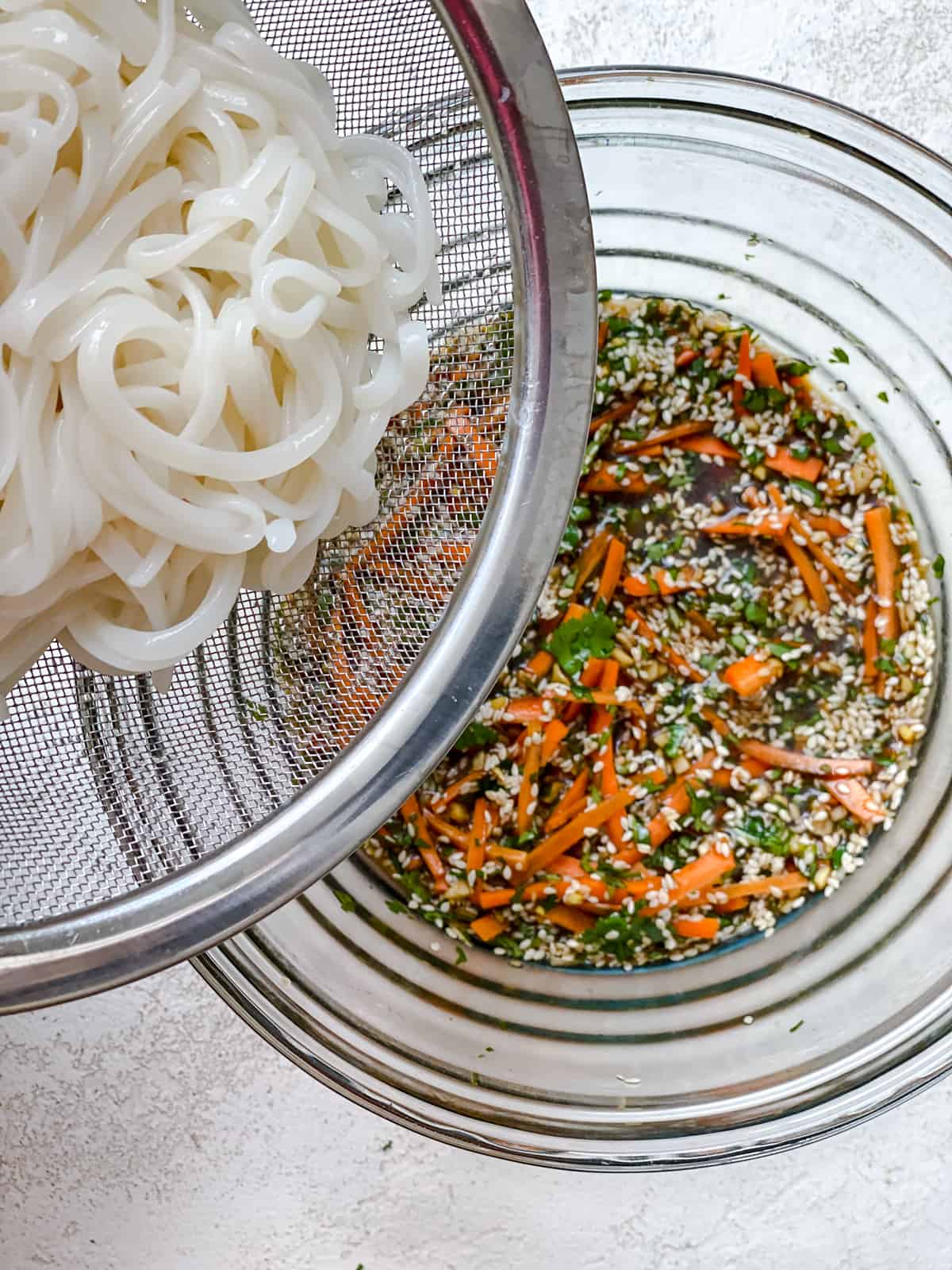 optional, Mix all the ingredients for the sesame dressing in a separate bowl first to make sure it's thoroughly combined.
recipe notes
Be careful not to overcook the pasta: They can get sticky if overcooked, but are wonderfully chewy when al dente.
For more flavor: Toast the sesame seeds until fragrant and browned for a more aromatic, nutty flavor.
Adjust the dressing: Adjust the amount of each ingredient to taste.
It is highly customizable: There are many ways to adapt this recipe with the proteins and veggies you have on hand, so experiment for a pasta salad that never gets boring.
For a low carb version: Try zucchini noodles.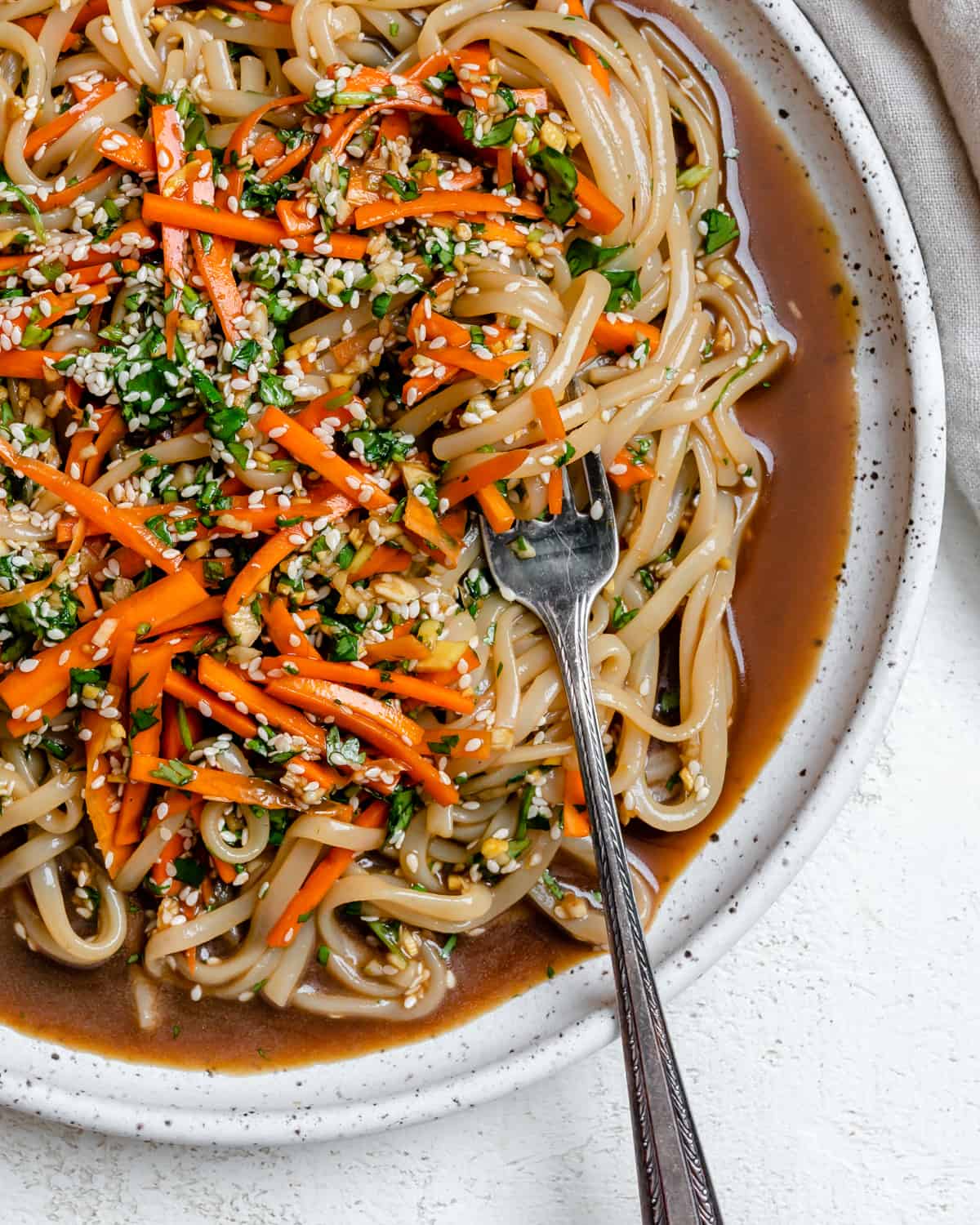 Do you eat sesame noodles hot or cold?
This recipe is best enjoyed at room temperature or chilled (although it's technically possible to enjoy them warm).
Enjoy the vegan pasta salad on its own or serve it as an accompaniment to your favorite protein, cooked vegetables, dumplings, etc.
Storage Instructions
You can make the sesame soy dressing ahead of time and store it in the fridge 1-2 weeks.
Store leftover cold sesame noodle salad in an airtight container in the refrigerator 4-5 days. It tastes even better the second day, although it can get a bit "dry" over time – so top up with a little more dressing or veggie broth if needed.
We do not recommend freezing it as the texture of the fresh vegetables and herbs will become mushy/unappealing.
More easy vegan salad recipes
Photos by Alfonso Revilla
Cook the noodles according to package instructions. Drain and let cool.

Place the cooked noodles in a large bowl with all the other ingredients. Stir until well combined and refrigerate until chilled. Serve cold.
Be careful not to overcook the pasta: They can get sticky if overcooked, but are wonderfully chewy when al dente.

For more flavor: Toast the sesame seeds until fragrant and browned for a more aromatic, nutty flavor.

Adjust the dressing: Adjust the amount of each ingredient to taste.
Calories: 436kcalCarbohydrates: 68GProtein: 5GFat: 16GSaturated Fatty Acids: 2GPolyunsaturated fat: 7GMonounsaturated fatty acids: 6GSodium: 867mgPotassium: 139mgFiber: 3GSugar: 1GVitamin A: 2056ieVitamin C: 4mgCalcium: 87mgIron: 2mg
Disclaimer: While plantbasedonabudget.com tries to provide accurate nutritional information, please note that these are estimates only. Nutritional information may be affected by product type, brand purchased and in other unpredictable ways. Plantbasedonabudget.com shall not be liable for any loss or damage arising from your reliance on nutritional information. If you need to follow a specific calorie regimen, please consult your doctor first.
Source link