"How do you come up with all these recipes?" I get asked this question at least weekly! My latest Pomegranate Burrata Avocado Salad recipe came about while I was putting together menus for 4 Christmas parties in a week just before Christmas.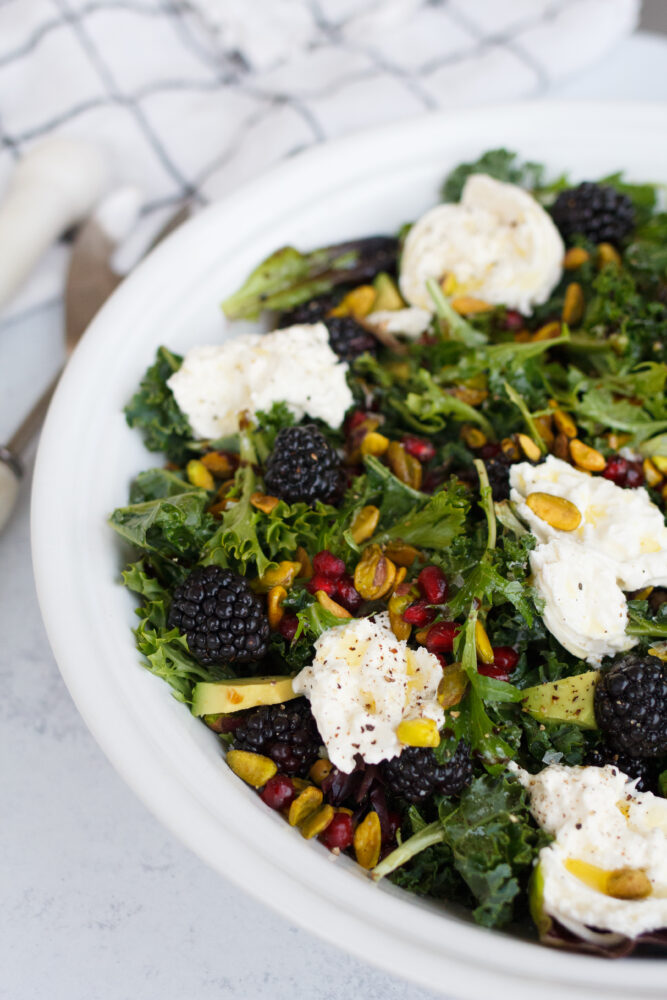 For convenience, I decided to make the same salad recipe for all dinners. I started with kale, which I think would be the perfect accompaniment to rich holiday dishes, and a celebratory combo of pomegranates, pistachios, and burrata.
I made this basic recipe three, maybe four? years ago for a baby shower but never posted. Simple and special, it has all the components of a truly outstanding salad. What makes a great salad? There are so many great salad recipes out there, but it takes just the right combination to take a salad from good to amazing!
I'm looking for different textures, colors, flavors, and a dressing that complements the salad and doesn't overwhelm it. Our Pomegranate Burrata Avocado Salad is all that and more!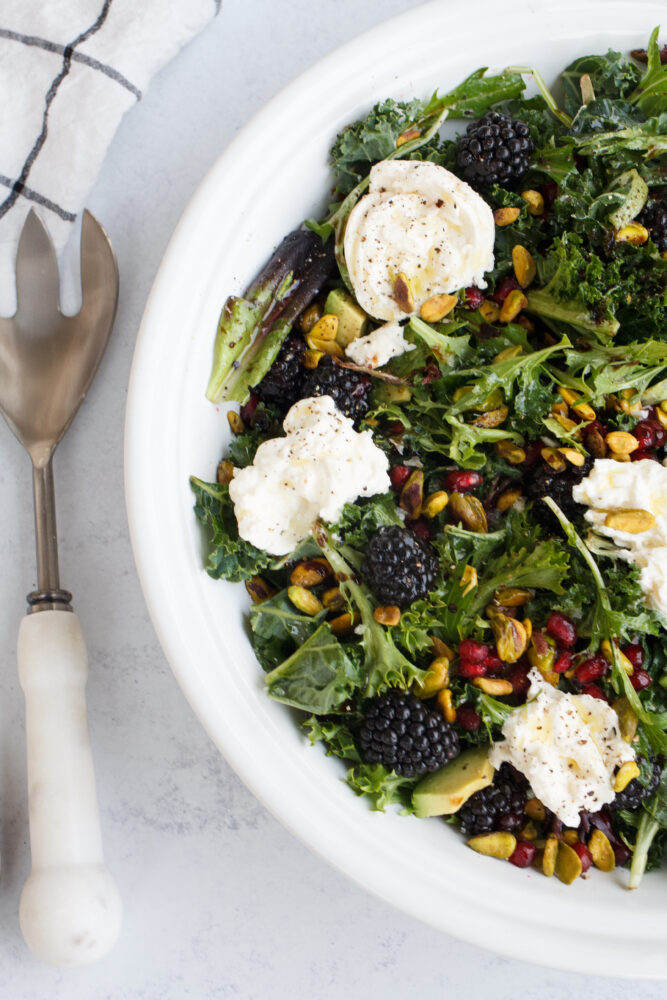 This salad can be prepared at any time of the year and varied depending on the fruit available. Over the past week I've added a few different combinations including: strawberries, blueberries, and raspberries. My favorite fruit combination in this salad is blackberries and pomegranates.
Avocados and burrata add creamy texture and color. The kale and either spinach and mixed greens offer color and texture variation (again). With all the savory flavors, a little sweetness is okay, so pomegranates and berries are the best complements!
If you're hesitant to use kale, trust me, my tried and tested method for making a kale salad will change the way you look at kale! Years ago I shared this recipe for kale salad. I learned how massaging breaks down the fibers in kale to make it tastier. Adding lemon will also help soften the kale, give the dressing that acidic aspect, and ultimately keep the avocado from turning brown!
When we lived in Spain we developed a taste for simple dressings. This dressing is fresh, simple, and perfect for this salad. Freshly squeezed lemon, high quality olive oil, a sweet white balsamic vinegar, salt and freshly ground pepper. I love a good quality white balsamic, but any sweet balsamic or balsamic reduction will work.
Once you try this salad I think it will become your new favorite and you will be able to create your own combination of favorite fruits, nuts, vegetables and cheese. If you don't have pistachios use what you have, pumpkin seeds or pine nuts are great choices for this salad too!
I'd love to hear how you make this salad your own. Leave a comment below and let us know which combo you go for!
Pomegranate, burrata and avocado salad
This easy fresh salad will make you fall in love with kale! The dressing is lemon juice massaged into the kale to tenderize the greens. Pomegranates, blackberries, pistachios, avocados and burrata make this salad outstanding! This salad is guaranteed to taste great every time.
ingredients
Dressing (do not mix together, each ingredient is added separately)
1




lemon

3-4




tablespoon




good quality sweet white balsamic or balsamic reduction




see recipe notes

1/4




cup (approx.)




Good quality olive oil




see recipe notes

Salt and freshly ground pepper
Salad:
1




16 ounces




Bag of chopped kale

1-2




avocados

1




5-8 oz




Bag of mixed leafy greens or spinach

2




cups




Blackberries, blueberries, or strawberries, or a combination, divided

1




Cup




peeled pistachios, divided

1




Cup




Pomegranate pieces, divided

1




8 ounces




Container burrata, drained
instructions
Place kale in a large salad bowl. Squeeze a lemon over the kale. Using clean hands, squeeze the kale several times until the volume of the kale is reduced by about 1/3, this usually takes about a minute. Turn the kale over and squeeze again.

Cut the avocado into chunks and place in the center of the kale, tossing so the lemon juice coats the avocado. Generously salt and pepper the vegetables and avocado, using about 1 teaspoon each. Throw again.

Reserve about 1/4 cup of each of the remaining: blackberries (or other fresh fruit), pistachios, and pomegranates. Carefully pour into the kale. Add the bag of mixed vegetables or spinach. Swirl carefully again.

Drain the water from the burrata and carefully break each ball into pieces and place on top of the salad. I try to make sure each person being served gets 1-2 pieces of burrata so break accordingly!

Place the remaining fruit and pistachios on top of the salad and group the pomegranates for an appealing look. Refrigerate until ready to serve.

Drizzle olive oil on top just before serving. Be sure to drizzle a little oil on burrata. Drizzle sweet balsamic vinegar (white or glazed) over the salad. Sprinkle again with salt and pepper. Serve immediately.
recipe notes
Good quality olive oil and balsamic vinegar make all the difference in this recipe. Look for olive oil at a local specialty shop like Caputo's in SLC or often the world market will stock imported olive oil from Spain or Italy. I also love O' brand olive oil, which can be found at grocery stores and at Target and is harvested from California olives. You can also use balsamic reduction instead of balsamic. Make sure the balsamic vinegar you use is sweet and mild. I like white best because it doesn't discolour the lettuce.
I highly recommend using maldon, fleur de sal or other finishing salt in this salad and always freshly ground pepper. With so few ingredients in the dressing, it's best to use quality salt and pepper for seasoning! However, I have used Costco Coarse Sea Salt with great results.
Use a barely ripe and not too soft avocado for this salad.
Trader Joe's sells burrata. I haven't tried their truffle burrata but I'm sure it would be good in this salad too.
Wait to drizzle the balsamic reduction just before serving so it doesn't bleed onto the burrata!