This post may contain affiliate links. Please read our disclosure policy.
This Red Cabbage Carrot Slaw is the perfect easy side dish for any occasion! The vibrant colors of the veggies are beautiful and the vinaigrette adds a delicious depth of flavor. You can serve this slaw as is or top it with some grilled chicken or fish for a full meal.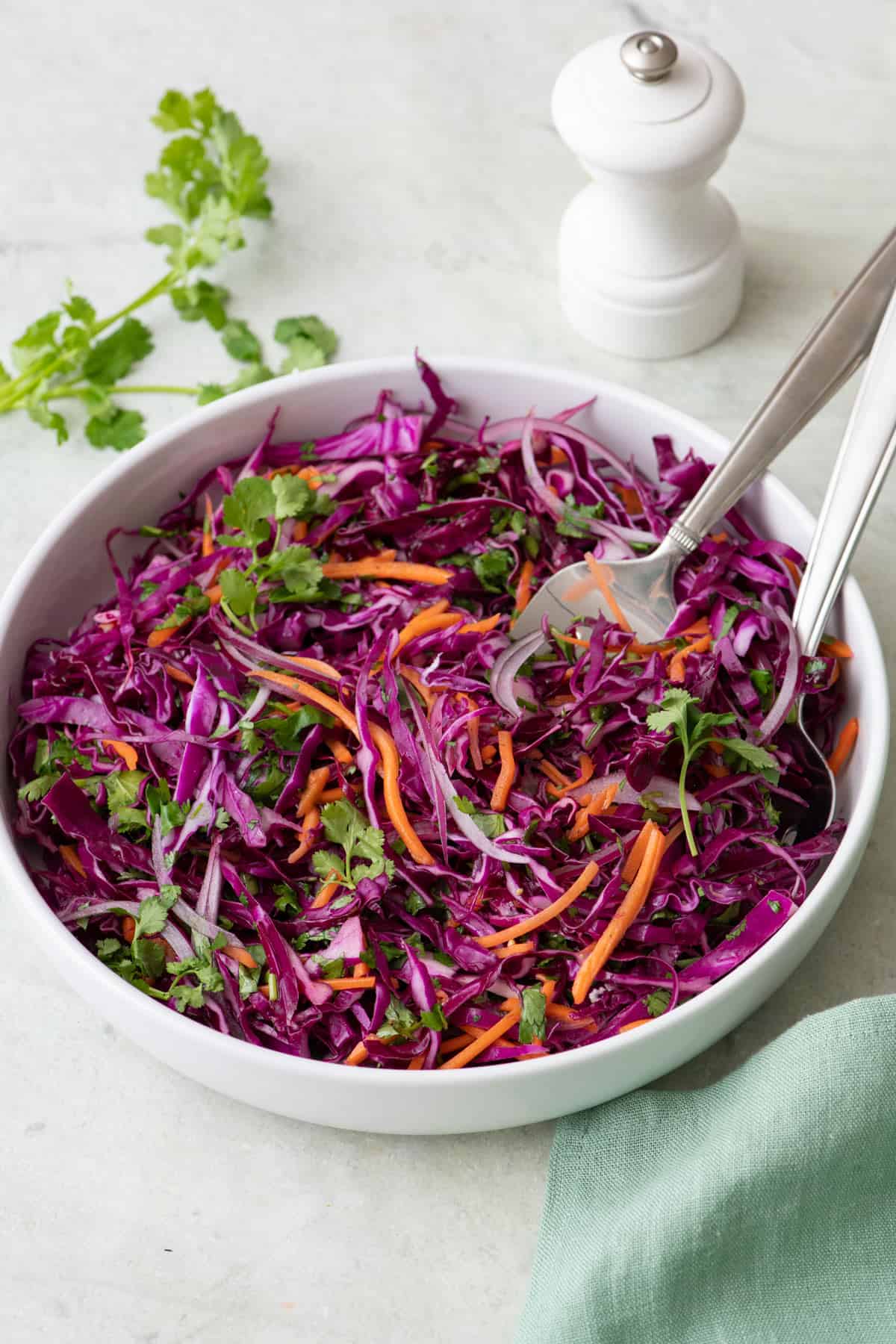 This oxtail salad recipe was inspired by one I enjoyed at ritzy LA retail store Erewhon. It was one of many salads at the salad bar and I was struck by how simple the ingredients were but how flavorful the end product was. My version isn't exactly the same, but I think you'll agree that the sum is more than equal to the parts in this easy Red Cabbage Slaw Recipe!
Why you will love this red cabbage and carrot coleslaw
Crunchy & refreshing. The shredded red cabbage and carrots add crunch to the salad, while the cilantro and vinaigrette add a touch of pizzazz to the salad.
Simple & healthy. This red cabbage salad is quick to prepare with just a few ingredients and is full of vitamins and minerals. It's also vegan and gluten-free!
Deliciously versatile. Serve this coleslaw as is or top it with your protein of choice, salmon, shrimp or even tofu. It's also great on burgers!
Perfect for potlucks. If you're responsible for a summer side dish, this red cabbage and carrot coleslaw is a crowd-pleaser and easy on the wallet.
Ingredients for red cabbage salad
One of the great things about this coleslaw recipe is that the ingredients can be adjusted to suit what you have on hand. The salad itself only requires 4 ingredients and the dressing is staples you probably already have!
For the salad:
Red cabbage: Shredded red cabbage gives the salad a nice color and crunchy texture.
carrots: Match stick carrots add sweetness and an extra layer of crunch.
Red onions: Finely sliced ​​red onions add nice flavor without being overpowering.
Coriander: Fresh coriander brings brightness and herbal notes.
FOR DRESSING
red wine vinegar: Red wine vinegar adds a subtle acidity to the vinaigrette.
Olive oil: Olive oil gives the dressing a smooth texture and nutty flavor.
maple syrup: A little maple syrup balances the acidity of the vinegar.
Salt pepper: Finally add a pinch of salt and pepper to taste.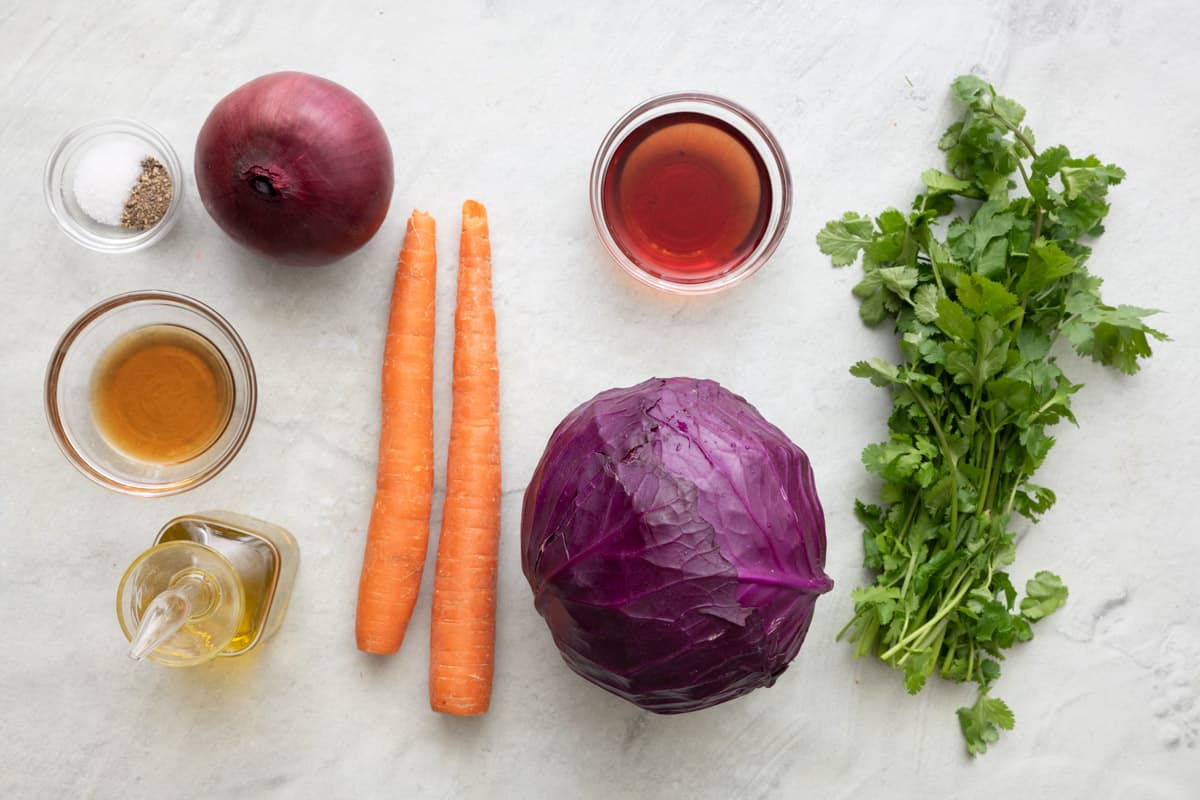 How to make oxtail salad with vinaigrette
Combine red wine vinegar, olive oil, maple syrup, salt, and pepper in a large bowl.
Whisk until well mixed.
Add the cabbage, carrots, red onions and cilantro.
Toss well to spread the dressing over the cabbage. Serve immediately.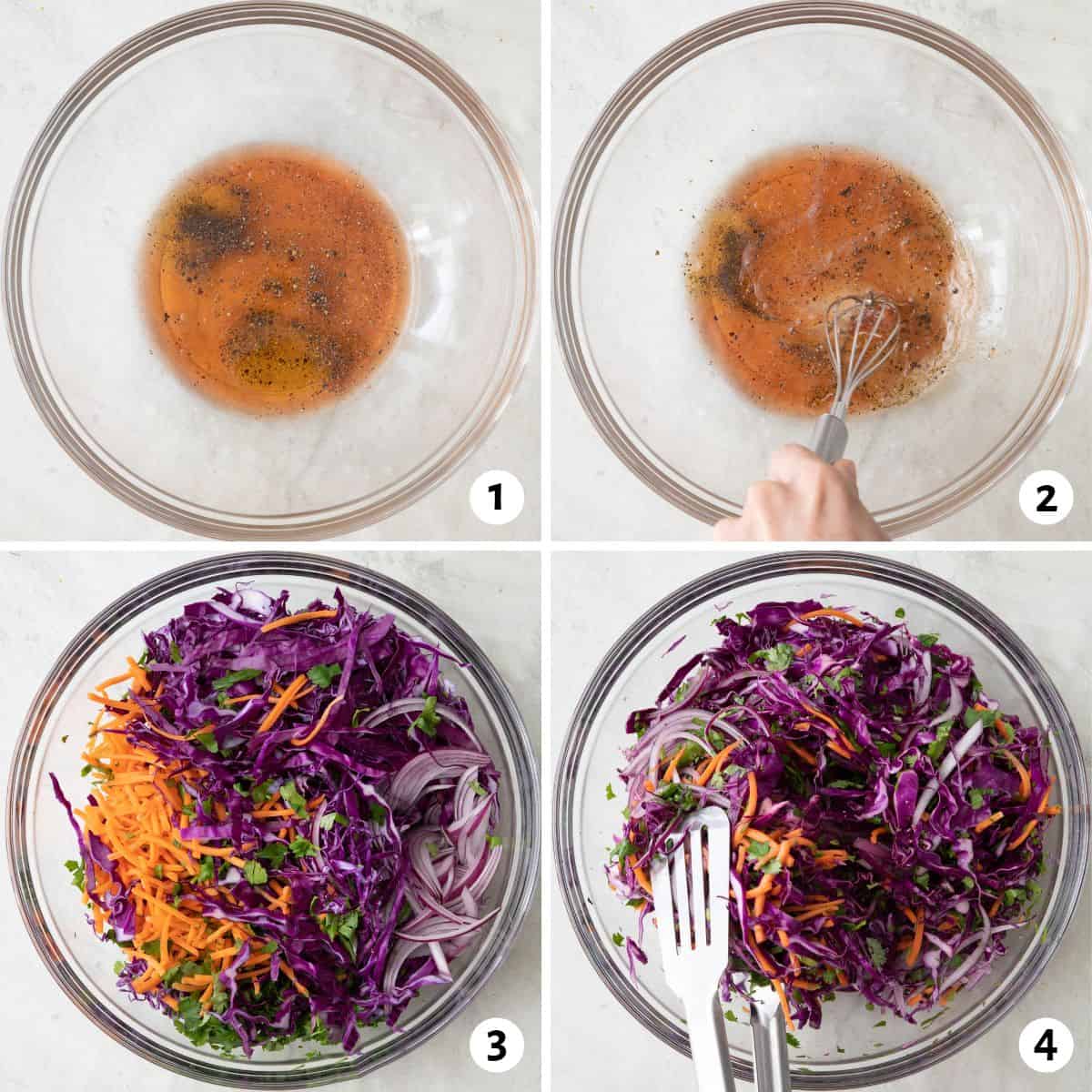 Tips for making the best red cabbage salad
Cut the cabbage, carrots and red onions to the same size. You want the veggies to be evenly distributed so each bite has a balanced flavor.
Add the dressing just before serving. The vinaigrette can make the veggies soggy if added too early, so try to add the dressing as close to serving as possible.
Keep the cabbage crisp. If you want to make the salad ahead of time and are worried about it getting soggy, I recommend adding 2 teaspoons of salt to the cabbage after chopping it up and letting it sit for 1-2 hours. Then rinse the cabbage with water to remove the salt. This process helps pull the excess moisture out of the cabbage while keeping it crispy.
Popular substitutions and additions
Try different types of vegetables. If you don't have red cabbage at hand, this coleslaw also tastes very good with green or Chinese cabbage. You can also swap out the carrots for grated beets or radishes for a different flavor profile.
Mix the dressing. The great thing about vinaigrettes is that you can add pretty much anything (if you've watched enough episodes of chopped ones, you'll know what I mean!). Feel free to experiment with different herbs and spices, or even purchase your choice of bottled vinaigrette.
add seeds. If you want to give this coleslaw a little more crunch, try adding some pumpkin seeds or sunflower seeds.
Top with cheese. A sprinkle of crumbled feta cheese adds a nice salty bite!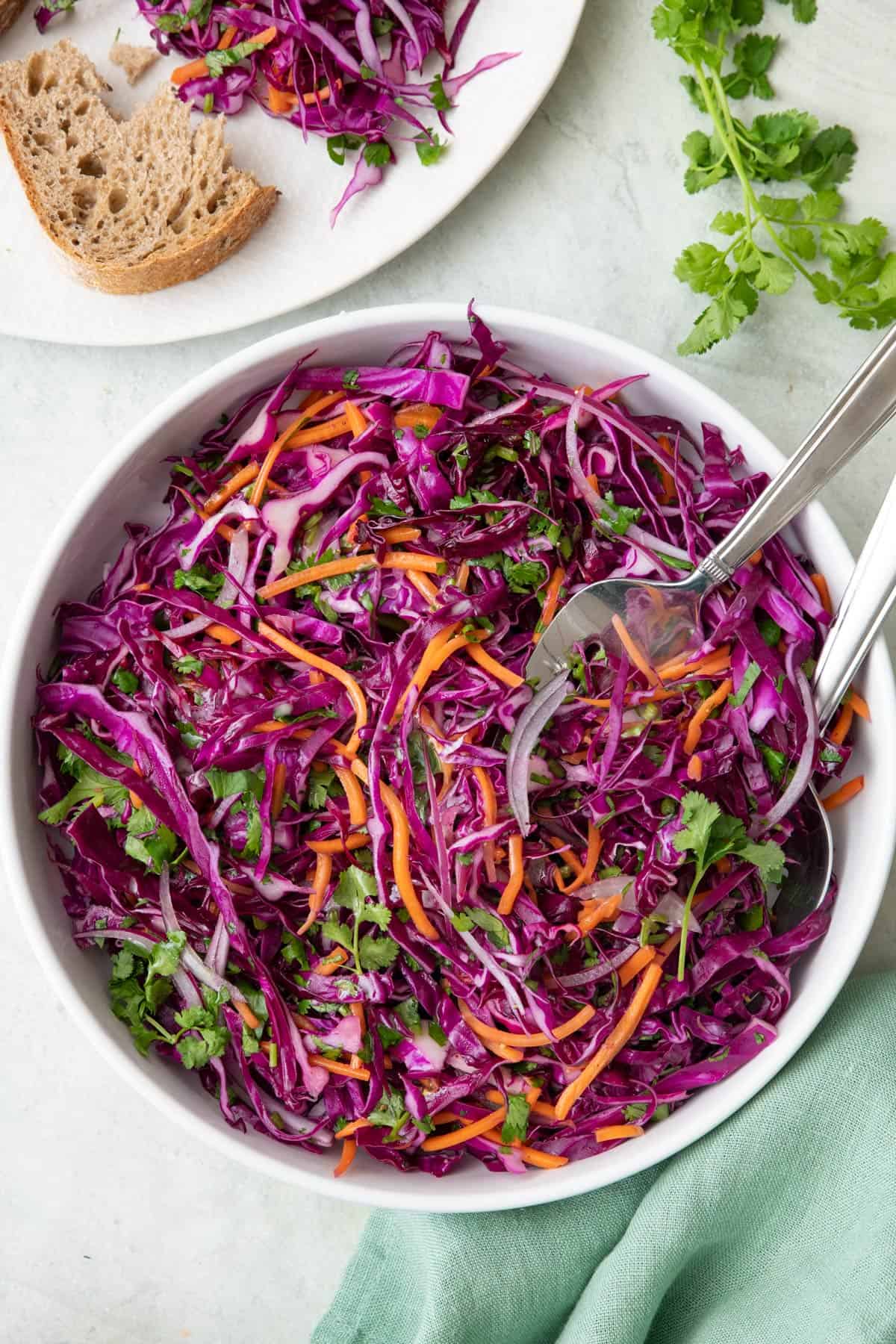 What to serve/pair with your red cabbage salad
How to store red cabbage salad
If you make this recipe ahead of time, be sure to store the salad and vinaigrette separately in their own airtight container. You can keep leftovers together if they're already mixed.
How long does red cabbage salad keep in the fridge?
This red cabbage salad can be stored in the refrigerator for up to 2 days. The dressing will keep for up to a week if kept alone in the refrigerator.
frequently asked Questions
Can I use prepackaged coleslaw mix?
Yes, you can of course use a bag of pre-packaged coleslaw mix instead of shredding the cabbage and carrots yourself. You just want to add some onions.
How do I make this coleslaw creamy?
To make this coleslaw creamy, you can add a few tablespoons of mayonnaise to the dressing. Alternatively, you can use Greek yogurt or sour cream. You should use a blender to make sure everything is well incorporated and doesn't separate.
Why do you use red cabbage instead of kale for this recipe?

The red cabbage provides a slightly peppery flavor and an interesting color contrast to the other vegetables in the coleslaw. The purple hue stays vibrant and bright even after dressing, making it a great addition to any salad! Kale can also be used, but I like the color of red cabbage.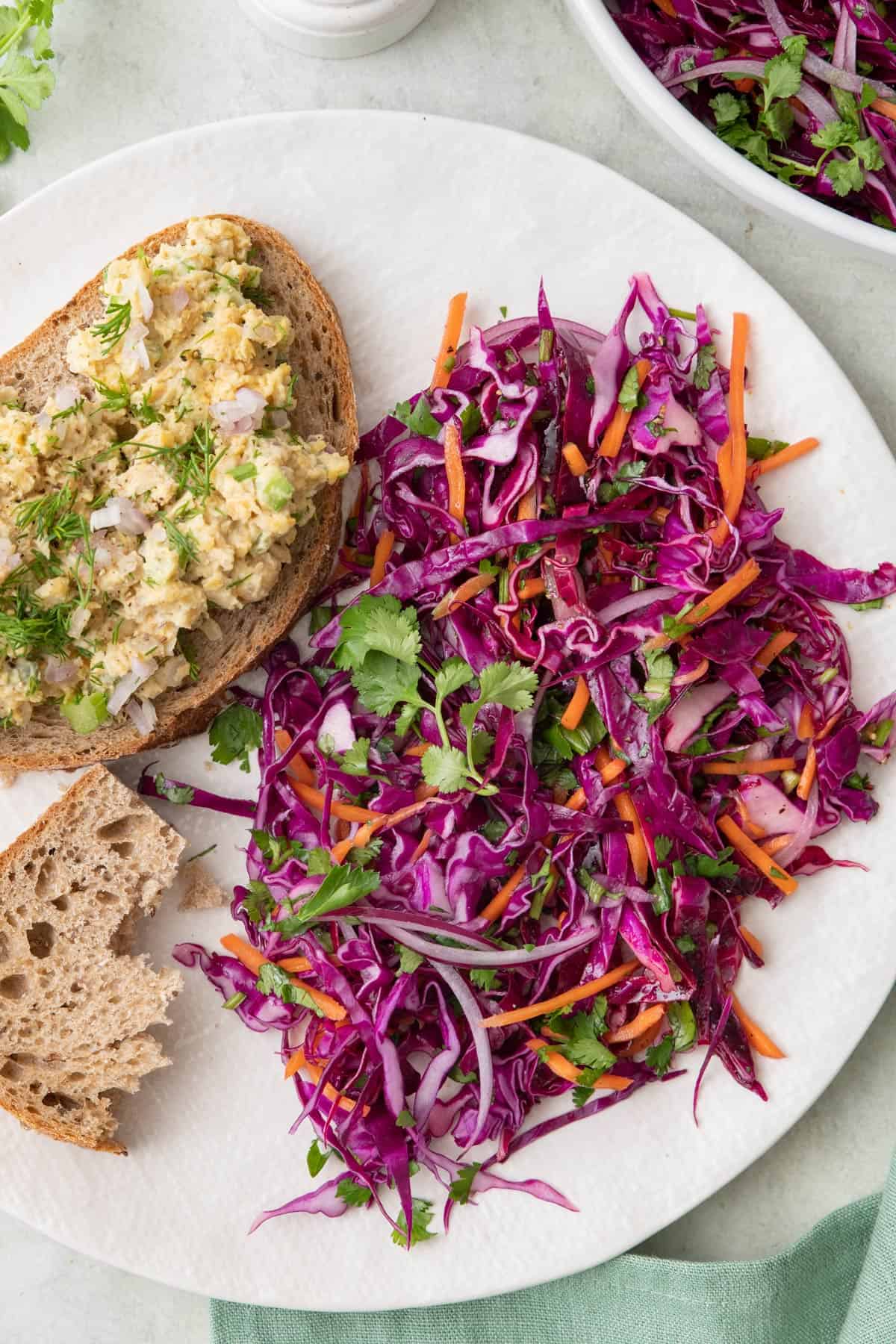 The red cabbage and carrot coleslaw with vinaigrette is a great side dish for any meal. It's packed with fresh flavors and the bright colors make it visually appealing. Whether you use homemade or store-bought dressing, you're sure to love this coleslaw! Plus, it's an easy way to get more veggies into your meals. With a few simple tweaks, you can customize the coleslaw to suit any dietary need or taste preference.
More coleslaws and salads:
If you try this you will feel good red cabbage salad Recipe or any other recipe on Feel Good Foodie, then don't forget it Rate the recipe and leave a comment below! It helps others who are thinking of making the recipe. We'd love to hear about your experiences with it. And when you've got some shots, share them on Instagram so we can repost them in Stories!
Whisk together the red wine vinegar, olive oil, maple syrup, salt, and pepper in a large bowl. Add cabbage, carrots, red onions and cilantro. Toss well to spread the dressing over the cabbage. Serve immediately or store covered in the refrigerator for up to 4 hours.
Top: Salt your cabbage leaves for a few hours to keep them crisp and fresh longer.
Calories: 186kcal, Carbohydrates: fifteenG, Protein: 2G, Fat: 14G, Saturated Fatty Acids: 2G, Polyunsaturated fat: 2G, Monounsaturated fatty acids: 10G, Sodium: 635mg, Potassium: 406mg, Fiber: 3G, Sugar: 9G, Vitamin A: 6537ie, Vitamin C: 63mg, Calcium: 70mg, Iron: 1mg
The nutritional information given is an estimate. It depends on the cooking method and the specific ingredients used.