This classic bean salad is perfect for picnics, BBQs, and meals ahead of time. We combine beans (canned or home-cooked), onions, crunchy cucumbers, capers, parsley and a spicy dressing. Simple and delicious! Skip to the Bean Salad recipe
watch the video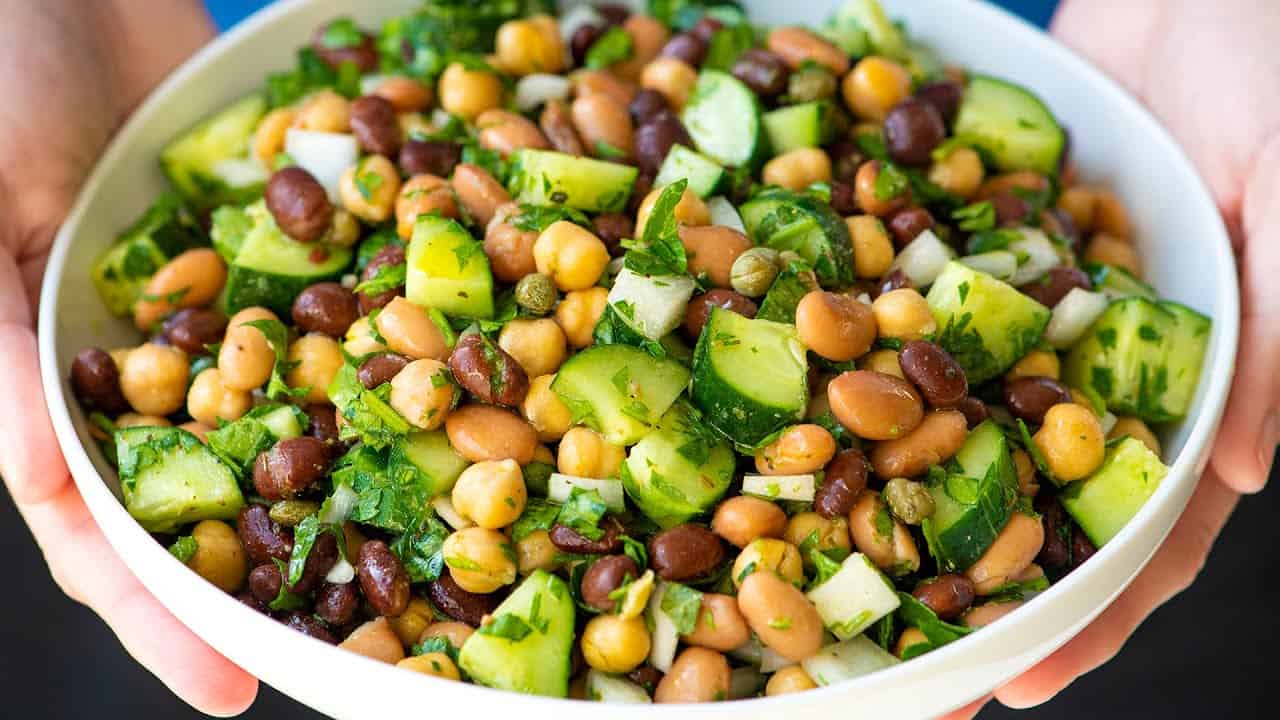 Our favorite bean salad
Bean salads are my go-to when entertaining (especially in the summer). I also find myself preparing them ahead of time for meals throughout the week. This easy bean salad is versatile and can be made with whatever beans you have in your pantry. Use canned or homemade – check out our recipes to learn how to cook black beans and chickpeas.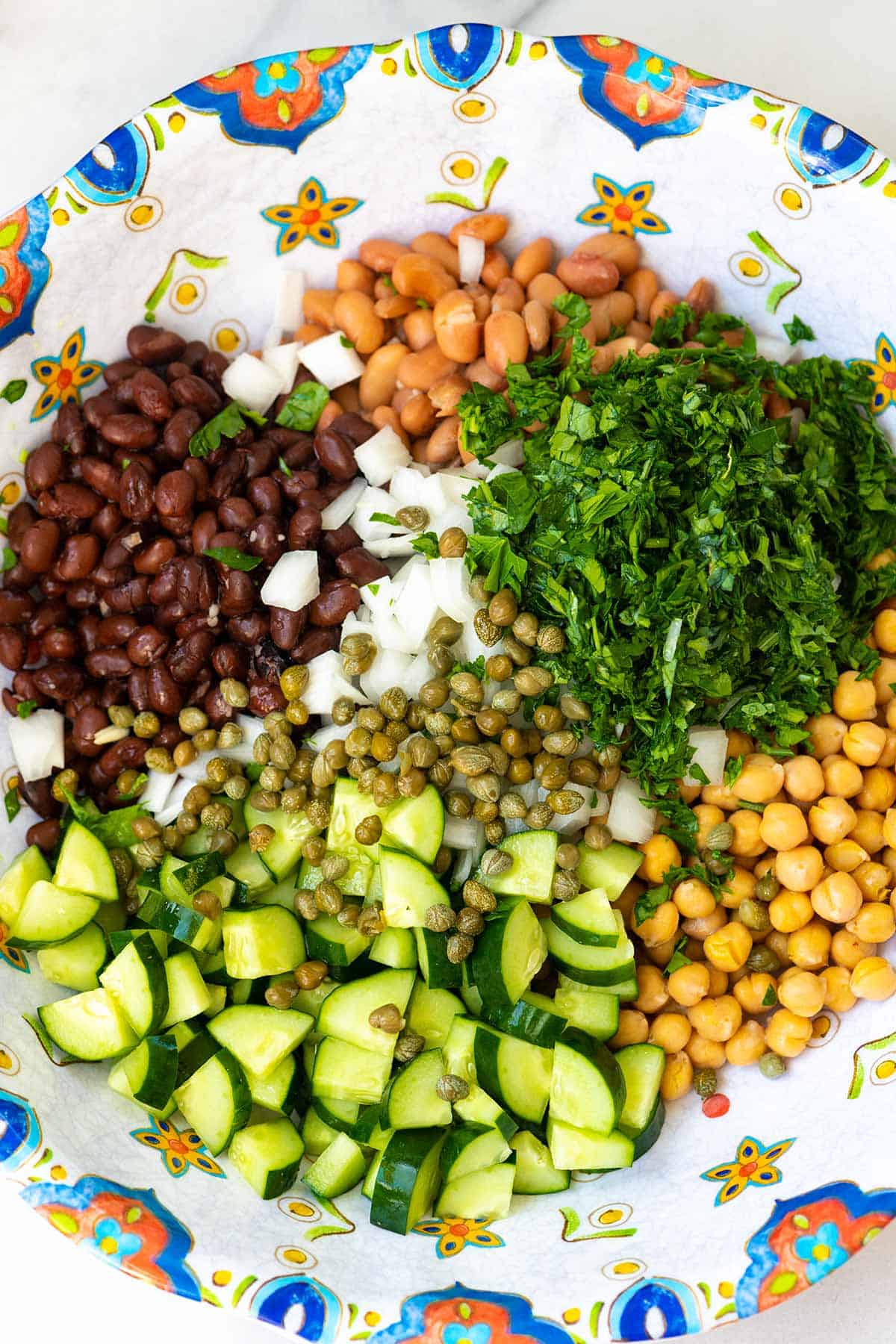 In our photos we used chickpeas, pinto beans and black beans. For a more traditional three-bean salad, swap out the canned kidney beans and green beans or blanched beans for the black beans and pinto beans. Or make it into a five bean salad and just add them! As I said, this salad is very versatile. Just use what you have in your kitchen.
I love keeping the flavors light in this salad, and so the dressing only requires a quick whisk of red wine vinegar, olive oil, mustard, salt, pepper, and some dried herbs. I use dried oregano, but a blend like Italian seasoning or Herbes de Provence would work well too.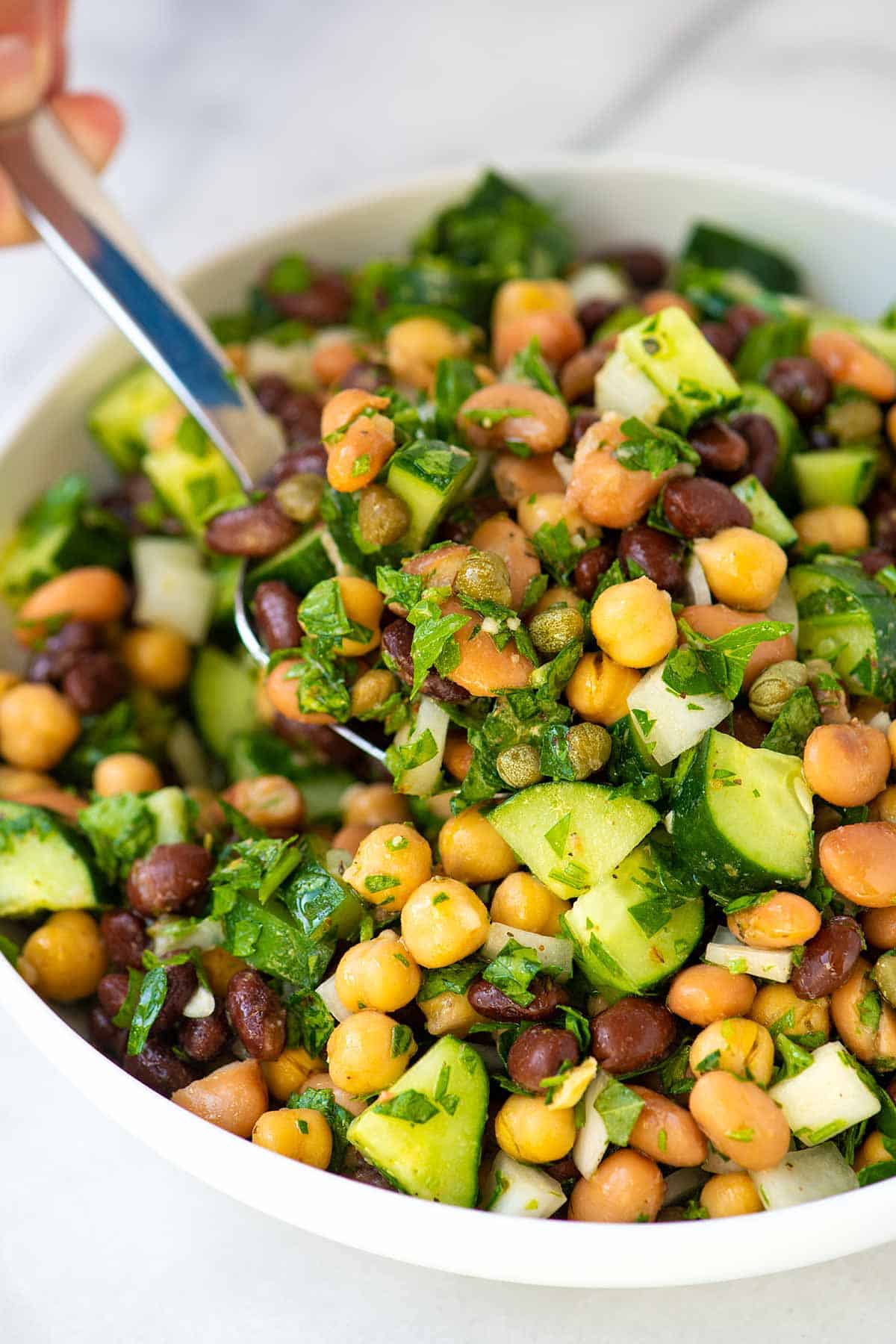 More bean salads: Try our Kale and Bean Salad with Tahini Dressing or this Black Bean and Quinoa Salad.
Our tips for the best bean salad
If using canned beans, drain and rinse under cold water before tossing with the other salad ingredients. The liquid in the can may taste a little salty, and since it contains starch from the beans, it can cloud the salad's dressing.
Add fresh herbs to the salad. I love fresh parsley and add a lot. Other herbs will also work. Try basil, mint, tarragon, dill and cilantro. When adding tarragon, add to taste as it is a little hotter than other fine herbs.
Add some crunch to balance out the texture of the beans. We add cucumbers, but celery, fennel, jicama, and bell peppers are all excellent crunchy veggies to add.
Before serving, chill the salad in the refrigerator for at least an hour to allow the beans to marinate in the dressing.
Store the salad in the fridge for up to 4 days (maybe longer).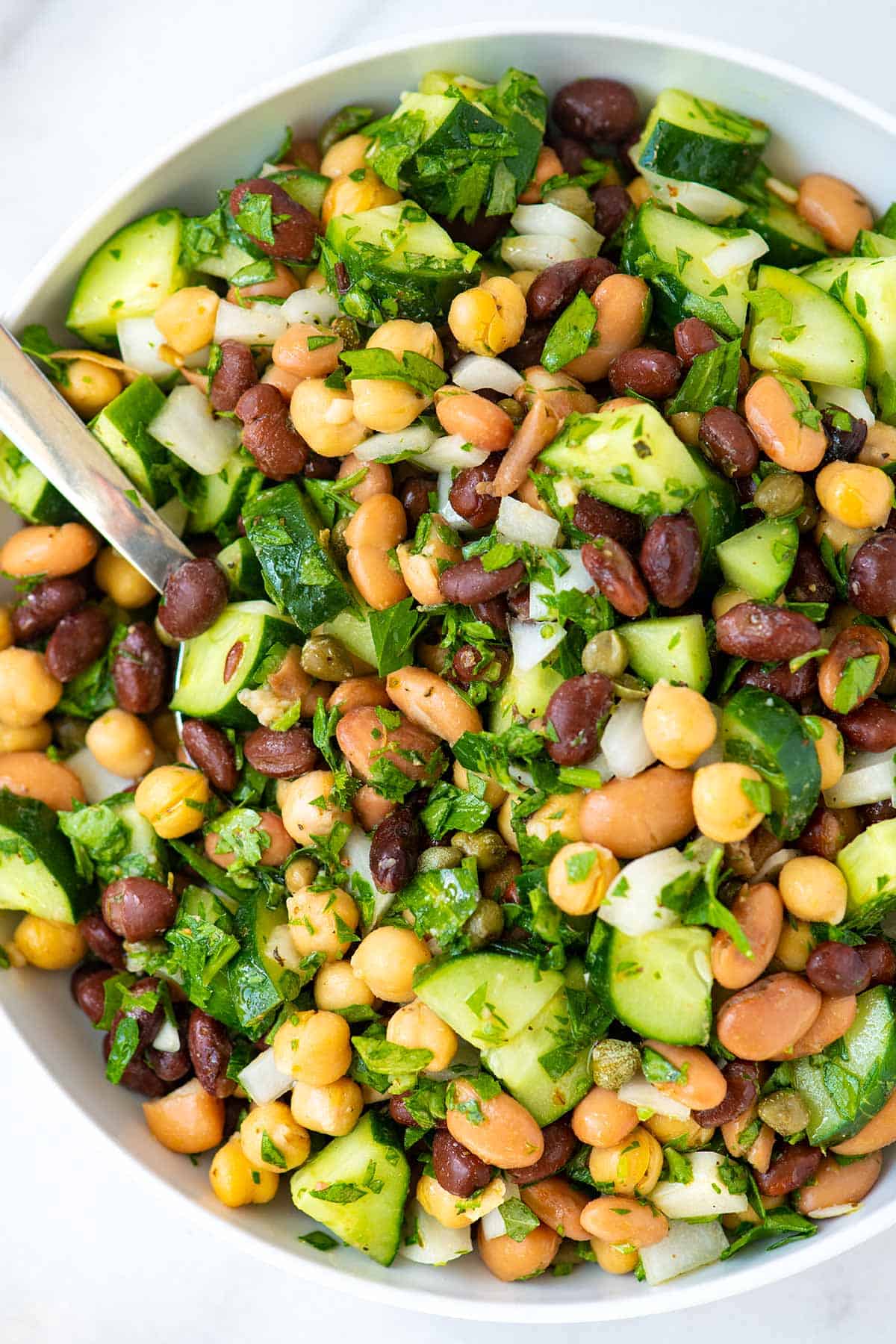 Easier bean salads
You can find more bean salads here: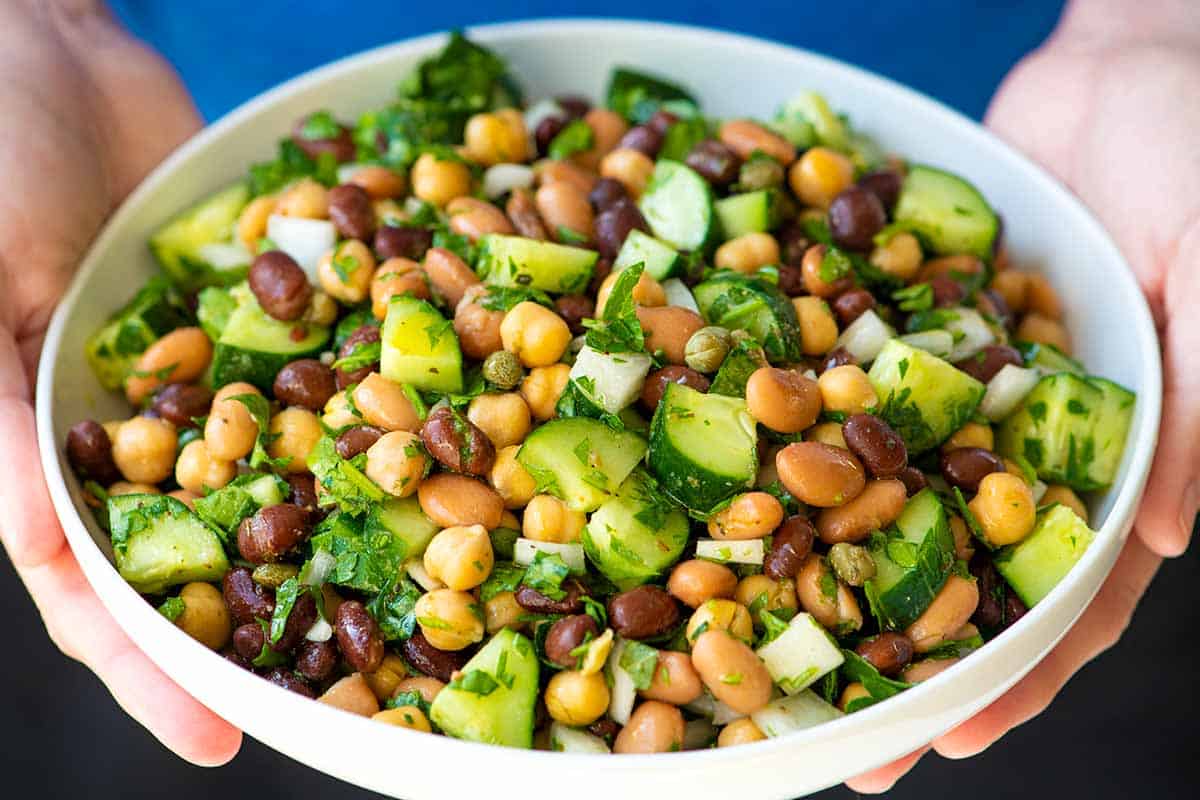 Ridiculously simple bean salad
Which beans you use for this simple bean salad is up to you. Both canned beans and homemade beans will work. If using canned, drain and rinse the beans first before adding them to the salad.
Makes about 6 cups
Watch us make the recipe
you will need
For the salad
3 (15 ounce) canned beans, drained and rinsed or use 4 ½ cups cooked beans
1/2 medium onion, finely chopped (about 3/4 cup)
1 medium cucumber, finely chopped (about 2 cups)
3 tablespoons drained capers
1/2 cup (60 grams) finely chopped fresh parsley, see notes
3/4 teaspoon dried oregano, see notes
For the dressing
1/4 cup (60 ml) red wine vinegar
1/4 cup (60 ml) extra virgin olive oil
1 teaspoon Dijon mustard
1 to 2 teaspoons honey or maple syrup, optional
3/4 teaspoon fine sea salt, plus more to taste
1/4 teaspoon freshly ground black pepper
directions
Place chopped onions in a small bowl and cover with cold water. Set aside for 5 minutes, drain and then rinse. This step will help remove some of the onion's "raw" flavor so it doesn't overwhelm the salad.

Meanwhile, in the bottom of a large bowl, whisk together the vinegar, olive oil, mustard, salt, and pepper. Taste the dressing, then adjust with more salt/pepper. If the dressing tastes too spicy, stir in 1 to 2 teaspoons of honey or maple syrup to balance the vinegar.

Add beans, drained onion, cucumber, parsley, capers and dried oregano. Mix well, cover and refrigerate for at least 1 hour to allow the beans to marinate in the dressing.

The salad will keep in an airtight container in the fridge for up to 4 days.
Advice from Adam and Joanne
In our photos we used chickpeas, black beans and pinto beans. You can use these or other cooked or canned beans for the salad.
Honey/Maple Syrup: Depending on the vinegar used, the dressing may be a little too vinegary. To balance this out, just smack in a little sweetener like honey or maple syrup.
Fresh herbs: Parsley is the classic in this salad, but other fine herbs also go well. Try basil, mint, dill, cilantro, or tarragon. If using tarragon, use slightly less than indicated in the recipe above as it has a stronger flavor.
Dried Herbs: I like dried oregano in this salad, but other herb blends work well too. Try an Italian, Mediterranean, or French dry spice blend (like Herbes de Provence).
Nutritional Information: The nutritional information below is an estimate. We used the USDA database to calculate approximate values.
If you make this recipe, take a picture and tag #inspiredtaste – we love to see your creations on Instagram and Facebook! Find us: @inspiredtaste
Nutrition per serving: serving size about 1/2 cup / calories 135 / total fat 6.3g / Saturated Fatty Acids 0.8g / cholesterol 0 mg / sodium 343.5mg / carbohydrate 16g / fiber 4.3g / total sugar 3.2g / protein 4.7g
AUTHOR: Adam and Joanne Gallagher