This post may contain affiliate links. Please read my disclosure policy.
This Roasted Cauliflower, Chickpea, and Arugula Salad recipe is served with arugula, avocado, roasted pine nuts, and my favorite lemon tahini dressing. Simple, hearty and so delicious!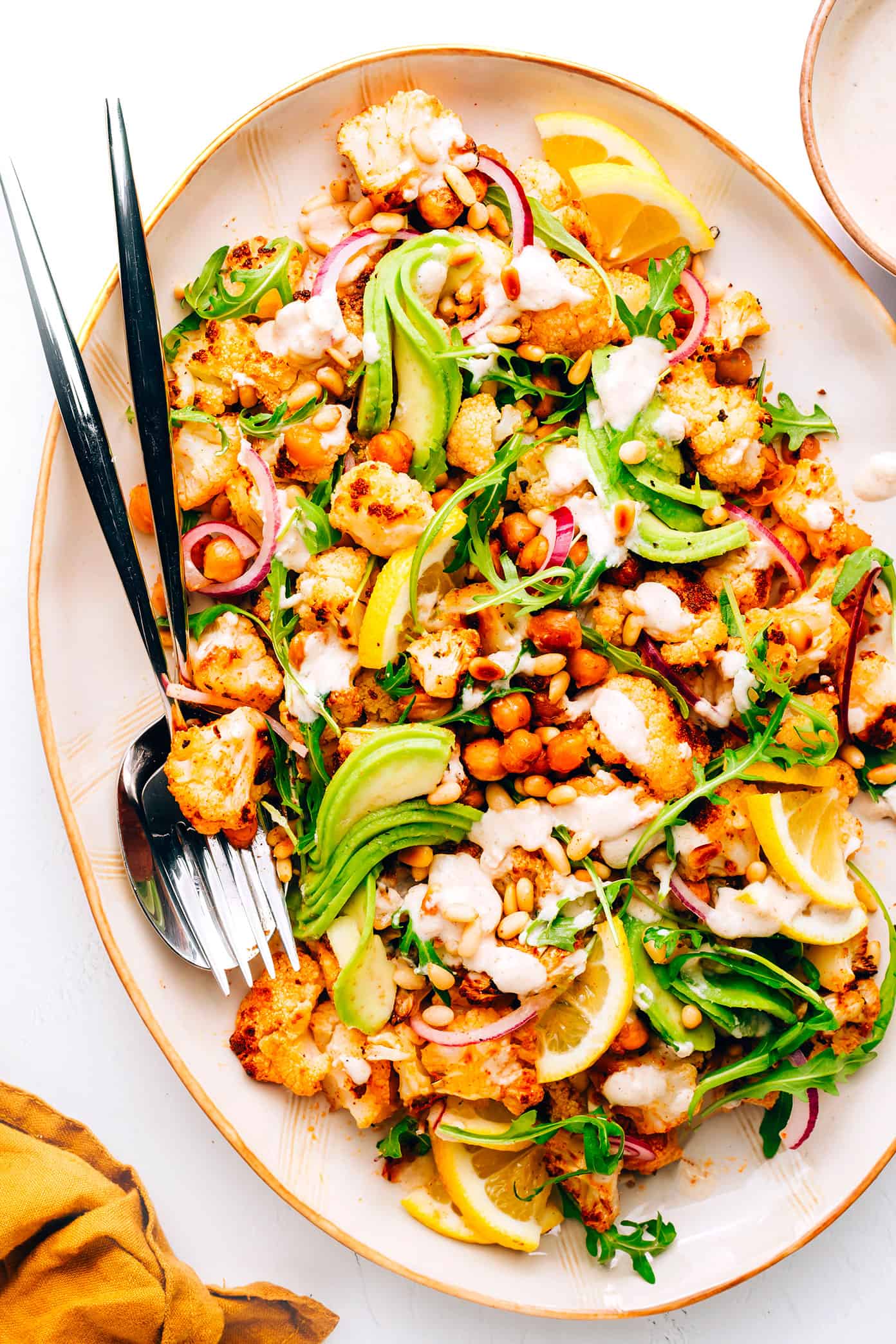 When my husband and I crave a fresh and hearty veggie salad for dinner, this Roasted Cauliflower and Chickpea number is one of our all-time favorites. ♡
Cauliflower florets and chickpeas are tossed along with a quick mix of zesty spices and roasted to perfection. Then they're served hot out of the oven along with peppery fresh arugula, creamy avocado, crispy red onions, buttery toasted pine nuts, and then drizzled with my favorite tahini lemon dressing. It's a hearty salad that we keep coming back to because it's so easy and filling. And those vibrant colors always make it a head turner for entertaining too!
Feel free to play around with the ingredients and swap out your favorite nuts, veggies or spices. And if you want to add an extra protein, grilled chicken would be delicious in this salad too.
Alright, let's make some salad!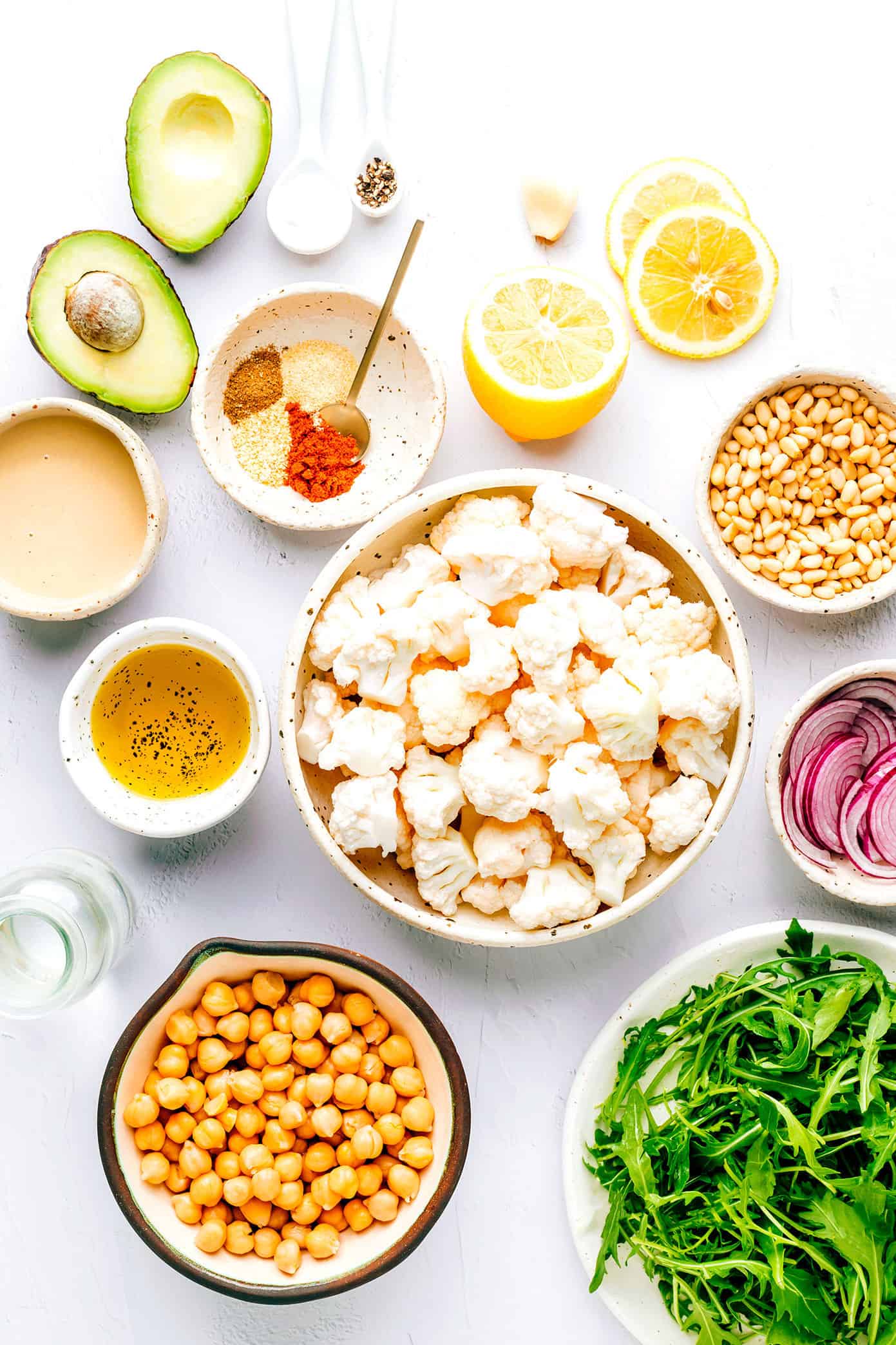 Roasted cauliflower and chickpea salad ingredients
Before we get to the full recipe below, here are a few pointers on the ingredients you'll need…
Cauliflower: I recommend using fresh (as opposed to frozen) cauliflower in this salad so it has the best texture once roasted. Here is a step-by-step guide on how to cut cauliflower into florets.
Chickpeas: You will also need a can of chickpeas (chickpeas) for this recipe.
Spices: I like to season cauliflower and chickpeas with a mixture of cumin, garlic powder, onion powder, smoked paprika, salt and pepper for frying. But feel free to use whatever spice mix you like best.
Green: I love the peppery flavor of fresh baby arugula in this salad, but any lettuce leaves you have on hand will work here.
Avocado: Look for a large, ripe one that you can either dice or thinly slice.
Red onion: I love the extra bite that thinly sliced ​​fresh red onions add to this salad, but if you prefer a milder onion flavor you can quickly rinse the sliced ​​onions under running water for 10 seconds before adding them to the salad.
pine nuts: The buttery flavor of toasted pine nuts is delicious in this salad, but feel free to swap in other nuts (like almonds, walnuts, pecans, pistachios) or seeds (like pepitas or sunflower seeds) to taste.
Tahini Dressing: This salad is tossed with a 1/2 portion of my favorite Dreamy Tahini Dressing, which is made with tahini, lemon juice, garlic, cumin, salt, and pepper. (I usually make extra dressing while I'm at it, though, to save for a salad later in the week!)
Additional Lemon Wedges: I also recommend serving the salad with extra lemon wedges in case people want to make their individual servings extra lemony.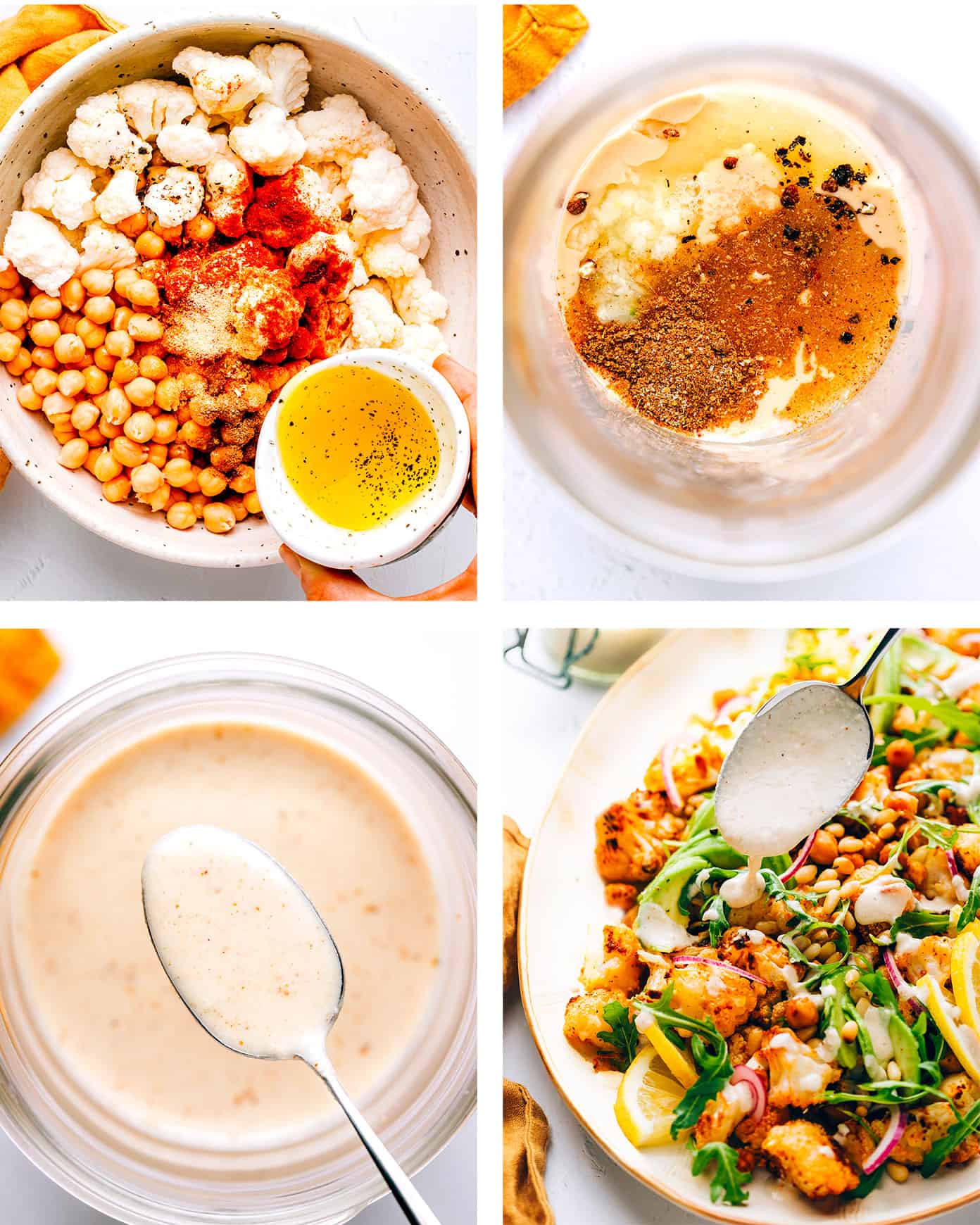 Possible recipe variations
This cauliflower salad recipe is incredibly flexible, so feel free to tweak and tweak it however you like! Here are a few suggestions to try…
Add some additional fresh herbs. I really love adding some fresh mint, cilantro, or parsley to this salad if I happen to have some on hand.
Play around with the chickpea/cauliflower seasoning. You can use whatever spices you like best to roast the cauliflower and chickpeas. We recently made this salad again with just the za'atar seasoning (plus salt and pepper) and it was delicious. You can also add some cayenne pepper for extra heat.
Use another vegetable instead of cauliflower. Instead of roasted cauliflower, roasted broccoli, roasted sweet potatoes, or roasted Brussels sprouts also go well with this salad.
Use different greens. Almost any fresh leafy lettuce could work here in place of the baby arugula.
Use different nuts/seeds. You can also swap toasted nuts (like walnuts, almonds, pistachios) or kernels (like pepitas or sunflower seeds) for the toasted pine nuts.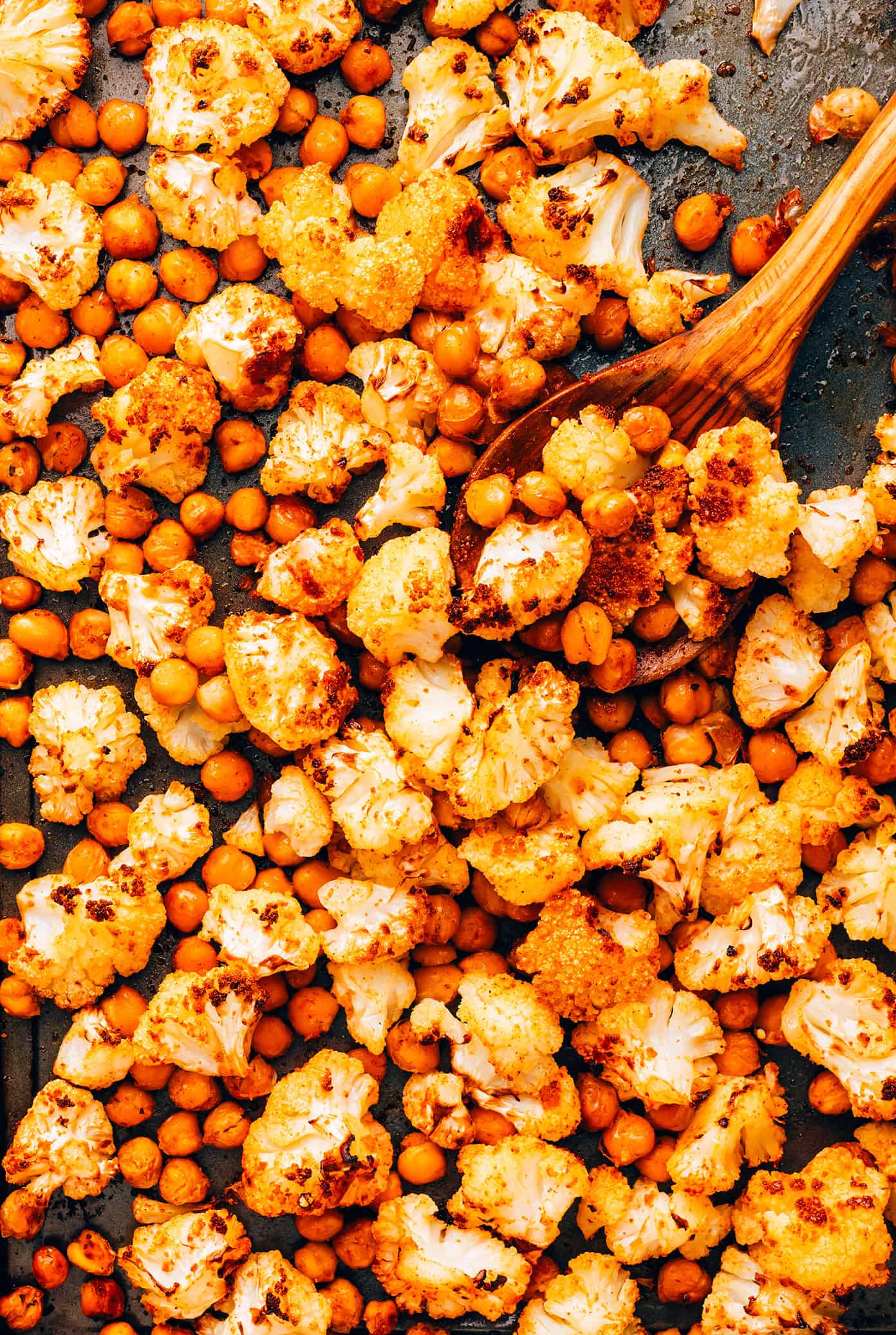 More popular salad recipes
Looking for more hearty vegetarian salad recipes to try? Here are a few of my favourites…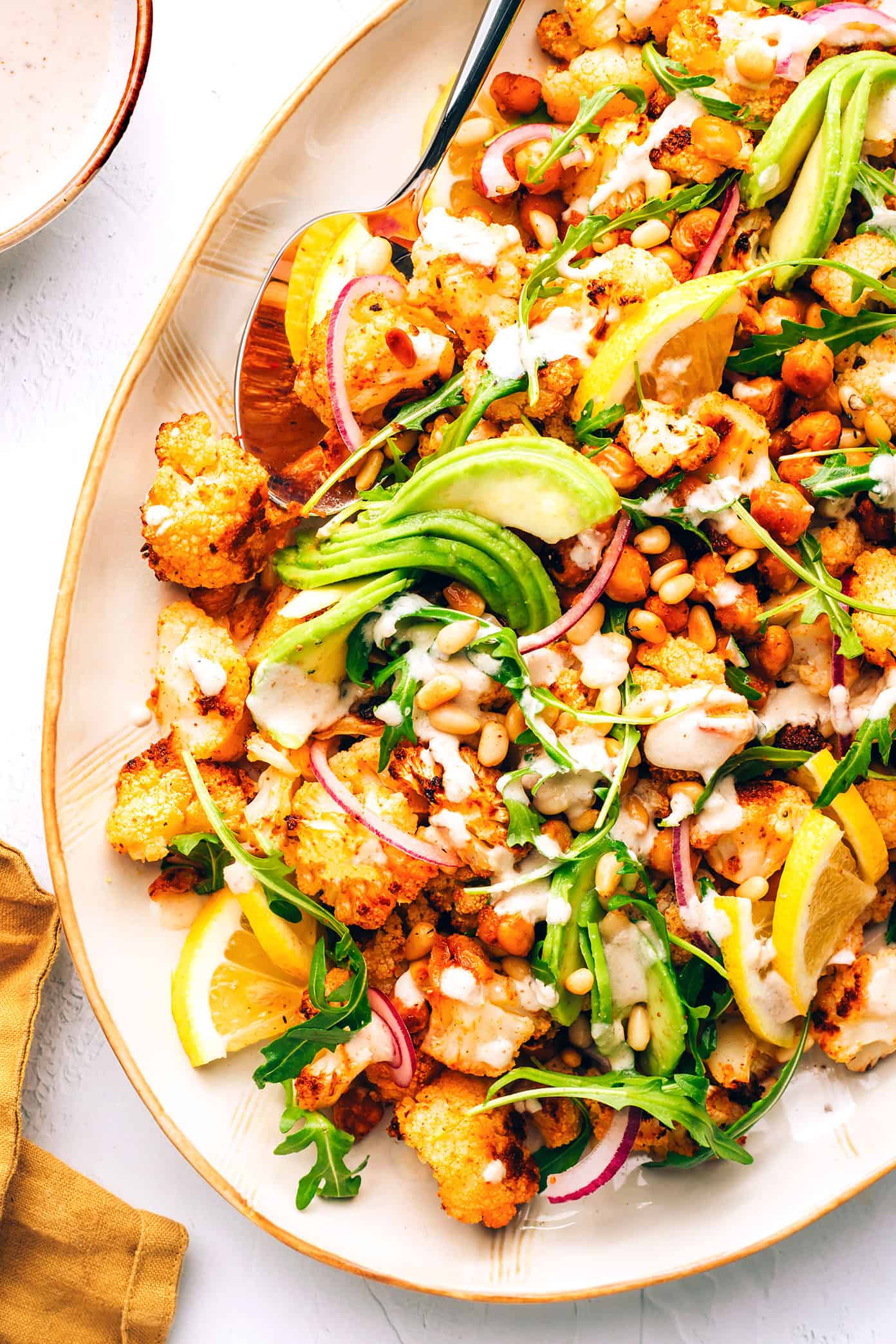 Print
---
description
This Roasted Cauliflower, Chickpea, and Arugula Salad is a fresh, feel-good salad that's sure to be a hit, especially when tossed with my favorite tahini dressing.
---
Salad ingredients:
Dreamy Tahini Dressing:
---
Prepare the oven and baking sheet. Heat oven to 425°F. Spray a large baking sheet with cooking spray.
Prepare the cauliflower and chickpeas. In a large bowl, combine cauliflower florets, chickpeas, oil, sea salt, cumin, garlic powder, onion powder, smoked paprika powder, and black pepper. Mix gently, then pour the mixture onto the baking sheet and spread in an even layer.
Bake. Bake for 25-30 minutes, stirring once halfway through, until cauliflower is tender and slightly charred around the edges. Transfer the pan to a wire cooling rack.
Make the dressing. Meanwhile, in a small bowl or mason jar, stir together the tahini, lemon juice, cumin, garlic, and 2 tablespoons warm water until smooth. Add extra warm water as needed until dressing reaches desired consistency, then season with salt and pepper.
Finish the salad. In a large bowl or serving dish, combine arugula, avocado, red onion, pine nuts, roasted cauliflower, and chickpeas. Drizzle evenly with the tahini dressing, serve with extra lemon wedges for squeezing, and enjoy!
---
---
Share this post