Rosemary focaccia – Fluffy Focaccia Bread with Rosemary and Coarse Sea Salt is an irresistible snack or side dish. It is baked in a generous amount of olive oil for an extra rich and satisfying taste.
Focaccia bread has the perfect combination of light texture, saltiness, and savory flavor. If you haven't tried it dipped in olive oil yet, you'll be delighted! It's a yeast bread, but it's a forgiving recipe that's easy to work with. Rising three times results in a light, almost airy texture that is simply heavenly.
This bread is also perfect with a hot soup or freshly cooked pasta. You can even change up the toppings and herbs if you'd like (more on that later). It's a bread for dinner that's at least as satisfying as my parmesan and garlic knots or olive garden-style breadsticks — if not more.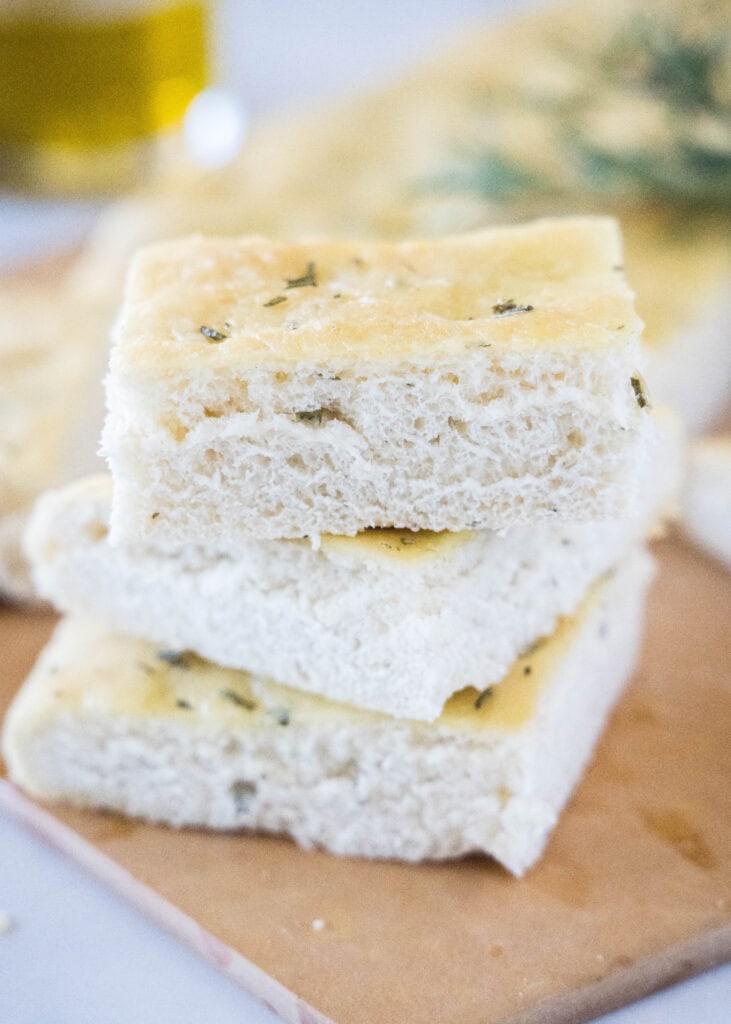 Why this recipe works
Make it easy with this easy recipe that only has 8 ingredients. You might even have them all on hand.
Worried about how difficult it might be to shape bread dough? Do not be! The beauty of flatbreads is that you don't need to be a bread expert to make them well.
Get the kids involved by helping to form the indentations in the dough (after they've washed their hands, of course)!
Cut a sheet of this in half for a really tasty sandwich bread.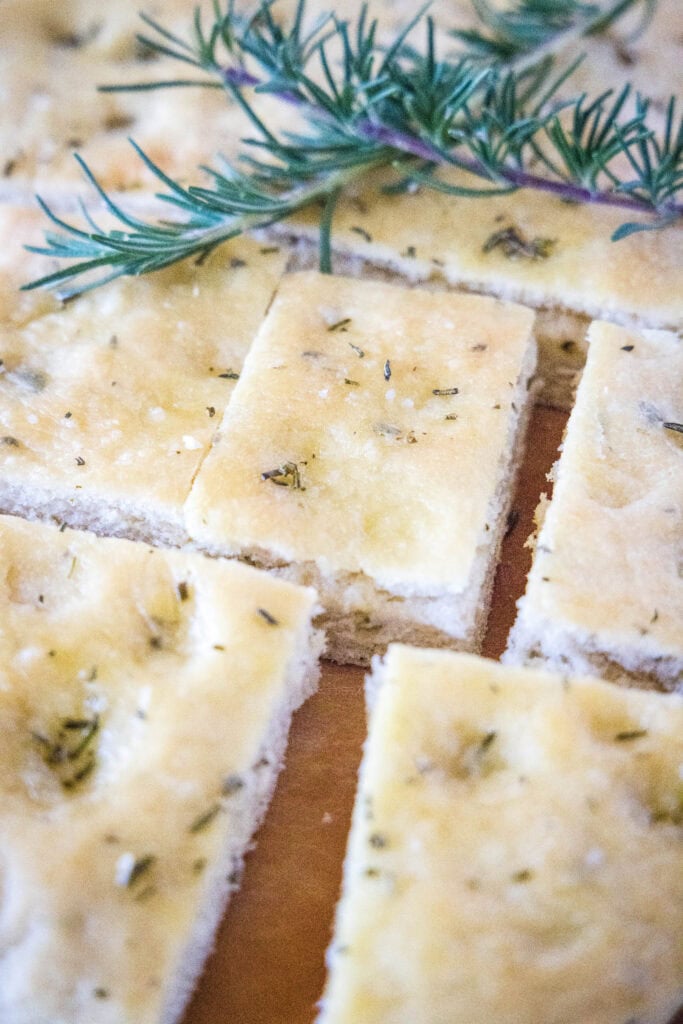 what you will need
Yeast – The leavening agent that makes this bread fluffy and delicious.
Freshly chopped rosemary – Aromatic rosemary gives this bread an excellent savory taste.
olive oil – Fragrant olive oil gives flavor and richness to this bread. The fresher your oil, the better the bread tastes.
coarse sea salt – This will add extra saltiness and texture to the top of the focaccia.
Warm water – This portion of water must be warm enough (100°F) to activate the yeast before adding the other ingredients.
Lukewarm water – Lukewarm water moisturizes the bread dough.
bread flour – It is the essential basis of the bread dough and gives it greater elasticity.
all purpose flour – This flour helps give the focaccia a lighter texture.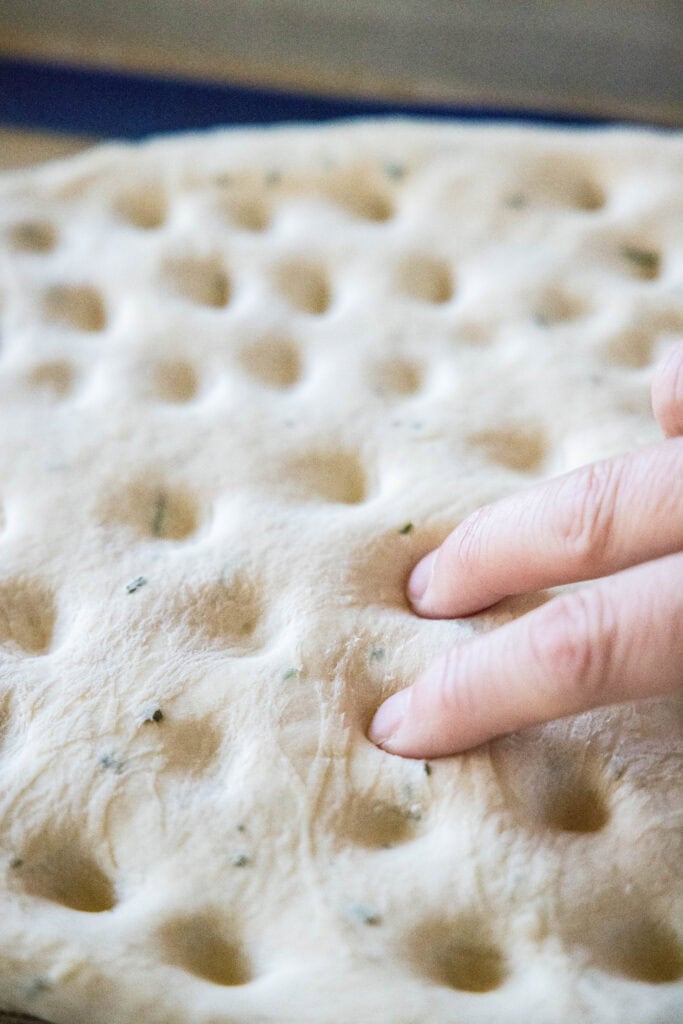 How to make rosemary focaccia
Flower the yeast – In a small bowl, stir the yeast into ⅓ cup of warm water. Set aside for 10 minutes until foamy.
Mix liquids with yeast– In a large bowl, mix together 2 ¼ cups of water, olive oil and the yeast mixture.
Add bread flour, salt and rosemary – Mix 2 cups of bread flour and the salt into the water mixture. Then mix in 2 tablespoons of rosemary.
Add the all-purpose flour – Add the rest of the flour cup by cup until the dough comes together into a ball.
Knead – Turn the dough out onto a lightly floured surface. Knead for 8 minutes. Sprinkle extra flour on top if the dough is too sticky.
let it rise. Oil the inside of a large bowl and place the dough in it. Cover and let rise 90 minutes until doubled in size.
Divide and shape – Divide the dough into two balls. Spread olive oil on two baking sheets. Place a ball of dough on each sheet. Spread the dough out to a thickness of 1 inch.
Cover and let rise again – Cover and leave to rise for 30 minutes.
Dimple him and rise again – Make ½ inch deep indentations in the dough with your fingertips. Cover and let rise until almost doubled in size, about 1-2 hours.
to round off the whole thing – Brush the whole dough with olive oil. Sprinkle with coarse sea salt and 1 tablespoon chopped rosemary.
Bake! – Bake in a 400°F oven for 20-25 minutes until cooked through. It sounds hollow when knocked. Let cool for at least 10 minutes, then serve!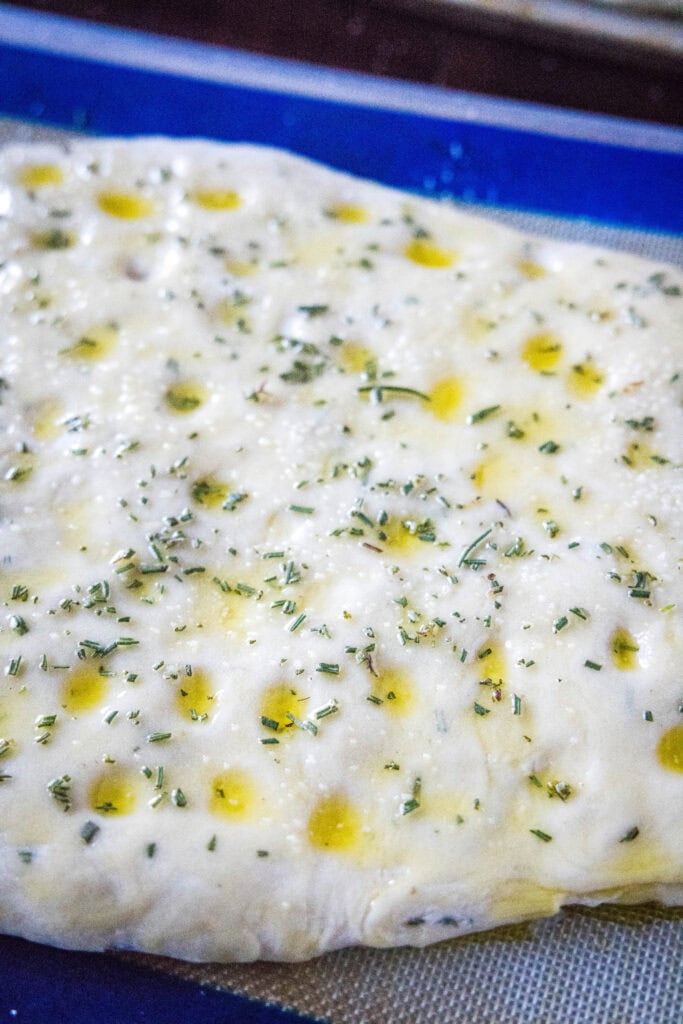 Bread baking tips
To make sure your yeast is still good, first check its expiration date.
Keep your yeast fresh and viable longer by storing it in the refrigerator.
If rosemary isn't your thing, feel free to try another fresh herb on top. You can use parsley, basil or sage as an appetizer. If you're using sage, it's pretty strong, so use a light hand with it.
Try putting thinly sliced ​​onions on top of the focaccia instead of rosemary.
Don't have coarse sea salt? Try kosher salt instead!
How do I freeze this bread
This recipe makes 2 very large loaves of bread. I split each loaf in half and wrap in plastic wrap. Then I wrap it again in aluminum foil before freezing.
How to reheat frozen bread
To reheat frozen rosemary focaccia, remove the plastic wrap and wrap in aluminum foil. Then heat it in an oven at 350°F for about 10 minutes. You can remove the foil for the last 2-4 minutes to allow the crust to crisp up again.
How to serve rosemary focaccia
We love Rosemary Focaccia Dipped in Olive Oil or this Herb Bread Dipping Oil.
Try it together with this Italian Meatball Soup for a full Italian meal. Or if you want a meatless night out, focaccia goes great with my carrot ginger soup.
Want to satisfy all your Italian cravings without the food coma? Try this bread with lighter dishes like my Italian Chicken Casserole and Italian Meatball Caprese Skewers!
Yield: 20
Rosemary focaccia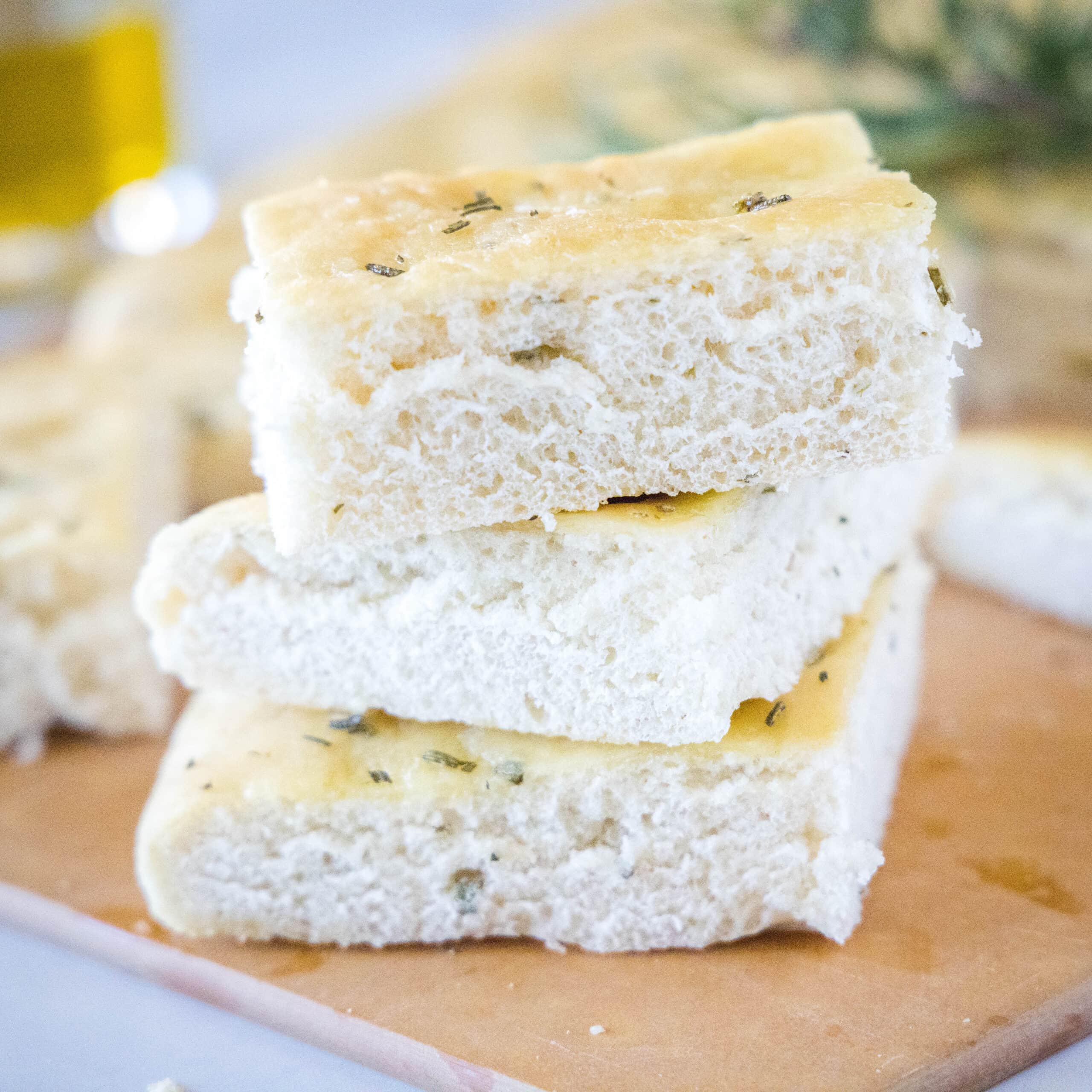 Rosemary focaccia – Fluffy Focaccia Bread with Rosemary and Coarse Sea Salt is an irresistible snack or side dish. It is baked in a generous amount of olive oil for an extra rich and satisfying taste.
preparation time 3 hours
cooking time 25 minutes
total time 3 hours 25 minutes
ingredients
2 1/4 teaspoons (1 envelope) active dry yeast
1/3 cup warm water (105-110º F)
2 1/4 cups room temperature water
2 tablespoons olive oil
3 cups bread flour
4 1/2 cups all-purpose flour
1 tablespoon of salt
3 tablespoons freshly chopped rosemary, divided
Coarse sea salt for sprinkling
Extra olive oil for frying and brushing
Nutritional Information
yield
20
serving size
1
amount per serving calories 196total fat 3gSaturated Fatty Acids 0gtrans fat 0gunsaturated fat 2gcholesterol 0 mgsodium 61mgcarbohydrates 37gdietary fiber 1gsugar 0gprotein 6g
Nutritional Disclaimer: All information on this website is for informational purposes only. I am not a certified nutritionist and any nutritional information shared on dinnersdishesanddesserts.com should be used as a general guide only.
I created a fun group on Facebook and would love for you to join us! It's a place to share YOUR favorite recipes, ask questions, and see what's new in dinner, dishes, and desserts (so you don't miss a new recipe)! If you want to try it, you can submit a request to join HERE.
Be sure to follow me Instagram and tag #dinnersdishes so I can see all the wonderful DINNER, MEAL AND DESSERTS recipes YOU make!
Follow me on my social media channels so you don't miss a post!
Facebook | Twitter | Pinterest | Instagram
Did you know that there is a SHOP for dinner, dishes and desserts? Check out all my e-books as well as branded items HERE!
OTHER RECIPES YOU MIGHT LIKE: