This Marinated Tofu recipe transforms tofu from a watery blob into an addictive treat. Spongy on the inside and crispy on the outside, the tofu cubes are marinated in a sensational East Asian marinade before being baked to perfection.
The two elements in this recipe—the tofu and marinade—both have their perks. Frozen and thawed tofu is spongy, chewy, and has a crave-worthy crispy crunch without any excess fryer oil. The marinade, with its blend of savory, sweet, nutty, and warm flavors, soaks into the tofu cubes in as little as 30 minutes.
The best part is you can pair this marinated tofu with anything, making this an essential recipe for weekly meals, meal prep, and more.
Table of Contents
1. Why this recipe works
2. Ingredient notes
3. Step-by-step instructions
4. Tips for making this recipe
5. What to serve this recipe with
6. Frequently Asked Questions
7. Recipe card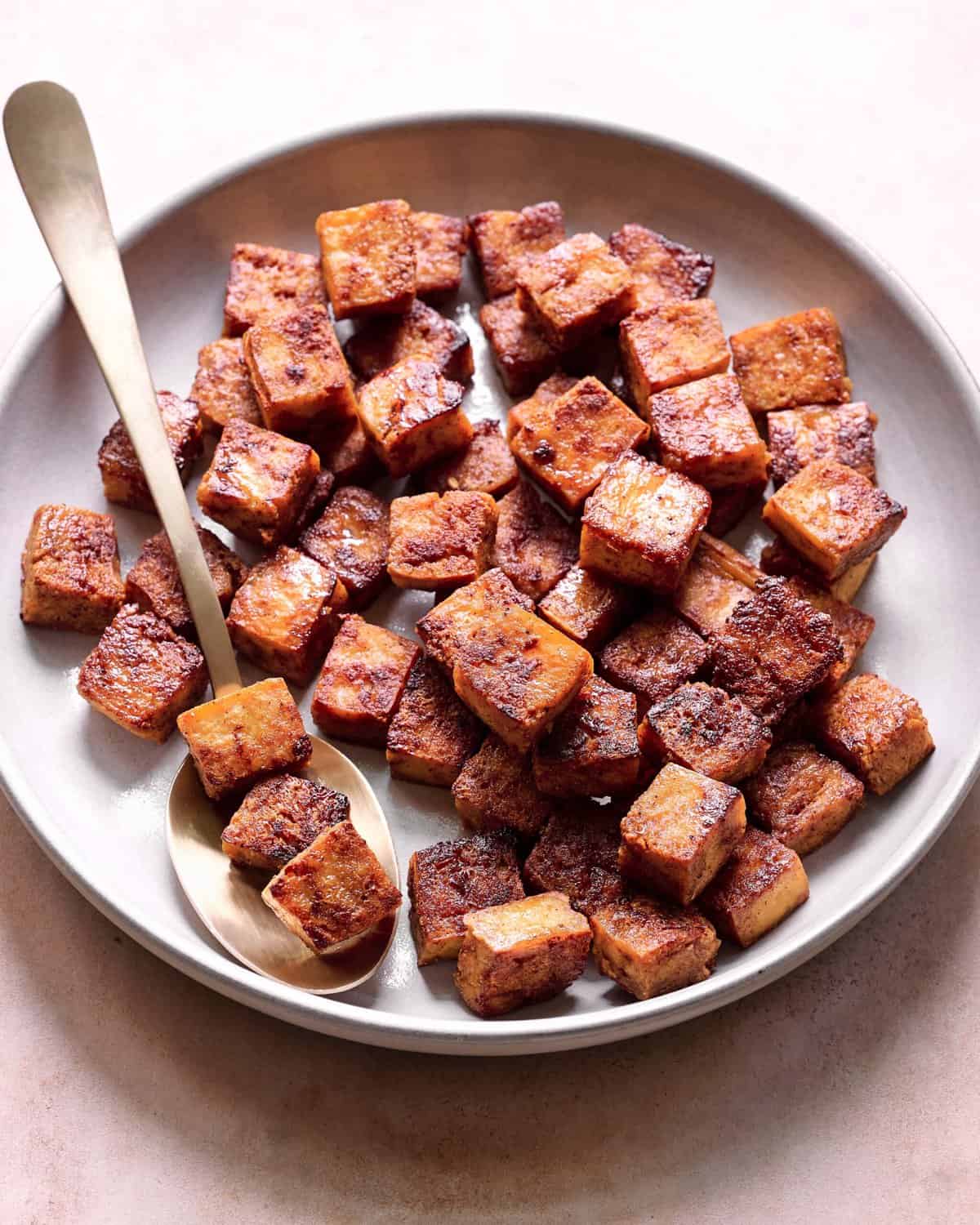 Why this recipe works
A mind-blowing marinade.
I'm no stranger to tofu marinades. From my Maple-Dijon Crispy Tofu to my Greek-Style Vegan Feta, it's a lot of fun to dress tofu in a blend of spices, herbs, vinegar, and oil to see what kind of flavors you end up with.
This recipe, however, is on an entirely different mind-blowing level. It's made with just a handful of ingredients but is bursting with the deliciously savory East Asian flavors of soy sauce, toasted sesame oil, white pepper, and five spice powder. 
Lastly, the consistency isn't liquidy, unlike many other tofu marinade recipes. It's thick and saucy, ensuring that every cube of tofu is evenly covered and marinated. And without the excess liquid, the tofu turns out perfectly crispy and never soggy.
Next-level tofu.
Tofu sometimes gets a bad rap for being boring, watery, or flavorless, especially when it isn't cooked properly. But not in this recipe. 
The secret to the best marinated tofu is to freeze and defrost the brick of tofu first.
As Bon Appetit explains, the water in the tofu expands and turns to ice crystals once frozen, changing the molecular structure. Once defrosted, the ice crystals melt out of the tofu and leave air pockets behind. 
And voila! You'll have a brick of tofu with a ton of air pockets to fill with the delicious marinade. Once cooked, every bite is a spongy and bouncy treat with a crispy exterior. 
We tried this recipe with regular tofu, and while it was nice, the texture was significantly chewier and crispier with defrosted tofu. 
A kitchen staple.
Tofu is a sponge-like, nutrient-dense food that packs in 8 grams of protein in just 3 ounces (with just 70 calories). So when it's marinated and baked until crispy, it becomes a nutritious AND tasty plant protein you can use in almost anything.
Skip to the "how to serve marinated tofu" section for ideas!
Ingredient notes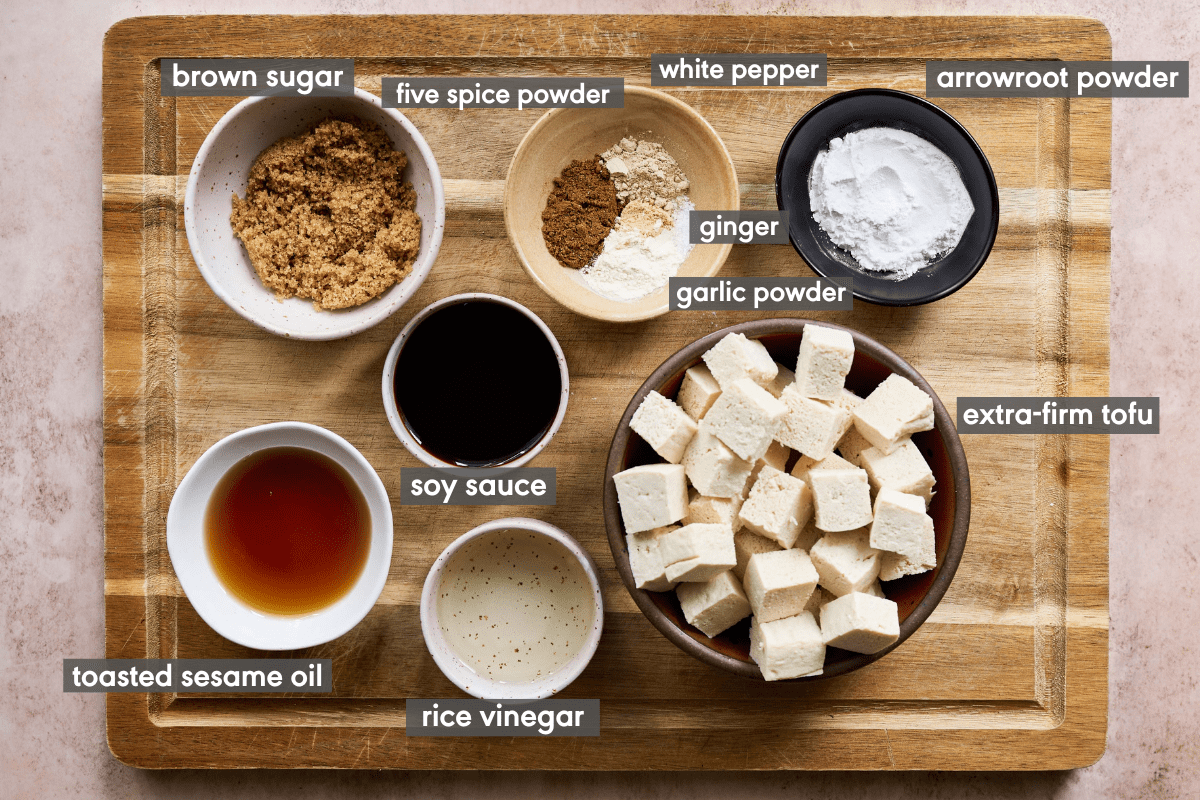 Tofu. Extra-firm tofu will give you the best results. It has relatively little water in it (which is pressed out before marinating) and a firm, chewy texture.
Remember: Use tofu that's been frozen and defrosted. The spongy, chewy texture is a game-changer! You can learn how to freeze and defrost tofu in the Tips section.
Substitute: If you don't have time to press the tofu, use super firm tofu (AKA high protein tofu) instead. It contains even less water and doesn't need to be pressed.
Soy sauce. It's the base of the marinade, adding a rich and umami flavor. It's essential to this recipe.
Substitute: Use tamari if gluten free.
Toasted sesame oil. The oil not only gives the baked tofu a nutty flavor but also prevents it from sticking to the pan. Make sure to use toasted sesame oil for that bold flavor. My favorite brand is Ottogi. 
Chinese five-spice powder + white pepper. Don't skip this dream team! The white pepper is sharp and bright, and the five-spice powder is slightly sweet, warming, and aromatic. Together, they add an incredible, unique flavor, making this tofu marinade recipe unlike any other. 
Where to buy: Both should be available at well-stocked grocery stores, like Whole Foods and Vons, or at Asian markets. You can also buy them online.
Brown sugar. Sugar is essential in most marinade recipes. The sweetness (1) helps balance the stronger, more acidic flavors, (2) adds a caramelized, golden-brown crust around each piece of tofu (a la the Maillard reaction), and (3) reacts with the protein, naturally tenderizing the tofu.
Substitute: If you don't have brown sugar, use coconut sugar or cane sugar. I don't recommend using a liquid sweetener like maple syrup because it gives the marinade a thinner consistency. 
Rice vinegar. This adds a subtle tang and helps balance the sweet and savory flavor profile.
Arrowroot flour. Last but not least, arrowroot powder is used to coat the marinated tofu before baking. This flavorless starch is naturally gluten free and expertly sticks to and crisps the tofu as it bakes. 
Substitute: We tested this recipe with cornstarch but found that it left a subtle chalky after-taste. However, this isn't as noticeable when you're serving the tofu with other elements, like grains, veggies, and sauces in vegan grain bowls.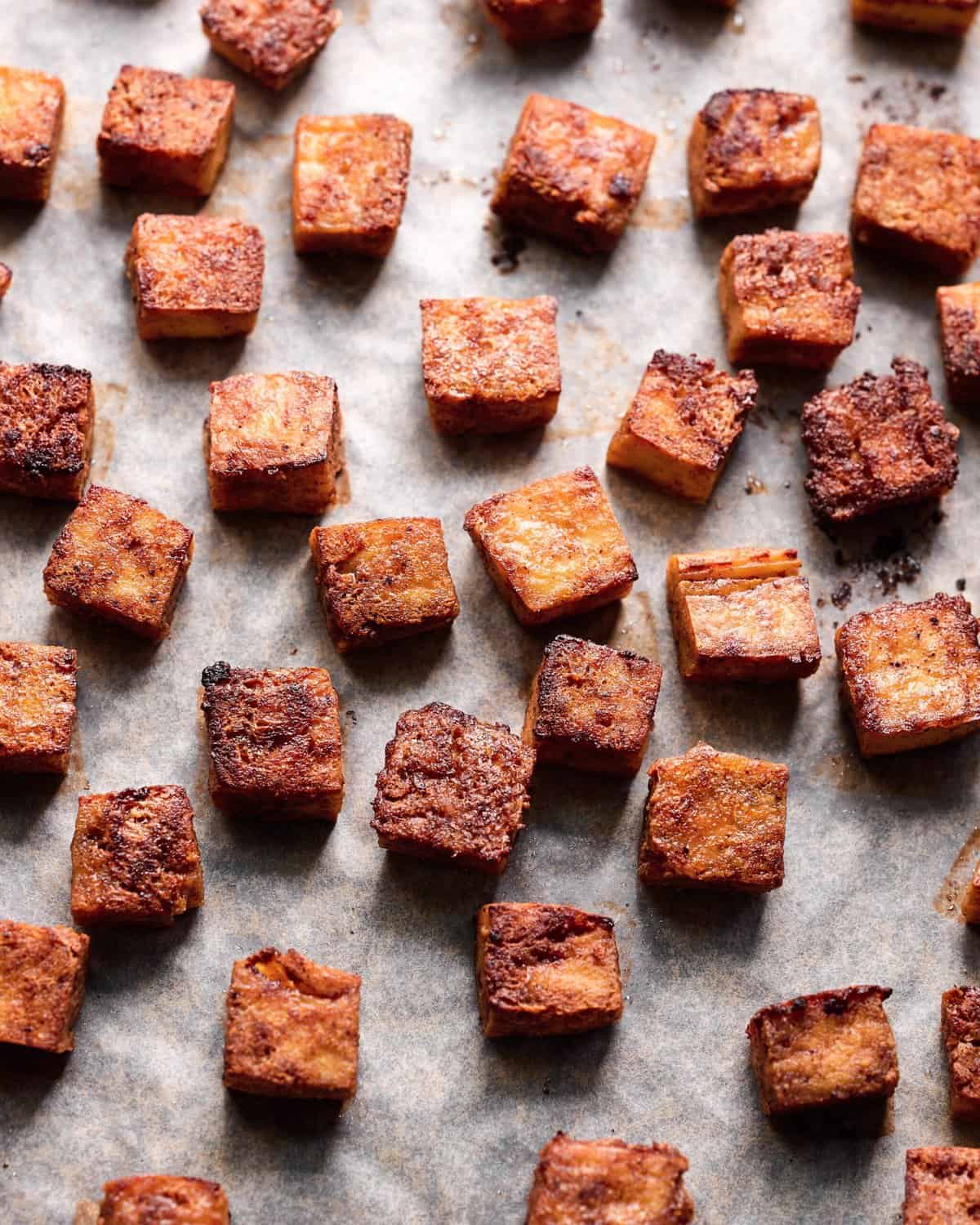 Step-by-step instructions
Cut the tofu into 4 slabs. Press the tofu slabs for 10 minutes to drain the excess liquid. Slice the tofu slabs into cubes.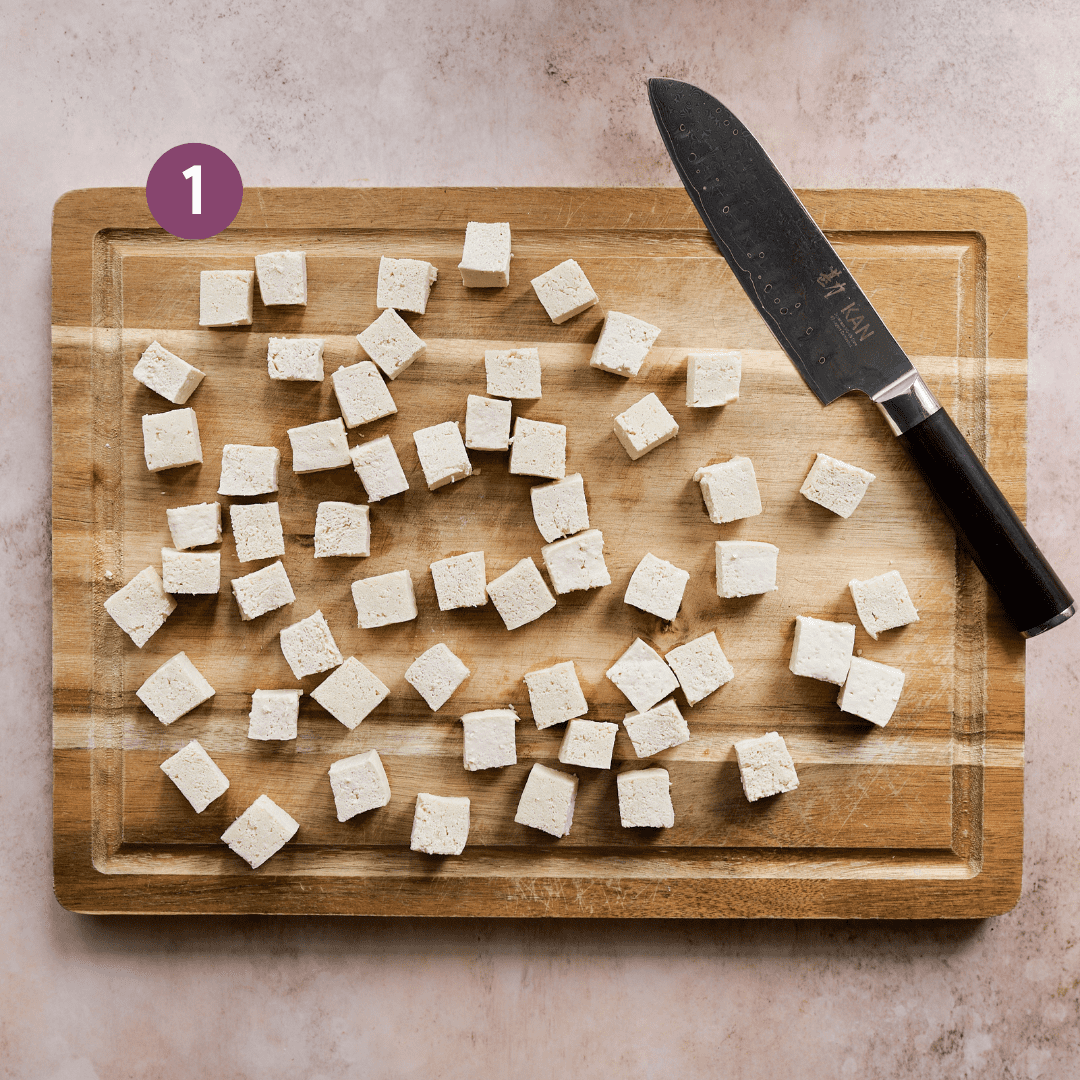 While the tofu is pressing, stir the marinade ingredients together.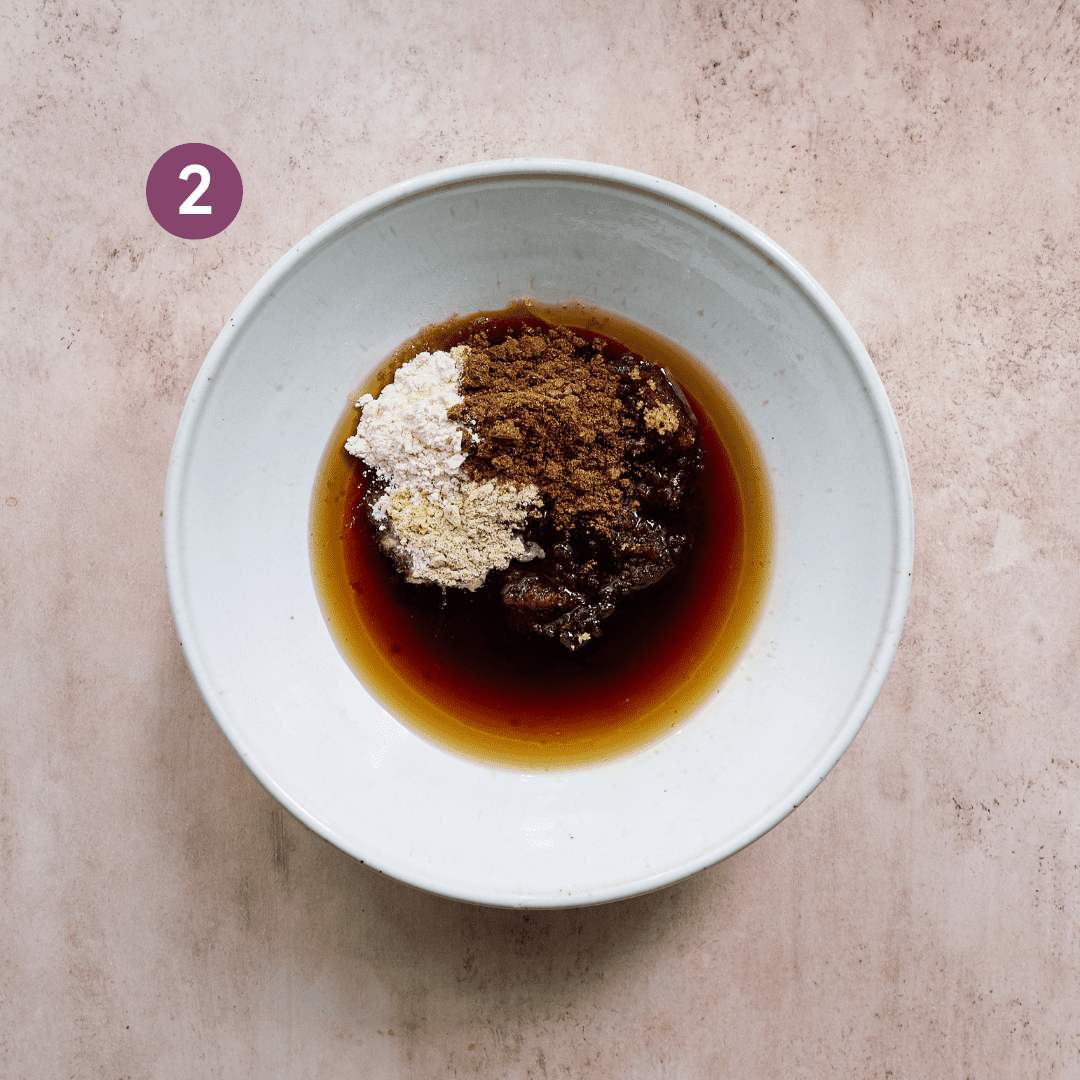 Transfer the tofu cubes to a large zip-top bag. Pour in the marinade and toss to coat.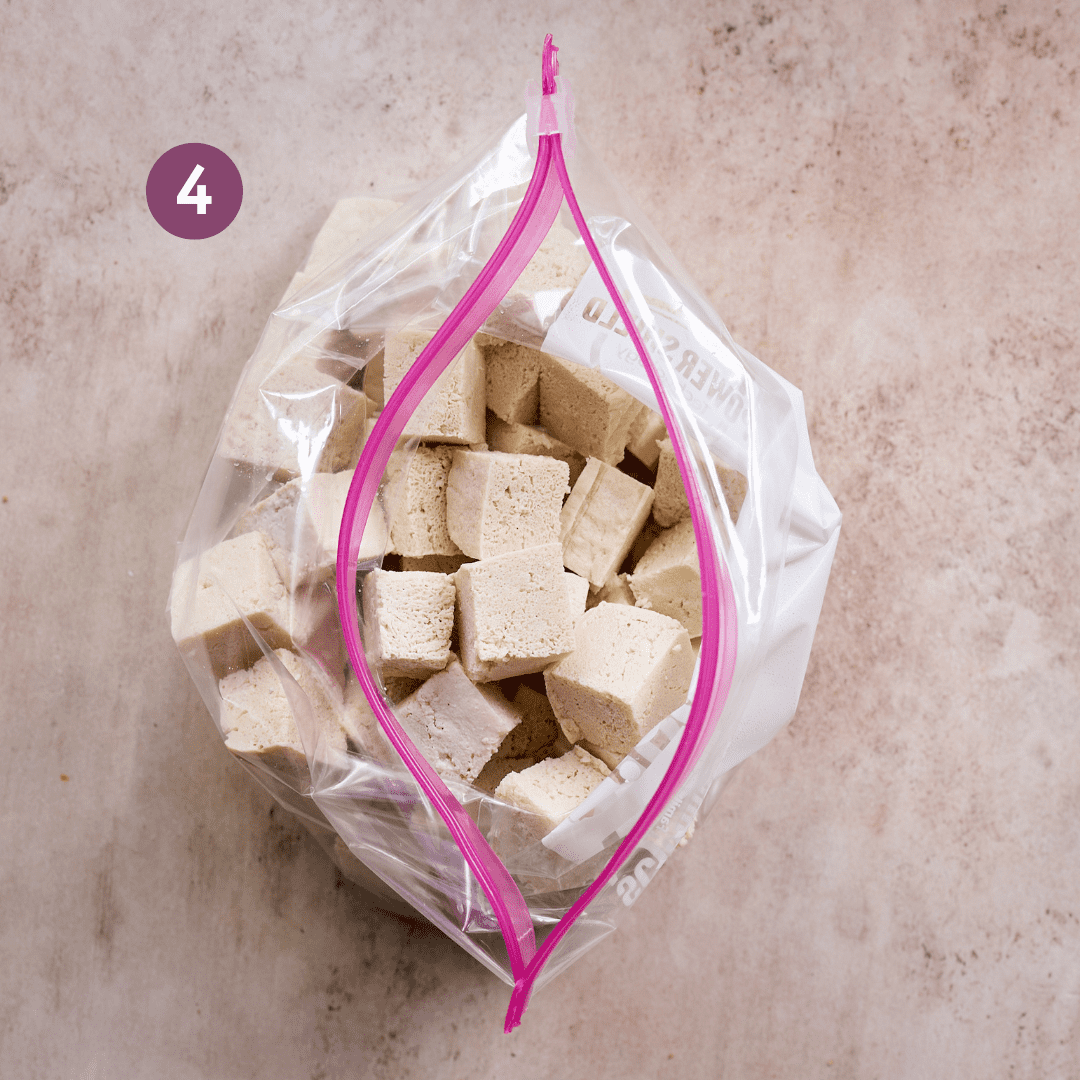 Marinate the tofu. Seal the bag and leave it in the fridge for at least 30 minutes or up to 4 hours.
Tip: Gently massage the tofu in the bag at least once to ensure each tofu cube is well coated and has a chance to soak up those amazing flavors.
Once the marination is over, add the arrowroot powder to the bag with the tofu and marinade. Toss and gently massage to coat every piece.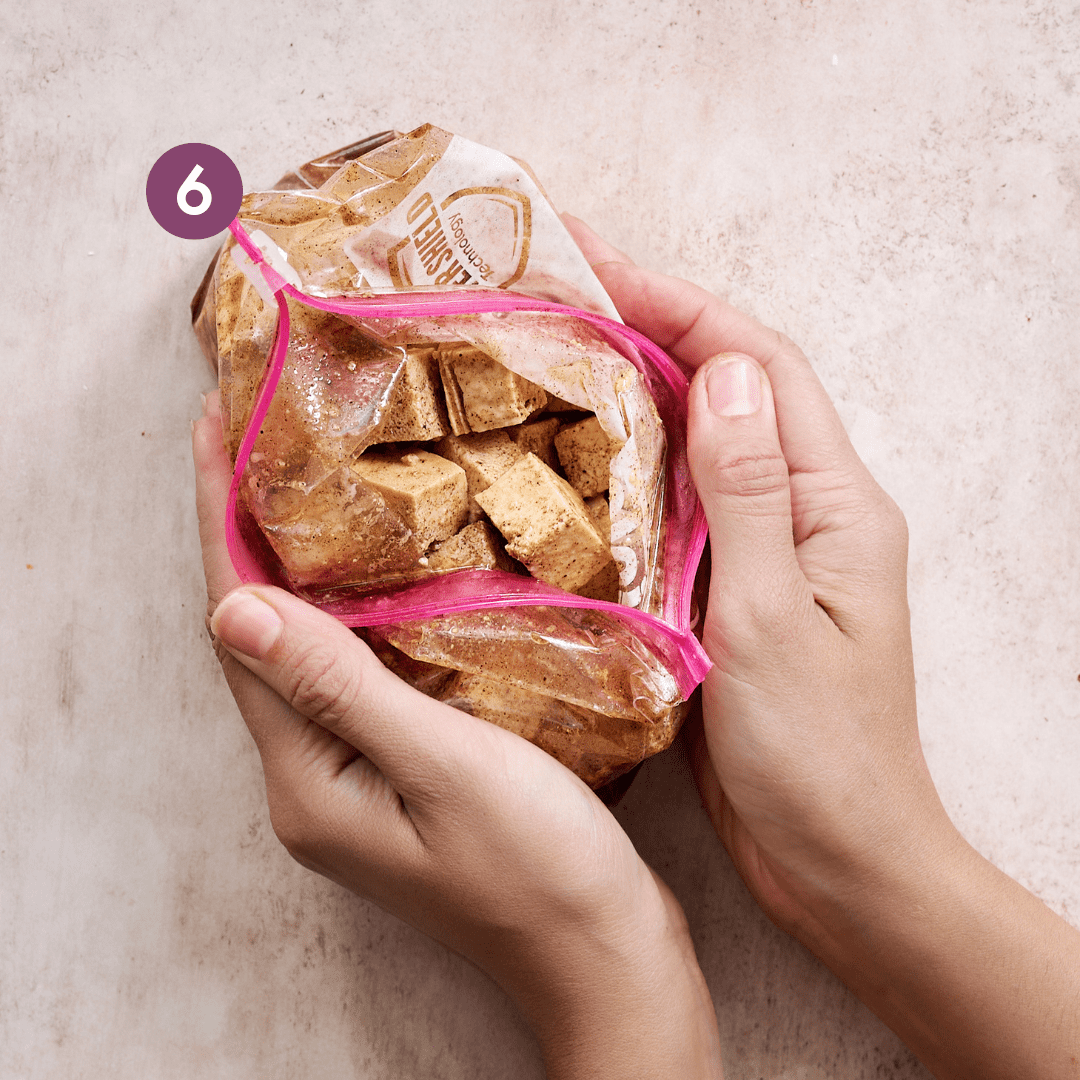 Bake the tofu. Arrange the tofu in an even layer on a parchment paper-lined sheet pan. Keep any excess marinade in the bag.
Tip: Make sure the tofu isn't piled on top of each other or too close together. This leads to steaming and will result in soggy, not-so-crispy baked tofu.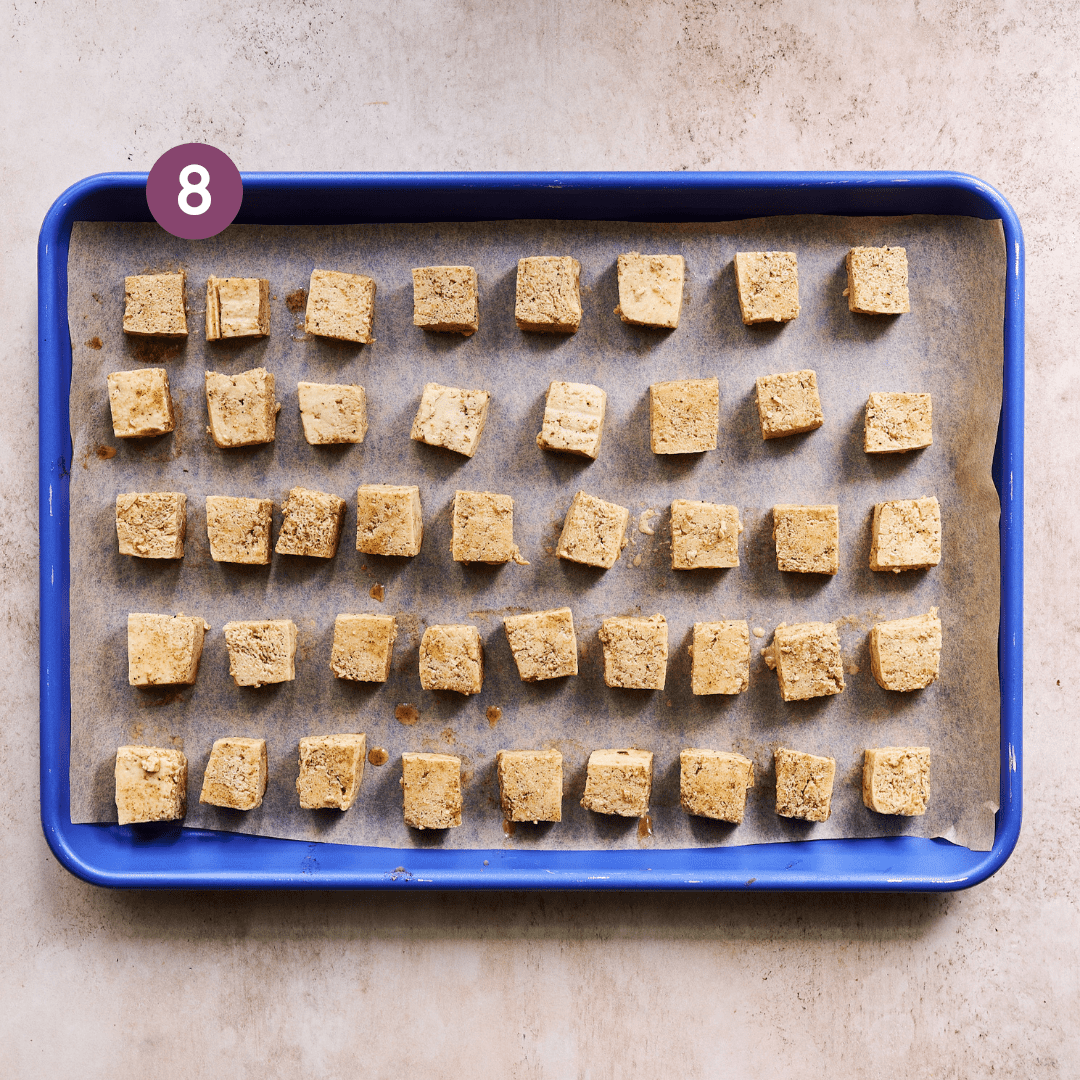 Bake until the tofu is crisp and browned. The pieces may look a little soft, but they crisp up after resting for 5 minutes!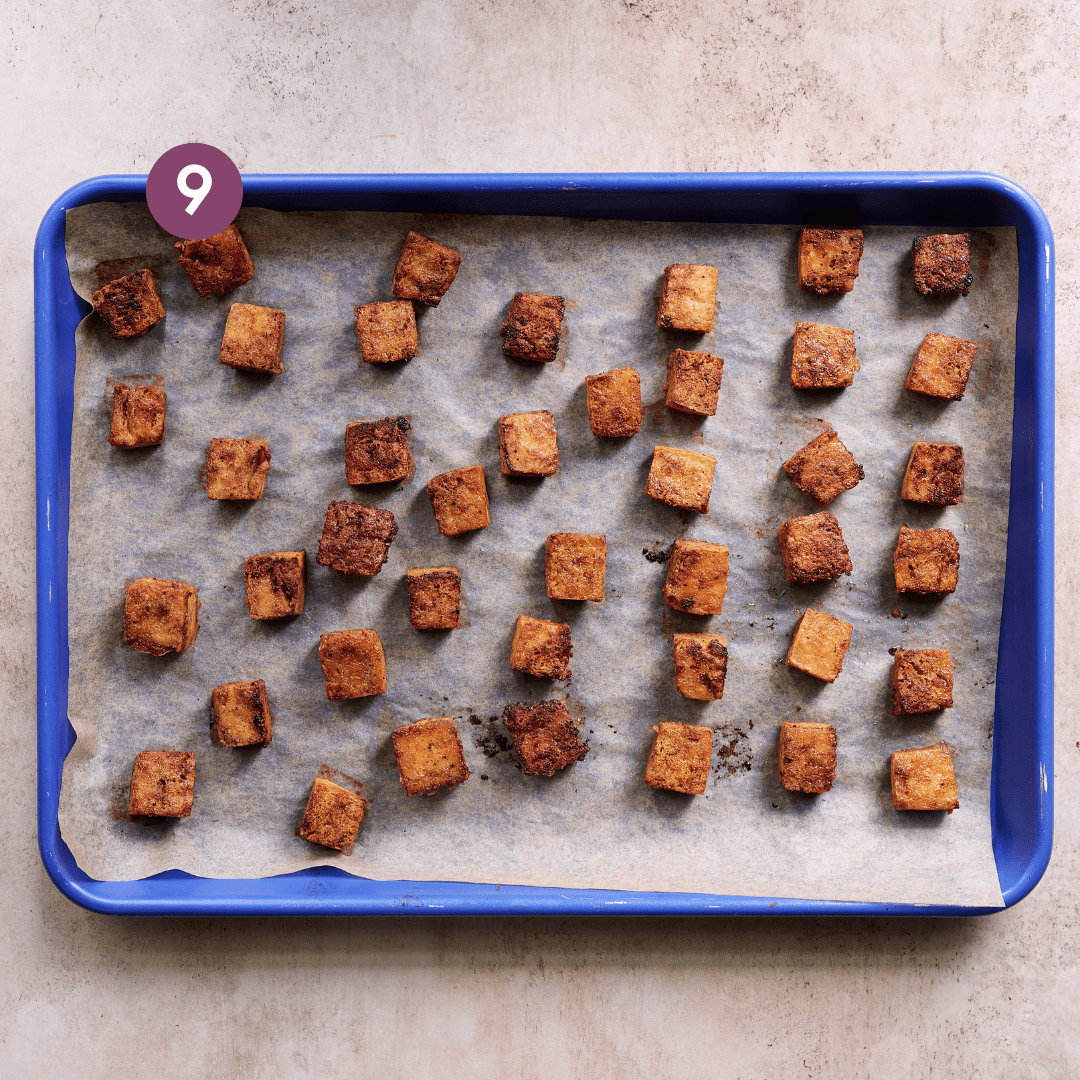 Tips for making this recipe
Frozen and defrosted tofu is a game-changer. It improves the texture and absorbs more flavor. 
To freeze tofu, you can either:
(1) Stick the whole block of tofu (still in the packaging) in the freezer or
(2) Unpackage the tofu and transfer it plus its water to a freezer-safe bag or container. Freeze for at least 8 hours, or longer.
To defrost tofu, you have a few options:
1) Leave it in the fridge if you aren't in a rush. This should take 1 or 2 days, depending on how long the tofu was frozen.
2) Defrost on the kitchen counter fora few hours, then return it to the fridge to continue thawing. To speed things up, place the tofu in a bowl or pan of warm water when it's on the countertop.
3) The quickest method is in the microwave. Run the frozen tofu under warm running water until it can easily slide out of the packaging. Place it in a bowl of warm water, then microwave in 1-minute intervals until thawed (this might take 8 to 12 minutes). 
Pressing the tofu is necessary. It's the only way to remove all of the excess water from the brick. Skip this part and you won't achieve the crispy, chewy texture.
A tofu press is a quick and easy way of pressing tofu, but the old-fashioned way works just as well.
Lay the sliced tofu slabs on a cutting board and lay a thin kitchen towel overtop. Place a heavy cookbook on top, add a cast iron skillet on top to weigh it down, then leave it to drain for 10 to 30 minutes.
You can cut down on the amount of time you have to press the tofu by (1) first squeezing out the residual water in the tofu packaging, and (2) slicing the tofu into slabs before pressing; this gets more water out of the tofu than just pressing the entire block.
For more detailed instructions on improving the taste and texture of tofu, head to my 40 Terrific Tofu Recipes. 
Don't skip the rest time. The tofu is going to feel a bit soft after it's done baking. Don't stress! Let it rest on the kitchen counter for 5 minutes. During this time, the texture will firm up and become deliciously crispy.
Use it for meal prep. If you want to marinate the tofu as part of your meal prep, store the tofu and marinade separately in the fridge for 1 to 3 days. When it's time to eat, marinate the tofu for 30 minutes, then bake as normal.
How to serve marinated tofu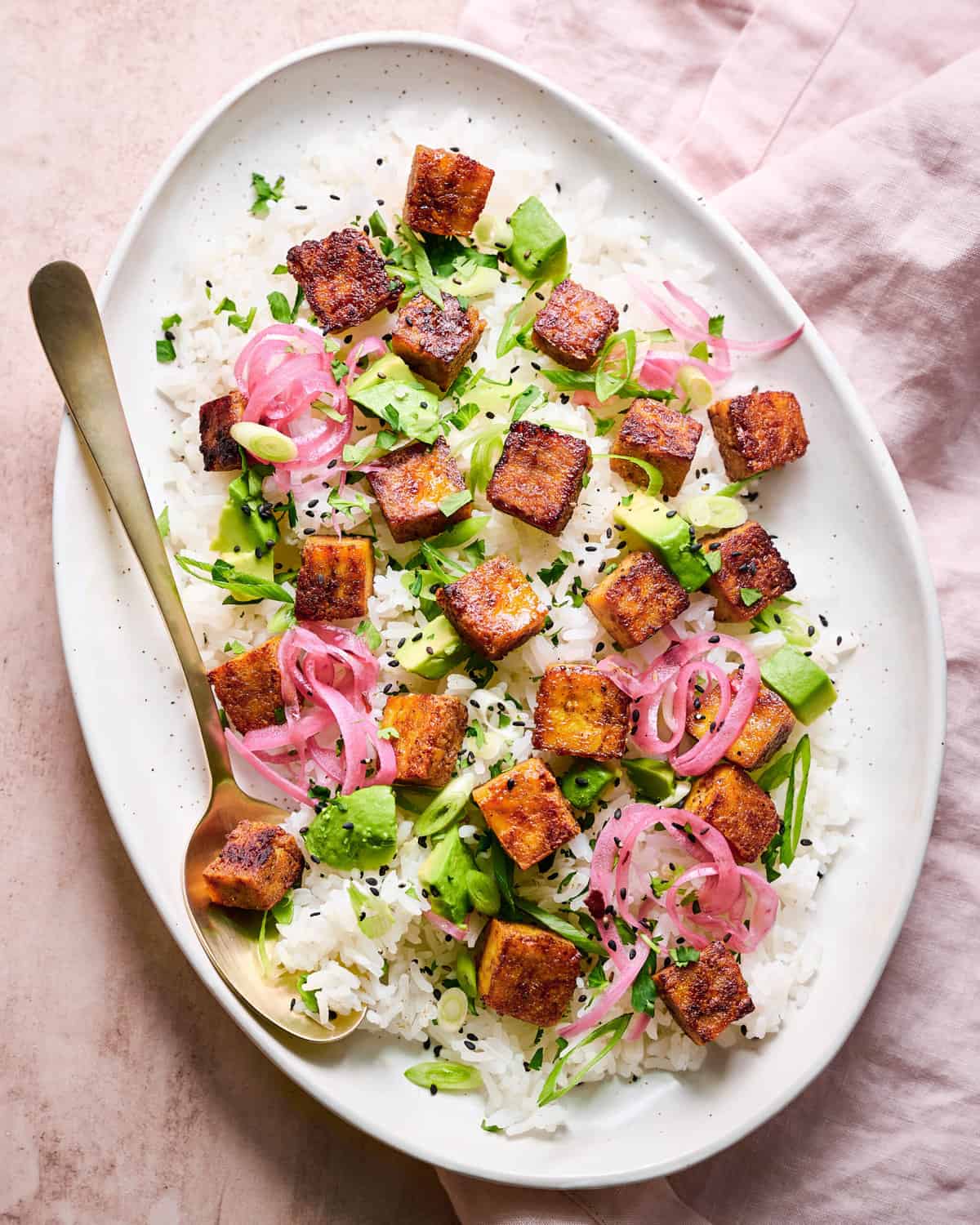 Frequently Asked Questions
How long should I marinate this tofu?
You can leave the tofu in the bag with the marinade for as little as 30 minutes, or up to 4 hours.
Can I marinate tofu overnight?
Technically, yes, but in our tests, the tofu that marinated for longer than 4 hours absorbed too much of the marinade and ended up less flavorful and crispy.
I don't have frozen tofu. What can I use instead?
No problem. You can achieve a similar spongy, chewy texture by boiling the refrigerated and cubed tofu in salted water instead. It's the same method I use to maximize the chewiness and flavor of the tofu in my Vegan Curry recipe.
(1) Bring a medium pot of water up to a boil on the stove. 
(2) Once it's boiling, add 1 heaping tablespoon of kosher salt (or 2 teaspoons of sea salt) and the cubed tofu.
(3) Once it returns to a boil, set a timer for 2 minutes. Drain well.
You can also make this recipe with refrigerated and pressed extra-firm tofu instead. We tested this and, while it worked just fine, didn't have the same amazing texture.
What can I use instead of arrowroot powder?
Potato starch and cornstarch will work. Cornstarch tends to leave a subtle chalky flavor behind, but it isn't too noticeable when serving the tofu in dishes with an abundance of other flavorful ingredients.
Can I pan-fry or air-fry the tofu instead?
Sure. You'll need an extra 1 to 2 tablespoons of oil to pan-fry. Cook the tofu in a large non-stick or cast iron skillet in an even layer to ensure they can all brown evenly. Work in batches if you need to. I prefer baking though, as it's hands off. 
The same goes for air frying. Although we haven't tested this method, it's best to spray the even layer of marinated tofu with non-stick spray before air frying.
Is this marinated tofu gluten-free?
Yes, just be sure to use tamari or gluten-free soy sauce instead of regular soy sauce.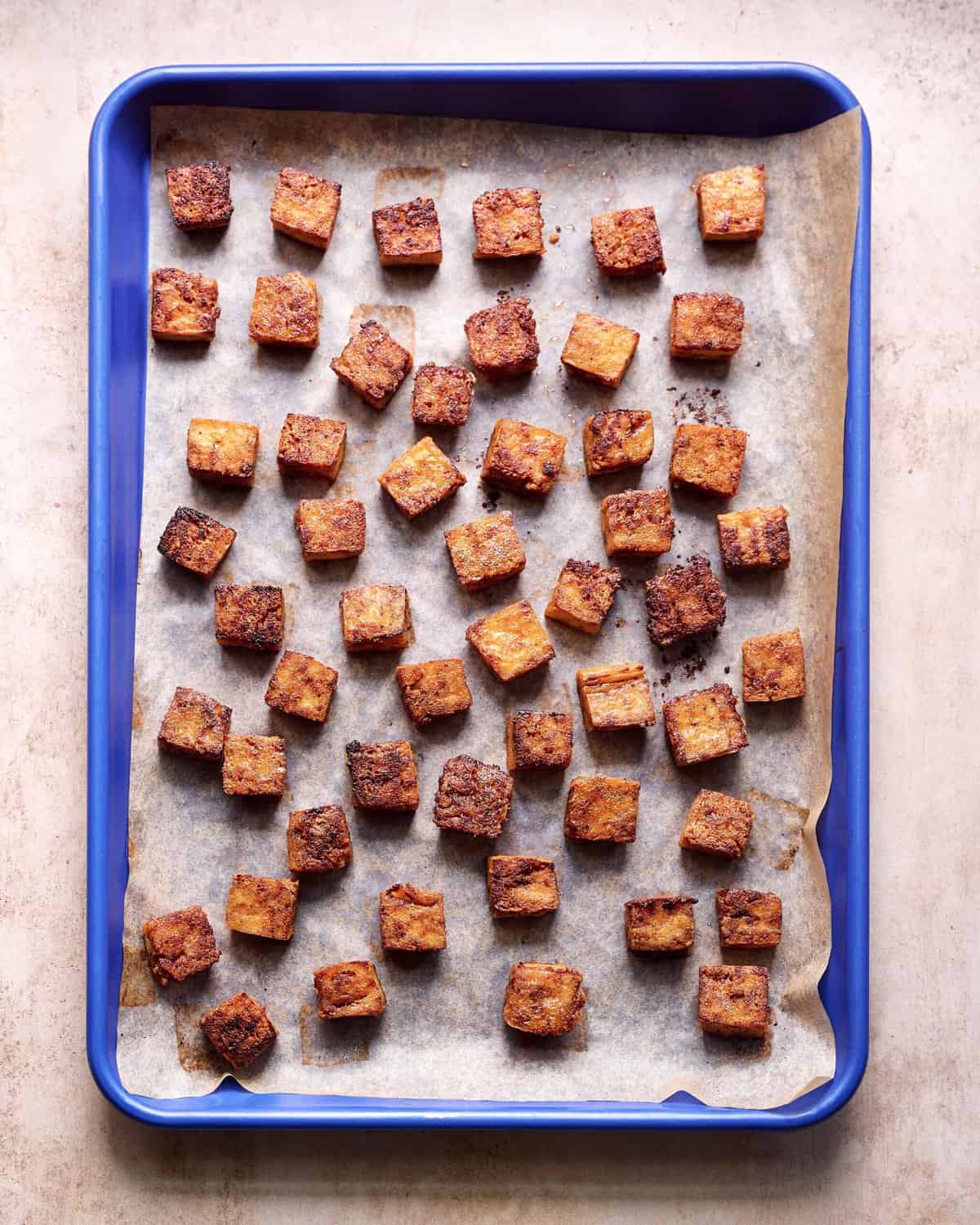 If you love this Marinated Tofu, please give it a rating and review below! And of course, tag me with your remakes on Instagram!
Seriously Delicious Marinated Tofu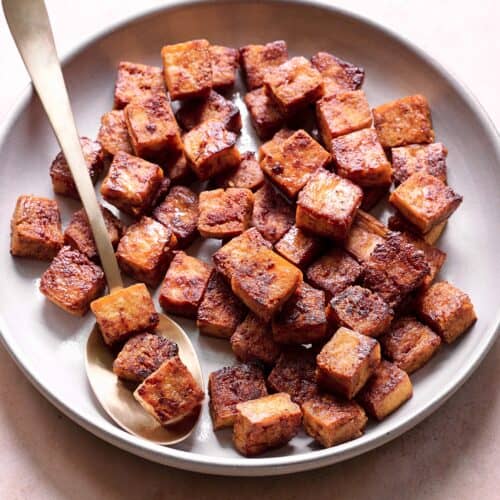 This incredibly chewy, delightfully crispy, and Chinese-flavored Marinated Tofu will is addictively good. Make it a protein-packed staple for meal prep, dinners, and more… It goes well with everything!
Wrap the block of tofu in a thin dish towel. Over the sink, gently squeeze the tofu with both of your palms to extract as much water as you can but don't squeeze so hard to crumble it.

Slice the tofu into 4 vertical slabs. Cover with a thin dish towel or paper towels, weight down the tofu, and press it for 10 minutes, changing the towels in between if you can.

Meanwhile, in a jar, combine the Marinade ingredients in a jar and shake until well combined (note: this does NOT include the arrowroot powder).

Slice each tofu slab vertically in half, so you have 8 slabs. Now slice each slab into ½ inch-cubes (1.25 cm), about 7 cubes per slab.

Add the tofu to a quart-sized ziploc or zip top bag. Pour the marinade on top and toss gently to coat.

Cover and marinate in the fridge for at least 30 minutes, or up to 4 hours, flipping the bag over a few times (at least twice during 1 hour) to distribute the marinade evenly.

Preheat to 425ºF/218ºC and arrange a rack in the middle or bottom third of the oven. Line the a rimmed sheet pan with parchment paper.

Add the arrowroot to the marinated tofu in the bag and seal. Toss and massage gently to coat. Spread the tofu out in a single layer on the pan, leaving behind any extra marinade.

Bake for 15 minutes. Remove from the oven and flip the tofu. I use my hands to make it easiest, but be careful!

Rotate the pan by 180º for even heating and return to the oven and bake for 10 to 13 minutes, or until tofu is nicely browned (a few blackened spots are okay).

Rest for 5 minutes. The tofu will be rather soft when it comes out of the oven, but after resting for 5 minutes, it will crisp up.
* Using previously frozen tofu makes a big difference in the texture, as well as the taste. Check out the Tips section for how to freeze and defrost tofu. 
** Use tamari to keep this recipe gluten-free. 
*** Chinese five spice powder really takes this tofu over the top. You can find it at many grocery stores, Asian markets, or online. Similarly, white pepper adds distinct Chinese flavors here that are amazing (it's not the same as black pepper). 
**** In our tests, cornstarch left a subtle chalky aftertaste, whereas arrowroot powder did not. This is less of a problem when the tofu is paired with other foods, so if you only have cornstarch, it's probably fine. 
---
Recipe: Nisha Vora / Rainbow Plant Life | Photography: Megan Morello