This hearty sheet pan butternut squash salad with kale is full of texture, color, and flavor! It's festive and perfect for holidays and for sharing, yet it's also stress-free to prepare. Sweet roasted butternut squash, apples, and onions, crispy chickpeas, and tender marinated kale: this unconventional warm salad has it all.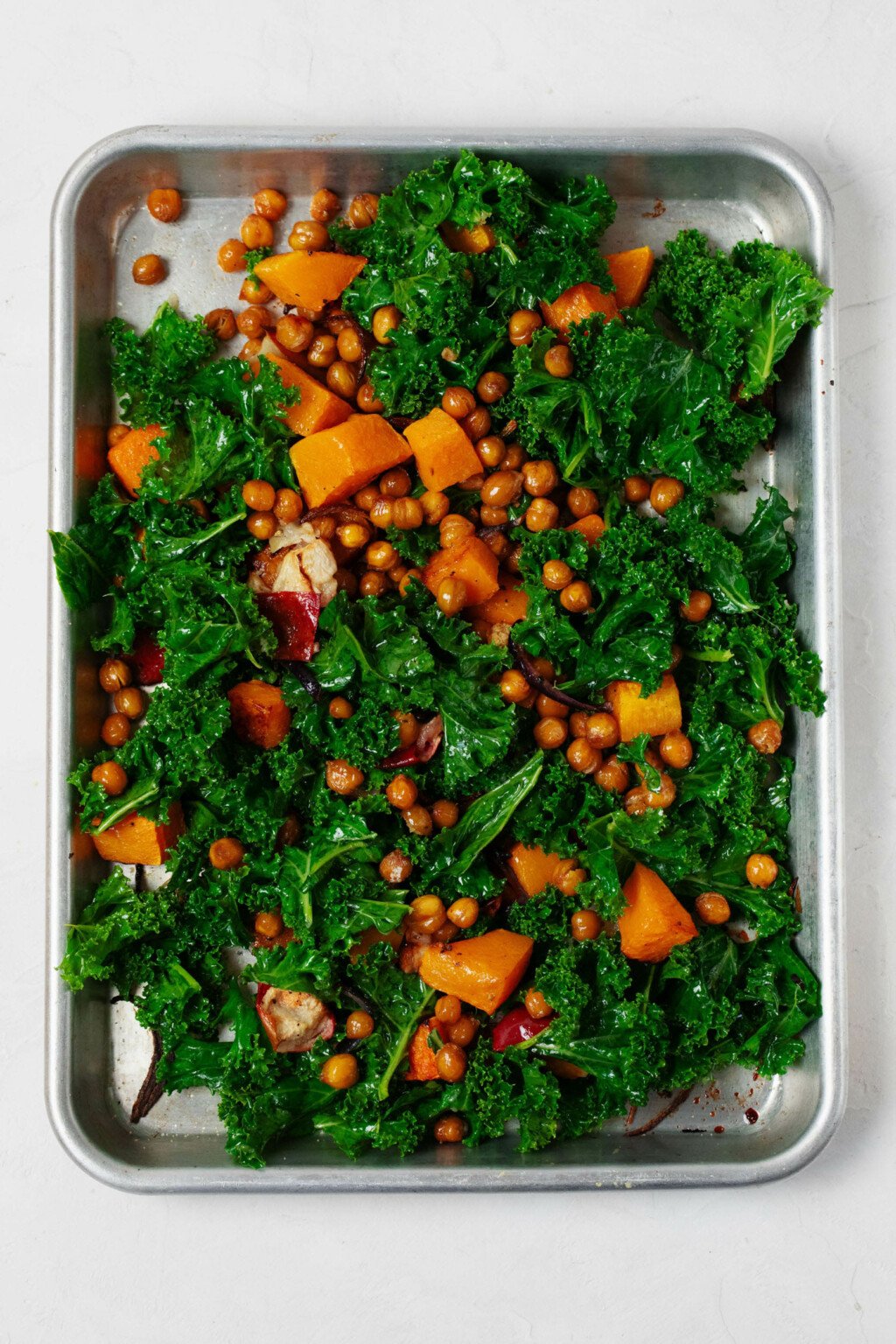 As we head into the busy holiday season, the simplicity and hands-off nature of a sheet pan meal couldn't be more appealing.
This particular sheet pan meal, which is a sheet pan butternut squash salad with kale, is so festive, so fun, and so seasonal.
It has all of the autumnal things: winter squash, roasted apples and onions, and an apple cider vinaigrette.
It's also got fantastic texture in the form of crispy roasted chickpeas and tender marinated kale.
If those selling points aren't enough, the butternut squash salad also has substance. It's served warm and full of hearty ingredients, so it won't feel like a side dish or an afterthought.
Instead, this is a salad that's wholesome and generous enough to serve as a light main dish, whether you're feeding yourself or gathering with friends and family.
What's a sheet pan salad?
A sheet pan salad is a salad that's mixed on a sheet pan.
So far as I know, sheet pan salads will always have warm or room-temperature components, since the whole function of the sheet pan is baking or roasting.
Sheet pan salads challenge us to think a little differently about salad.
They remind us, for example, that all salads don't necessarily have to be green salads—though this salad does have a leafy green component in the form of kale.
Many vegetables can serve as a salad base. Radicchio, chicories, shaved Brussels sprouts, cabbage, shredded carrots, riced broccoli, whole grains, legumes, or roasted vegetables: these are only a few of the vegetables that can be turned into a stellar fall or winter salad.
You can eat a salad alongside a meal or for a meal. Salads can be, or be a part of, dinner, lunch, or breakfast.
Salads can be served crisp and cold, at room temperature, or nice and warm. There are no rules, and mixing a salad on a hot sheet pan rather than in a mixing bowl is a reminder of that fact.
For this sheet pan salad, I roast the chickpeas, squash, onions, and apple. Then I add raw, marinated kale the sheet.
Other sheet pan salads might call for wilting or crisping the greens in the oven for a bit. Here, too, there are no rules, but I'm personally a fan of the contrast of raw and cooked, hot and cool ingredients.
The beauty of butternut squash
The star of this butternut squash salad is, of course, the squash.
It's no big secret that butternut squash is one of my favorite ingredients.
This wonderful winter squash is brimming with good nutrition, for one thing. It's an exceptionally good source of beta-carotene, which is converted by our bodies into Vitamin A.
Vitamin A, in turn, is a powerful antioxidant. It plays a role in cell growth, and Vitamin A adequacy is important for eye, heart, lung, and skin health.
Butternut squash is also a great source of another antioxidant, Vitamin C, and the electrolytes magnesium and potassium.
In addition, butternut squash has plenty of dietary fiber, which is important for digestive health. Fiber helps to keep us full, which is part of why this salad is so satisfying.
You can read more about my love of butternut squash and browse some of my favorite recipes that feature it in my roundup of wholesome vegan butternut squash recipes.
Featured ingredients
This salad features some of my all-time favorite things to eat.
In addition to the squash, there's marinated—or massaged—raw kale. This is my favorite way to eat kale by far; I like it more than sautéing, kale chips, steaming, or anything else.
For plant protein, the butternut squash salad has roasted chickpeas.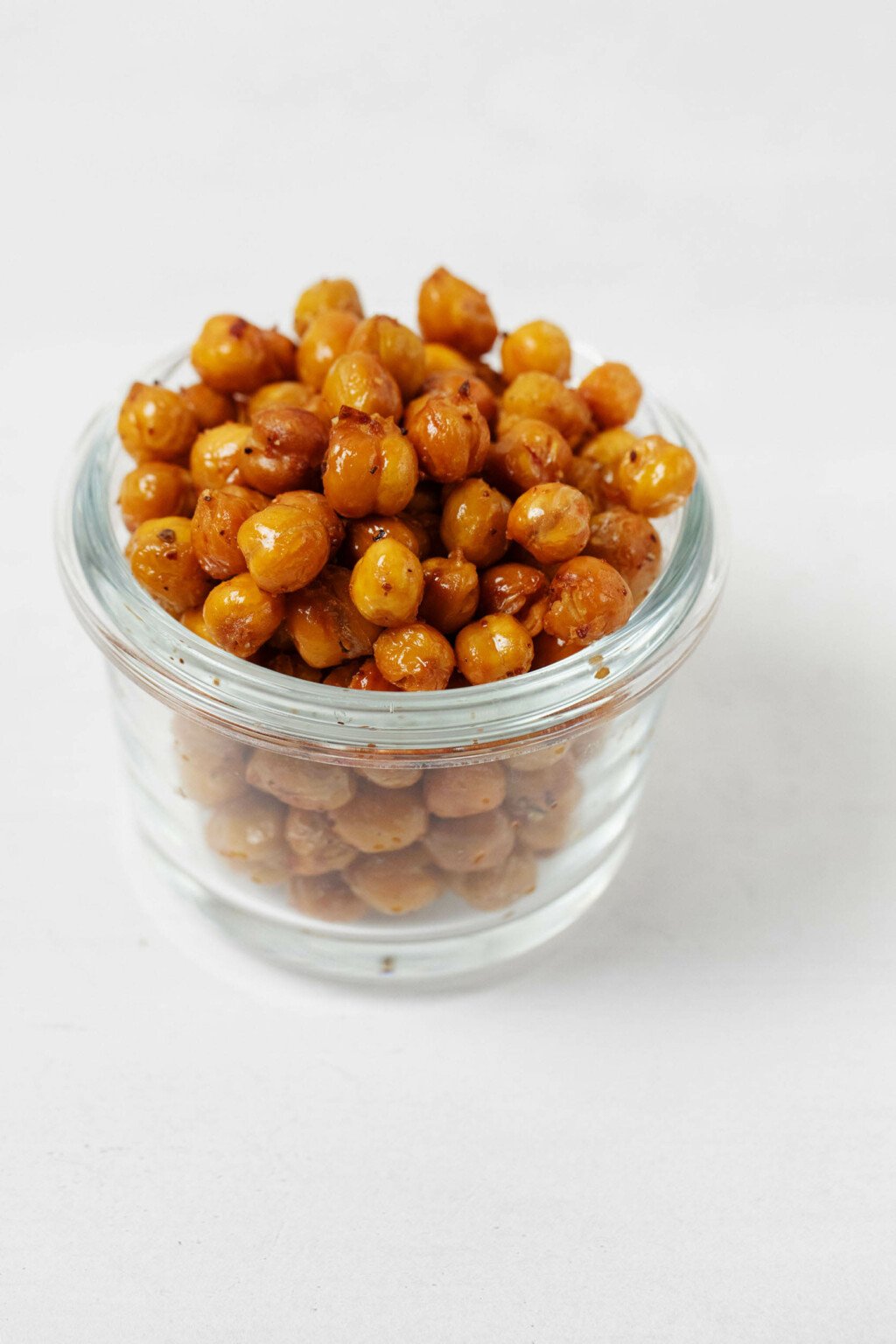 What I feature in the recipe is essentially a shortcut version of the crispy roasted chickpeas that are a go-to component in salads and soups in my home.
Roasting chickpeas gives them flavor—any seasoning you like—and an irresistable crunch.
Along with the butternut squash in the sheet pan salad, I roast apples and red onion. These components add a wonderful, deep sweet and savory component. They add complexity to the salad.
Finally, there's a wonderful vinaigrette here, which uses apple cider vinegar and white balsamic vinegar together. There's something about this combination that really works, achieving just the right level of sweetness and acidity.
In short, I couldn't love the blueprint for this salad more. And it happens to be fun to make.
How to make butternut squash salad with kale
Step 1: Prepare the chickpeas and vegetables for roasting
In step one, you'll drain and dry off your chickpeas. As odd as it sounds, patting them thoroughly dry helps them to become more crispy during roasting.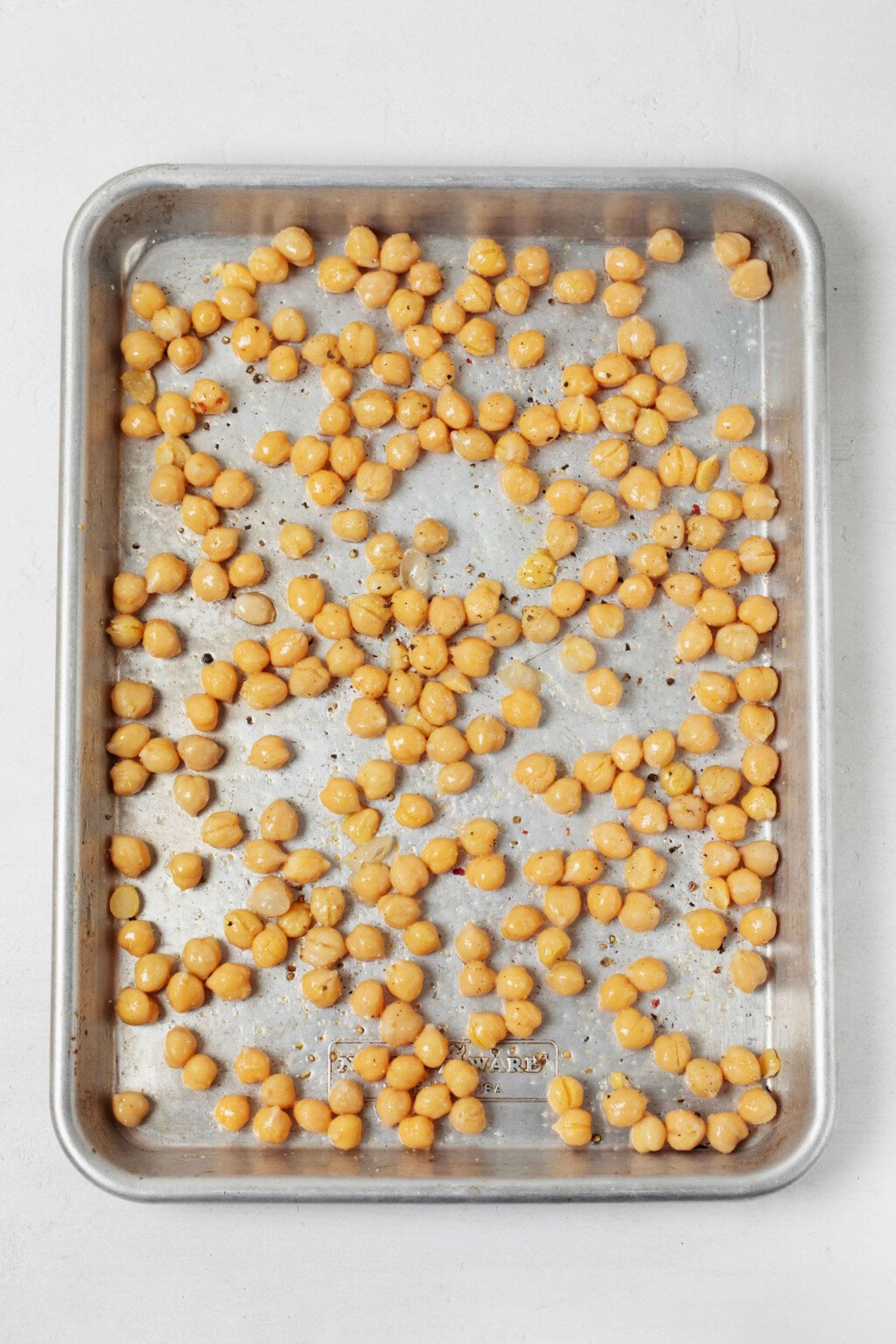 You'll season the chickpeas with onion salt (or onion powder mixed with regular salt), garlic powder, and pepper.
On a separate tray, you'll arrange the butternut squash, onion, and apples for roasting. You'll add some avocado oil to both the vegetables and chickpeas, and you'll transfer them to the oven.
Step 2: Roast
One of the nice things about this recipe is that all of the components roast at the same time, and for roughly the same amount of time.
Keep both trays in the oven for 30-35 minutes, or until the chickpeas are crispy and browning and the squash is tender and browning at the edges.
You'll stir once halfway through roasting.
You may be wondering whether you could just roast everything together, or on two sides of a single sheet.
I didn't have success when I made the recipe that way; a single sheet pan wasn't enough for all of the ingredients to roast without crowding. Crowding compromises crispy texture in roasting.
Also, I find that the chickpeas retain more pleasant crunch when they roast on a sheet of their own (just as gnocchi roasts more effectively on its own tray in my favorite vegan sheet pan gnocchi recipe).
Step 3: Make the vinaigrette and prepare the kale
While the vegetables are roasting, you can turn to the kale.
First, whisk together the vinaigrette for the butternut squash salad: oil, vinegar, maple syrup, mustard, garlic, and salt.
You'll want to add about half of the dressing to the kale, which should be piled in a nice, roomy mixing bowl.
Use your hands—it must be your hands!—to firmly work the dressing into the kale, squeezing as you go. The kale will almost instantly become more tender.
The remaining dressing should be reserved for drizzling on the finished salad.
Step 4: Mix
Once the squash mixture and chickpeas have all roasted for long enough, it's time to combine ingredients.
First, transfer the chickpeas to the same sheet as the squash.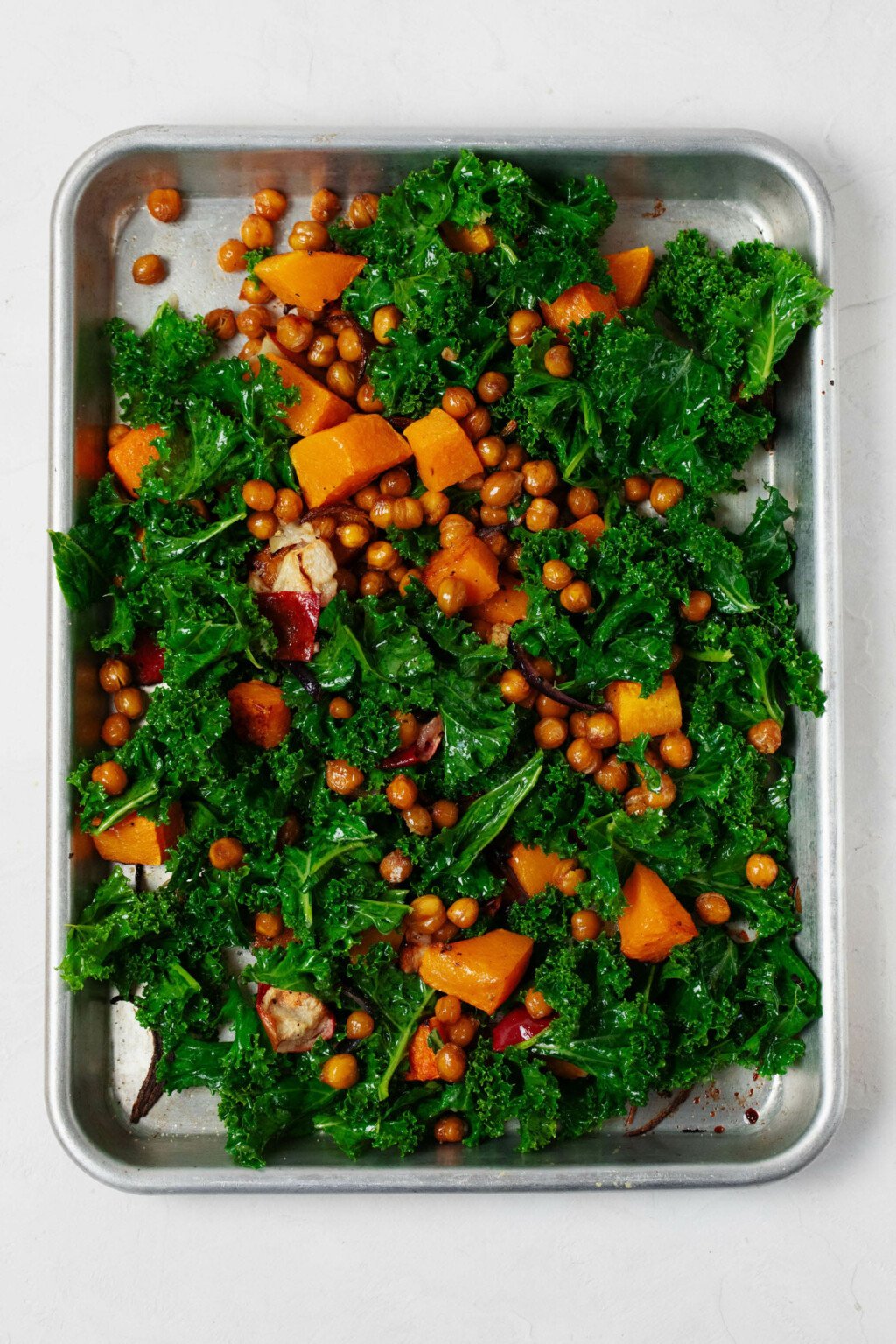 Then, add the massaged kale. Mix everything well on the sheet, then drizzle the remaining dressing—or as much of it as you like—over the butternut squash salad.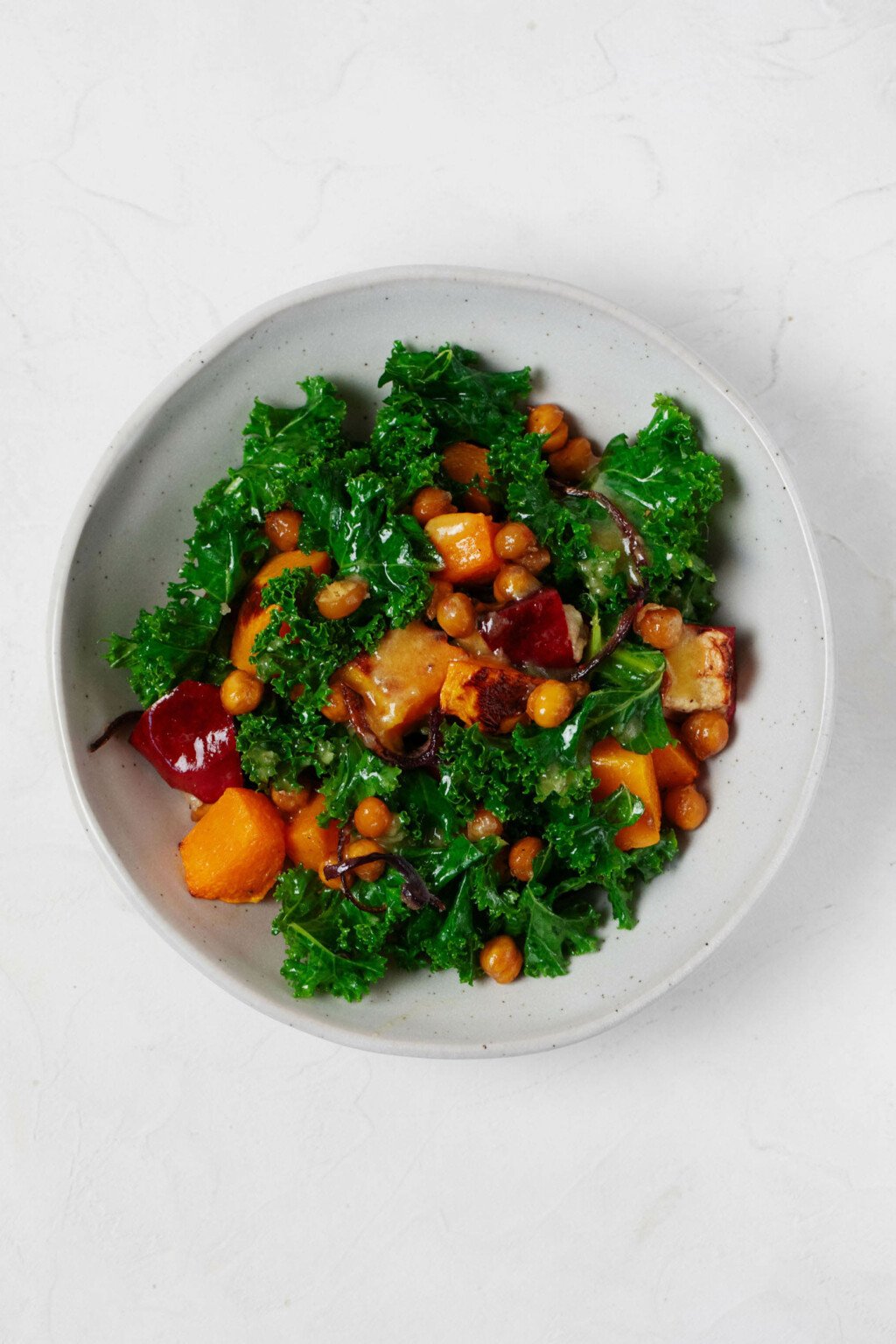 Step 5: Serve
At this point, you can go ahead and serve your colorful, warm, satisfying sheet pan salad.
Some accompaniments that I like with this salad: toast, a simple whole grain, like my mushroom farro, any soup (butternut lentil apple soup, if you want to stay on brand), baked balsamic tofu.
But you do you!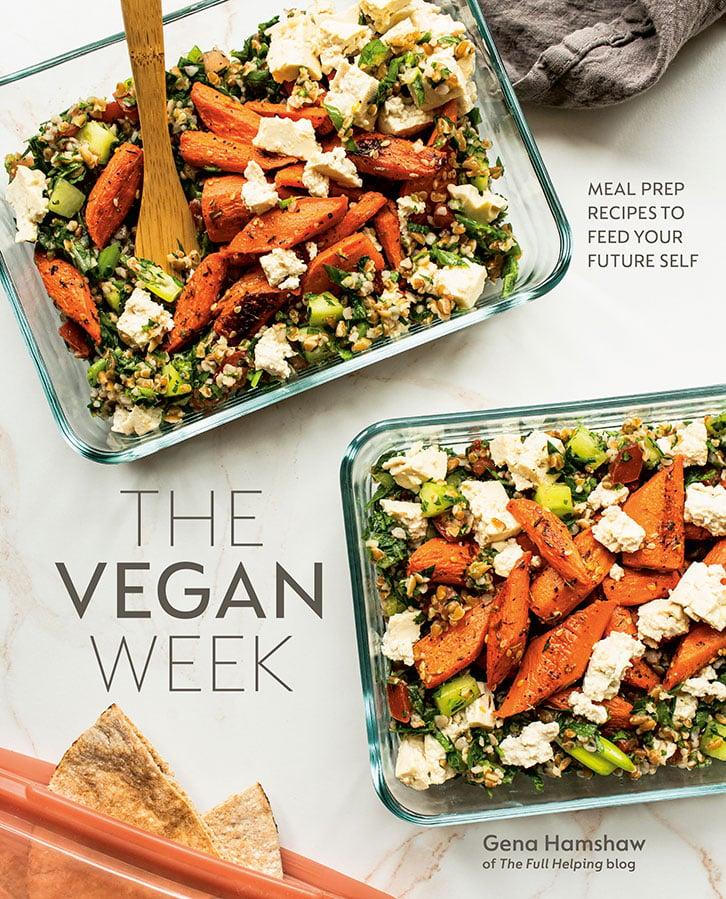 The Vegan Week
Embrace the joy of eating homemade food every day with the hearty and wholesome recipes in The Vegan Week.
Whether you have three, two, or even just one hour of time to spare, The Vegan Week will show you how to batch cook varied, colorful, and comforting dishes over the weekend.
Meal prep & storage
If you'd like to get a head start on the butternut squash salad, that's easy to do.
You can roast the squash, onion, apples, and chickpeas and store them for up to two days before mixing. The kale can be prepared a full day ahead of mixing as well.
The dressing can be whisked together a week before you put the salad together.
Once mixed, the salad will keep in an airtight container in the fridge for up to three whole days. It's that rarest of things: a salad that does very well in leftover form.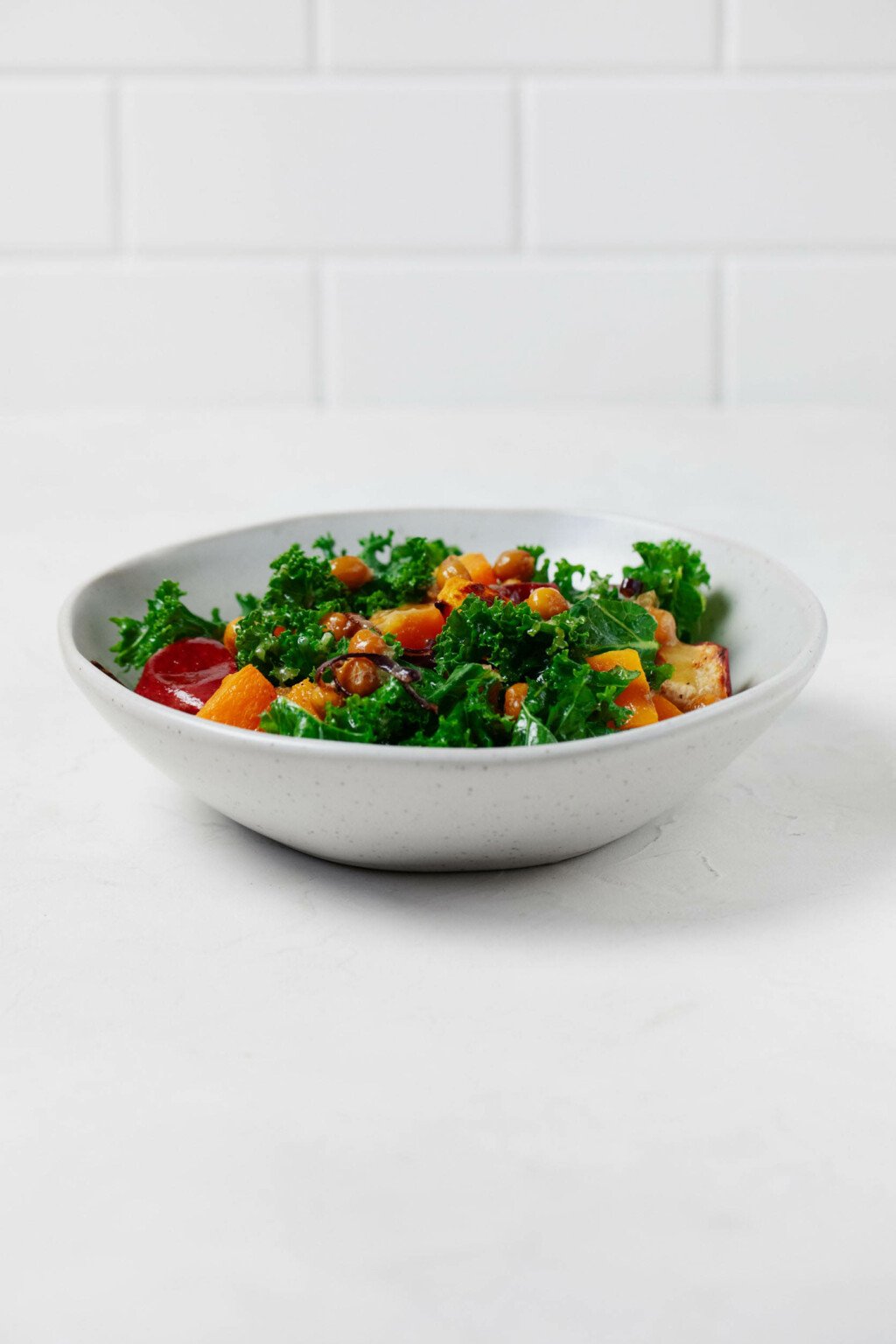 Sheet Pan Butternut Squash Salad with Kale
Author – Gena Hamshaw
Butternut squash salad with kale:
1 1/2

cups

cooked chickpeas

(240g, or one 15-ounce / 425g can)

2 1/2

tablespoons

avocado oil, divided

1/2

teaspoon

onion salt

(substitute 1/2 teaspoon fine salt + 1/4 teaspoon onion powder, or simply substitute 1/2 teaspoon fine salt)

1/4

teaspoon

garlic powder

Freshly ground black pepper

1

medium

butternut squash, peeled, seeded, and cut into 1-inch / 2.5cm cubes

(about 1 1/4 pounds / 570g after preparation)

1

large

apple, cut into 1-inch / 2.5cm cubes

1

medium

red onion, halved and thinly sliced lengthwise

Salt

Freshly ground black pepper

1

bunch

curly kale, stemmed and torn or chopped into bite-sized pieces
Dressing:
4

tablespoons

olive oil

1

tablespoon

white balsamic vinegar

1

tablespoon

apple cider vinegar

1 1/2

teaspoons

maple syrup

1 1/2

teaspoons

Dijon mustard

1-2

cloves

garlic, finely minced or grated on a microplate

(to taste)

1/4

teaspoon

salt
Preheat your oven to 400°F. Line two rimmed baking sheets with parchment or foil, or use rimmed, nonstick baking sheets.

Rinse the chickpeas in a small colander or through a sieve. Drain them well. Transfer the chickpeas to one rimmed baking sheet and use tea towels or paper towels to roll them around and pat them as dry as you possibly can. The more dry the chickpeas become, the crispier they'll be! Make sure there's no extra liquid left on the baking sheet once you're done drying the beans; if you see any, use the towels to wipe it off. 

Drizzle the chickpeas with 1 tablespoon of the avocado oil and use your hands or a spoon to coat them evenly. Sprinkle them with the onion salt, garlic powder, and a few turns of black pepper. Mix again.

Transfer the cut butternut squash, apple, and onion to the other baking sheet. Drizzle with the remaining 1 1/2 tablespoons avocado oil, then sprinkle with salt and a few turns of black pepper. Mix the vegetables on the sheet to coat them evenly.

Transfer both baking sheets to the oven. Roast for 30-35 minutes, or until the chickpeas are crispy and browning and the squash is tender and browning at the edges. Stir all of the ingredients on their baking sheets once halfway through the baking time.

While you roast the squash and chickpeas, whisk together all vinaigrette ingredients until they're emulsified. Transfer the kale to a large mixing bowl. Add half of the vinaigrette to the kale, reserving the rest; you'll use it for drizzling when you serve the salad. Use your hands to "massage" the vinaigrette into the kale, until the kale is well-coated and tenderized.

When the squash is ready, add the dressed kale and roasted chickpeas to the sheet pan with the squash and onions. Mix everything well. Taste the mixture and adjust salt and pepper as needed. You can add extra dressing here, too; otherwise, you can serve the remaining dressing table side, so that each person enjoying the salad can add a little to taste.

Serve the salad or store it in an airtight container in the fridge for up to 3 days.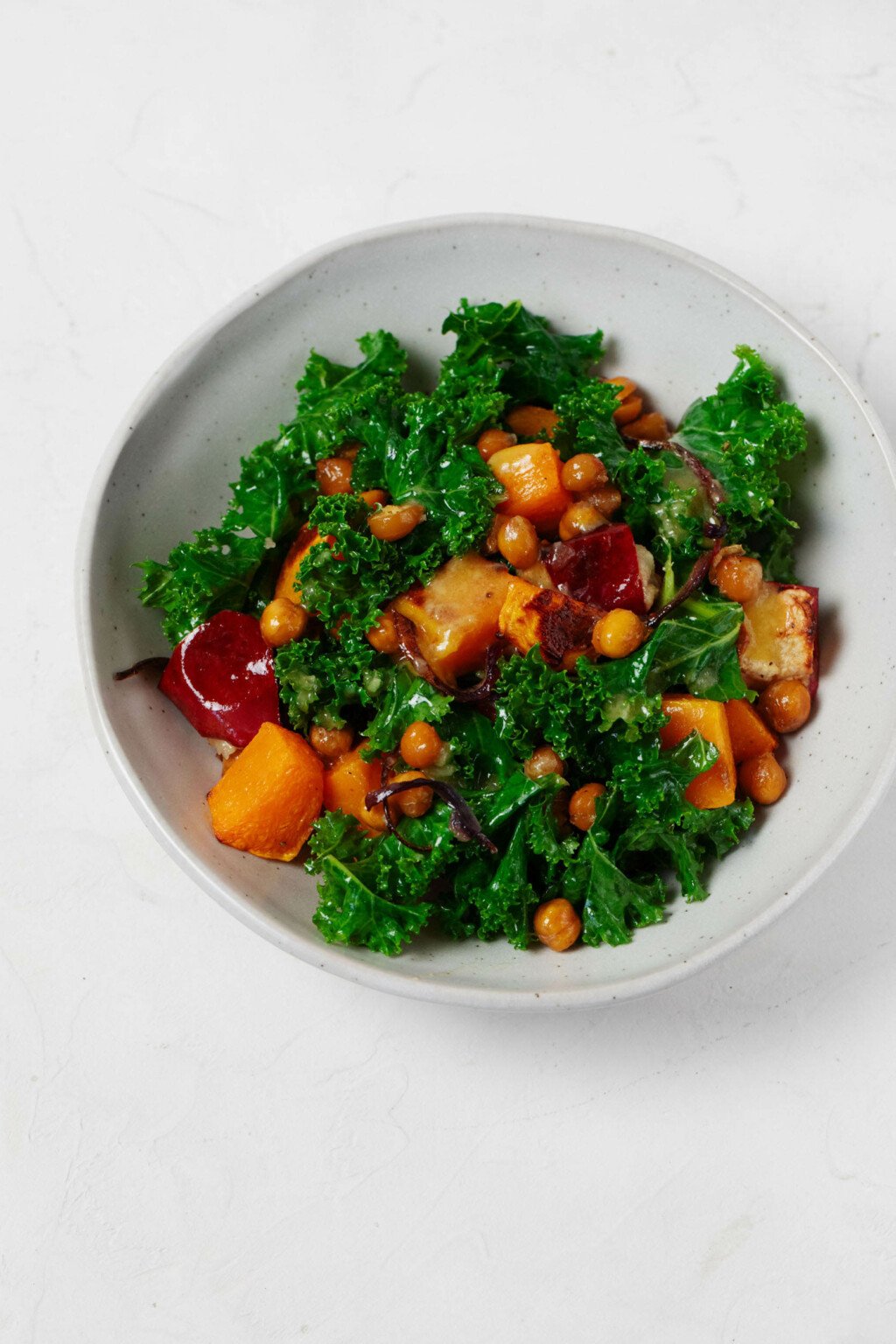 If you've been hoping to find a holiday recipe that's festive, nutritious, and won't cost you hours and hours in the kitchen, then perhaps this will be it?
I've been enjoying it so much this November, and I know that I'll be keeping it in the rotation as we move into winter. I'm happy to share it with you in this week of giving and sharing our thanks.
xo