Grilled Asparagus in Foil is a foolproof way to grill asparagus in just 15 minutes. You will need asparagus, olive oil, salt and pepper.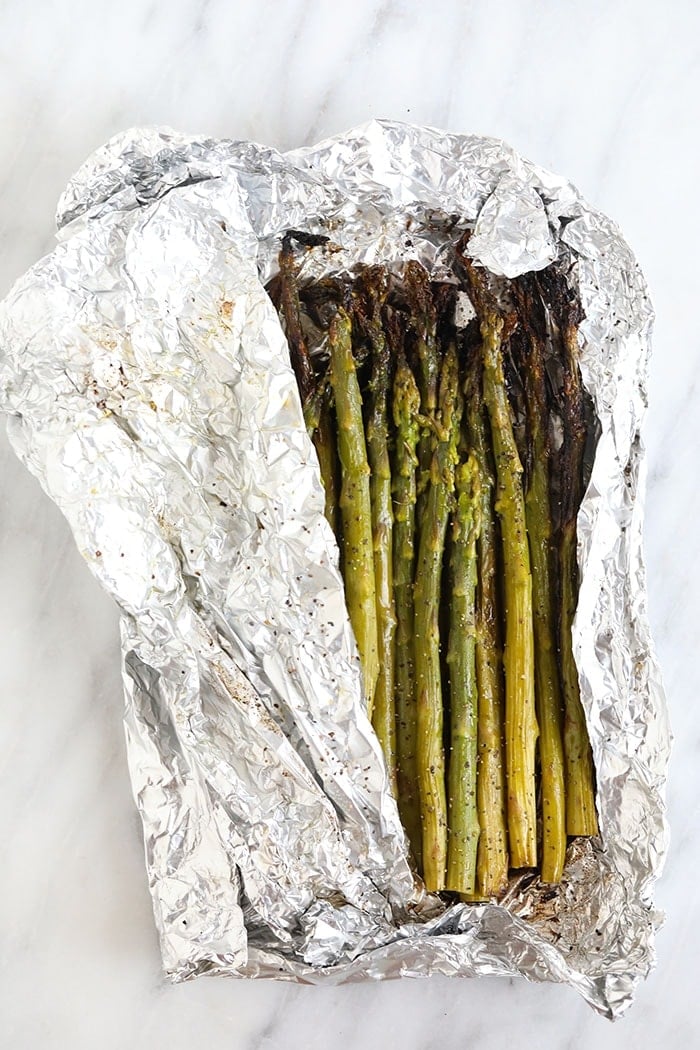 15 minutes grilled asparagus
Grilled asparagus is ready in just 15 minutes as the foil wrap traps the air around the asparagus, allowing it to cook faster!
We love grilling asparagus along with other grilled dishes like grilled chicken thighs, grilled steak, and grilled pork chops. It really is the best green vegetable to pair with any protein.
In this post, we'll show you how to prep, season, and grill your asparagus in no time!
A few reasons why we love asparagus!
Benefits of Asparagus
Asparagus is a great vegetable option when you want to get fiber, folic acid, and vitamins A, C, and K without adding a lot of calories.
vitamin C
Vitamin A
vitamin k
folate
potassium
vitamin E
asparagus nutrition
Asparagus is not only rich in vitamins and minerals, but also extremely healthy in terms of calories. Per pound of asparagus….
85 calories
0.5 grams of fat
17g carbohydrates
8g fiber
8 grams of sugar
12g protein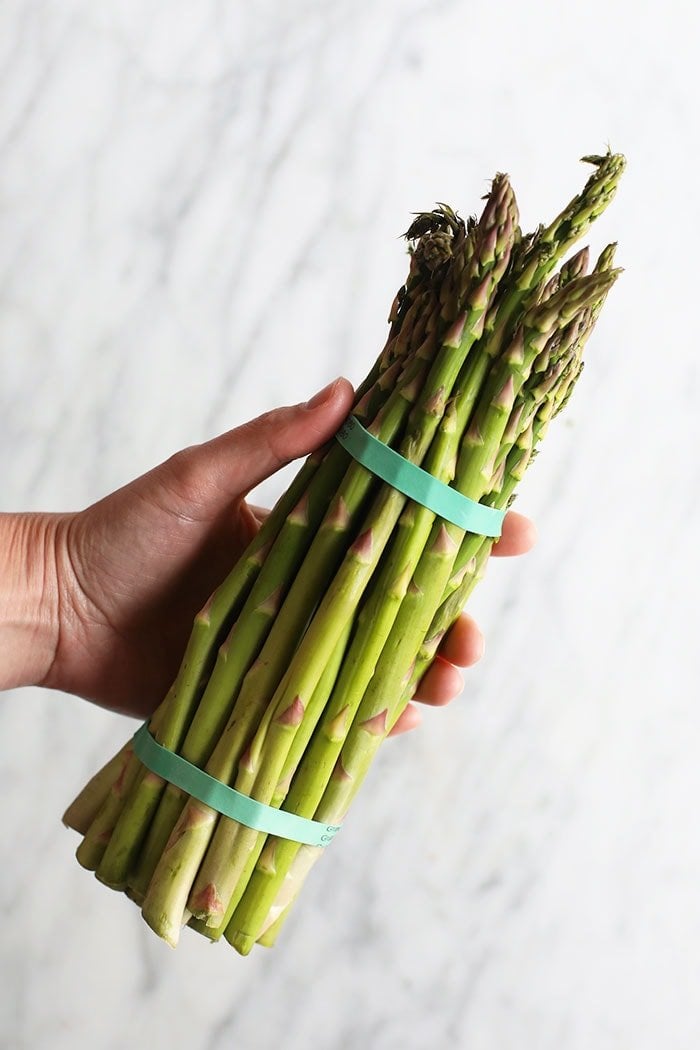 How to prepare asparagus for grilling
There are many different ways to prepare asparagus – grilled asparagus, oven roasted asparagus, air fryer, pan fried, steamed, etc. Before attempting any of these actions, it's important to take a few minutes to prepare your asparagus to clean and prepare. This is very easy.
Wash asparagus: Hold the asparagus bundle point-side down and run it under cold water. Use your hands to remove dirt or sand (or worms!) from the tips. Asparagus comes out of the ground, so it's normal for it to have some dirt on it!
Dry asparagus: Then dry your asparagus spears with a towel.
Dice asparagus: Finally, cut about an inch off the end of each asparagus spear. We do this because this part of the asparagus is too woody to eat and difficult to digest.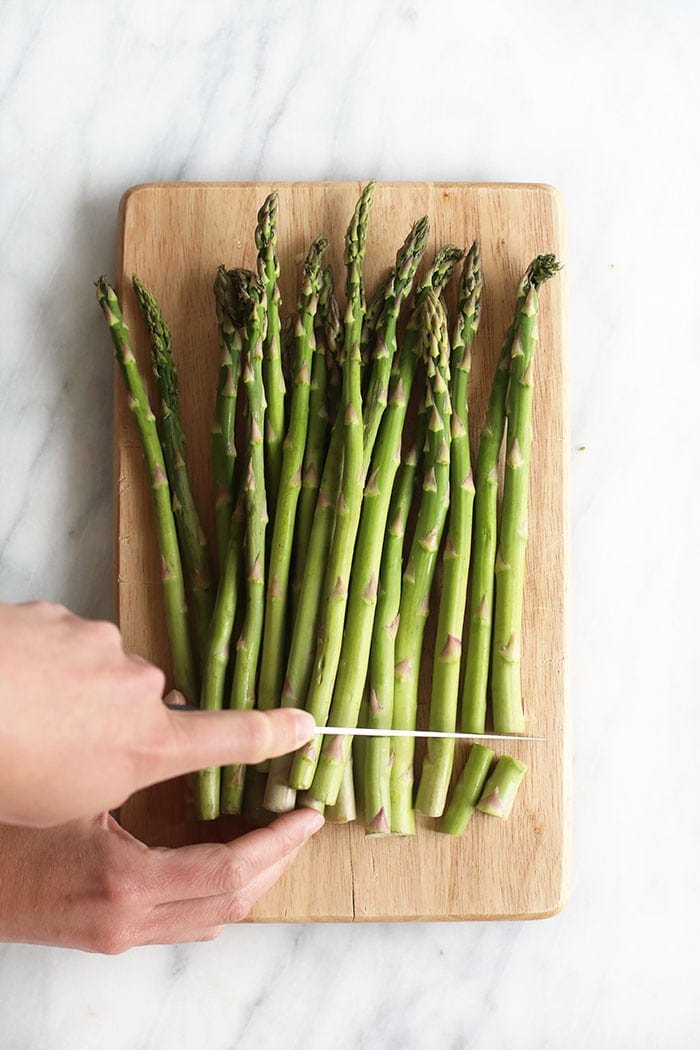 How to cook asparagus on the grill
After you've prepped your asparagus, it's time to grill them! Since we're using a foil wrapping method, this part is actually super easy! You need Asparagus, olive oil, salt, pepper and aluminum foil.
Season asparagus
Place about a pound of prepared asparagus spears on a large piece of aluminum foil.
Then drizzle a generous amount of olive oil on top, making sure everything is nicely coated. Season with salt and pepper and any other spices your heart desires.
Toss the asparagus with your hands so everything is covered.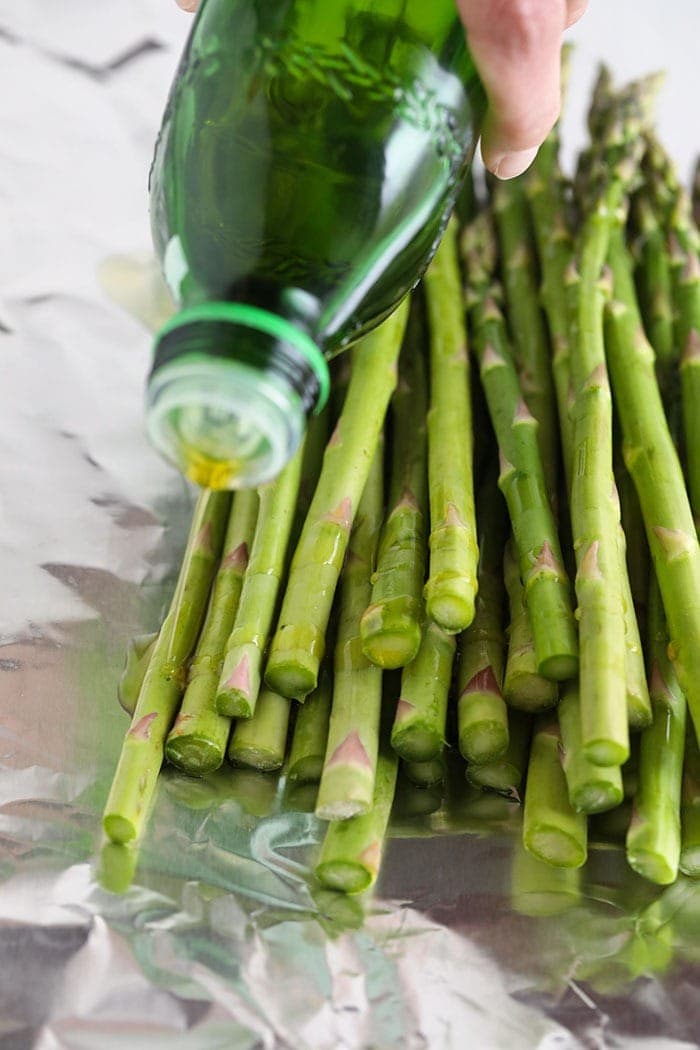 Seal aluminum foil boat
Place another piece of aluminum foil on top of the asparagus and fold the sides tightly together to form a foil pack. This prevents air from leaking in and out, and your asparagus will be grilled and steamed at practically the same time!
How long should you grill asparagus in foil?
Preheat your grill to 400°F, place the foil-wrapped asparagus directly on the flames and cook for about 15 minutes.
We prefer to grill asparagus at higher heat and for a shorter time. Not only is this contemporary with most meats, it also gives your asparagus a nice crisp char flavor.
Note: Alternatively, you can grill your asparagus on the top rack of your grill or over indirect heat for an extended period of time if you are grilling other items at the same time.