All you need are 4 ingredients to make this Smoked salmon appetizer Recipe.
These delicious appetizers are very elegant yet super easy to make and their subtle flavor makes them easy to serve with almost any meal.
If you love adding smoked salmon to your meal, you might enjoy our easy Smoked Salmon Tortilla Cups or our Smoked Salmon Salad.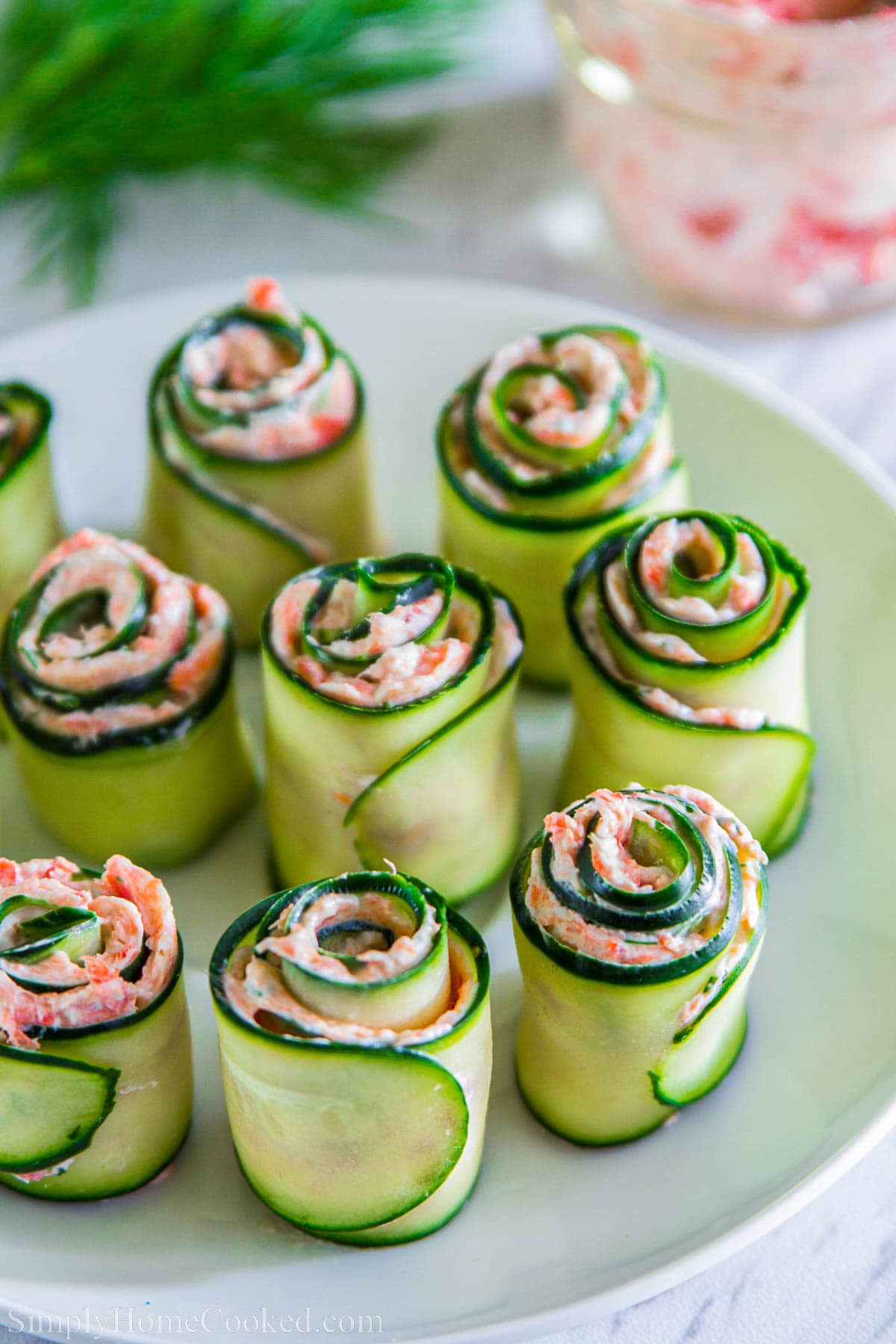 Table of contents
recipe details
This Smoked Salmon Appetizer recipe was inspired by one of the first recipes posted on my blog. I decided to make a low carb and healthier version of this recipe that turned out to be even more popular! They will love it!
TASTE GOOD: These appetizers are packed with smoky flavor and richness. The mild taste of the cucumber and the herbaceous dill complement the cream cheese perfectly.
TEXTURE: With a crunchy topping of cucumber and a creamy center of cream cheese and salmon, this dish is absolutely delicious.
TIME: This recipe takes 30 minutes.
EASE: This smoked salmon appetizer is so easy. With only 4 ingredients it is prepared in no time at all.
what you will need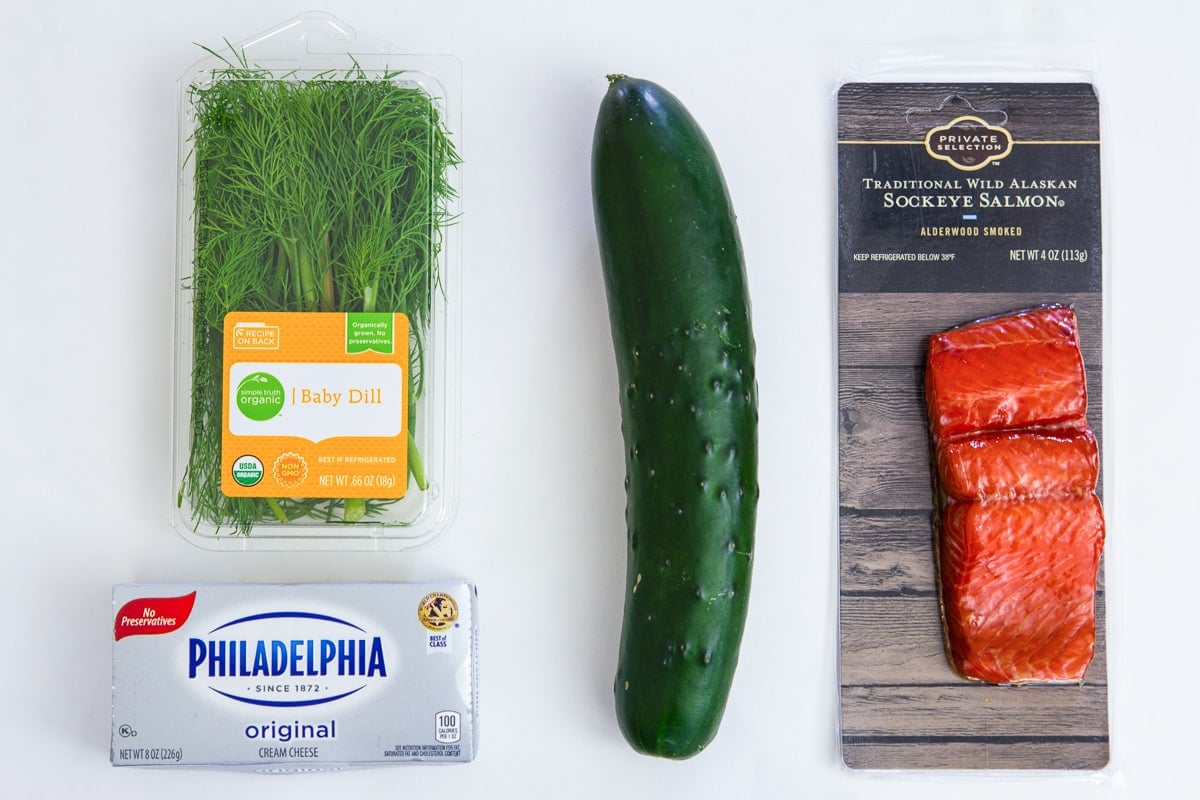 Notes on ingredients
Smoked salmon- You can use fresh or frozen salmon for this recipe. Just make sure it's thawed so it mixes easily into the spread.
Cucumber- Regular cucumbers work best because they are thicker.
Cream cheese- Full-fat cream cheese yields the richest flavor, but you can use low-fat if you prefer.
Dill- Using fresh herbs is best as they have a fresher, smoother flavor. But dried dill can also be used in a pinch.
Add-Ins and Substitutions
Add Dijon mustard or lemon juice- Add some Dijon mustard or lemon zest or juice to the spread for some spice.
Substitute another cheese- You can also prepare this appetizer with Neufchatel cheese, Brie or Mascarpone cheese.
Add Greek yogurt or sour cream- Adding this to the spread gives it a tangy flavor, and the yogurt adds some healthy protein, too.
add capers- These little things have so much lemony, salty flavor and would be delicious in this smoked salmon appetizer.
How to make smoked salmon appetizer
Make the spread. First, mix together the softened cream cheese, chopped dill, and smoked salmon until smooth.
peel cucumber. Then use a vegetable peeler to peel the cucumber into thin strips. Pat each cucumber slice dry with a paper towel to absorb moisture from the cucumber.
Pro Tip: Dabbing extra moisture from the pickle really helps spread the smoked salmon cream cheese spread on top.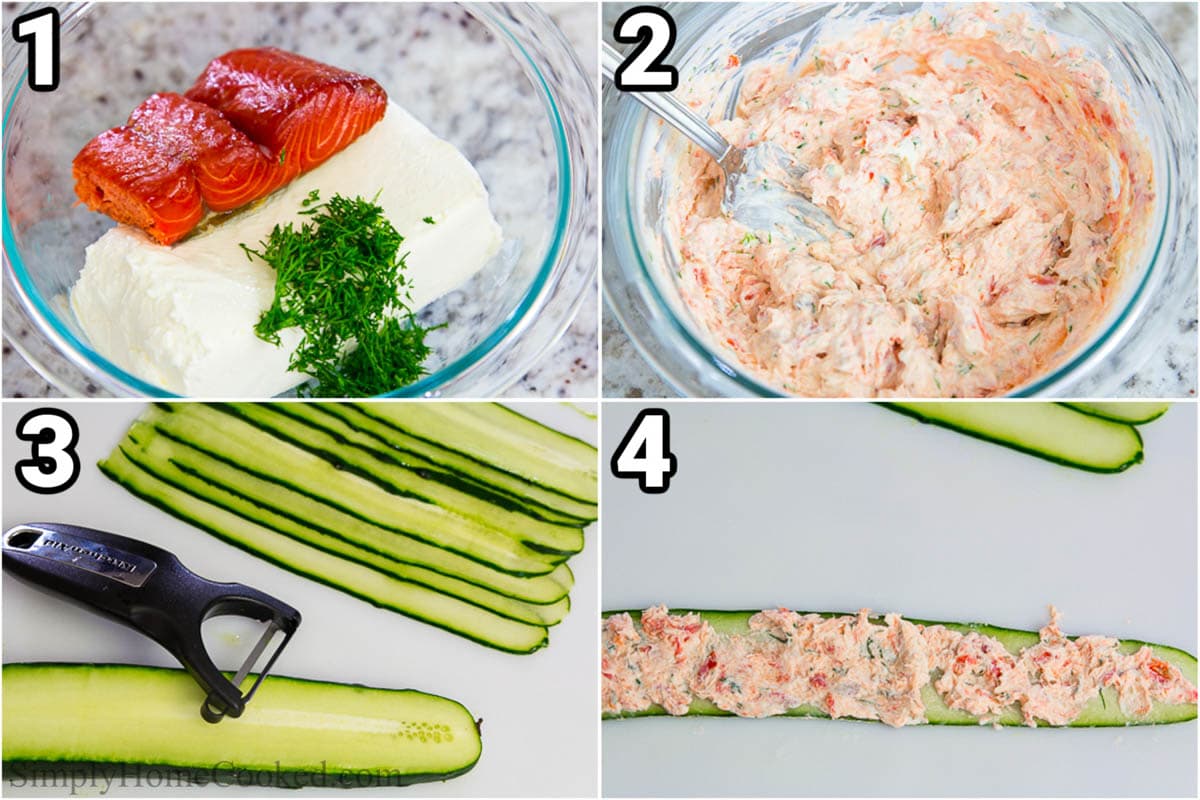 Assemble the appetizer. Now spread the smoked salmon spread on top and roll up each cucumber slice tightly. Surcharge.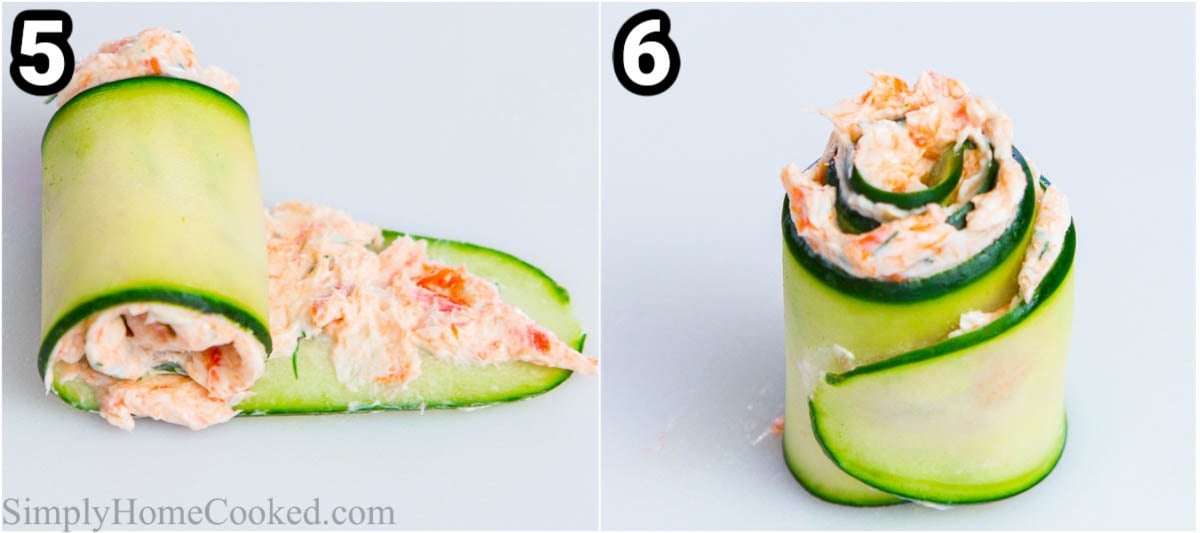 recipe tips
Use the correct peeler I like to use a Y-shaped peeler to get wider strips of cucumber so more salmon can be spread on top.
drying cucumber slices Pat the sliced ​​cucumbers dry with paper towels to keep the cream cheese mixture from slipping off.
soften cream cheese- Using room temperature cream cheese really helps incorporate the smoked salmon better.
frequently asked Questions
Can I use salmon or cold smoked salmon instead of hot smoked salmon?
Technically it's possible, but the texture and flavor are different than hot smoked salmon.
What is the difference between cold smoked and hot smoked salmon?
Cold-smoked salmon, often referred to as salmon, is cured in a salt-sugar rub or brine. Hot smoked salmon is actually smoked and cooked with heat.
serving suggestions
These smoked salmon appetizer bites are versatile enough to serve with anything. Enjoy them with main courses, side dishes, crackers or other appetizers. Here are a few suggestions:
Meat: Serve this appetizer before a ribeye steak, smoked chicken thighs, pork shoulder roast, or braised beef short ribs (VIDEO).
salad: Pair this smoked salmon appetizer with a spinach pomegranate salad, cucumber tomato feta salad, cucumber radish salad, or antipasto salad.
Pages: Enjoy with some Air Fryer Brussels sprouts, sautéed garlic asparagus, super creamy mashed potatoes, or Air Fryer green beans.
Other appetizers: Serve it with other appetizers like Eggplant Appetizers (Roll-ups), Mushroom Puff Pastry Appetizers, and Chicken Mushroom Phyllo Appetizers (VIDEO).
Make this recipe ahead of time
Get ahead: Unfortunately, these appetizers are best served an hour or two after preparation. So you can't prepare them too far in advance or they might get a little soggy.
storage: Place them in the fridge in an airtight container until ready to serve. They can last up to 3-4 days but will get soaked within a few hours.
Freeze: The pickles don't freeze well, so I don't recommend freezing this smoked salmon appetizer. You should only prepare what you intend to serve in a couple of hours.
More delicious salmon dishes!
Do you love this recipe? Please leave a 5-star ⭐️⭐️⭐️⭐️⭐️ rating in the recipe card below ⬇️ and/or a rating in the comments section below.
Let's connect on social media! 😍 Find me on Instagram, Facebook, YouTube and Pinterest. And don't forget to tag me if you try any of my recipes!
Check out this video!
Full Recipe Guide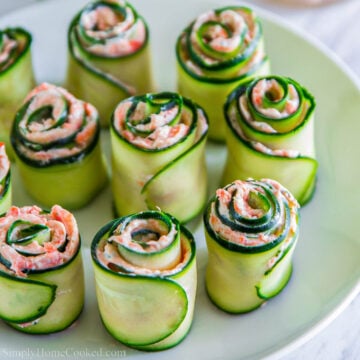 Smoked salmon appetizer
These are the best smoked salmon appetizers you've ever tasted. They are so simple and yet look so elegant.
Press Pen rate
Servings: 30 roll
Calories: 30kcal
instructions
Combine softened cream cheese, chopped dill, and smoked salmon for a smooth spread.

Using a vegetable peeler, peel the cucumber into thin strips. Then pat them dry with paper towels. This will help keep the spread in place.

Spread the smoked salmon spread on each strip and roll up. Serve chilled. Tip: don't make them too early or they may get mushy.
Nourishment
Calories: 30kcal | Protein: 1G | Fat: 2G | Saturated Fatty Acids: 1G | Cholesterol: 8thmg | Sodium: 46mg | Potassium: 28mg | Vitamin A: 110ie | Vitamin C: 0.3mg | Calcium: 9mg | Iron: 0.1mg
This recipe was originally published on July 12, 2016. As you can see, it has since been updated. Here are some of our older images.