Sous vide chicken breast means perfectly cooked chicken every time. Follow our step-by-step guide on how to cook succulent sous vide chicken.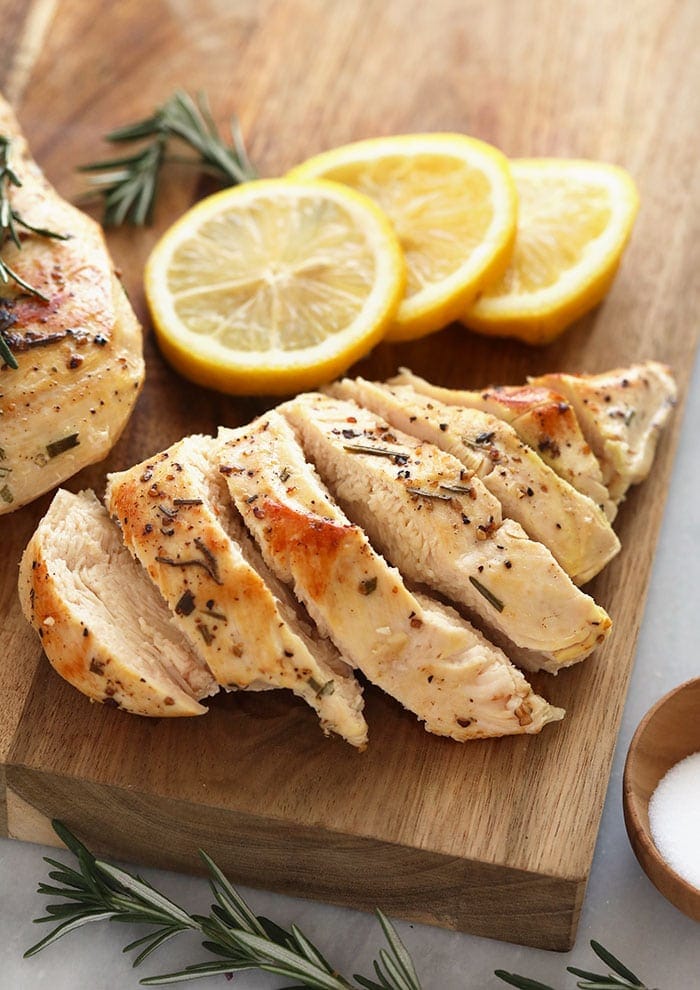 We love the sous vide cooking method. Our sous vide steak really is an all-time favorite for fit foodies and our 24 hour sous vide ribs are a 5-star classic. So enjoy one of our favorite sous vide chicken breast recipes.
One of our favorite sous vide chicken breast recipes
Perfect chicken every time. We love sous vide cooking because it's really hard to screw up. Set your water bath to a precise temperature and allow your meat to cook until the whole is at temperature.
Sous vide chicken is cooked in a water bath set at 145°F for 1 to 2 hours. The result is a super juicy chicken breast full of flavor.
In this post, we'll cover the basics of the kitchen equipment you need for sous vide chicken and provide a guide on how to cook perfect, juicy chicken every time.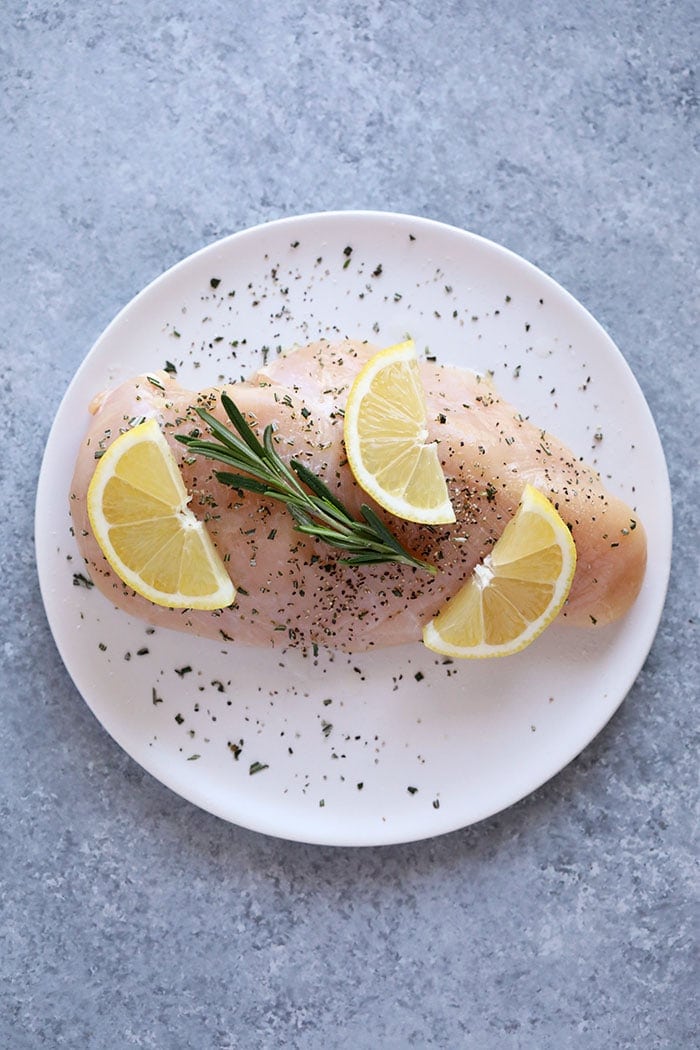 What you need for sous vide chicken breasts
Sous vide cooking might look intimidating, but if you have the right kitchen tools on hand, it's easy!
kitchen appliances
Sous vide: First of all, get a reliable sous vide machine. Our favorite brand is Anova, and one of them costs around $99.
vacuum sealer: The best chicken cuts come out when they're vacuumed and sealed in a plastic bag to remove as much air as possible.
vacuum bag: There are special plastic bags that are sold with vacuum sealers and we recommend buying different sizes. If you don't have a vacuum sealer, you can also use Ziploc bags or stasher bags.
Sous Vide Containers: They now make amazing plastic sous vide containers that are foolproof and practical. If you don't want to buy something like this, you can also use a soup pot.
Ingredients
Chicken breast: We recommend boneless, skinless chicken breasts.
lemon slices: This provides the perfect level of freshness and brightness.
olive oil: any type of oil will work.
salt and pepper: We keep the condiments simple and limit ourselves to salt and pepper.
Fresh rosemary: Feel free to use any fresh herb.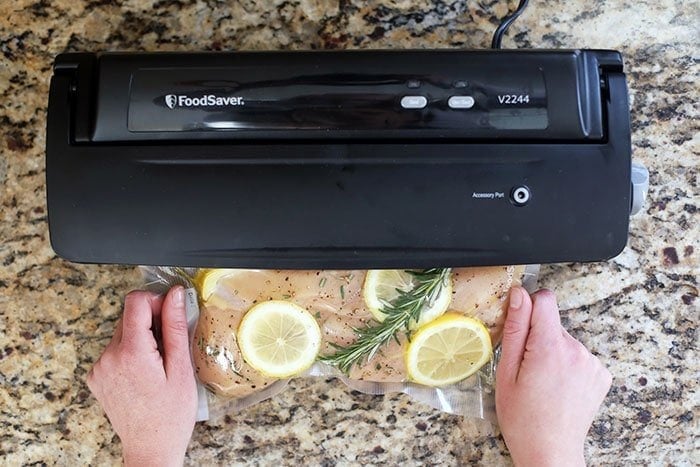 Tips for perfect sous vide chicken
Sous vide temperature for chicken breasts
The sous vide water bath temperature can vary between 140°F and 165°F depending on how you like your chicken breasts.
140°F: for juicier chicken
165°F: for firm chicken breasts
Try it!
Thermoworks thermal pen
We swear by using a meat thermometer when cooking every cut of meat. The Thermapen is our go-to meat thermometer that always works.
buy now
How to season the chicken
You can keep the flavor of your chicken breasts simple like we did in this recipe with salt, pepper, lemon and rosemary, or you can make it fancier. Here are some ideas for flavoring your sous vide chicken:

FAQ
How long does it take to make chicken breasts sous vide?
The sweet spot for sous vide chicken is between 1.5 and 2 hours. The nice thing is that you can cook the chicken even longer (in case you forgot) and your chicken breasts won't overcook.
Can you eat sous vide chicken at 150°C?
Yes! For chicken, a temperature between 145 and 165°F is safe. Your chicken breasts will be juicy and tender if you cook them sous vide at 145°F, and slightly firmer if you cook them at 150°F. It comes down to personal preference!
Can you use ziploc bags for sous vide?
Yes, you can use Ziploc bags for sous vide. You just have to make sure you squeeze all the air out of the Ziploc bag. You also want to make sure the chicken is always submerged. It helps to use clips to keep the bag in place!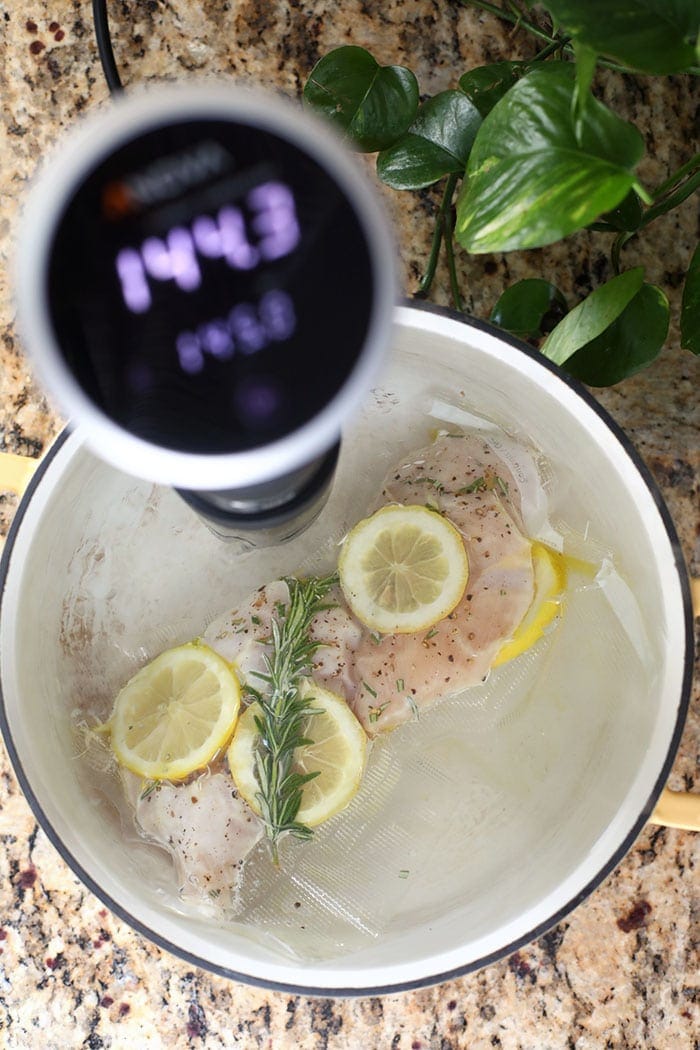 More taste ideas
There are no limits when it comes to flavoring your sous vide chicken breasts. Play around and get creative! Personally, we love a simple Lemon Herb Chicken or a smoky dry mix when making our sous vide chicken breasts. Here are some delicious flavor combinations to try: