This Homemade Spanish Rice Recipe is an easy, delicious side dish! Fluffy and flavorful, it pairs perfectly with Mexican main courses like tacos and enchiladas.
I've eaten Spanish rice at Mexican restaurants countless times, but it wasn't until this year that I started making this Spanish rice recipe at home. Today's post is a PSA: if you haven't already made homemade Spanish rice, it's time to start. You are seriously missing out!
Spanish rice, also called Mexican rice Arroz Rojois a type of rice pilaf, cooked with onions and garlic, tomatoes, peppers and spices. Commonly eaten in northern Mexico and the southwestern United States, it's the perfect accompaniment to a simply cooked protein or Mexican dishes like tacos and enchiladas.
The following recipe has become my favorite method for preparing Spanish rice. It's SO easy and it comes out moist, fluffy and flavorful every time. I think you will love it.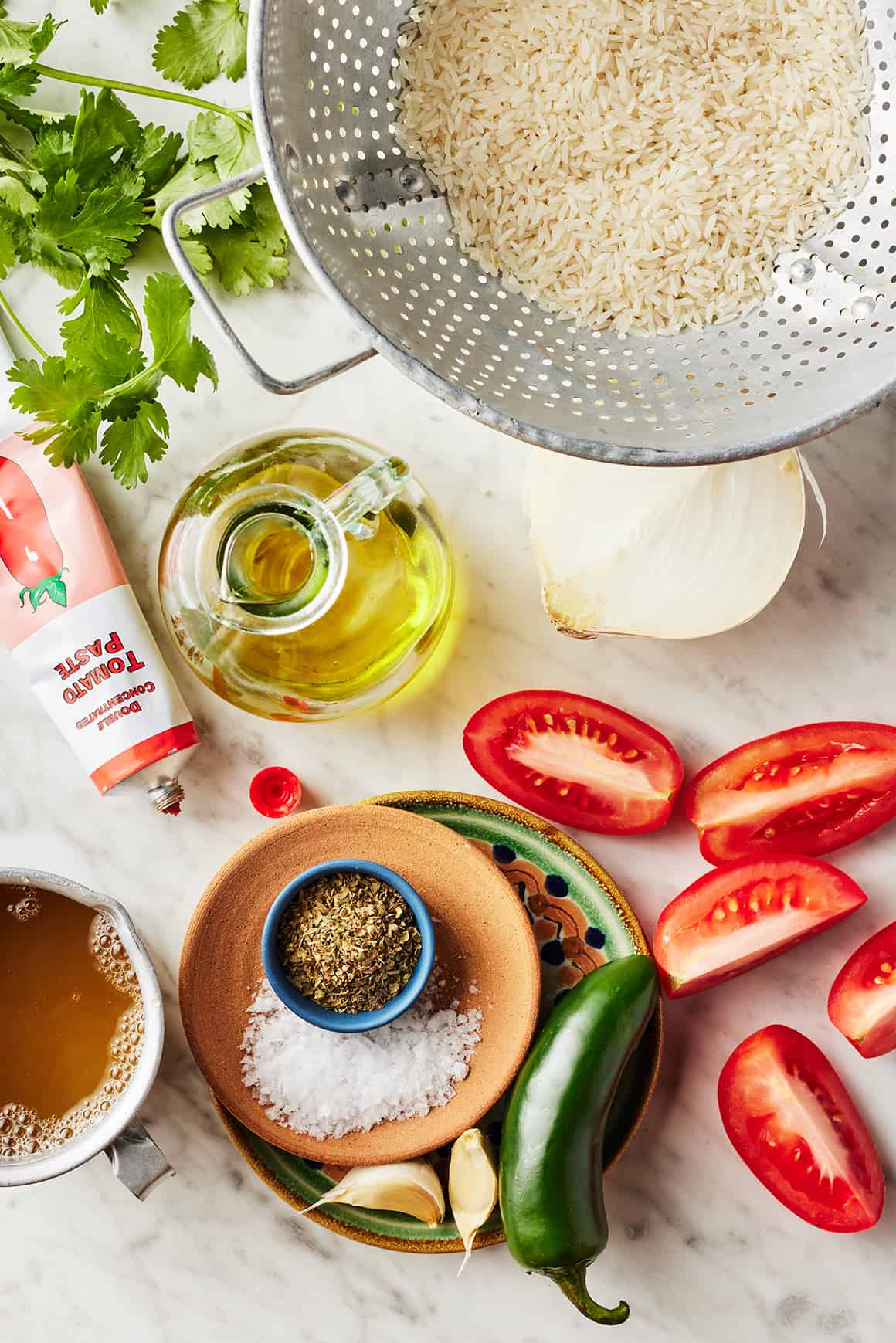 Ingredients for spanish rice recipe
Here's what you'll need for this easy Spanish rice recipe:
rice, Naturally! Long-grain white rice like basmati works best for this recipe. You can also use brown rice, but you'll need to increase the amount of broth to 2 cups. Simmer the rice for 45 minutes instead of 15.
onion and garlic – For savory depth of taste.
Extra virgin olive oil – It gives more body to the rice and helps to meld all the flavors. If you prefer, you can also use a neutral cooking oil like avocado or canola oil.
Tomato paste, diced fresh tomatoes or canned tomato sauce – They give the rice its characteristic red color and give it a spicy tomato flavor. You can use either diced fresh tomatoes or the canned tomato sauce. Both options work great!
Jalapeno chilli – For subtle warmth and attractive green patches. If you don't like spicy food, substitute 1/4 cup chopped green peppers for the jalapeño.
Dried oregano – I use this dried herb in many of my favorite Mexican dishes. It gives the rice an earthy depth.
vegetable broth – You could soak water, but if you cook the rice in broth, it will taste much more flavorful. Use store-bought veggie broth or make your own veggie broth.
And sea salt – So that all flavors come into their own!
The full recipe with measurements is below.
How to make spanish rice
This Mexican Rice Recipe is so easy to make! That is how it goes:
Rinse the rice first. This is my first step when cooking rice as it removes starches that can cause the rice to clump. Place it in a fine-mesh strainer over a bowl and rinse under cold running water until the water in the bowl runs clear.
Next, sauté the onion and toast the rice. Heat the olive oil in a medium saucepan or Dutch oven over medium-high heat. Add the onion and cook until soft and translucent, about 5 minutes.
Add the rice and cook, stirring frequently, until fragrant, 2 minutes more.
Then add the remaining ingredients. Stir in the tomato paste and garlic, followed by the diced tomatoes or tomato sauce, jalapeño, salt, and oregano.
Pour in the broth and bring to a boil.
Reduce the heat, cover the pot and Let the rice simmer Cook for 15 minutes or until rice is tender and liquid has been absorbed.
Finally, let the rice steam. Remove from the stove and let rest covered for 10 minutes.
They are ready to serve! Fluff the cooked rice with a fork and enjoy.
What to serve with Mexican rice
What is my favorite thing to serve with Mexican rice? Mexican food! It would make a delicious accompaniment to any of these Mexican-inspired recipes:
Here are a few more great ways to use it:
What's your favorite way to serve Mexican rice? Let me know in the comments!
Storage Instructions
Leftover Spanish rice will keep in the fridge for up to 4 days. To reheat, warm it up in the microwave or on the stovetop with a small splash of water or vegetable broth.
The rice also freezes well. Store in an airtight container or bag in the freezer for up to 3 months. Thaw in the microwave or in the fridge overnight.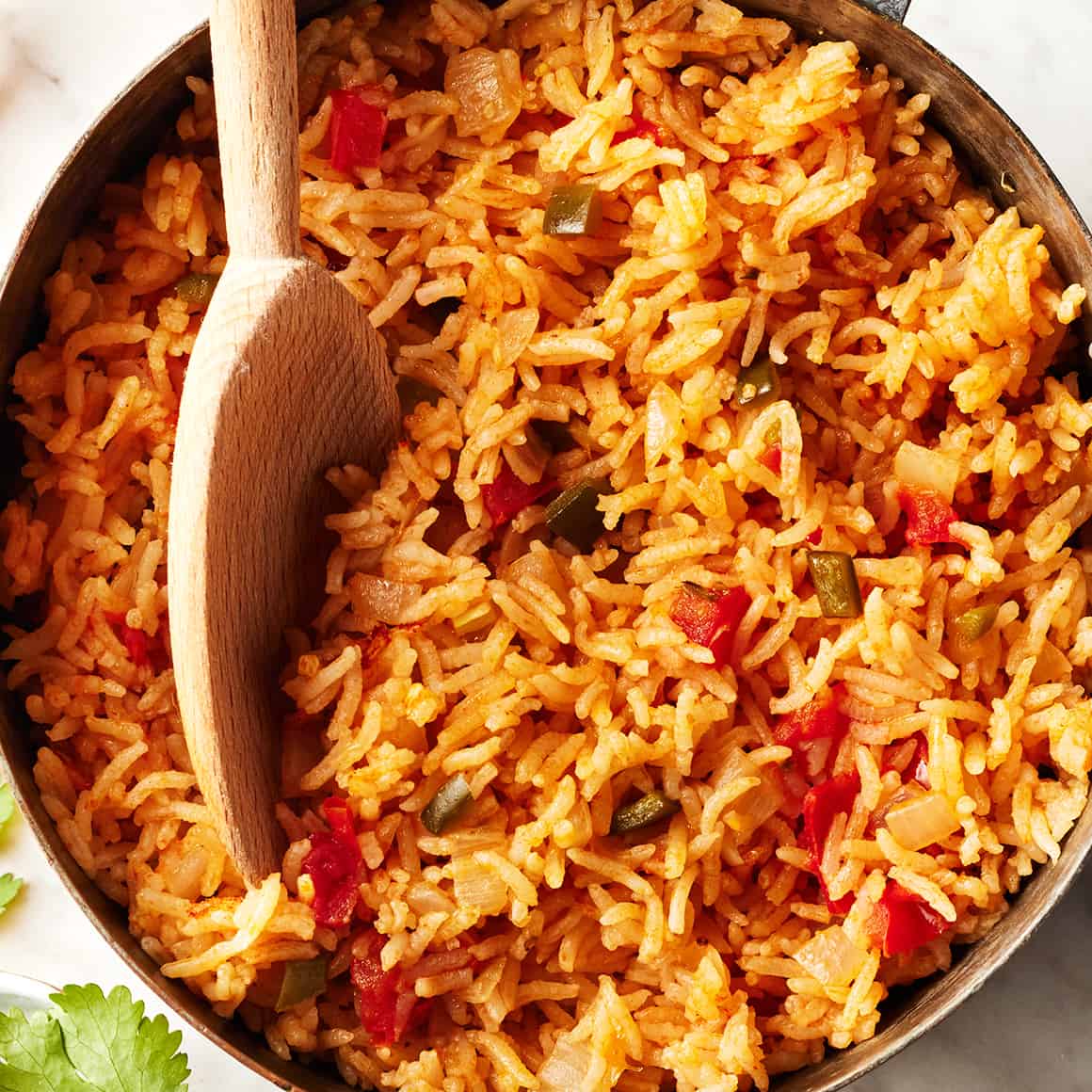 More popular rice recipes
If you love this Spanish rice recipe, try one of these easy rice dishes next:
Spanish rice
serves 4
Learn how to cook Spanish rice! This recipe is SO easy to make, and the fluffy, flavorful rice is the perfect accompaniment to Mexican main dishes like tacos and enchiladas.
Heat the olive oil in a medium-sized Dutch oven or saucepan. Add the onion and cook 5 to 8 minutes or until tender. Add the rice and cook for 2 minutes, until fragrant and toasty.

Stir in the tomato paste and garlic, then add the fresh tomatoes, jalapeño, salt, oregano, and broth. Bring to a boil. Cover, reduce heat and simmer 15 minutes, or until liquid is absorbed.

Remove from the stove and let rest covered for another 10 minutes. Fluff up with a fork.