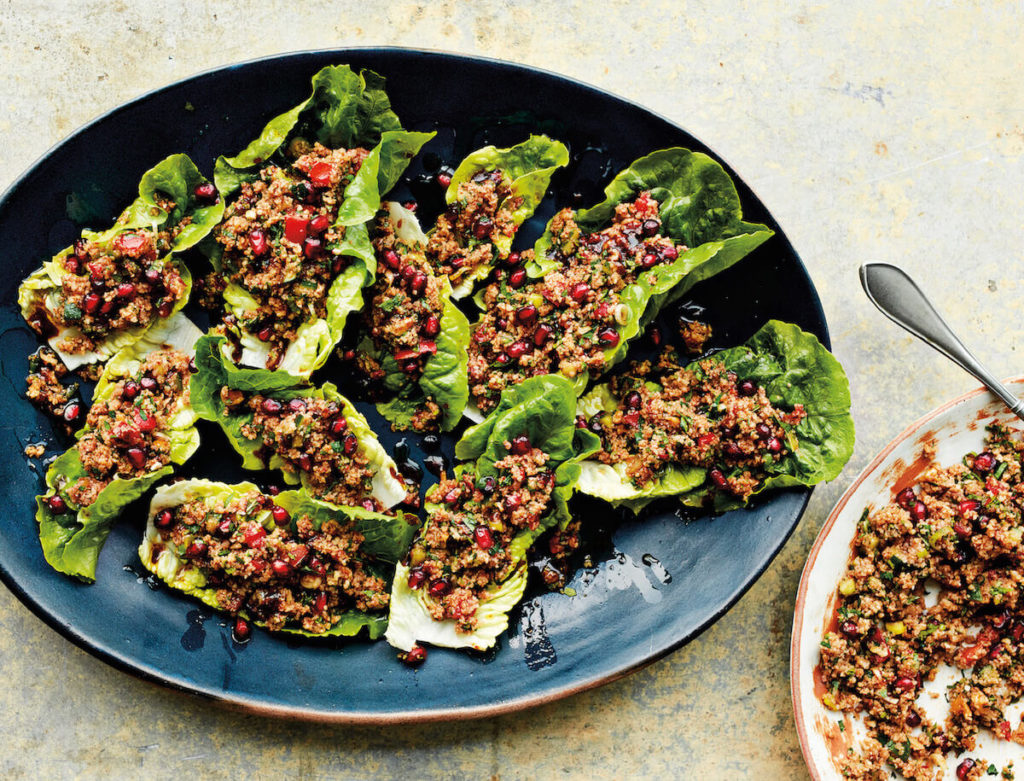 Spicy Bulgur in Salad Cups (Kisir)
"If, like me, you're a fan of foods you can eat with your hands, you'll enjoy assembling and eating these lettuce wraps. This dish originated in south-eastern Turkey, where pomegranate molasses is used to add sweet and sour flavor to dishes. This dish can be served out of a large salad bowl, or you can snuggle balls of it into lettuce leaves, which I think will add a bit of glamor to the party. Traditionally, a paprika paste known as beaver salçası is added to Kısır. You can find it in Turkish grocery stores or online. It's not strictly necessary, however, and you can always adjust the spiciness to your liking with chili flakes. Serve as part of a mezze spread or with grilled meat or fish." – Yasmin Khan
1 cup fine bulgur wheat
1½ cups just boiled water
3 green onions, finely chopped
3 ripe tomatoes, very finely chopped
1 small Persian cucumber, very finely chopped (about 3½ ounces)
large handful of parsley leaves, finely chopped
small handful of mint leaves, finely chopped
½ cup walnuts
Seeds of ½ medium pomegranate
2 baby romaine lettuce or little gem lettuce, leaves separated (optional)
For the dressing:
5 tablespoons extra virgin olive oil
4 tablespoons pomegranate syrup or to taste
4 tablespoons lemon juice or to taste
1½ tablespoons tomato paste
½ to 1 teaspoon Pul Biber (Aleppo Pepper) or to taste
1 teaspoon beaver salçası (Turkish paprika paste, optional)
salt and black pepper
1. Place the bulgur in a large bowl and pour in the water that has just boiled. Stir vigorously, cover with a plate and let steam for 10 minutes to soften the grains.
2. Prepare the dressing by whisking together all ingredients with 1 teaspoon salt and ½ teaspoon black pepper. Once the grains have absorbed the water, pour in the dressing and stir well to combine. Add the spring onions, tomatoes, cucumbers and herbs.
3. Heat a small dry skillet over medium-high heat and add the walnuts and lightly toast until shiny, about 1 minute. Place on a cutting board, chop finely and add to the salad.
4. Finally add the pomegranate seeds and mix everything together. Taste to adjust the seasonings (you might want to play around with the amount of pomegranate syrup, lemon juice, heat, and salt), then add to the salad leaves to taste and arrange on a large platter or serve as is.
reprint from Ripe Figs: Recipes and Stories from Turkey, Greece and Cyprus. Copyright © 2021 Yasmin Khan. Published by WW Norton & Company. All rights reserved.
---
We hope you enjoy the book recommended here. Our goal is to only suggest things that we love and that you think you could too. We also like transparency, meaning full disclosure: we may collect a percentage of sales or other compensation if you make a purchase through the external links on this site.