An easy, incredibly delicious spinach and feta salad made with just five ingredients that's perfect for any time of year.
MThe Big Fat Greek Feta Tour began with an invitation from the EU to attend a press tour hosted by the Feta PDO Consortium. Feta is a cheese I always have on hand, but admittedly I haven't used it very often in recipes other than a salad garnish here or there.
As a chef, I'm constantly learning new ingredients and techniques, so I had to say yes to this opportunity. A trip to the feta heartland of Thessaly and the gastronomic destination of Thessaloniki? Yes, please.
It turned out to be the experience of a lifetime — and has inspired a host of new recipes in Simple Bites' kitchen, like today's Spinach Feta Salad. Continue reading!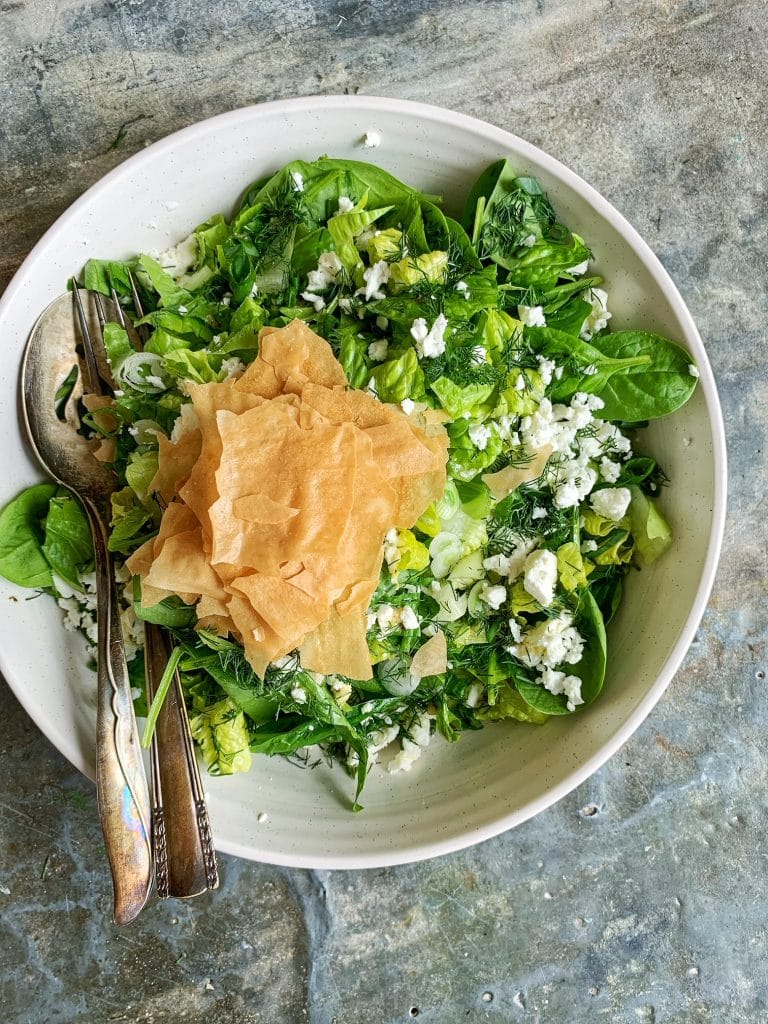 Discovery of Feta PDO in Greece
What is Feta PDO?
Although there are many versions of flavorful feta-like cheese, the real, authentic feta is certified Protected Designation of Origin (PDO). This means that it is made in Greece (and Greece only) using traditional methods that date back to Ancient Greece.
The European Union recognizes Feta as a PDO Traditional Greek Product. Producers follow strict regulations when making this incredible cheese. Now you know!
shhh When buying feta, look for the round golden "seal" that says "Protected Designation of Origin" on the packaging. You can see it here; this is your seal of approval!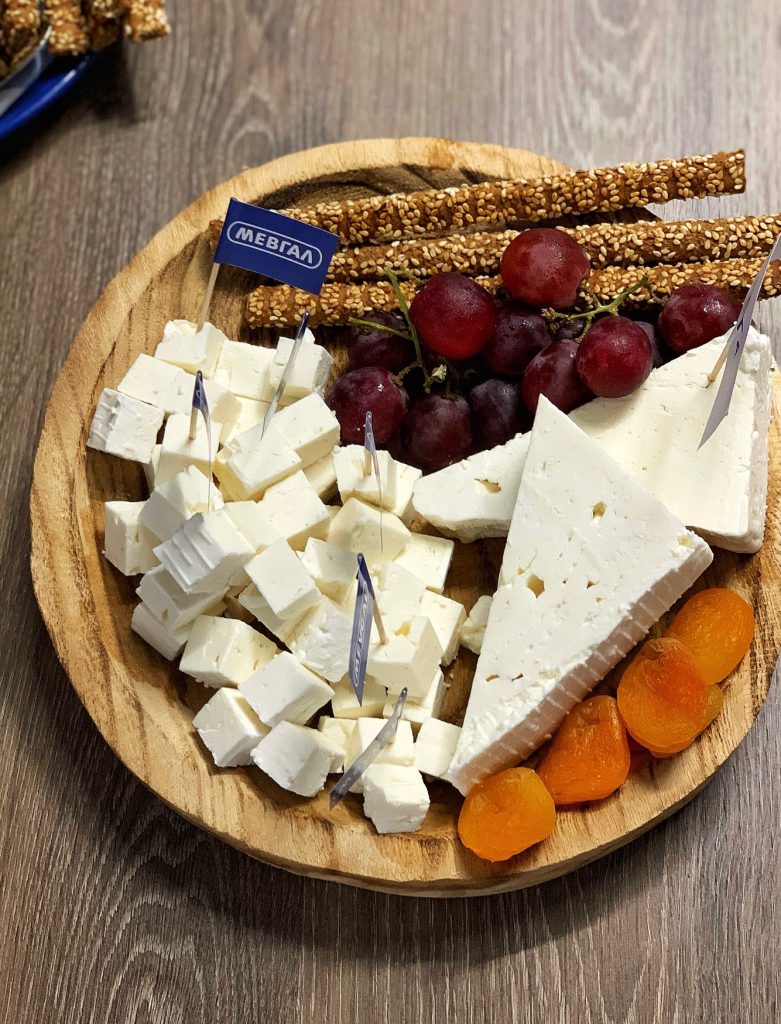 Where is feta PDO made?
Authentic feta is made throughout mainland Greece, but the heart lies in the beautiful region of Thessaly. Here, the rich flora of alfalfa, barley and wildflowers contribute to the feta's unique flavor. Locals say the feta is at its best in summer, when the sheep are grazing on blooming flowers.
Historically, feta has been made here since ancient Greece, dating back to the 8th century BC. dates back to Homer even mentions feta Odyssey. I can so refer to getting poetic about feta.
What does feta…feta do?
We toured several factories, from the family run Greek family farm to the high tech Olympus. I won't go into all the details, but it's important to point out Feta PDO uses only sheep and goat milkwith up to 30% goat milk. Cow's milk feta is not real feta.
In short, feta is a soft, white cheese made in Greece under strict PDO regulations from sheep's milk and aged in brine for at at least 2 months and up to 6 months.
Now you're eating authentic feta!
How does Feta PDO taste?
We've tasted authentic Feta PDO all over Greece, from Volos to Thessaloniki. Our final day culminated with an exclusive tasting of seven cheeses from artisan PDO feta producers. IMPRESSIVE! Talk about overwhelming.
So the milk used, the time of year, the ripening date – these are all factors that influence the taste of feta. It should be creamy and tangy with a hint of funk.
I like it aged in the barrel, with a strong flavor and a dry crumb. I grew up with goats and ate goat cheese and it was amazing how some feta brought back taste memories from over 30 years ago.
Spinach and feta salad with crispy filo chips
This salad is an example of how five ingredients can come together for the perfect dish. I ate a version of this salad on my first night in Greece and was amazed at how simple it was: just veggies, feta, dill, scallions and a stack of very addictive crunchy filo chips.
A simple vinaigrette tied it together (although it could have been just a drizzle of olive oil). I was determined to recreate the spinach and feta salad for you.
If you love spanakopita – then I know you'll love this salad. They share the same flavor profile.
This is definitely a salad for any season since the ingredients are easy to find. However, I do know I'll be spicing mine up with seasonal ingredients year-round.
We recently enjoyed the spinach and feta salad with sliced ​​strawberries and toasted walnuts – a classic combo! A handful of blueberries would also be delicious, as would sliced ​​pears in the fall.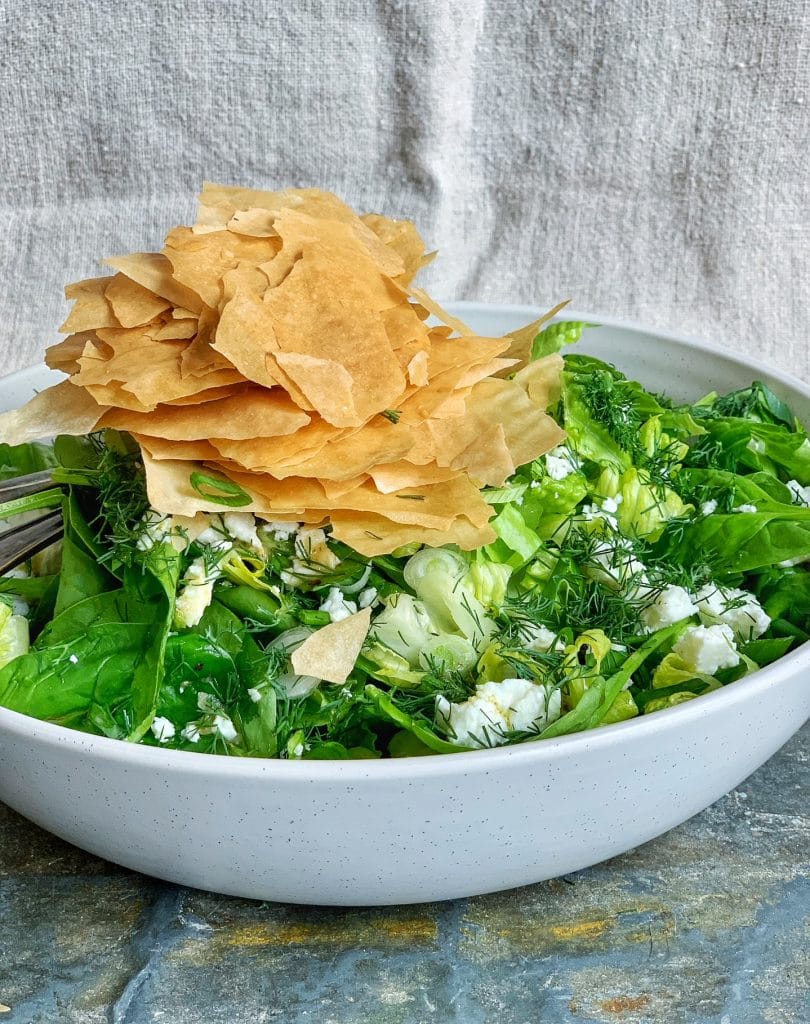 Spinach and feta salad with crispy filo chips
An easy, incredibly delicious spinach and feta salad that's great any time of year. Just five ingredients — veggies, feta, dill, scallions, and crispy filo chips — plus a vinaigrette, and you've got your new favorite salad! All the flavors of spanakopita but in salad form.
Print
Pen
rate
Servings: 4 People
Calories: 168kcal
ingredients
6

cups

baby spinach

2

cups

crisp salad

Roman hearts or iceberg

3

green onions

1/2

Cup

crumbled feta PDO

3

tablespoon

chopped fresh dill

or to taste

3

tablespoon

Garlic Herb Vinaigrette

or your choice of vinaigrette

1

batch

Crispy filo chips

recipe below
instructions
In a large salad bowl, layer half of the following ingredients: spinach, lettuce, scallions, feta, and dill. Drizzle lightly with garlic herb vinaigrette.

Repeat the salad layering: spinach, lettuce, scallions, feta, and dill. Finish with another drizzle of vinaigrette.

Garnish the salad with crispy feta chips and serve immediately.
Remarks
I like a combination of tender baby spinach and crispy romaine hearts, but use whatever greens you have on hand.
nutrition
Calories: 168kcal | Carbohydrates: 12G | Protein: 6G | Fat: 12G | Saturated Fatty Acids: 4G | Polyunsaturated fat: 3G | Monounsaturated fatty acids: 3G | Cholesterol: 17mg | Sodium: 281mg | Potassium: 349mg | Fiber: 2G | Sugar: 1G | Vitamin A: 6459ie | Vitamin C: 16mg | Calcium: 152mg | Iron: 2mg
Crispy filo chips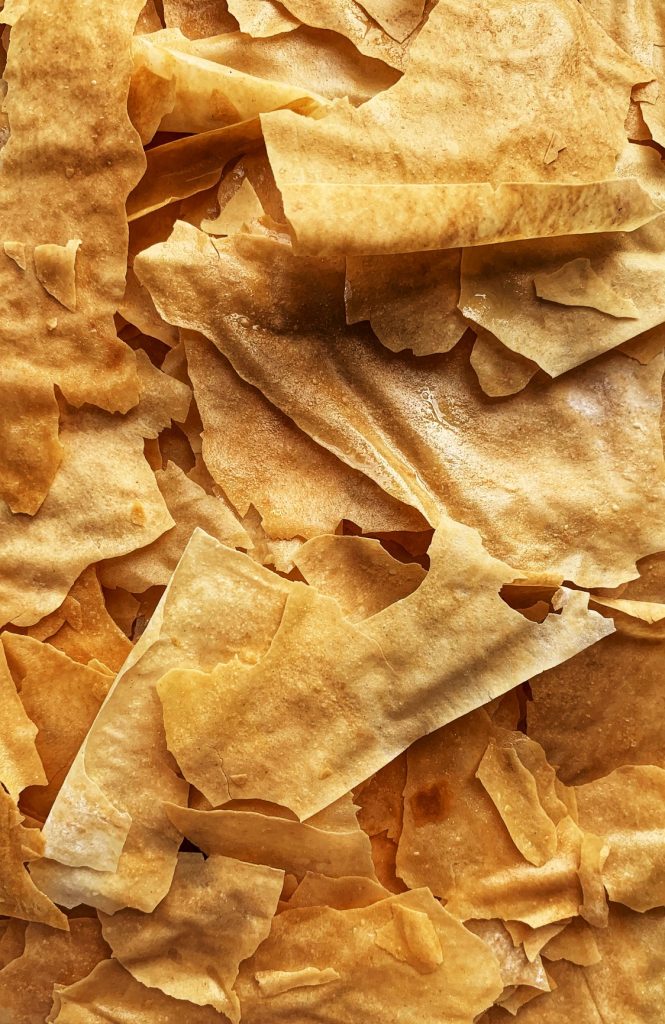 These easy chips make a great soup or salad garnishor even a light snack with tzatziki.
Y'all know I love a zero waste kitchen tip! I enjoyed these olive oil smothered crunchy stuffing chips as a salad topper when I was in Greece and thought – AWESOME! What a great way to use up those few leftover sheets of filo pastry.
They're so easy to make and stay fresh in the freezer (yes!) until you're ready to crumble them onto chilled soup or today's spinach and feta salad.
Crispy filo chips
A simple and delicious garnish for soups or salads. A great way to use up leftover filo pastry.
Print
Pen
rate
Servings: 2 People
Calories: 138kcal
ingredients
3

leaves

filo dough

3

teaspoon

Extra virgin olive oil

prize

fine sea salt

Optional
instructions
Preheat oven to 400°F. Line a baking sheet with parchment paper.

Place a single sheet of filo on the baking sheet. Brush with a teaspoon of olive oil. Sprinkle lightly with salt. Add a pinch of seasoning if you like (see notes).

Bake filo for 3-4 minutes or until golden brown (ovens vary). Take out and cool a bit. Break into pieces with your hands. Place on a plate to cool completely.

Repeat steps 2 and 3 with the remaining filo and oil. Use the filo chips as a salad topper or as an accompaniment to soup or pasta.

Store leftover filo chips in an airtight container. Can be kept at room temperature for 1-2 days. Or freeze for 1-2 weeks.
Remarks
Feel free to sprinkle a dash of your favorite spice blend on top for a little extra flavor. Try dukkah, za'atar, chili lime or Mediterranean herbs.
nutrition
Calories: 138kcal | Carbohydrates: fifteenG | Protein: 2G | Fat: 8thG | Saturated Fatty Acids: 1G | Polyunsaturated fat: 1G | Monounsaturated fatty acids: 5G | Sodium: 138mg | Potassium: 21mg | Fiber: 1G | Sugar: 0.1G | Calcium: 3mg | Iron: 1mg
Disclaimer. I was delighted to host the Feta PDO Consortium, a campaign funded with help from the European Union. All opinions are my own.