This spinach pesto is a budget-friendly and versatile sauce that you can serve with pasta, pizza, and more. Easy to make in 5 minutes!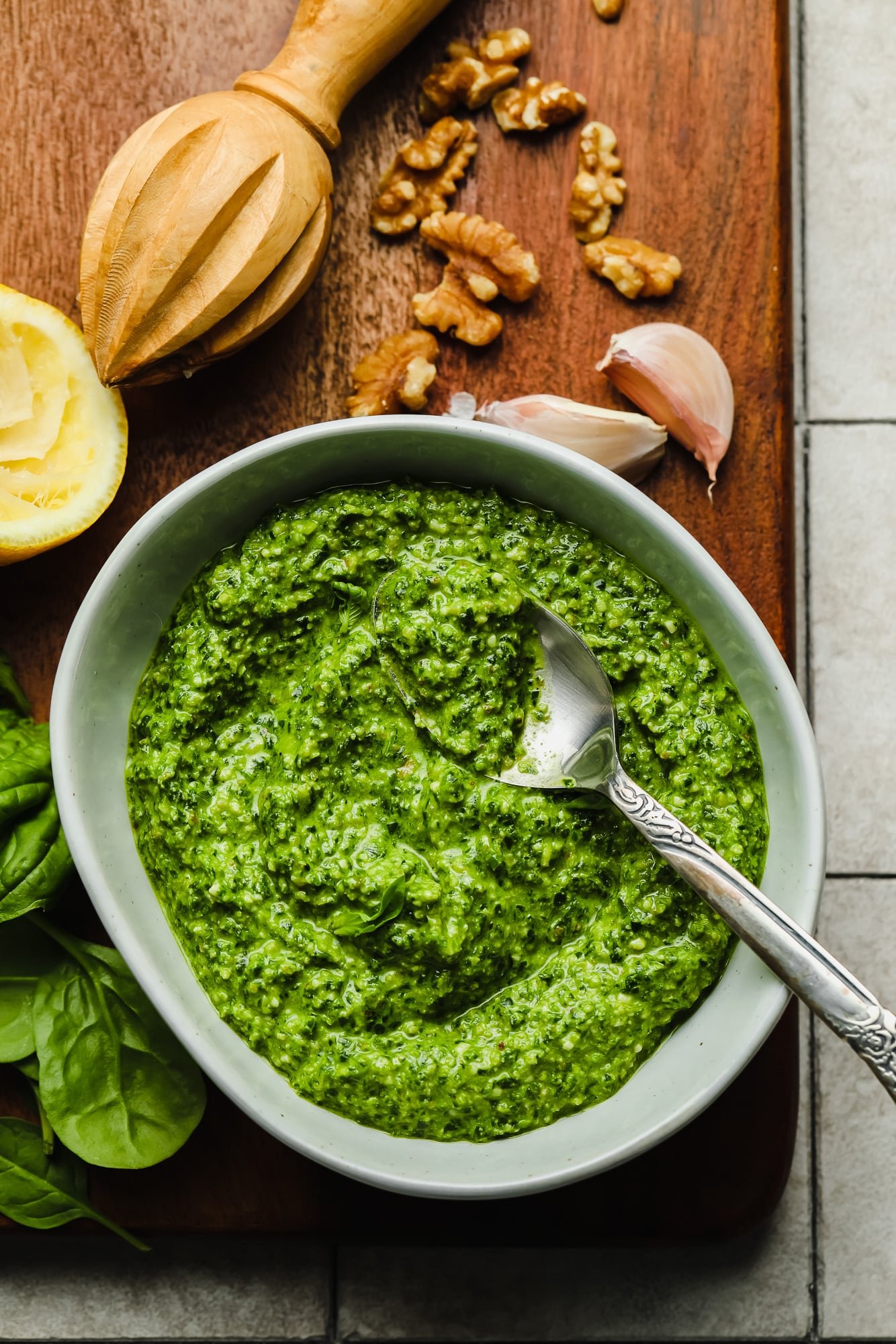 If you love making homemade pesto without the expense that comes with it, you should try this spinach pesto recipe! Fresh spinach leaves add richness when walnuts are used in place of pine nuts, making this a budget-friendly alternative to the classic Italian sauce. You'd never know it, because it's just as herbal, bright, delicious and bold as the real thing.
Another reason to make pesto with spinach is that it sneaks in more nutrients without making the sauce taste like a salad. They single-handedly load this vegan pesto with fiber, vitamin A, antioxidants, and a long list of other vitamins and minerals.
Finally, pesto is easy to make at home. Simply blend all the ingredients in a food processor until smooth, then you're done! This is the best 5-minute sauce you'll ever want to make and use on everything.
Is pesto vegan?
Traditionally, no, but it's pretty easy to keep vegan. Classic pesto is made with fresh basil, garlic, pine nuts, oil and Parmesan cheese. If you don't need to be vegan, you can use parmesan cheese. If you want to get it vegetarian, use vegan parmesan or leave it out entirely. We are only using a few tablespoons in this recipe. Biolife is my favorite brand for dairy-free Parmesan cheese. Or make your own: Vegan Parmesan Cheese.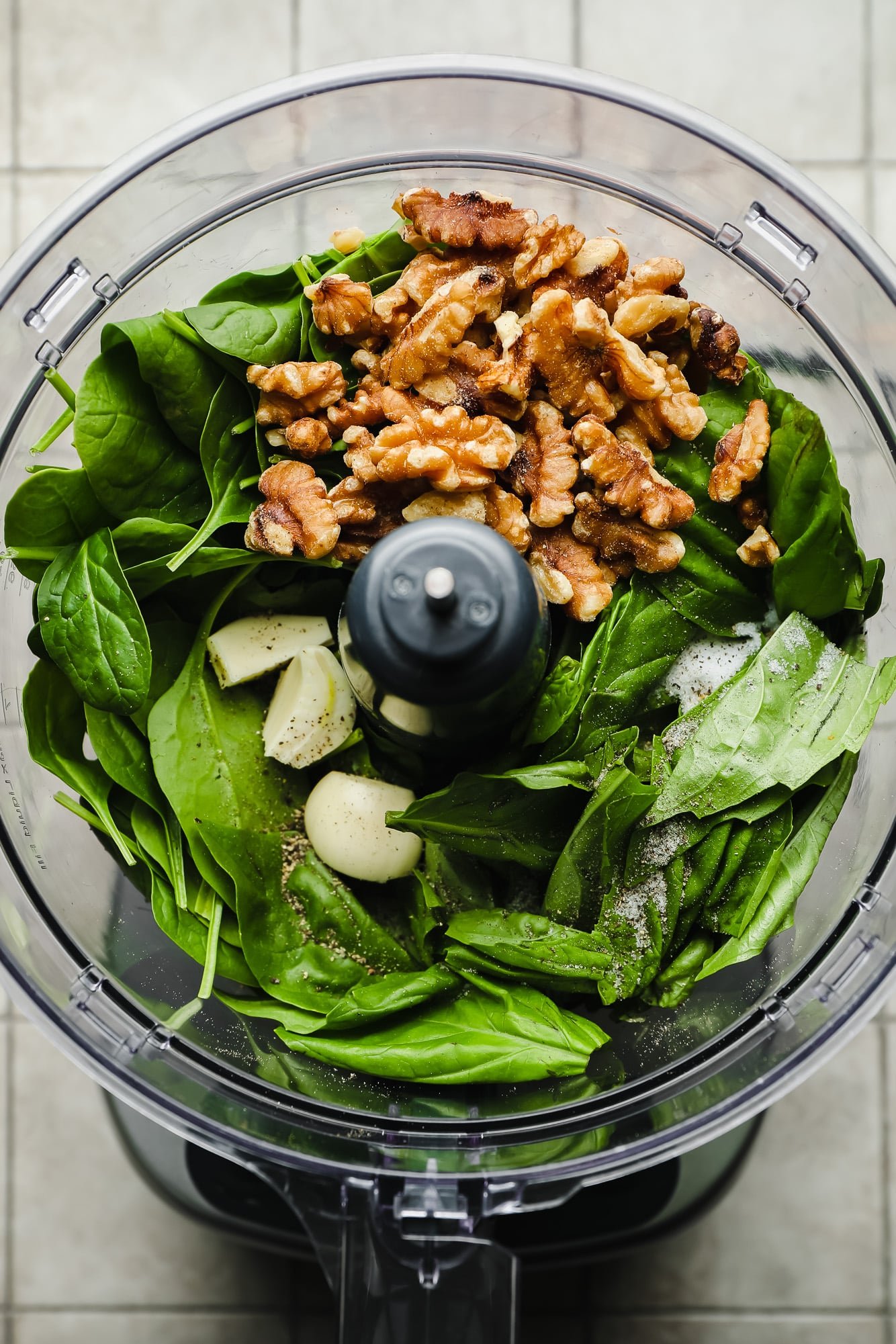 Required components (including substitutions)
Baby spinach – Fresh baby spinach bulks up pesto while sneaking in more nutrients. It doesn't leave a salad smell behind, either; Just a vibrant green color. And if you don't have spinach in the house, this recipe works just as well by substituting kale or arugula.
Basil leaves – Making pesto with both spinach and basil gives it its noticeable herb and bright flavor. But if you can't find fresh basil leaves, replace it with an extra 1 cup of spinach or any greens of your choice.
garlic
walnut – Although pine nuts are the traditional nut used in pesto recipes, they are not always accessible or affordable. So I wanted to make this pesto with walnuts instead. They still give the sauce texture and a warm, nutty flavor without hitting your wallet. Raw almonds or cashews should also work well.
Salt and pepper
olive oil – A key ingredient in pesto! It emulsifies the sauce, balances the flavors and smooths the texture.
lemon juice
Parmesan – is an optional ingredient, but it adds the familiar salty, cheesy flavor to pesto. I used dairy free Biolife but you can use any store bought parmesan or nutritional yeast you like.
How to Make Spinach Pesto
Find the full recipe with measurements on the recipe card below.
Add spinach, basil, garlic, walnuts, salt and pepper to a food processor. Pulse a few times to combine.
With the machine running, slowly stream in the olive oil until combined and the sauce is emulsified. Finish with lemon juice and parmesan.
Serve and enjoy!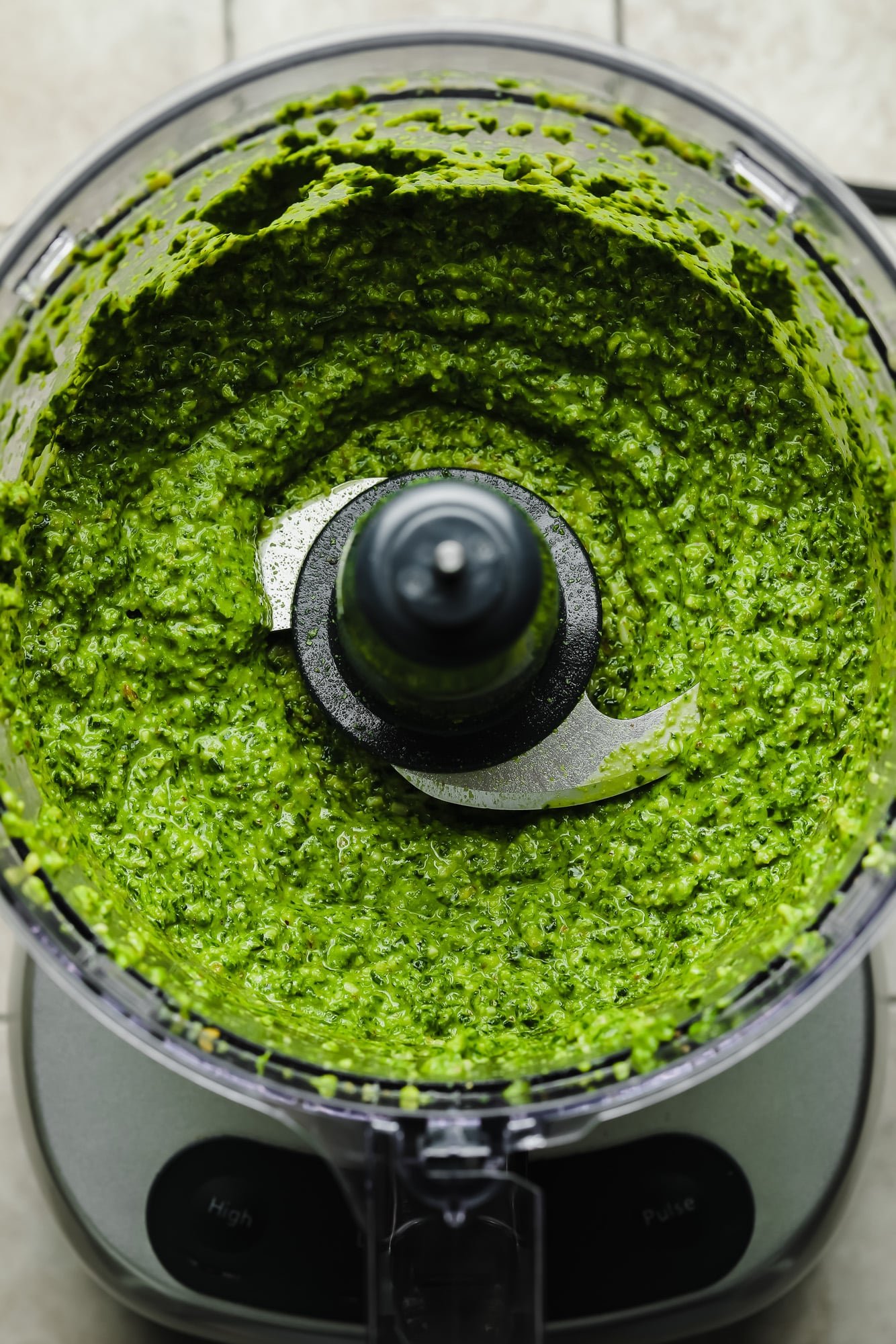 Serving advice
Pesto comes with endless uses and because it's so delicious, you'll want to use it everywhere! Use it however you like or try these ideas:
the pasta – This is an easy and versatile pasta sauce. Toss with freshly cooked noodles with vegan meatballs on top, use it in any pasta salad recipe, or add some coconut milk to make a creamy pesto sauce instead.
the pizza – Swap classic red sauce for pesto on homemade vegan pizzas or drizzle it on top as a finishing sauce.
spreading out – Spread pesto on veggie burgers, sandwiches, vegetable wraps or puff pastry tarts.
salad – This is a quick, easy, and flavor-packed salad dressing. Use it in a leafy green salad, hardy cob salad, quinoa salad, potato salad, or any type of salad you like!
Jumping sauce – Dip a bowl of pesto around crudités, pita bread, crackers, pita chips, or vegan mozzarella sticks.
Frequently Asked Questions
Can you make pesto without nuts?
Yes! If you have a nut allergy, either omit the walnuts or replace them with sunflower seeds or pepitas.
How to make oil free pesto?
Oil helps make pesto smooth and satisfying, but you can replace it with water instead. Use as much as you need to mix all the ingredients together.
How long will it last?
Any leftovers will last about 1 week if refrigerated. To store, place the pesto in an airtight container with a layer of plastic pressed directly over the top to prevent it from browning.
Can you freeze pesto?
Yes, pesto freezes very well. To freeze, pour the sauce into ice cube trays and freeze until firm. Transfer the pesto cubes to a Ziplock bag or container, then freeze for up to 6 months.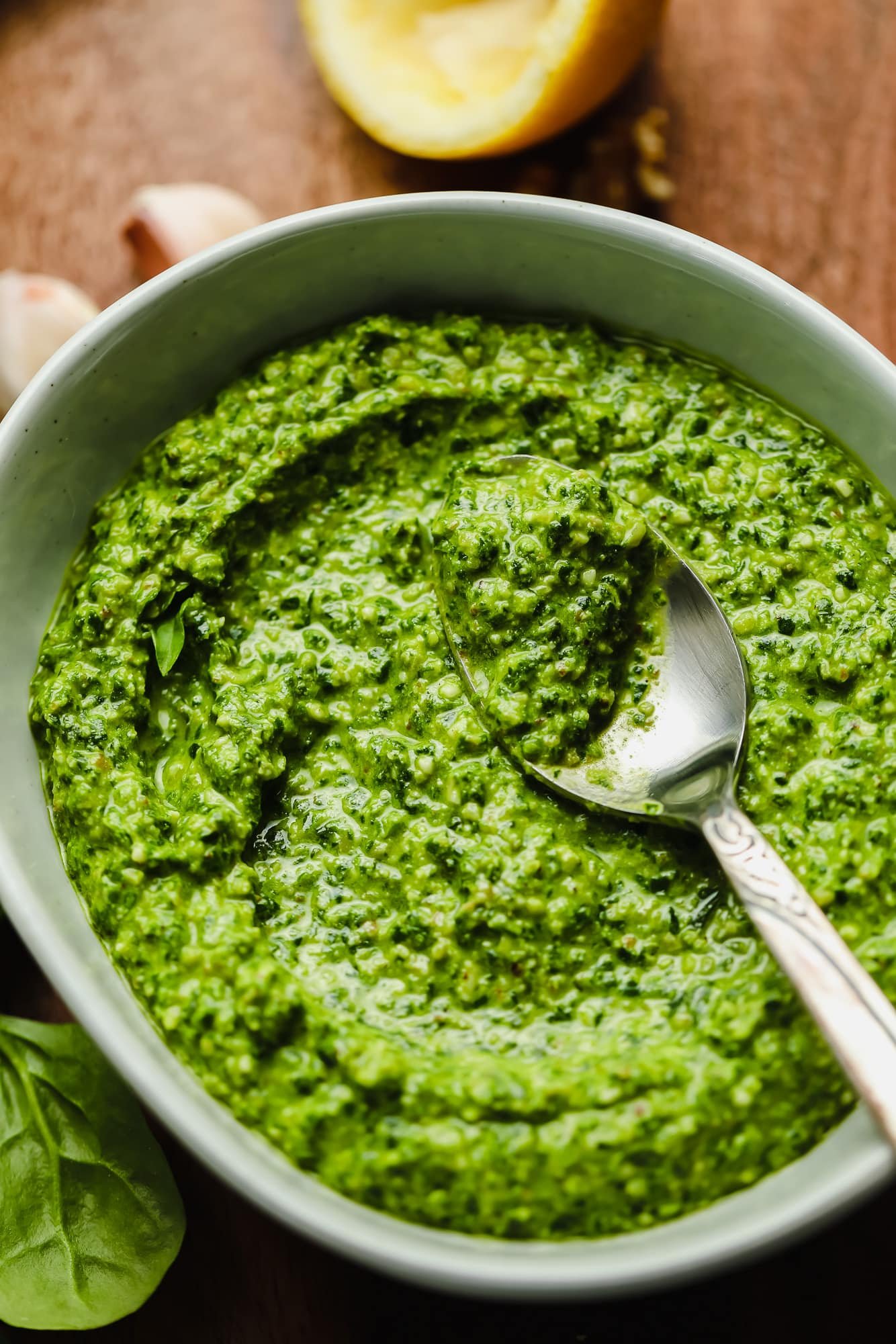 Want more delicious sauce recipes?
Add the baby spinach, basil, garlic, walnuts, salt and pepper to a food processor and pulse a few times to combine.

While adding pulses, drizzle in olive oil and mix until well combined. Add lemon juice and Parmesan, if using.

Serve and enjoy!
You can use all the spinach without the basil if needed, or a mix or arugula and spinach or even some kale.

Instead of walnuts, you can use pine nuts, cashews or even sunflower seeds for a nut-free option.
Worship: 18 servings | Calories: 173kcal | Sugars: 2g | Protein: 2g | Fat: 18g | Saturated Fat: 2g | Polyunsaturated Fats: 5g | Monounsaturated fats: 11g | Sodium: 155mg | Potassium: 112mg | Fiber: 1g | Sugar: 0.4g | Vitamin A: 1215IU | Vitamin C: 6mg | Calcium: 26mg | Iron: 1mg