Split Pea Soup – Using leftover ham makes the best soup! This pea and ham soup is flavorful, delicious and a great meal!
I'm a big soup lover, especially when it's cold outside. It's the best way to warm up on a cold night. Also, it's my excuse to have fresh bread. These honey butter dinner rolls go well with any soup.
Soup can also be a great use if you have leftovers. This ham and pea soup makes use of lots of leftover ham from your holiday dinner. Ham and Bean Soup is another great soup that you can use the ham and ham bone in.
This pea soup is one of my husband's favorites. I always like to add ham to top it up and it's such a great use of leftover ham after the holidays or even just diced ham from the grocery store. Having a ham bone will take this to a whole new level that you will go crazy for!
what you will need
Dried Peas
butter
Onion
celery
carrots
garlic
ham
chicken soup
Bay leaf
salt pepper
Red pepper flakes
The hardest part is probably soaking the peas in water overnight to soften them. You need to plan ahead, but otherwise so easy!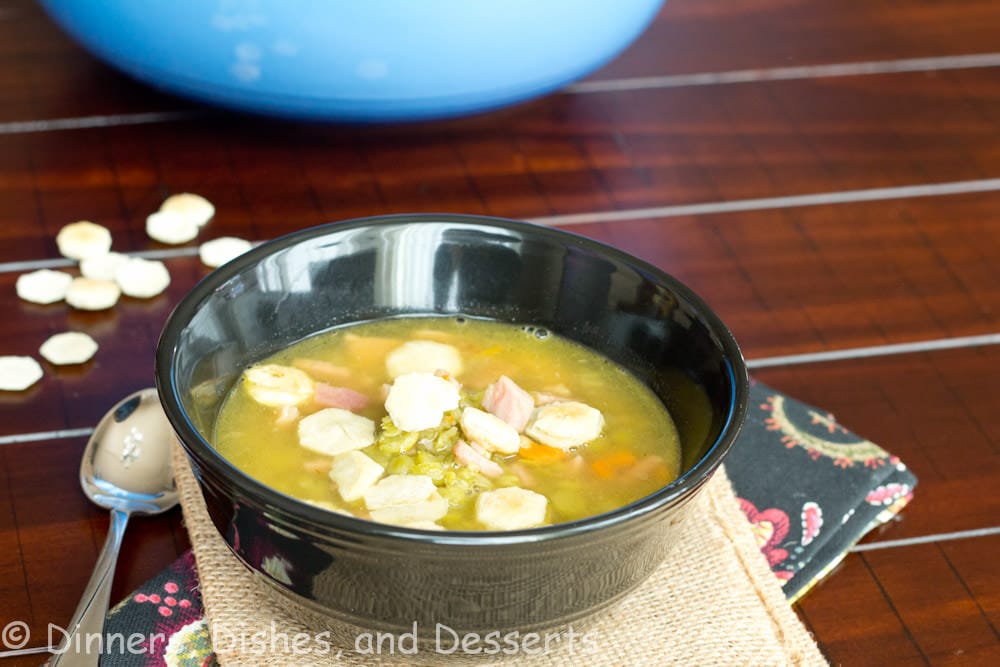 How to make pea soup
Start with dried peas. Soak them in water overnight to soften them and then you can cook with them.
Sauté the carrots, celery, onion, and garlic in melted butter until the onions are soft and tender and you can smell the garlic.
Stir in the chopped ham, just beginning to brown around the edges.
Add everything else to the pot and simmer for about an hour, stirring occasionally.
Remove the bay leaf and taste, adjusting salt and pepper as needed.
Can I do this in the crockpot?
Absolutely! This is great for simmering for hours on low in the slow cooker and just enjoying when you're ready. Technically, you don't even need to sauté the veggies when making soup in the crockpot, as cooking them long enough will tenderize them as they cook.
can i make this thicker
Yes! As written, this is quite a broth-like soup. However, if you want a thicker or creamier soup, it's best to do so without adding fat from cream Mash about half of the peas before adding them to the soup. You want to do this before adding them to the soup or you'll end up pureeing some of the ham and you don't want that.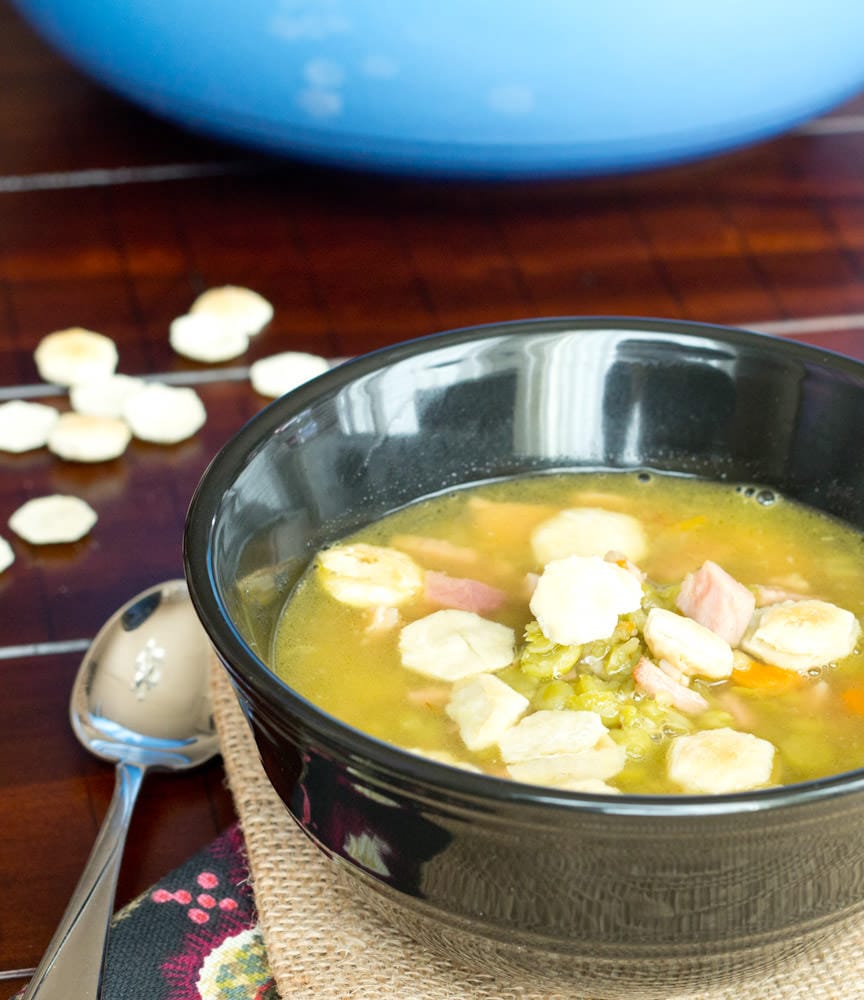 How to cook with split peas
The only way I've ever seen peas sold is dried. Therefore, they must be soaked in liquid or boiled before use. You can make this soup without soaking it first, your soup just needs to simmer 1-2 hours longer until the peas are done.
To soak your split peas, simply place them in a plastic container and cover with about 2 inches of water. I put the containers in the fridge and just leave them there overnight. Then you can use them in the soup the next day.
Can I use a ham bone?
Yes!! If you have one, add it as you simmer in the broth. It will flavor the soup and make it amazing. If you want, you can use water instead of broth so it gets the full ham flavor. Both work, it's just up to you what you want.
Yield: 8
Ham Split Pea Soup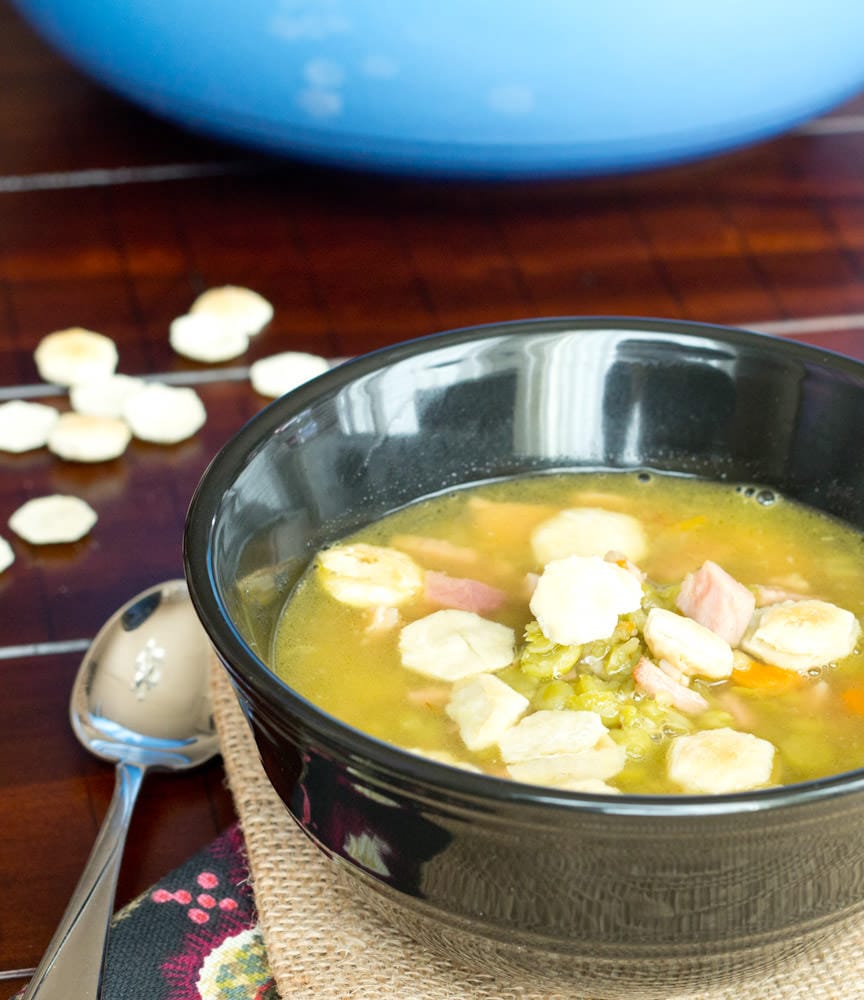 Split Pea Soup – Leftover ham makes the best soup! This pea and ham soup is flavorful, delicious and a great meal!
preparation time 15 minutes
cooking time 1 hour 30 minutes
total time 1 hour 45 minutes
ingredients
1 pound dried peas
3 tablespoons of butter
1 cup onion, finely chopped
1/2 cup celery, finely chopped
1/2 cup carrots, finely chopped
2 garlic cloves, chopped
1 pound ham, chopped
1 teaspoon of salt
3/4 teaspoon black pepper
1/4 teaspoon red pepper flakes
8 cups chicken broth
1 bay leaf
instructions
Place the dried peas in a large bowl and cover 5 cm with water. Soak for 8 hours or overnight. Drain peas, set aside.
In a large stockpot, melt the butter over medium-high heat. Add the onions and sauté for about 2 minutes.
Stir in the celery and carrots, cook until tender, about 3 minutes. Add garlic and cook for another minute.
Stir in the chopped ham and let it begin to brown.
Add the drained peas, salt, pepper and red pepper flakes and stir to combine.
Pour in the chicken stock and add the bay leaf. Simmer for about 1 hour, stirring occasionally, until the peas soften. Add water as needed if the soup gets too thick.
Remove the bay leaf, season with additional salt and pepper if needed, and serve.
Remarks
For a thicker and creamier soup, puree 1/2 the drained peas before adding them. Source: Adapted from Food Network
suggested products
As an Amazon Associate and member of other affiliate programs, I earn from qualifying purchases.
Nutritional Information
yield
8th
serving size
1
amount per serving calories 303total fat 12gSaturated Fatty Acids 5gtrans fat 0gunsaturated fat 6gcholesterol 51mgsodium 1333mgcarbohydrates 27gdietary fiber 6gsugar 7gprotein 21g
Nutritional Disclaimer: All information on this website is for informational purposes only. I am not a certified nutritionist and any nutritional information shared on dinnersdishesanddesserts.com should be used as a general guide only.
I created a fun group on Facebook and would love for you to join us! It's a place to share YOUR favorite recipes, ask questions, and see what's new in dinner, dishes, and desserts (so you don't miss a new recipe)! If you want to try it, you can submit a request to join HERE.
Be sure to follow me Instagram and tag #dinnersdishes so I can see all the wonderful DINNER, MEAL AND DESSERTS recipes YOU make!
Follow me on my social media channels so you don't miss a post!
Facebook | Twitter | Pinterest | Instagram
Did you know that there is a SHOP for dinner, dishes and desserts? Check out all my e-books as well as branded items HERE!
OTHER RECIPES YOU MIGHT LIKE: