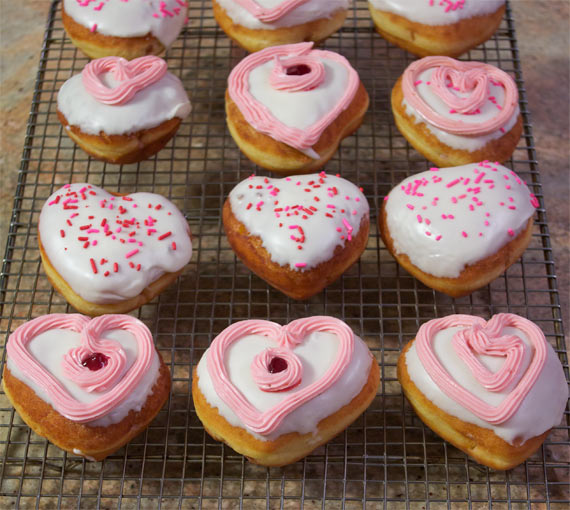 This year's featured Valentine's Day recipe is for Yeast Heart Shaped Donuts with Strawberry Buttercream Filling and Vanilla Frosting. The secret ingredient is…as usual…love. I decorated some with sprinkles and some with a decorative pink frosting that I made simply by combining leftover filling with leftover frosting.
I won't sugar coat it. Raised donuts take time. All told, you're in this for at least 3 hours, probably 4. A lot of it is just waiting for the batter to shine, but you can't really rush the process. Don't be fooled by TV shows like "Donut Showdown" where gourmet filled donuts are made in less than an hour.
If you have the time, these donuts are really fun to make, especially during the decorating phase. If you have someone special to make them with, all the better. As good as they are to make, they are 1,000 times more fun to eat. Let's go to work…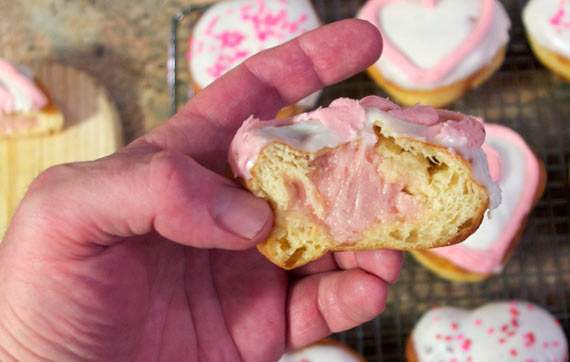 To make the raised yeast doughnuts:
1 package of dry active yeast
2 teaspoons of malt or maple syrup
1/2 cup warm water
2 1/2 cups + 3 tablespoons all-purpose flour
2 tablespoons soy flour (use extra all-purpose flour if you don't have any)
1 teaspoon of salt
1/2 teaspoon double-acting yeast
1/2 teaspoon grated nutmeg
1/3 cup of milk
1/2 teaspoon of vanilla
3 tablespoons of shortening
2 spoons of granulated sugar
3 egg yolks
1/3 cup mashed potatoes
canola oil – for frying
special equipment: 3-inch heart-shaped cookie cutter
This recipe makes 16 donuts.
In a cup, stir the malt syrup into the warm water (110 degrees) until it dissolves. Top with yeast. Let it rest for 5 minutes until it is foamy on top. Sift the all-purpose flour, soy flour, salt, baking powder and nutmeg into a large bowl. Add the vanilla to the milk.
In a stand mixer fitted with a paddle attachment, beat the shortening and sugar together. Add the egg yolks one at a time, mixing over low heat, until well combined. Add the yeast/water mixture, the mashed potato and half the flour. When mostly combined, add the remaining milk and flour. Mix on low until combined, then switch to medium until the dough comes together and starts to pull away from the mixing bowl. Switch to the hook attachment, knead the dough for 2 to 3 minutes.
Transfer the batter to a large bowl that has been coated with cooking spray. Cover loosely with plastic wrap and let dough rise until doubled in size: about 90 minutes.
Turn the dough out onto a lightly floured surface. Dust the top with flour. Roll out to 1/2 inch thick. Trim the fritters and transfer to a baking sheet lined with parchment paper. Let the donuts rise until almost doubled in size, about 45 minutes.
You can tell the fritters are ready to fry when you poke one gently with your fingertip and it holds the indentation. If the dough bounces quickly, let the donuts rest for a few more minutes.
Fry in batches in 3 inches of hot canola oil (360 degrees). Fry one side until golden brown (about 1 minute). Flip and cook the other side until golden brown (about 50 seconds). Transfer cooked fritters to stacked paper towels. Let them cool completely before filling.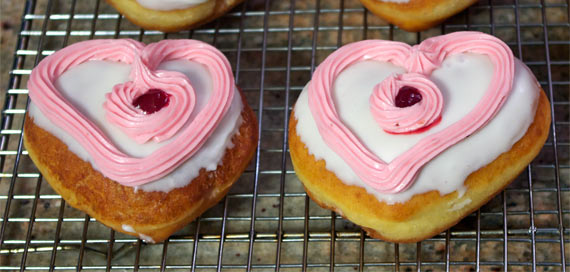 For the Strawberry Buttercream Filling:
1 cup softened butter
2 and 1/2 cups sifted powdered sugar
2 teaspoons of vanilla
1/3 cup strawberry jam (not thick).
1 tablespoon of cream or thick milk
In a large bowl, cream the butter and powdered sugar together with a wooden spatula. Add all remaining ingredients and beat on medium heat with an electric mixer until fluffy and ice-cream-like, about 3 minutes. Transfer to a piping bag with a long tip and fill the doughnuts. You can also pierce each donut with a knife and add the filling with a small spoon.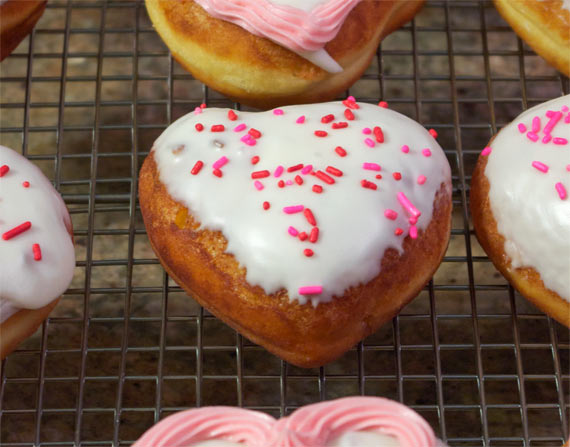 For the vanilla frosting:
2 cups sifted powdered sugar
1/2 teaspoon of vanilla
3 or 4 tablespoons of milk
In a medium bowl, combine the powdered sugar, vanilla, and 3 tablespoons milk. Stir until an ice cream-like texture forms. This may take almost a minute. Add additional milk by the teaspoon to achieve desired consistency. Test by inserting a spoon into the bowl. The topping should cover it and drain slowly like a thick syrup.
I usually stir my icing in a bowl over a hot water bath. I find that the frosting comes together more easily without having to add as much milk. This equates to icing that sets faster and more firmly on donuts.
Dip the tops of the filled, cooled donuts into the topping bowl. Turn the donuts as you remove them to coat them completely and to help the excess topping drip off.
Place the donuts on a wire rack and let the topping set. If adding sprinkles, do so as soon as the donuts are frosted and long before the topping has a chance to set.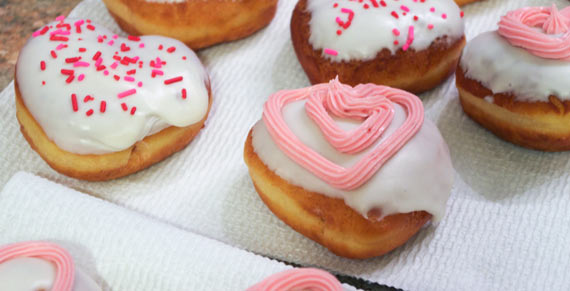 For the pink decorative topping:
I went rogue on this part and didn't use any recipes. I simply combined my leftover filling with my remaining frosting and stirred in more powdered sugar until the consistency was a little thicker than soft butter. I then piped the mixture into a piping bag fitted with a fine tip to decorate.
You might also like: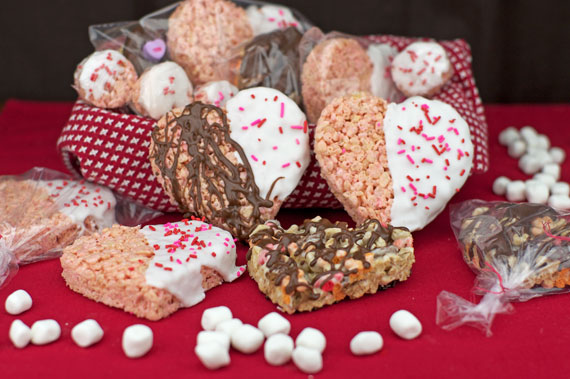 This past Valentine's Day, I made heart-shaped breakfast cereal treats, including the classic Rice Krispies-style treats and other random breakfast cereal treats. You can review this post right here.
Let me close with a Valentine's Day joke:
What did the topping say to the doughnut? Answer: I am sweet to you.
I am delighted with you for reading this post. Happy Valentine's Day everyone!
save
You might also like: