These stuffed dates with vegan ricotta cheese are sweet, savory, and completely irresistable! A finishing drizzle of herb-infused agave syrup takes their flavor to new heights. The dates are perfect hors d'oeuvres for entertaining, and they also make a great, plant-based snack.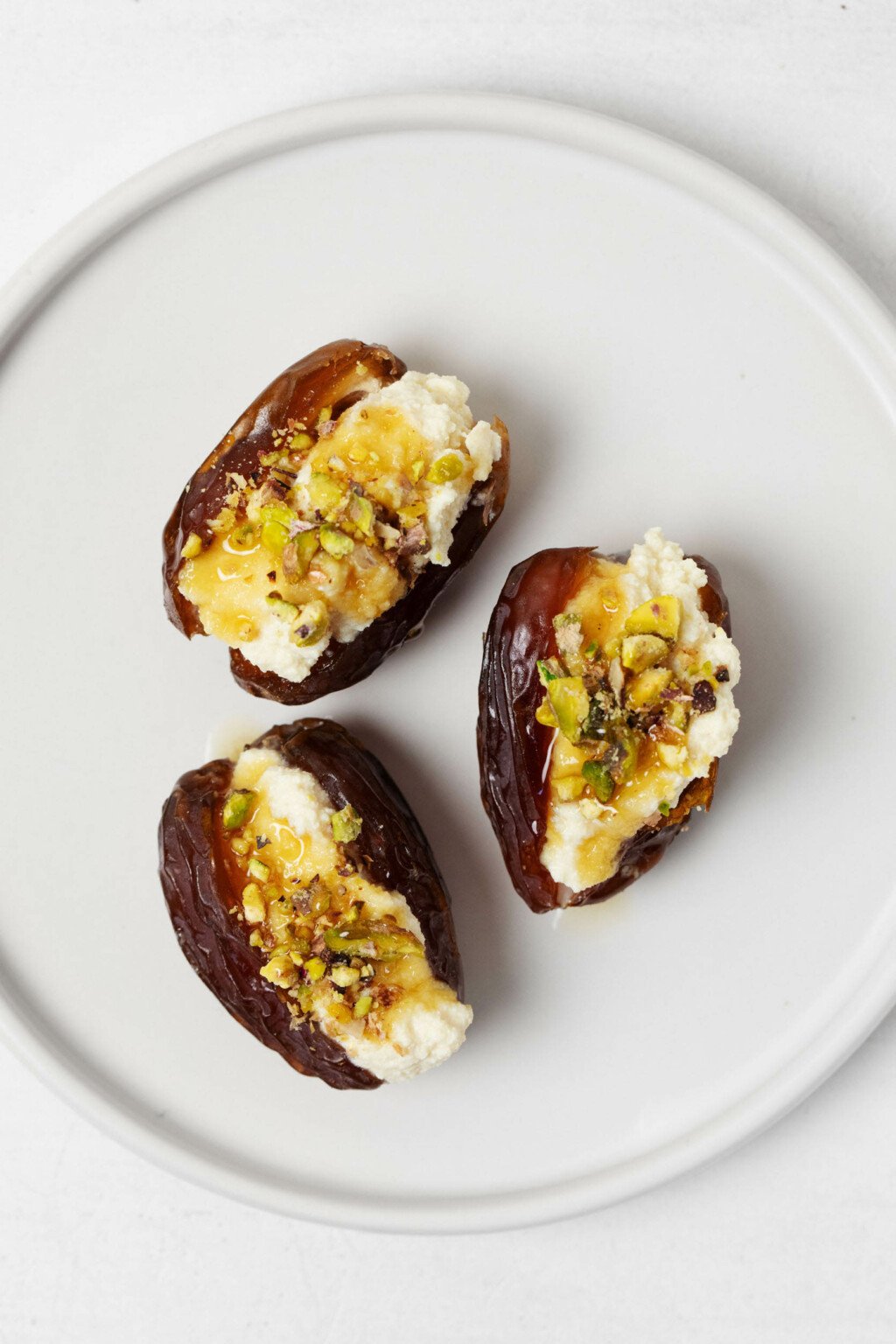 I love Medjool dates so much that it's often hard to see any reason for embellishing them. If you ask me, they're one of the most perfect foods: nature's candy!
Whenever I do incorporate dates into recipes, however, I'm reminded of how culinarily versatile they are.
I often add chopped Medjool dates to salads or grain salads. The add irresistable pockets of sweetness to my Israeli couscous and roasted cauliflower salad, for instance.
The soft texture of Medjool dates makes it easy to blend them up in sauces and dressings. I like turning them into a naturally sweetened, homemade date BBQ sauce.
Speaking of sauce, Medjool dates create the most perfect vegan salted caramel sauce I've ever made. There's nothing better than drizzling it onto vegan vanilla ice cream!
While we're on the topic of dessert, vegan sticky toffee pudding is one of my favorite desserts of all time, and dates are the key to its texture and flavor.
As you can see, these recipes that I've listed fall squarely into two categories: sweet and savory. The recipe that I'm sharing today, stuffed dates with vegan ricotta cheese, is both.
A sweet & salty delight
The dates in this recipe are themselves, of course, naturally and delightfully sweet. But the vegan cheese that gets stuffed into their centers—made from cashews and tofu—is salty and savory.
Even the toppings bridge the savory and sweet divide: they are chopped, salted, roasted pistachios and an herb-infused drizzle of agave syrup.
I've always loved sweet and salty combinations, and I think that these dates are a dream to eat.
I'm not the only person who gives them two enthusiastic thumbs up, though: I served the stuffed dates to friends a few months ago, in a late winter gathering. They were universally loved and disappeared almost immediately. I'm so glad to be (finally!) sharing the recipe.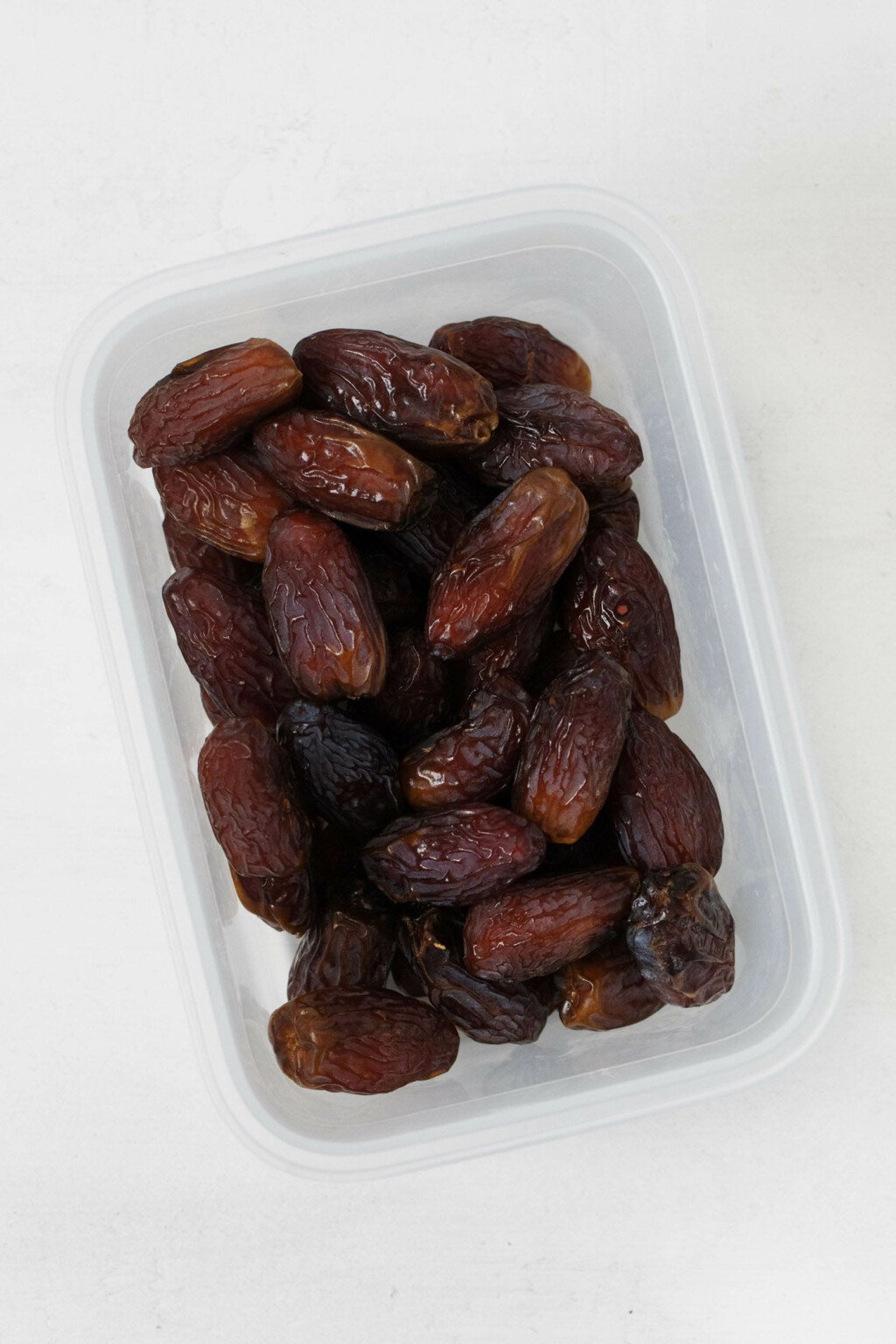 What are stuffed dates?
What exactly does it mean to stuff a date?
It's pretty simple, actually. Dates have seeds, which are often called pits. They're not edible in their whole form.
Date pits can be used to make coffee, along with other purposes. But it's customary for folks who are snacking on dates to remove the pits first; some dates are sold already pitted.
When you remove the pit from a whole date, there's a convenient little pocket left in the date interior. This pocket can be "stuffed" with a filling of some sort.
I've made many iterations of sweet stuffed dates. Protein peanut butter stuffed dates—basically, plant protein powder and peanut butter, stuffed into the center of a chocolate-dipped date—are a favorite. They taste like snickers bars!
These savory vegan stuffed dates are stuffed with one of my favorite, homemade culinary staples: 10-minute vegan ricotta cheese.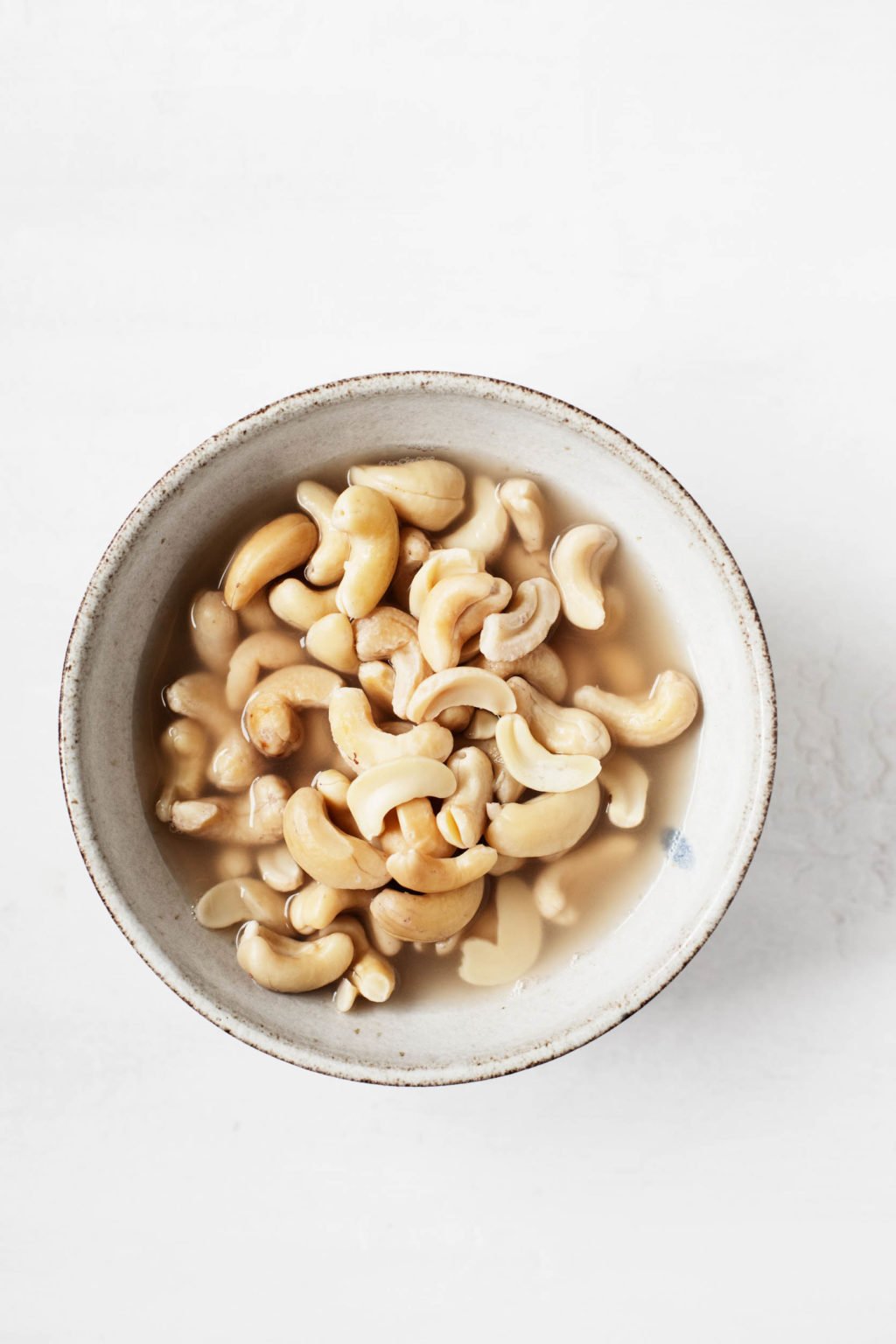 Vegan cheese, please
Like many people, I found that the hardest food to transition away from when I became vegan was dairy cheese.
Store-bought plant-based cheeses have come quite a long way in the years since I became vegan. There are now so many options, some available in stores across the country, others local and artisanal.
Before such options existed, I learned how to make homemade cashew cheese.
Like goat cheese, my vegan cashew cheese is a bit tangy and salty, and nutritional yeast gives it some "cheesy" flavor.
That cashew cheese recipe gave way to other homemade vegan cheeses: melty vegan cashew mozzarella, vegan feta cheese, cashew parmesan, and cashew queso.
My 10-minute vegan ricotta cheese is a wonderful evolution of the original cashew cheese recipe. It has a similar flavor, but a slightly lighter texture.
It can be used in all of the same ways you might use ricotta—including stuffed dates.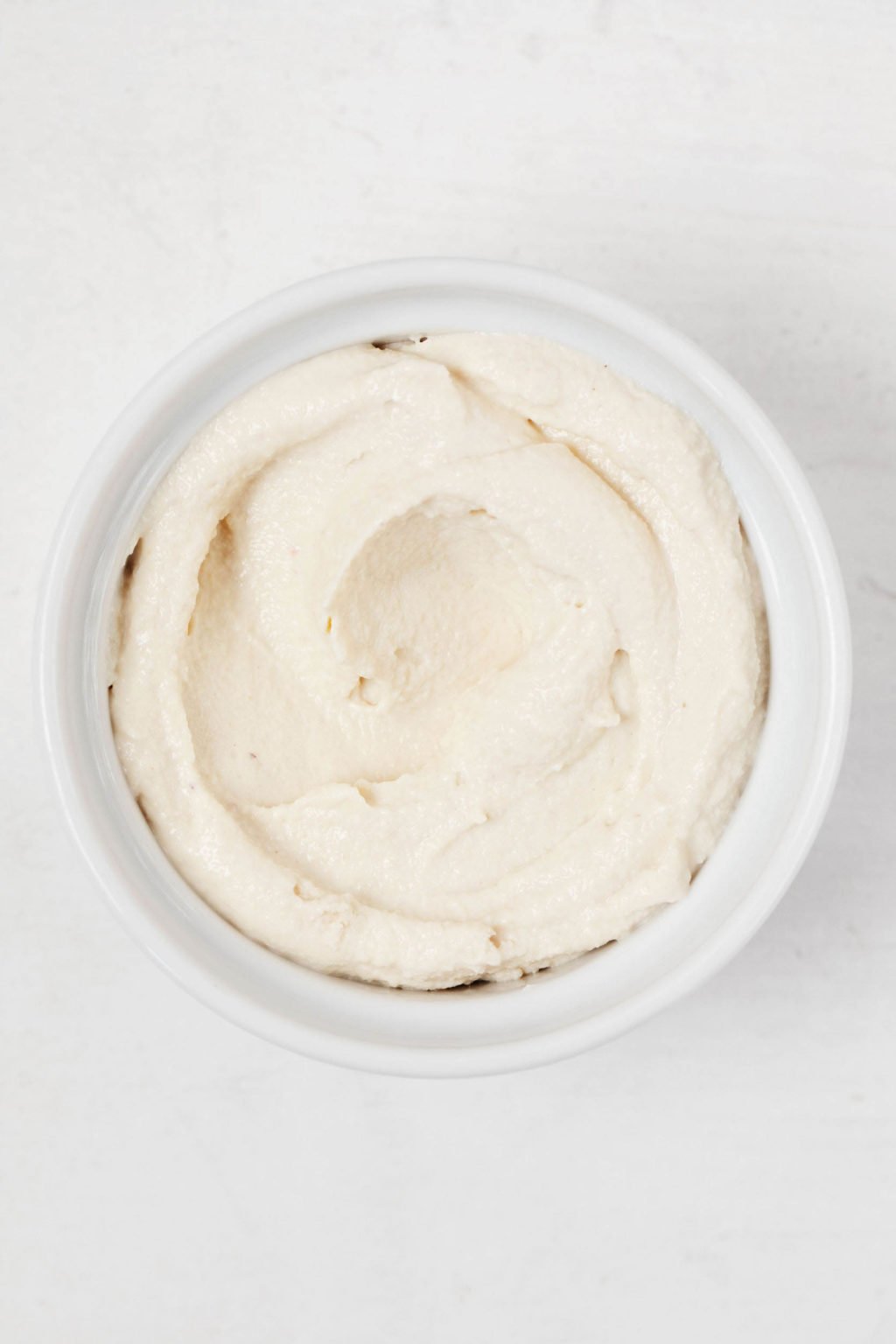 Can I use store-bought vegan ricotta instead?
Yes, you can! I'm a fan of the Kite Hill brand ricotta myself.
What type of dates should I use for stuffed dates?
There are a number of types of date fruits. The dates that I recommend for this stuffed date recipe are Medjool dates.
Medjool dates can be ordered online or found in stores across the US. They have a very soft texture, and their signature sweetness is reminiscent of caramel.
Medjool dates are native to Morocco, but today, they're also grown in countries across the Middle East, as well as in Africa and South Asia.
My favorite Medjool dates to snack on and use in recipes come from the Rancho Meladuco date farm in California.
Joan Smith began the date farm with four date trees that had been planted in her personal residence decades ago. Her dates are some of the most flavorful I've ever had, and they're always fresh and sweet when they arrive to me.
For the stuffed date recipe, you can use your own favorite Medjool dates, either from a local shop or from a grower you love.
No matter what, however, I do recommend using Medjool dates, rather than another variety. They give these stuffed dates their sumptuousness and depth of flavor.
Herb-infused agave syrup
Homemade vegan ricotta and the dates themselves are centerpieces of this recipe. However, two toppings make the stuffed dates even more special.
The first is chopped, roasted pistachio nuts. You can buy salted and roasted or plain roasted, whichever you like. I like to buy pistachios with no shells, as it saves me the effort of removing the shells from them.
If pistachios aren't for you, you could substitute another roasted and salted, chopped nut instead. Walnuts, almonds, and macadamia nuts would all work well.
If you have a tree nut allergy but can eat seeds, you could try toasted and salted, chopped pepitas as well.
The second topping was a first for me, something I've never tried before.
I was wondering if a drizzle of agave would be nice on top of the dates. The more I thought about it, the more I concluded that yes, it would be.
But I wanted to continue with the sweet and savory theme.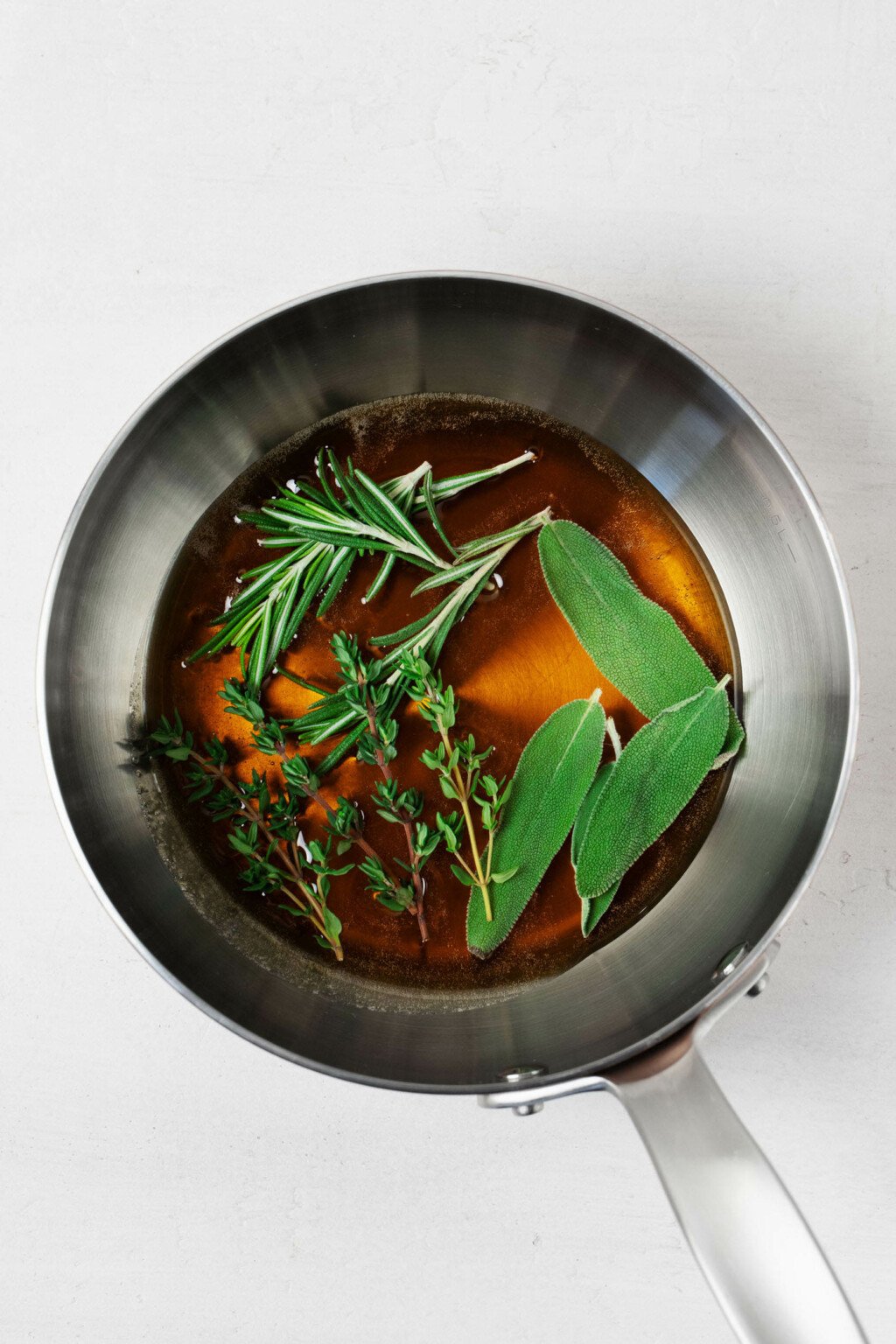 In the end, I decided to do an herb-infused agave syrup. And I'm so glad that I did.
The taste of herbs in the syrup is subtle, but it's special, and it's there. A little goes a long way, and leftover syrup can find its way onto vegan ricotta toast, savory oats, salads, baked sweet potato, and so much more.
How to make vegan stuffed dates
There are some to making these stuffed dates, but none of them are especially hard or time consuming. Here's how to create the perfect party appetizer, one step at a time.
Step 1: Make the herb syrup
This is really as simple as bringing agave syrup and a bundle of herbs to a simmer for ten minutes, then allowing it to stand for another 20 minutes.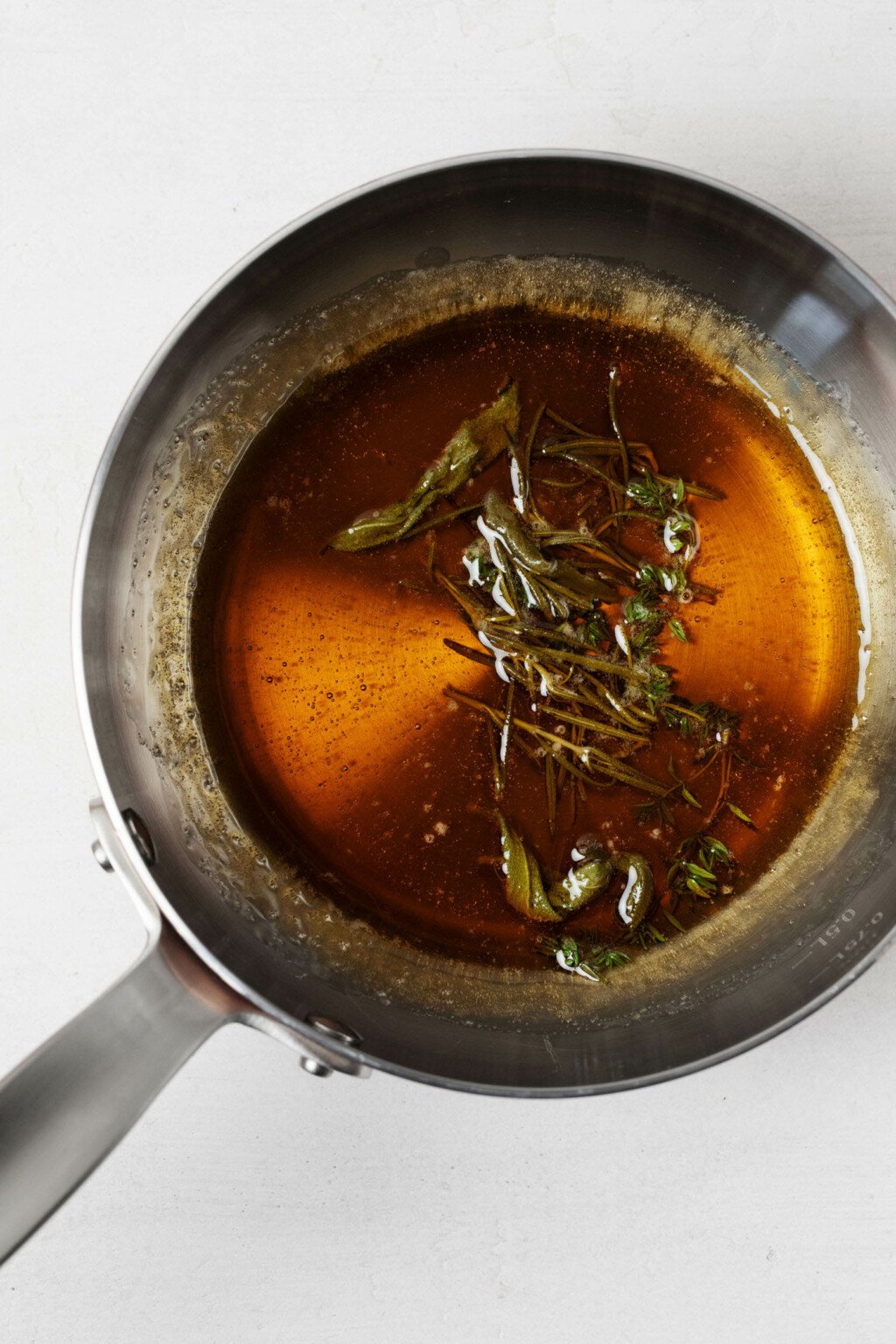 Strain the syrup, then either store it in the fridge for up to 1 week or move forward with the recipe.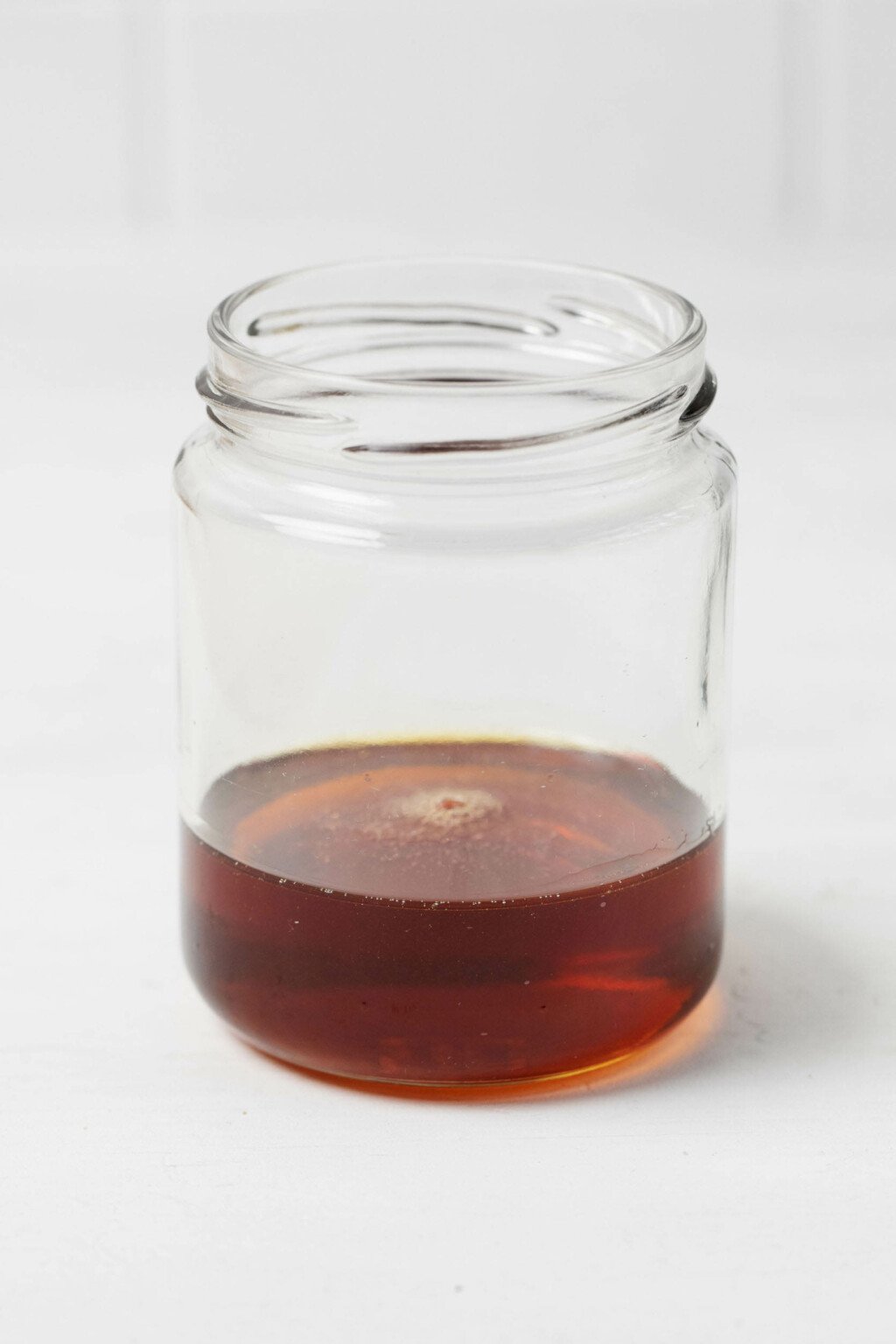 Step 2: Remove the pits from your dates and chop up your pistachios
This step is self-explanatory!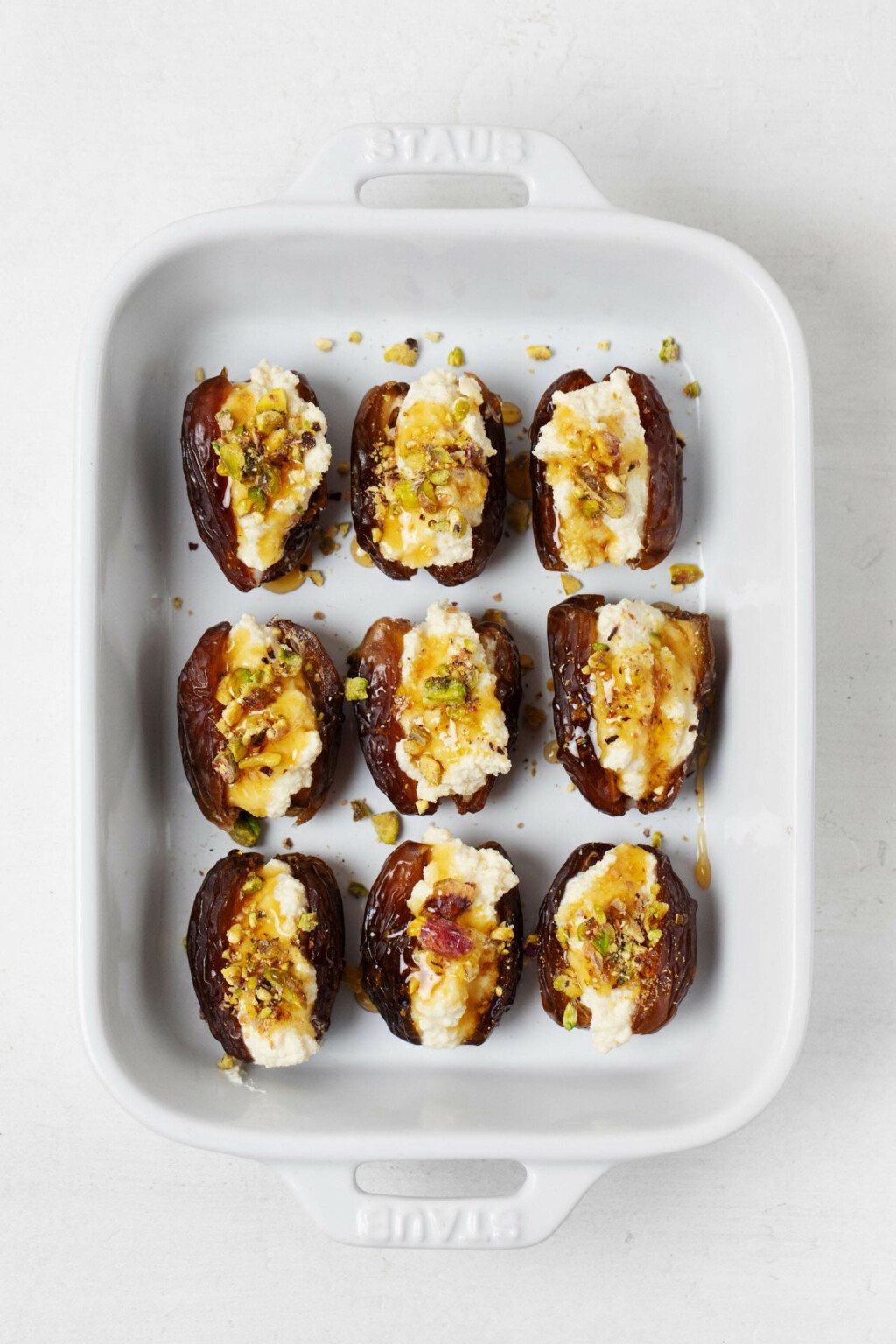 Step 3: Stuff the dates
Here, you'll just add about a tablespoon (or a smidge less) of vegan ricotta to the center of each date. I use a teaspoon to do this.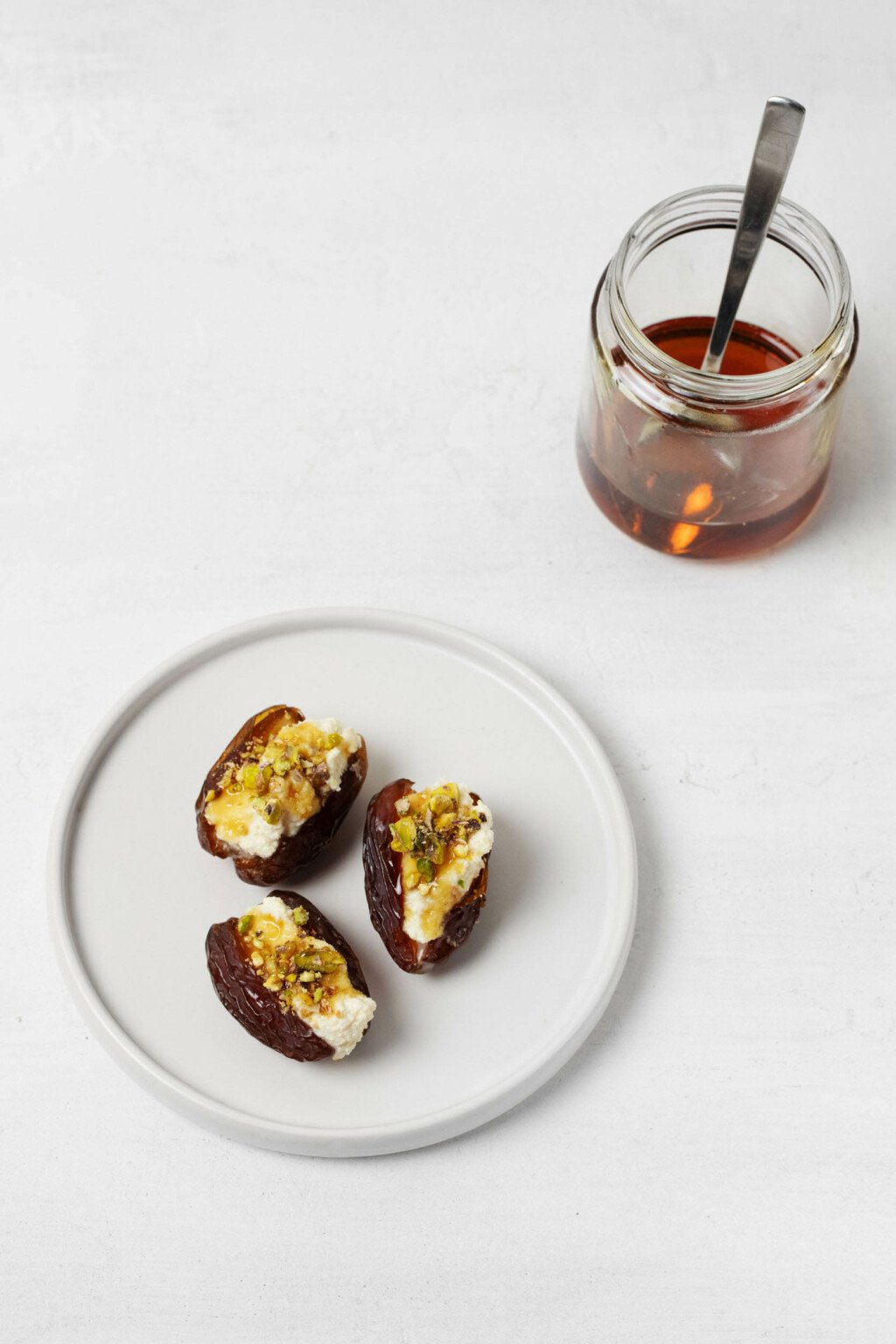 Step 4: Toppings, toppings
Finally, you'll top the stuffed dates with your chopped pistachio nuts and drizzle them with the syrup.
And that's it! Your beautiful stuffed dates are ready to eat.
When you make the recipe, I recommend having the vegan ricotta prepped and ready to go: it will make assembly feel a lot smoother and more seamless.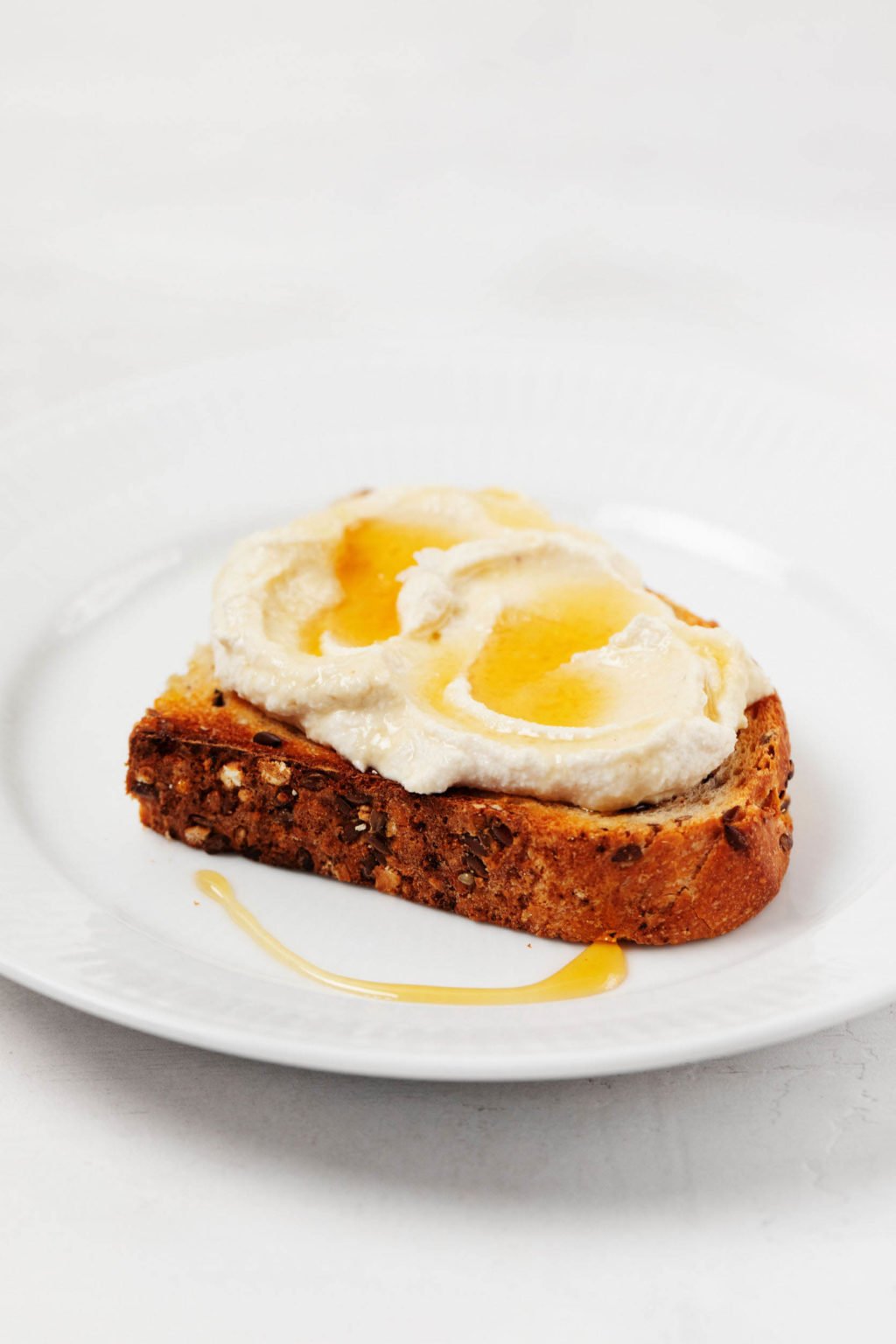 Vegan ricotta can be stored in an airtight container in the fridge for up to 4 days. Use your leftovers on toast or in vegan pasta dishes.
Meal prep & storage
Speaking of storage, you can absolutely prepare the stuffed dates ahead of time. This might be especially useful if you intend to serve them for entertaining.
I recommend drizzling the warm, herb-infused agave syrup only right before you serve the dates. But they can be stuffed and topped with the pistachios, transferred to a storage container and stored in the fridge for up to 3 days.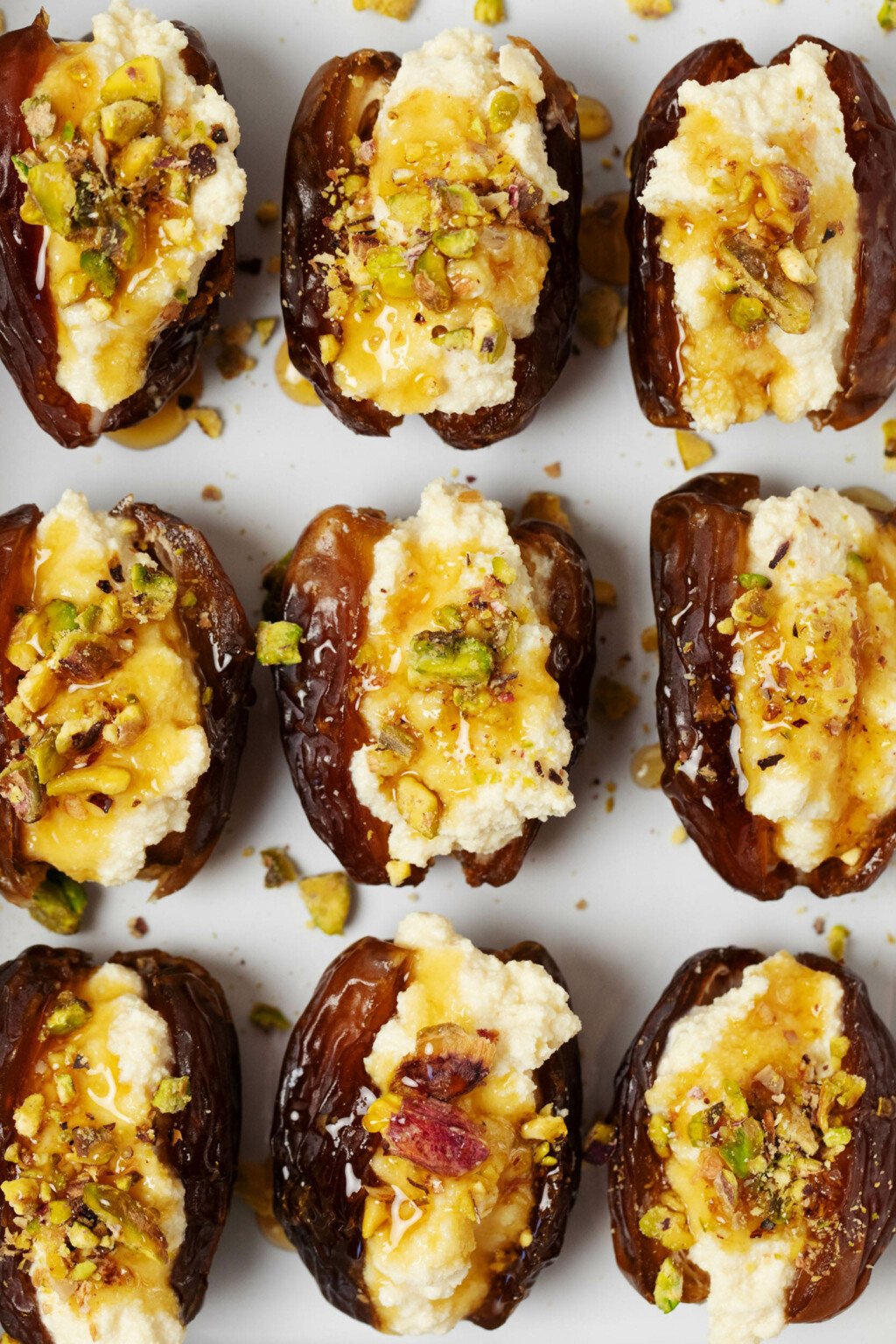 Flavor variations
There are plenty of ways to vary the flavor profiles of this recipe.
You could add different herbs to the agave syrup, or you could replace it with date syrup or pomegranate molasses.
You could top the dates with spiced nuts or vegan candied pecans or vegan candied walnuts. Also, you can change the topping altogether: I'm eager to try the dates with crumbled tempeh bacon.
If you like, you could add Italian seasoning to the ricotta, or you could fold chopped, sun-dried tomatoes into it. To emphasize the sweet notes here, you could add a pinch of cinnamon to the ricotta, too.
Basically, use your judgment, and let your taste buds lead the way.
Here's the base recipe.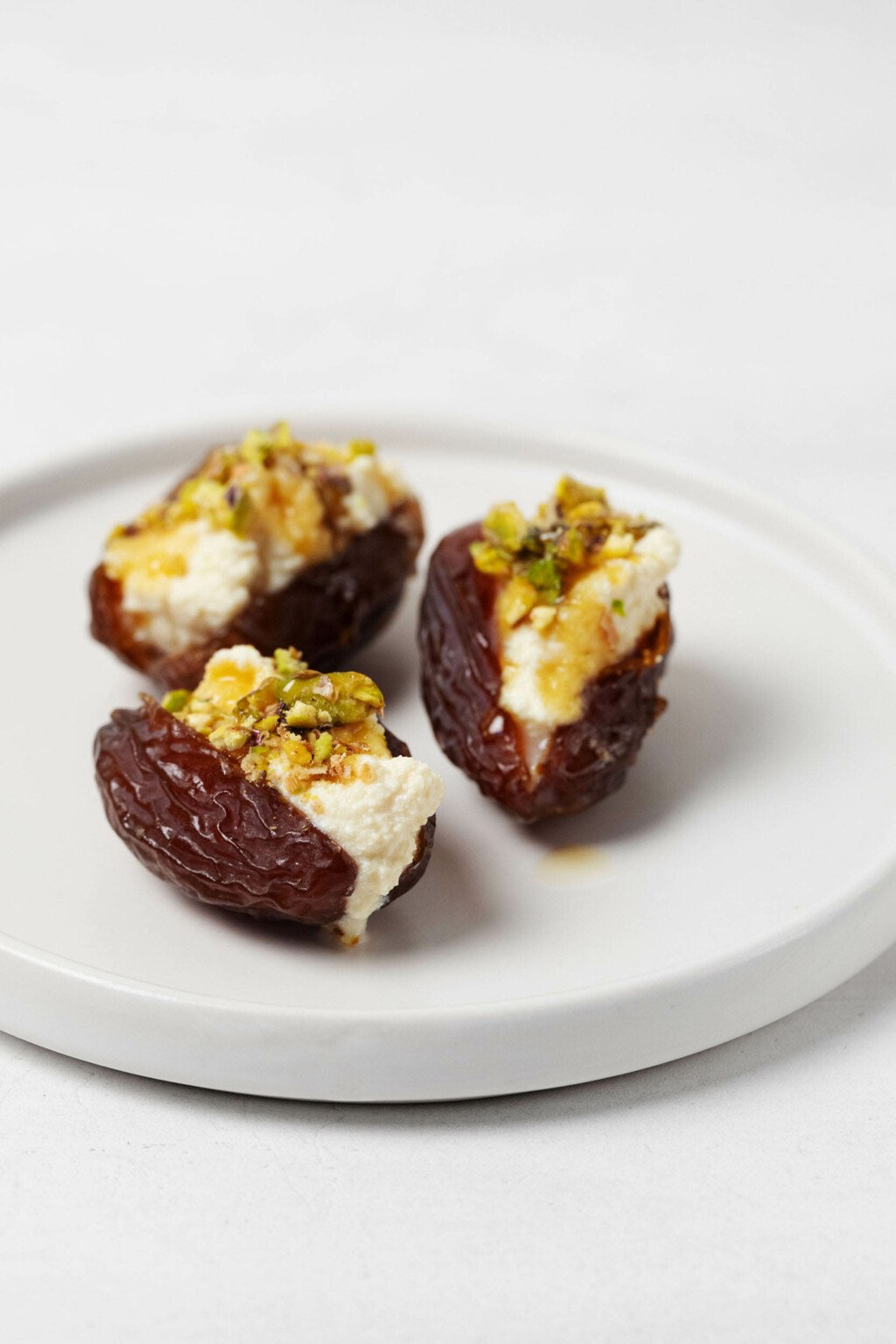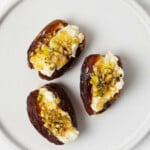 Stuffed Dates with Vegan Ricotta Cheese
Author – Gena Hamshaw
For the herb-infused syrup:
1/2

cup

agave syrup

4

sprigs

fresh thyme

4

sprigs

fresh rosemary

4

fresh

sage leaves
For the stuffed dates:
16

Medjool dates

1

cup (heaping)

10-minute vegan ricotta cheese

(about half of a batch; the rest can be used in recipes, as a topping for toast, or frozen until needed)

1/2

cup

roasted pistachios, shells removed, salted or unsalted

(60g; substitute walnuts, almonds, or another nut of choice)
Bring the agave syrup and the herbs to a simmer over low heat in a small, non-reactive saucepan (I like to use nonstick). Simmer, covered, over very low heat for 10 minutes. Remove the saucepan from heat and allow it to stand for 20 minutes. Strain the agave syrup through a small sieve into a mason jar or another small, heat proof container for storage. Store the syrup in the fridge for up to 1 week. 

Slice all of the Medjool dates lengthwise down the center and remove the pits.

By hand or in a food processor fitted with the S blade, roughly chop or pulse the pistachios until they're roughly chopped.

To prepare the dates, stuff the center of each date with 2-3 teaspoons of vegan ricotta cheese. Sprinkle the dates with the chopped nuts. Finally, drizzle all of the dates with the herb-infused syrup, about 1-2 teaspoons over each date. Serve or store.
Store stuffed dates in the fridge for up to 3 days. Reserve drizzling the syrup until right before serving.
Look at that, a recipe post!
I know it's been a while. But this is such a great recipe to get back into the swing of things with. These dates are a delight, and though I first made them months ago, I know that they'll be a dish I share with guests and friends again and again.
I hope you'll love them, too.
xo