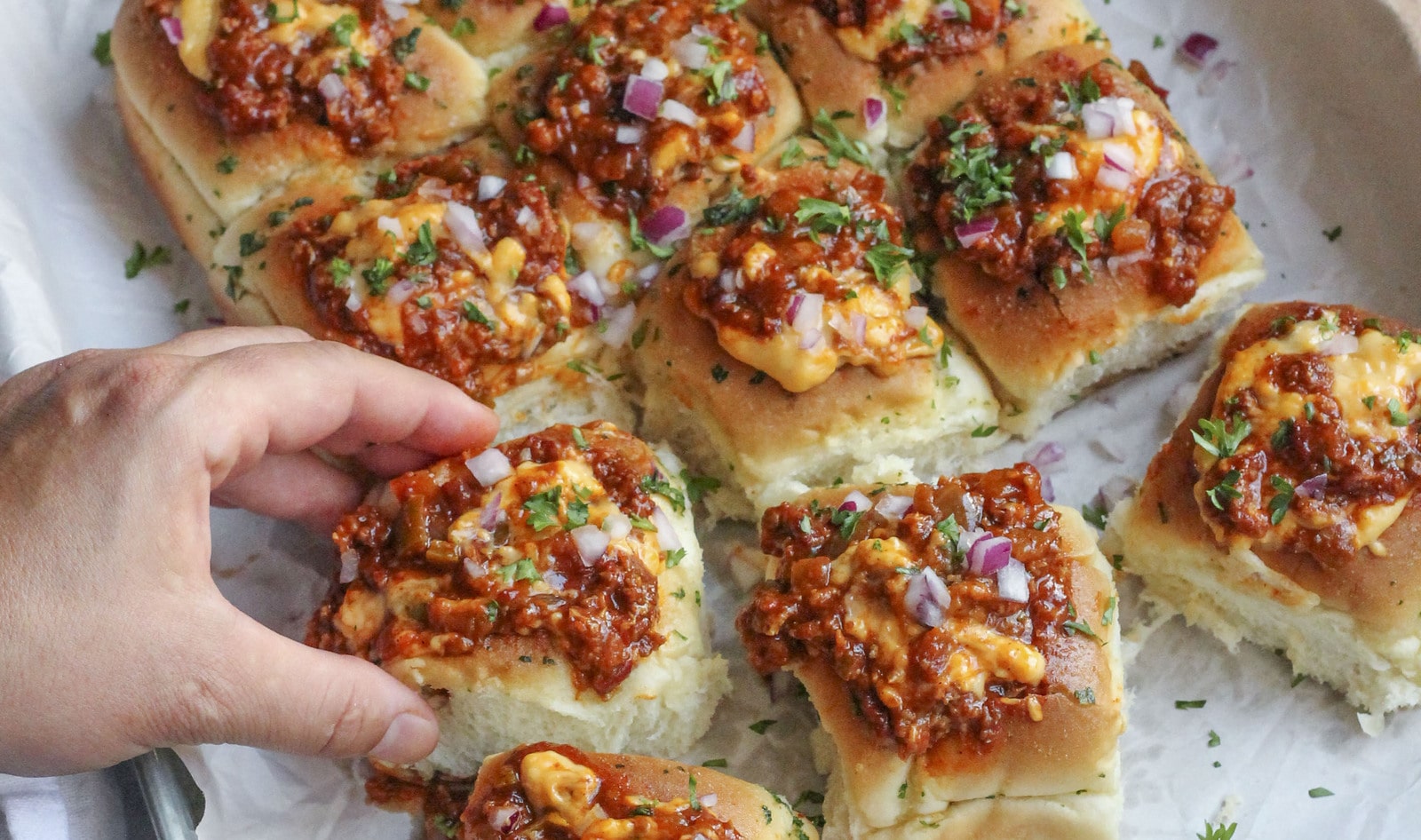 Grab a fork and dig into these baked, cheesy, meaty rolls Make it vegan The cookbook for the ultimate comfort food. Swap out the hot dogs for your favorite vegan brat or sausage flavor
do you want:
For the chilies:
2 tablespoons olive oil
½ cup chopped white onion
½ cup chopped green bell pepper
4 cloves garlic, minced
8 ounces vegan ground meat
1 tablespoon of chili powder
1 teaspoon of cumin
Half a teaspoon of smoked paprika
½ cup light beer
1 (8-ounce) can tomato sauce
1 teaspoon vegetable bouillon base
½ teaspoon of salt
⅓ cup finely chopped red onion, for garnish
For the Mini Cheese Dogs:
1 (12-count) package vegetarian-friendly dinner rolls
2 tablespoons vegan butter, melted
1 tablespoon minced fresh parsley, plus more for garnish
1 teaspoon of garlic powder
1½ cups vegan cheddar cheese
1 tablespoon olive oil
4 Vegan Hot Dogs
what do you do:
Preheat oven to 350 degrees.
For the chili, heat oil in a medium saucepan over medium heat. Once hot, add the onion, pepper, and garlic and sauté for 5 to 6 minutes, until the onion is translucent and the garlic is fragrant. Add the vegan ground meat and crumble with a spoon. Continue to cook for 8 to 10 minutes, until the meat begins to brown. Season with chili powder, cumin and smoked paprika, stirring to combine.
Stir in beer, tomato sauce and bouillon. Reduce heat and simmer, uncovered, for 30 minutes. Season with salt. Remove pot from heat, cover, and set aside.
For mini hot dogs, place rolls, overlapping, in a 9-by-13-inch baking dish. Using a sharp paring knife, cut a small square in the center of each roll, leaving about a ½-inch border around the edges. Don't cut all the way through. Gently press the cut-out square to create an opening in the center of each roll.
In a small bowl, mix together the melted butter, parsley and garlic powder, then brush the rolls with the butter mixture. Sprinkle the hollowed rolls with cheddar slices and bake for 6 to 7 minutes.
In a large nonstick skillet over medium heat, heat oil. When hot, pan-fry hot dogs for 6 to 7 minutes, turning to cook evenly on all sides. Remove hot dogs from heat and cut each dog into 3 equal pieces.
Remove the rolls from the oven. Spoon chili into each hollowed-out roll and place a slice of hot dog between each. Top each roll with a little more pepper and bake for 20 to 25 minutes, until peppers are bubbling and beginning to brown. Garnish with parsley and red onion and serve immediately.
For more recipes like this, see: