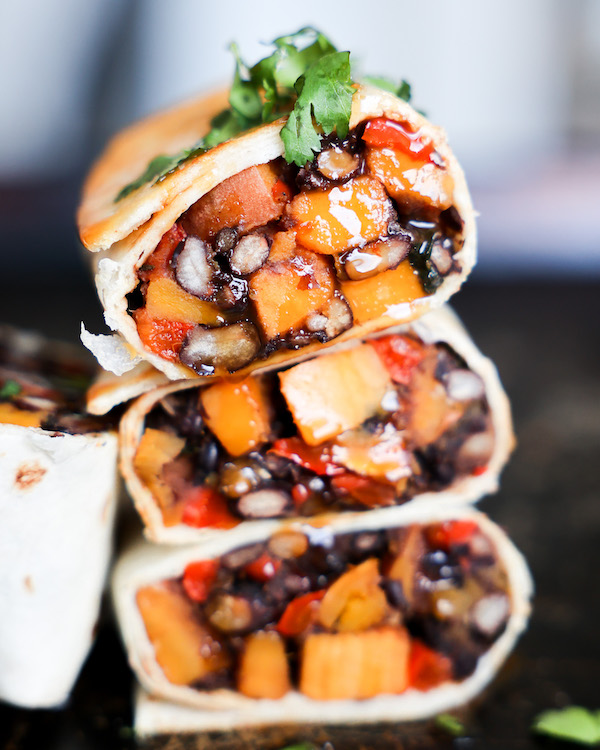 We all know the saying, "Breakfast is the most important meal of the day." I usually start my day with a bowl of oatmeal or other hearty cereal and top it with yummy fresh fruit and seeds or nuts. When I have a little extra time and energy in the morning, or when I'm meal prepping, I like to make this sweet potato breakfast burrito recipe. It's hearty, nutritious, bursting with flavor and simply has to be vegetarian.
Breakfast doesn't have to be difficult, but you should eat more than a breakfast pastry or bar to start the day with proper nutrition and energy. Sometimes I'm too tired to eat oatmeal or cereal every day, so I try mixing wild mushrooms with tofu scramble or avocado toast with my breakfast. But this sweet potato breakfast burrito is one of my absolute favorites! The best part is that you can prepare the filling ahead of time and heat it up in the morning.

What's in this sweet potato breakfast burrito?
Breakfast burritos are so versatile; You can put almost any ingredient in them! Hash browns, vegan scrambled eggs, vegan sausage, avocado, salsa and cheese are a great start to a simple burrito. But these ones are so special! The flavor combination is sublime; Sweet potatoes, black beans, spinach, gluten-free and vegetarian sausages, vegetables and spices really bring out the flavor of the morning. If you're gluten-intolerant, you'll need to pay attention to the ingredients in the vegetarian sausage, but if you're not, check out my homemade sausage recipe.
How to make healthy breakfast burritos
The instructions couldn't be simpler. Heat a tablespoon of olive oil in a pan and fry the shallot (or yellow onion) and red pepper until soft. Add the sweet potatoes and a pinch of sea salt to the pan. Cover and cook on medium heat until the potatoes are soft. While you're waiting for it to cook, cut up the sausage. It should be roughly the same size as the cut potatoes. When the potatoes are tender, add the sausage and black beans, then stir in the smoked paprika, cumin and salt. Cook until the potatoes are completely tender, then stir in the spinach and cook until wilted, about five minutes. Heat gluten-free tortillas on the stove, fill, wrap and fold and serve hot!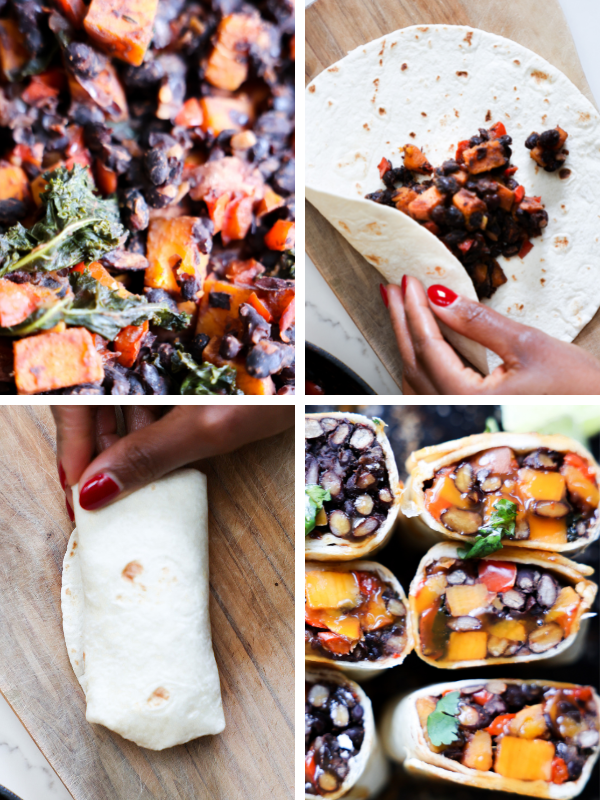 Freezer-friendly meal prep
This mix is ​​great to add to your weekly meal prep rotation (have you signed up for my newsletter yet? Free meal plans every week!) and can be reheated in the oven or microwave for fresh, non-soggy burritos in the morning. The mixture also keeps well in the fridge if you don't eat it all in about five days.
You can add other ingredients to this base to make it more flavorful and filling. Add a vegan egg substitute for more protein, chili powder and garlic for more flavor, and some vegan cheddar cheese to hold it together.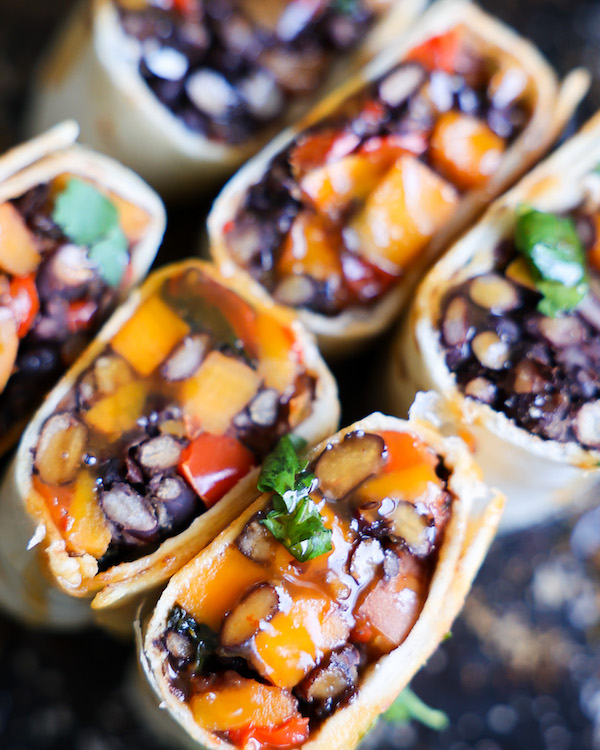 Try these other delicious breakfast recipes
Breakfast enchiladas
Best Tofu Scramble
Bowl of delicious steel cut oats
Sweet Potato Breakfast Burrito
Front sweet potato breakfast burrito.
material
1

spoon

Coconut or olive oil

1

Large shallots

minced meat

1

Red pepper bells

to cut

1

Large sweet potato

to cut

2

Vegetarian Sausage

Cut about 1 cup

1

Can of black beans

Drain and rinse, about 1 1/2 cups

2

the cup

Spinach or other leafy greens

to cut

1

teaspoon

Cumin powder

1

teaspoon

Smoked paprika

1/2 – 1

teaspoon

salt

4

Soft tortillas

Flour or gluten-free tortillas
instructions
Heat a pan on medium heat and add oil.

Add the shallots and peppers and fry until soft.

Add the sweet potatoes and a pinch of sea salt. Cover the pan and cook over medium-low heat, until the potatoes are fairly tender (about 15-20 minutes).

Meanwhile, cut up your gluten free vegan sausage. It should be roughly the same size as the cut potatoes.

When the sweet potatoes are soft, add the sausage and black beans.

Then stir in cumin, smoked paprika and salt.

Continue to cook for another 10 minutes until the sweet potatoes are tender. Then stir in the chopped spinach and cook for another 5 minutes.

Heat your gluten-free vegan tortillas in a skillet and fill them. Wrap it in a burrito shape, then serve hot!