That parmesan baked zucchini The recipe is so simple and delicious. Everyone gets their veggies with these zucchini coins tossed in olive oil, parmesan cheese, salt, pepper and garlic.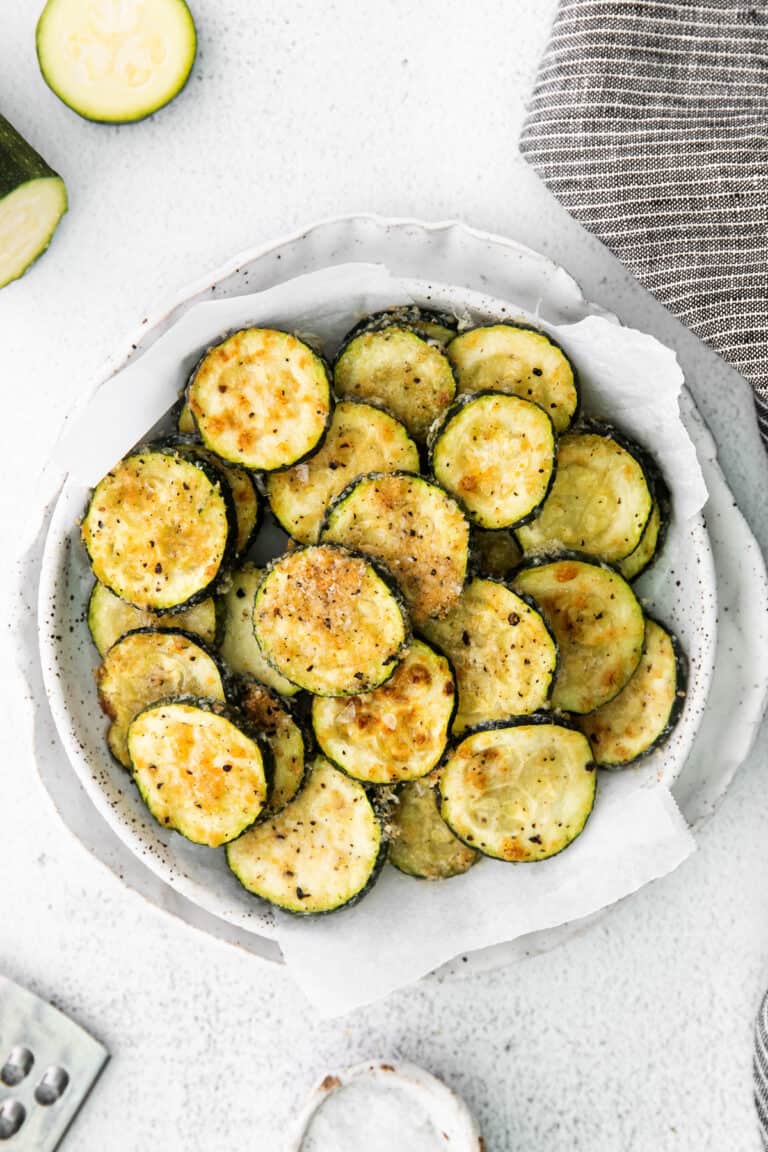 Easy Baked Zucchini with Parmesan
Is your garden full of zucchini (have you tried our fresh zucchini salad yet?)? This Baked Zucchini is the perfect recipe to use up your zucchini as it's quick to make in the oven and requires few ingredients.
We love baking zucchini coins with olive oil and parmesan because they taste perfectly prepared and with the perfect cheese flavor.
That's why we love this recipe
It's a vegetarian dish with a delicious taste.
This Baked Zucchini is ready in under 30 minutes.
You can make this recipe your own by adding different spices and ingredients.
It's a great recipe when you need to use up some zucchini and add veggies.
This baked zucchini is crispy on the outside and tender on the inside.
If you're looking for zucchini side dishes, this recipe is a great option.
Tools you need before you start
Now, preparing delicious roasted zucchini is easy, but it helps to have the right tools to get the job done! Below are some tools that may be helpful.
Ingredients you need for baked zucchini
olive oil– You will need some kind of binder to make all the ingredients stick to the zucchini. We strongly recommend olive oil, but you can use any other oil of your choice.
zucchini– Zucchini come in all shapes and sizes. You will need 4 medium zucchini (approx. 15-20 cm).
parmesan cheese Finely grated Parmesan is just the thing for you. We advise against using grated parmesan. It doesn't tend to stick to the zucchini,
Spices– We used a spice mix of garlic, salt (kosher salt or table salt), pepper and a pinch of cayenne pepper to sharpen it.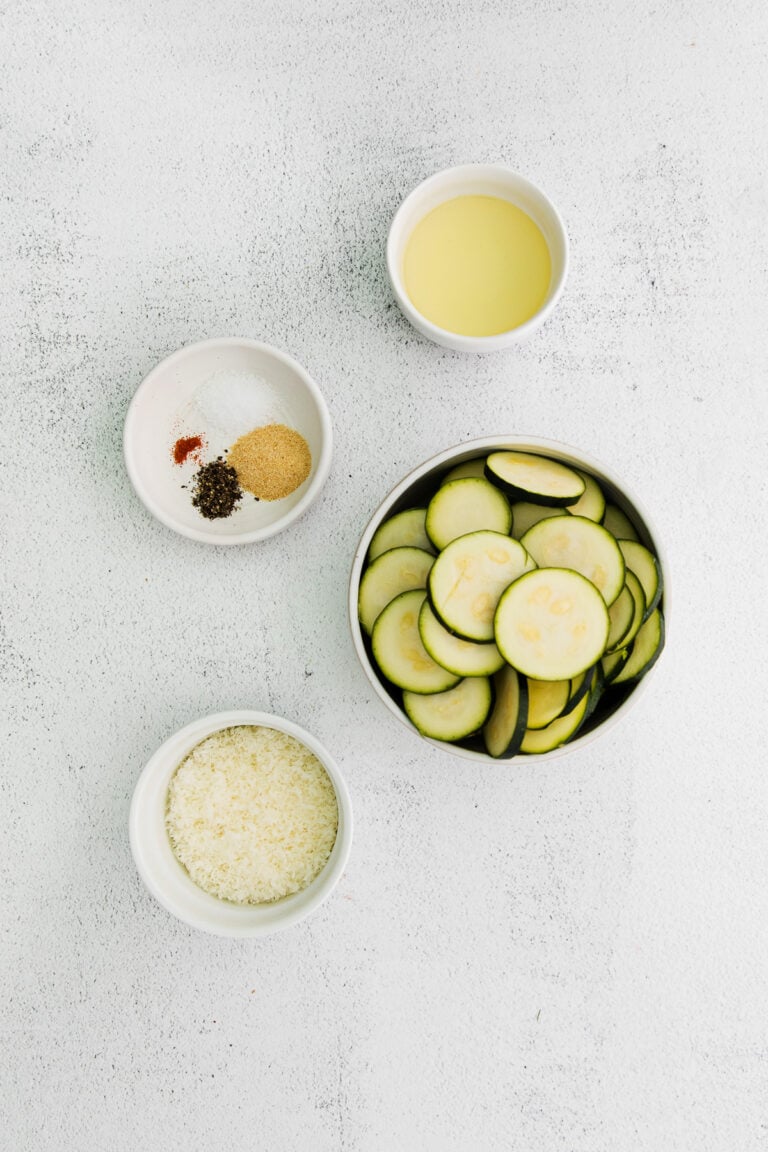 How to bake zucchini
Prepare the baking sheet: Line a baking sheet with parchment paper for easier cleaning, then place an ovenproof cooling rack on a large baking sheet. We highly recommend using the cooling rack so the zucchini will bake more evenly.
Prepare spices + cheese: Mix the Parmesan, salt, pepper, garlic and cayenne pepper in a bowl.
Slice zucchini: Prepare your zucchini by washing the zucchini and cutting into 1/4-inch slices.
Dredge the zucchini: The best way to ensure all of the zucchini coins are coated in parmesan is to dredge one zucchini coin at a time. Dip a coin in olive oil, drain excess olive oil, then dip zucchini in parmesan mixture. Make sure each zucchini is covered in parmesan. Place each zucchini coin on the cooling rack and repeat the process.
Bake: Place the zucchini in the oven and bake at 200°C for 6-7 minutes.
grilling: In the last minute, turn the oven to broil to golden brown the top of the zucchini.
Enjoy: Take them out of the oven and let them cool for 3-5 minutes before removing them from the cooling rack. If you take them out too early, the parmesan cheese will stick to the refrigerator shelf.
quick tip!
If you're serving these baked zucchini to a crowd, serve them on a skillet or plate, sprinkle with fresh herbs, and serve with a fresh squeeze of lemon juice to enhance the appetizer.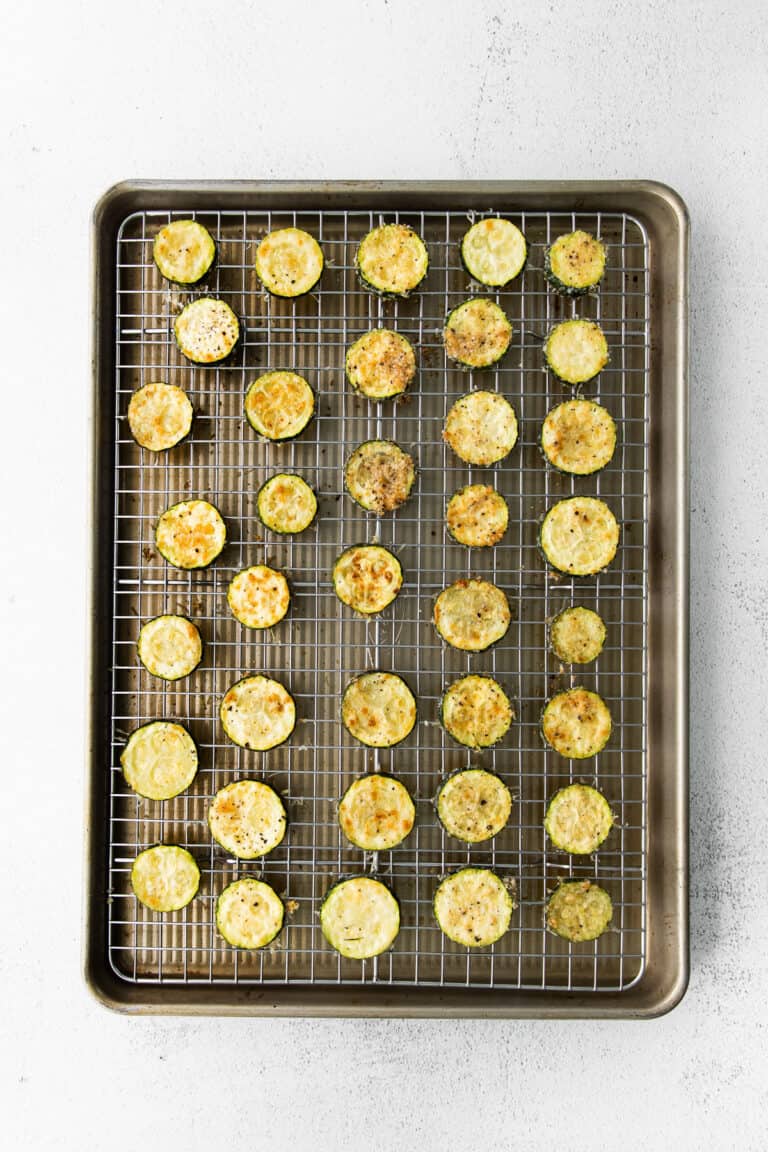 Tips + Tricks
Add different spices
We kept the spice mix for this baked zucchini very simple so you can taste both the zucchini and the saltiness of the parmesan.
If you want to spice it up, feel free to add a teaspoon or two of any of the spice mixes below to your parmesan mix!
Homemade Ranch Seasoning – The best homemade ranch spice recipe on the web. You'll want a jar of this ranch condiment over every store-bought pack…trust me!
All Bagel Spice- Everything Bagel Seasoning has got to be the new all-purpose condiment you put on everything! It consists of only 6 ingredients and is highly addictive.
Homemade Taco Seasoning Make your own homemade taco seasoning with just 9 ingredients you probably already have in your condiment cabinet, and you're on your way to the tastiest meat or veggie tacos
Moroccan spice Moroccan Spices are the perfect flavor complement to chicken thighs, roasted vegetables, and tomato-based stews!
Make them extra crispy
There are a few ways you can add some crunch to your zucchini.
Try slicing the zucchini a little thinner. They will taste more like zucchini chips!
Roast the zucchini at a higher temperature
Try frying them in an air fryer instead! Here's our zucchini air fryer tutorial.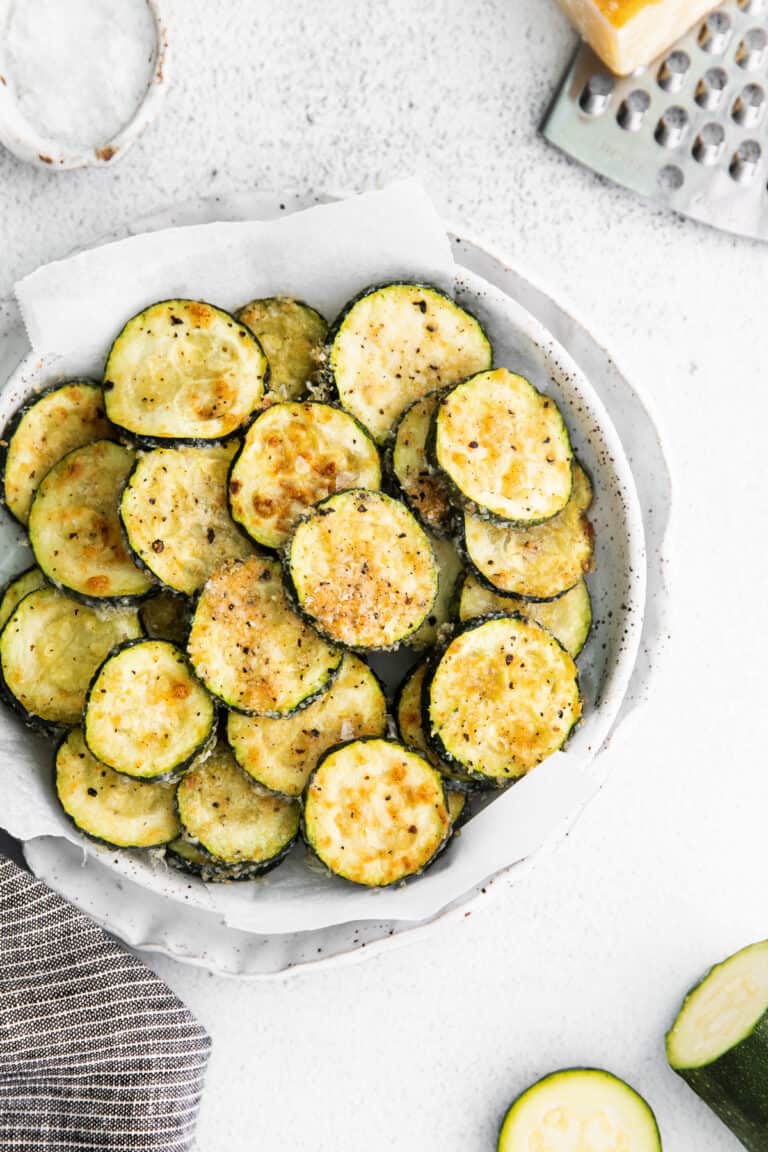 FAQ
Can I air fry zucchini?
Yes, you can use an air fryer! Check out our Air Fryer Zucchini Recipe for all the details
How Long Should I Bake Zucchini in the Oven?
We bake these zucchini at 400F for 6-7 minutes, then grill them for a minute.
How do you keep zucchini from getting mushy?
To ensure baked zucchini doesn't get mushy, be sure to briefly bake the zucchini over high heat.
Can I use yellow squash instead of zucchini in this recipe?
Yes, yellow squash works just like zucchini.
How to store baked zucchini
We recommend storing the baked zucchini in an airtight container in the refrigerator for 3-4 days.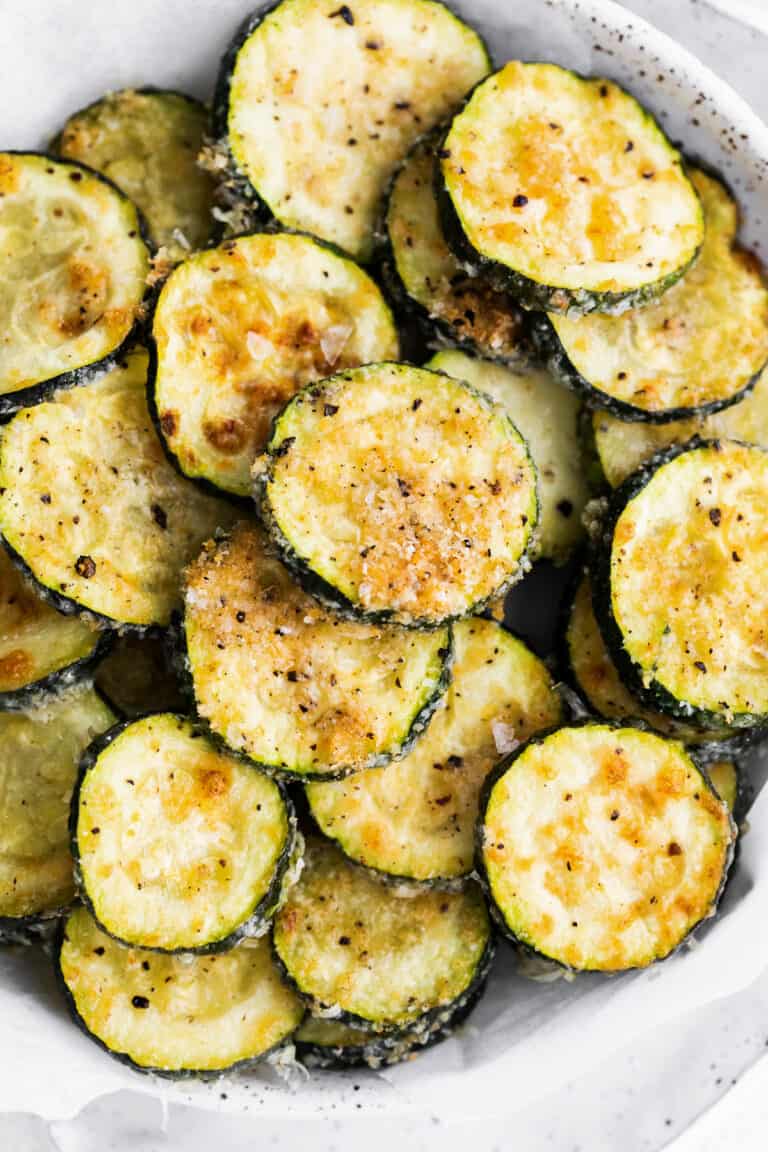 Zucchini baked with parmesan
Dip your zucchini coins in olive oil, parmesan, salt and pepper, then bake them for a delicious, healthy snack. This Baked Zucchini recipe will become a staple in your home!
Preparation:20 protocol protocol
Cook:7 protocol protocol
In total:27 protocol protocol
instructions
Preheat the oven to 400°F and place a metal rack on a large baking sheet. Spray the metal rack and baking sheet with non-stick cooking spray. put aside.

Next, place the sliced ​​zucchini in a bowl and toss with olive oil. Put aside.

In a separate bowl, add the Parmesan cheese, garlic powder, pepper, cayenne, and salt and mix together.

Roll each oiled zucchini all over in the parmesan mixture. Make sure the zucchini slices are completely covered with the parmesan mixture. Place each round on the metal rack on the baking sheet.

Once all the circles are on the baking sheet, place the zucchini in the oven and bake at 200°C (400°F) for 6-7 minutes.

Finally, turn the oven to broil and roast the zucchini for 30 seconds to 1 minute, or until the zucchini is golden brown.

Remove from oven and allow to cool.

Serve immediately.
nutritional information
Calories: 149kcal Carbohydrates: 9G Protein: 6G Fat: 11G Fiber: 2G Sugar: 5G