Claudean's Cherry Jello is legendary at our house, it's actually the best Cherry Jello ever. Sweet and creamy, it melts in your mouth and is just as delicious on a hot summer day as it is on your Thanksgiving table!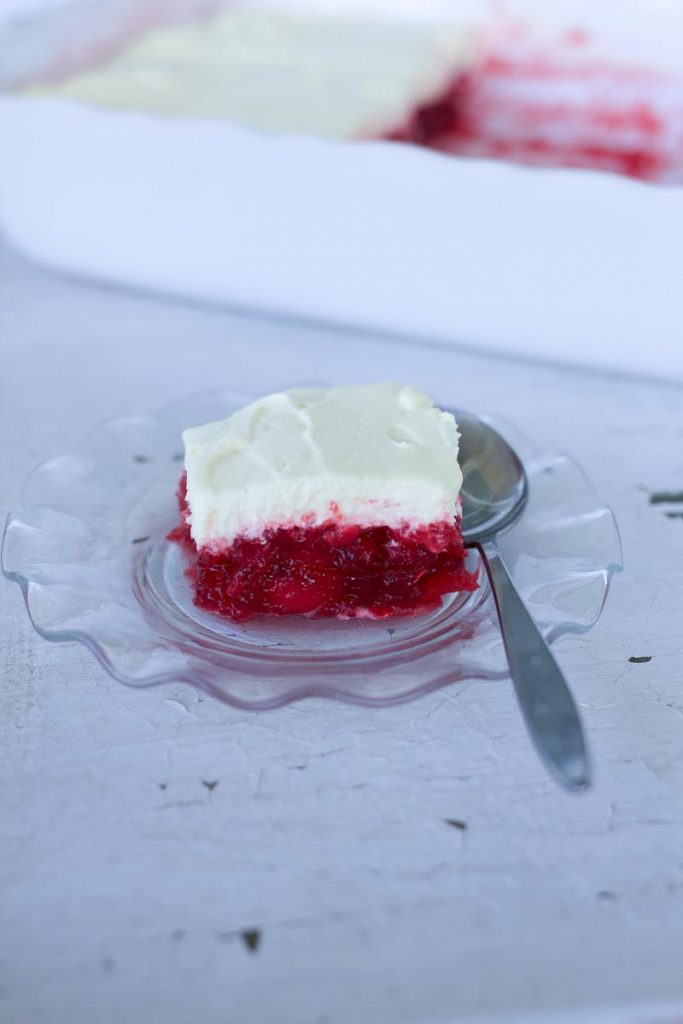 I know you really think JELLO? In our part of the country, jello is usually present at most family dinners, church gatherings, funerals, parties, etc. You can hardly live in Utah without having at least one good jello recipe under your belt. I remember visiting Utah when I was young and my aunt making jello dishes. I marveled at the variety of ingredients and the way the sweet jello tasted all like dessert. I loved this thing called Jello!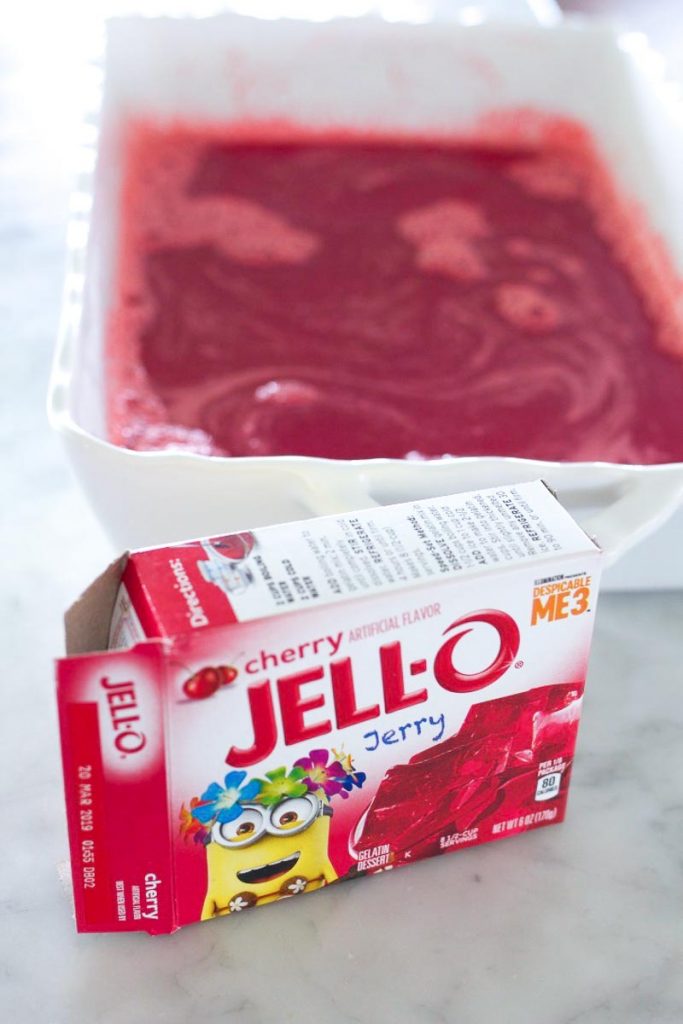 Ever heard of someone living in Utah who can't make at least 5 different tried and true jello dishes without looking at a recipe? call me to repentance I don't know why, but I've never had any luck with jello. It's always too runny or not mixed enough with that gummy layer on the bottom of the pan. Or the outside straightens up but not the middle. I was a failure in the JELLO department.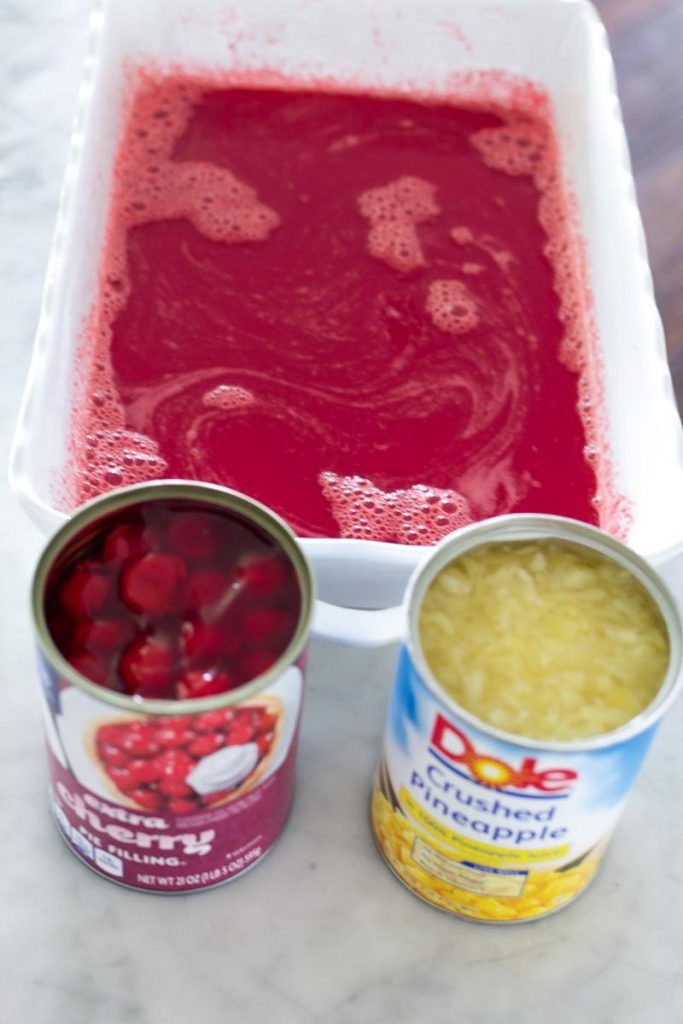 I had all but written jello off, and then a few years ago I found this recipe in a local school cookbook. For years we called it Claudean's Cherry Jello. Claudean has been a family friend for a long, long time and is an expert at making all things sweet. It's really a dessert of sorts disguised as a jello "salad". So it's perfectly legal to serve it for dinner!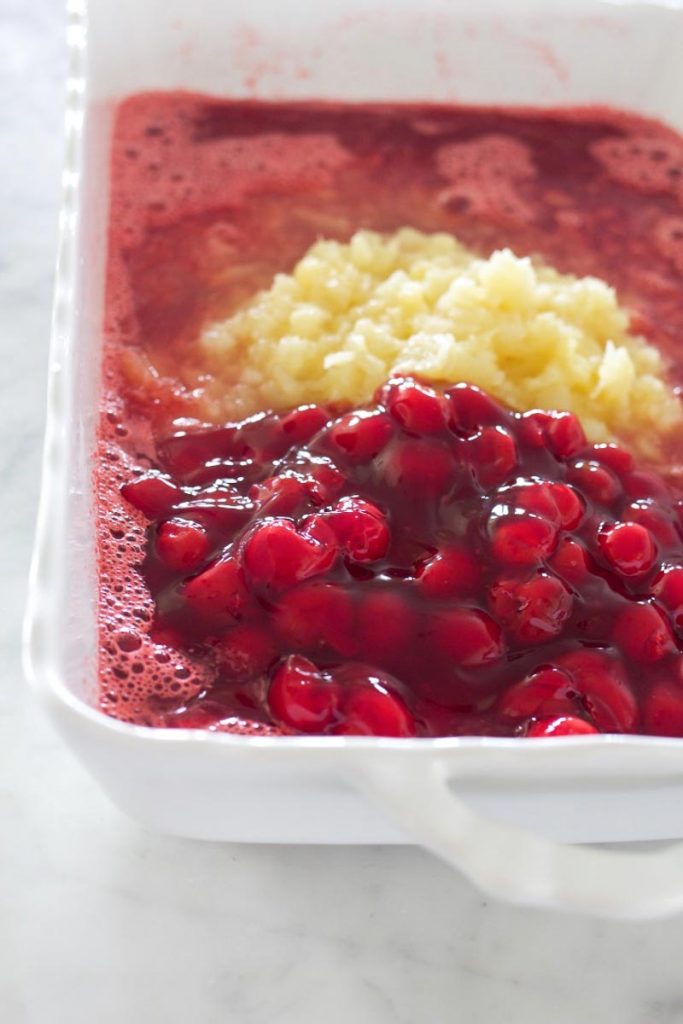 If you feel guilty about recipes made straight out of cans and boxes, this recipe probably won't suit you PEN. But if simple, simple, simple is your love language, The Best Cherry Jello will be your new favorite! This recipe is so easy your kids can help make it. I love when kids help out in the kitchen and this is the perfect meal to assign to one of your kids during the holidays.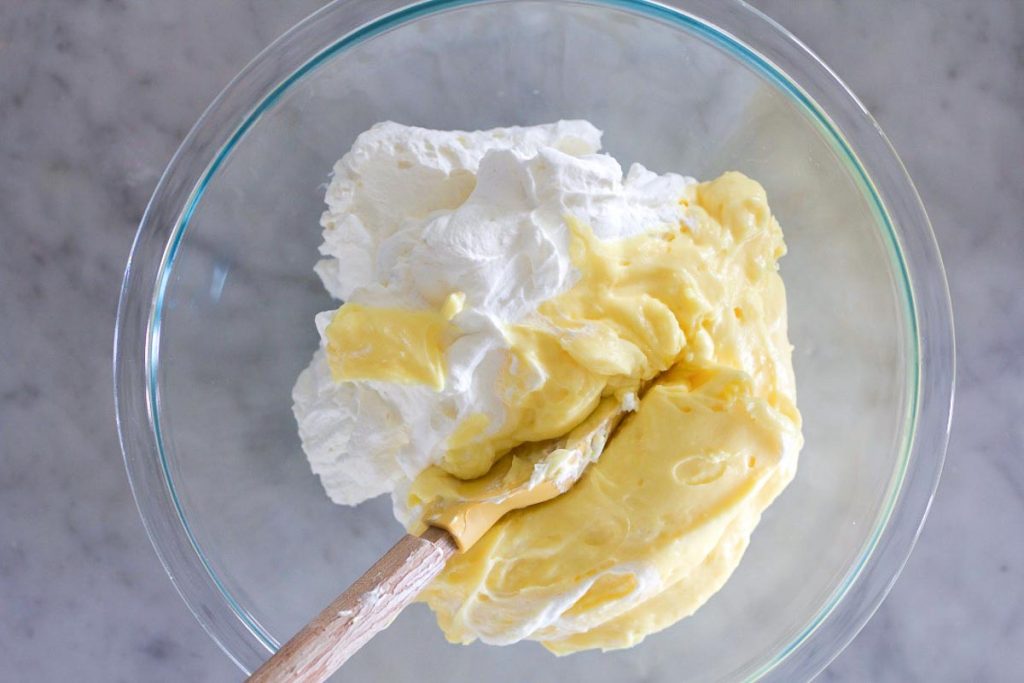 The best cherry jello sets up faster than just a simple pan of jello, as the pie filling and shredded pineapple are stirred into the jello and topped with a custard and whipped cream mixture, all folded together. Here's the deal: No mistake. Setup in two hours. Fruity. Cute. Creamy topping. Can be made up to three days before serving! Oh, and no carrots. Jello Perfection my friends. This. Is. IT.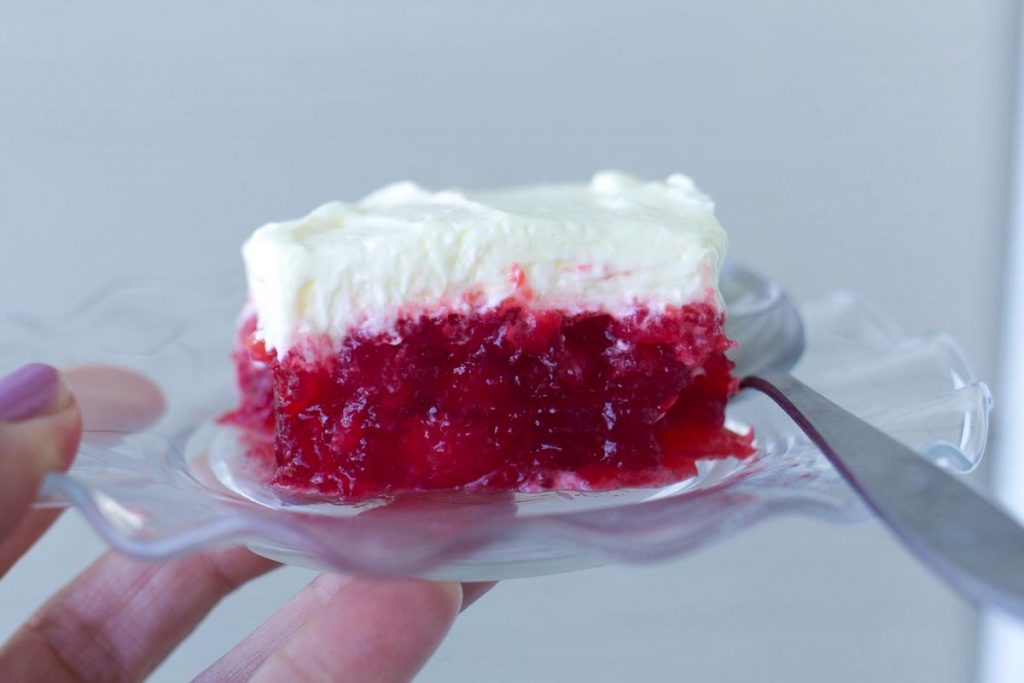 This recipe was originally published in 2011, updated content and photos were added in 2021
Claudean's Perfect Cherry Jello
The best jello ever! Easy to make and only takes two hours from start to table.
total time
2
hours
10
protocol
ingredients
1




big




6 ounce box of strawberry, raspberry, or cherry jello

2




cups




boiling water

1-21




oz




Can of cherry pie filling




low sugar or regular

1-20




oz




can crushed pineapple




not dehydrated

2




cups




fat whipped cream*

1




Cup




milk

1




small




3.4 ounce box of instant custard
instructions
Boil the water. While the water is heating, pour the large box of jello into a 9×13 pan.

Pour the 2 cups of boiling water over the jelly in the bowl. Using a whisk, slowly mix the jelly and water until all of the jelly is dissolved. Make sure you scrape all of the jello off the bottom of the bowl.

Pour the contents of the can of pineapple and can of cherry pie filling into the pan with the jelly and water. Mix with a large spoon.

Put the pan in the fridge. Leave for about 2 hours. It is usually set after 1-1 1/2 hours.

Whip the cream in a large bowl until stiff, set aside. In another bowl, whisk together 1 cup milk and the pudding box. Fold the pudding mixture into the whipped cream. Spread the whipped cream mixture over the prepared jello mixture in the pan. Serve immediately or refrigerate until ready to serve.
recipe notes
You can subscribe to any flavor of Jello. I've used everything from strawberry to cherry. Anything red works.
I have never tried using sugar free jello or sugar free pudding in this recipe. Leave a comment if you experiment.
This can be done up to three days before serving. Store in the refrigerator tightly covered with plastic wrap or foil.
*The original recipe calls for Cool Whip. A medium sized container will work. I'm not a fan of Cool Whip. and Since I'm not a big Jello fan either, I use real whipped cream and it improves the dish enormously. If you still want to use Cool Whip after reading this, mix the pudding with 1 cup of milk in a bowl. Then fold in the cool whip.