This post may contain affiliate links. Please refer to our privacy policy for details.
THE BEST (freezable) Bolognese Sauce EVER! So rich, so hearty, so perfect. Serve over pasta or gnocchi!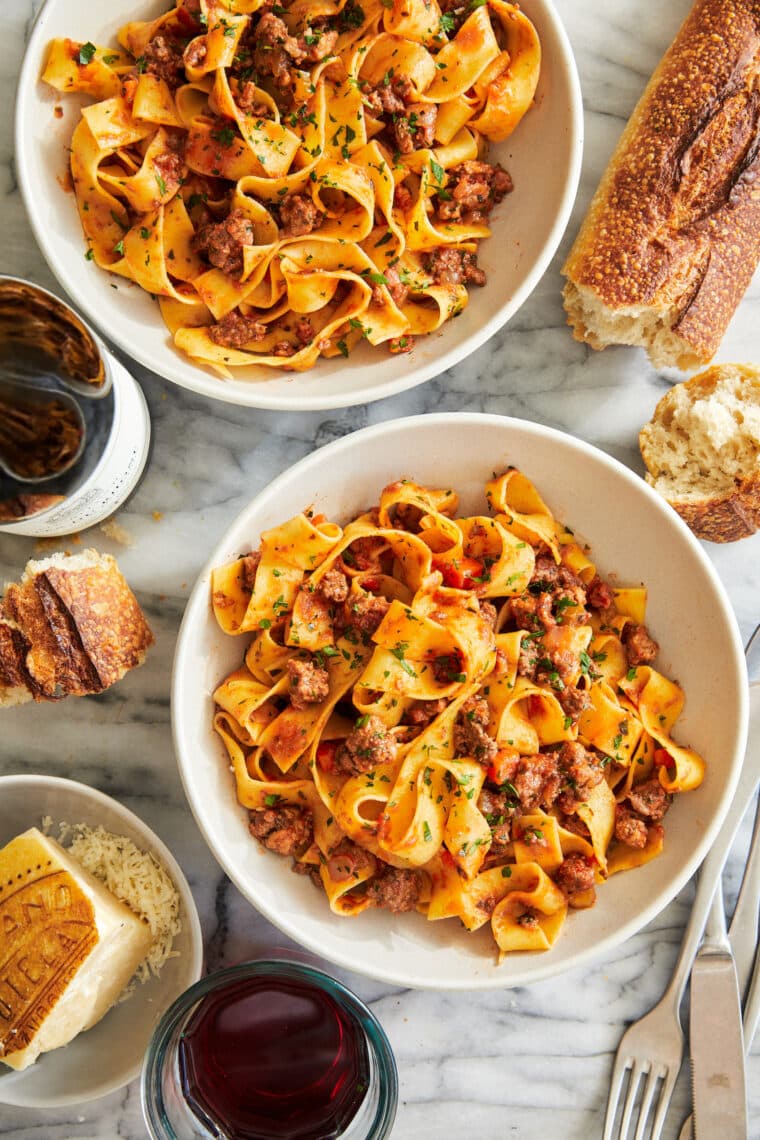 It is cold. It's snowing. And it's parka season. Which can only mean one thing. It's time to stay with the heartiest, meatiest bolognese sauce smothered in al dente pappardelle pasta, some crusty bread, and a glass of (that leftover) wine.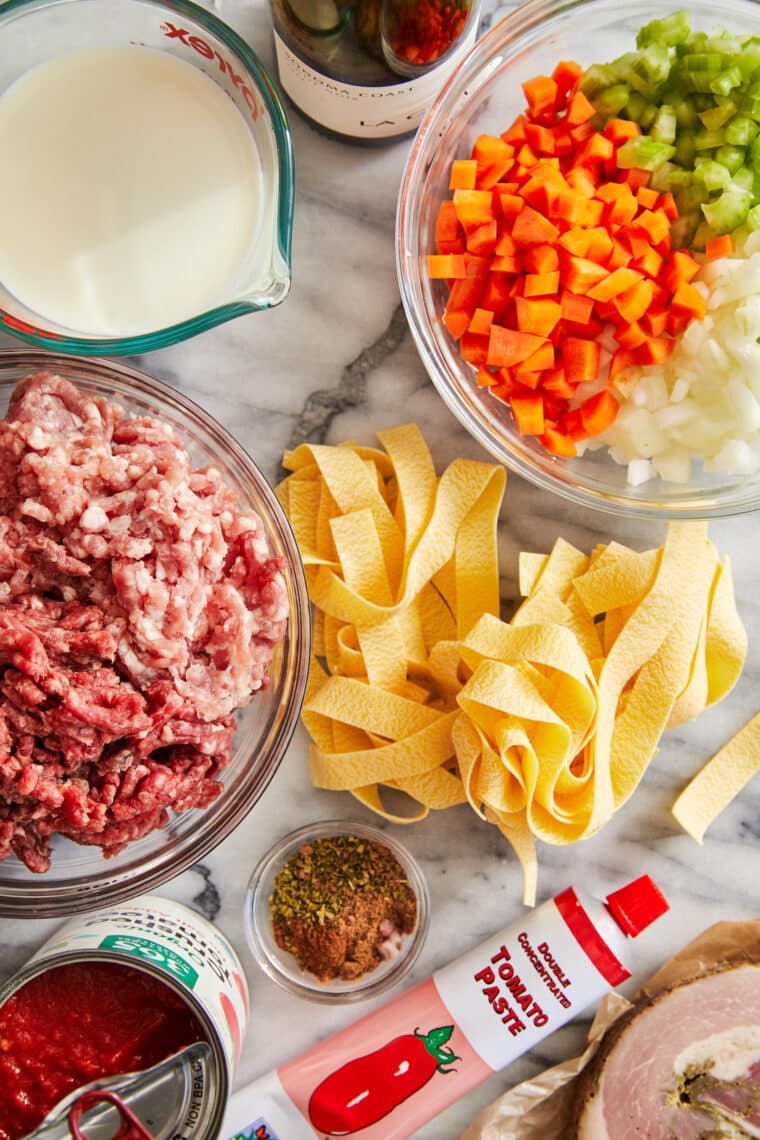 This sauce is thick and very meaty, but if you prefer a thinner consistency, a little beef stock will work beautifully here. However, I prefer my sauce super thick to coat all the pasta (and of course the crusty bread).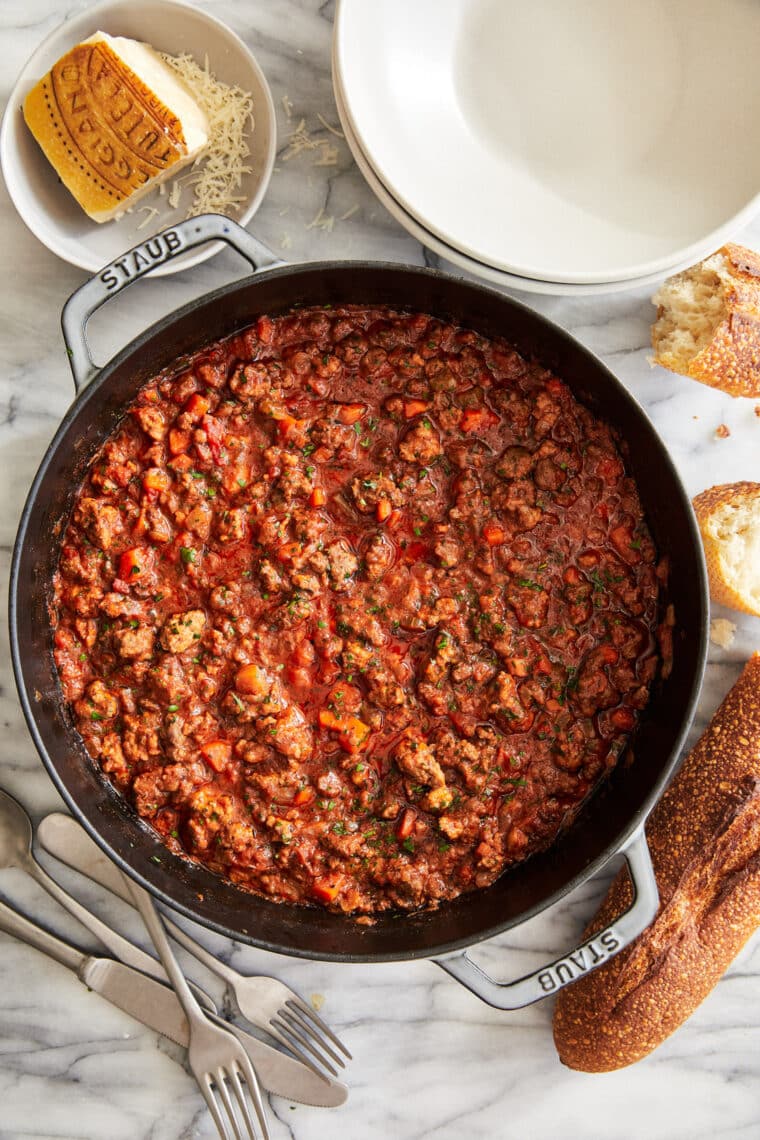 You can also freeze the leftover sauce as it warms up quite a bit very Well, that makes it perfect for your weeknight meals. All you have to do is boil some pasta before serving!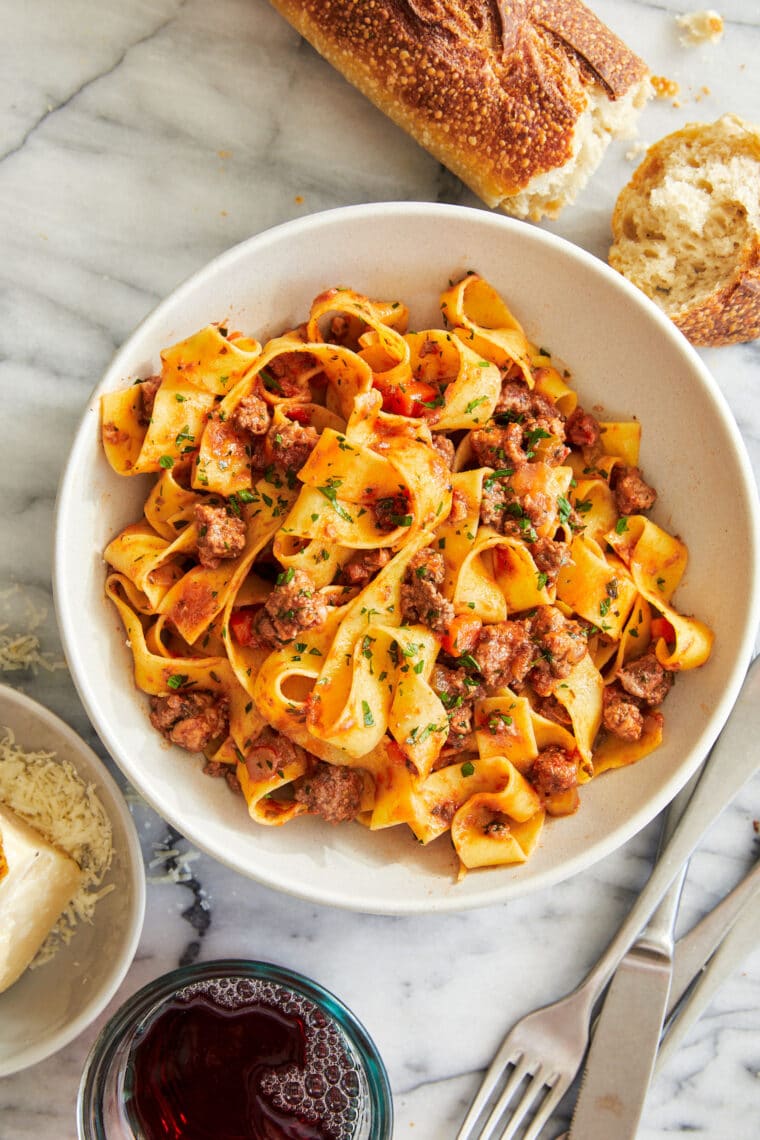 1½

tablespoon

unsalted butter

1

medium sweet onion

,

rolled

1

carrot

,

peeled and diced

1

celery rib

,

rolled

¾

lb

ground beef

¾

lb

mead

4

ounces

bacon

,

rolled

Kosher salt and freshly ground black pepper

,

taste

2

tablespoon

tomato paste

3

cloves

garlic

,

chopped

2

teaspoon

dried oregano

¼

teaspoon

crushed red pepper flakes

⅛

teaspoon

ground nutmeg

⅛

teaspoon

Cinammon

¾

cups

dry red wine

1

Cup

whole milk

1 (15 ounces)

can

crushed tomatoes

2

tablespoon

chopped fresh parsley leaves

1

lb

Pappardelle pasta
Melt butter in a large stockpot or Dutch oven over medium-high heat. Add onion, carrot and celery. Cook, stirring occasionally, until tender, about 3-4 minutes.

Add ground beef, ground pork, pancetta, 1 teaspoon salt, and 1/2 teaspoon pepper. Fry until browned, about 5-8 minutes, being careful not to crumble the beef and pork as it cooks; drain excess fat.

Stir in tomato paste, garlic, oregano, red pepper flakes, nutmeg, and cinnamon until fragrant, about 1 minute.

Stir in the wine, scraping any browned bits off the bottom of the saucepan.

stir in milk. bring to a boil; Reduce heat and simmer until reduced, about 5 minutes.

Stir in the crushed tomatoes. bring to a boil; Reduce heat and simmer, covered, until thickened and flavors have mingled, about 20 minutes, stirring occasionally.

stir in parsley; Season with salt and pepper.*

In a large pot of boiling salted water, cook the noodles according to package directions; drain well.

Serve immediately with Bolognese sauce.
*FOR FREEZING: Let cool completely; place in individual portions in plastic freezer bags and squeeze out excess air before sealing. Lay the bags flat in the freezer in a single layer (this will help them freeze faster). To reheat, thaw overnight in the refrigerator, reheat over low heat, stirring occasionally until heated through.