With just minutes and a handful of ingredients, you can make a batch of 5 Minute Homemade Ranch Dressing anytime. Perfect for a salad or as a dip, this easy recipe is so much better than anything you can buy at the store.
Why We Love This Easy Homemade Ranch Dressing
This 5-Minute Homemade Ranch is so popular in our house that I often make a double batch and keep the leftovers in a tightly sealed container for after-school snacks or to pack in lunch boxes. When fresh dill is in season I like to add it to the dip, but dried is easy to have on hand and works well when fresh dill isn't available.
I know that many kids (and adults too!) find veggies far more enticing when dipped in creamy ranch greens. However, the bottled product may contain preservatives and other artificial ingredients, so making a version at home is a great option for enjoying the creamy dip without the junk food. It's healthier, inexpensive and incredibly delicious.
And while it's an obvious choice for fresh vegetables or a green salad, we also enjoy it as a spread in sandwiches or wraps, or as a dip for chicken or homemade fries.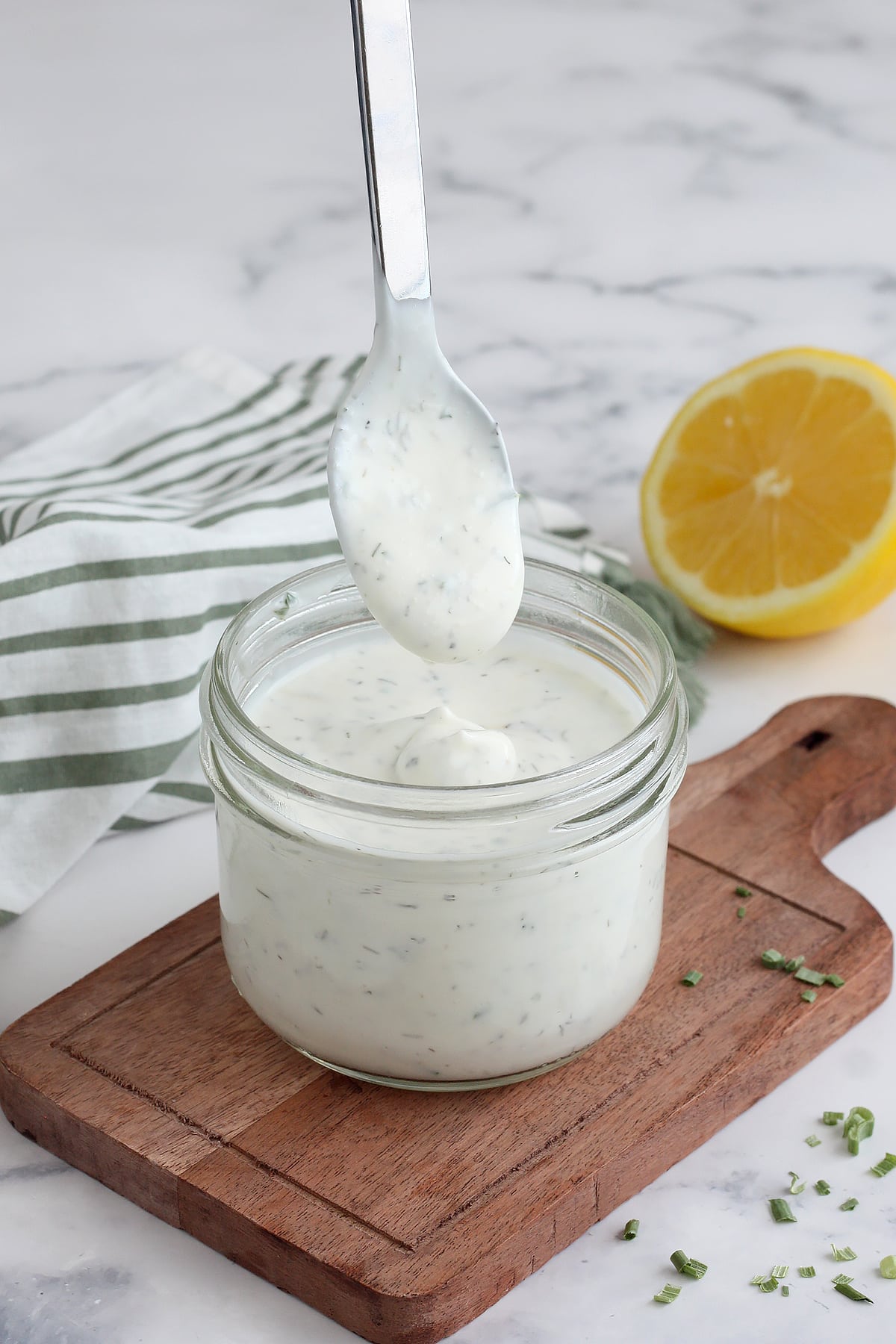 Ingredients you need for homemade ranch dressing
Plain Greek yogurt– I like to use Greek whole milk yoghurt for my dressing. Some brands are spicier than others. So make sure you use one you like.
mayonnaise– Traditional homemade ranch dressing uses a lot of mayonnaise. My main preference is Greek yogurt, but a little mayonnaise rounds out the flavor and keeps it super creamy. I like to use mayonnaise made with olive oil.
buttermilk– Regular milk works here too, but since buttermilk is thicker than milk, start with 1/4 cup and add more as needed until you reach your desired consistency.
lemon juice– Fresh is best!
Dried dill herb– In the summer I grow a lot of dill to dry and use in my ranch dressing!
garlic powder– If making a single serving, you can use 1/2 tsp minced garlic.
onion powder– Adds a delicious, savory flavor to your ranch dressing.
Dried Chives– If using fresh chives, consider using 1 tablespoon chopped chives.
Dried Parsley– If you use fresh parsley, you should use 1 tablespoon of chopped parsley.
salt pepper– Taste and add more seasoning if necessary.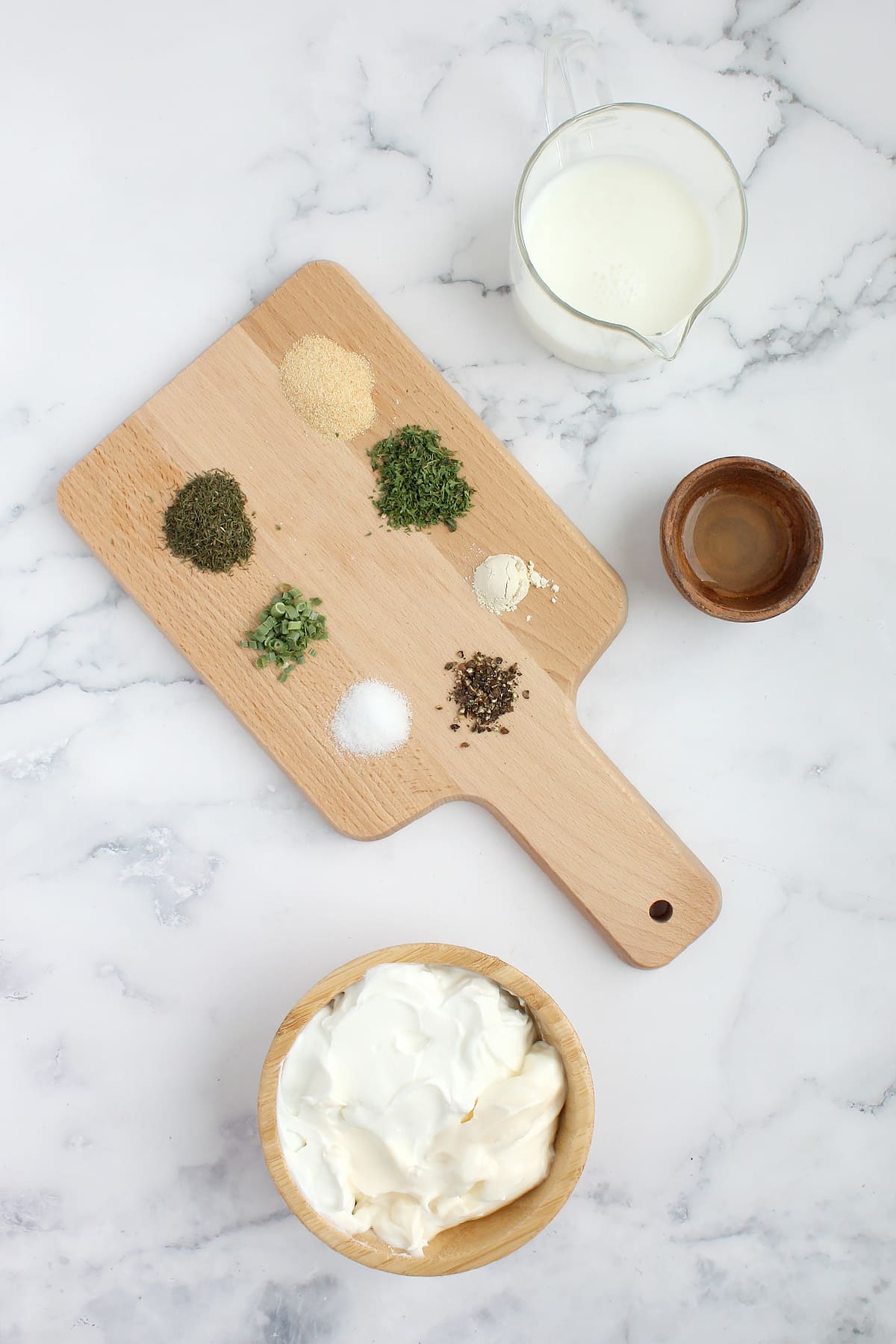 To prepare homemade ranch dressing:
Measure out your spices. This recipe has exactly what you need for one batch of homemade ranch dressing. However, I like to prepare a large batch of the spice mix so I have it on hand.
Measure out your wet ingredients. In a small glass or bowl, combine Greek yogurt, mayonnaise, buttermilk, and lemon juice.
Whisk to combine. Add the spices and stir. Add more buttermilk if needed to get the right consistency. That really depends on whether you want to use the ranch dressing as a dip or spread or as a dressing.
Store in the fridge. The flavor will improve and the dressing will thicken as it cools. Homemade ranch dressing will keep in the refrigerator for up to 2 weeks (if made with fresh ingredients).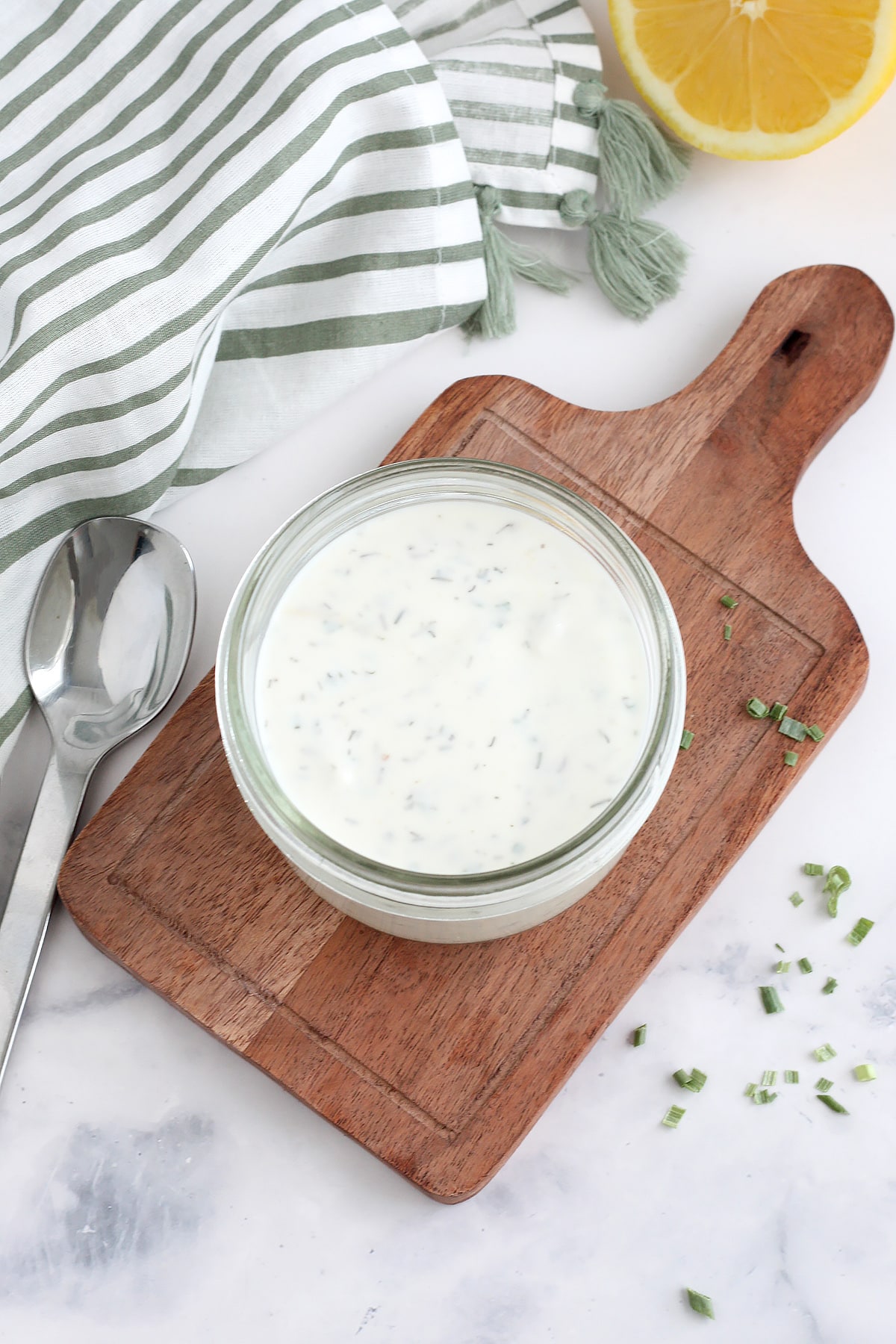 tips and suggestions
How to Use This Homemade Ranch Dressing: In addition to dressing and dipping, this ranch dish also makes a great spread or wrap, along with veggies and some protein for a quick on-the-go lunch.
Homemade Ranch Dressing Seasoning Mix in Bulk: I like to make a large batch of the seasoning mix to keep in a tightly sealed jar in my pantry so I can quickly make a batch of ranch dressing anytime! I like to buy ingredients in bulk from our local grocery store. You will need the following:
1/4 cup dried dill herb
1/4 cup garlic powder
1/4 cup onion powder
1/4 cup dried chives
1/4 cup dried parsley
2 tablespoons of salt
2 tablespoons of black pepper
Mix well and store in an airtight jar in the pantry. This makes about 1 1/2 cups of dried spice blend. To prepare a batch of ranch dressing, follow the directions below and add 1 tablespoon of the dried seasoning mix.
How Long Does Homemade Ranch Dressing Keep? If you use fresh ingredients, Homemade Ranch Dressing should last about two weeks in the refrigerator.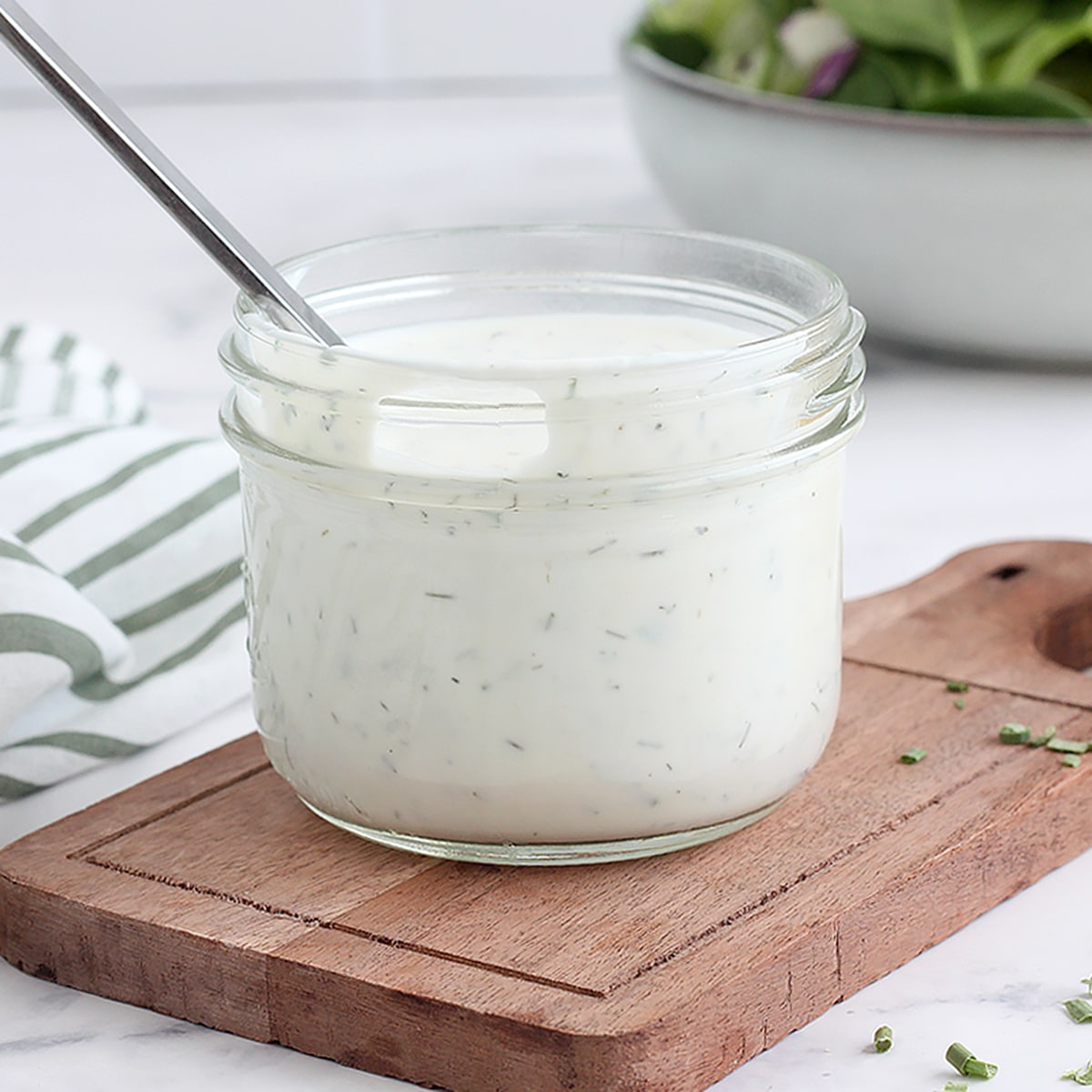 More delicious salad recipes:
The best homemade ranch dressing
With just minutes and a handful of ingredients, you can make a batch of 5 Minute Homemade Ranch Dressing anytime. Perfect for a salad or as a dip, this easy recipe is so much better than anything you can buy at the store.
Servings: 12 Servings (1 1/2 cups)
Calories: 76kcal
3/4

Cup

plain Greek yogurt

1/4

Cup

mayonnaise

1/2

Cup

buttermilk

You can use regular milk

1

teaspoon

lemon juice
spice mix
1/2

teaspoon

dried dill herb

1/2

teaspoon

garlic powder

1/2

teaspoon

onion powder

1/2

teaspoon

dried chives

1/2

teaspoon

dried parsley

1/4

teaspoon

Salt

1/4

teaspoon

black pepper
In a medium bowl, whisk together the yogurt, mayonnaise, buttermilk, lemon juice, and spice mix. If the mixture seems too thick for you, feel free to add buttermilk, one tablespoon at a time, until you get the consistency you want. It will thicken in the fridge, so adjust accordingly.

Pour into a dressing container or glass and refrigerate until ready to serve.
Calories: 76kcal | Carbohydrates: 1G | Protein: 1G | Fat: 7G | Saturated Fatty Acids: 1G | Polyunsaturated fat: 4G | Monounsaturated fatty acids: 2G | trans fats: 0.02G | Cholesterol: 5mg | Sodium: 122mg | Potassium: 38mg | Fiber: 0.1G | Sugar: 1G | Vitamin A: 166IU | Vitamin C: 2mg | Calcium: 24mg | Iron: 0.1mg
www.superhealthykids.com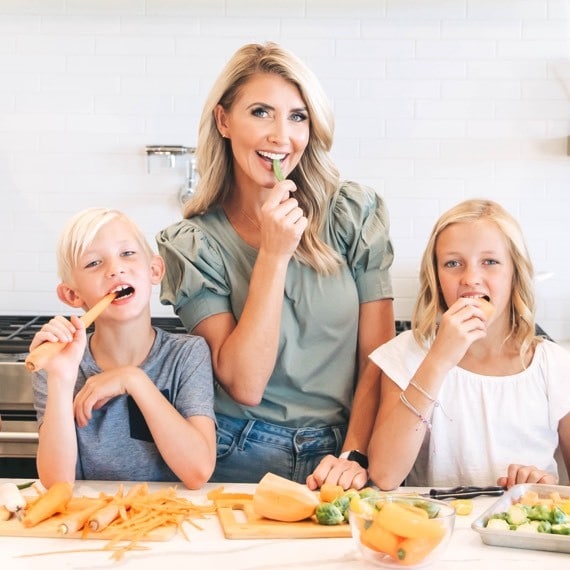 Natalie Monson
I'm a registered nutritionist, mother of four, avid food lover and strong advocate of healthy habits. Here you will find many delicious fruit and vegetable recipes, tips on how to get your kids to eat better and become intuitive eaters, and many resources for feeding your family.
Learn more about Natalie