Made with roasted tomatillos, this homemade salsa verde is zesty, spicy, and bright. It is much better than store bought. Pass the tortilla chips!
Give this homemade salsa verde recipe a try, and you'll never have the store-bought kind again. It calls for a short list of fresh ingredients: tomatillos, serrano chiles, garlic, onions, cilantro and lime. They give it an amazing zesty, tangy, bright, and spicy flavor that makes you want to scoop it up chip after chip (chip after chip). And speaking of all those chips, another reason I love this tomatillo salsa vs tomatillo salsa from a jar is its amazing texture. It's thick and silky, which means it'll coat a dipping tortilla chip (or even a batch of enchiladas)—no watery salsa verde here!
My inspiration for this recipe came from the many, many salsas I tried during our years in Austin. They taught me how delicious homemade salsa can be and they got me interested in making my own. I hope this recipe does the same for you. Once you start making your own tomatillo salsa verde, you won't look back!
Salsa Verde Recipe Ingredients
Here's what you need to make this salsa verde recipe:
Tomatillos – You may think they are just green tomatoes, but fun fact: they're not! Like tomatoes, tomatillos are in the nightshade family, but they are actually a type of ground cherry. Their bright green skin is covered in a sticky coating, which is surrounded by a papery husk. Their flavor is super-tangy, which gives this salsa a delicious kick.
Onion and garlic – For sweet/savory depth of flavor.
Jalapeno or serrano pepper – For heat. Add more or less depending on your spice tolerance.
Avocado oil – or another neutral oil, for enrichment.
Fresh lime juice – For bright, zesty aromas.
cilantro – It adds a fresh burst of green.
and sea salt – Make all the flavors pop!
Find the full recipe with measurements below.
How to Make Salsa Verde
Step one of this homemade salsa verde recipe Vegetables are fried Why?
This makes the tomatillos soft, sweet and juicy.
It gives everything a little char, which adds depth of flavor to the salsa.
Remove husks from tomatillos and rinse to remove stickiness. Pat them dry and place them on a baking sheet. Peel the onion and cut into large pieces. Add it to the baking sheet along with the whole pepper. Drizzle the vegetables with oil and season with salt.
Wrap the garlic (peeled) in a piece of foil with a drop of oil. Put it on the baking sheet too!
Roast in a 450°F oven until the tomatillos are juicy and browned, about 15 to 20 minutes.
Next, mix in the salsa. Unwrap and peel the garlic and remove the stems from the peppers. Place both in a food processor with the tomatillos, onion, avocado oil, lime juice, cilantro, and salt. Process until convergence.
Note: If you are sensitive to spice, I would start by adding just 1 pepper (or even 1/2!) to the food processor. It's much easier to add more flavor than to take it out!
Finally, taste and consistency. The really fun thing about making homemade salsa is that you can make it just the way you like it! If it's too thick, mix in water, 1 tablespoon at a time, until it reaches your desired consistency. If you want it brighter, add more lime juice. Not enough salt? Mix in another pinch.
When you can't stop eating it straight from the food processor, that's okay.
How to Use Tomatillo Salsa Verde
This easy way to serve this tomatillo salsa verde is as a dip. Try pairing it with homemade tortilla chips (or taquitos) for a next-level appetizer or snack!
But that's just one of the many ways to use this zesty green salsa. Here are a few more of my favorites:
How do you like to use roasted tomatillo salsa? Let me know in this comment!
More favorite salsas and dips
If you like this tomatillo salsa verde recipe, try one of these homemade dips or salsas: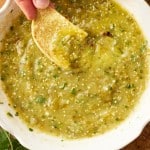 Tomatillo Green Sauce
The best salsa verde recipe! Made with simple, fresh ingredients, this zesty green salsa is delicious as a dip or with Mexican dishes like tacos, enchiladas, and more. Find serving suggestions in the post above.
9

medium tomatoes

1

Small yellow onion

,

Cut into large pieces

1 to 2

Serrano or jalapeño peppers*

4

cloves of garlic

,

peeling

2

table spoon

Avocado oil

,

More for the drizzle

2

table spoon

Fresh lime juice

½

the cup

Chopped fresh coriander leaves

1¼

teaspoon

Sea salt

,

Plus more for sprinkling

Tortilla chips

,

to serve
Preheat oven to 450°F and line a baking sheet with parchment paper.

Remove husks from tomatillos and rinse to remove stickiness. Drain and place on baking sheet with onions and peppers. Drizzle with avocado oil, sprinkle with salt and toss to coat. Wrap the garlic cloves in a piece of foil and add to the baking sheet with a drizzle of oil. Roast for 15 to 20 minutes or until the tomatillos are juicy and browned.

Remove the garlic from the foil and peel. Remove stems from peppers.

In a food processor, place the tomatillos, onions, peppers, garlic, avocado oil, lime juice, cilantro, and salt. Process until convergence. If the salsa is too thick, add water 1 tablespoon at a time to reach your desired consistency. Season to taste and serve.

Store leftover salsa in the refrigerator for up to 5 days.
*The spice level of serranos and jalapeños can vary greatly. If you are sensitive to spice, start with just 1, or even ½, pepper and add more to taste.