You will love this sweet and tangy tropical smoothie! It's packed with mango, pineapple, strawberries and bananas! The smooth and creamy texture makes it a perfect cold refreshment on a hot day.
If you can't get enough of smoothies, try these Blueberry Smoothie Bowl and Mandarin Banana Smoothie.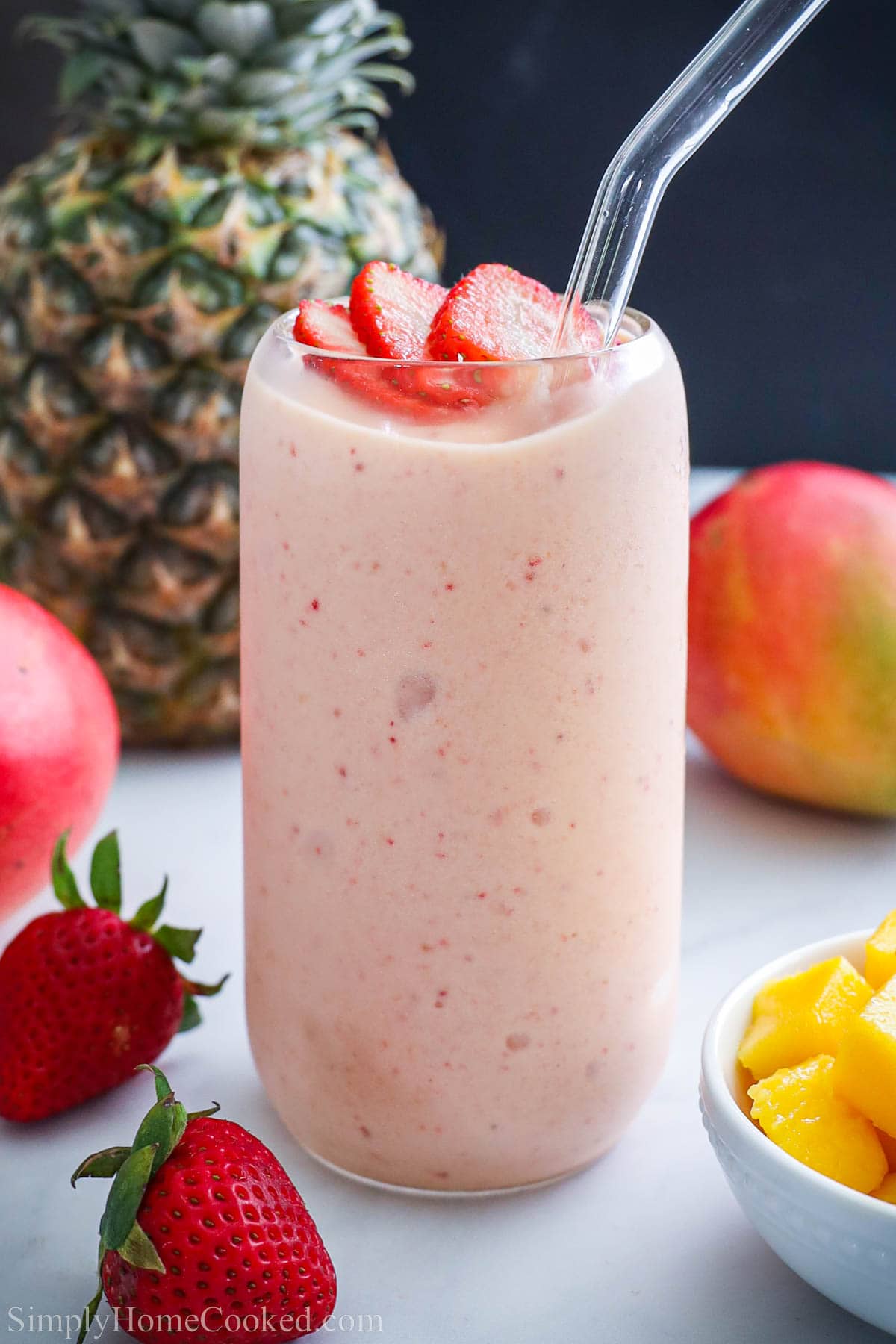 Table of contents
recipe details
There's nothing like a delicious smoothie to refresh you on a warm day. I love this tropical smoothie for the blend of fruit flavors and its creaminess. This is a perfect on-the-go breakfast recipe and way cheaper than Tropical Smoothie Cafe!
TASTE GOOD: This smoothie is sweet and tangy with strawberries, mango and pineapple and has an amazing taste.
TEXTURE: The milk and banana give it a smooth and creamy texture that's just right.
TIME: This tropical smoothie recipe takes about 5 minutes to make.
EASE: It is so easy to prepare this smoothie. Keep the fruit frozen so it's always on hand when you feel like this drink.
what you will need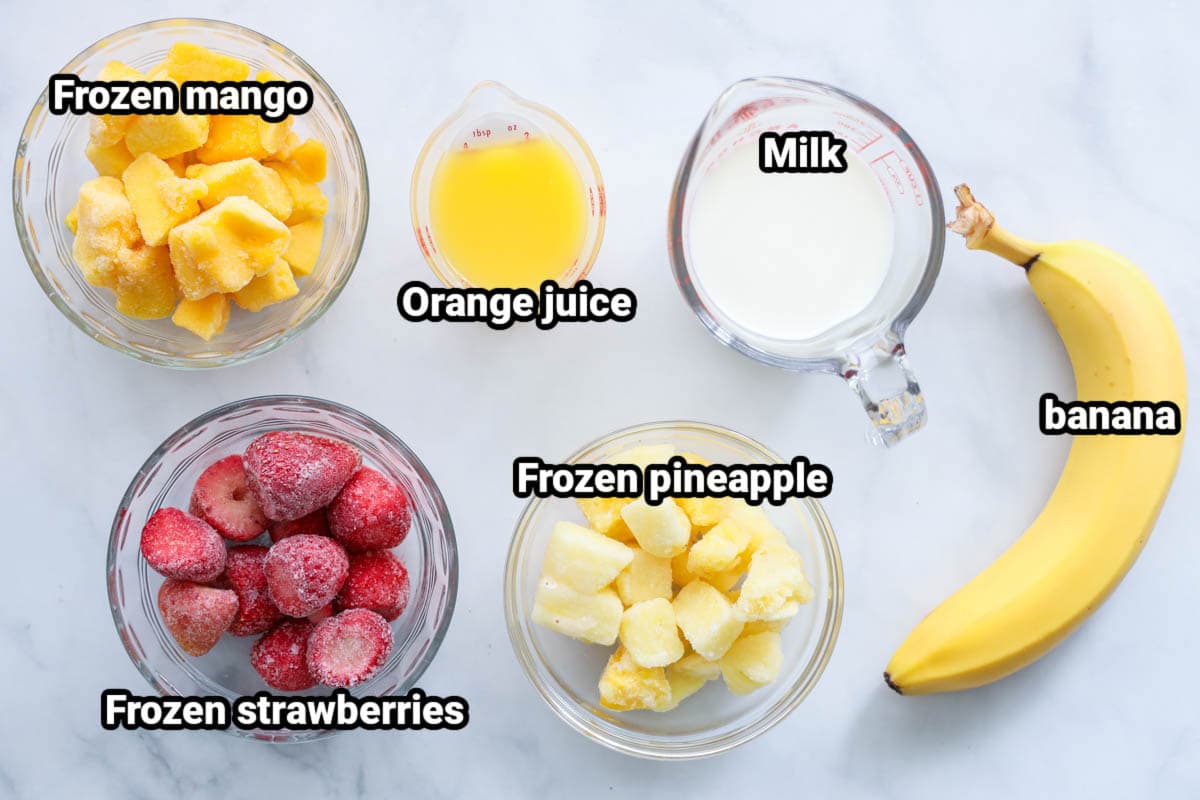 Ingredient Notes
frozen fruit We use frozen mango, strawberries and pineapple. You can buy them frozen or cut them up and freeze them yourself. The banana is the only fresh fruit.
Milk- This gives the smoothie a creamy texture and prevents it from becoming too thick.
Orange juice- This also serves to liquefy the thick smoothie a bit without losing the vibrant fruit flavor.
Add-Ins and Substitutions
Add other fruits or vegetables. You can adapt this tropical smoothie with kiwi, star fruit, papaya, cranberry, lime, guava or watermelon. Or add veggies like kale or spinach.
Make it vegan/dairy free – Substitute coconut or almond milk for the milk for a vegan version of this smoothie.
add protein- Add some protein with either plain Greek yogurt or protein powder to make it even more filling.
Replace the juice with Instead of orange juice, use grapefruit juice, pineapple juice, strawberry-banana juice, or any other flavor you like. You can also add coconut water.
How to prepare a tropical smoothie
Place ingredients in blender. In a high speed blender, combine frozen mango, frozen strawberries, frozen pineapple, sliced ​​fresh banana, milk and orange juice.
Mixture. Pulse on high speed until smoothie is thick and creamy. Enjoy immediately.
Pro tip: If the smoothie is thicker than you'd like, simply add a little more orange juice or milk as you mix to thin it out.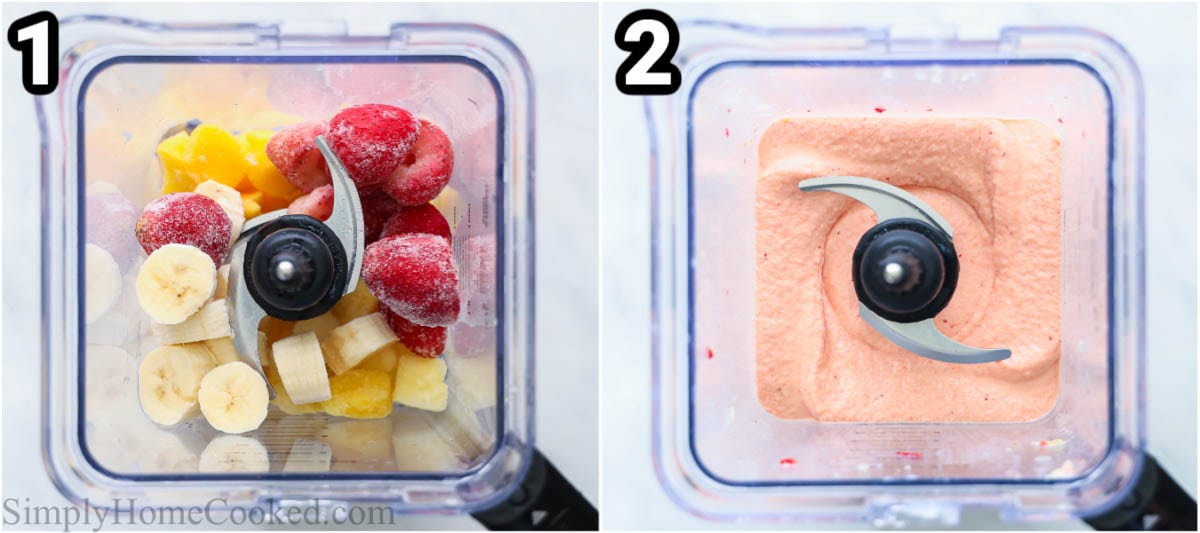 recipe tips
Keep the fruit small. If you cut and freeze your own fruit, be sure to cut it up small so it doesn't block the blender blades.
Dilute the smoothie If you think the smoothie is too thick or your blender is having trouble, add a little more milk or juice to thin it out and make it easier to blend.
Freeze the peeled banana. This makes the smoothie particularly thick and creamy. Just peel it, freeze it and break it into manageable pieces before adding it to the blender.
Serve immediately- To avoid the smoothie falling apart as it melts, serve it immediately after preparation. Best ice cold.
FAQs
Are smoothies healthy?
Smoothies are packed with vitamins and nutrients, including vitamin C, vitamin A, folic acid, manganese, potassium, and fiber, which are included in this recipe. There is also no added sugar. However, if you are diabetic or are on the lookout for sugar levels, smoothies should be consumed in moderation as they are high in naturally occurring sugars.
Do smoothies use water or milk?
When it comes to the liquid in a smoothie, the more flavorful the better. I like to add milk for a creamy texture and fruit juice for sweetness to my smoothie recipes. Water works, but it will take away from the flavor of your smoothie.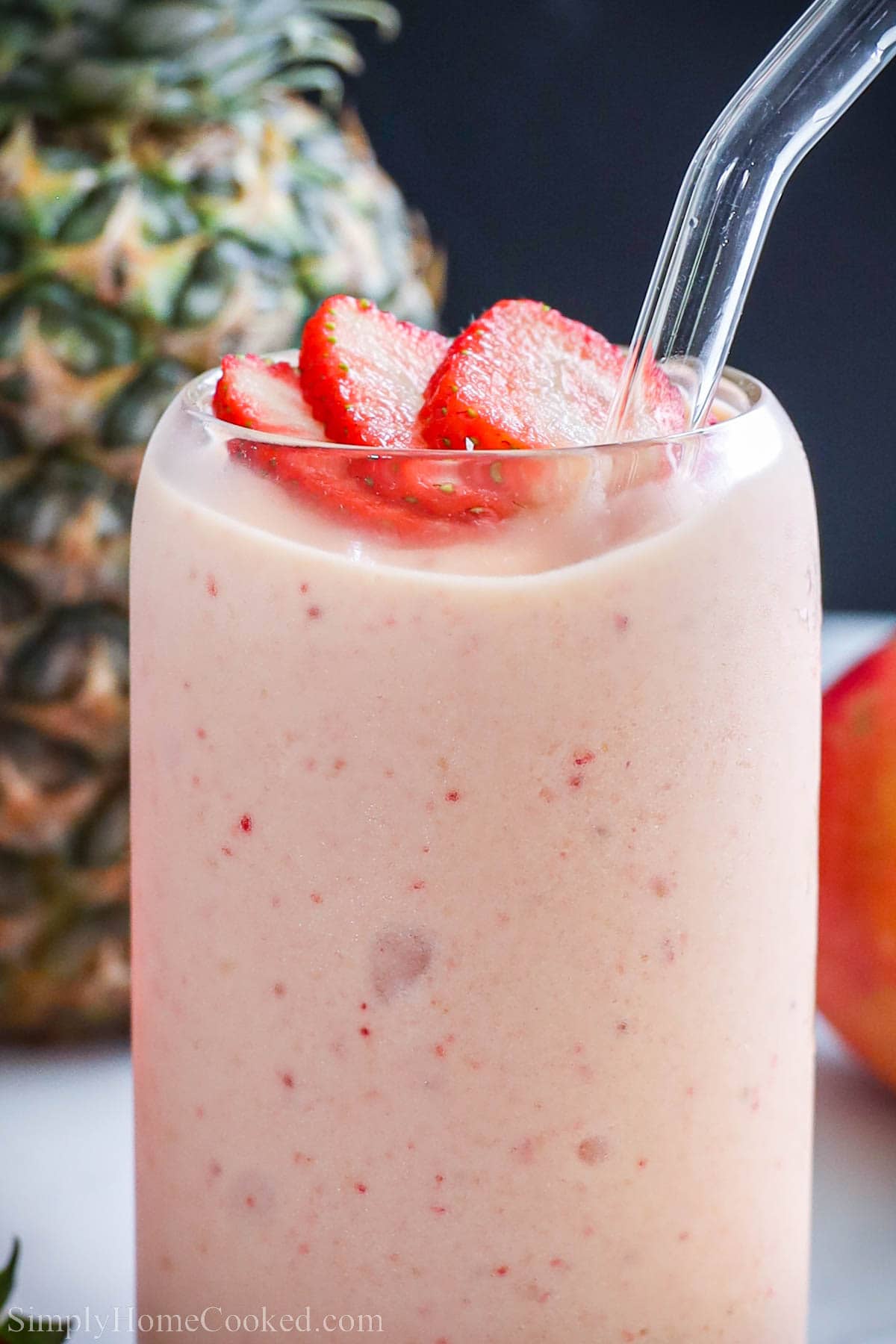 serving suggestions
This tropical smoothie is excellent on its own or as an addition to the breakfast or lunch menu. Serve with eggs, sandwiches, muffins or pancakes.
eggs: Enjoy this smoothie with lightly poached eggs with caramelized onions, Eggs Benedict, Shakshuka or Quiche Lorraine.
Sandwiches/Wraps: Serve with a wrap or sandwich, like this Turkey Croissant Sandwich, Breakfast Sandwich (3 Kinds), Easy BLT Wrap, or Caprese Sandwich.
Muffins: Pair this tropical smoothie with blueberry muffins (VIDEO), cinnamon apple muffins (VIDEO), or banana chocolate chip muffins (VIDEO).
Pancakes/Crepes: Serve with Blueberry Breakfast Crepes, German Pancakes (VIDEO), Blueberry Ricotta Pancakes, or Buttermilk Pancakes.
Make this recipe ahead of time
Go on: You can freeze the fruit ahead of time so it's ready to blend when you're ready to serve this smoothie.
storage: While it's best to serve immediately, you can store this tropical smoothie in the fridge for up to a day. It will start to separate on standing, so just puree before consuming.
FreezeNote: You can pre-freeze the fruit, but not the smoothie you have made.
Even more frozen treats!
Do you love this recipe? Please leave a 5-star rating ⭐️⭐️⭐️⭐️⭐️ in the recipe card below ⬇️ and/or a rating in the comments section below.
Let's connect on social media! 😍 Find me on Instagram, Facebook, YouTube and Pinterest. And don't forget to tag me if you try any of my recipes!
Full Recipe Guide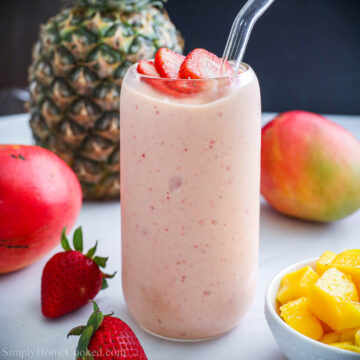 Tropical smoothie
With its smooth and creamy texture, this refreshingly sweet tropical smoothie is a perfect refreshment on a hot day.
Press Pen rate
Servings: 1
Calories: 434kcal
Nourishment
Calories: 434kcal | Carbohydrates: 96G | Protein: 9G | Fat: 6G | Saturated Fatty Acids: 3G | Polyunsaturated fat: 1G | Monounsaturated fatty acids: 1G | Cholesterol: 15mg | Sodium: 53mg | Potassium: 1407mg | Fiber: 11G | Sugar: 71G | Vitamin A: 2295IU | Vitamin C: 265mg | Calcium: 225mg | Iron: 2mg