Skip the high-priced sushi restaurants and make tuna rolls at home! This tuna rolls recipe is filled with fresh sashimi-grade tuna, creamy avocado, and seasoned sushi rice.
It contains many of the same ingredients as our popular Crunchy Spicy Tuna Rolls, Spicy Tuna, Hawaiian Poke, Ahi Tuna Poke Bowl, Tuna Crudo, and Salmon Crudo.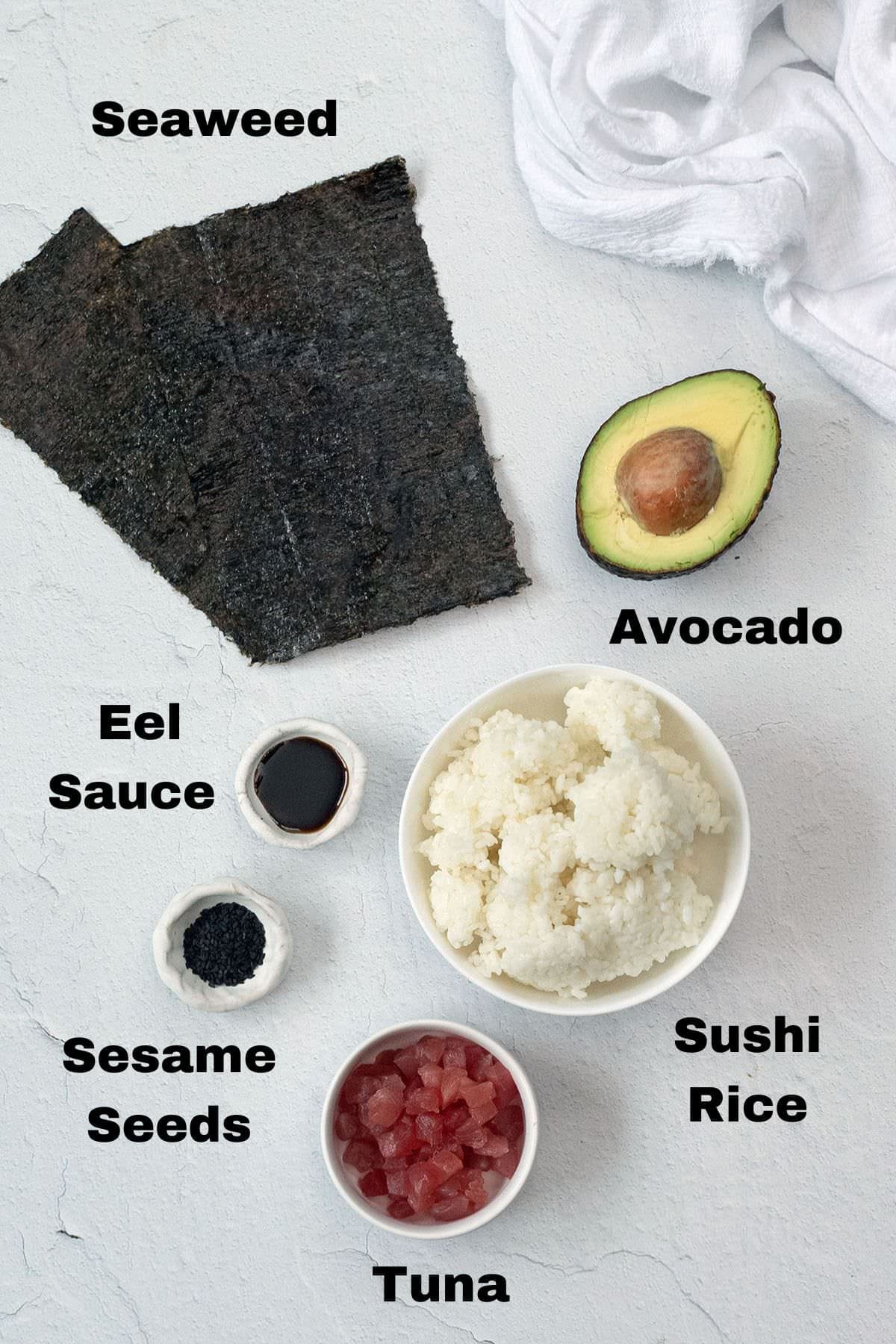 ingredients
This tuna sushi rolls recipe only requires four ingredients: high-quality raw tuna (ahi tuna or bigeye tuna), avocado, nori sheets, and sesame seeds.
Sushi rolls with tuna
Preparing homemade sushi rolls is easy once you get the hang of it as it's just 3 quick steps: dice the fish and avocado, roll the roll and sprinkle with sesame seeds.
If you are already a pro at making sushi rolls, skip the graphics and go to the tips sections.
Here are some detailed instructions to help you make an amazing sushi roll!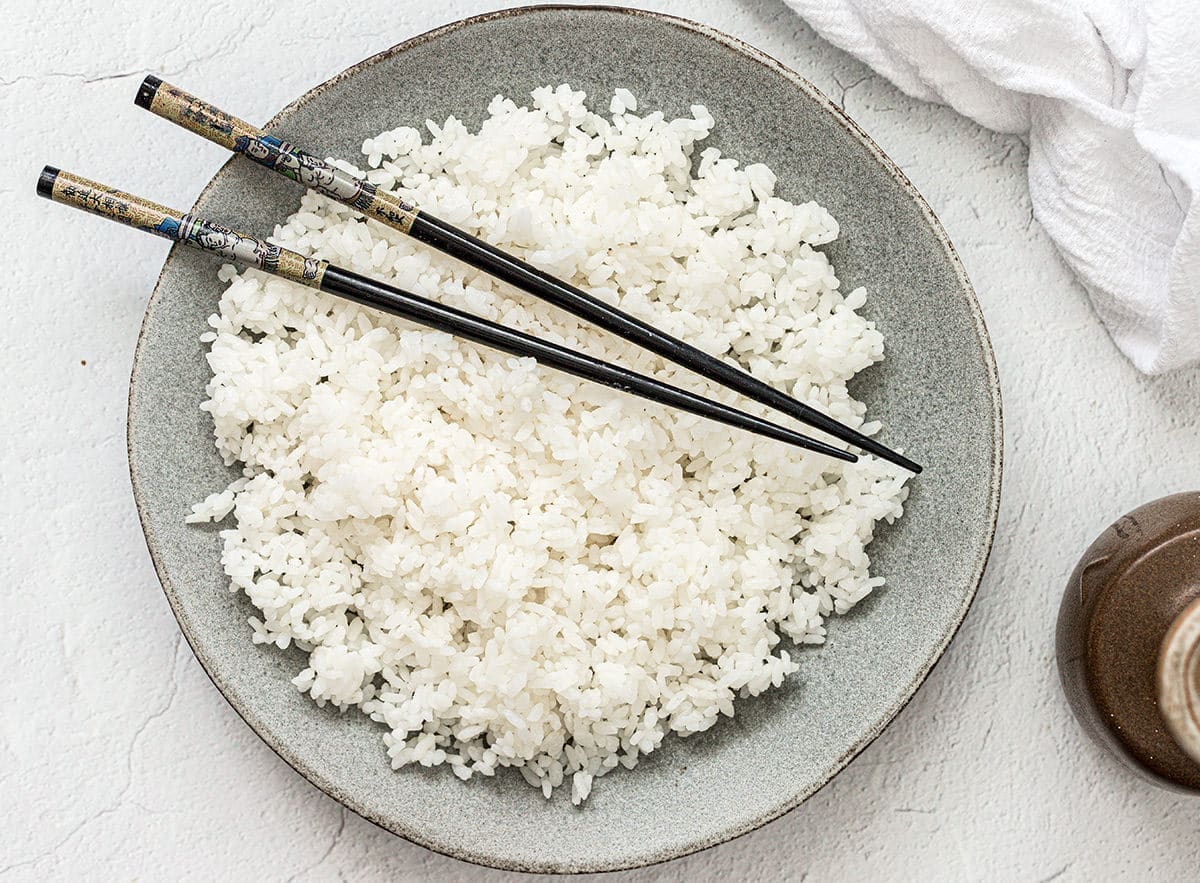 Make the sushi rice
Our sushi rice instant pot post also includes stovetop instructions. Make your choice!

Prepare the rice base
Cover the sushi mat with plastic wrap to keep the mat clean. Place the nori sheet on the bamboo mat, shiny side up. Wet your hands so the rice doesn't stick to them. Take ¼ of the sushi rice and spread it on the nori sheet. Sprinkle with sesame.
Build the role
Carefully turn the nori sheet over so the rice is facing down. Lay a few avocado and tuna chunks on top of each other in a straight line on the side closest to you.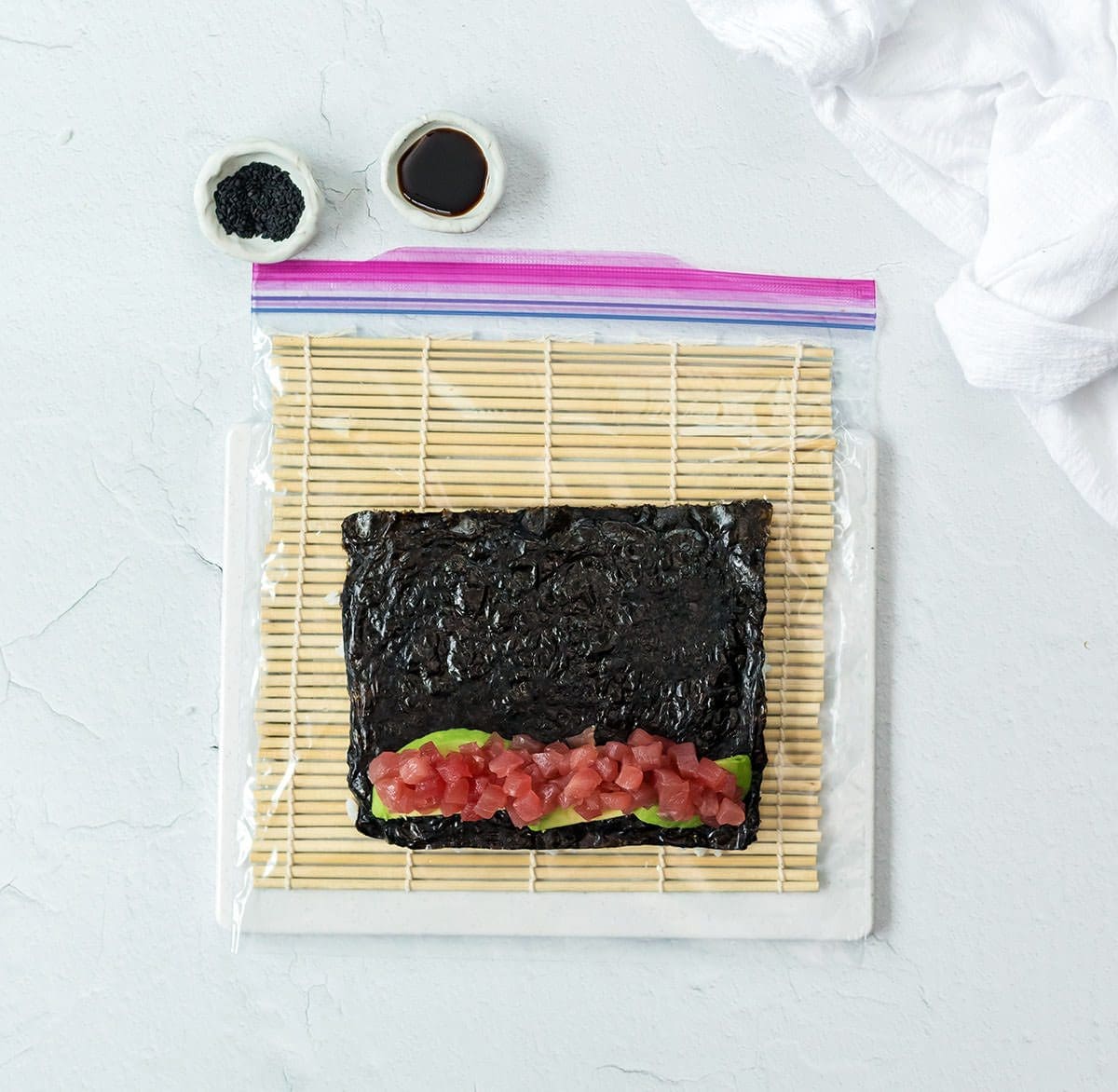 Roll the roll
Now for the most difficult task! Starting on the side closest to you, use two hands to roll the nori sheet tightly around the fillings. It should be firm enough so the roll won't fall apart, but not too hard as the fillings will squeeze out the sides.
Cut the roll
Using a very sharp wet knife, cut the sushi into 1 inch pieces. Run the knife under cold water (without drying it) between cuts.

sushi sauce
This tuna recipe can stand on its own, no additional sauce needed. However, if you're looking for an extra layer of flavor, drizzle it over with a sushi dipping sauce:
Tuna Avocado Roll
Tuna sushi rolls can be made with or without avocado. We've seen them served both ways, depending on the region and restaurant you're visiting.
We love the creaminess of avocado, so always add it in, but feel free to leave it out if you don't like or want avocado.

Tuna Roll Calories
These tuna sushi rolls contain approximately 505 calories. Most of the calories come from rice and avocado. If you're interested in reducing overall calories, just omit the avocado slices.
deliveries
There are a few sushi utensils that make sushi rolling MUCH easier. Here are our favorite gadgets:
bamboo mat – If you decide not to purchase a sushi mat, simply use plastic wrap to aid in the rolling process.
Sharp and wet knife – Be sure to wipe and wet the sharp knife between cuts to reduce rice sticking to the knife.
expert tips
Place the tuna in the freezer for 10 minutes to make it easier to dice.
You can either cut the fish into ⅛″- ¼″ slices or small cubes. Wipe and wet the knife between cuts to keep the fish from sticking. Here is the sushi knife that we will use to cut fish.
Good quality. Good quality. Good quality. Using the highest quality fresh ingredients you can swing. (Must be labeled "Sushi or Sashimi Grade Tuna")
Visit your local Asian market as they usually stock sushi-grade ahi tuna. Sushi-grade frozen tuna would also work.
Raw tuna is best consumed the same day it is purchased, but will keep in the fridge for up to 2 days. The longer you wait, the more "fishy" the taste will be.

Raw fish recipes
If you are new to buying and handling raw fish, read our raw fish FAQs.
Raw fish is not recommended for pregnant women, the elderly, or those with compromised immune systems. We are not food safety experts, so if you have any questions, consult an expert or your doctor.
garnish
Our spicy cucumber salad recipe or our kani salad go well with this fish dish.
drink pairings
Sauvignon Blanc, Riesling, Champagne, Citrus IPA or Sake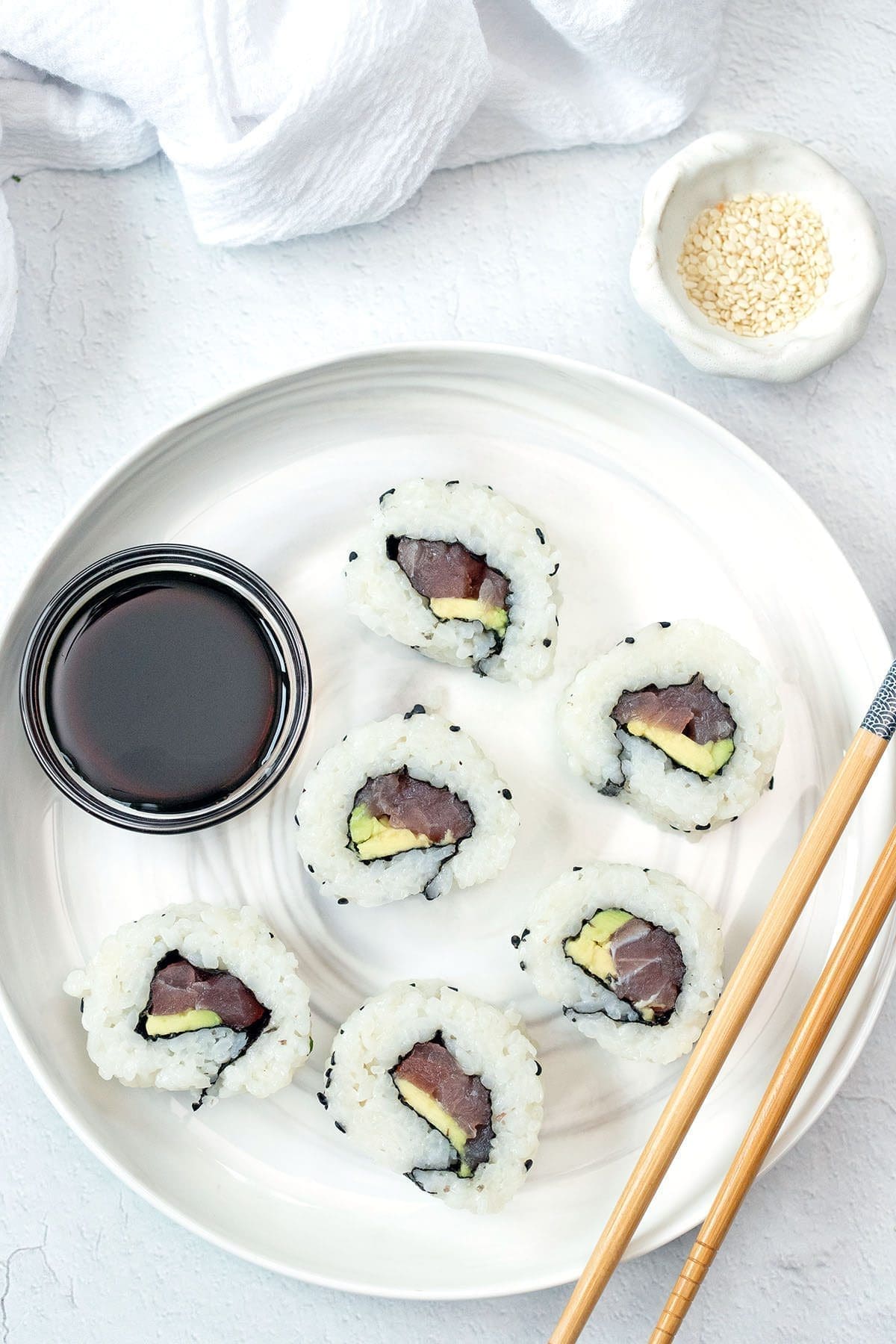 Servings: 4 roll
Calories: 505kcal
Author: Darcey Olson
Costs: $15
Sushi Rice (Stovetop or Rice Cooker):
sushi roll:
If you have a sushi mat, wrap it in plastic before rolling or place it in a large Ziploc bag. If you don't have a mat, no problem – just use plastic wrap.

Place a sheet of nori on a cutting board, shiny side up. Wet your hands with cold water (it keeps the rice from sticking to your hands) and spread the rice edge to edge. Be careful not to over-compact the rice or it will become mushy.

Sprinkle sesame seeds over the rice.

For a rice-side roll, turn the nori over so the rice is facing down. For a rice-inside roll, have the rice face up. Inner rice rolls are recommended for beginners as they are easier to roll and seal.

Lay a few chunks of avocado and tuna in a straight line on the side closest to you.

Starting on the side closest to you, roll the nori around the fillings as tightly as possible. Carefully unroll the bamboo mat and set aside.

Use a very sharp knife to cut 1 inch pieces of sushi. Run the knife under cold water (without drying it) between cuts to prevent the rice from sticking to it.

Repeat steps 2-6 with the remaining three rolls. Sprinkle with sesame and serve. Sushi is best served immediately.
Note 1 – Short grain sushi rice is the key to great sushi! They cannot replace long grain rice or any other short grain rice. You can find sushi rice in the international aisles of most grocery stores.
Note 2 – Make sure you use good quality sushi grade tuna – I recommend finding a good fishmonger and asking them about sushi grade fish. Always ask if it is safe to eat the fish raw – don't assume!
Calories: 505kcal | Carbohydrates: 80G | Protein: 21G | Fat: 11G | Saturated Fatty Acids: 2G | Polyunsaturated fat: 2G | Monounsaturated fatty acids: 6G | Cholesterol: 22mg | Sodium: 33mg | Potassium: 467mg | Fiber: 6G | Sugar: 0.3G | Vitamin A: 1441ie | Vitamin C: 6mg | Calcium: 22mg | Iron: 2mg