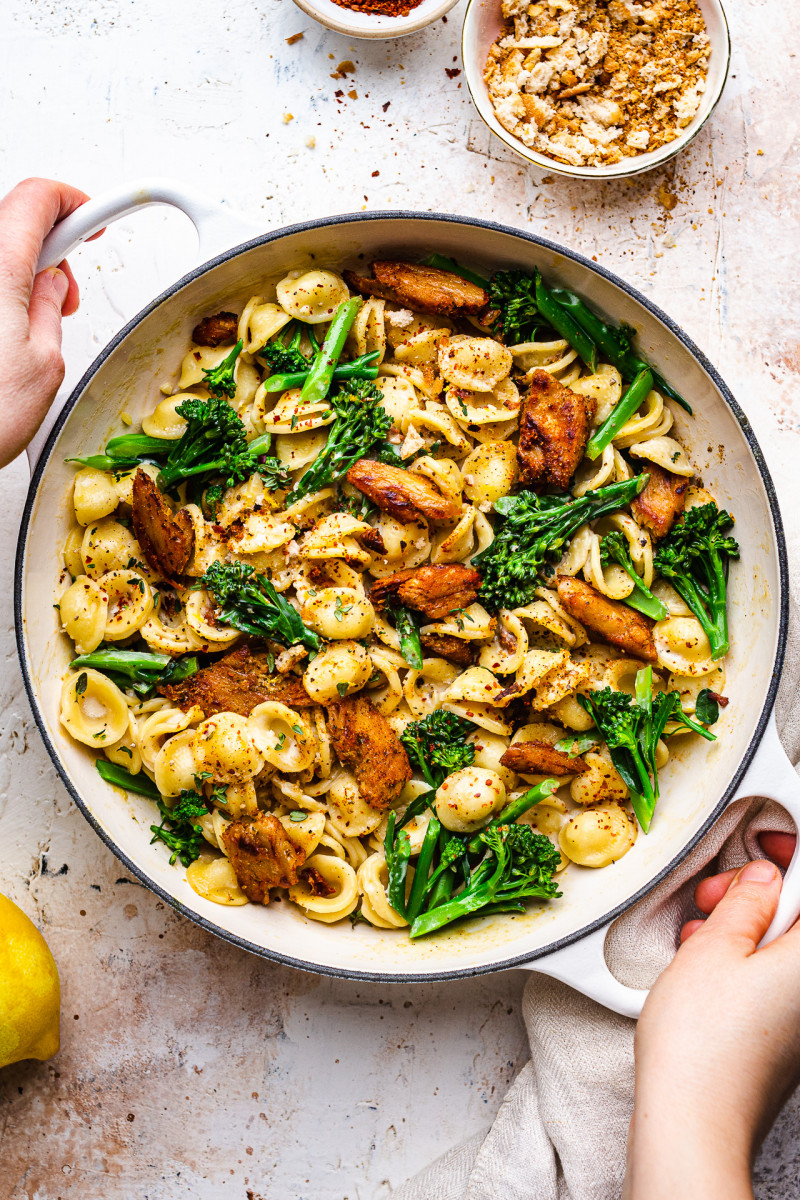 Sometimes all you want at the end of a long day is a quick and comforting meal so I thought I'd share one of my pasta dishes with you. It's never the same because it's flexible and I tend to tinker (I guess that's why I ended up doing it for a living), but the essence is the same – vegan broccoli pasta-based chick'n in a simple creamy sauce with soy. .
I like to use small pasta shapes like orecchiette or conchiglie for this, with at least one green vegetable as well as tenderstem broccoli in this instance and some sort of meat substitute to add texture and make it more satisfying. Although I tend to follow a whole food plant based diet (beans, nuts, fruits and vegetables) and I'm not big on commercially available meat alternatives, I do make exceptions for a few products that I particularly enjoy. They add variety to our meals and are close enough to what we enjoyed eating as omnivores that we don't feel like we're missing out at all.
After you haven't eaten meat for a long time (9 years in our case), you don't remember exactly what it tastes like, so a close approximation of the texture and flavor you used to enjoy is good enough. And just to be clear – I know some people can't wrap their heads around the fact that some vegans seek out foods that mimic meat, dairy or eggs – many vegans, myself included, don't become vegan because they dislike meat, they go vegan because They don't want to cause suffering to animals.
More about ingredients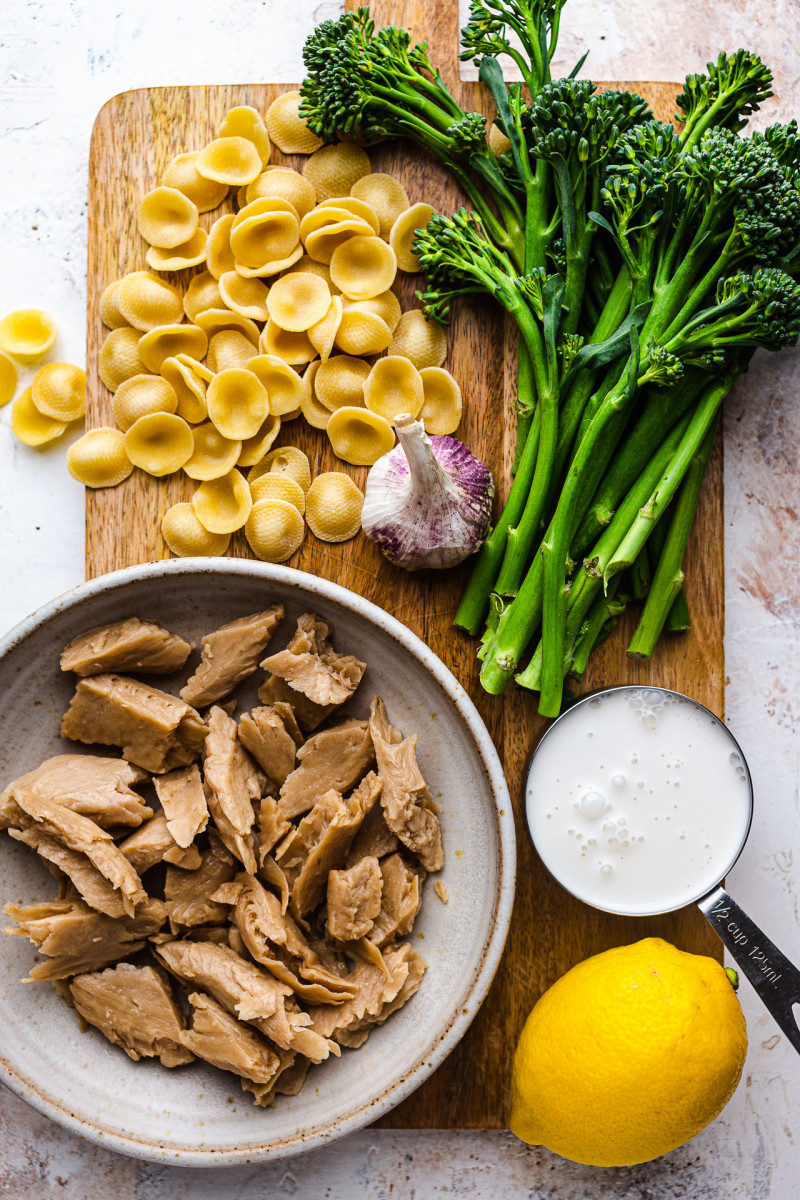 the pasta: I have made this dish with all kinds of pasta but small ones like orecchiette or conchiglie are my favorites. I often use whole wheat pasta instead of plain for extra filling and nutrition.
Broccoli: I love broccoli, especially tenderstem broccoli (known as broccolini in some parts of the world) and we eat it a few times a week in pasta, stir-fries, simple veggie bowls. Tenderstem broccoli is a cross between regular broccoli and Chinese broccoli and, as the name suggests, takes much less time to cook. You can of course use regular broccoli cut into small florets. The key is to be careful not to overcook them. You want them to be cooked through but still retain some crunch (texture), without turning to mush in your mouth.
Vegan lean: I like to use soy-based vegan chicken in this dish. My favorite brand so far is What the Clock by the Vegetarian Butcher although I like to go the extra mile and coat my chicken with seasonings after roasting. If chicken options aren't your thing or you just can't find one you like, try firm smoked tofu instead. I explain how below. I sometimes make this dish with vegan bacon (except this recipe needs 5-10 minutes longer to bake).
Vegan cream: There are many good vegan creams on the market based on oats, soy and nuts – just to name a few. I used Oatly single cream. If store-bought cream is not available, make your own by blanching 130 g / 1 cup raw cashews (or hulled sunflower seeds for a nut-free option) with 180 ml (¾ cup) water and use this instead.
garlic: Finely chopped garlic pan-fried gently in olive oil gives the sauce plenty of flavor. Take your time with this step and keep the flame low as you don't want to brown the garlic – this will make your food taste bitter.
lemon: Most creamy pastas, cream dishes in general, cry out for a splash of acid to cut the richness. I like to add a good squeeze of lemon juice to the sauce and some lemon zest to enhance the fresh lemon flavor.
Chikon Spice: While some chicken substitutes come seasoned and you can use them straight from the packet, I like to add my own spices. This simple spice mix comes together in seconds and adds a lot of flavor in my opinion – it makes delicious pan-grits (Duncan's favorite bit). Below is a visual to show you what you need at a glance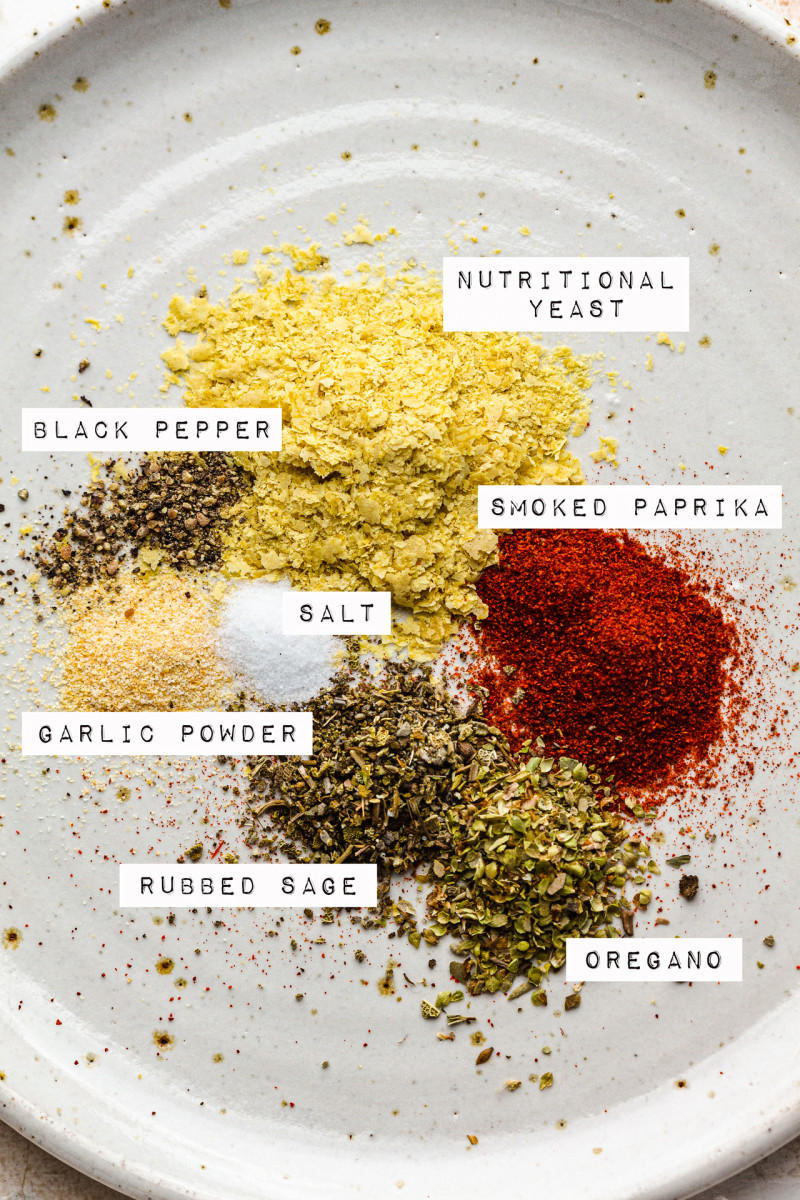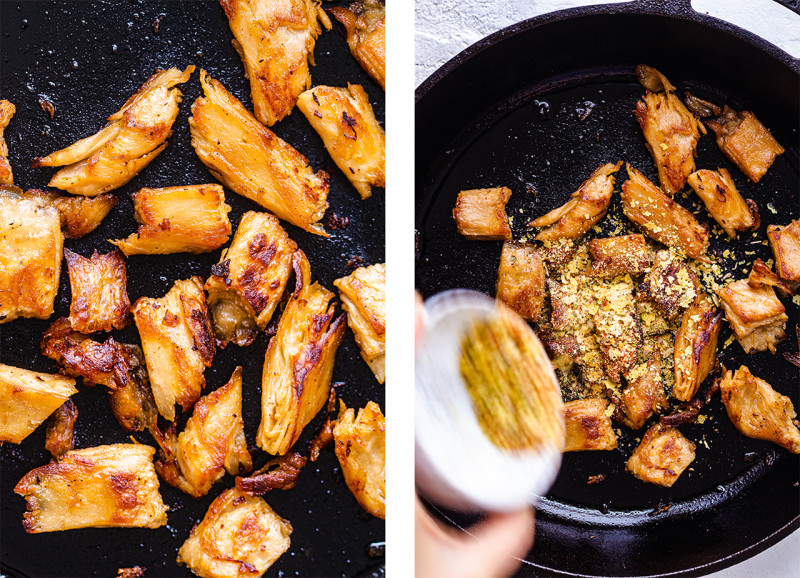 First pan-fry your chicken until golden brown and crispy, then turn off the heat and toss it in my spice mix to infuse it with more flavor.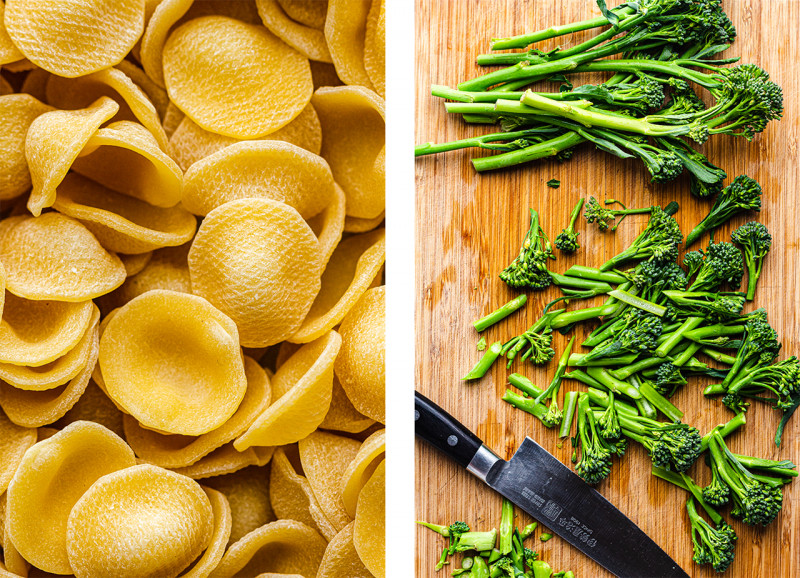 I like to use smaller pasta shapes for this dish, like orecchiette and tenderstem broccoli. To save on washing, I cook the broccoli in the same water I cook the pasta. You can cook both at the same time by adding the broccoli to the cooking pasta for the last few minutes of cooking, but I prefer to cook the broccoli first and then the pasta in the same cooking water. This gives me more control over how well each ingredient works because overcooked broccoli or pasta is something I want to avoid.
Frequently Asked Questions
What can I use instead of the chicken substitute?
If you don't use chicken substitute, you can use firm tofu instead. I recommend the smoked tofu! I press it, marinate it with 20 ml / 4 tsp soy sauce (or tamari for the GF option), coat it in cornstarch and pan-fry according to the recipe, coating it with my spice mix at the very end.
Alternatively, you can use almond bacon like I did earlier in this recipe or tofu bacon (although you'll need to bake it 5-10 minutes longer to get it crispy).
What can I use instead of vegan cream?
Make plant-based cream at home by blanching 130 g / 1 cup raw cashews (or hulled sunflower seeds for a nut-free option) with 180 ml (¾ cup) water and use this instead. Be sure to soak your cashews in boiling water for at least 20 minutes before blending – soaking helps soften them and creates a better texture. If you want to keep it budget-friendly or nut-free, just use hulled sunflower seeds.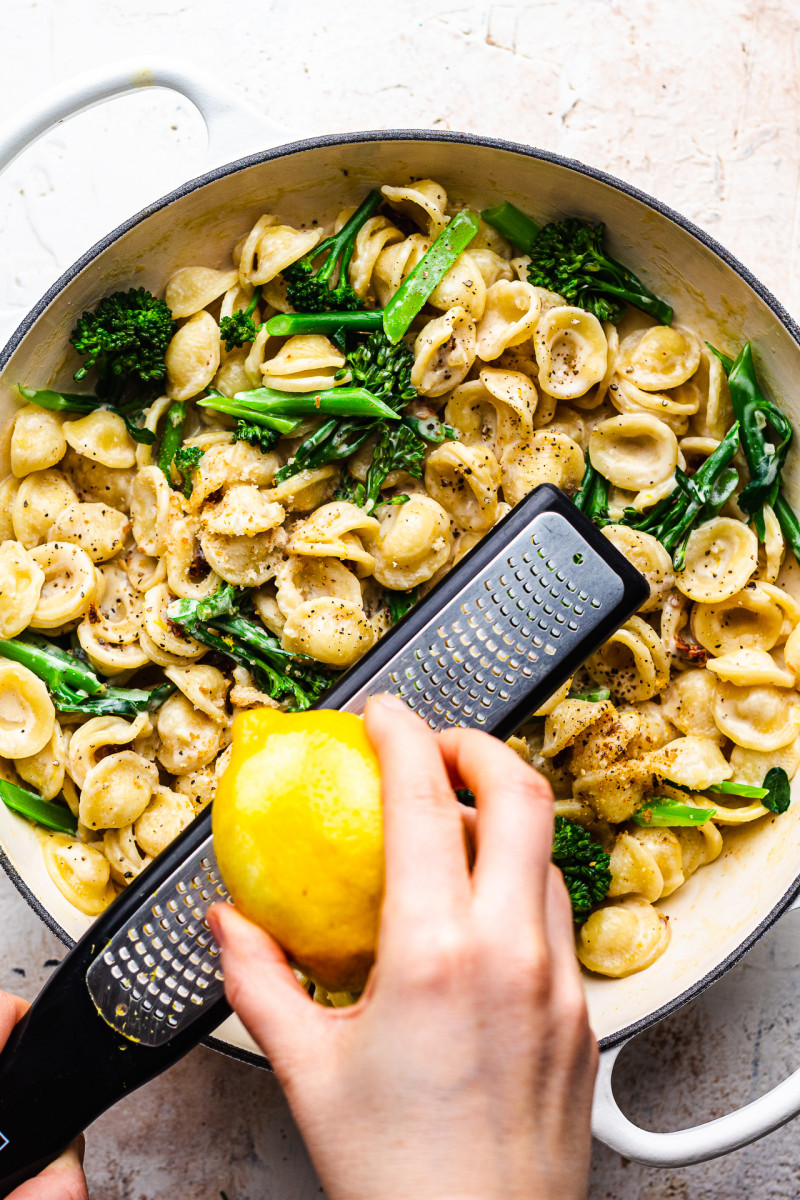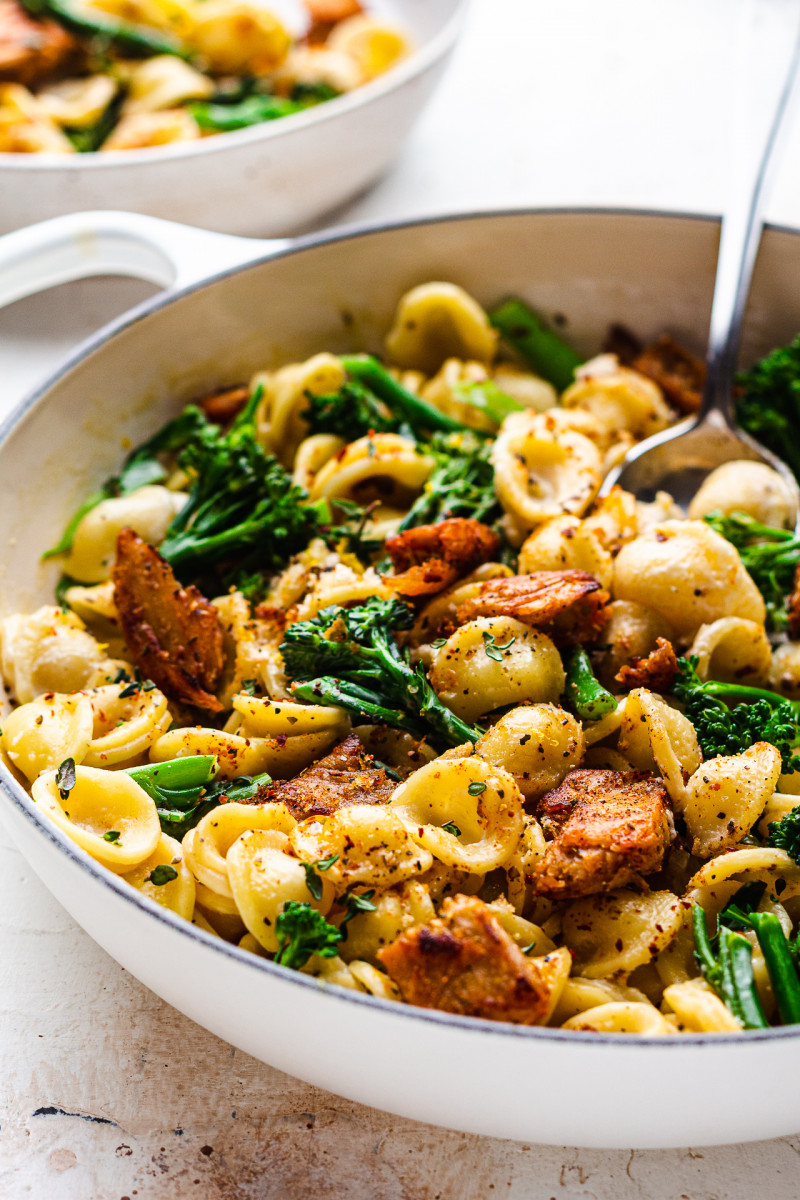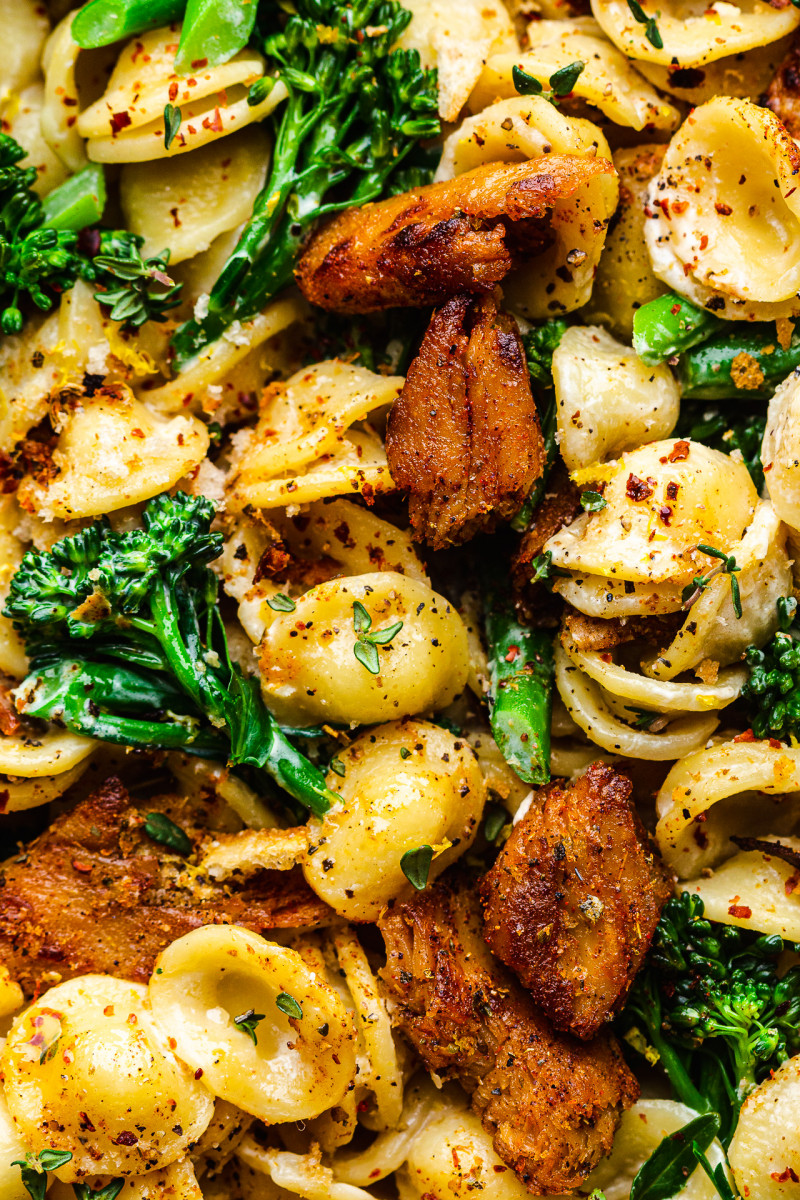 thin
160 g / 5.6 oz vegan chicken (I like What the Clock) or firm tofu
2 teaspoons nutritional yeast
½ teaspoon sweet smoked paprika
heaped ¼ teaspoon dried oregano
heaped ¼ tsp rubbed sage
¼ teaspoon garlic powder
1/8 teaspoon fine salt and pepper
10 ml / 2 teaspoons olive oil
remaining ingredients
150 g / 5.29 oz tenderstem (or regular) broccoli
200 grams / 7 ounces of orecchiette pasta (or conchiglie/shells)
20 ml / 4 tbsp olive oil
2 tablespoons nutritional yeast
3 garlic cloves, finely chopped
Pick a couple sprigs of thyme, leaves
120 ml / ½ cup vegan cream (I used Oatly*)
Zest ½ small lemon + 15 ml / 1 tablespoon juice
Test for salt and pepper
toasted breadcrumbs, to finish (optional)
Fine chili flakes, to finish (optional)
method
'chicken'
Make the 'chick'n' seasoning by combining the nutritional yeast, smoked paprika, garlic powder, salt, pepper and dried sage and oregano (crushed with your fingers) in a small bowl. Set aside.
While your pasta is cooking, heat a heavy bottomed pan (I use a cast iron skillet). Once hot, add the oil making sure to cover the whole pan – start with 10ml (2 tbsp) and add more if needed.
Add the vegan chicken (or marinated tofu, see note) and coat it in the hot oil. Once coated in oil, leave it on low-medium heat for a few minutes to give it a chance to brown nicely. Stir occasionally until browned on all sides.
Turn off the flame when it turns brown. Sprinkle with 'chick'n' seasoning and stir immediately to coat.
the pasta
Prepare the tenderstem broccoli by breaking it into bite-sized pieces and cutting the thick stalks in half lengthwise. If using regular broccoli, cut into small, even-sized florets.
Bring a medium pot of salted water to a boil. Add the prepped broccoli and simmer until it's tender but still retains some bite (tenderstem broccoli takes 2 minutes). Use a wire strainer to drain the cooked broccoli, rinse under cold running water and set aside. Boil the water again.
Cook pasta in broccoli water until al dente. Reserve ¼ cup (60 mL) of the pasta cooking water just before you drain it.
While the pasta is cooking, heat the olive oil in a large frying pan. Add the minced garlic and fry over low heat until soft and fragrant, stirring frequently.
When the garlic is ready, stir in the vegan cream, thyme leaves, nutritional yeast, lemon zest, lemon juice, and a small splash of the pasta cooking water if needed (2 tablespoons to start with). Season and let the sauce bubble for a few seconds.
Toss the cooked pasta and broccoli in the creamy sauce, allowing to heat through for a few seconds before dipping into the bowl. Top with vegan chicken, pan-grits and some toasted breadcrumbs and fine chili flakes if using.
Comment
*'Chick'n' – I used What the Clock by The Vegetarian Butcher, but feel free to use any brand you enjoy. I often make this with 200g / 7oz smoked tofu – see the FAQ section for details.
*Vegan Cream – There are many good vegan creams on the market based on oats, soy and almonds – just to name a few. I used Oatly single cream. If store-bought cream is not available, make your own by blanching 130 g / 1 cup raw cashews (or hulled sunflower seeds for a nut-free option) with 180 ml (¾ cup) water and use this instead.