If you love traditional cakes and you love to eat vegan, you may find yourself wondering if a classic vegan chocolate frosting is possible. Answer: Yes! This vegan chocolate frosting recipe is a rich, sweet, chocolate flavored buttercream. It's easy to make, and perfect for cakes and cupcakes.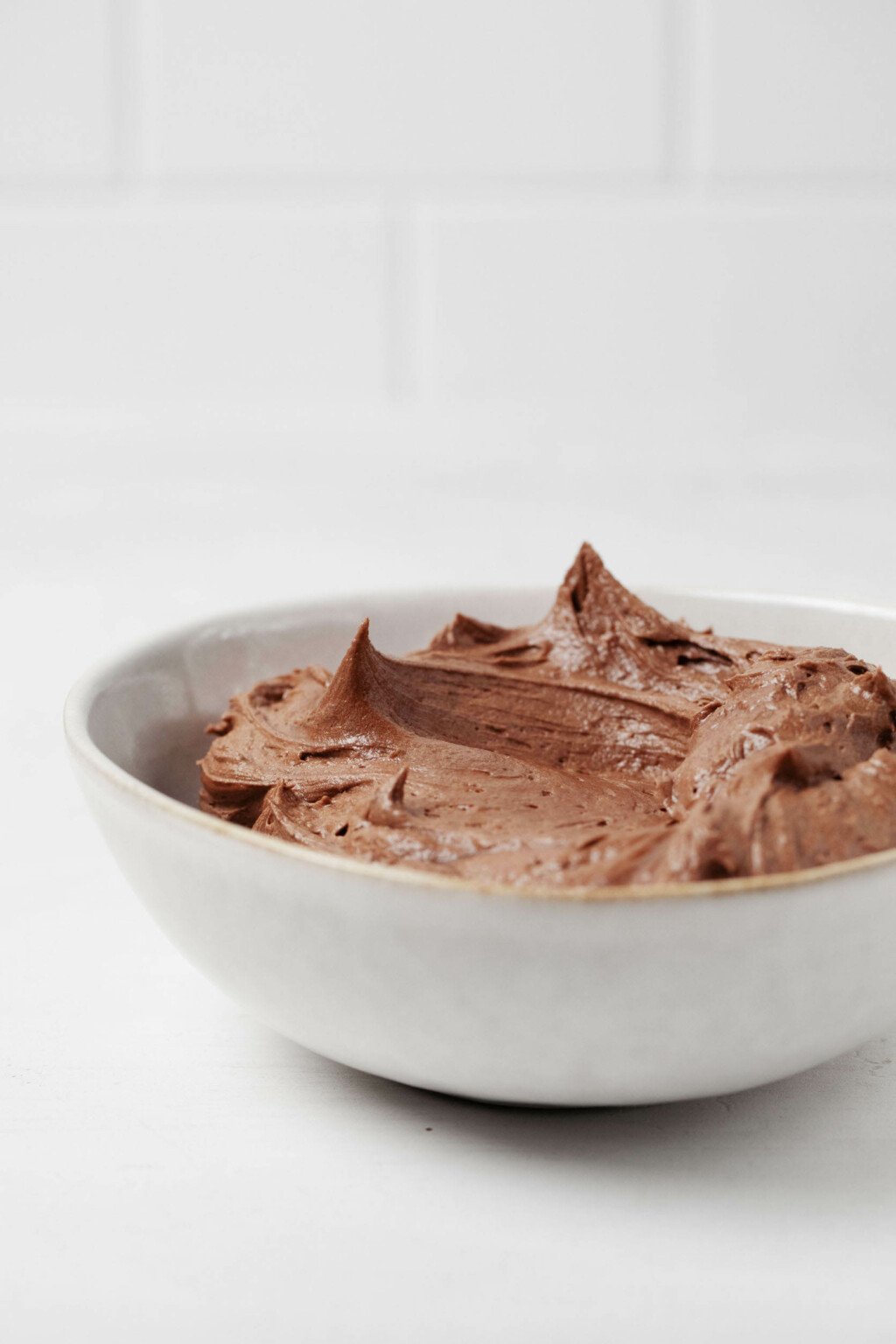 I often mention favorite foods, only to be asked "but wait, how is that vegetarian?"
This is especially true when I refer to vegan desserts, including vegan cakes, puddings and pies.
One thing that gets lost in translation here is the existence of products that make traditional recipes easy to make vegan.
For example, plant milk and vegan butter bring many possibilities to vegan baking.
The concept of vegan butter is new to many non-vegans. Vegan butter brands aren't necessarily on people's radar.
Non-vegans may not know that store-bought vegan butters are on the rise these days. And these butters have the same properties and powers of dairy butters.
Buttercream frosting may be the ultimate example of a dish that is now easy to make vegan. This is true because vegan butter exists and is perfect for creating creamy, rich swirls of frosting.
My favorite vegan chocolate frosting is a vegan buttercream frosting, specifically. I make it with the same ingredients as traditional buttercream frosting: powdered sugar, (vegan) butter and a little milk.
I add cocoa powder to give the frosting just the right amount of chocolate flavor, as well as a hint of vanilla to deepen the flavor.
The chocolate frosting is really delicious, and it's about time I shared it.
How to Make Vegan Chocolate Buttercream Frosting
Buttercream frosting is usually made by beating butter and powdered sugar together in a stand mixer or with a hand mixer.
Making vegan buttercream frosting works the same way. The only real difference is the butter, which is vegan butter instead of dairy butter.
This isn't the only way to make vegan frosting for a cake or cupcake. I made a vegan frosting that used coconut and cashews as the base.
There's even a vegan chocolate cake Vegan week Which uses melted chocolate and sweet potato puree as the frosting base! It's inspired by a recipe by Genevieve Coe, and it's really good.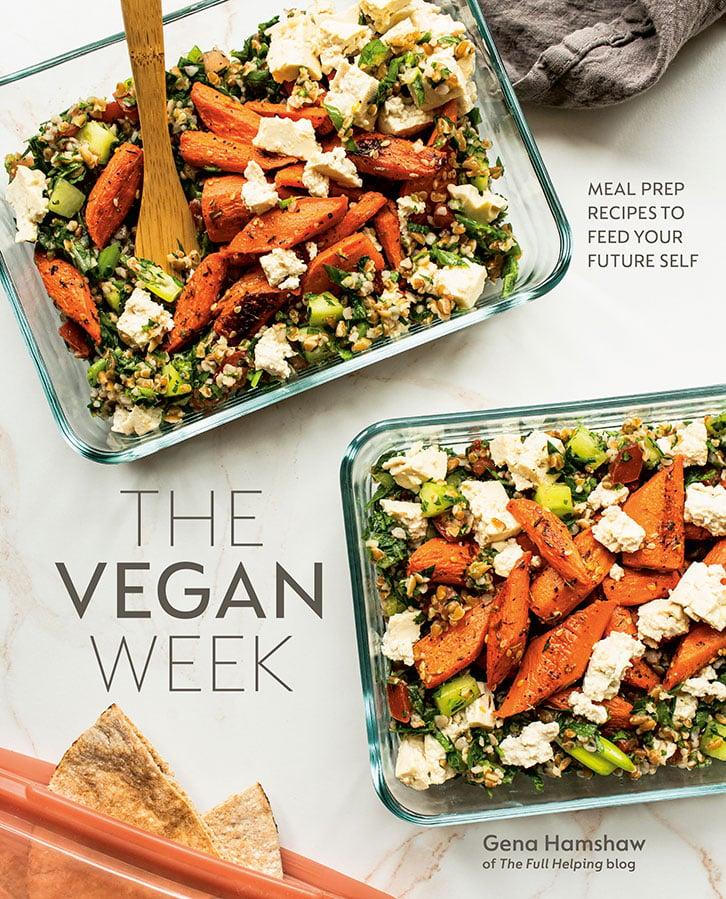 Vegan week
Embrace the joy of eating homemade meals every day with hearty and healthy recipes Vegan week.
Whether you have three, two or even an hour to spare, The Vegan Week will show you how to cook varied, colorful and comforting weekend meals.
I love this unusual, slightly healthier vegan frosting recipe.
But sometimes a sweet, super buttery frosting is what one wants. And for those moments, this frosting is it.
Here's what it's made of.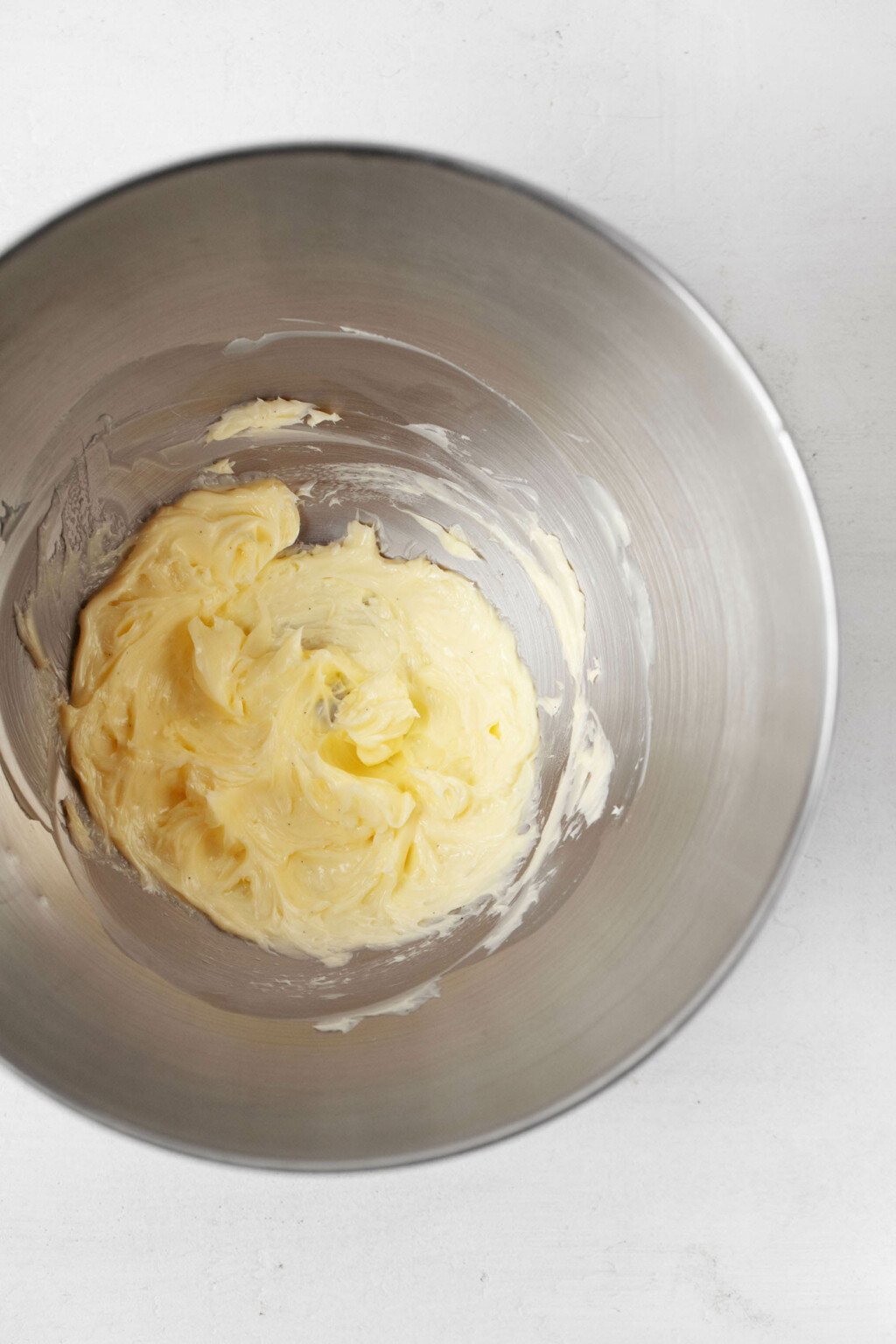 Step 1: Cream vegan butter
The first step in making vegan chocolate frosting is to beat the vegan butter until light and creamy.
I use a stand mixer to do this on medium speed. You can use a handheld, electric mixer for this step.
When the butter looks a bit "whipped" and light, it's time to add the sugar.
Step 2: Add sugar and flavor
In step two, you'll add powdered sugar along with any other flavorings to the frosting-in-progress.
A flavoring may be an extract, such as peppermint or lemon extract. It can be ground up, freeze-dried fruit.
In the case of this vegan chocolate frosting, the flavors are cocoa powder and a little vanilla extract.
Here's the important note about sugar: it needs to be powdered, or confectioner's sugar. And, although I usually don't bother sifting the ingredients while baking, it's important to sift the powdered sugar before adding it to the chocolate frosting.
Unsifted powdered sugar can have a lot of small lumps, causing frosting.
In addition to sugar and flavoring, you'll add 2-4 tablespoons of non-dairy milk to the frosting. This helps keep the texture light and easily spreadable/rollable.
I recommend starting with 2 tablespoons and adding more if the buttercream is too thick for your liking.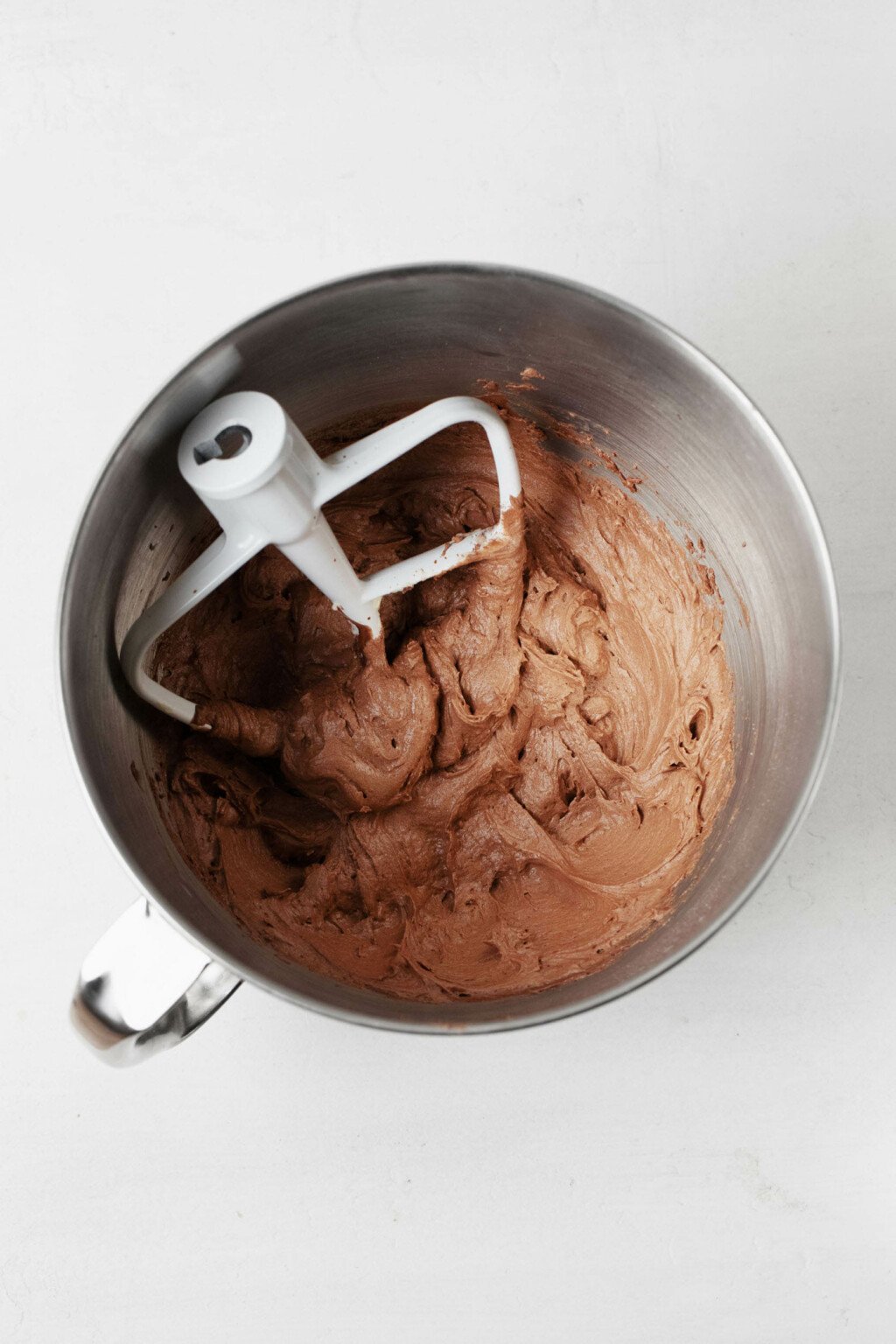 Once you've added the powdered sugar, you'll continue beating the frosting for another 2-3 minutes, or until it's rich, yet light and fluffy.
Step 3: Use or store
At this point, you can frost the vegan cake or cupcakes you've been waiting to decorate.
You can store the frosting in the refrigerator for up to 4 days.
Best vegan butter for frosting
So, if this vegan buttercream relies on using vegan butter, what's the best butter brand to try?
There are many vegan butters that I like. For frosting, however, I found Earth Balance to be the best choice. Its texture seems to be the most robust: with some other brands, the butter softens and melts too easily at room temperature to hold its position.
Other vegan butters I've tried, and had success with frosting: Fora Foods (incredible, but hard to source), Miyoko's Creamery, and Om Sweet Home (a small company, local to me).
For a very detailed review of multiple vegan butter brands, you can check out this post. It's 2021, and new brands are popping up all the time, but this is a good place to start!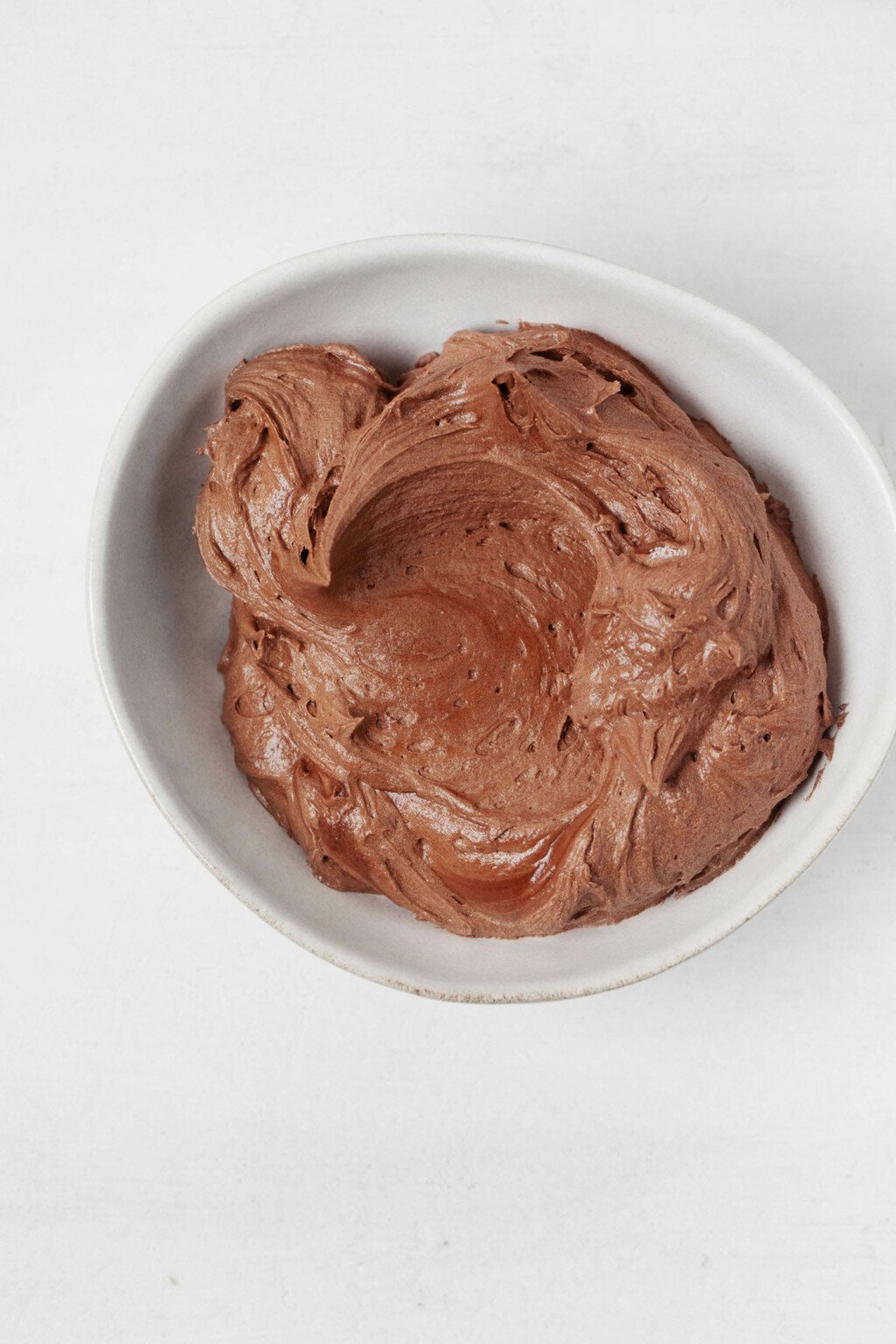 Cocoa powder
When it comes to baking, there's actually a science to choosing the right cocoa powder. (This is related to acids and bases!)
For this recipe, any type of cocoa powder is fine. But I recommend unsweetened cocoa powder, which has a nice balance between bitter cocoa and powdered sugar.
How to Store Vegan Chocolate Frosting
Storing the chocolate is easy enough: transfer it to an airtight container and cover the top gently with a layer of saran wrap. Cover the container and transfer to the refrigerator for up to 5 days.
What about a cake with frosting or cupcakes with frosting that has been in the fridge for days?
I find it's best to let the frosting come to room temperature before frosting with anything.
If your frosting has lost some of its fluffy quality, I recommend re-beating it briefly in a stand mixer or with an electric mixer for the best texture.
Can I freeze buttercream frosting?
Yes, you certainly can.
I find that freshly made frosting has the lightest, creamiest consistency. However, I have frozen and defrosted this vegan chocolate frosting many times with good results.
Frosting can be frozen for up to six weeks. It should be defrosted in the refrigerator overnight, then brought to room temperature before application.
What size cake will the frosting cover?
This frosting is enough to cover the top and sides of an 8-inch/20 cm or 9-inch/23 cm round cake or 12 cupcakes.
one half Batch is enough to frost an 8-inch/20 cm square cake (top only).
What to do with vegan chocolate frosting
Quite simply, you can use this vegan chocolate frosting but you would use regular chocolate frosting.
For me, it's usually for cakes or cupcakes. But I also love a frosted soft sugar cookie, and there's nothing wrong with a frosted brownie either.
Tomorrow, I'll share another cake that pairs perfectly with this frosting.
For today, here is the chocolate buttercream recipe.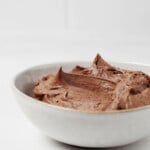 8

table spoon

Room temperature vegan butter

(112 g; 1 stick)

1/2

teaspoon

Vanilla extract

2 1/2

the cup

powdered sugar

(300 grams)

1/4

the cup

Cocoa powder

(20 grams)

2-3

table spoon

Plain soy, oat, cashew, or almond milk
Add the butter and vanilla to the bowl of a stand mixer fitted with the paddle attachment. Beat on medium speed for 2 minutes.

While the butter and vanilla are mixing, stir together the powdered sugar and cocoa powder.

Add the sugar and cocoa to the bowl of a stand mixer, along with 2 tablespoons of non-dairy milk. Turn the mixer on and leave it on low until the sugar is completely incorporated, about 1 minute. Increase the speed to high and continue mixing until the frosting is very light, smooth and creamy (3-4 minutes). Add additional plant milk by the teaspoon if the frosting is too thick. The consistency should be rich, but smooth and spreadable.

Use the frosting to frost a cake or cupcake immediately, or store in an airtight container in the refrigerator for up to 3 days. Let the frosting come to room temperature before using.
this

snowfall

Enough to cover the top and sides of an 8-inch/20cm or 9-inch/23cm round cake or 12 cupcakes.
One half batch is lightly enough

the frost

1 8-inch/20 cm square cake (top only).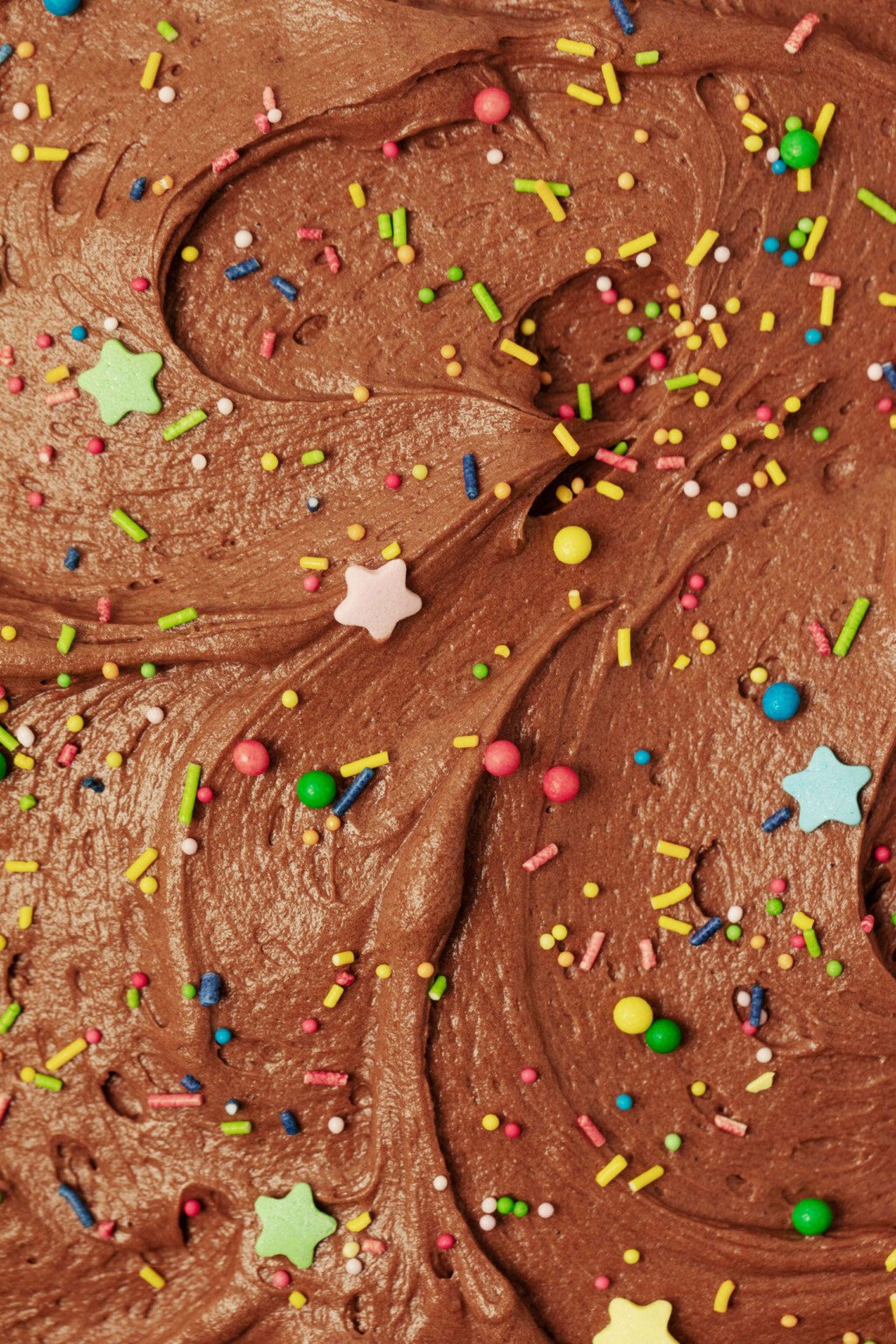 Sending you off to a sweet, rich, chocolatey start to the week.
Happy Monday!
xo