If you're looking for a simple, yet rich and satisfying vegan chocolate snack cake, look no further! I love this cake because I can make it at a moment's notice, with ingredients I have at home, yet it always feels like a special treat. The cake is topped with rich swirls of vegan chocolate buttercream frosting.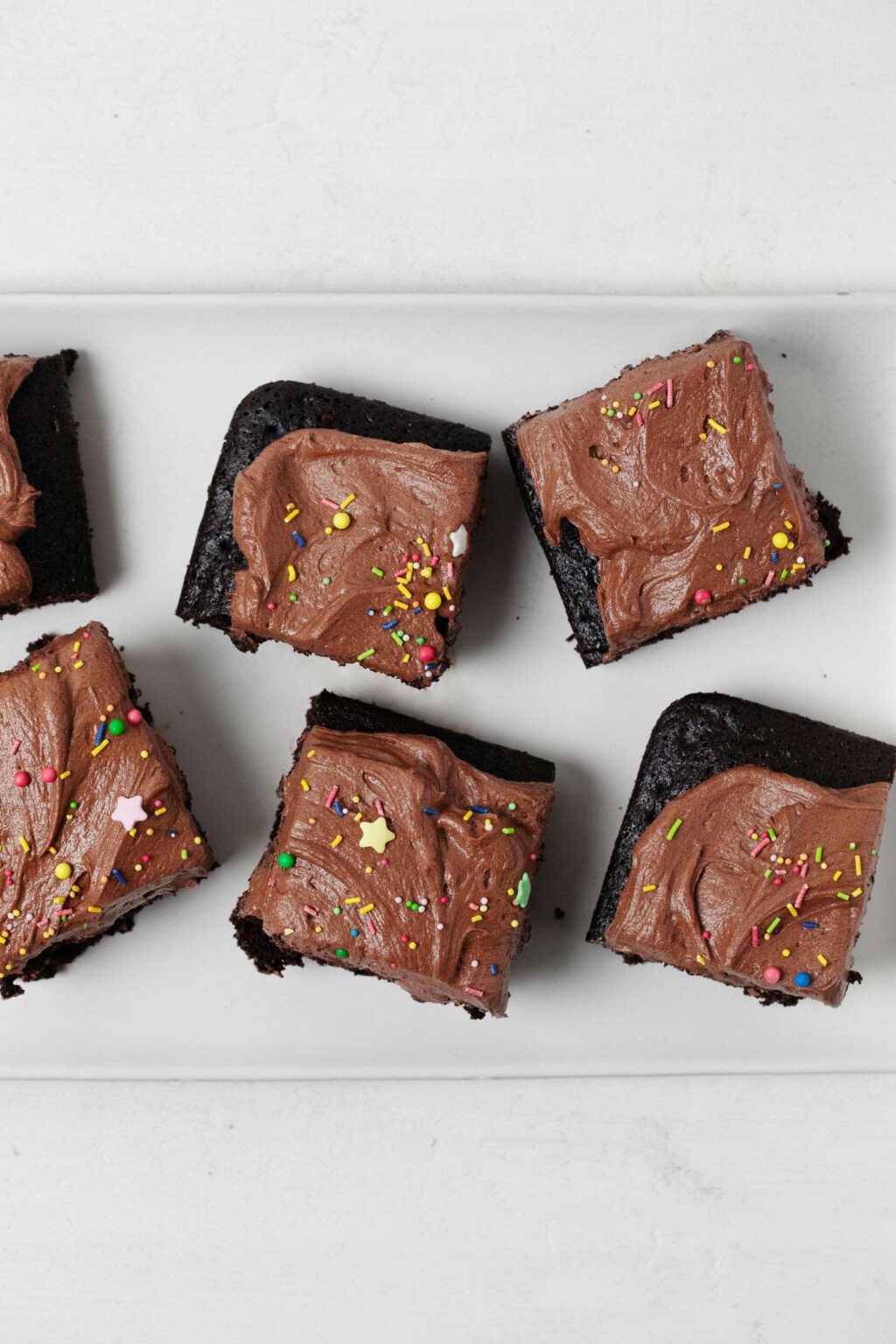 Yesterday I shared my favorite vegan chocolate frosting, and today I'm sharing the snack cake I love to put it on.
This cake is moist, fluffy, chocolaty and the emphasis is on the sweet, moist and fluffy part.
I made snack cakes for my neighbor's birthday last week. A friend of hers was with her when I brought it up and we all helped ourselves to the slices in the late afternoon.
"It's so…fluffy!" they both shouted.
I loved hearing that, because my favorite kind of cake is one with a soft, fluffy crumb. This includes chocolate cake, which can sometimes be thicker and more fudgy than I actually want.
Here, then, is a cake that's unmistakably chocolate, but light enough to be a perfect, soul-lifting snack.
What is a snack cake?
What makes a cake into a snack cake, exactly?
This is perhaps one of those culinary questions for which there is no definitive answer.
In my mind, a snack cake is easy enough—both to prepare and eat—that it doesn't need to label itself as a "dessert."
Snack cake may be Dessert, of course. But it could also just be a random afternoon pick-me-up.
Another way of putting it would be "plain cake". And actually, Odette Williams has a great cookbook with that title.
On the front page, Williams writes, "These recipes are in high rotation in my busy house. They're easy enough to survive a little household chaos; in fact, let's agree that pandemonium is one of the ingredients."
Explaining her deep and abiding love for cake, Williams added, "The fewer ingredients in a cake, the more I want."
Basically, I agree.
Cake is my favorite dessert, period, and there aren't many cakes I'd turn down. Sometimes I enjoy a festive and celebratory layer cake.
At the end of the day, though, the cake recipes I make most often are always simple. They tend to be snack cakes, and my favorite moment of the day to enjoy them is late afternoon, maybe with a cup of decaf or some tea.
How to Make Vegan Chocolate Snack Cakes
There's nothing like a foolproof cake recipe.
I've made this vegan chocolate snack cake enough times now that I'm comfortable presenting it that way.
You can make one of these "back pocket" recipes that you can rely on again and again. Even better, you can have all the ingredients you need to make it at any given time.
Here are the steps.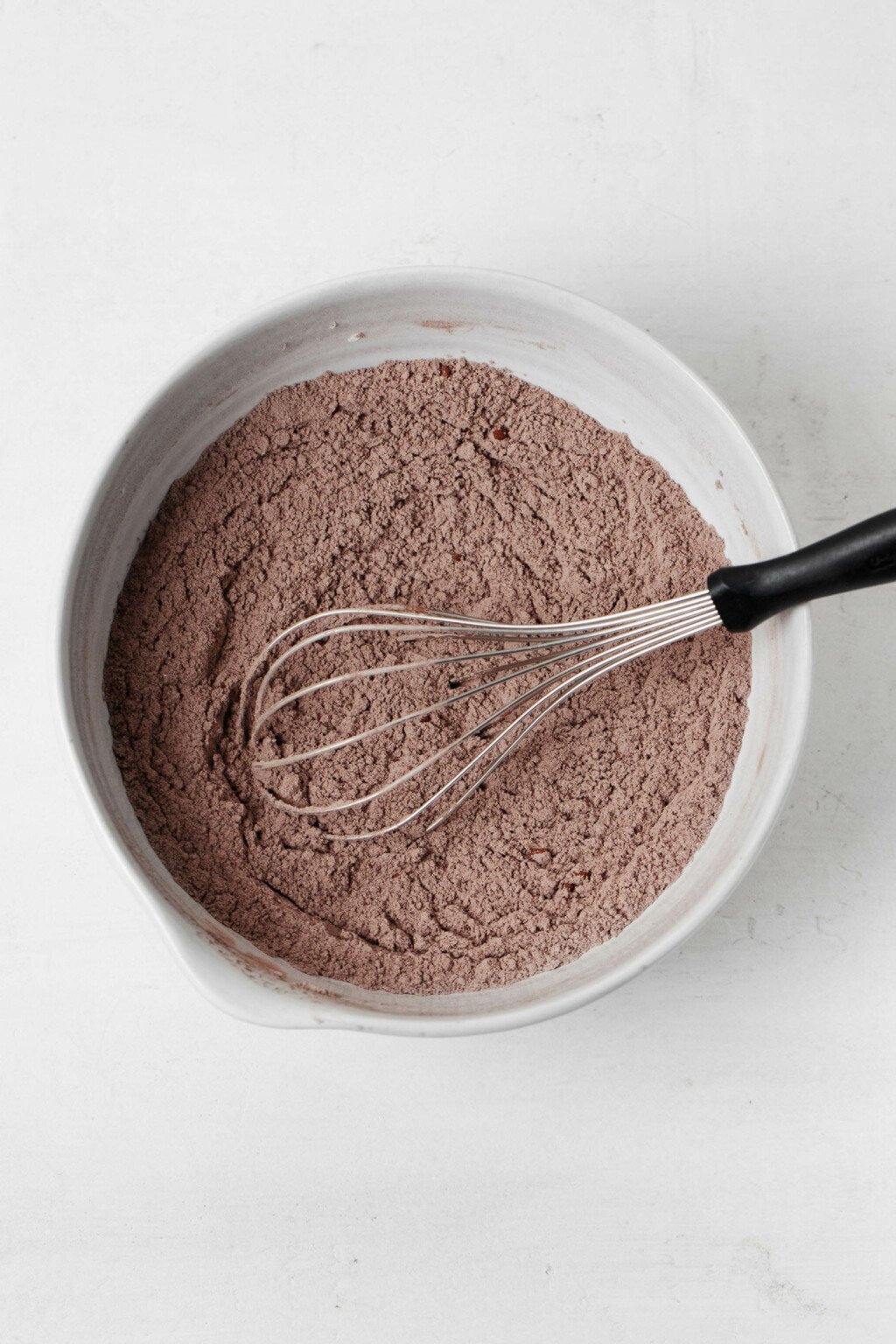 Step 1: Whisk together the dry ingredients
The dry ingredients here are flour, sifted cocoa powder, baking powder, baking soda, salt and cornstarch.
Why cornstarch? Because it makes the texture of the cake lighter and more fluffy. Basically, if you add cornstarch to all-purpose flour, it's an easy way to approximate cake flour without buying a box.
If you don't have cornstarch, you can substitute an additional two tablespoons of all-purpose flour in the recipe.
But if you really like cake, I recommend experimenting with the cornstarch + flour combo. You'll be pleasantly surprised by the fine crumbs it produces!
Step 2: Mix the wet ingredients
Next, you'll mix together sugar, avocado oil, vanilla extract, water, and a teaspoon of some type of acid.
The acid can be lemon juice, apple cider vinegar, or freshly squeezed lemon juice.
Although this snack cake recipe calls for no plant-based milk, the reason for adding the acid is the same reason I often use homemade vegan buttermilk in cakes and quick breads.
The acid reacts with the baking powder to help the cake rise. This is called chemical leavening and is a key part of achieving a fluffy cake!
Step 3: Add wet to dry
In step 3, you will add the wet ingredients to your dry ingredients and mix until well combined.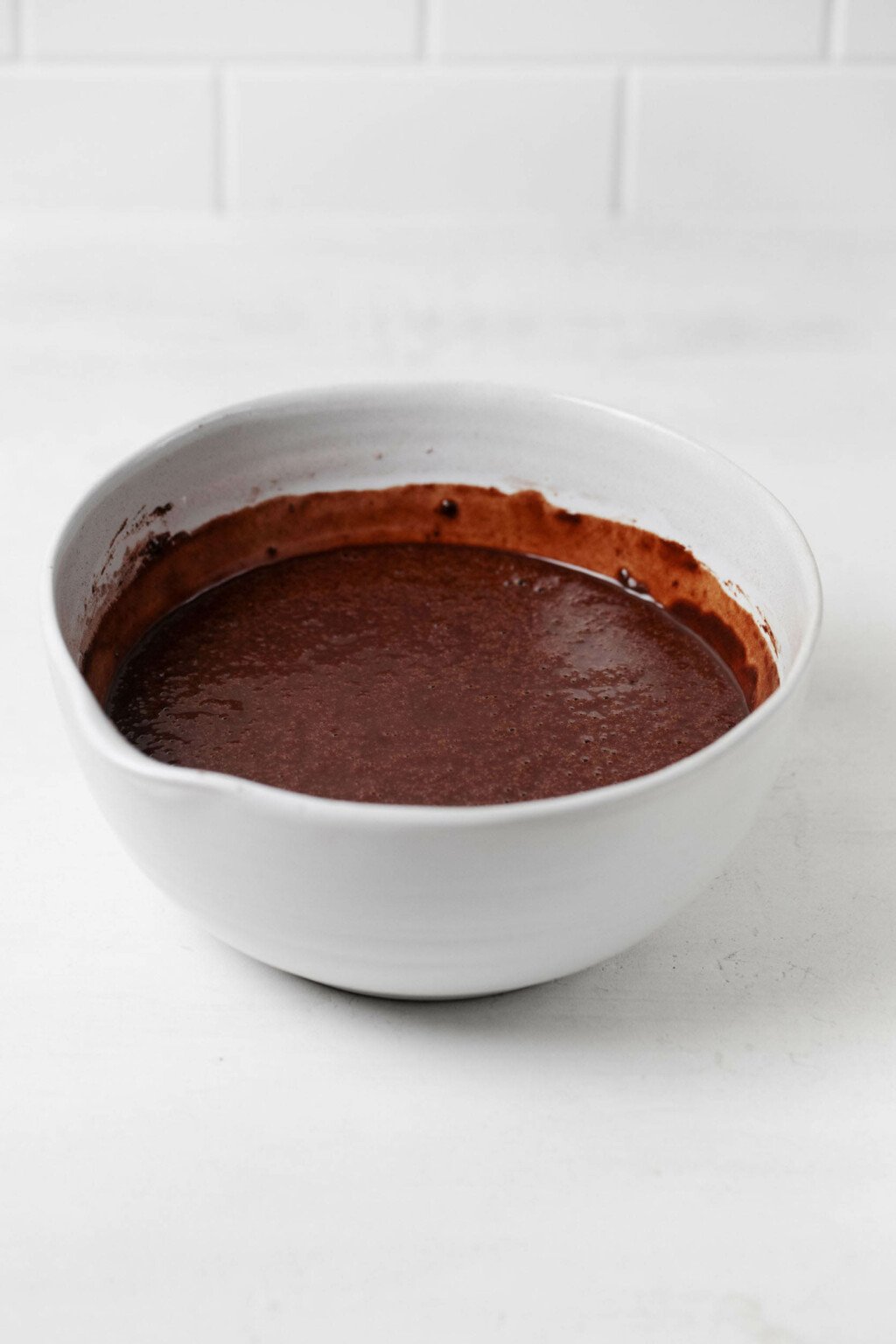 It's perfectly fine if the batter contains a few small flours, but not too many. This is a wet batter, as far as cake batter goes, so be prepared for it to look very runny.
Step 4: Bake
You will bake the cake for about 40 minutes, or until the top of the cake is domed and firm.
I think it's better to err on the side of over-baking rather than underbaking cakes, at least if we're talking minutes.
Taking the cakes out of the oven too soon will really throw off their lightness. Be sure to give this cake the time it needs to develop a domed top in the oven; You'll be glad you saved its lift.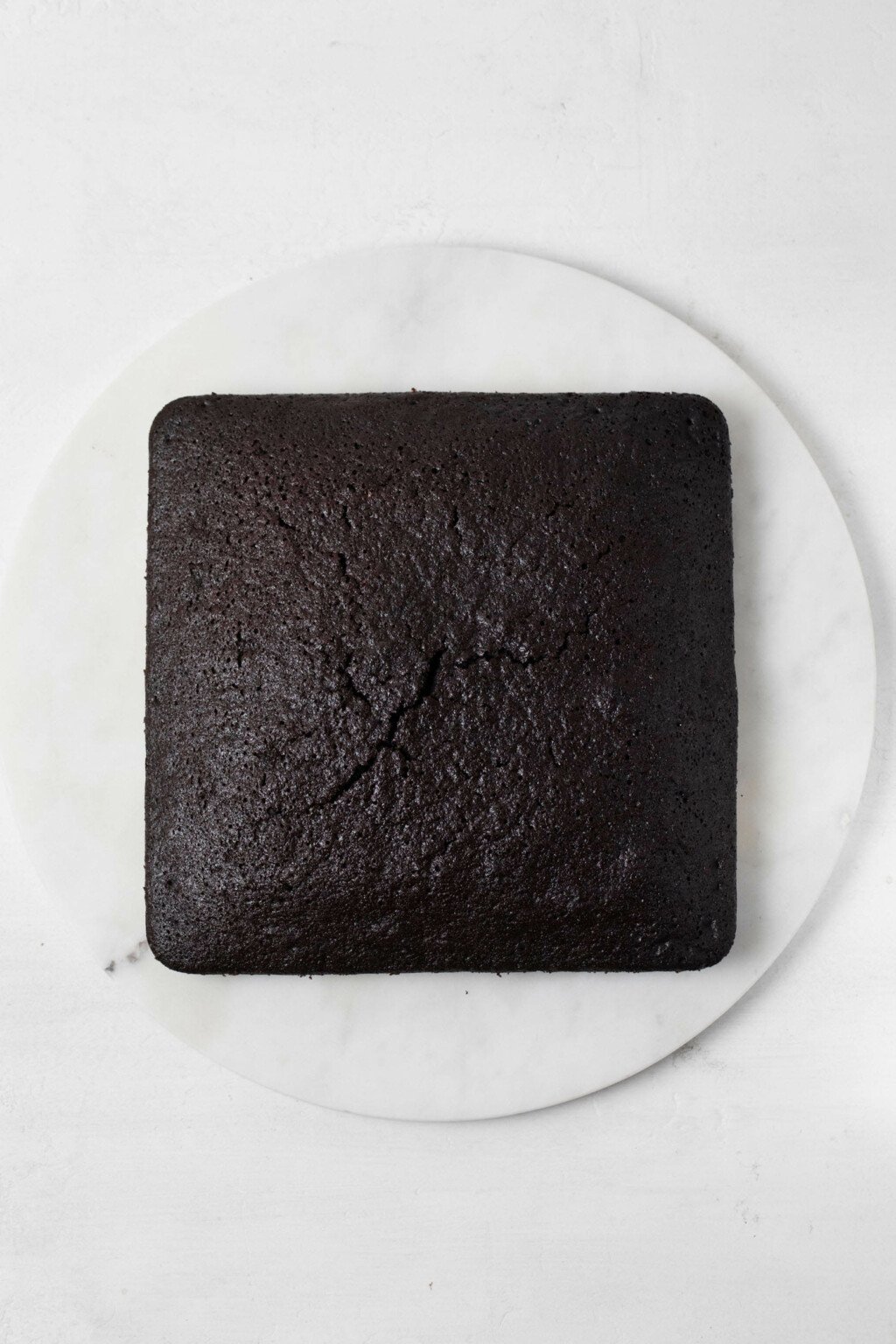 Step 5: Cool
Before frosting the cake, you'll want to give it a few hours to cool completely. If you skip the chilling time, you run the risk of melting your chocolate buttercream frosting.
I usually bake the vegan chocolate snack cake in the morning and frost it in the mid or late afternoon.
Step 6: Decorate!
Technically, you don't have to frost this cake. It can be eaten normally and is quite tasty.
But the cake becomes even more festive and celebratory when it's topped with a delightful, creamy swirl of chocolate buttercream frosting.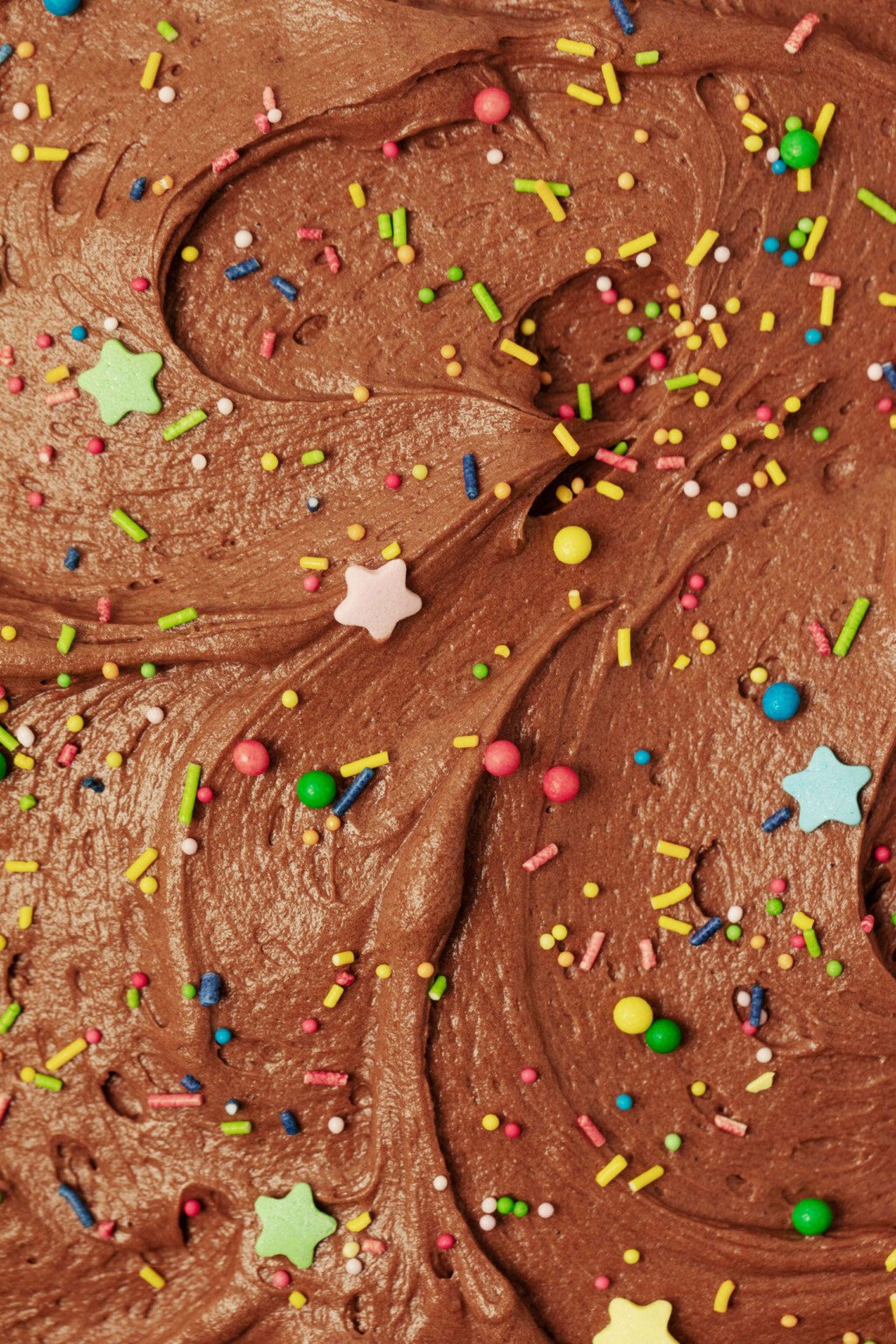 For this recipe, you'll need half a batch of my Vegan Chocolate Frosting.
When I make a cake, I usually cut the frosting recipe in half, so I don't have leftover frosting.
But if you want to give your future self the gift of homemade frosting, you can definitely prepare the entire frosting recipe, use what you need for the chocolate snack cake, and then freeze the leftovers.
Defrost the frosting overnight in the refrigerator when you are ready to decorate another cake or batch of cupcakes.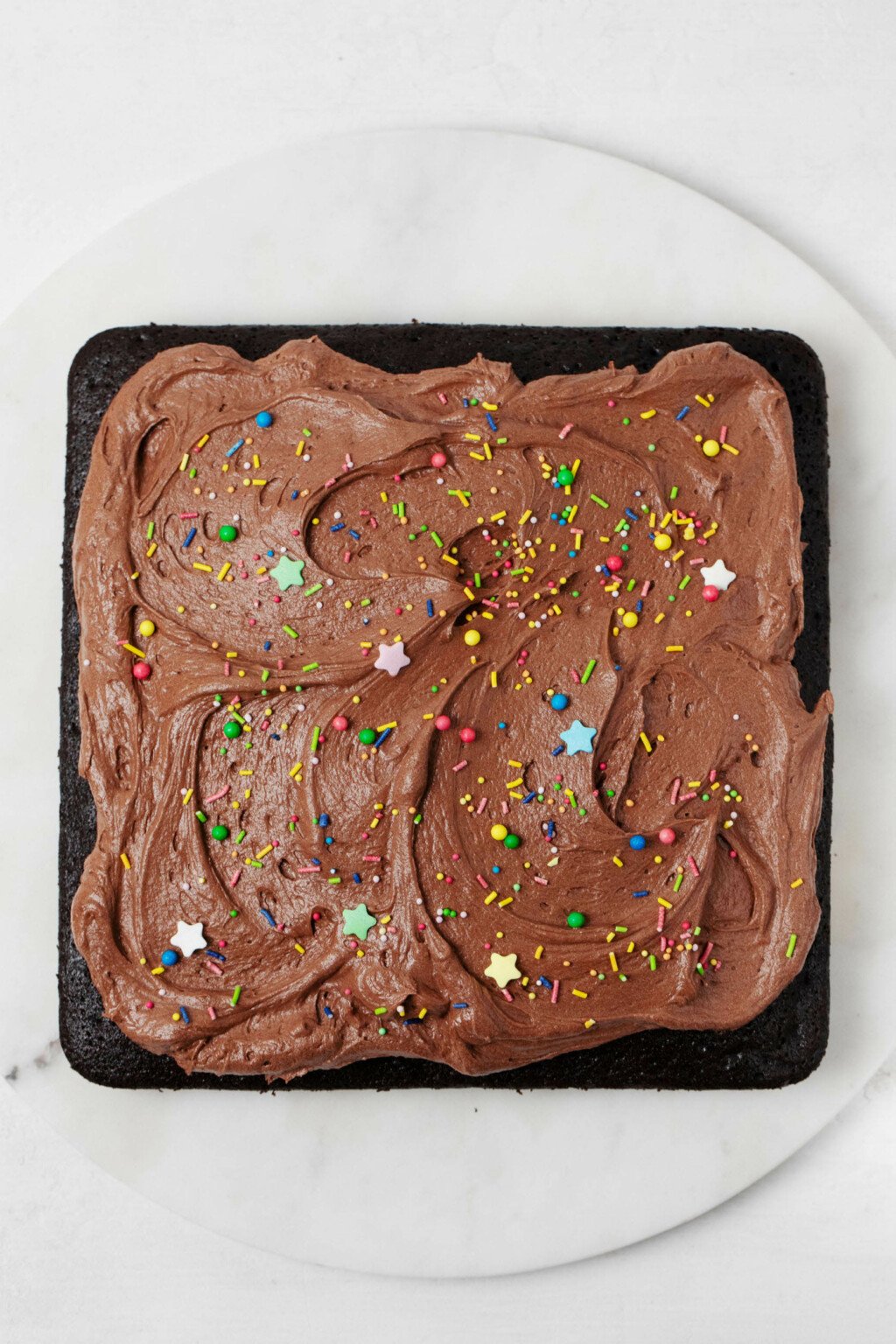 Step 7: Slice and enjoy
This is the fun part, or course.
Preserving Vegan Chocolate Snack Cakes
Snack cake slices can be stored in an airtight container in the refrigerator for up to 3 days.
I recommend keeping them refrigerated rather than room temperature, so you don't run the risk of the frosting getting too hot and melting.
If you plan to keep the cake for more than 3 days, I recommend freezing the squares until you are ready to enjoy them. This will ensure they stay nice and moist.
I've found that 1-cup, round glass containers are perfect for leftover cake squares.
Can the cake be gluten-free?
Wild!
Chocolate snacks can be made gluten-free very successfully for friends who don't eat gluten or wheat.
I recommend using a gluten-free, all-purpose flour mix. The one I have had the most success with is King Arthur Measure for Measure.
What type of cocoa powder should I use?
Choosing the right cocoa powder for baking is…complicated.
Basically, it all comes down to the science of acids and bases and what type of leavening agent you plan to use.
Different cocoa powders can also have different flavor profiles. Dutch process cocoa powder, which I recommend for this recipe, has a particularly rich, dark chocolate flavor.
However, if you have a different type of cocoa powder at home, making a substitution probably won't make or break this very forgiving recipe.
Speaking of cocoa powder, I know sifting is another step, but cocoa powder can be very messy. I recommend straining your snack cake before mixing to make sure it has a nice, even consistency.
More vegan snack cakes to taste
If you're as passionate about enjoying cake any time of day as I am, this post might make you hungry for more vegan snack cake recipes.
i got you
Here are some of my favorites:
And here's a simple square cake I've made for countless last-minute birthday gifts, cheer-up offers, think-of-you-think-of-surprises, and happy-Valentines-Day-to-me-this-week celebrations.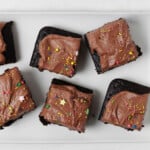 Preheat oven to 350°F/175°C. Line the bottom of an 8-inch/20 cm square baking pan with parchment paper. If the pan is non-stick, lightly oil the sides.

In a large mixing bowl, whisk together the flour, cornstarch, cocoa powder, salt, baking powder, and baking soda.

In a separate bowl, whisk together the oil, sugar, vanilla, and apple cider vinegar for one minute, until the wet ingredients are well combined.

Add the wet ingredients to the dry ingredients. Mix the batter thoroughly. A few small lumps are fine, but there should be no large lumps or flecks of flour in the batter. This is a relatively loose/wet batter for a cake—that's how it should be!

Pour the batter into the prepared baking dish. Bake the cake for 40 minutes, or until the top of the cake is domed and set.

Let the cake cool on a wire cooling rack for at least 1 hour before removing the cake from the pan. Refrigerate the cake for 2-3 hours or until completely chilled.

Before frosting the cake, prepare a half batch of chocolate buttercream frosting. Use an inverted spatula to spread a thin, even, smooth layer of frosting over the top of the square cake. Garnish with a dash of sprinkles, if you like. Cut the cake into 9 squares and enjoy.
The the cake Can be enjoyed without frosting for something more simple.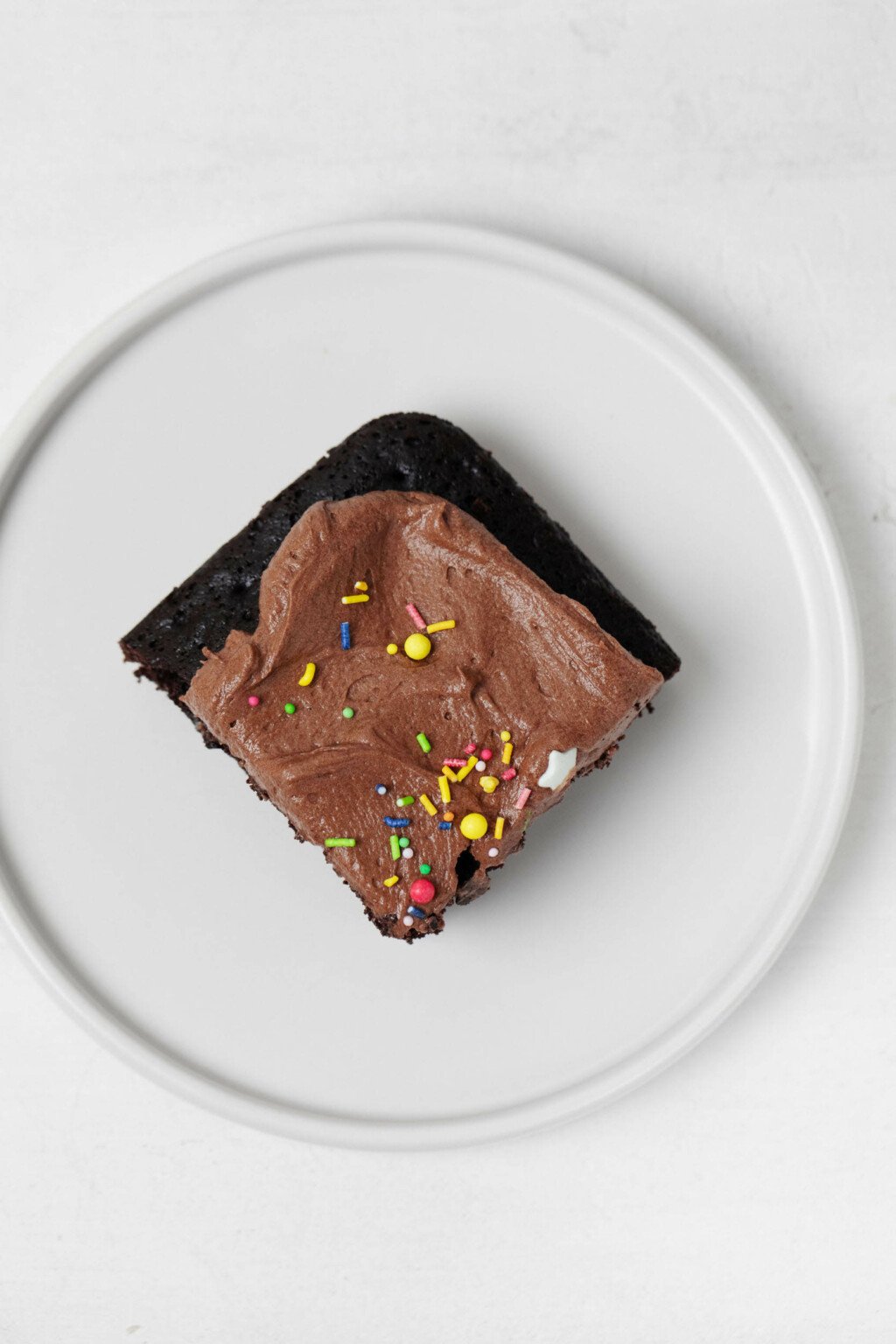 Speaking of Valentine's Day, hopefully you've found a few small ways to show yourself and others a little extra love today. That's what it's all about.
And if, between now and bedtime, the expression of love involves a slice or two of homemade chocolate snack cake, all the better.
xo