This No-Bake Vegan Chocolate Tart is a decadent dessert made with just 5 ingredients! An easy cookie crust is filled with silky-smooth chocolate ganache, then sliced ​​and ready to serve after setting in the fridge.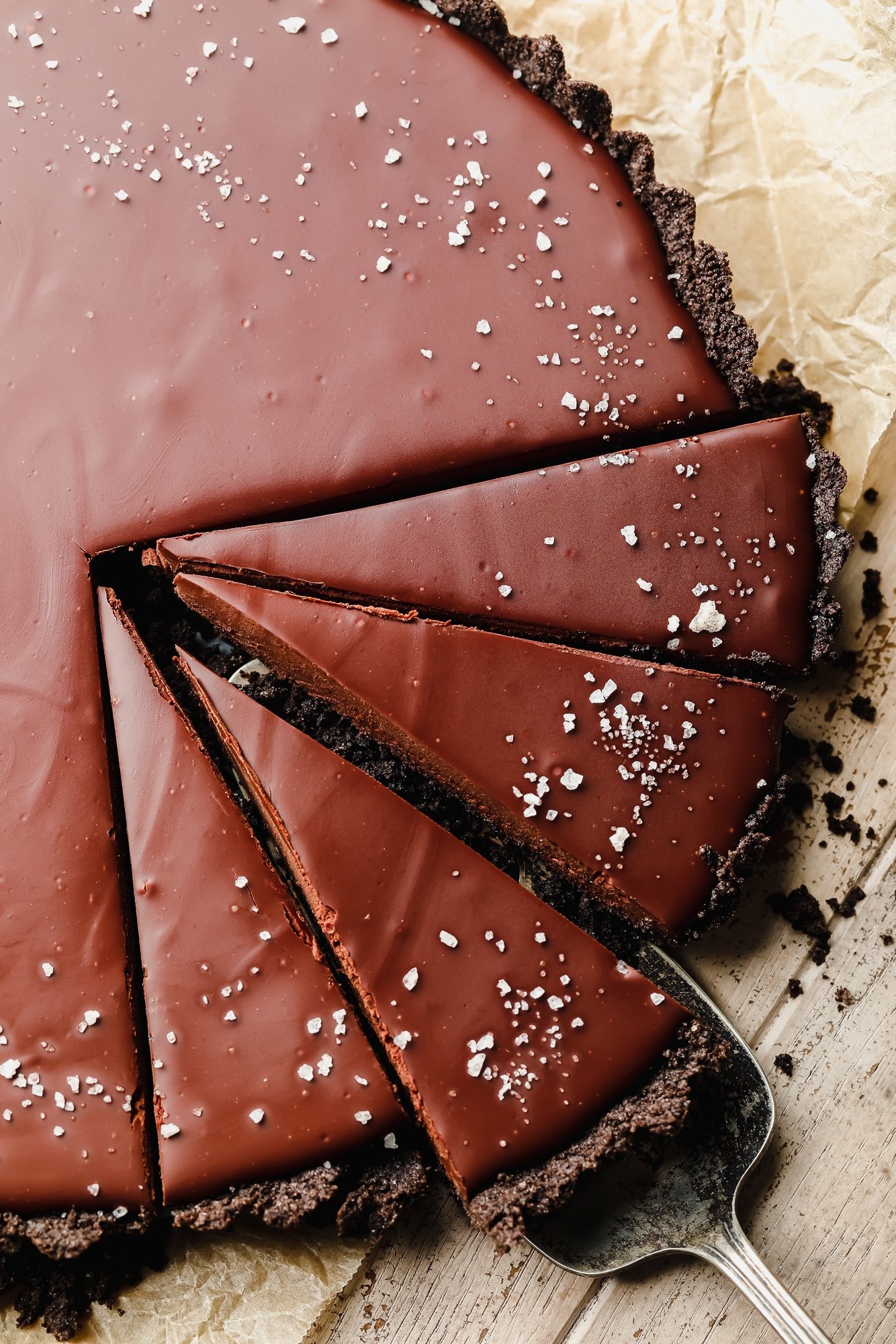 Despite what you may have heard, tarts don't always have to be complicated. For this vegan chocolate tart recipe, we're swapping out the complex pîte sucre (sweet tart crust) for a 2-ingredient Oreo cookie crust and pastry cream for a 3-ingredient vegan chocolate ganache filling. This is a deceptively easy and crowd-pleasing dessert!
You don't even need to turn on the oven to make this dreamy chocolate treat. All you have to do is cut the pieces. Shredded Slice and serve it to dinner guests, your date on Valentine's Day, or the chocolate lover in your life!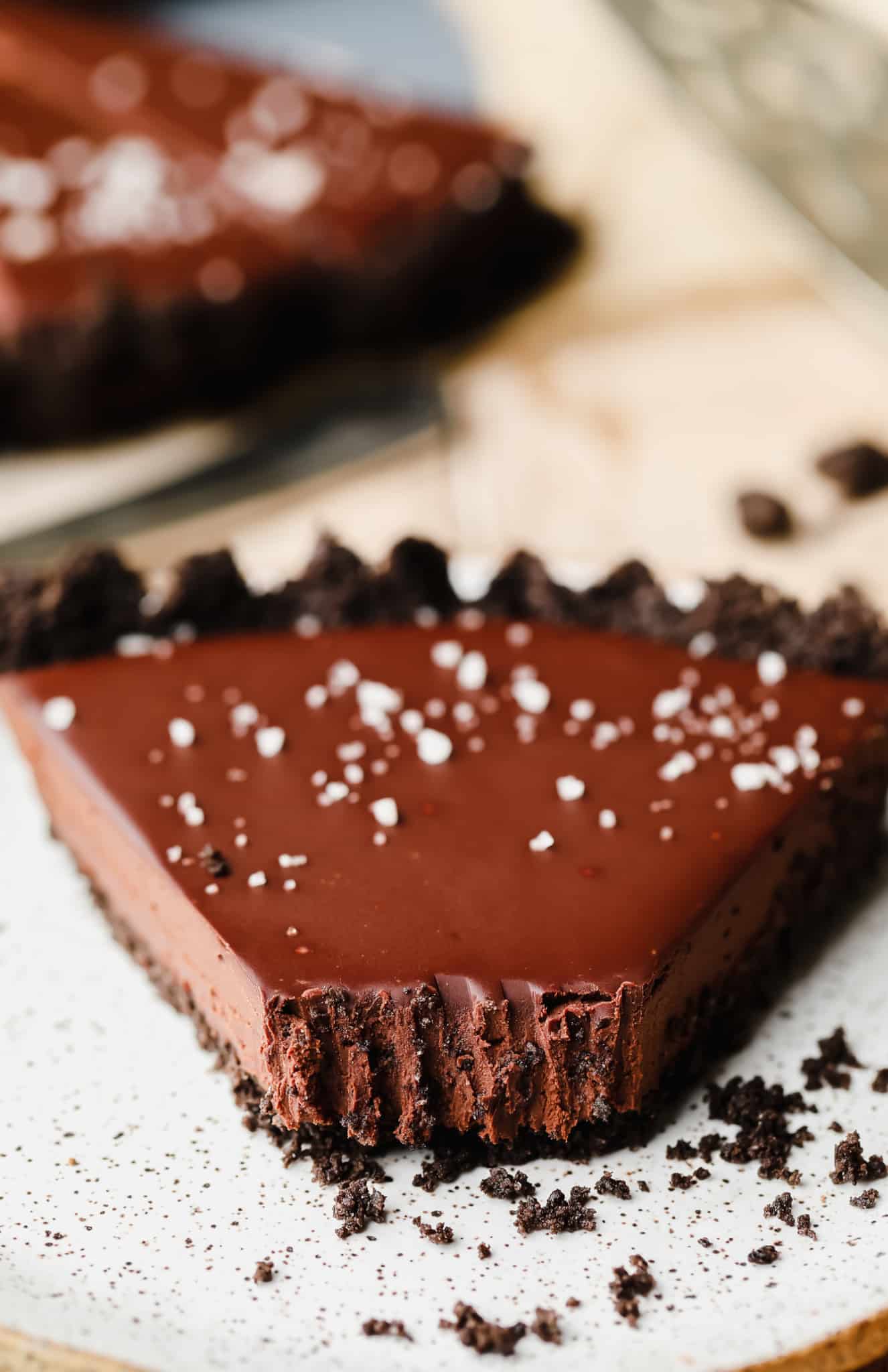 Components required (with options)
Oreo cookies – These are crumbled and pressed into a tart pan to make a chocolate cookie crust similar to my Vegan Oreo Cheesecake recipe. Any type of Oreo-type cookie will work here.
Vegan butter -Softened and mixed with cookie crumbs to create moldable, no-bake and flourless Oreo cookie crusts.
Coconut milk – Use a can of full fat coconut milk. Light coconut milk or carton-type refrigerated ganache isn't rich and fatty enough to help set.
dark chocolate – Get your hands on some good quality vegan dark chocolate of 70% cocoa. This percentage is neither too sweet nor too bitter, leaving the ganache with the perfect amount of richness and chocolate flavor. Always double-check the ingredients to make sure the brand you're using is vegan.
Vanilla extract – For balance and flavor in fillings.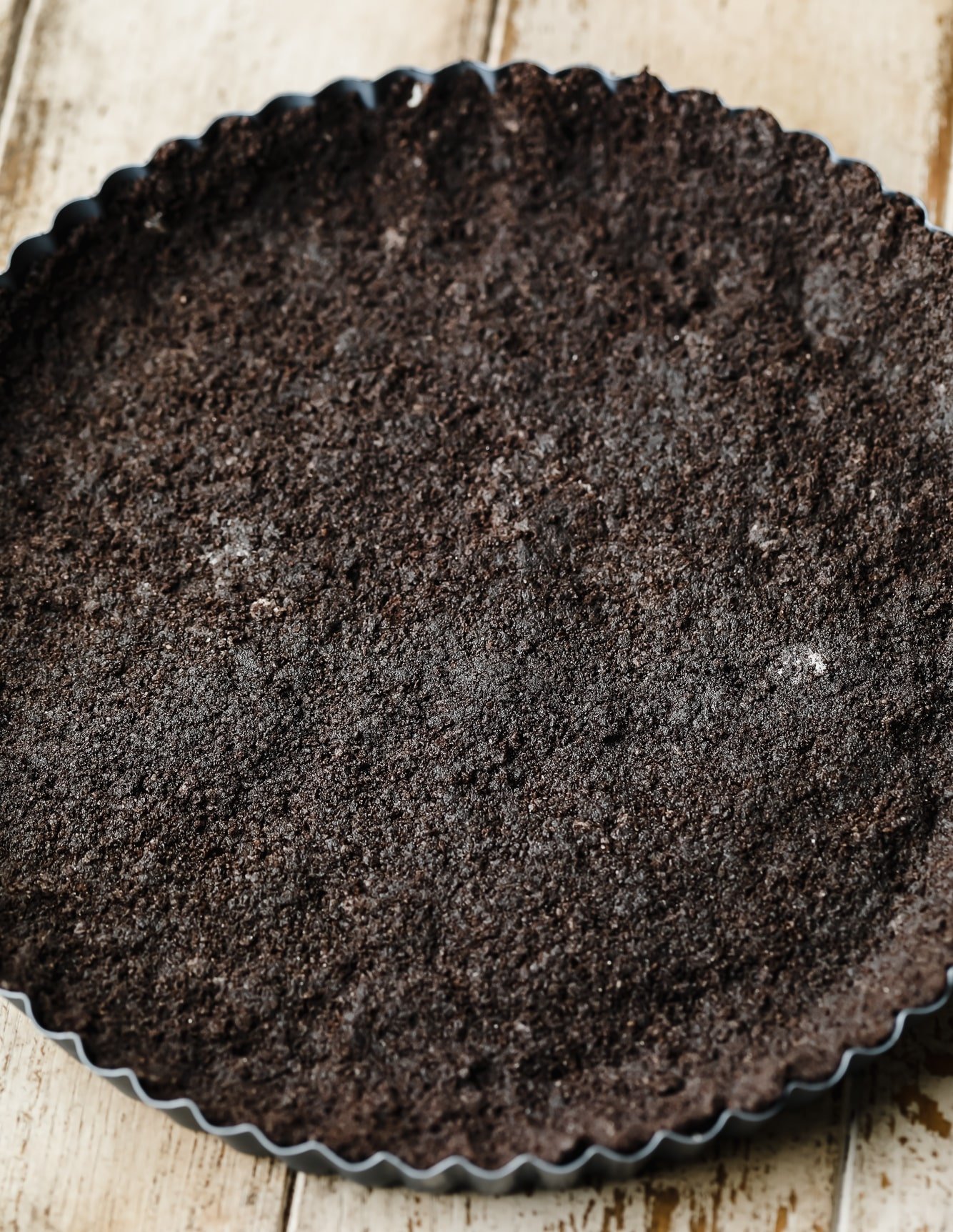 How to Make a Vegan Chocolate Tart
Find the full recipe with measurements on the recipe card below.
To start the chocolate tart crust, pulse the Oreo cookies in a food processor until they turn into fine crumbs. Add the softened vegan butter to the processor and add pulses and pulses until the mixture sticks together when pinched between your fingers.
Drop the cookie crumb mixture into your tart pan. Press it into the bottom and top of the pan (the bottom of a water glass makes this very easy).
Place the crust in the fridge to set.
Next, chop the dark chocolate and place it in a heat-proof bowl for the ganache filling. Heat the coconut milk in the microwave.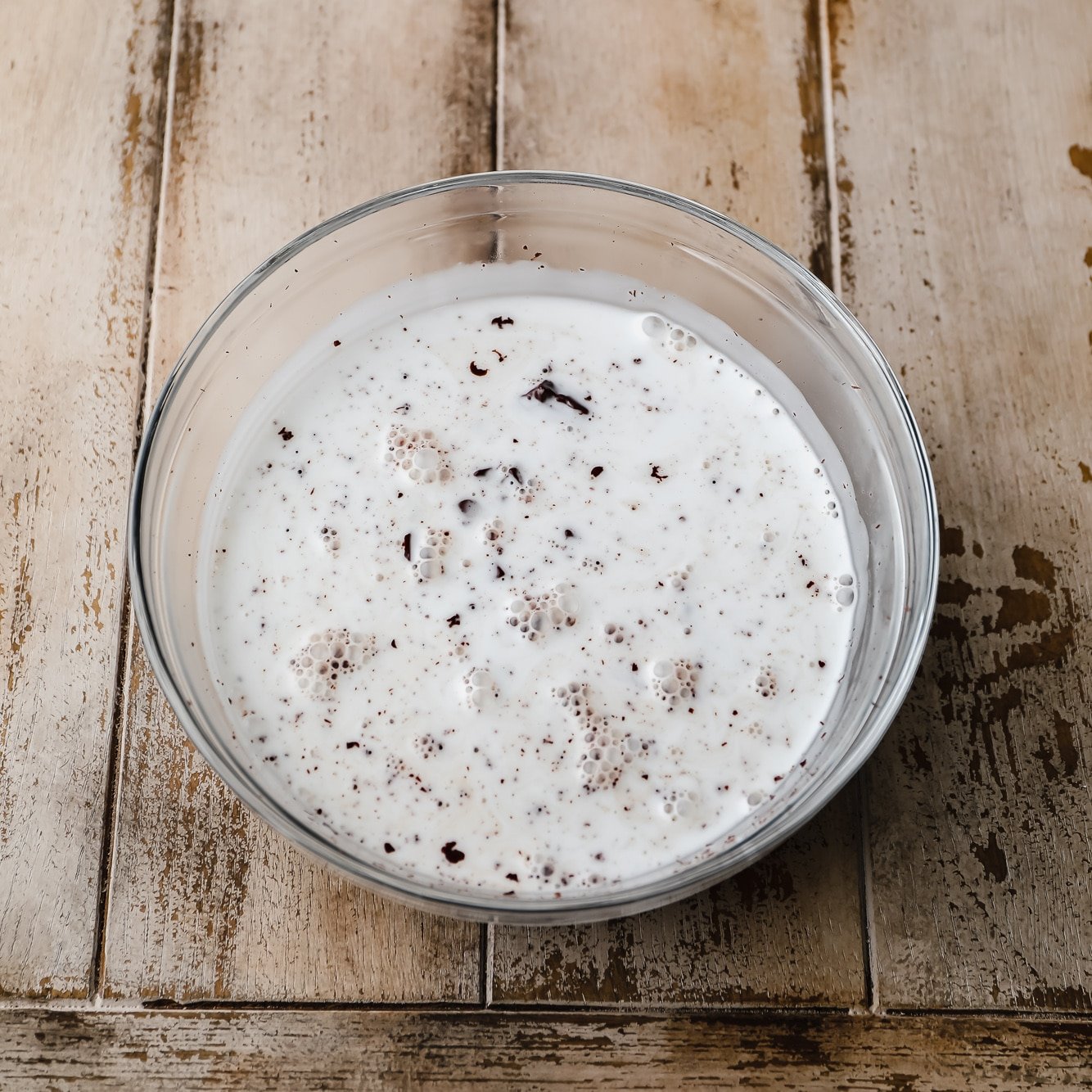 Pour the warm coconut milk over the chopped chocolate in a bowl and let it sit until it melts. Don't move yet.
After a few minutes add the vanilla, then whisk all three together until you have a smooth ganache.
Tip: Is your chocolate taking more than 3 minutes to melt? Feel free to zap the chocolate/milk mixture in the microwave for 20 to 30 seconds to help along.
Spread ganache on cooled cookie crust. Smooth the top with a spoon, then refrigerate the tart until it's set and firm. Slice and enjoy!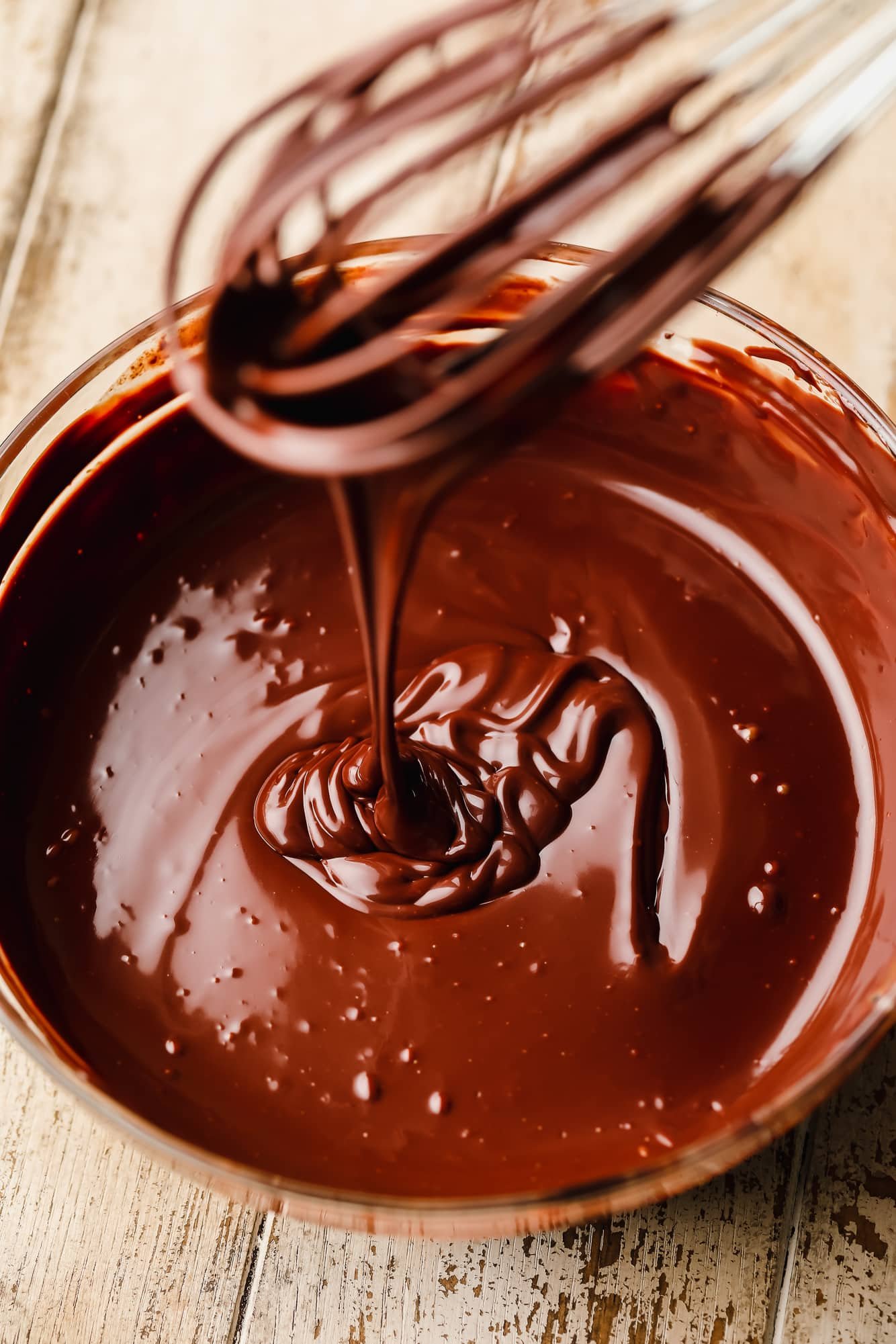 Top ideas
Keep it simple by sprinkling it with flake salt, shaved chocolate, freeze-dried strawberries, crushed almonds, or fresh berries on top. To top it off, top the tart with coconut whipped cream or a drizzle of melted vegan white chocolate.
Tips and variations
To make a salted chocolate tart – Add 1/4 teaspoon salt to the ganache filling and finish with coarse or flaky sea salt on top.
gluten free – Use gluten free Oreos or similar cookies.
Instead of coconut – I haven't tested this recipe without coconut milk but you can try replacing it with oat milk or soy milk. I'm not sure it will be as dense. Some types of vegan creams may work as well.
Individual tart pans – You can make individual chocolate tarts in 2 or 3 small tart pans instead of one large pan.
How to piece – For smooth, clean slices, first run a sharp knife blade under hot water. Repeat this step for each piece.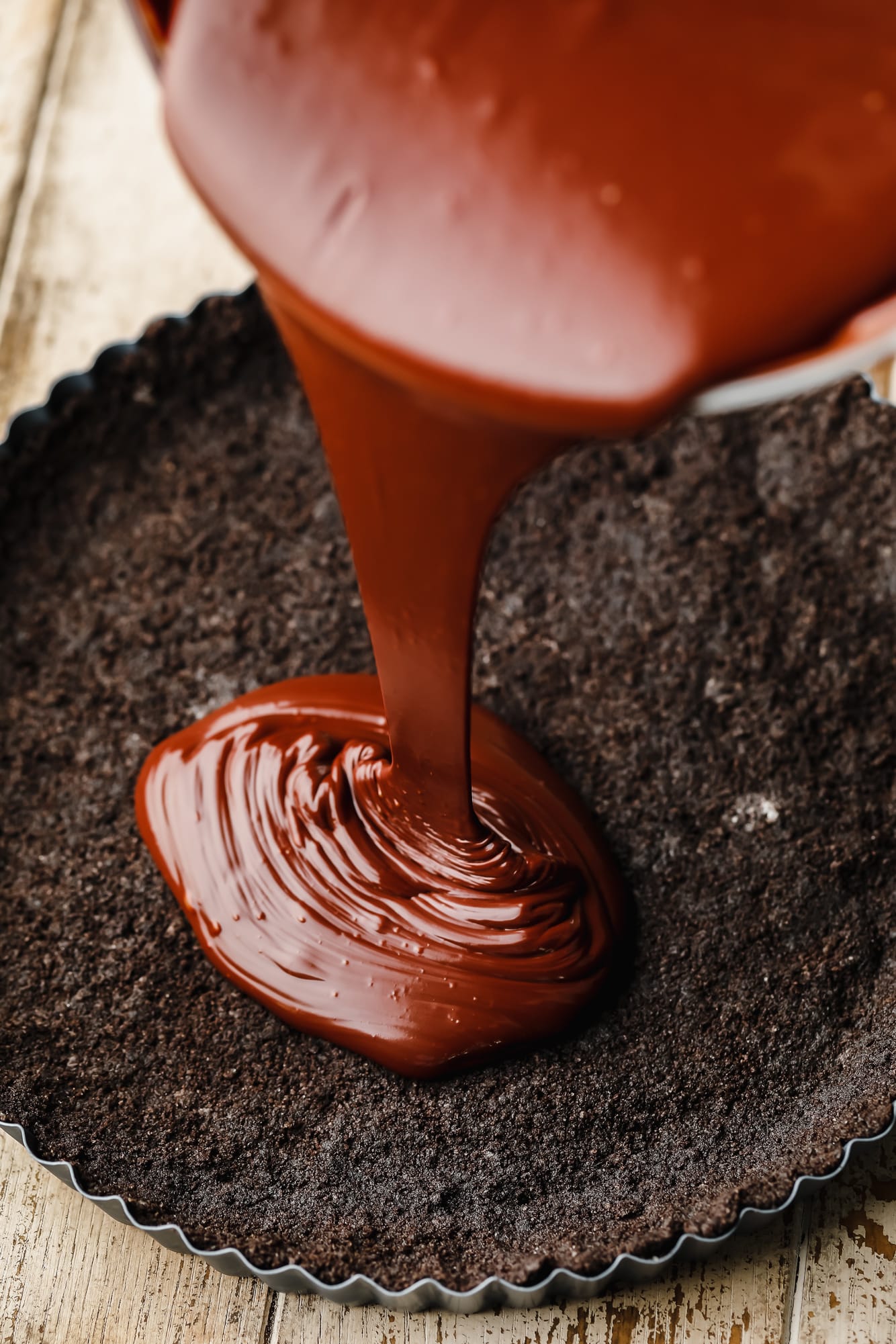 Frequently Asked Questions
Are Oreo Cookies Vegan?
Classic Oreos are made without any dairy, eggs, honey, or other animal-derived ingredients, meaning they're vegan-friendly. If you don't want to use Oreo brand to make this tart, use Nature's Own, 365 brand, or another Oreo-type sandwich cookie instead.
Why is my chocolate tart not set?
Probably because it wasn't left to chill in the fridge long enough. The Oreo crust needs at least 1 hour in the fridge or 15 minutes in the fridge, and the ganache needs to set in the fridge for 2 hours.
I don't have a tart pan. What else can I use?
A 9-inch tart pan is best for this recipe because it has a removable bottom, making for a clean presentation and slices. However, if you don't have one, you can use a parchment-lined 8-inch pie plate instead.
How long will it last?
The tart will keep for about 5 days when covered and refrigerated.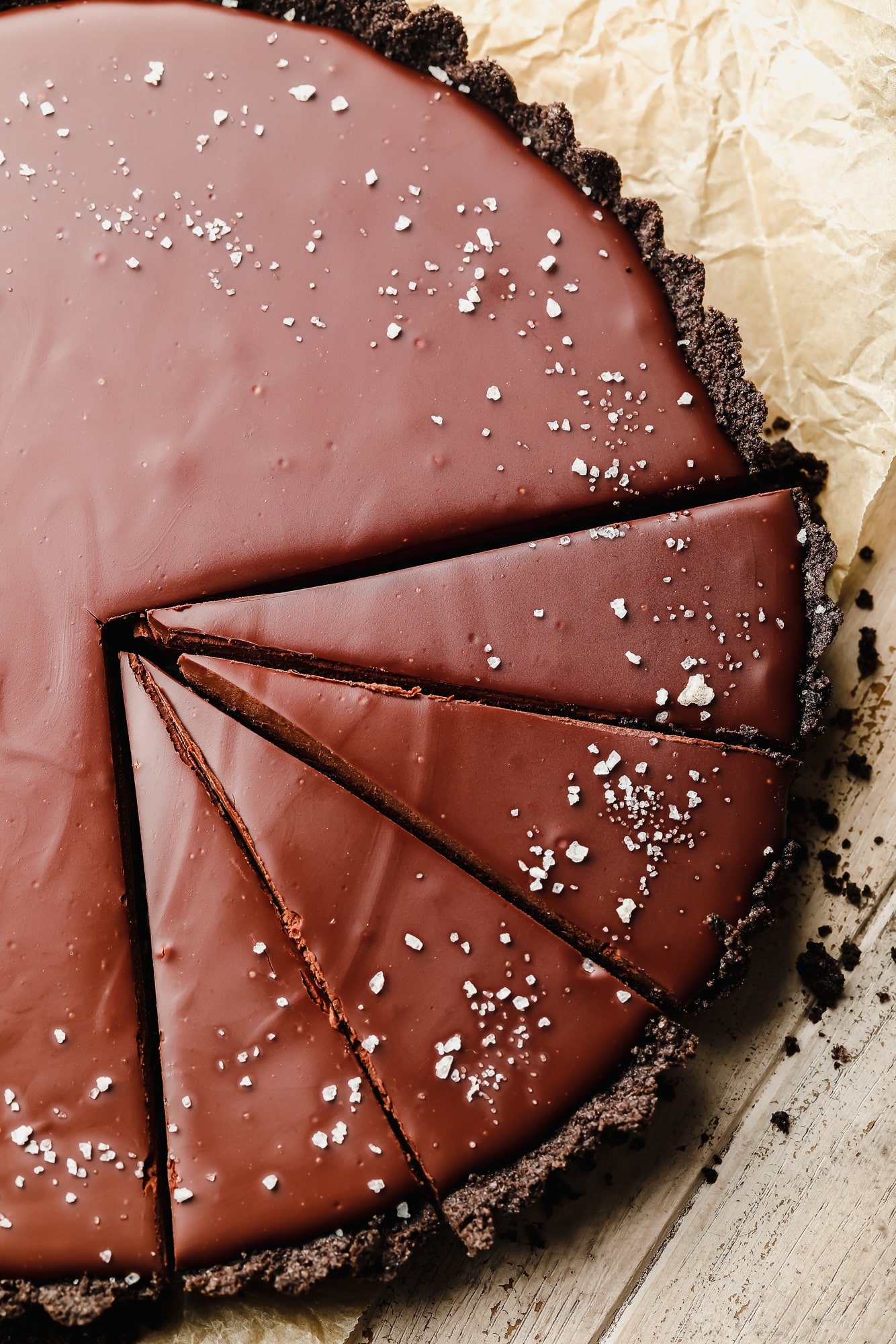 Want more vegan chocolate desserts?
The crust is ready
Take out a 9 inch tart pan. Place the cookies in a food processor and process until you have fine crumbs. Add softened vegan butter and process again until clumps begin to form.

Transfer the crust mixture to the tart pan and press evenly and smoothly into the bottom and top of the pan.

Refrigerate for at least 1 hour or freezer for 15 minutes.
Prepare the ganache filling
Add the chopped chocolate to a medium-sized bowl and set aside.

Measure out the coconut milk (or scoop it out if it's thick) and place in a microwave safe bowl. Make sure to use all the thick white cream, as this will make your tart extra rich and smooth. Better to use some clear liquid. You will use almost the entire can of coconut milk. Heat in microwave for about 1 minute. Whisk well, then pour over the chocolate in the bowl. Let it sit for 3 minutes to allow the chocolate to melt. Don't move yet.

After 3 minutes or so, add the vanilla and whisk together the chocolate, coconut milk, and vanilla until smooth. If your chocolate isn't quite melted, you can stick the bowl in the microwave for 20-30 seconds, then whisk again.

Line tart pan with cookie crust. Smooth with a spoon so it's even, then refrigerate until firm, about 2 hours.

Cut into small servings. Pieces of pieces. Pieces of pieces
For a salted chocolate tart, add 1/4 teaspoon salt to the ganache filling and sprinkle with coarse or flaky sea salt.

For gluten free, use gluten free Oreos or similar cookies.

Coconut oil will work in place of vegan butter if needed.
Worship: 116 pieces | Calories: 270kcal | Sugars: 24g | Protein: 3g | Fat: 19g | Saturated Fat: 10g | Polyunsaturated Fats: 2g | Monounsaturated Fat: 6g | Trans fats: 0.03g | Sodium: 102mg | Potassium: 236mg | Fiber: 3g | Sugar: 13g | Vitamin A: 142IU | Vitamin C: 0.2mg | Calcium: 23mg | Iron: 5mg