This vegan farro bowl is a healthy, flavorful, and filling meal that can be prepared ahead of time for a busy schedule. It's full of nutrient-dense plant-based ingredients, including vegetables, grains and legumes. Pickled red onions and a lemon tahini dressing add bright flavor, while chopped pistachios add crunch!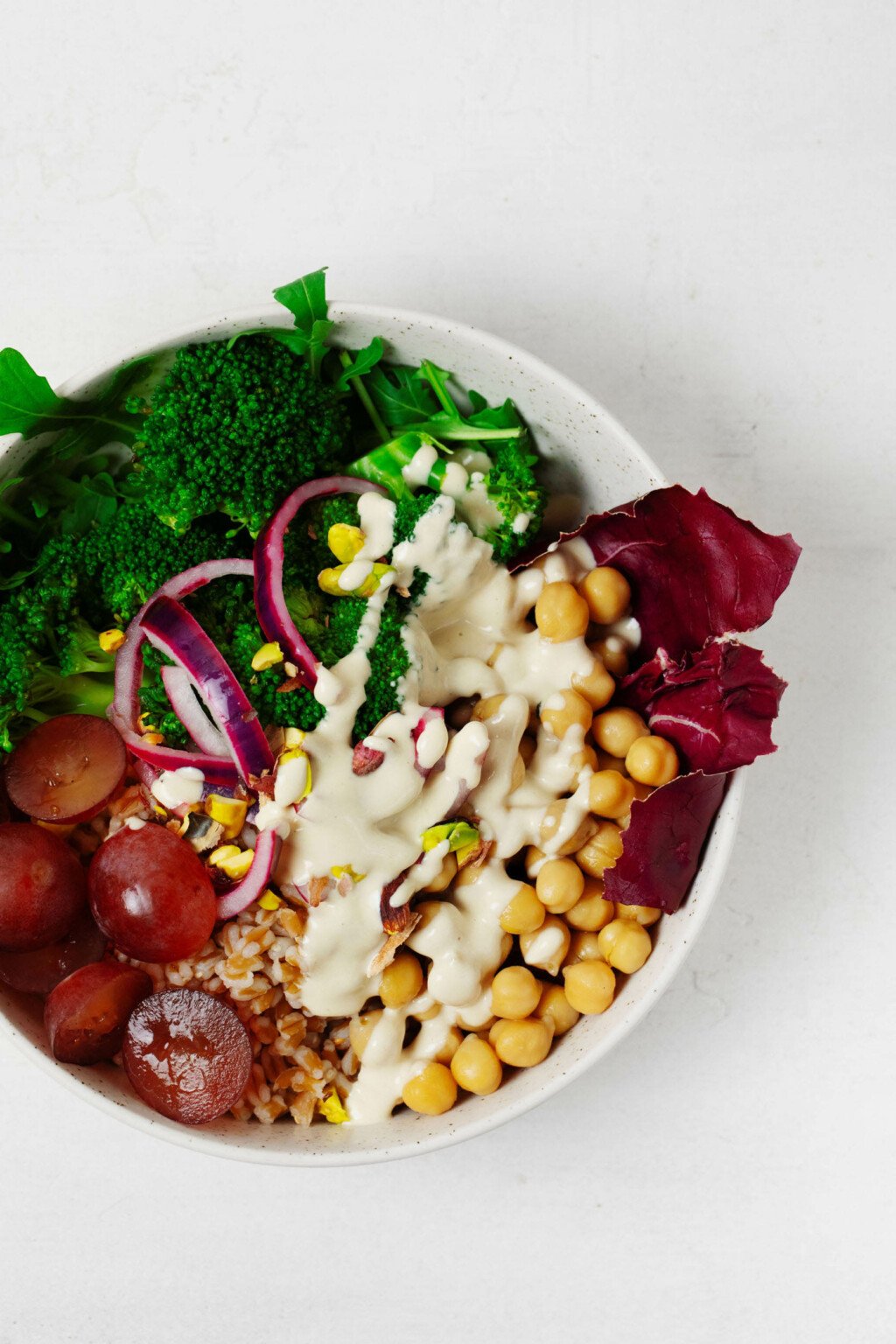 This recipe was originally going to be titled "Fall Farro Bowl." As I started writing about it on December 14th, I couldn't help but laugh.
In fairness, I actually made this and ate it in the fall. Yet this post reveals a different story.
All of this is a perfect expression of the sense of chaos and perpetual backwardness that marks the last quarter of 2022.
But these few months have also taught me that all I can do is, really and truly, do the best I can.
And the good news is that the farro bowl I originally intended for fall isn't just a fall recipe. It can be enjoyed in the cooler months or adapted to work for the warmer months. One of the nice things about vegan bowl recipes is that they travel well with the seasons.
So, why worry about time? The bowl was a joy when I got it a few months ago and it still is. Happy to share today.
What is Farro?
Farro is the star of this grain bowl. But what is farro? And why or how much I love?
My favorite thing about farro is its texture. I love how chewy it is with cooking and I love the firmness of the grain.
Farro reminds me a bit of wheat or spelled berries, but takes less time to cook.
Farro is an excellent source of fiber and relatively rich in plant protein. It is an excellent source of niacin, a B vitamin associated with nervous system, skin and digestive health.
Additionally, farro provides both iron and zinc.
From what I understand, true faro is a variant Dense wheat, which is a type of emmer. Emmer, in turn, is an ancient form of wheat.
There is another grain, Triticum monococcum, or faricella, which is sometimes sold as farro. Spelled forms can also be sold as faro. Yet the "truth" is Pharaoh Imer.
Farro is sold in both hulled and pearled forms. The hulled variety has its hard outer husk removed. Pearled varieties (also known as "polished" grains) have some of the husk removed.
Removing the husk from the grain also removes some of the farro's nutrients. However, pearled farro cooks faster than hulled (usually 20-25 minutes compared to 40-45). I mostly choose the pearl variety for convenience.
Is farro gluten free?
No, it's not! Since farro comes from a member of the wheat family, it is a gluten-containing grain.
Other farro bowl ingredients
In addition to farro, this bowl includes vegetables and fruit, lemon, a creamy dressing, and some toppings for flavor and crunch.
Salad base
The salad base for the bowl is a mixture of arugula and radicchio.
Pepper and bitter flavors are the name of the game here! As you will see, those are offset by the added sweetness of the grapes.
I love the slightly bitter taste of radicchio; This is one of the vegetables I most look forward to in the fall. And lemon pepper arugula can be green in my salad.
This base vegetable ingredient can be changed based on what you have. I used shredded red cabbage in place of the arugula. Baby kale, escarole, chopped spinach and spring mix will all work in place of arugula.
Broccoli
Why did I add broccoli to the bowl? Probably because it's my favorite vegetable, and I always keep steamed broccoli florets and pieces somewhere in my fridge. They turn up a lot in my bowl for that reason.
But I think the broccoli really works here. It adds texture, and it feels like a more substantial green vegetable than salad greens.
Broccoli's bright green, royal brown pops up in abundance at farmers markets during the fall months. Where I live, they are available even in winter.
At other times of the year, you can use zucchini, green beans, or other green vegetables of choice.
If you like brassicas but don't like broccoli, you can try steamed cauliflower, Brussels sprouts or cabbage instead.
chickpeas
Chickpeas are generally my go-to format, and that's especially true when it comes to bowls.
For example:
So maybe I should have used a different lemon for variety here. And for the record, you can: cannellini beans and lentils, for example, would work well in the recipe.
But, I love what I love, and I am really love chickpeas
Chickpeas lend their plump, creamy texture, plant-protein, fiber, iron, zinc, magnesium and many other nutrients to farro bowls.
grapes
It's funny, I'm not a huge fruit-in-salad person. However, when I first prepared these bowls, I had red grapes in my fridge. They come into season in the fall, and I always catch them when I find them.
I'm so glad I decided to throw some of them into the farro bowl! I love how their sweet flavor contrasts with the nutty farro, tangy pickled onions and bitter, peppery greens.
Dijon Lemon Tahini Dressing
The dressing here is a Dijon lemon tahini dressing. It's tangy and zingy, and I think it livens up the bowls a lot.
Plus, the dressing requires 5 ingredients, minus water, and is super easy to make.
If this particular dressing doesn't speak to you, there are many others you can try. Some of my picks would be: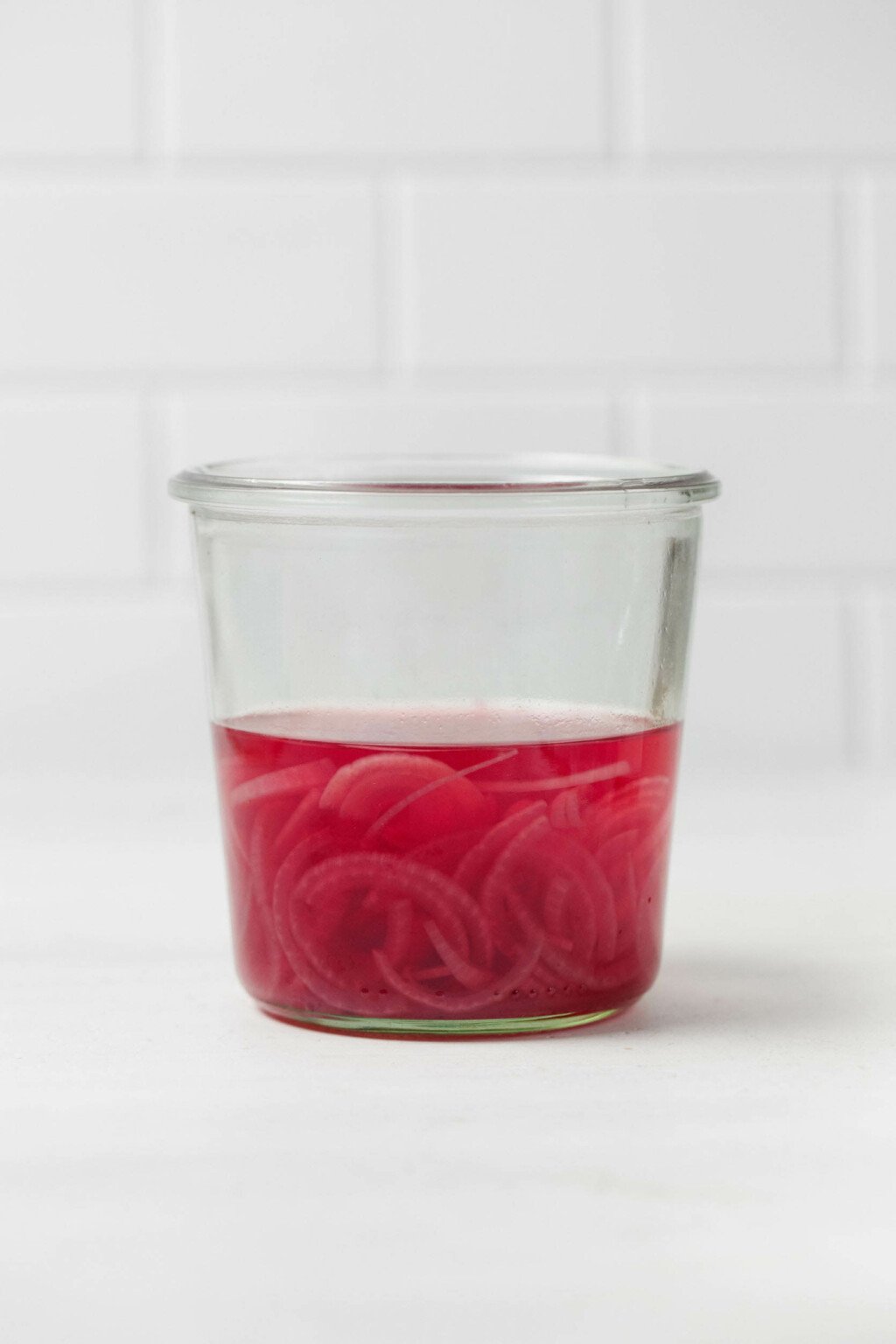 pickled red onion
Quick-pickled red onions are one of those "superstar" ingredients you can keep in the fridge and count on for a boost. big A flavor punch to any salad or bowl.
Yes, you can use finely chopped or thinly sliced ​​red onion for farro bowls instead of pickles. But quick picking red onions really only takes 10 minutes and the payoff is very rewarding.
Chopped, peeled pistachios
This farro is the cherry on top of the bowl, so to speak?
Chopped, crushed, salted shelled pistachios.
Why? Mostly for the crunch. And I think the nutty flavor is a great overall compliment to the other ingredients in the bowl.
But pistachios also add some healthy fats to this recipe, as well as vitamin B6 and thiamine.
If you don't have pistachios and prefer other nuts or seeds, feel free to swap. I also love chopped walnuts, pecans and pepitas in faro bowls.
How to Make Farro Bowls
The steps to make farro bowls are very simple.
The longest part of the process will be cooking your farro. This will take 25-45 minutes, depending on whether you use pearled or hulled grains.
While the farro is cooking, you will steam your broccoli (or vegetable of choice).
Once both of these steps are done, serving the bowls is just a matter of assembling the ingredients.
By the time you're done, you'll have a hearty, plentiful, and wonderfully colorful bowl of vegetarian grains to dip into.
Can the recipe be made gluten free?
absolutely To make this bowl without using a gluten-containing grain, you can swap out your favorite gluten-free grain in the recipe.
I would choose brown rice or quinoa.
Food preparation and storage
Farro bowls are a great option for a weekly vegan meal prep routine. Cooked farro can be refrigerated in an airtight container for up to 5 days or frozen for up to 8 weeks.
Broccoli can be steamed 4 days before making the bowl. You have the option of using frozen broccoli for your convenience, microwave it right before you serve the bowls.
Dijon lemon tahini dressing will keep for 4-5 days in the refrigerator, and quick pickled onions can be kept for 4-6 weeks.
Prepping just one or two ingredients ahead of time here will make the bowls quick and easy to assemble when it's mealtime!
Love more vegetarian bowls
If you like the look of this farro bowl and if the variety and color and satiety of a bowl of food makes your heart beat faster, here are a few more ideas: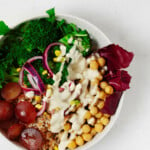 1

the cup

pearled or hulled farro

(200 grams)

1

teaspoon

kosher salt

1-2

stacking cup

Broccoli flowers

(Alternatively add cauliflower florets, zucchini slices, green beans cut into 2-inch/5 cm pieces, or other bite-sized vegetable of choice)

4

stacking cup

Baby arugula, roughly torn or chopped

2

the cup

Chopped or torn radicchio leaves

1 1/2

the cup

Cooked chickpeas

(240 g; 1 15-oz/425 g can, drained and rinsed)

1 1/3

the cup

Red grapes, halved

(215 grams)

1

the cup

pickled red onion

1/2

the cup

Shelled, roasted, and salted pistachios, whole or roughly chopped

3/4

the cup

Dijon Lemon Tahini Dressing
Fill a medium/3 quart sauce pot with water and add salt. Bring water to a boil over medium-high heat. Add the farro. When the water boils again, reduce the heat to medium low. Boil the farro—just like the pasta—for 25 minutes. Drain farro and return to sauce pan to cool. Let the farro come to room temperature before assembling the bowl. You can prepare the farro up to 4 days before preparing the bowls and store in an airtight container in the fridge.

While the farro is cooking, bring another pot of water to a boil and fit it with a steamer attachment. Add the broccoli. Steam for 3-5 minutes or until the florets are crisp tender. Alternatively, you can microwave them until they are crisp tender. Let the broccoli florets come to room temperature before assembling your bowls.

To assemble the bowls, divide the arugula and radicchio among 4 bowls (or storage container bowls). Top each with cooked farro, chickpeas, broccoli florets and 1/4 of the grapes.

Top each with 2-4 tablespoons of pickled red onion, then sprinkle the bowl with 2 tablespoons of pistachios. Drizzle each bowl with 2-3 tablespoons of Easy Lemon Dijon Tahini Dressing and serve.

Alternatively, combine the bowls and store in an airtight container in the fridge for up to 4 days. Store the dressing separately and garnish the bowls just before eating.
Often what I love most about a vegetarian bowl is its simplicity. I can easily prepare lunch bowls with leftover odds and ends in my fridge, making them a low-key meal option.
There's nothing fancy or elaborate about this farro bowl, but it does feel a bit festive! It has many layers of flavor (salty, sweet, tangy, earthy) and texture (crisp, crunch, chewy).
I can vouch for the fact that the farro bowl will make lunch on a cold day feel like a treat, something to look forward to. I can even imagine the bowl becoming a wonderful option for quiet, small holiday celebrations.
I hope it will give you the same joy that it gave me!
xo