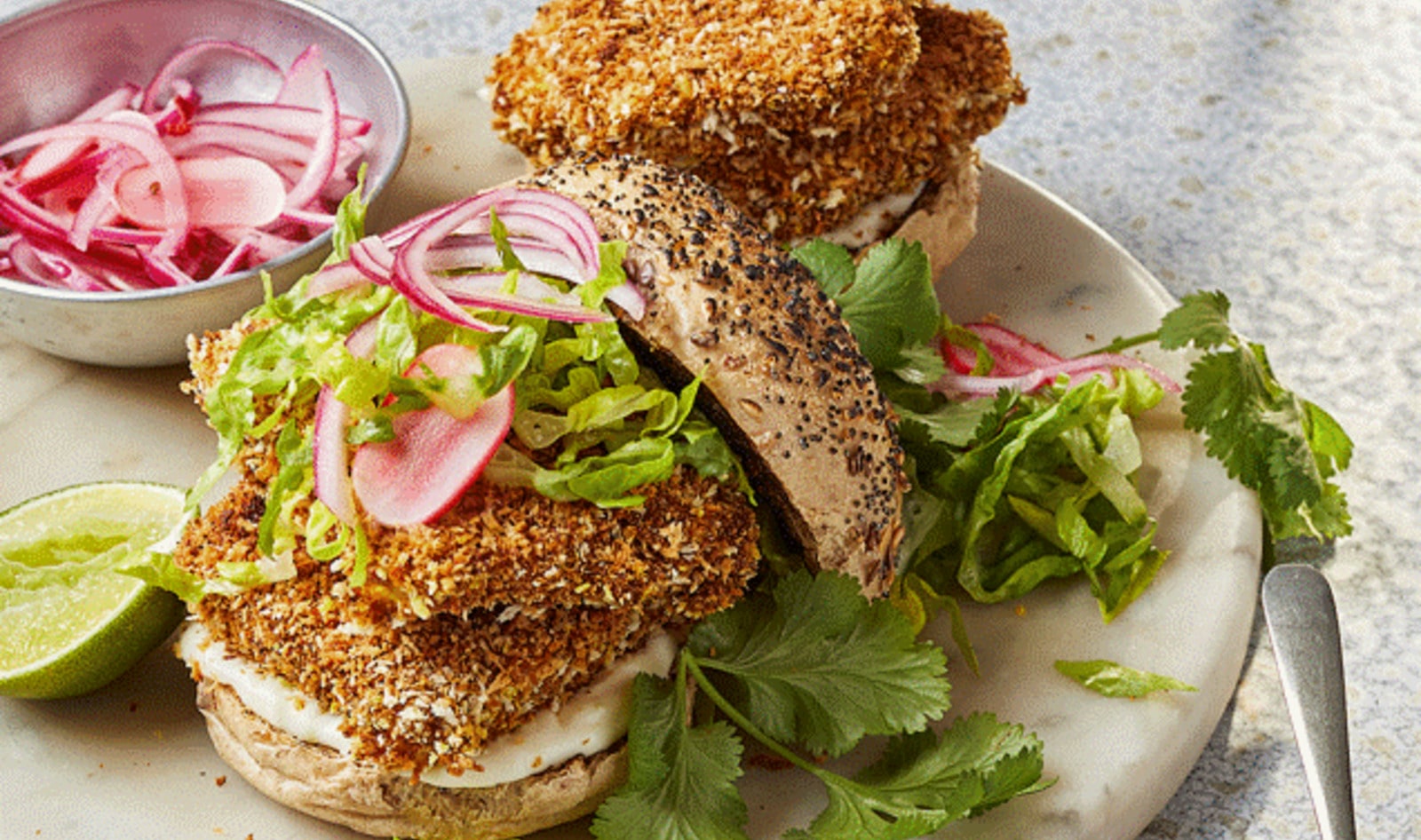 Bring your favorite Japanese-style food to the barbecue with these tender and crispy tofu burgers. Vegan barbecue cook book
do you want:
For the katsu sauce:
1 tablespoon of sunflower oil
1 onion, roughly chopped
1 carrot, peeled and roughly chopped
¾-inch pieces of ginger, peeled and roughly chopped
2 garlic cloves, chopped
1 tablespoon mild curry powder
1 (14-ounce) full-fat coconut milk
2 teaspoons maple syrup
2 teaspoons of soy sauce
1 teaspoon cornstarch
For the wasabi mayo:
1 tablespoon vegan mayonnaise
1 teaspoon wasabi paste
For the burgers:
6 tablespoons panko breadcrumbs
1 (9-ounce) block extra-firm tofu, pressed and cut horizontally into 2 pieces
1 tablespoon of sunflower oil
2 sesame burger buns
what do you do:
For the katsu sauce, heat oil in a pan over medium heat. Add the onion and carrot and cook for 3 to 4 minutes until softened. Add ginger, garlic and curry powder and cook for another 2 minutes. Add coconut milk, maple syrup and soy sauce and cook for 15 minutes.
In a high-speed blender, add the mixture and blend until smooth. Pour back into the pan. In a small bowl, mix the cornstarch with 2 tablespoons water and add the sauce to the pan. Simmer on medium heat for 10 minutes and cook until thick and smooth. Let cool in the pan for a few minutes, then pour into a large bowl and set aside.
For the wasabi mayo, in a bowl, whisk the mayonnaise and wasabi paste until combined. Set aside.
For burgers, in a dry pan, add panko breadcrumbs and toast 2 to 3 minutes or until lightly golden, tossing frequently to prevent burning. Remove from heat when lightly golden and set aside on a plate.
Brush tofu with oil. Place on hot grill for 4 to 5 minutes, then flip and cook until golden and firm. Remove from grill and dip in katsu sauce, covering all areas. Shake off any excess sauce and then press the coated tofu into the breadcrumbs. Carefully place on the grill for about 30 seconds to heat through.
Lightly toast bread buns, place on plates, and add tofu to bottom buns. Top with wasabi mayo and top bun.