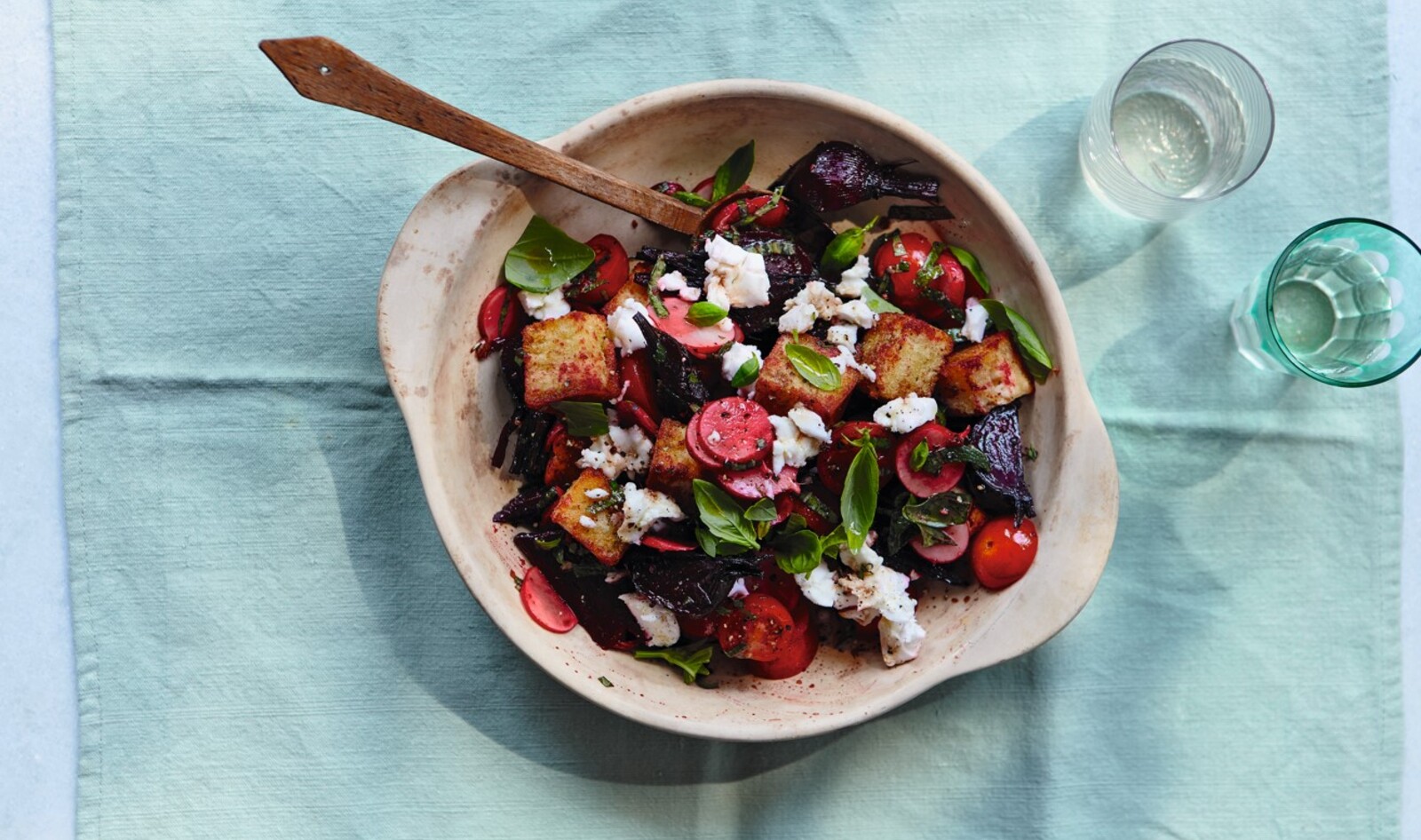 Jamaican hard dough—a soft, chewy white bread with a slightly sweet flavor and a signature thick crust—is the star of the Jamaican riff on Italian panzanella salad. a lot Cookbook Find it in the bread aisle of Caribbean markets or online.
do you want:
For the Panzanella:
2 large beets, peeled and quartered
2 tablespoons olive oil
½ teaspoon of salt
½ teaspoon black pepper
2 thick slices of hard wheat bread, cut into slices
¾ cup cherry tomatoes, halved
¾ cup radishes, chopped
¼ cup mint leaves, finely chopped
⅔ cup vegan feta, crumbled
¼ cup basil leaves, roughly torn
For the dressing:
1 clove garlic, finely chopped
3 tablespoons balsamic vinegar
2 tablespoons olive oil
Juice of ½ lemon
what do you do:
For the panzanella, preheat the oven to 350 degrees. On a baking sheet, toss beets with 1 tablespoon olive oil and ¼ teaspoon salt and ¼ teaspoon pepper. Bake in the oven for 40 minutes.
On a separate baking sheet, place the bread and toss with the remaining 1 tablespoon olive oil and the remaining ¼ teaspoon salt and ¼ teaspoon pepper, then bake for 20 minutes. Remove and let cool slightly.
Add tomatoes, radishes, mint, feta and basil to a large bowl.
For the dressing, in a small bowl, whisk all the ingredients. Add to tomato mixture, add bread and beets, toss gently to coat and serve immediately.