Looking for a delicious and savory breakfast option for brunch? this Vegan spinach quiche with JUST Egg with <10 ingredients it's my new favorite way to start the day with my cup of coffee! This simple recipe is packed with plant-based protein, fiber and flavor.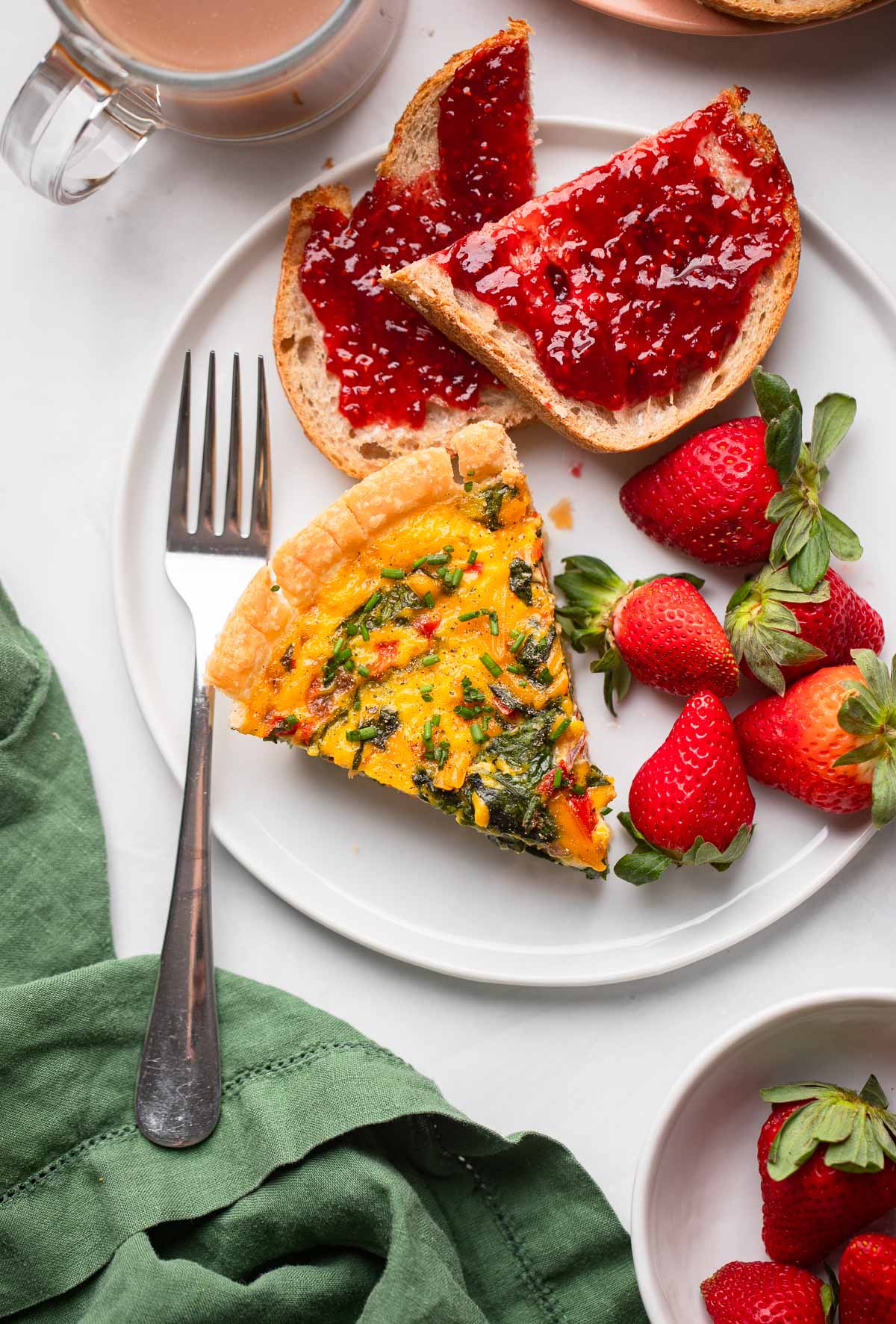 This post was originally published in March 2017; updated March 2023.
JUST Egg makes preparing delicious vegan quiche recipes at home so easy! I had been making vegan silken tofu quiche in the past, which meant I had to get out my food processor to make it and make a bunch of extra dishes. In this JUST Egg Vegan Egg Substitute Spinach Quiche recipe, you'll just skip your veggies, mix them in with your JUST Egg and Cheese, and bake!
We're using a store-bought crust for an even simpler preparation of this JUST vegan egg quiche. I added red onions, red peppers, and spinach to this version for tons of flavor, color, and fiber. However, you can change these add-ons based on your preferences.
Why you'll love this recipe
with less than 10 minutes of active cooking timeyou'll find that this quiche is an easy recipe to whip up for any breakfast gathering with friends or family.
Easily customizable with a variety of different combinations of vegetables and cheeses for the filling.
This recipe is vegan, egg-free and dairy-free. You can also easily make a gluten-free quiche using a gluten-free pie crust.
What is JUST Egg?
JUST Egg is a plant-based liquid alternative to eggs that is made with yellow kidney beans. It's scrambled just like chicken eggs and can be used as a vegan alternative to eggs in a variety of dishes like this quiche, as well as omelets, frittatas and more. You can usually find JUST egg products in the dairy/egg aisle or in the vegan section of the grocery store.
Ingredients you will need
Egg only: You will use an entire bottle of Just Egg as the main ingredient for this quiche. It adds all the classic texture of an egg-based quiche but without the animal products!
Vegetables: For color, I use red onion and red pepper. You'll also use a full 5oz package of fresh spinach – it cooks so much that it all fits! You can use other vegetables if you prefer: zucchini, mushrooms, corn, etc.
Vegan cheese: for a bit of cheesiness, i like to add some grated vegan cheddar cheese. You can really use any vegan cheese like vegan mozzarella that you like in this quiche.
Black Salt (Kala Namak): A little black salt goes a long way. To get that classic egg taste in this vegan quiche, you'll want to use this secret ingredient. Pick up some black salt from Amazon for all your vegan egg recipes. Don't you have black salt? Just use a little sea salt.
Vegan Pie Crust: to make this quiche super simple, we just use a ready-made vegan pie crust from the freezer. I really like the Wholly Wholesome one. You can also use puff pastry or homemade pasta dough.
Variations
Tomato, pesto and feta: add a couple tablespoons of pesto to the egg mixture, a handful of chopped cherry tomatoes, and replace the grated vegan cheddar with 1/3 cup crumbled vegan feta.
Sausage: add a couple of chopped vegan breakfast sausages to the quiche egg mixture before baking. You can also try vegan bacon instead of vegan sausage.
Broccoli and Cheddar: substitute 1 1/2 cups chopped fresh broccoli for the bell pepper and chopped spinach.
Step by step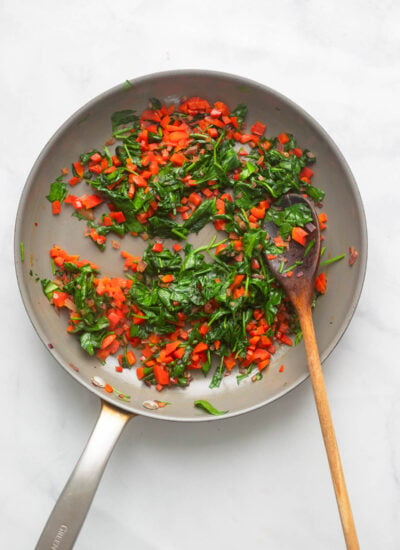 Step 1: Add the olive oil, red onion and chopped peppers to a pan over medium heat and sauté until soft. Stir in the chopped fresh spinach and sauté until wilted.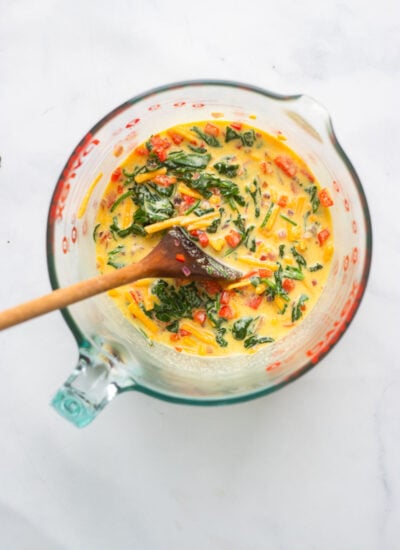 Second step: Add the sauteed vegetables, Just Egg, black salt and cheese to a large bowl and toss to combine.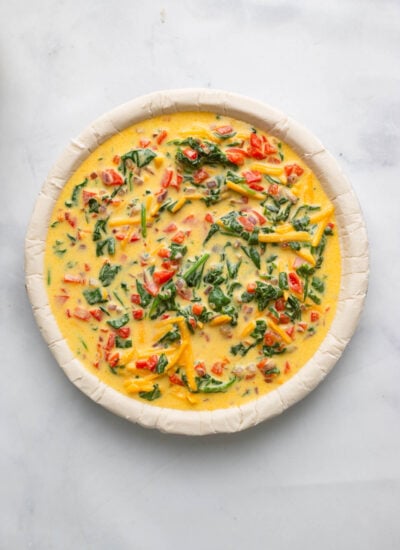 Step Three: Pour the Just Egg mixture into the pie shell and bake for 35-40 minutes until the center of the quiche is firm and the top is beginning to brown.
Four steps: Let cool for about 5-10 minutes before slicing to serve! Garnish with fresh herbs such as chives if desired.
Expert advice
No need to pre-bake/blind bake the crust: I have made this quiche a few times and found that there was no need to pre-bake the pie crust before adding the filling.
Bake in a baking tray: Place your quiche on top of a baking sheet if you're afraid of spillage due to an unstable, disposable cake, or you just want a more stable surface to transfer to the oven.
Storage: Cooked quiche will last up to 3-4 days in the refrigerator stored in an airtight container. Reheat for 5 minutes in the toaster oven or 1 minute in the microwave.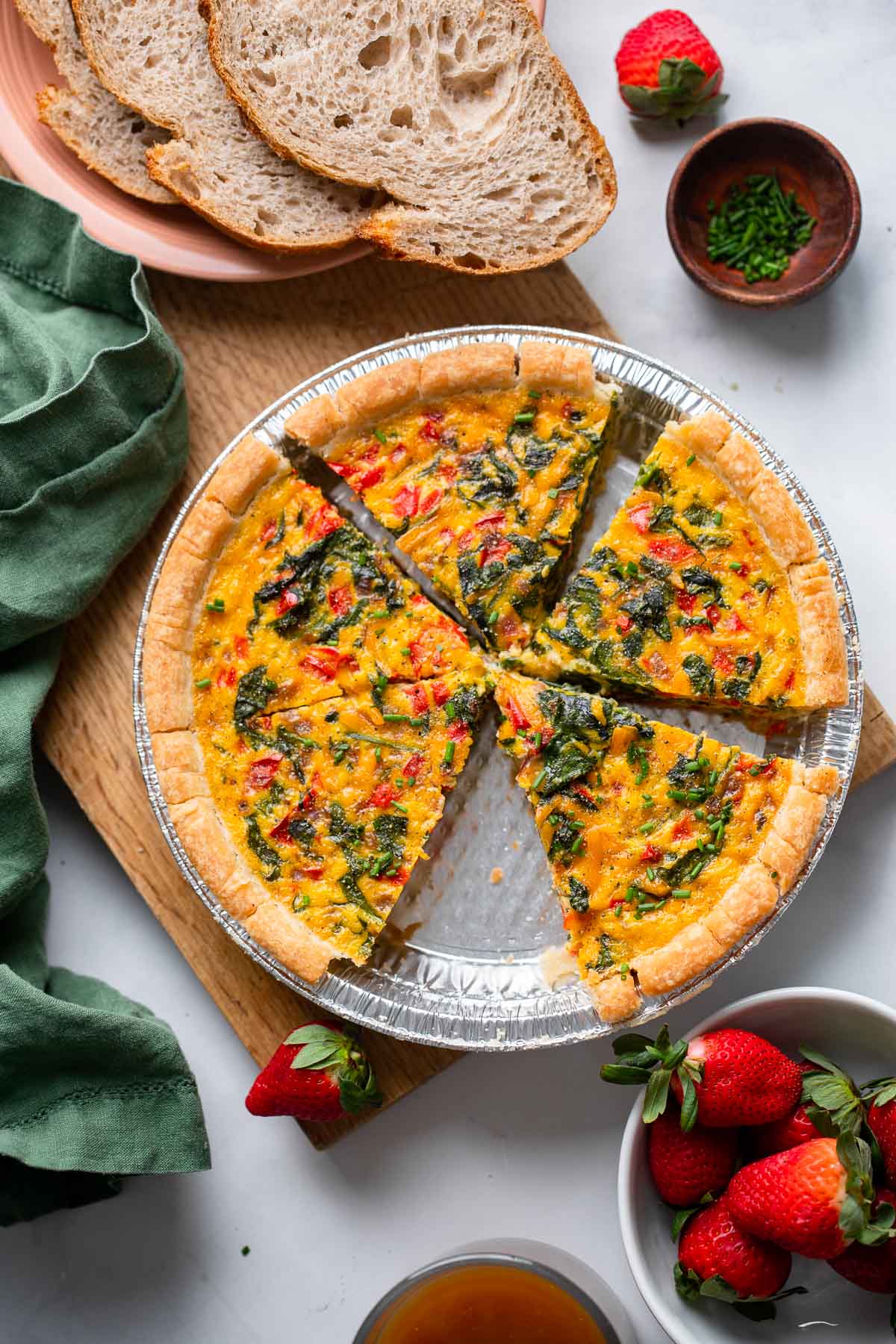 What to serve with vegan spinach quiche
There are so many delicious sides you can pair with this simple vegan quiche recipe when you're cooking for friends or a Mother's Day brunch. The easiest option is toast and fresh fruit. If you want to try some other garnish options, here are my favorites!
Drink a smoothie with a slice of quiche: mango and pineapple smoothie, pear smoothie, lemon raspberry smoothie.
Baked goods to serve with your quiche at brunch: banana bread with chocolate and walnuts, double chocolate banana muffins, vegan lemon cake.
Drinks to serve with your quiche: carrot ginger juice, beet juice blender, green ginger juice, vegan mint hot chocolate.
Pair it with a salad: Blueberry Summer Kale Salad, Peach and tomato panzanella salad, summer peach salad with grilled corn, Spinach Strawberry Salad with Lemon Poppy Dressing.
Frequently asked questions about recipes
Can I use frozen spinach for this quiche?
Yes! You can use frozen spinach instead of fresh in this recipe. Simply thaw 1/2 package (10 oz) of frozen spinach according to package directions. Add them to the bowl with the sauteed peppers, Just Egg and black salt, no need to cook in the pan.
What is vegan quiche made of?
Instead of eggs, vegan quiche can be made with tofu (firmness depends on the recipe) OR a plant-based egg product like JUST Egg like this recipe.
How can I make a vegan quiche without a crust?
Make a crustless quiche by simply pouring all the quiche ingredients into a greased pan and baking according to recipe directions.
More breakfast recipes you'll love
Did you like this recipe? Be sure to leave a ⭐️ rating and tag #dietitiandebbie on Instagram!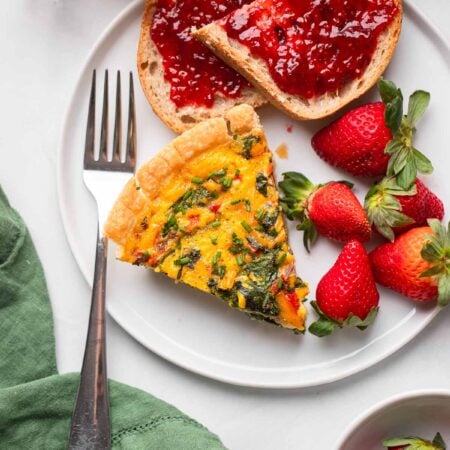 Vegan Spinach Quiche (Egg Only)
Looking for a delicious and savory breakfast option for brunch? This Vegan Spinach Quiche with JUST Egg is my new favorite way to start the day with my cup of coffee! This simple recipe is packed with plant-based protein, fiber and flavor.
Avoid screen dimming
Instructions
Preheat oven to 350 degrees Fahrenheit.

Add the olive oil, red pepper, and onion to a skillet over medium-high heat. Sauté until onion is translucent and tender, about 5 minutes.

Add the chopped fresh spinach and sauté until wilted, about 2-3 minutes.

In a bowl, add the sauteed vegetables, black salt, beaten egg and cheese. Stir to combine, then pour into the pie crust.

Bake for 35-40 minutes or until the center of the quiche is set and the top is lightly browned. Let rest for 5-10 minutes before slicing.
notes
Bake your quiche on a baking sheet for easy transfer in and out of the oven.
Try different filling options depending on what you like! Try: Vegan Chopped Sausage, Vegan Bacon, Cherry Tomatoes, Broccoli, Vegan Mozzarella, Pesto, etc.
Store leftover quiche in an airtight container in the refrigerator for up to 3-4 days. Reheat in a toaster oven or microwave.
nutrition
Service: 1to serve | Calories: 282kcal | Carbohydrates: 30g | Protein: 9g | Fat: 18g | Saturated fat: 3g | Polyunsaturated fats: 4g | Monounsaturated fats: 9g | Sodium: 534mg | Potassium: 74mg | Fiber: 2g | Sugar: 1g | Vitamin A: 405UI | Vitamin C: 17mg | Calcium: 16mg | Iron: 1mg
Reader interactions