Get the flavor of your favorite Thai-inspired dish with a veggie twist in this easy veggie pad thai recipe. It's ready in just 20 minutes and gives you that extra portion of veggies you need for a filling and flavorful dinner.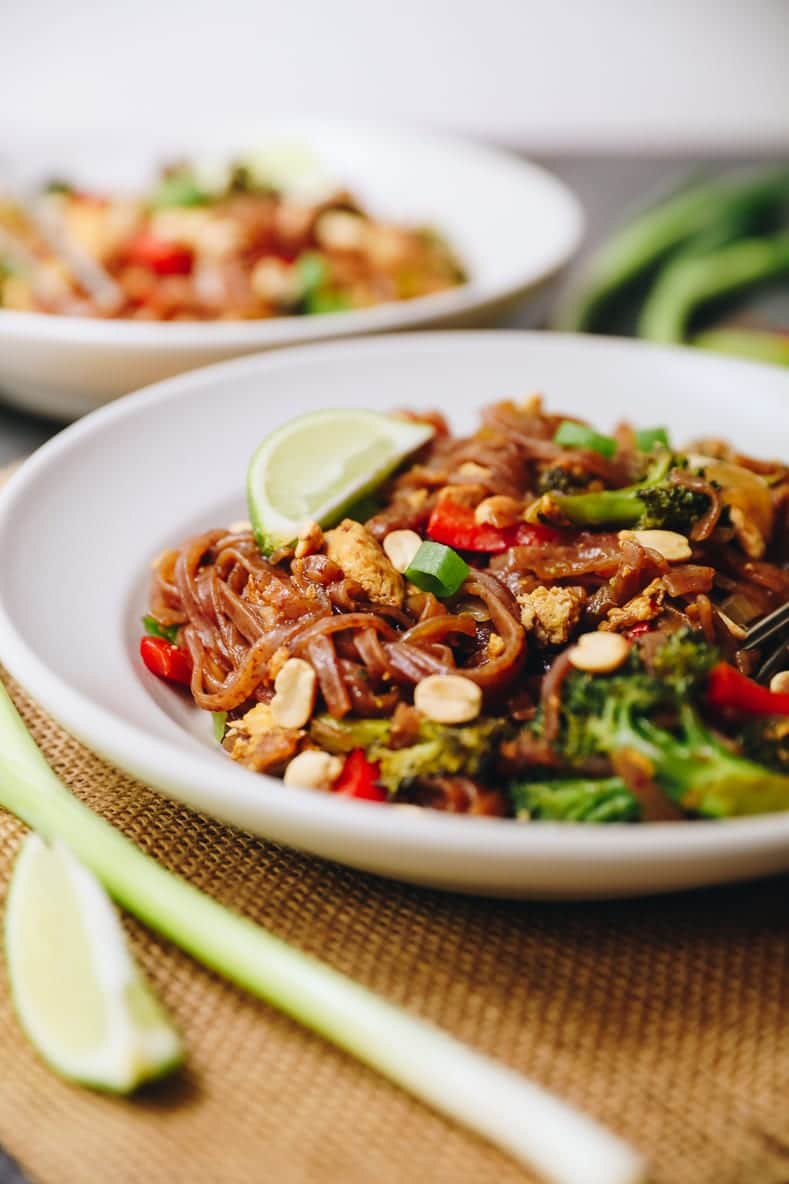 The BEST Veggie Pad Thai Recipe!
I feel like I've been working on this vegetarian pad thai recipe for years! I used to have a shrimp pad thai recipe on the blog that has since been lost in the archives, but to be honest I always felt like something was missing. It lacked the authentic Pad Thai taste you get in Thai restaurants.
The sauce mix was off and needed a little extra punch, and it wasn't until I picked up a jar of tamarind puree that I finally found that out! I keep a jar of this on hand now so I can make this vegetarian pad thai recipe whenever I want. Simply put, this vegetarian pad thai recipe is THE BEST. It comes together quickly (hello 20 minutes!) and you can really use any veggies you have on hand.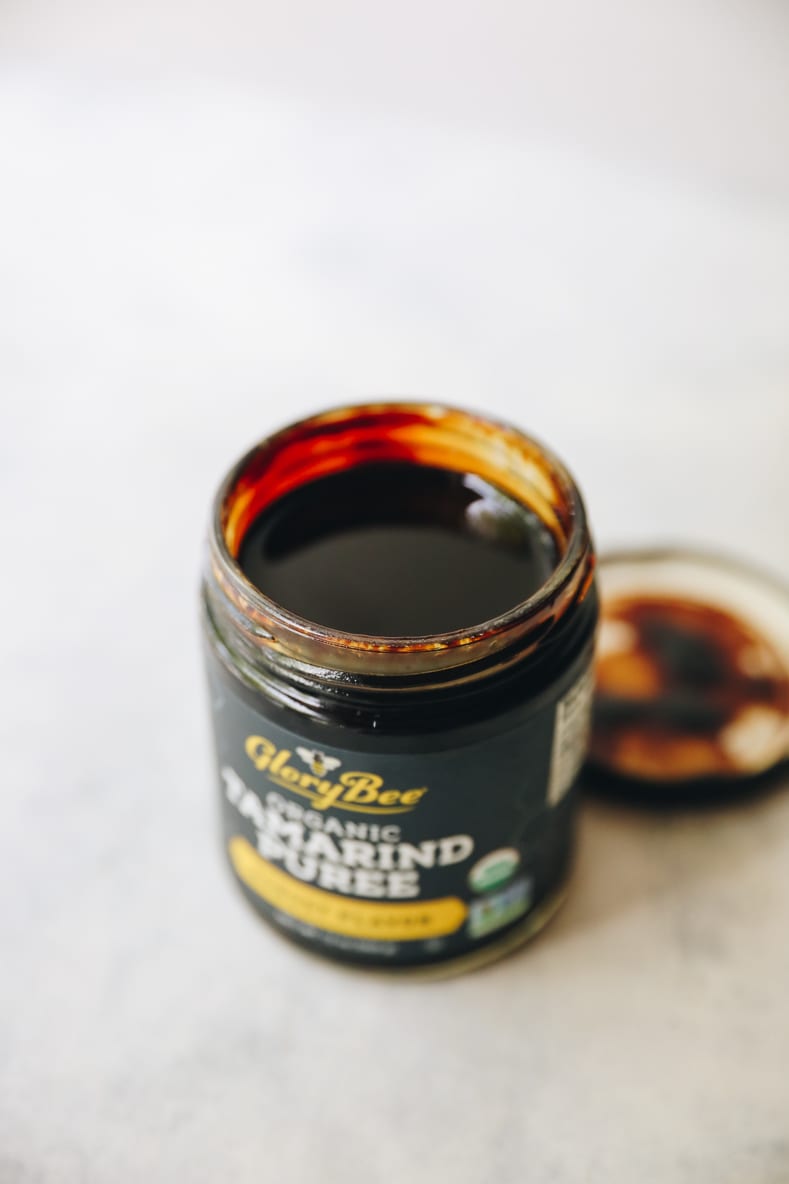 Ingredients in Veggie Pad Thai:
Think of pad thai as stir-fried rice noodles with a tamarind-based pad thai sauce.
rice noodles – I like to use brown rice noodles, but any type of rice noodle will work. You can sometimes refer to them as "Pad Thai noodles."
sesame oil or peanut oil – You can use coconut oil or olive oil if you don't have any.
Yellow Onion And Garlic – two important taste bases!
Fresh vegetables – I like to use a mix of broccoli, peppers, broccolini, bok choy, etc.
Big Eggs – adds protein and flavor to the dish. Can skip to make this dish vegan.
Sweet chili sauce – choose your own adventure! Use more if you want the dish to be extra spicy.
soy sauce – or Tamari also works if you want a gluten-free Pad Thai
fish sauce – can be skipped if vegan or strict vegetarian. You can also buy vegan fish sauce.
tamarind puree – a key ingredient in traditional Pad Thai. It's worth tracking down, I promise!
lime – included in the sauce, but feel free to add an extra squeeze of lime juice to the final product.
coconut palm sugar – or brown sugar to slightly sweeten the sauce.
What is tamarind puree?
You probably noticed an odd ingredient on the list: tamarind puree. I wanted to make a note of that as this ingredient shouldn't be left out. Traditional Pad Thai recipes always use tamarind puree or paste. Many Americanized versions skip this and use ingredients like ketchup instead. While I totally understand it can be hard to come by, trust me when I say this veggie pad thai recipe with tamarind puree is sooooooo much better.
You can buy it at most Asian grocery stores and even Whole Foods has it! You can also order it online here. Sometimes it comes as a brick of tamarind paste rather than a puree. If that's the case, Scoop out 1 tablespoon of the paste and mix with 1/4 cup of hot water. Use this in place of the 2 tablespoons of puree this vegetarian pad thai recipe calls for. It also keeps for a long time, so you can make this recipe many times. I promise you it will make the difference!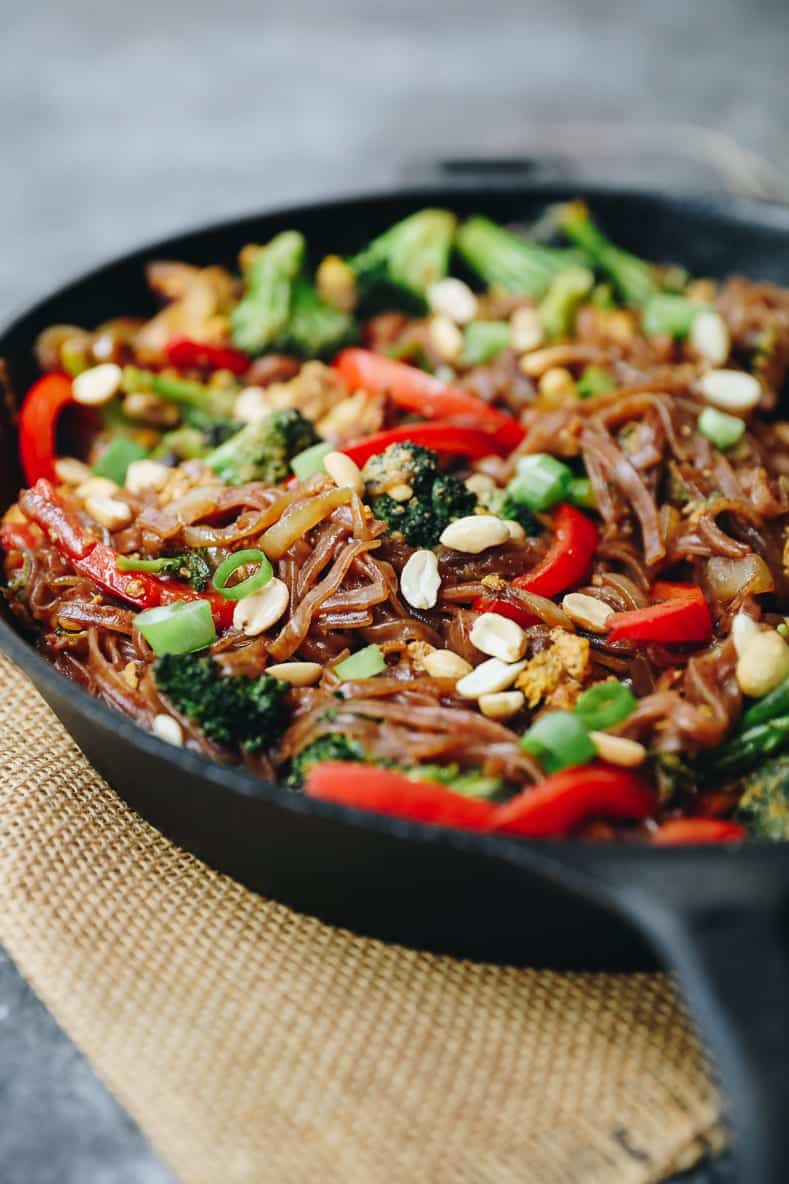 How to Customize This Vegetarian Pad Thai:
Vegetables – You'll see that this vegetarian pad thai recipe calls for it 4 cups of vegetables. I left this open to adjustments because I really love making this recipe when I want to consume veggies around the house.
I've probably made it with pretty much every type of veg, but if you're looking for inspiration, here are a few ideas:
broccoli florets
carrot
Red pepper
broccoli
bok choy
cauliflower
bean sprouts
protein – I also sometimes add extra firm tofu or chicken to this recipe. This adds to the time so most of the time I just use eggs but can pan fry chicken or tofu or use leftovers and add straight to the recipe. Shrimp are great too!
sauce – A few other swaps you can make: tamari or even coconut aminos for soy sauce, brown sugar for coconut palm sugar and you have a few different options for oils, although personally I prefer sesame oil.
garnish – When it comes to toppings, there are no limits! Crushed peanuts give it a more authentic feel, but you can also add scallions, fresh cilantro, extra lime juice/lime wedges, or red pepper flakes for a tangy kick.
Most importantly, get creative and have fun! Let your time in the kitchen be pleasant and not stressful. Trust me it will change your life.
Is this Veggie Pad Thai vegetarian?
Technically no, because it contains fish sauce, but you can skip the fish sauce or use a vegan fish sauce to keep this Pad Thai recipe vegetarian. To make this recipe vegan, you would need to use vegan fish sauce AND omit the eggs. It won't have that true authentic taste, but it will still be delicious!
More Easy Dinner Recipes:
Press
Veggie Pad Thai
Get the flavor of your favorite Thai dish with a veggie twist in this easy veggie pad thai recipe. It's ready in just 20 minutes and gives you that extra portion of veggies you need for a filling and flavorful dinner.
Author: David Lederle
Preparation time:

5 minutes

Cooking time:

15 minutes

Total time:

20 minutes

Yield:

4

portions

1

X
Category:

Dinner

Method:

Cook

Kitchen:

Thai

Diet:

vegetarian
For the sauce:
For the noodles:
8 ounces

rice noodles

2 tbsp

Sesame oil or peanut oil (can use coconut oil or olive oil if you don't have any)

1

medium yellow onion, sliced

2

Garlic cloves, chopped

4 cups

Vegetables (broccoli, peppers, broccolini, bok choy etc…)

4

Big Eggs
optional toppings: Spring onions, crushed peanuts, coriander, chilli flakes etc..
Heat water in a medium saucepan and cook rice noodles according to package directions. Drain and set aside.
Meanwhile, mix all the sauce ingredients together and set aside.
In a large skillet or wok over medium-high heat, add sesame oil (or whatever oil you use). Add onions and sauté for 3-5 minutes until translucent. Add the garlic and vegetables of your choice and cook for another 5 minutes. If the veggies are still a bit tough, place them on the pan and let them steam for a few minutes until cooked through.
Push the vegetables to the edge of the pan and crack the eggs straight into the pan. Stir to stir and cook for 2 minutes or until fully cooked through.
Combine egg with vegetables and add rice noodles.
Top up with sauce until completely covered. Cook in the sauce over low heat for about 3 minutes or until the pasta has absorbed most of the sauce.
Serve immediately or refrigerate in an airtight container for up to 2-3 days.
*Note: Sometimes tamarind comes in a paste block. If this is the case, use 1 Tbsp of the paste and mix it in 1/4 cup of hot water.
Keywords: Vegetarian Pad Thai, Vegetable Pad Thai, Veggie Pad Thai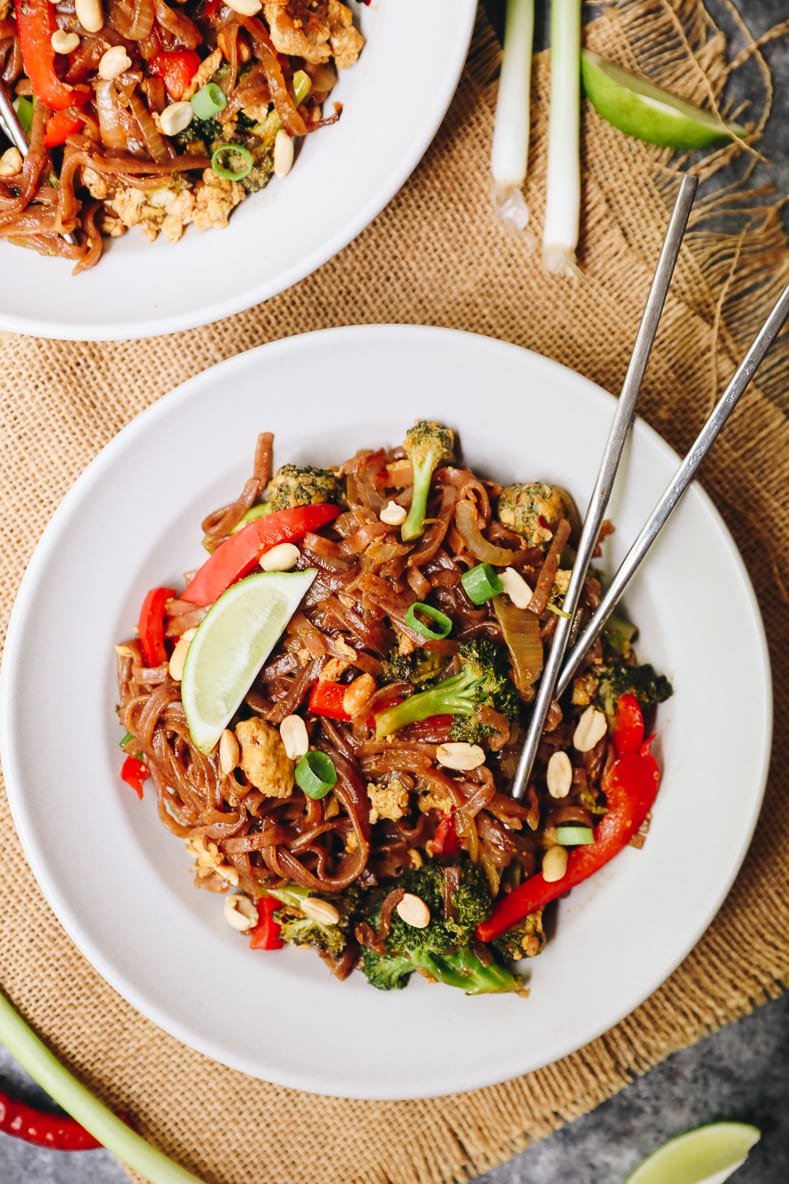 SUBSCRIBE TO THE THM NEWSLETTER
Join over 20,000 members of the THM community to get access to exclusive recipes, healthy lifestyle tips and behind-the-scenes news from our team!