Vietnamese Fruit Cocktail (Chè Thái)https://youtu.be/rq37GR1trdcChè Thái, a Vietnamese dessert or fruit cocktail, is made with various tropical fruits, jellies, crushed ice, and milk, and sometimes contains durian. It's a refreshing and colorful dessert with a variety of textures. If you're craving something sweet but don't want to spend a lot of time in the kitchen, this is for you.https://i3.ytimg.com/vi/rq37GR1trdc/maxresdefault.jpg2022-01-19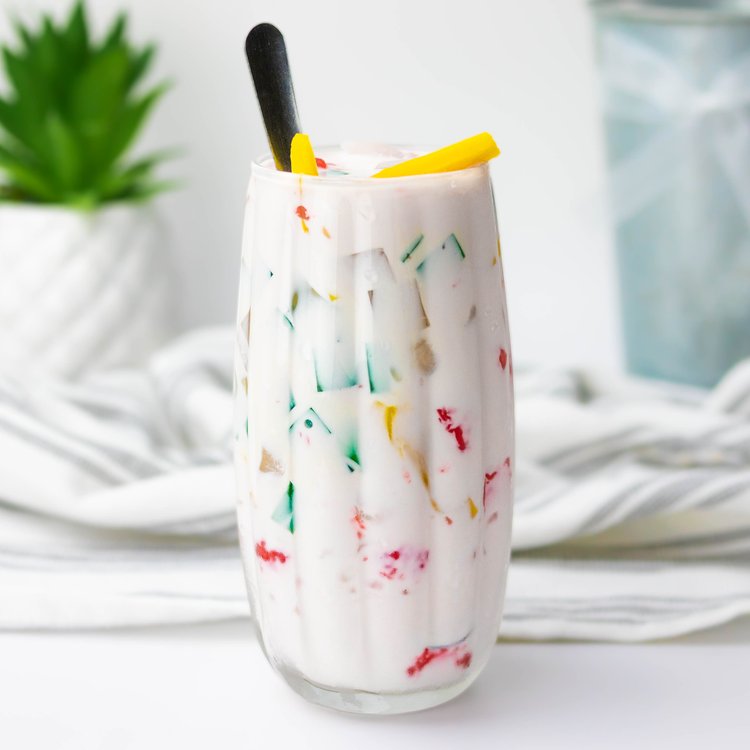 Vietnamese Fruit Cocktail (Chè Thái)
Chè Thái, a Vietnamese dessert or fruit cocktail, is made with various tropical fruits, jellies, crushed ice, and milk, and sometimes contains durian. It's a refreshing and colorful dessert with a variety of textures. If you're craving something sweet but don't want to spend a lot of time in the kitchen, this is for you.
instructions
Prepare the fruit and milk mixture
Drain the fruit from the cans and cut into thin strips or small pieces. Put aside.
Mix together Half and Half and French Vanilla Coffee Creamer. Put aside.
Make red "rubies"
Drain the water chestnut from the can. Cut into small 3mm cubes, approx. 9 small pieces of a water chestnut.
Transfer the water chestnut to a small bowl. Add 2 to 3 drops of red nutritional gel. Shake it until all the pieces are evenly colored. Add tapioca starch. Toss again until all pieces are evenly coated.
Bring a small pot of water (about 1 liter) to a boil. Add water chestnut. After two minutes they should float to the top. Immediately place the water chestnut in a bowl of ice water. Soak it in a little water so they don't stick together.
Make pandan and white jelly
Bring the water to a boil in a saucepan.
Stir in agar agar powder and sugar until dissolved.
Remove from the heat.

Divide evenly between two small ramekins or bowls. Leave one as is and dye the other green with 2-3 drops of pandan gel extract (Butterfly brand). It will set in an hour at room temperature or less in the fridge.

Cut into small cubes or thin strips.
assembly and storage
Refrigerate for 2 hours or add ice before serving. You can mix it all up and serve it in a giant punch bowl for people to help themselves. Alternatively, scoop them into individual tall glasses to show off the different layers and let your guests add ice and milk.
You can store it in a sealed container in the refrigerator for up to 3 days. When everything is mixed together, keep in mind that any color added will slowly leach into the milk.
Remarks
Other fruits and jellies you can use: mango, durian, rambutan, lychee, young coconut meat, ai-yu jelly, and grass jelly.
For a more traditional and dairy-free option, use coconut milk and sugar. You can use either palm sugar or granulated white cane sugar. Heat the milk on the stove and add sugar to taste.
If you don't have a water chestnut, substitute a firm pear, green apple, or jicama.
The values ​​given are to be regarded as estimates. Factors such as brands purchased, natural variations in fresh ingredients, etc. alter the nutritional information in any recipe. To get accurate nutritional information for a recipe, use your favorite nutritional calculator to find nutritional information using the actual ingredients and amounts used.
https://www.vickypham.com/blog/che-thai
chè thái, che thai, vietnamese dessert, tropical fruit, how to make che thai, vietnamese fruit cocktail, che thai recipe, how to make vietnamese fruit cocktail, vietnamese fruit cocktail recipe, dairy free alternative, coconut milk, half and half, french vanilla coffee creamer, crushed ice , Pandan Jelly, Coconut Jelly, Canned Tropical Fruits, Longan, Jackfruit, Toddy Palm Seed, Lychee, Vietnamese Cuisine, Vietnamese Food, Vietnamese Che, Chè Thái Recipe, Refreshing Chè Thái, Super Easy Che Thai Recipe, awesome easy che thai popular vietnamese dessert vietnamese iced drink vietnamese chè tub tim krob vietnamese version of tub tim krob red rubies how to make red rubies for che water chestnut red water chestnut vietnamese dessert drink super easy chè thái how how to make vietnamese che thai dessert recipe, chè recipe, vietnamese chè recipes, how to make pandan jelly, wi e to make agar-agar jelly, agar-agar
Dessert
Vietnamese, Thai
did you make this recipe
Tag @vicky.pham on Instagram and hashtag it #vickypham