This post may contain affiliate links. Please read our disclosure policy.
If you haven't tried Watermelon Cucumber Salad yet, you're in for a treat! The texture and natural sweetness of the watermelon pairs perfectly with the crunchy cucumber and creamy feta. The balsamic vinegar adds a touch of acidity and depth of flavor, while the basil brings a radiant freshness to the dish. Plus, this salad is so easy to throw together and can be served as a side dish or a light main course.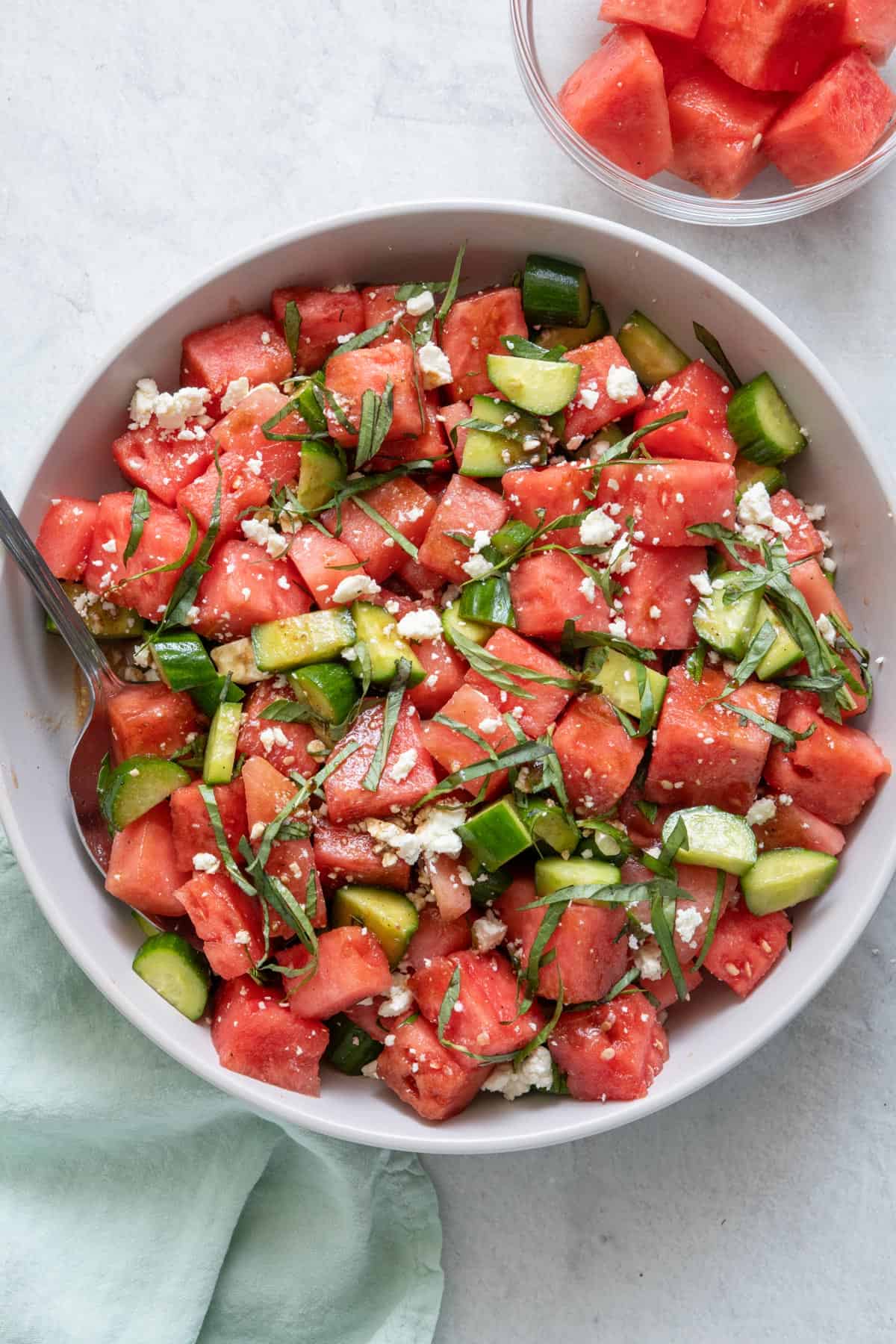 This refreshing Watermelon Cucumber Salad is the perfect summer meal! It's easy to make and full of flavor. The fresh feta and basil really bring out the flavors of this salad, and the balsamic vinegar adds a delicious depth of flavor. This would be a great dish to bring to a potluck or summer BBQ!
why you'll love this Watermelon Cucumber Feta Salad
Refreshing and light. On hot summer days I often long for something light and refreshing. This Watermelon Cucumber Salad hits the spot! Not only is it moisturizing, but delicious too!
A fun way to use watermelon. I love watermelon, but sometimes it can be a bit boring on its own. This salad is a fun and flavorful way to use watermelon in a dish.
Great for summer entertainment. This salad is perfect for summer potlucks and BBQs! It's always a hit with guests and it's so easy to make ahead of time.
child friendly Even if you have a picky eater in your house, chances are they will enjoy this salad! The watermelon is so tempting that you will find it difficult to resist.
Ingredients for a watermelon and cucumber salad
watermelon: Use a ripe watermelon for this salad. You should cut it into small bite-sized pieces so that it is easy to eat.
Cucumber: I like to use Persian cucumbers in this salad because they are nice and crunchy. You can also use regular cucumbers, but you may want to peel them first.
Feta: Feta should not be missing in this salad! It's creamy and flavorful and pairs perfectly with the watermelon.
Basil: Fresh basil really spices up this salad. If you don't have fresh basil on hand, you can use mint or parsley instead.
Dressing: It's a light version of a balsamic vinaigrette with olive oil, balsamic vinegar, honey, salt and pepper.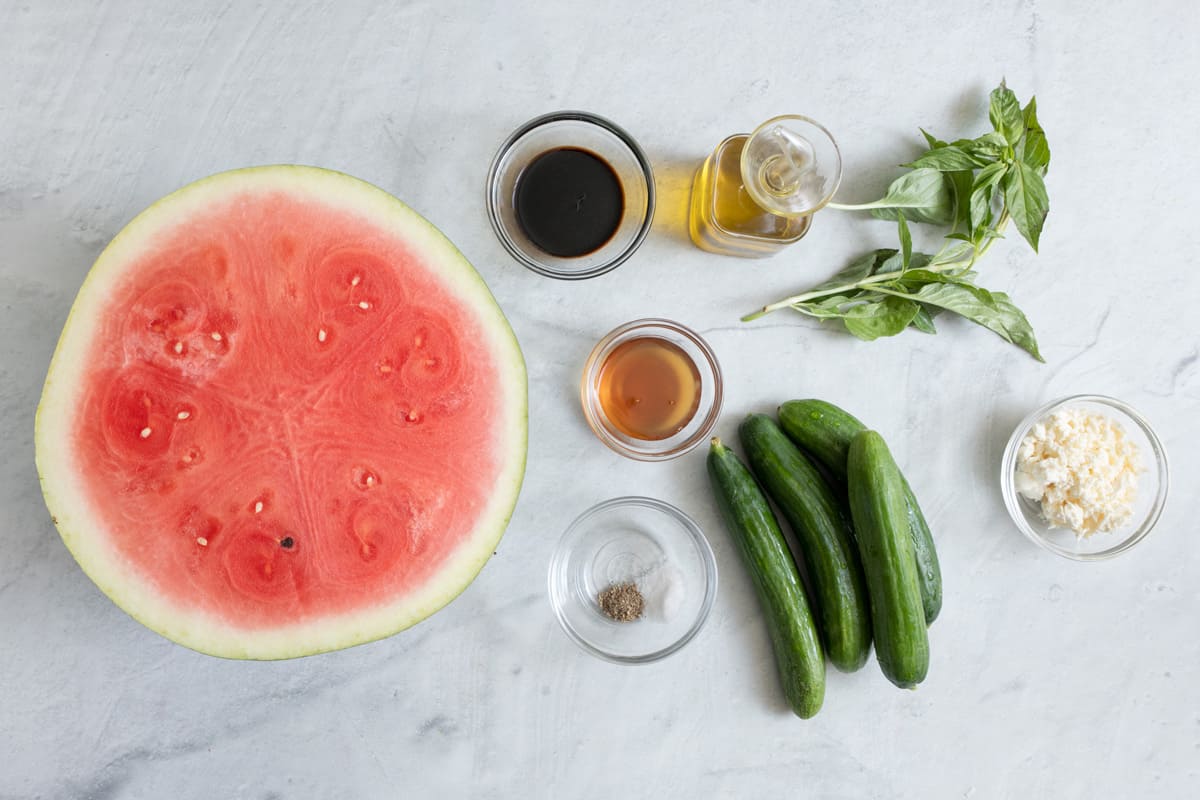 How to choose a good watermelon:
The watermelon should feel relative heavy for its size. That means it's packed in lots of juices! So pick it up and get a feel for it.
Check the field spot on the watermelon and note if the color has a light and creamy yellow cast. If this is the case, this is a maturity signal.
search for one symmetrical shape – it can be round or oval, but symmetry is important because it usually means the watermelon has had even sun and water in the field, resulting in even ripening all around.
Tap on it to search for it strength, meaning it's not overly ripe (and mushy). This is the test my kids love!
How to Make Watermelon Cucumber Salad
Place the sliced ​​watermelon and cucumbers in a large bowl.
Drizzle the dressing over the salad.
Gently mix the dressing with the cucumber and watermelon.
Scatter feta cheese and basil on top.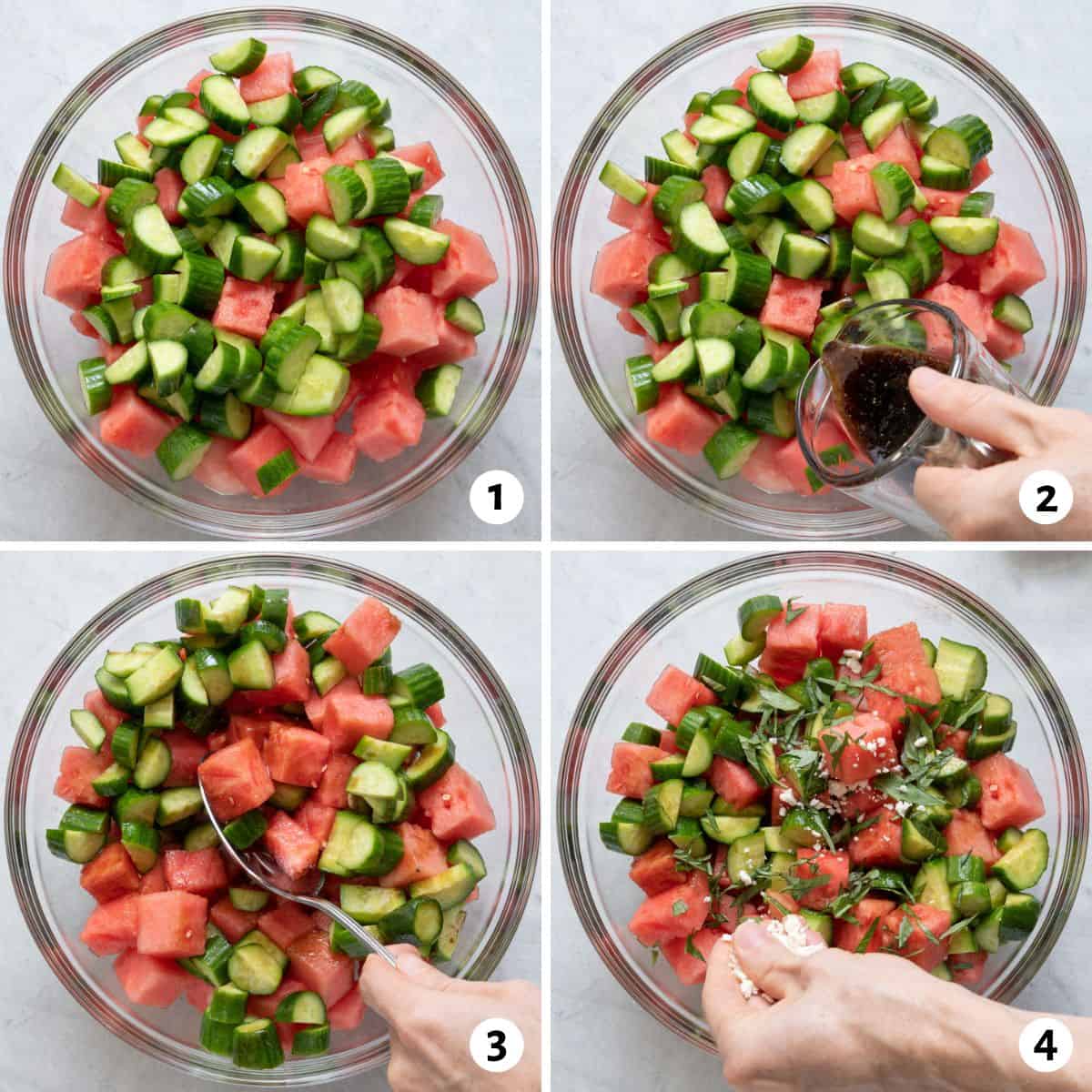 Tips for making a basil watermelon cucumber salad
Cut the watermelon into bite-sized pieces. This will make eating easier and help the watermelon absorb the dressing.
Add the dressing just before serving. This salad tastes best when the watermelon is fresh and crunchy. If you put it on too soon, the watermelon will become mushy.
Use a good quality feta cheese. Feta is a key ingredient in this salad, so use a quality cheese. I like to use goat milk feta for its rich flavor.
Chop the basil carefully before adding to the salad. This allows it to retain its flavor and color.
popular substitutions and additions
Add more fruits. A popular choice is other melons like cantaloupe or honeydew melon, but you can also make this with other fruits like kiwi, pineapple, or peaches.
Change out the herbs. Basil is fresh and fragrant in this Watermelon Cucumber Salad, but mint works beautifully, too. You can also try dill or parsley.
Add some fresh spinach. If you want to make a complete salad with leafy greens, baby spinach is a nice mild option and pairs well with the other ingredients.
Make a salad out of it as a main course. If you want to make a meal out of it, you can add some grilled chicken or shrimp.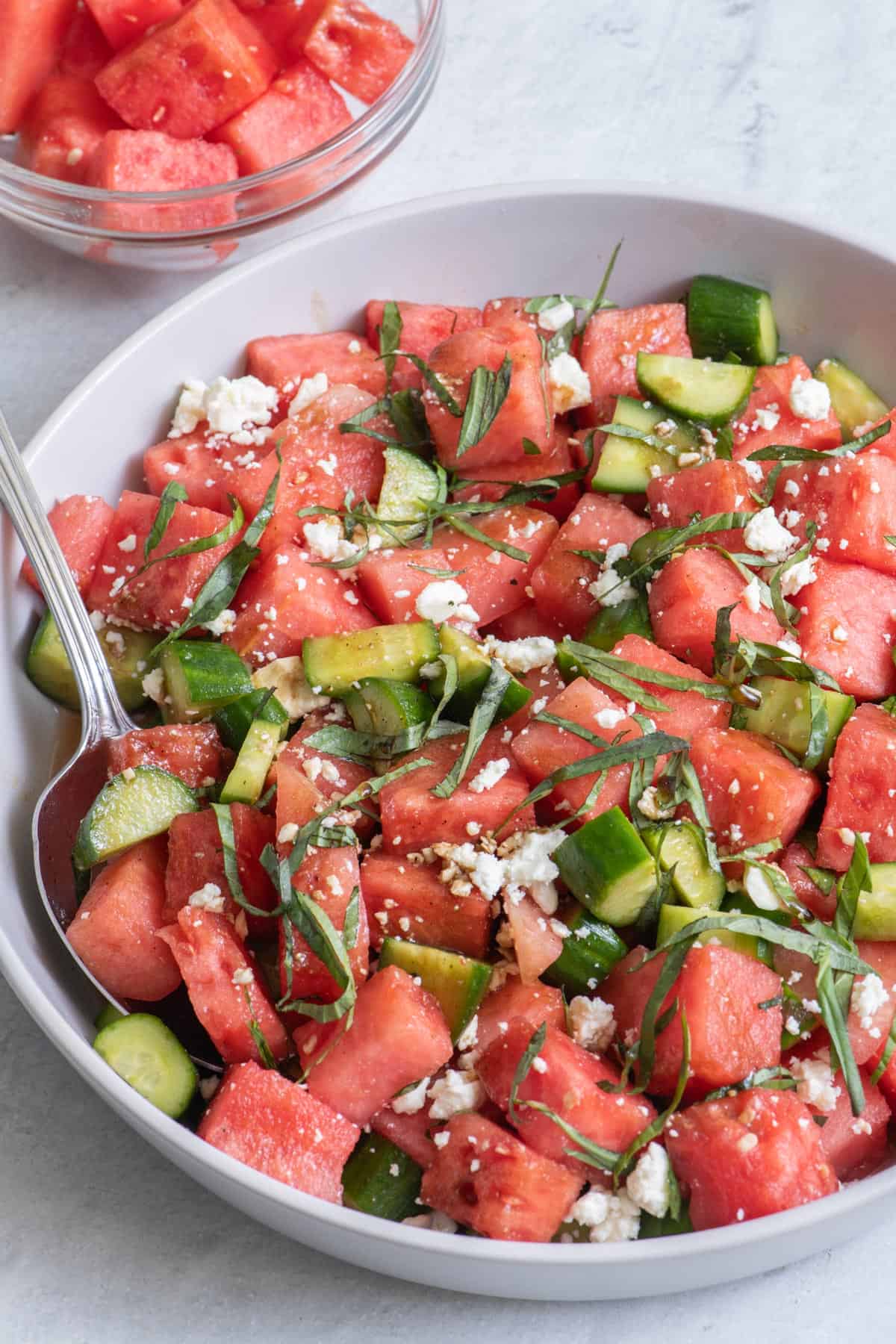 How to store watermelon salad
You can store this watermelon salad in an airtight container in the fridge.
How long does watermelon salad keep in the fridge?
This salad will keep in the fridge for about two days. After that, the watermelon will be mushy.
frequently asked Questions
My watermelon salad is mealy. What happened?
If your watermelon is floury, it's probably overripe. Watermelons should be ripe when you cut them but still have a firm bite. So if yours is floury, that means it wasn't fresh.
What other cheese can I use instead of feta?
If you don't like feta, you can use goat cheese or even ricotta.
Can I use a different type of vinegar?

I would not recommend it. Balsamic is unique in its sweetness and acidity, which is why it works so well in this salad. If you use any other vinegar, the salad may end up being too acidic.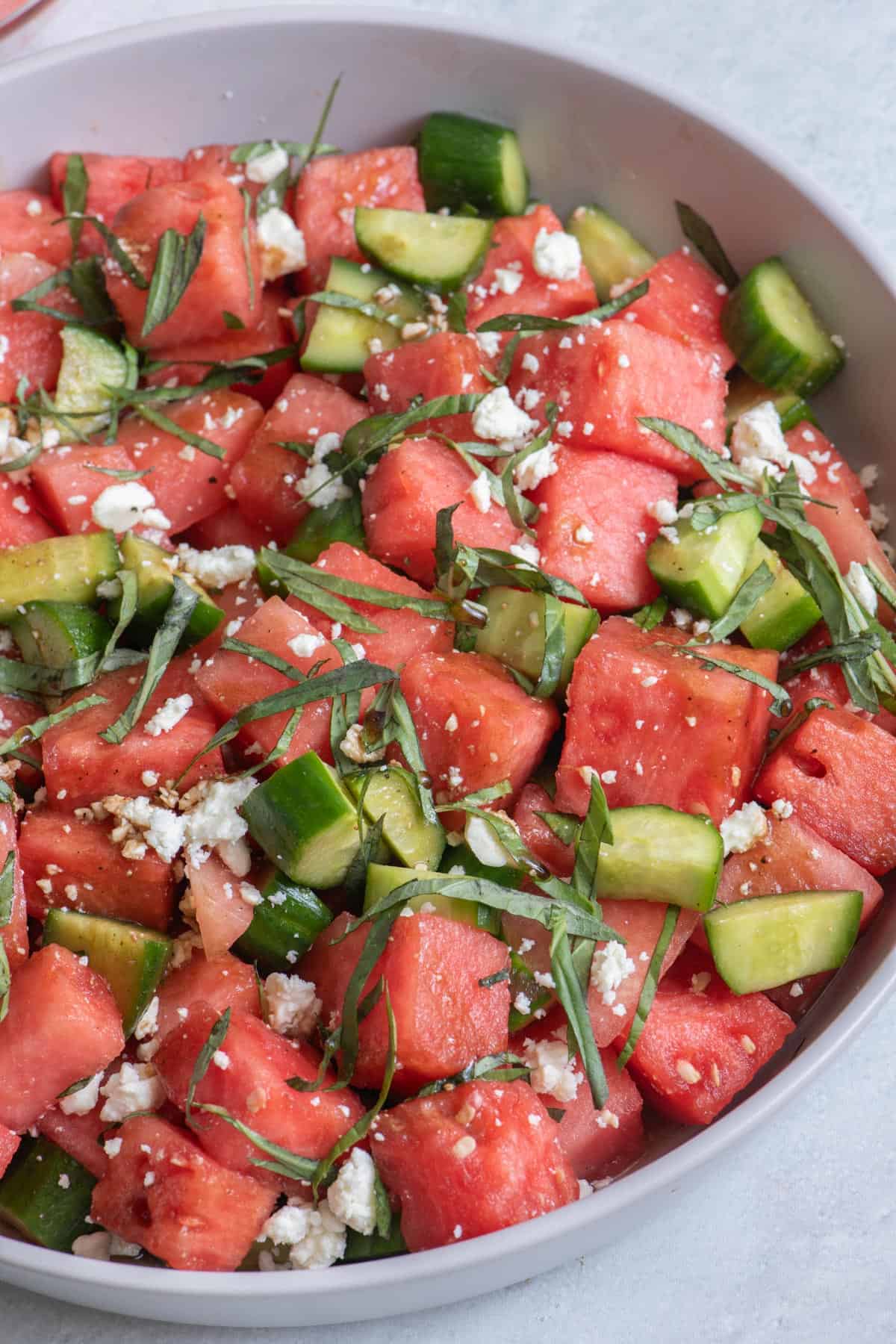 I hope you enjoy this watermelon cucumber salad! It's the perfect light and refreshing summer dish. And if you're looking for easier summer recipes, be sure to check out my other recipes.
More Watermelon Recipes:
If you try this you will feel good Watermelon Cucumber Salad Recipe or any other recipe on Feel Good Foodie, then don't forget it Rate the recipe and leave a comment below! It helps others who are thinking of making the recipe. We'd love to hear about your experiences with it. And when you've got some shots, share them on Instagram so we can repost them in Stories!
This Watermelon Cucumber Salad recipe was originally posted on July 24th, 2018. The recipe has not changed, and the post now has new step-by-step photos of how to make the watermelon salad recipe.
In a small glass, whisk together olive oil, balsamic vinegar, honey, salt, and black pepper to form a dressing. Set aside until serving the salad.

Place the watermelon and cucumbers in a large bowl. Drizzle the dressing over the salad. Top with feta cheese and basil and enjoy immediately.
For best results, prepare the salad as soon as possible before serving. Prepare the individual ingredients if necessary, but mix with the dressing just before serving.
Calories: 141kcal, Carbohydrates: 19G, Protein: 3G, Fat: 7G, Saturated Fatty Acids: 2G, Polyunsaturated fat: 1G, Monounsaturated fatty acids: 4G, Cholesterol: 6mg, Sodium: 272mg, Potassium: 458mg, Fiber: 2G, Sugar: fifteenG, Vitamin A: 1141ie, Vitamin C: 19mg, Calcium: 74mg, Iron: 1mg
The nutritional information given is an estimate. It depends on the cooking method and the specific ingredients used.