This restaurant-quality Classic Wedge Salad with Light Blue Dressing is quick and easy to make at home! Filled with crunchy iceberg lettuce, tomatoes, onions, and bacon then drizzled with a homemade blue cheese dressing made with greek yogurt. It's the perfect side dish!
Looking for more easy side salads to whip together? Try out my Go-to Everyday Salad or quick Spinach Salad with a Champagne Vinaigrette.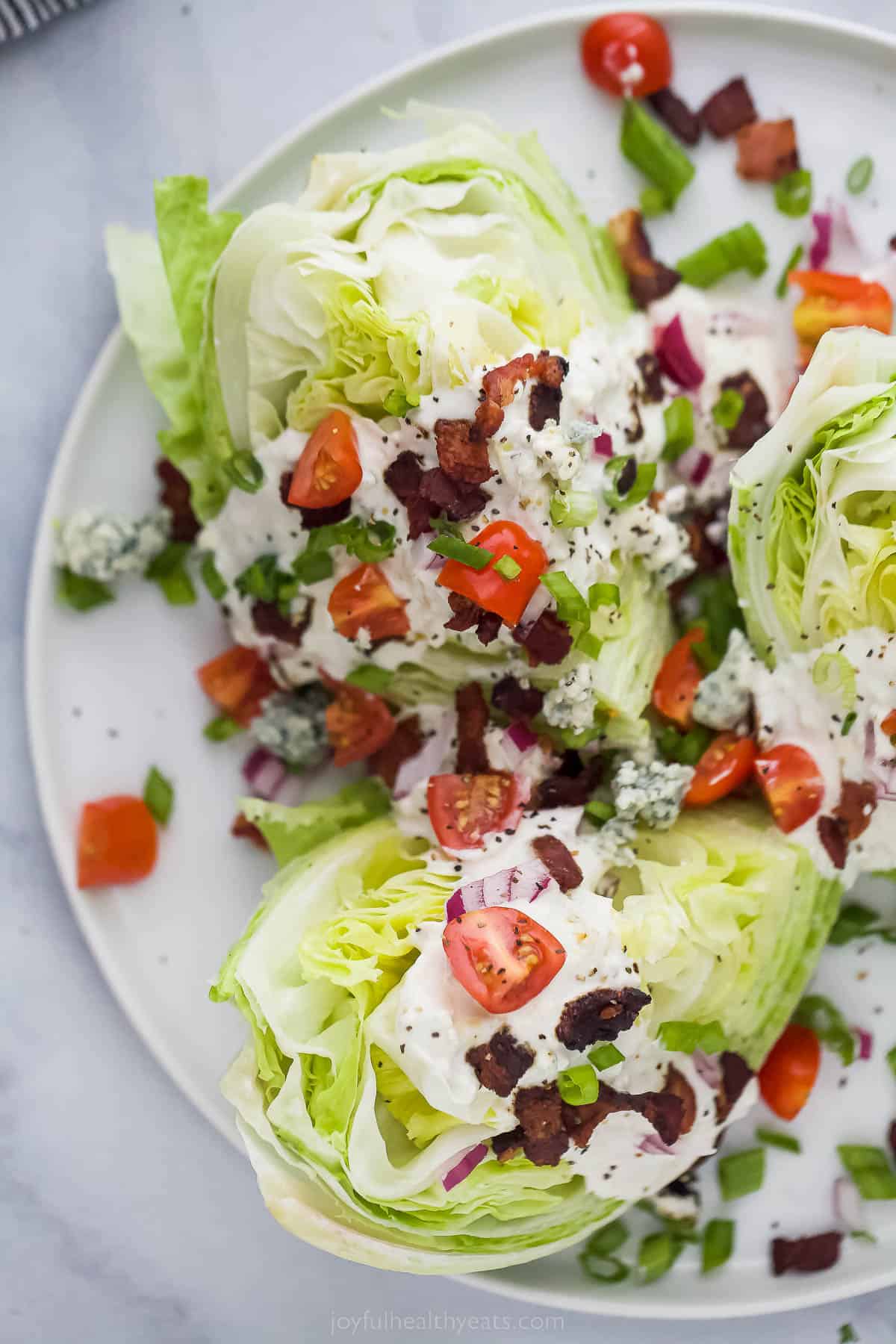 Easy Blue Cheese Wedge Salad
I like to play a little game in the kitchen that involves me recreating some of my favorite restaurant dishes with simple and healthy ingredients. Yes, there's a time and place to splurge, go out, and enjoy a meal cooked by someone else! But some recipes, like this Wedge Salad with Blue Cheese Dressing, I want to eat over and over again!
So, I challenge myself to recreate these meals. And let me tell you, this one is a winner! And the best part is that I didn't need to bend over backward trying to find unique ingredients. The ingredients are straightforward and accessible to just about everyone!
We'll use iceberg for this recipe. It's easy to find, affordable, and tastes perfect with bacon and blue cheese!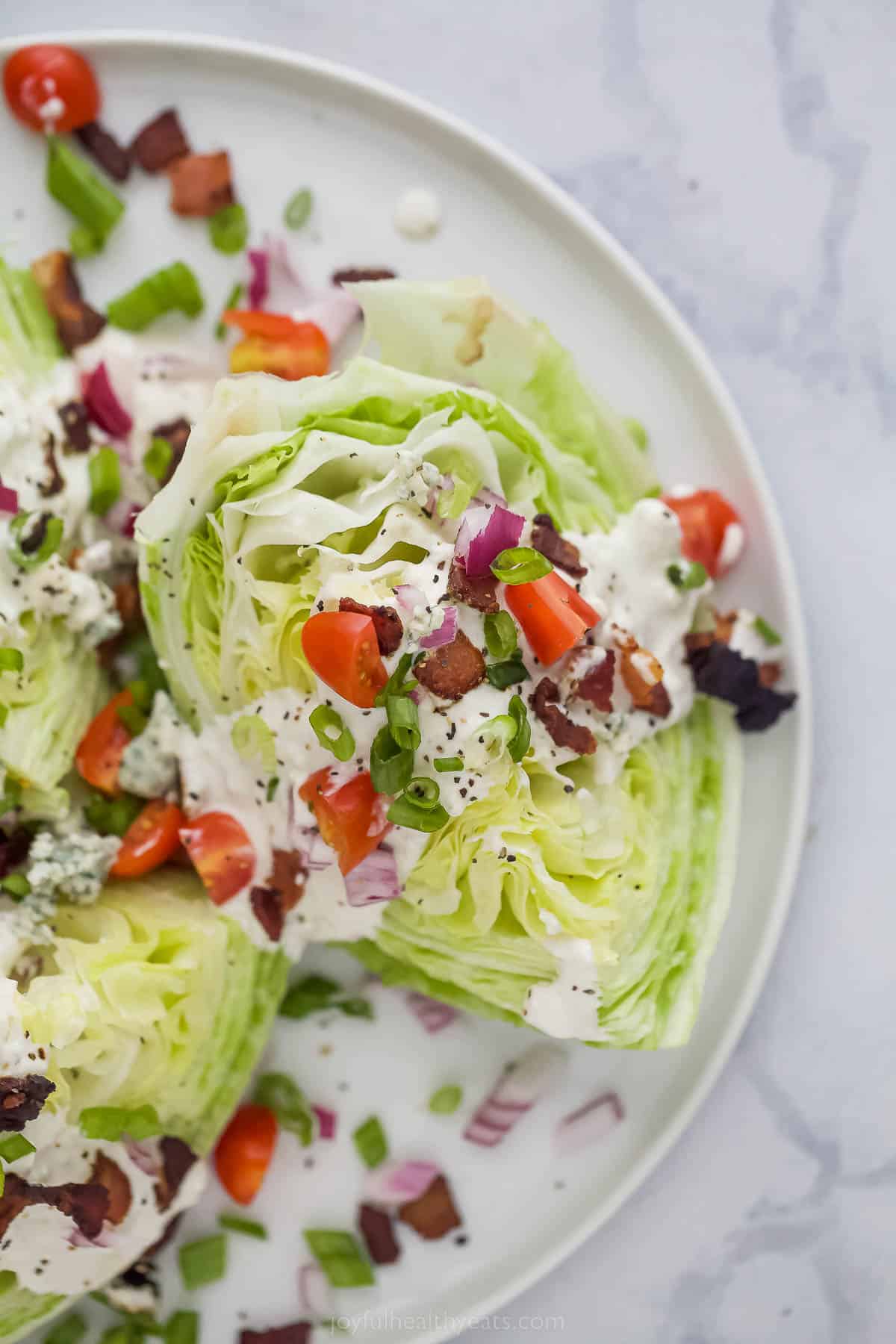 What Is a Wedge Salad
A wedge salad is simply a salad made up of one large chunk of lettuce. Iceberg lettuce is perfect for making wedge salads. The leaves are tightly packed (so it doesn't fall apart) and the head is large enough to cut into equally sized wedges.
One head of iceberg lettuce will give you 4 servings. You could probably even get 5-6 servings if you're serving this to your kids. Yep, I suggest you try serving this salad to your kids because I even think that they are going to love it!
Recipe Ingredients
Here is what you need to make this Classic Wedge Salad. Don't forget that the exact amounts for each ingredient are in the recipe card below.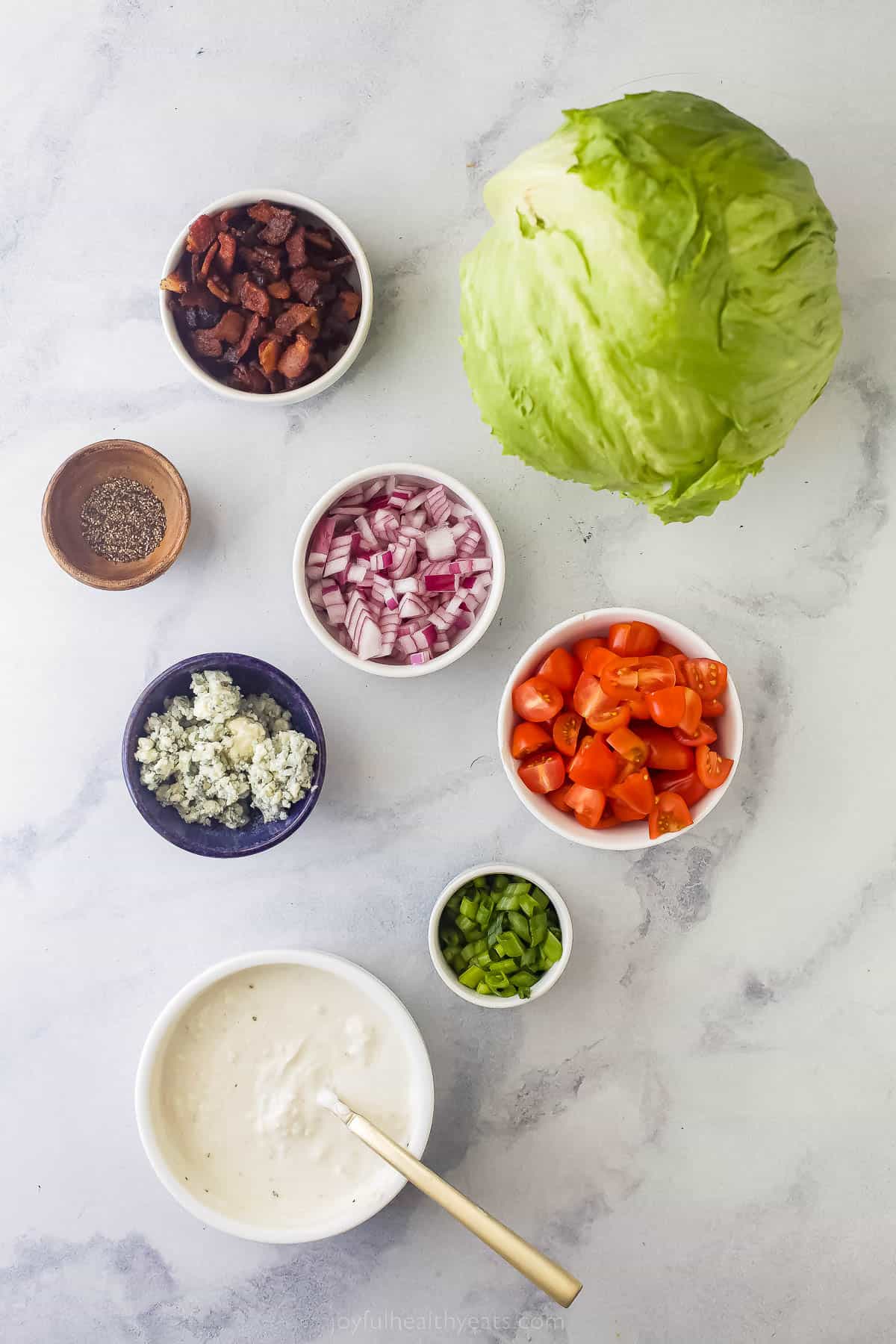 For the Salad:
Iceberg Lettuce: Keep the lettuce in the fridge for as long as possible before serving this salad. It's best when the lettuce is ice cold! (No pun intended!)
Bacon: This is a classic ingredient for this recipe. I like to think it helps make the salad a full meal by adding a bit of protein (and deliciousness!).
Cherry Tomatoes: I like to use cherry tomatoes for their sweetness and size. You could also use grape tomatoes or small diced Roma tomatoes.
Red Onion: Adding the red onion gives the salad a fresh kick of flavor. They are bright, tangy, and crisp.
Green Onions: This ingredient also adds more onion flavor but it's milder. You could also use chives if you can't find green onions.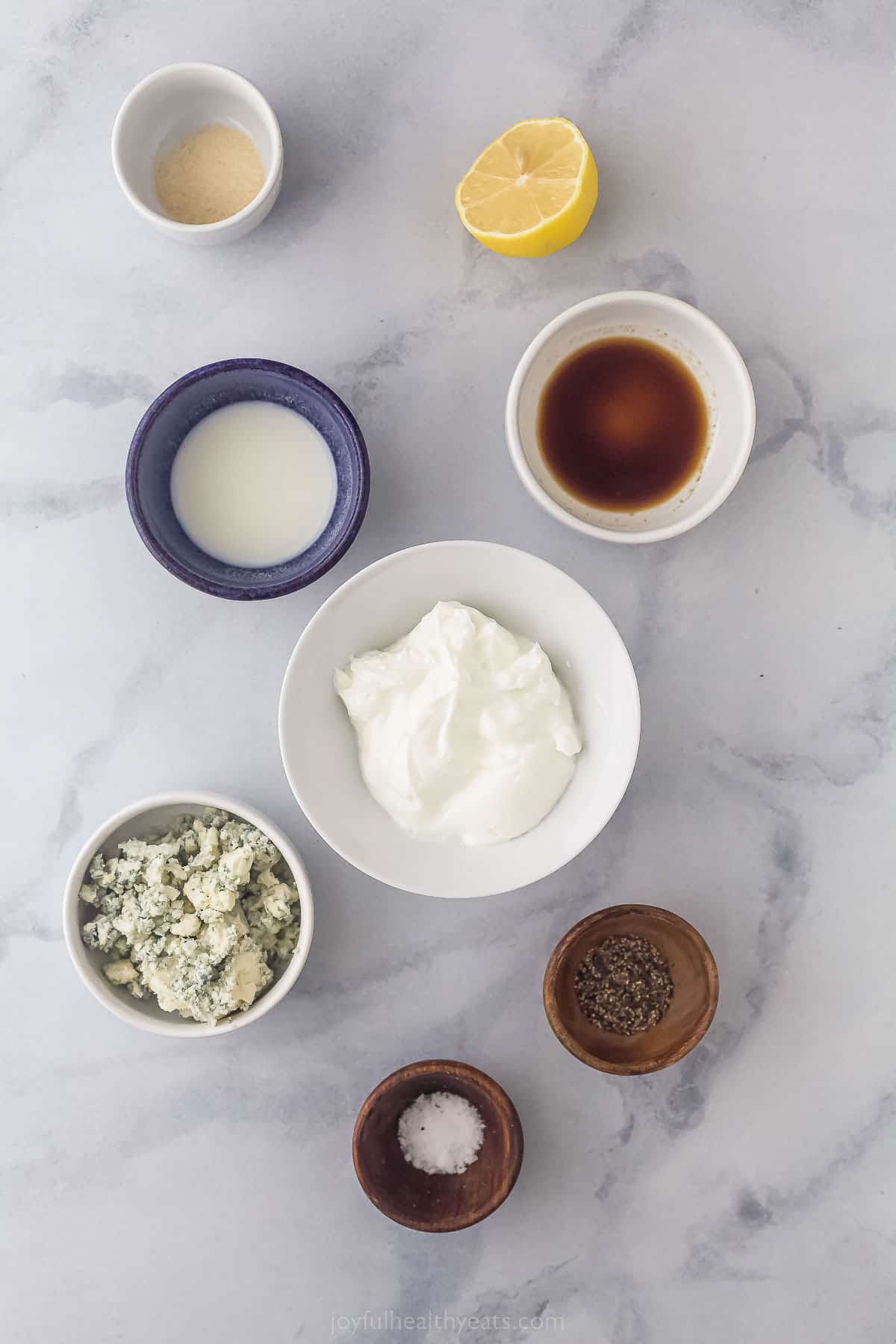 For the Light Blue Cheese Dressing:
Plain Greek Yogurt: This is how we cut back on calories for this dressing. Using greek yogurt instead of sour cream is a kitchen hack that I'll never give up on!
Blue Cheese: It's creamy, tangy, and so delicious!
2% Milk: Again, we are going lighter here to save on calories. You can use whole milk but remember that it will have more fat.
Lemon: Adding lemon adds more tanginess and helps elevate the flavor of the blue cheese.
Garlic: Fresh garlic adds another pop of pungent flavor! I highly recommend sticking with fresh garlic instead of garlic powder. The flavor just won't be the same.
Worcestershire Sauce: This is a great way to add salt to the dressing. And it pairs well with blue cheese. If you're in a pinch you can use soy sauce instead.
Onion Powder: This is an easy way to add onion flavor to the dressing. For a bit of extra flavor, you could add minced onions or finely chopped chives to the dressing.
Salt & Pepper
Additional Topping Ideas
Shredded Chicken: Better yet, make it Shredded Buffalo or BBQ Chicken!
Pickled Red Onions
Diced Deli Meat
Chopped Hard Boiled Eggs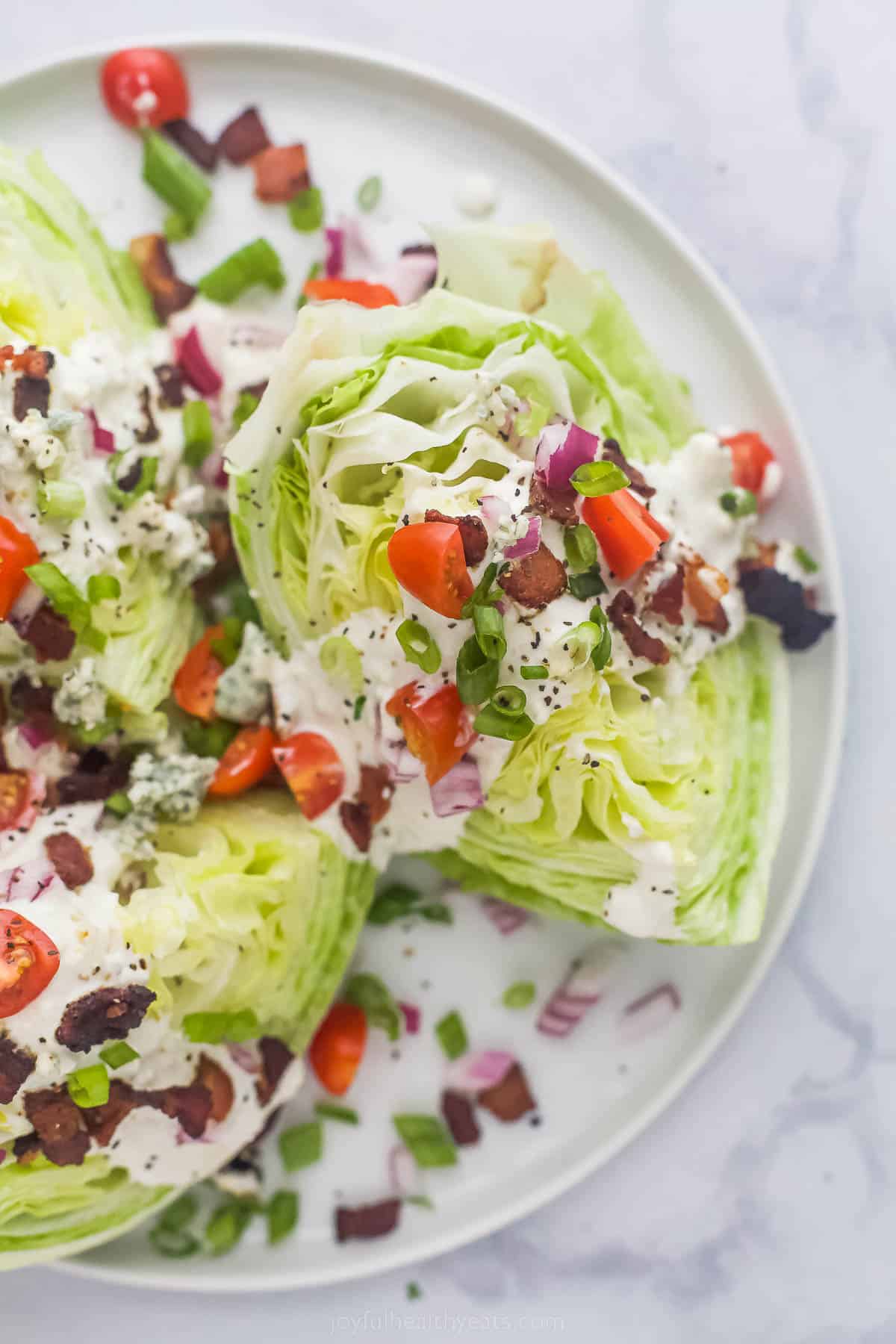 How to Wash & Cut Lettuce for a Wedge Salad
There is one very important step that you don't want to skip. You still need to watch the iceberg lettuce.
But it's very simple to do! Just remove any brown or wilted leaves from the outside of the head of the lettuce. Then cut it into four wedges. After that, rinse the wedges under ice-cold water and then pat them dry with a paper towel. It's that simple!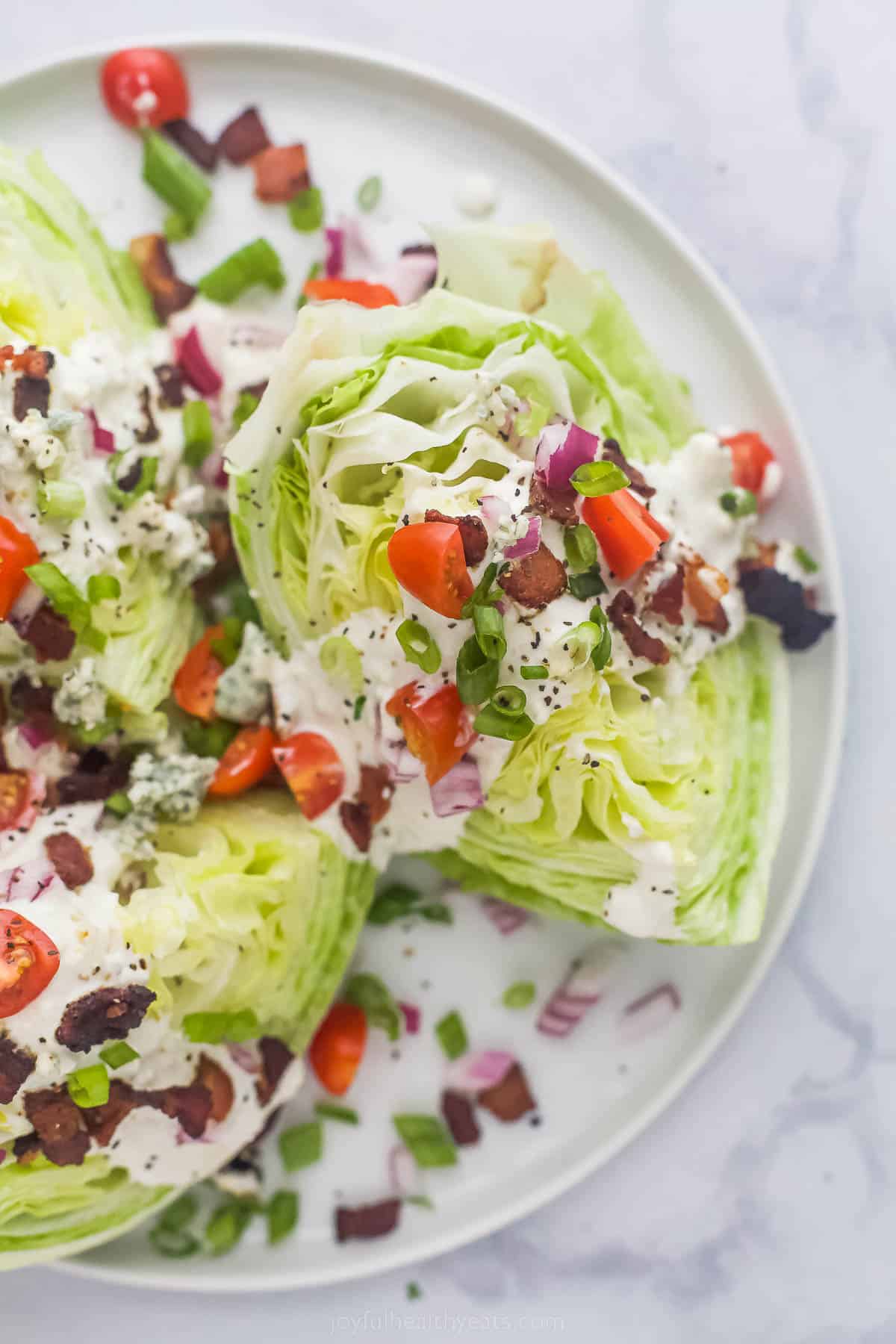 How to Make an Iceberg Wedge Salad with Blue Cheese
Here's how to make this restaurant-quality Wedge Salad at home!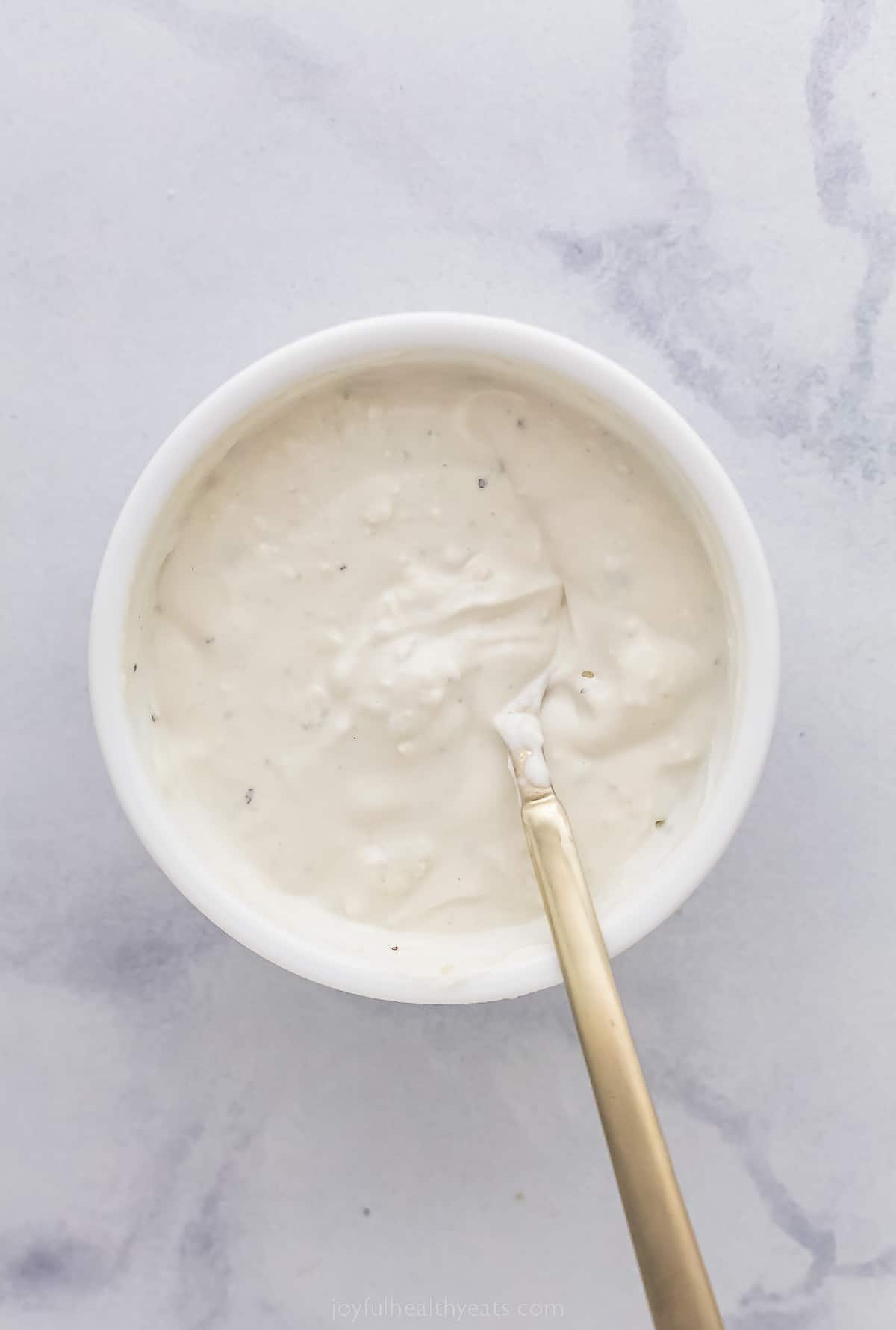 First, make the dressing. Simply put all of the ingredients in a bowl and mix them together.
Then cook the bacon. I like to cut my bacon into about 1/4″ pieces for quick and easy crisping.
Cut the iceberg wedges. And don't forget to wash them.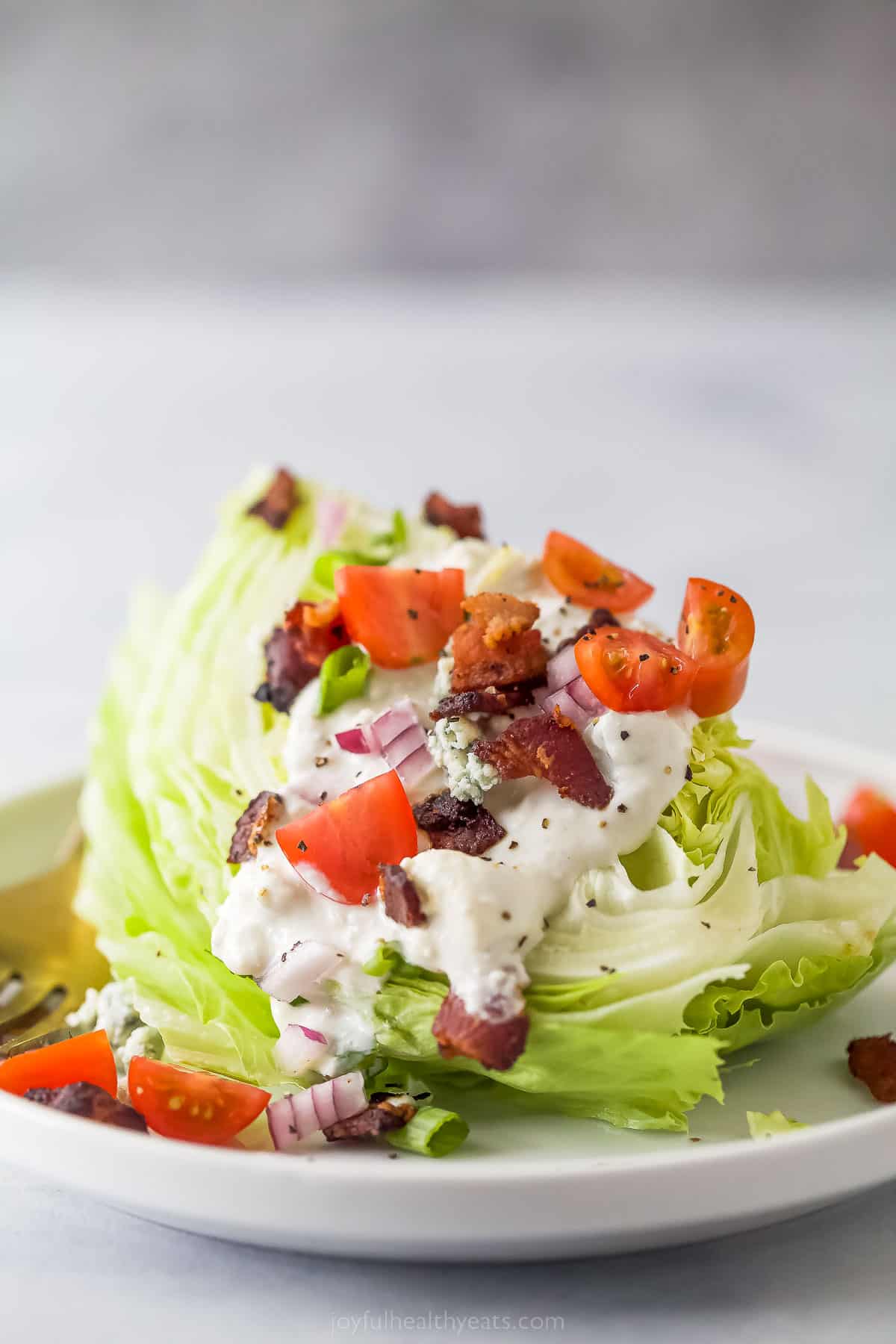 Lastly, assemble the salads. It's pretty straightforward! You plate the iceberg wedge and then put the dressing on first (this way the toppings have something to stick to). Then add your toppings. Make sure to serve the salads immediately!
Tips for Success
Here are some helpful tips to follow when making this salad.
Use a large head of iceberg lettuce. You also want to use a head that seems to have tight leaves. Even if you have to cut the head into more than 4 slices, the larger heads hold together best.
Add more milk if your dressing is too chunky. Or you also may need to break up any large chunks of blue cheese. You want the dressing to be pourable so that it covers the wedge.
Don't make this salad ahead of time. This is not one of those salads you can keep in the fridge for a few days. Yes, you CAN make the dressing ahead of time. But prep the salad portion right before serving.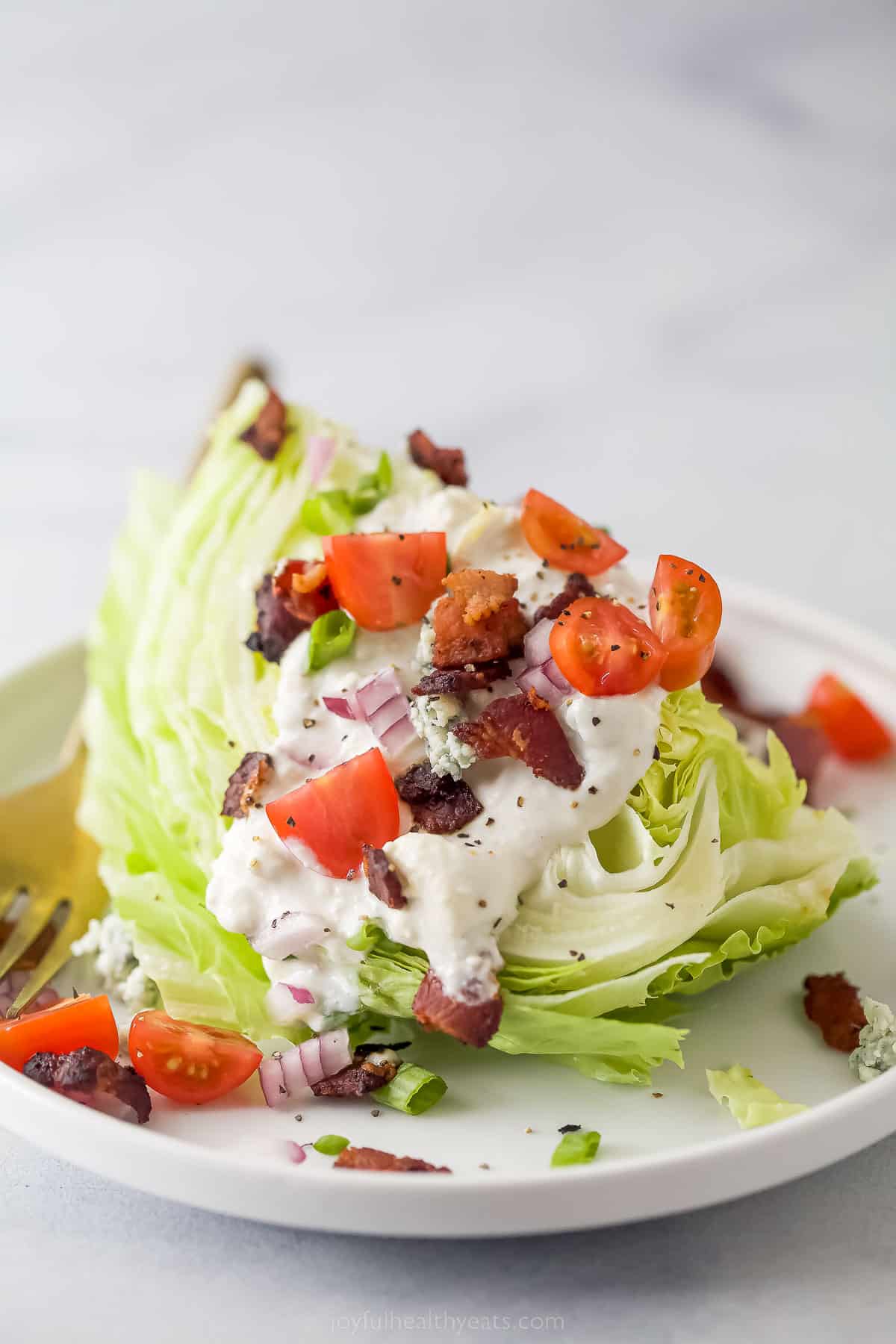 Serving Suggestions
This salad makes a great first-course meal option! Here are some other recipes that will pair great with this salad.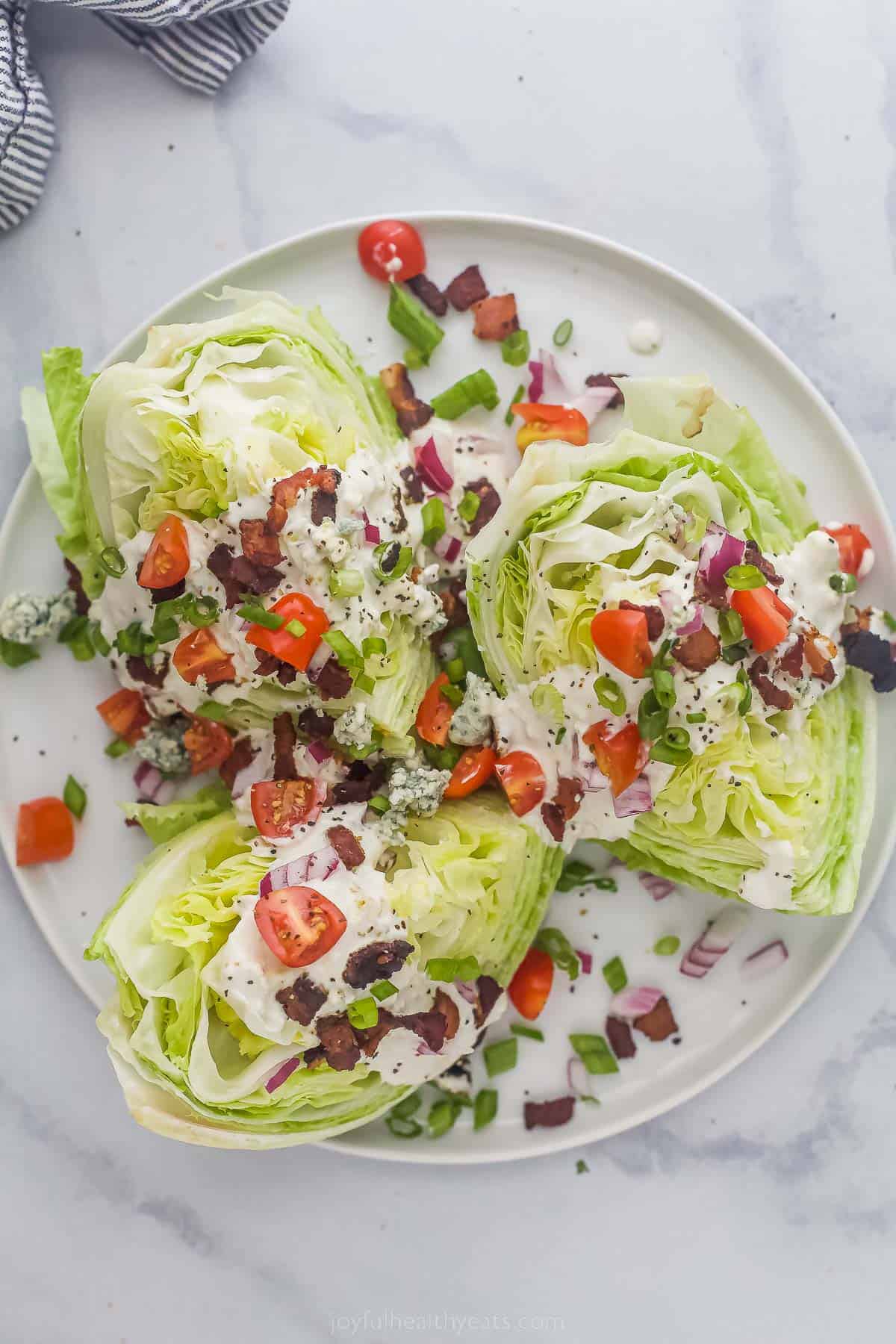 How to Store
This salad is best served fresh. And I wouldn't suggest keeping leftover built salads. However, you can store any leftover dressing in the fridge for up to 7 days.
Additionally, if you have extra toppings, you can store those, too. I recommend storing them in separate containers in the fridge and running to the store to grab another head of iceberg! (Or they make delicious toppings for any salad!)
Print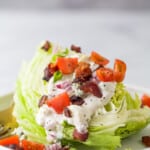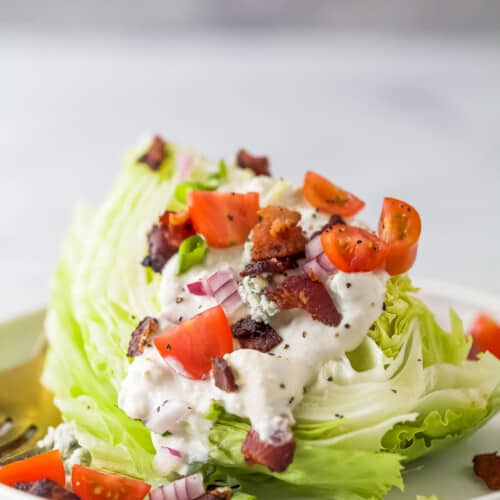 Classic Wedge Salad with Light Blue Cheese Dressing
---
Description
An easy and refreshing salad loaded with flavor from crispy bacon to tangy blue cheese! It's a great salad or appetizer for a crowd. Plus, it's under 200 calories! 
Scale
Ingredients
1

head of iceberg lettuce, sliced into quarters

1/2 cup

diced cherry tomatoes

6

slices of bacon, diced

1/4 cup

diced red onion

1/4 cup

green onions, diced
Light Blue Cheese Dressing:
1/2 cup

plain greek yogurt

1/3 cup

crumbled blue cheese

1 tablespoon

2% milk
juice of

1

lemon

1

garlic clove

1/2 teaspoon

Worcestershire sauce

1/2 teaspoon

onion powder
salt & pepper to taste
Instructions
Make the Dressing: To a small bowl add greek yogurt, blue cheese, milk, lemon juice, garlic clove, Worcestershire sauce, onion powder, salt, and pepper. Mix until combined and set aside.
Cook Bacon: To a medium skillet add diced bacon pieces. Saute for until bacon is browned, about 5-7 minutes. Pour bacon onto a paper towel-lined plate to soak up some grease.
Cut Iceberg into Wedges: Remove the loose leaves off the outside of the head of lettuce.Place iceberg lettuce on a cutting board. Slice lettuce in half so you have two equals halves. Flay each half on the flat side and slice in half again, so you have quarters.
Assemble Salads: Top each iceberg wedge blue cheese dressing, bacon, cherry tomatoes, red onion and green onions. Add more crumbled blue dressing if you'd like. (optional)
---
Nutrition
Serving Size:

1 wedge salad

Calories:

179

Sugar:

8 g

Sodium:

819 mg

Fat:

11 g

Carbohydrates:

12 g

Fiber:

3 g

Protein:

10 g

Cholesterol:

28 mg
Keywords: blue cheese wedge salad, iceberg wedge salad, classic wedge salad, easy salad recipes
More Easy Salad Recipes: