Love granola and want some inspiration on new ways to use it? Maybe you have a bag of granola in your pantry and need some granola breakfast ideas? Here are 21 ideas what to eat with granolaone of my favorite foods!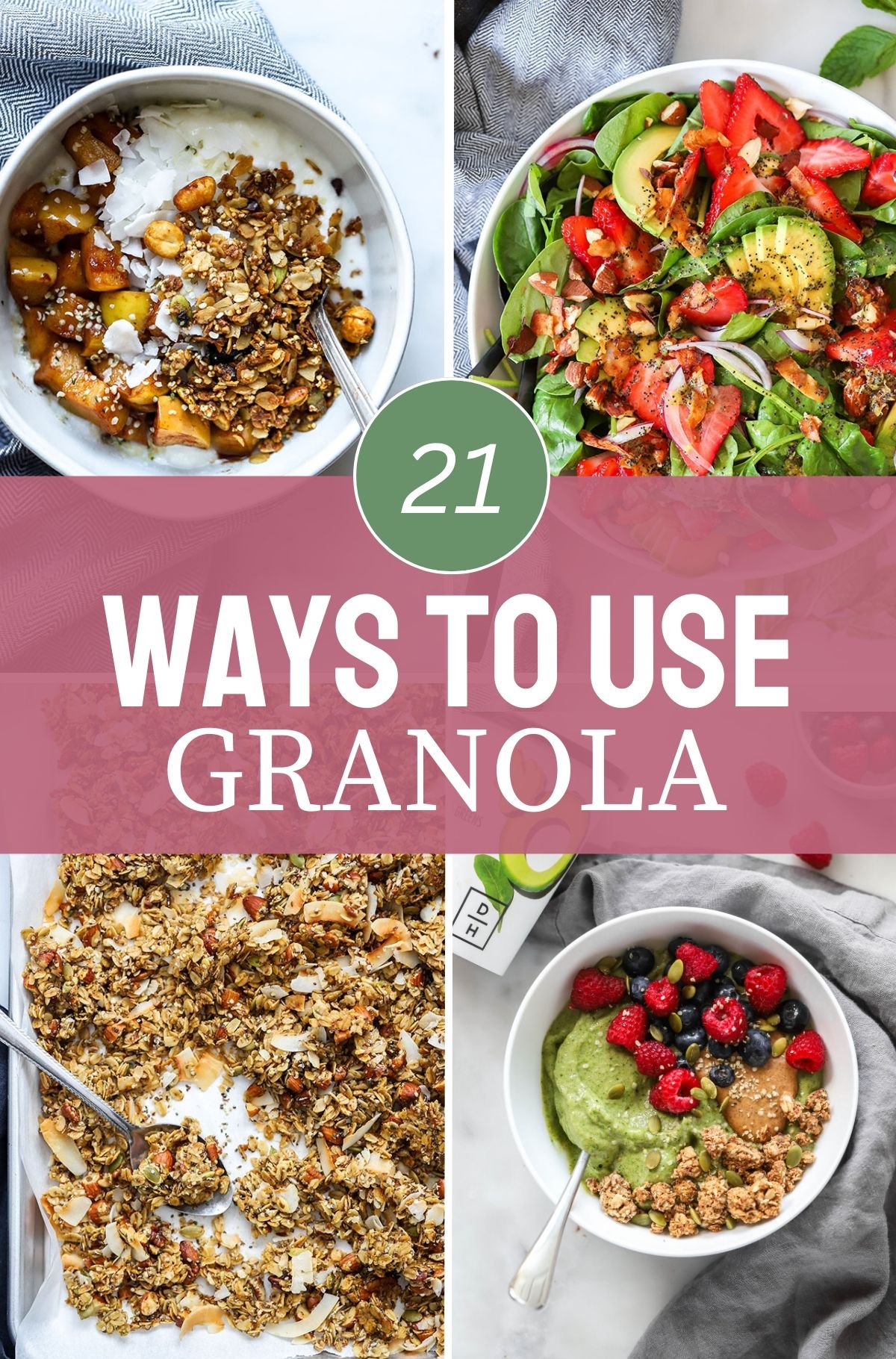 Whether you make your own granola or buy a bag at the store, it can be a handy ingredient to keep in your pantry! Granola is packed with healthy ingredients like oats, flax seeds, pumpkin seeds and more. By making it at home, you can often cut down on the extra added sugar often found in store-bought granola.
Granola can easily be enjoyed by the handful as the perfect breakfast with some milk, a delicious mid-day snack. These crunchy clusters pair well with a variety of different foods and can be packed to take away.
As a registered dietitian, I love the health benefits of granola and almost always have some in my pantry. Some of these granola health benefits include: high in fiber and full of healthy fats that can reduce the risk of heart disease, soluble and insoluble fiber to support gut health, and antioxidants to prevent chronic disease.
What to eat with granola
Here are 21 great options for serving granola that will keep it interesting. Most of these ideas will let you enjoy your granola with other healthy foods like fruit, yogurt, nuts, and more, so you'll be eating better in more ways than one!
Milk: one of the easiest ways to enjoy granola is served in a bowl with your favorite milk as a breakfast cereal. Serve with dairy milk or non-dairy milk such as almond milk, soy milk or oat milk.
yogurt: Make yourself some yogurt bowls with some fruit and granola for crunch. Since I'm vegan, I like to serve it with a dairy-free yogurt. Cut down on added sugar by serving it with unsweetened yogurt.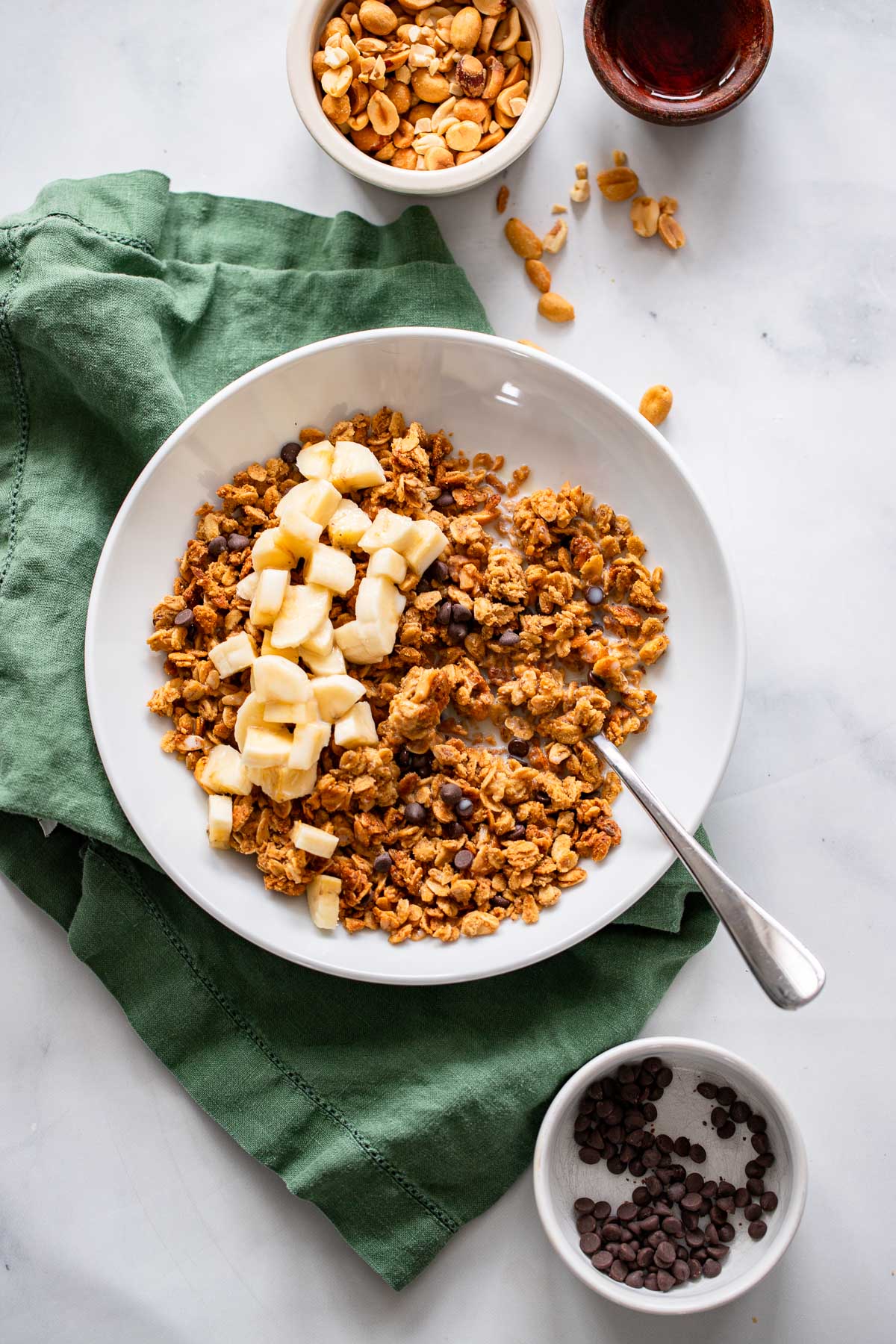 Fruit: add some fresh fruit or thawed frozen fruit to a bowl and top with granola. Here are some of my favorite fruits to serve with some granola: seasonal berries (blueberries, raspberries, strawberries, cherries), melon (cantaloupe or watermelon), fresh peaches, sliced ​​banana.
Fruit compote: cook a delicious fruit compote (it's really easy, I promise!) and serve it with yogurt and granola. You can also create a yogurt parfait by layering yogurt, fruit compote, and granola in a glass or jar. Here are my favorite compote recipes: strawberry rhubarb compote i peach compote.
Cottage cheese: it's common to serve cottage cheese with some fruit, why not add some granola too? It's a great way to add crunchy texture and whole grains to make it a healthy meal or well-rounded snack.
Hot Oats: add some crunch to your morning bowl of oats by sprinkling some granola on top. For example, I really like the combination of mine chocolate oatmeal with mine peanut butter granola. yum!
Overnight Oats: I love overnight oats, but the texture can be a bit boring. Add some fresh fruit and a handful of granola to make it more interesting. Here is my favorite recipe vegan protein overnight oats.
Smoothies: Thick, frosty smoothies are best on a hot summer day. Sometimes, I top off my smoothie with a spoonful of granola and eat it with a spoon out of my glass. You can also make a smoothie bowl with the granola on top for crunch or create homemade acai bowls for the granola.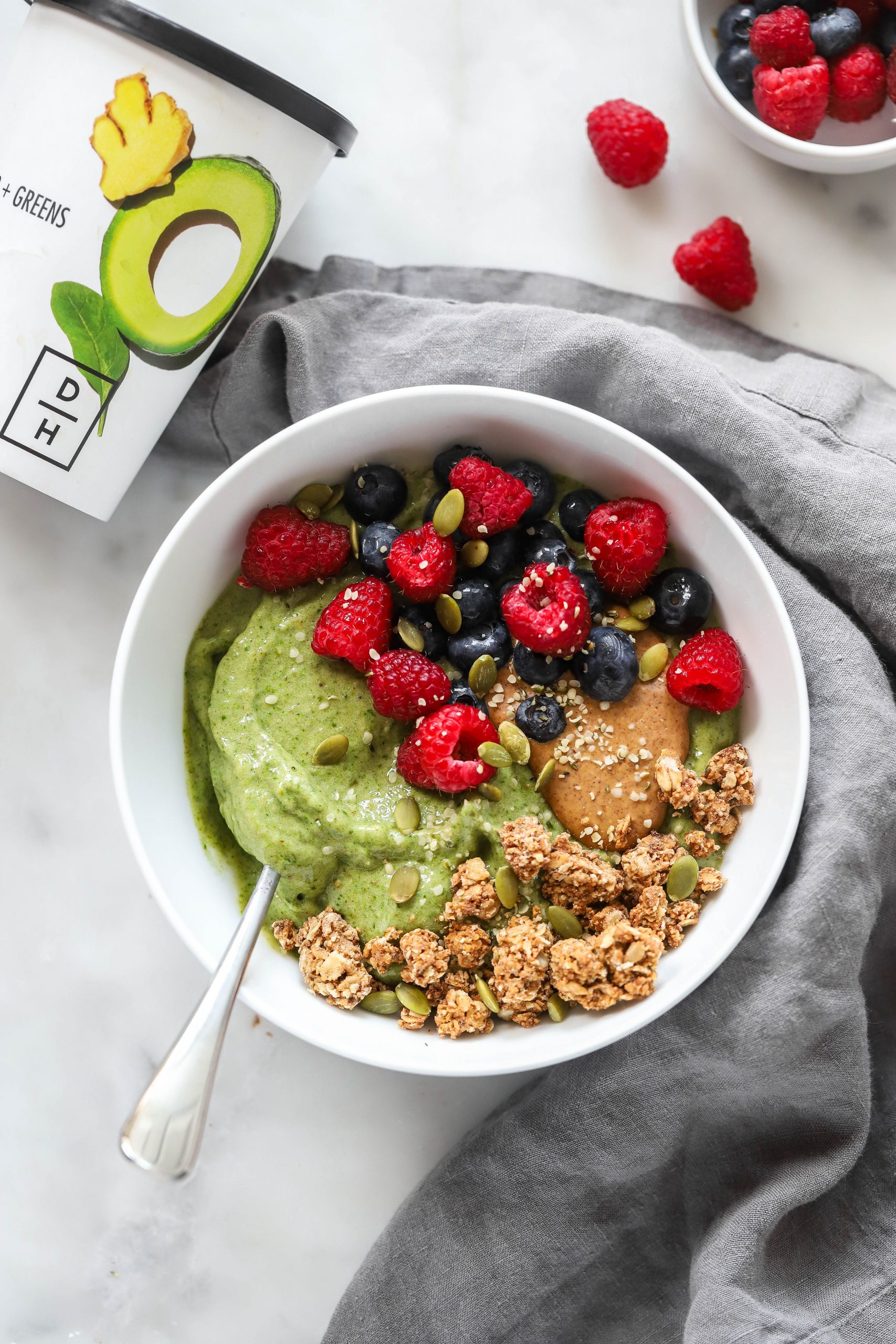 Chia Pudding: the texture of chia pudding is similar to overnight oats. It's a little boring on its own, but add some fun toppings like fruit and granola for a bite. Be sure to check out mine chocolate pudding with chia. It would be delicious if combined with mine Homemade Peanut Butter Granola.
Muffins: instead of making a streusel topping for muffins, just sprinkle them with granola before baking for a delicious, crunchy topping.
Granola bars: mix the granola, nut butter and a little maple syrup in a bowl, then press the mixture firmly into a pan and chill to form granola bars.
Energy bites: Make granola snack bites/balls the same way you make granola bars. Just mix the granola with some nut butter until it starts to stick together and form into balls with your hands. Cool and serve as a delicious on-the-go snack.
Waffles and pancakes: Sprinkle granola on your morning stack of waffles or pancakes. You can also stir the granola directly into the pancake batter before cooking for a delicious crunch.
Apple Compote: don't you like milk or yogurt? You can also enjoy granola on top of a serving of applesauce. It's a particularly tasty combo with a cinnamon-heavy granola like this one Granola recipe with pumpkin spice.
Trail mix: Make a super simple homemade trail mix by combining some granola with a couple of handfuls of nuts and seeds. I like to mix mine up Homemade vegan granola with dried apricots and blueberries for a packable snack.
Apple Nachos: cut some apples into slices and arrange them on a plate. Heat some peanut butter or almond butter for a few seconds in the microwave until it's warm and liquid. Pour over apple slices, then top with some granola for a simple, healthy snack.
Toasts: add some crunch to your toast by sprinkling some granola on top. My favorite combination is peanut butter and banana slices with some granola. You can also try almond butter and sliced ​​apples on toast with some granola.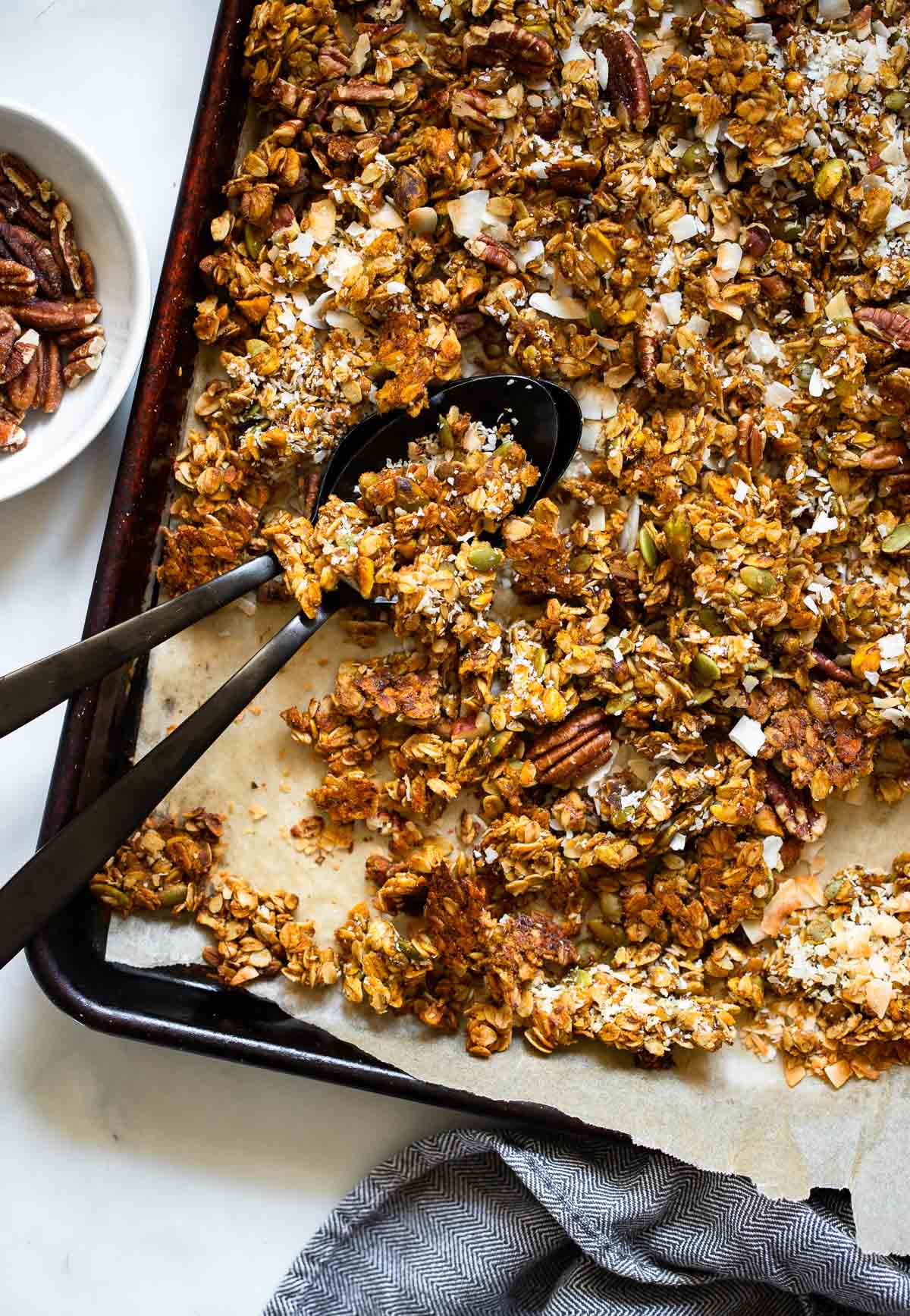 Roasted Sweet Potato: Sweet potatoes aren't just a side to dinner! Heat a sweet potato in the oven or microwave until fork-tender, open it up and fill it with yogurt, a dollop of nut butter, fresh berries and some granola. Perfect for when you're bored of the usual routine of cereal, oatmeal and smoothies.
Frozen Yogurt Crust: line a baking sheet with parchment paper and spread a layer of yogurt on top. Sprinkle with granola and fresh fruit and freeze until firm. Break into pieces and serve with breakfast or on its own as a healthy snack.
Ice cream: Granola isn't just for breakfast! Use it as an ice cream topping option that's sweet and crunchy. It would be perfect paired with some fruit or a fruit sauce.
Salads: instead of croutons, add granola to a salad. I like to add granola to salads that already have a little sweetness, usually those with fruit. Here are a couple that would go well with granola: strawberry spinach salad or Blueberry Summer Kale Salad.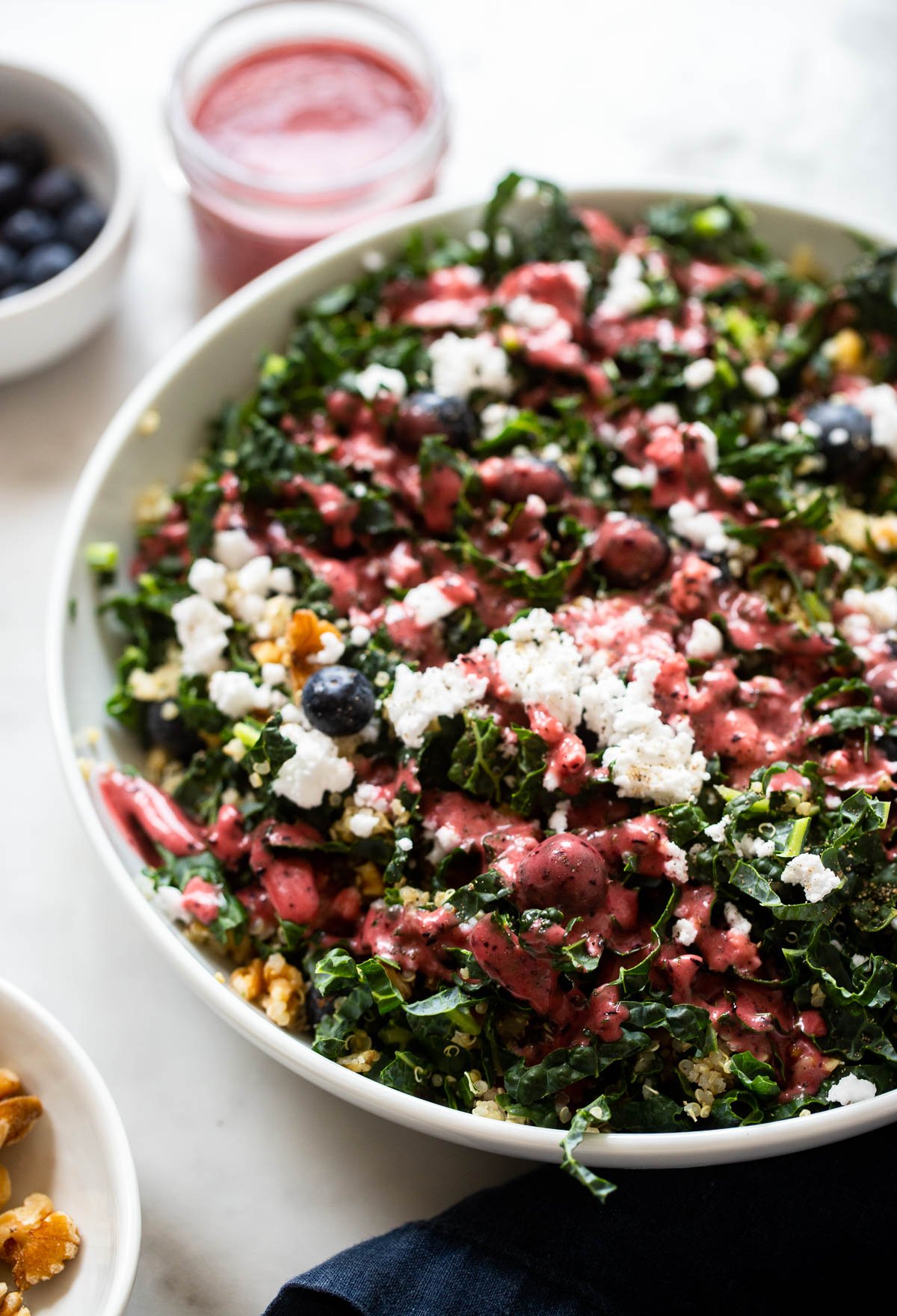 Frequently asked questions
How long does granola last?
Homemade granola is good for about a month after you make it if stored in an airtight container. An opened package of store-bought granola can be good for up to 3-6 months. Unopened store-bought granola can be enjoyed for up to 3-6 months after the package's expiration date.
Is granola low carb?
No, most granola is made with oats and added sugar like maple syrup or honey, so it's usually not low carb. However, the carbs in granola vary from brand to brand or recipe to recipe. Some brands use sugar-free sweeteners for their granola, so look for "low carb" or "keto" on the package.
Is granola healthier than oats?
Both can be a healthy addition to your diet, it just depends on your overall nutritional goals and eating pattern. Oats are generally lower in sugar and calories than granola, but that doesn't mean granola is bad for you. Granola also has many health benefits as it is high in fiber and healthy fats.
Granola recipes
Be sure to check out these healthy homemade granola recipes!