When switching to a plant based diet, it might be relatively easy to reconcile with the removal of runny-yolked eggs from your breakfast routine. A bit less obvious, however, is that egg yolks are key components in a great number of other culinary delights–sometimes in places you would never guess! 
If you have removed animal products from your diet or are avoiding eggs due to a food allergy or sensitivity, you've come to the right place! We're here to walk you through a dozen of our favorite egg yolk substitutes for baking and cooking. Each of the options below is entirely vegan and will work for a number of different applications, from bakery delights and desserts to sauces and beyond.
What is an Egg Yolk?
An egg yolk is the central, yellow portion of a whole egg. As dramatic as their differences are visually, it's no wonder that egg yolks are quite distinct from those egg whites that surround them inside the shell. 
Egg yolks are renowned for their high fat content and a great number of important nutrients such as vitamins A, B, D, E, and K as well as minerals like selenium and phosphorus. Though many folks credit egg whites with providing higher quantities of protein, gram for gram, the yolk actually has a higher protein content. 
What are Egg Yolks Used For?
While whole eggs and egg whites are used to add lift and lightness to recipes for baked goods and other dishes, the primary role of egg yolks is adding richness. The high fat content found in an egg yolk delivers richness and moisture to whatever it is incorporated into. And, if something bears that rich "eggy" color, egg yolks are the responsible party as the whites of the egg do nothing to color a dish. 
In addition, egg yolks have the unique ability to emulsify–or bind together–other ingredients, as well as can help thicken liquids when cooked. Savory recipes like mayonnaises and sauces owe their unctuousness to egg yolks, and sweets such as custards, puddings, and even ice cream are reliant on egg yolk for their notably rich, creamy textures.
The Best Vegan Egg Yolk Substitutes
It would be a shame to miss out on such treats as mayonnaise and pudding due to plant based eating or an egg allergy. To save you from such a custard-less fate, we're sharing the good news that there are many alternatives you can use to replace egg yolks, turning all of your favorite recipes vegan friendly! 
Some are ingredients that you likely already have lingering in your household, while others may require a special purchase. However, if you find yourself doing a lot of egg-free cooking or baking, investing in some of these ingredients is sure to pay off! 
Our picks for the 14 best substitutes for egg yolks are: 
Chickpea Flour
Cornstarch
Coconut Milk
Oil + Water
Soy Lecithin
Vegan Gelatin
Cashews
Carbonated Water
Avocado
Chia Seeds
Flax Seeds
Vinegar + Baking Soda
Silken Tofu
Store Bought Vegan Egg Products
1. Chickpea Flour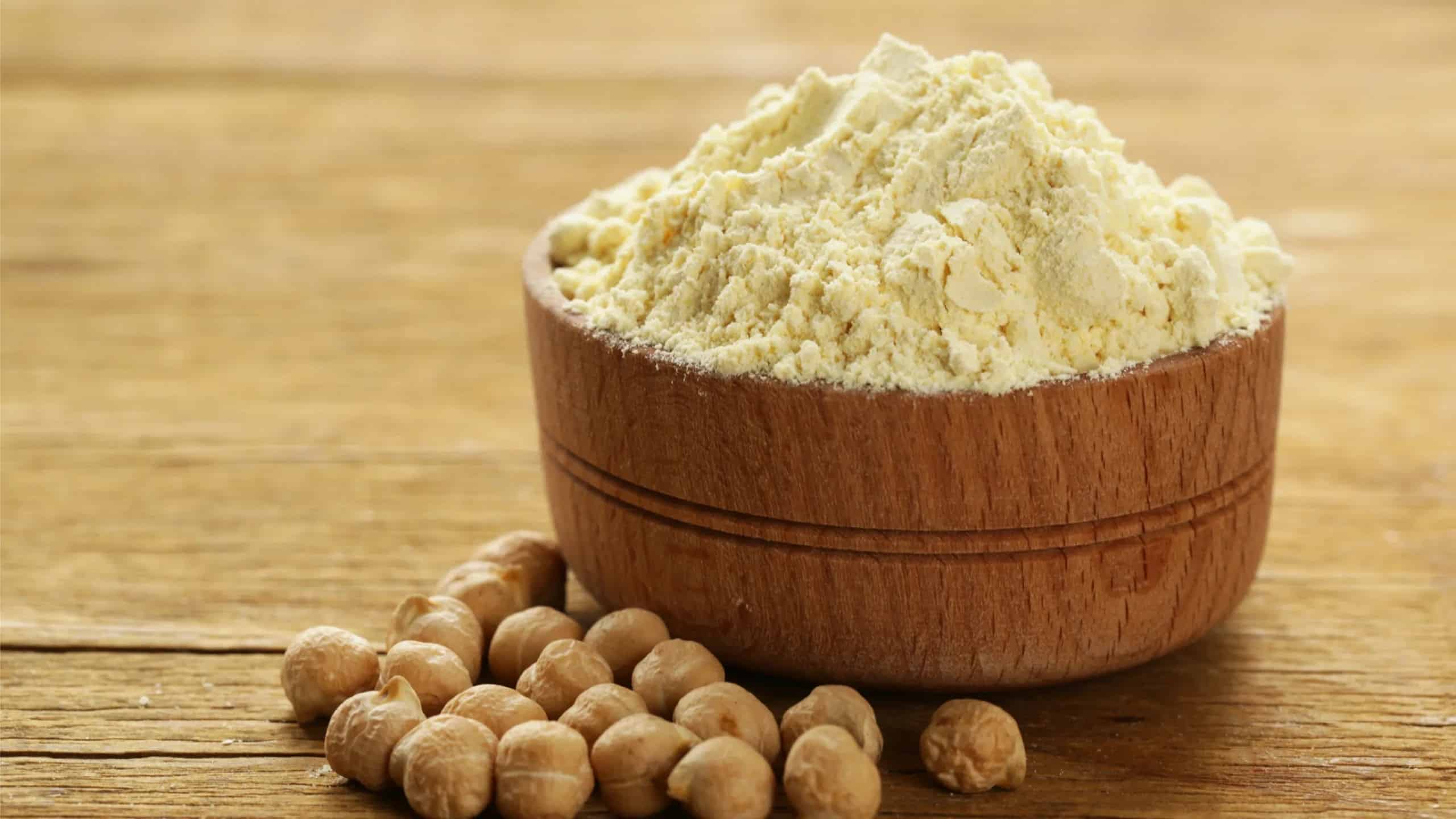 Depending on the type of chickpea used, chickpea flour may be called gram flour, besan, or most simply: chickpea flour. 
No matter which variety you happen to pick up however, this stuff will work wonders as an egg yolk replacement. Its protein heavy and starch rich characteristics make it ideal for binding, and chickpea flour even offers a bit of a leavening effect!
Though this option is great in dishes like baked goods or casseroles, it is likely less ideal for use in creamy applications like sauces and puddings. 
How to Substitute
You'll need:
For each egg your recipe calls for, combine 3 tablespoons of chickpea flour and 3 tablespoons of room temperature water into a small bowl. Whisk until your mixture is well combined and fluffy, then incorporate into your recipe where egg yolks are called for! 
2. Cornstarch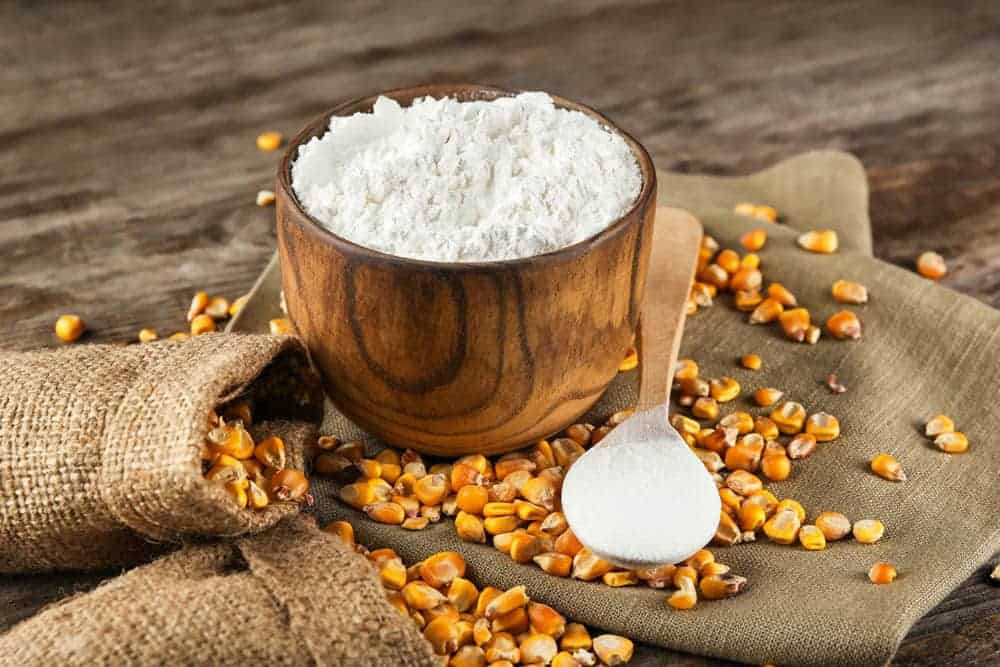 Cornstarch works well as a vegan substitute for egg yolk for the fact that it, too, has plenty of natural binding properties. When mixed with water, this stuff is great for holding baked goods together as they cook, while also keeping the dish nice and moist–just as an egg yolk would do.
Using cornstarch to replace egg yolks is a great choice for desserts of all types, and can even work to thicken sauces too!
It is only recommended to use this method to replace a maximum of 2 egg yolks in any given recipe, as the binding power may not be quite strong enough to stand in for any larger quantity of egg yolks a recipe may call for. 
How to Substitute:
You'll need:
For each yolk your recipe calls for, whisk together 1 tablespoon of cornstarch + 3 tablespoons of warm water. Use this mixture when and where the egg yolk ingredients are called for in your recipe.  
3. Coconut Milk
Coconut milk works its magic once again as a star replacement for egg yolks. The high fat content of coconut milk–yes, reach for the full fat stuff this time!–provides a similar effect to that of egg yolks themselves. Not to mention, when whipped, it becomes wonderfully thick and fluffy.
Coconut milk can be used to replace egg yolks in a number of different recipes, but is best used for thickening and adding richness, such as is called for by ice creams and custards. This stuff has no leavening power, so you might prefer to keep this one away from your baked goods.
Also, bear in mind that coconut milk is decidedly coconutty in flavor, so be sure to consider whether or not the flavors in the rest of your dish are complimentary before using!
How to Substitute
You'll need:
Full-fat canned coconut milk
Per egg yolk called for in your recipe, measure out 2 tablespoons of full-fat coconut milk. Be sure to stir the entire contents of the can together first to ensure the coconut milk is cohesive before measuring out the portion you need. 
Use a whisk to whip the coconut milk until thick and smooth, then add to your recipe in place the yolks when called for.
4. Oil + Water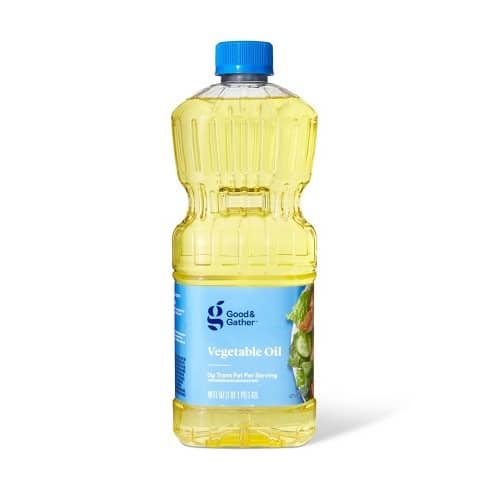 Since the main components of egg yolks are lipids and water, you can go right ahead and use a different type of fat in order to achieve a similar level of richness and moisture imparting power! 
Some good choices are olive oil, vegetable oil, avocado oil, coconut oil, and soybean oil. If you have several types of oil on hand to choose from, you may want to give them each a small taste and consider how well the flavor of each would complement–or not!–the other ingredients in your dish. 
Using plain oil and water won't have quite the same effect as eggs in terms of leavening, but it will add a similar level of richness to your recipes. This alternative shines brightest in baking as opposed to cooking soups or sauces, as it will not provide any thickening or emulsifying power.
How to Substitute
You'll need:
Oil of your choice (such as vegetable, olive, soybean, avocado, or nut oils)
Water
For each yolk you need to replace, combine 1½ tablespoons of oil and 1½ tablespoons of water in a dish. The saying "oil and water don't mix" is as old as it is true, so break out that whisk and whip as best you can until you have a fairly cohesive mixture. Add this oil and water blend to your other ingredients when egg yolks are called for. 
5. Soy Lecithin
Soy and its versatility strike again! In order to produce soy lecithin, soybeans go through a rather complicated process that involves extracting the fatty compounds from raw soybeans, then sending these compounds through a series of refinements before a yellowish powder results.
It may sound strange, but the beauty of soy lecithin is that it can act as a binding and emulsifying agent in recipes. It is commonly used in commercial products such as vegan butters for cohesion and textural purposes, and can easily deliver the same type of benefit to your recipes. Try it in sauces and soups, or to help hold together mixtures like veggie patties and fritters.
How to Substitute
You'll need: 
So, how do you substitute lecithin for egg yolks? It's easy! For every egg yolk your dish requires, simply swap in one tablespoon of powdered soy lecithin.
Lecithin works best when it is dissolved in liquid before adding it to other dry ingredients, so be sure to whisk it into one of the other liquid ingredients before incorporating completely. 
6. Vegan Gelatin
While regular gelatin is of course not vegan (due to the fact it is made from animal bones and tissues) vegan gelatin products–such as those we mention in our guide to Great Vegan Gelatin Substitutes!–offer a great option for replacing egg yolk in a recipe. 
Most vegan gelatin is made from seaweed or algae, which has a similarly bouncy, gel-like texture to that which cooked egg yolks impart. Using vegan gelatin in place of egg yolks is better for desserts and sauces as opposed to baked goods, as the long cooking time and dry heat of the oven could turn out some odd results when gelatin is in the mix.
How to Substitute
You'll need:
In a bowl, combine your vegan gelatin with an equal amount of warm water. The exact ratio will vary from one type of vegan gelatin to the next, but generally speaking, two tablespoons of your gelatin + water mixture can be used to replace one egg yolk in a recipe. 
7. Cashews
Seeing as they form the basis for thick, rich recipes such as our Dairy Free Ranch Dressing and Vegan Broccoli Cheese Soup, it only makes sense that cashews would work as an alternative to egg yolks as well! 
The secret to their success in this role is their high fat content, as well as their ability to hold water, acting as a pseudo-emulsifying agent. In addition, cashews (when unsalted and unroasted of course) have an amazingly neutral flavor, meaning they are a wonderful option for mildly flavored desserts like pudding and ice cream. 
How to Substitute
You'll need:
Water
Raw, unsalted cashews
Bring an ample amount of water to a boil, then pour it over the raw cashews in a bowl. You want to be sure the cashews are fully submerged, keeping in mind the fact that they are going to expand a bit as they bathe. 
After 30 minutes, drain and rinse the cashews. At this point, they can be put into a high speed blender with another liquid ingredient from your recipe. It will take a bit of experimentation to determine exactly the quantity of soaked cashews you'll need to replace egg yolks in any given recipe, but you'll know you're close when your blended mixture has that thick, creamy consistency. 
8. Carbonated Water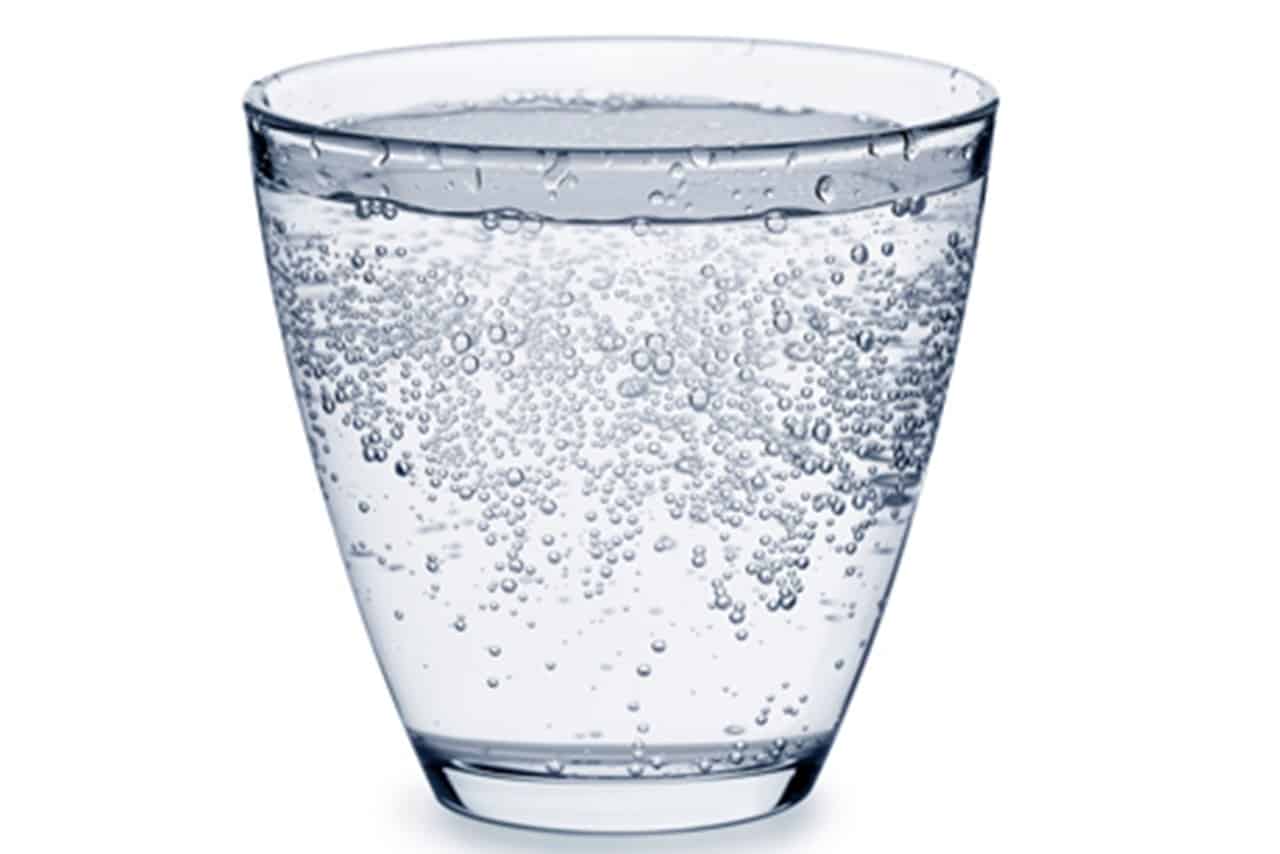 This one might sound a bit odd but your eyes don't deceive you! That bottle of bubbly water you're sipping will indeed make a good substitute for egg yolks. 
Not only does carbonated water add moisture and act as a binding agent, but it will add just a bit of lift to your recipe and is therefore ideal for use in cakes, muffins, or other fluffy baked goods that call for egg yolks. It's worth noting that this option will not impart any fatty richness nor perform any emulsifying action, so don't count on it for sauces or creamy desserts. 
The most basic options will of course be plain seltzer water or club soda, but depending on the other flavors in your recipe, feel free to get creative with flavored sodas like root beer or ginger ale! 
How to Substitute
You'll need:
Carbonated water or soda, either plain or flavored if desired
This one's easy, simply swap in ¼ cup of carbonated water or soda for each egg yolk your recipe calls for. 
9. Avocado
With its noticeable (and craveable!) richness, avocado is an awesome plant based way to replace egg yolks in a recipe. The buttery flesh of this fruit provides moisture and richness, while also helping to bind the other ingredients together and give thickness to the final product. 
When using avocado as a yolk replacement, be sure to use fruit that is quite ripe. Don't use anything mealy or rotten of course, but you want to be sure the avocado is entirely mashable for optimal integration into your recipe. 
How to Substitute
You'll need:
To replace each egg yolk in your dish, you can use the same amount of avocado. Generally speaking, the average egg yolk is about 1 tablespoon of volume, therefore you can add 1 tablespoon of mashed avocado per egg yolk your recipe calls for. 
10. Chia Seeds
Good things do come in small packages, and each tiny little chia seed proves just that. When soaked in water, chia seeds can expand up to 10 times their size and will readily produce a gooey texture as a result of their high soluble fiber content. 
The seeds will definitely retain a bit of a crunchy texture as well as be apparent in whatever your final product, so keep that in mind before opting to use them as an egg yolk substitute in your next batch of pristine sugar cookies or pure vanilla cake. 
How to Substitute
You'll need:
Whole chia seeds
Cold water
To make 1 "chia egg yolk", combine 1 tablespoon of chia seeds with 3 tablespoons of cold water. Stir well and allow the mixture to sit for about 10 minutes until the seeds begin to swell and the mixture takes on a gelatinous texture. 
11. Flax Seeds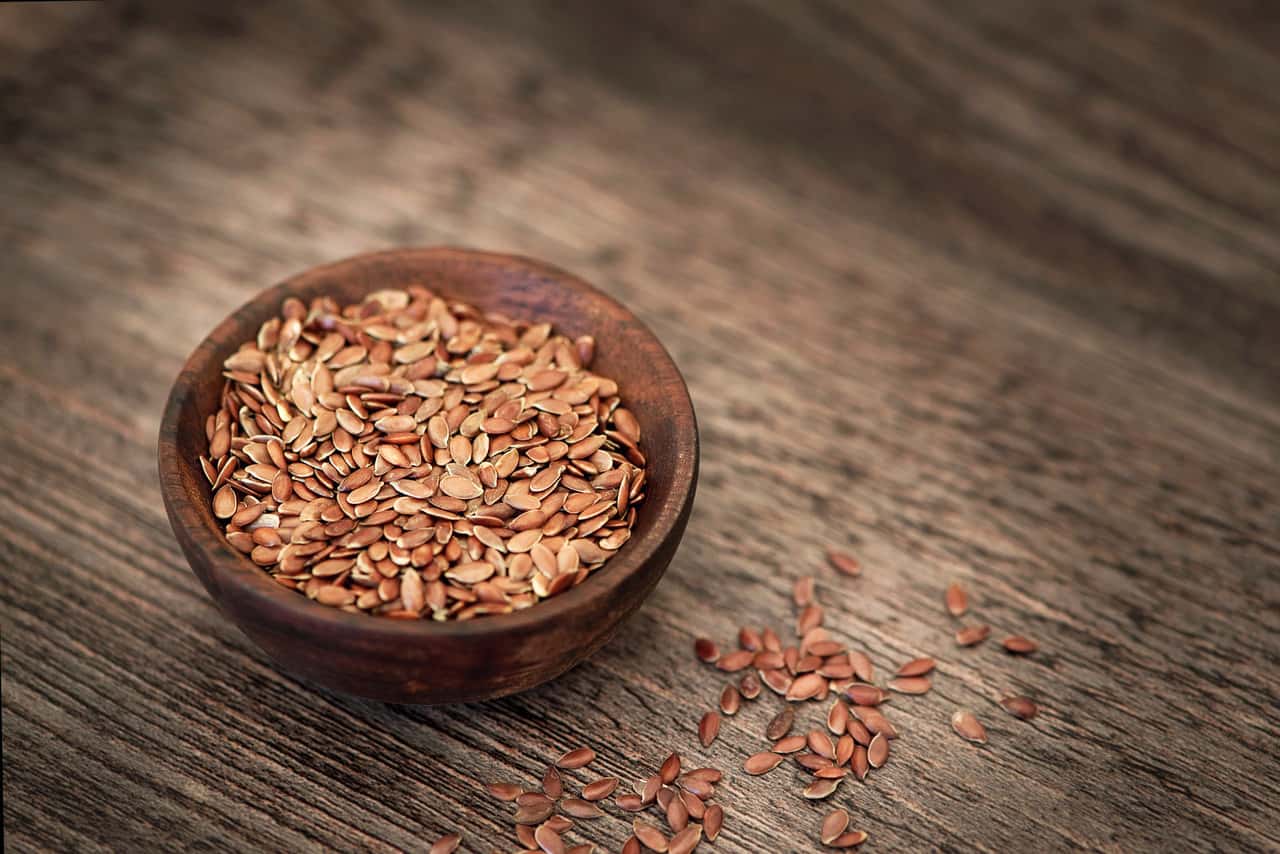 Just like chia, flax seeds can be used to make a "flax egg yolk" as well! While not quite as gelatinous as those chia seeds, flax seeds do produce a similarly gluey substance when exposed to water. This allows them to serve as an excellent binding agent in baked goods, veggie patties, or pie fillings! 
You can't use whole flax seeds here, as they have a tough outer shell which will not soften very quickly in the water soak. You'll have to use ground flaxseeds–also known as flaxseed meal–or feel free to grind your own! 
How to Substitute
You'll need:
To replace one yolk, combine 1 tablespoon of ground flaxseeds with 3 tablespoons of cold water. Whisk until well combined and then let soak for 5-10 minutes until the mixture starts to thicken up. 
12. Vinegar + Baking Soda
If this one sounds like a science experiment to you, you're not alone! It's very true that when mixed together, vinegar and baking soda quickly produce carbon dioxide bubbles.
While this combo is a bit more ideal as a whole egg substitute, it is useful for replacing egg yolk in baking recipes. The liquid here helps to moisturize and bind while the acid helps to tenderize the finished product. 
You can use a number of different vinegar varieties here, as distilled vinegar, apple cider vinegar, or white wine vinegar would all do the trick! Just be sure to use baking soda not baking powder, as the latter would produce a completely different result. 
How to Substitute
You'll need:
Vinegar, such as white wine or apple cider vinegar
Baking soda
To replace 1 egg yolk, combine 1 tablespoon of vinegar with 1 teaspoon of baking soda in a small bowl. Mix until just combined, then quickly incorporate the mixture into the rest of your ingredients. 
Once formed, the air bubbles quickly dissipate so be sure not to make this mixture until you're ready for it and don't delay on getting your dish into the oven. 
13. Silken Tofu
The structured yet smooth texture of tofu is amazingly similar to that of eggs, as well as the fact that it contains a similar proportion of fats and proteins! This makeup means tofu is an excellent choice for a vegan egg substitute, as it can serve as a great thickening agent, binder, and moisturizer.
Be sure to choose silken tofu as opposed to firm tofu here, as the former will blend up smooth and creamy while the later would be dry and crumbly. 
How to Substitute
You'll need:
Place your tofu in a high speed blender along with a splash of water. Blend until the mixture is cohesive and thick. Be sparing with the water as the thicker your tofu mixture, the better. If you're having trouble getting your mixture smooth, go ahead and add a bit more water.
You can use ¼ cup of this mixture to replace each egg yolk your recipe calls for. 
14. Store Bought Vegan Egg Products
If you prefer the convenience of a ready made option, we hear you on that! Sometimes it's worth a bit of extra cash to pick up one of the many excellent egg replacer options that are out there in grocery stores and specialty markets. 
Vegan egg products run the gamut as far as ingredients go, as some are made from chickpea ingredients, others are made from tofu, and yet more options include soy and chia! The best substitute for your dish will depend on the specific needs of your recipe, so you may have to play around with different brands and quantities before settling on one. 
How to Substitute
You'll need:
Store bought vegan egg substitute of your choice
The packaging of whichever egg replacer you pick up will contain some instructions as far as how to use it to replace egg yolks in your recipe, so we will defer to the experts on this one! 
Vegan Egg Yolk Substitute FAQs
Why Do Recipes Call for Egg Yolks Instead of Whole Eggs?
If you reference our guide: Best Vegan Egg Substitute for Baking Or Cooking: 10 Options, you'll certainly notice a bit of crossover between that list and our list here for replacing egg yolks specifically. However, as mentioned above, there are some key differences in intent when a recipe calls for just yolk as opposed to whole egg. 
Recipes that call for egg yolk are looking for the ingredient to thicken and bind as well as add richness and potentially color to the dish. Recipes that call for whole eggs, on the other hand, are looking for the eggs to act as a leavening agent as well as to reap some structural benefit thanks to the high protein content of the egg whites. 
How Do You Replace Egg Yolks in Cookies?
Cookie recipes that call for egg yolks are looking for a final product that is rich, tender, and very moist. Therefore, some of your best replacement options for egg yolks in cookies would be oil + water, soy lecithin, avocado, chia seeds, or flax seeds. 
What is the Best Replacement for Egg Yolk in Making an Emulsified Dressing?
Emulsified dressings like vegan mayonnaises and creamy salad dressings are tough as they require just the right mixture of fat and water ingredients to remain blended. Egg yolks are the perfect agent for this task, but cornstarch and chia seeds are among your best vegan substitute options for this role.  
Can Aquafaba Replace Egg Yolks?
Using aquafaba, or chickpea liquid, is a well known egg replacement method. However, it is better used to replace whole eggs or egg whites, while the task of replacing egg yolks is better left to one of the above 14 options! 
Recapping the Best Vegan Egg Yolk Substitutes
As far as ingredients go, it might come as a bit of a surprise that egg yolks have such a long list of vegan alternatives!
Chickpea flour, cornstarch, soy lecithin, and avocado make for some of the best egg yolk substitutes. Chia seeds and flax seeds may be more well known replacements for whole eggs, but nevertheless, can be successfully implemented where yolks are called for as well!
If you're low on ingredients or don't fancy a trip to the store, you could always reach for pantry staples like oil + water or vinegar + baking soda. After all, some of the best vegan substitutes are the ones you already have on hand!