This post may contain affiliate links. Please read our disclosure policy.
This Yoghurt Chicken Salad recipe post is sponsored by Stonyfield although the content represents my personal opinion and experience with the product.
Bright and fresh, this yogurt-based chicken and apple salad recipe is tart, flavorful and hearty. Fresh dill, scallions and green apples give it a zesty flavor while celery and grapes add crunch. The best part? It is easy to prepare and can be served as a main course or as a side salad.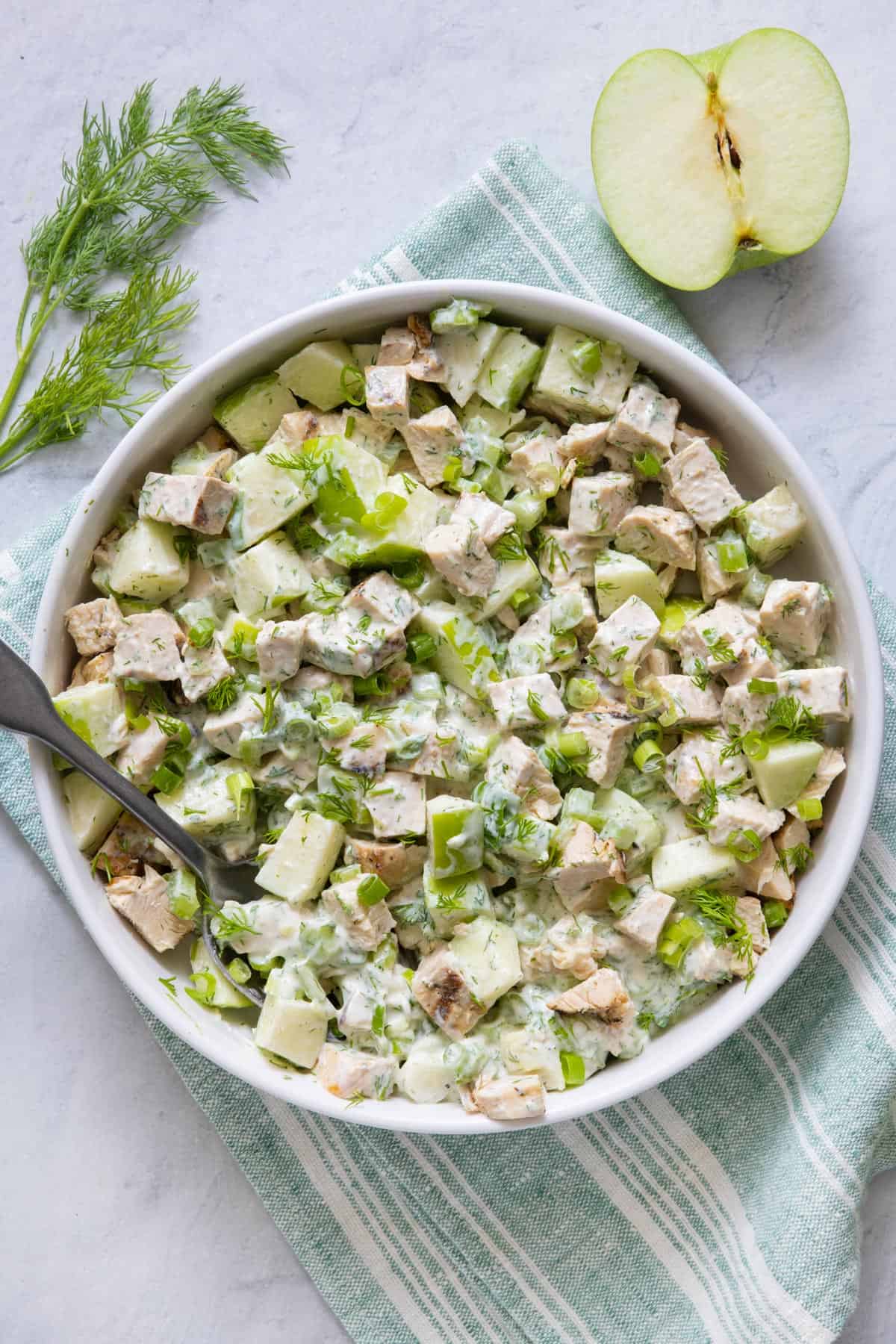 If you've been looking for a healthy chicken and apple salad recipe that doesn't use mayo, this recipe is for you! The yoghurt not only provides creaminess, but also a protein boost. And because there's no mayonnaise, this salad is perfect for picnics and potlucks. Just make sure you keep it cool until you're ready to serve it.
why you'll love this Chicken Salad with Apples and Celery
Perfect make-ahead meal. If you're looking for a healthy lunch option that you can make ahead of time, this Chicken and Apple Salad hits the spot. It's also great for meal prep. Simply divide into individual containers and store in the refrigerator.
Spicy & hearty. If you're not a fan of sweet salads, this one is for you. The combination of hearty chicken, tart apples and zesty dressing makes for a salad that's packed with flavor.
Creamy without mayonnaise. Whole milk yogurt gives this salad the creaminess you're craving without the use of mayo.
Versatile. Serve this chicken salad as a main course or as a side salad. It's perfect for lunch, dinner or even a light snack.
Ingredients for yogurt chicken salad
Chicken: I like to use grilled or roast chicken for this recipe, but you can air fry your chicken breasts too!
apples: I prefer to use green apples in this salad because they are tart and crunchy. However, you can use any variety of apple you have on hand.
Yogurt: Instead of using mayonnaise in this salad dressing, try yogurt. I use organic whole milk Stonyfield yogurt. It contains billions of probiotics but no artificial flavors, no artificial sweeteners and no preservatives. Yogurt is tart and flavorful with a similar texture and color to mayo, so I'm happy to swap it out for mayo for a lightened-up version of a classic salad with less fat and calories. Plus, the milk from cows that graze naturally on lush grass gives this yogurt a rich and unique flavor.
Celery: Celery adds crunch and a touch of sweetness to this salad. Here's a quick guide to slicing celery.
Dill: Fresh dill is my favorite herb for this recipe, but you can use parsley or chives too.
Green Onions: I like to add both the white and green parts of the onion for a bit more texture.
Spices: Lemon juice, Dijon mustard, salt and pepper make a refreshingly light dressing.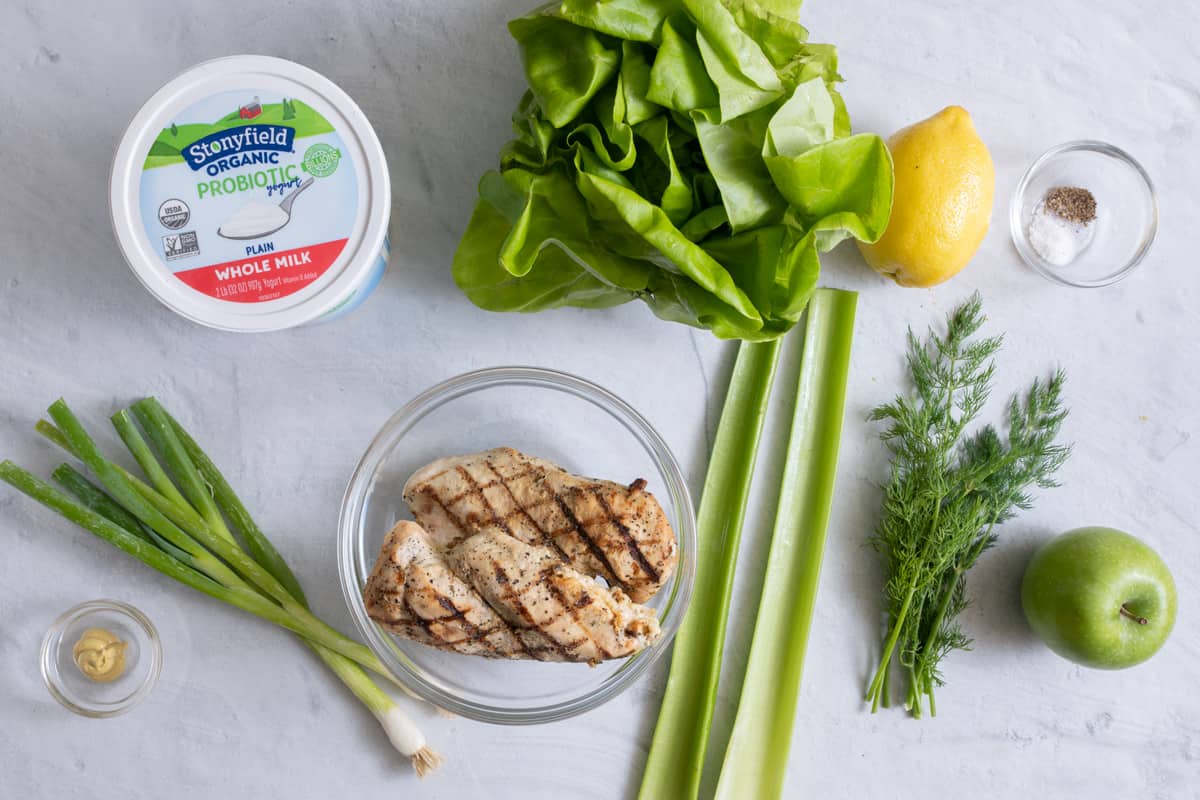 RECIPE VIDEO TUTORIAL
How to make yogurt chicken salad
Before you begin, be sure to use high-quality, whole-milk yogurt. I love Stonyfield Organic Plain whole milk yogurt. It's thick, creamy, and has a slightly tangy flavor that's perfect for this salad.
make the dressing
In a large bowl, whisk together the yogurt, lemon juice, dill, Dijon mustard, salt, and black pepper.
Mix until well incorporated.
Combine dressing with chicken
Add the chicken cubes, apple, celery and spring onions to the bowl.
Gently fold in all the ingredients until the chicken is well coated in the dressing.
Tips for making mayo-free chicken salad
Cut everything small and to a similar size. This really helps the flavors work in well and helps the chicken and veggies bond to the yogurt. That way, every bite contains all the flavors and textures of the chicken salad.
Use full-fat plain yogurt. Since we're replacing mayonnaise with yogurt, I recommend using the full-fat yogurt instead of the 2% or low-fat version. It will really make the dressing thicker and creamier with a richer consistency.
Make it on time. Chicken salad is actually one of those salads that gets better the longer it sits. The flavors have a chance to meld together and the dressing really has a chance to coat everything. I recommend making it at least an hour in advance, but it will keep in the fridge for up to 4 days!
Taste as you go. This is probably the most important tip of all. When making a salad without mayo, it can be easy to under-salt it. Season the dressing to your taste, and don't be afraid to add a little more salt, pepper, or lemon juice if needed. Flavors should be bright and bold!
popular substitutions and additions
Add grapes. Traditional chicken salads often include grapes, so swap out the apples for grapes or add the grapes in addition to the apples.
Add nuts. Walnuts, pecans, or even almonds would be great additions to this salad. I like to add them right before serving to keep them nice and crispy.
Swap out the dill. If you're not a fan of dill, you can use parsley or chives instead.
Use fried chicken. If you're short on time, you can buy a fried chicken from the grocery store and shred it to use in this salad. It's a great shortcut!
How do you serve chicken salad?
In a sandwich. This chicken salad goes well between a sliced ​​croissant, leftover bun, or two slices of sandwich bread.
In the wrap. Try using a large flatbread, tortilla, or pita pocket for your apple and chicken salad.
as a dip That's right — you can even serve this chicken salad as a dip with pita chips.
On lettuce. I also like to serve it with butter salad for a lighter option. Or you can use crunchy romaine lettuce or iceberg lettuce.
How to store chicken salad with apples
You should store this salad in an airtight container in the refrigerator.
How long does chicken salad keep in the fridge?
Chicken salad will keep for about four days before the celery and apples start to soften and the salad becomes watery.
frequently asked Questions
Which apple variety is best for chicken salads?
I like to use a crisp apple like Honeycrisp, Granny Smith, or even Envy apples. You want an apple that won't go mushy when you shred it and will hold up well in the salad.
Can I make this salad meatless?
Yes, you can definitely make this salad without the chicken. Just omit the chicken and add an extra apple or some chopped nuts.
Do I have to use yogurt?
No, you don't have to use yogurt, but I think it's the best option. If you don't have regular yogurt on hand, you can use Greek yogurt.
This Chicken Apple Salad recipe is a healthy and delicious alternative to traditional chicken salad recipes. It uses Stonyfield whole milk yogurt instead of mayo for a light, creamy, big-flavored chicken salad. You can serve this salad in a sandwich, wrap, or even as a dip. It's perfect for a light lunch or picnic! So next time you're looking for a no-mayo chicken salad recipe, give this a try! You will not be disappointed.
More salad recipes:
If you try this you will feel good Yogurt Chicken Salad Recipe or any other recipe on Feel Good Foodie, then don't forget it Rate the recipe and leave a comment below! It helps others who are thinking of making the recipe. We'd love to hear about your experiences with it. And when you've got some shots, share them on Instagram so we can repost them in Stories!
In a large bowl, whisk together the yogurt, lemon juice, dill, Dijon mustard, salt, and black pepper. Fold in the chicken cubes, apple, celery and spring onions. Serve immediately or keep covered in the fridge until ready to serve.

To serve, place ¼ – ½ cup of the chicken salad in the center of a salad bowl or spread on a slice of bread.
Top: Prepare this chicken and apple salad recipe at least an hour ahead of time to allow the flavors to blend.
Calories: 90kcal, Carbohydrates: 3G, Protein: 14G, Fat: 2G, Saturated Fatty Acids: 1G, Polyunsaturated fat: 1G, Monounsaturated fatty acids: 1G, Cholesterol: 39mg, Sodium: 196mg, Potassium: 203mg, Fiber: 1G, Sugar: 2G, Vitamin A: 579ie, Vitamin C: 3mg, Calcium: 36mg, Iron: 1mg
The nutritional information given is an estimate. It depends on the cooking method and the specific ingredients used.